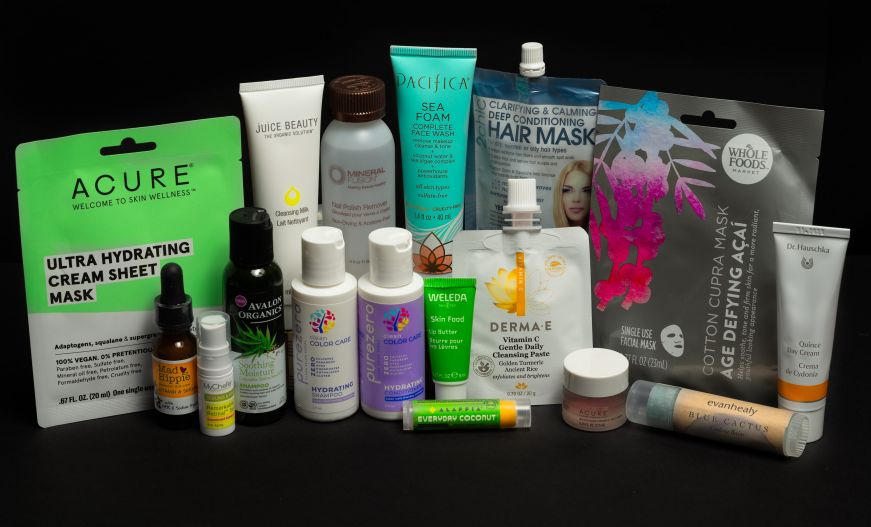 Whole Foods 2022 beauty bags will be available on March 18, 2022.  This blog post covers my experience with the 2021 beauty bags.
Throughout my twenties and early thirties, I regarded people who were into skincare with the same envious fascination that my teenage self reserved for the popular girls.  I can't redo high school (nor do I want to—being a socially anxious nerd sent me down a far more interesting life path), but I eventually realized that I could get into skincare.  In early 2020, just before everything went sideways, I started using eye cream and Mike treated me to a formative Lush shopping spree.  At some point during the pandemic, I began listening to the Natch Beaut podcast and creaming my neck, per the show's tagline.  Natch Beaut was what sparked the next phase of my become-a-cool-skincare person: I found out about Whole Foods beauty bags.
Once a year, there's a "Whole Foods Beauty Week" featuring a limited number of "beauty bags" filled with sample and full-sized products.  The beauty bags were $20 a pop (allegedly for $135 worth of products) and since I can't pass up a good deal, I found myself in Whole Foods at 8:00 a.m. sharp on March 12, 2021, purchasing the "Glow up Beautiful" and "New Essentials" beauty bags. 
Nearly a year later, I've finally worked my way through my miscellaneous bounty, all while taking copious notes.  This blog post sums up the highly unscientific results of my yearlong beauty experiment, organized by product type.  Did I succeed in becoming a skincare person?  Read to the end and find out!
For reference: I have fair, slightly oily skin that's prone to blackheads and clogged pores, plus occasional very mild cystic acne.  I have brunette type 1B hair (pretty straight, but with a bit of body) that's a few inches past my shoulders, and I don't color it.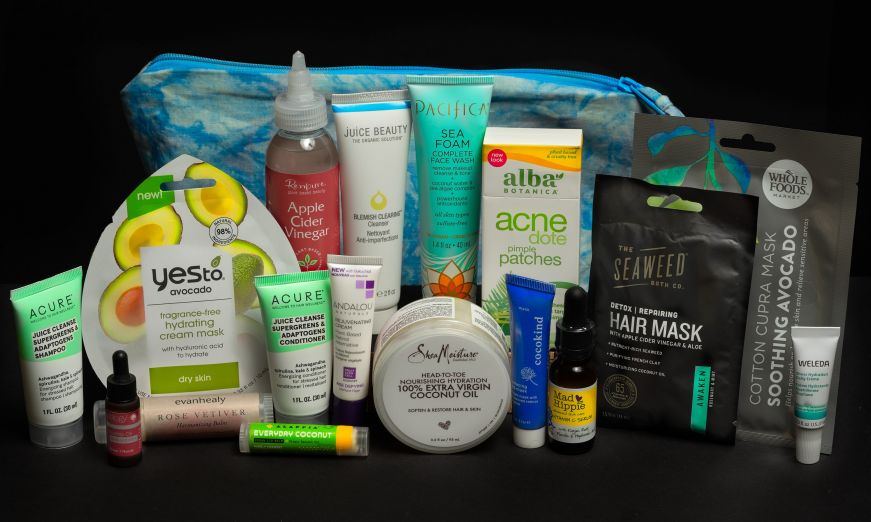 Face
Cleansers
Juice Beauty Blemish Clearing Cleanser: This had a very fresh lemon and aloe scent, smelling more like the produce department than a beauty product.  In the winter, it cleared up my skin without drying it out, but in the summer I needed a heavier-duty cleanser.  Likely works best if you have dry-to-normal skin.
Juice Beauty Cleansing Milk: I used this in the winter, when I can get away with a gentler nighttime cleanser.  I like the thick, creamy consistency and the slightly fruity scent.  Probably best for normal skin.
Pacifica Beauty Sea Foam Complete Face Wash: I loved the coconut scent—it made washing my face in the morning feel like a mini tropical getaway.  Also, it was an effective cleanser for my oily skin year round.  Hands-down, this was one of my favorite beauty bag products and I would purchase it again (especially since a 5-ounce tube that will last several months is only $9.99 at Target).
Serums and Oils
Andalou Naturals Plant-Based Retinol Alternative with Bakuchiol: Didn't seem to do anything for my skin—it's supposed to decrease sun spots and fine lines.
Mad Hippie Deluxe Vitamin A: Somehow this simultaneously dried out my skin and clogged my pores.  I ended up using it on my neck in the hopes it would have some sort of anti-aging effect.
Mad Hippie Deluxe Vitamin C: This seemed to brighten up my skin, but I wasn't able to use it on my face on a consistent basis since it clogged my pores.  Like the vitamin C serum, I ended up using it on my neck.
Mychelle Dermaceuticals Remarkable Retinol Serum: Seemed to clear and brighten my complexion.
Trilogy Rosehip Oil Antioxidant+: I used this on my neck and to minimize the lines on my forehead.  Not sure that it did anything but the tiny eyedropper made me feel sophisticated.
Moisturizers
Dr. Hauschka Skin Care Quince Day Cream: I loved, loved, loved this moisturizer—at $28.50 per ounce it's too expensive to make it part of my regular routine, but it was one of my favorite beauty bag products.  My skin was still soft eight-plus hours after application, and it had a lovely bright citrus scent. 
Evanhealy Rose Vetiver Harmonizing Balm: Solid lip balm-like stick of moisturizer with an herbal, woodsy, gender-neutral scent.  It was quite hydrating (I used it on my neck as an evening moisturizer) but personally I prefer the feel of a cream moisturizer.  It is useful for traveling carry-on only, since it doesn't count towards your liquid allowance.
Evanhealy Blue Cactus Cooling Balm: This was similar to the Rose Vetiver Harmonizing Balm, but it had a smoother, thicker texture that made it easier to rub in.  I also found it useful as a targeted moisturizer for the small dry patches that occasionally develop on my face in the winter.
Weleda Sheer Hydration Daily Creme: A lightweight cream that's quite moisturizing, with a pleasant herbal scent.
Masks
Acure Brightening Vitamin C Jelly Mask: I used this twice a week, and as promised, it brightened up my skin and seemed to clear my complexion.
Acure Ultra Hydrating Cream Sheet Mask: I didn't use this since it was recalled by the manufacturer.
Cocokind Resurfacing Sleep Mask: This mask has a creamy consistently: you apply it to your face before bed and then wash it off the next morning.  It was too drying when I used it 3-4 times per week as recommended, so I used it 1-2 times per week.  I would purchase this again—it was one of the few retinol/retinol alternative products that minimized fine lines and evened out my skin tone without clogging my pores.
Derma E Vitamin C Gentle Daily Cleansing Paste: This can be used as a cleanser or a mask; I used it as a mask.  I appreciated the short time commitment (only 5 minutes) and it was easy to scrub off.  I think it cleared up my complexion a bit.
Whole Foods Market Facial Sheet Cupra Mask in Soothing Avocado: Didn't seem to do anything.  Probably useful for people with normal-to-dry skin.
Whole Foods Market Acai Age-Defying Relaxing Facial Sheet Mask: Ditto.  Didn't do much for me, probably useful for people with normal-to-dry skin.
Yes to Avocado Fragrance-Free Cream Mask: Since the package indicated that it was for dry skin, I waited to use this until I had a few tiny flaky patches (that's as dry as my skin gets).  My dry skin disappeared, so it seems to work as intended.  I found the mask's tingling sensation unpleasant.
Acne Treatments
Alba Botanica Acnedote Pimple Patches: Not very effective for my cystic acne, but they worked for Mike.
Lips
Alaffia Everyday Coconut Vegan Lip Balm in Purely Coconut: Smooth, very moisturizing lip balm that didn't irritate the skin around my mouth like most lip balms do.  I'm glad I got two of these and would purchase it again (it's $2.99 at Walgreens).
Weleda Lip Butter: The extra-thick, gel consistency makes this great for treating cracked lips in the winter.  I also like the gender-neutral, herbal scent.  I would purchase this again (it's $6.99 at Target).
Hair
Acure Juice Cleanse Supergreens & Adaptogens Shampoo and Acure Juice Cleanse Supergreens & Adaptogens Conditioner: These weren't moisturizing enough for my hair—I stopped using after about a week because I was getting increased breakage.
Avalon Organics Soothing Moisture Cannabis Sativa Seed Oil Shampoo: This was moisturizing enough for my hair, but there wasn't as much lather as I prefer.
Giovanni 2chic Clarifying & Calming with Wintergreen & Blue Tansy Deep Conditioning Hair Mask: Smelled nice, didn't seem to do anything for my hair.
Purezero Clean Color Care Shampoo and Purezero Clean Color Care Conditioner: This was very moisturizing and worked well for my hair, although I can't weigh in on its color-protecting properties.
Renpure Apple Cider Vinegar Scalp Serum: Made my hair softer and also resolved my winter dry scalp issues.  I loved the light floral scent and massaging it through my hair was very relaxing.  I would purchase this again (it's about $8 online).
The Seaweed Bath Co. Detox Repairing Hair Mask: Nice mint scent, but it didn't seem to do anything for my hair.
Body
Mineral Fusion Nail Polish Remover: I paint my nails every week, so I like the idea of a gentler, non-acetone nail polish remover.  Unfortunately I hated the sickly sweet grape fragrance and the annoying squeaky sound it made when I used it.
Shea Moisture 100% Extra-Virgin Coconut Oil Head to Toe Nourishing Hydration: This was just a tub of coconut oil that I used in lieu of body lotion.  It was fine in the winter when I keep my house cooler, but it liquefied in my bathroom cabinet during the summer and became very difficult to apply.
The takeaway: Unequivocally, Whole Foods beauty bags are a bargain—I got a year's worth of high-quality products for $40.  And most importantly, I now feel like a legitimate skincare person and can sit at the cool kids' table.
Want to get in on the fun?  Whole Foods 2022 Beauty Week is from March 16-22, and the beauty bags will be available on March 18, 2022—this year they cost $25.
This isn't a sponsored post, I'm just a frugal nerd who spent $40 on skincare products and a year taking notes about them.
Thank you to Josh Feist for the images used in this post—you can find more of his work on Instagram @jaershh.