To say that we barely scratched the surface of the New York restaurant scene is overstating things.  Our trip was only a week long, and as I mentioned in a previous post, we had a few home-cooked dinners of produce from the Greenmarket at Union Square and pasta from Eataly.  But it was vacation, after all, so during our week in New York we also sampled classic deli fare, sophisticated ramen, pre-theater sushi, massive desserts, and a vegan wrap.
After a steady diet of pizza and bagels, the vegetable-heavy cuisine at the counter-service Beyond Sushi was a rejuvenating change of pace.  The menu is completely vegan, with various sushi rolls featuring ingredients like tofu, avocado, mushrooms, and marinated vegetables; a few colorful salads; and burrito-style rice paper wraps.  There isn't any seating at the Chelsea Market location, although there are some standing-height tables nearby in the market's main hall.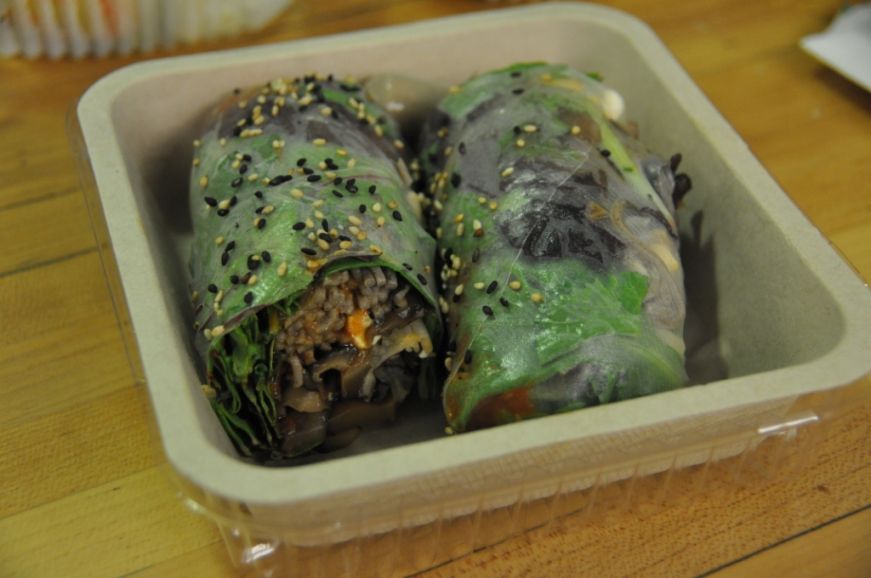 I opted for a Spicy Shroom wrap, with baby greens, buckwheat noodles, cashews, pickled ginger, and enoki, shiitake, and portabella mushrooms.  The wrap was drizzled with a spicy sauce, and then there was a nifty little tube of peanut sauce to squeeze onto each bite.  The bold flavors of the sauces and the ginger combined with the varying textures of the lettuce, grilled mushrooms, and cashews to make each bite as interesting as it was healthy.
The sushi and appetizers at Haru Sushi aren't particularly distinctive, but the restaurant's sleek decor, proximity to Times Square, and Monday through Friday happy hour specials make it a perfect pre-theater stop.  You need to sit at the bar or sushi bar to get happy hour pricing, but you should sit at the sushi bar anyway so that you can watch the chefs deftly prepare roll after roll.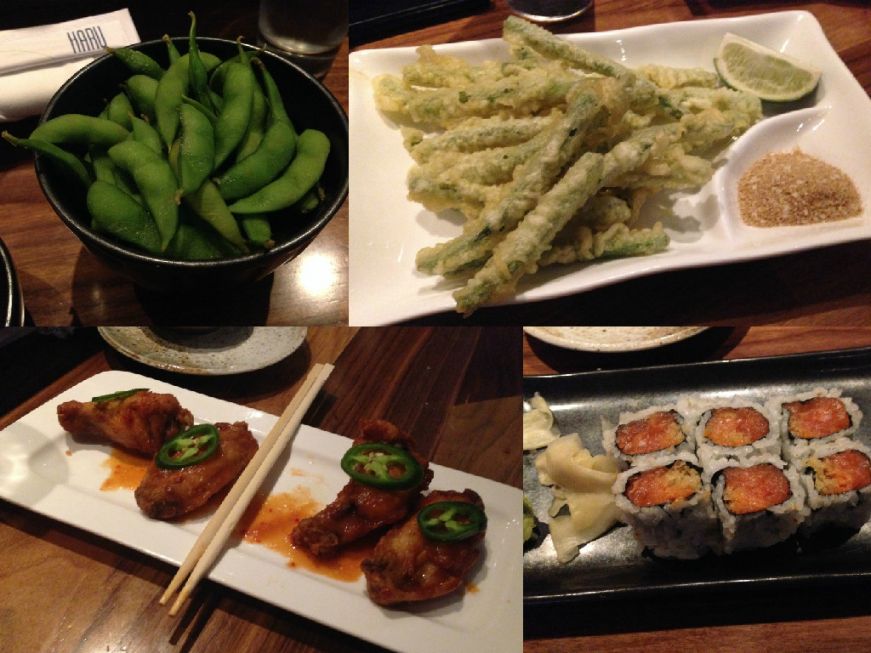 The edamame and crunchy spicy salmon roll were well-executed standards.  The spicy garlic wings were likewise delicious, but not quite as described--they were heavy on the spice, in the form of a raw jalapeno slice atop each wing, but there wasn't any detectable garlic.  The surprise favorite was the string bean tempura, when drizzled with lime juice from the accompanying wedge and dipped in the seasoned salt.
Katz's Delicatessen is where the famous scene from When Harry Met Sally took place, and there's a helpful sign pointing out where Meg Ryan and Billy Crystal were sitting in case you want to have what she's having.   The restaurant is a New York icon, with photos of visiting movie stars and presidents adorning the walls, and it's priced accordingly (our tab came to almost $40).  The set-up is odd: there's a bouncer who gives you a ticket when you enter, and everyone who gives you food from one of the counters keeps a tally of the amount owed on your ticket.  To leave, you give the bouncer your ticket and proof of payment (pay at the dessert counter in back by credit card or the front desk with cash).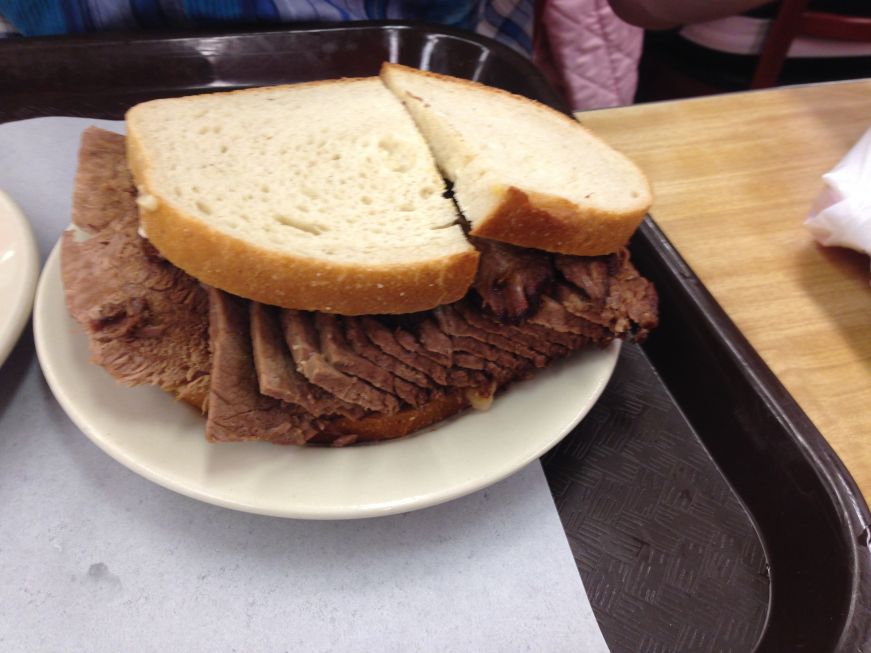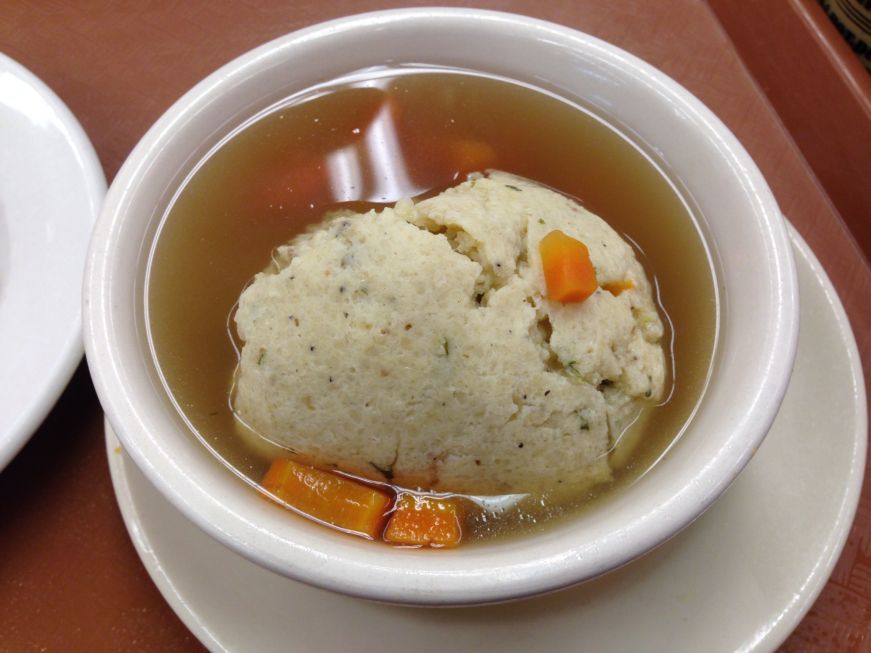 Despite the high prices, the food is so-so: the brisket sandwich featured slightly dry brisket on forgettable white bread, and the matzo ball soup had a barely seasoned institutional quality.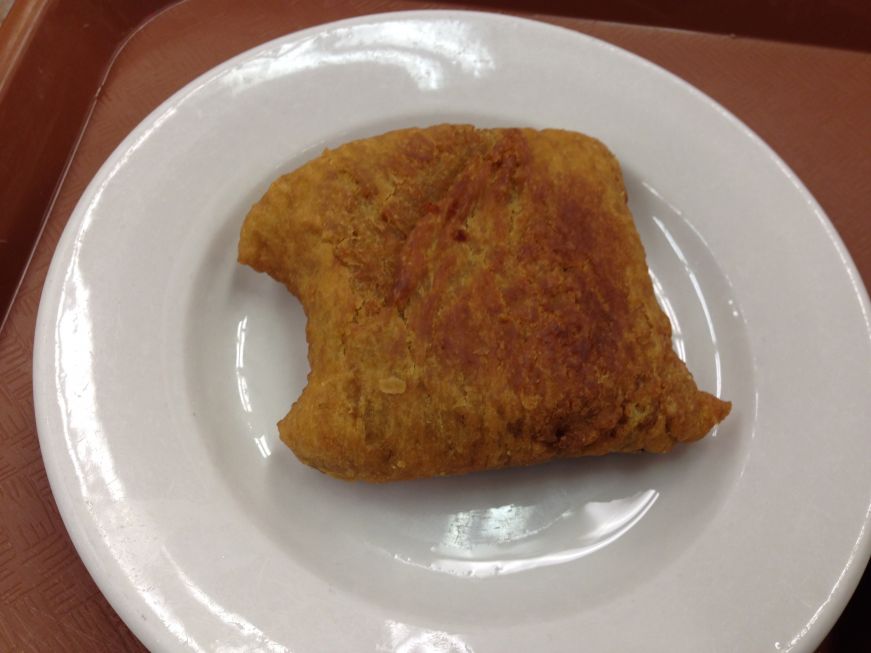 The potato knish was also basic, but in a reassuring sort of way--if mashed potatoes are comfort food, deep-fried mashed potatoes are comfort food squared.  Knishes were originally brought to America by Eastern European Jewish immigrants, and Katz's traditional version is a thin layer of dough wrapped around a simple mashed potato filling.
The highlight of my meal was dessert (mentioned in a previous post), a dense, tart cheesecake with a jam-like blackberry topping.
Would I make a return visit to Katz's?  Probably not.  But it was worth experiencing, and I got a decent knish and a slice of blackberry cheesecake out of the deal.
As I mentioned in my write up about cheesecake, we stopped at the Times Square Junior's after a Broadway show (you can also get your cheesecake fix at the original restaurant in Brooklyn or the to-go bakery and full-service restaurant at Grand Central Terminal).  The cuisine is classic American, plus there's delicatessen specialties like brisket and Reuben sandwiches and Eastern European Jewish favorites like matzo ball soup and potato pancakes.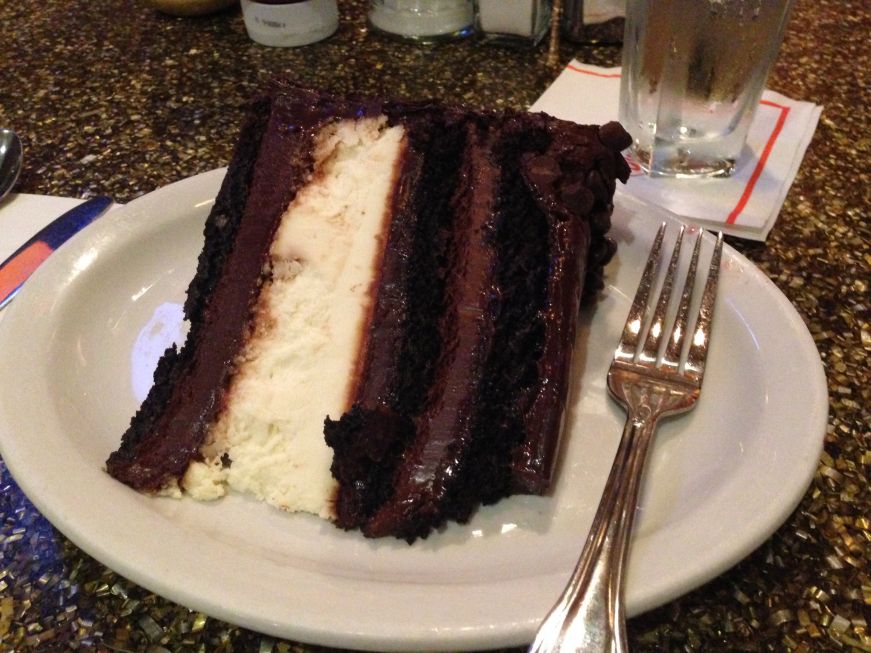 We skipped dinner and cut straight to dessert, which honestly is the best way to do it since the size of a cheesecake slice is dinner-worthy.  I wrote about the devil's food cheesecake in my iconic New York foods post; it was hands-down the best dessert of the trip.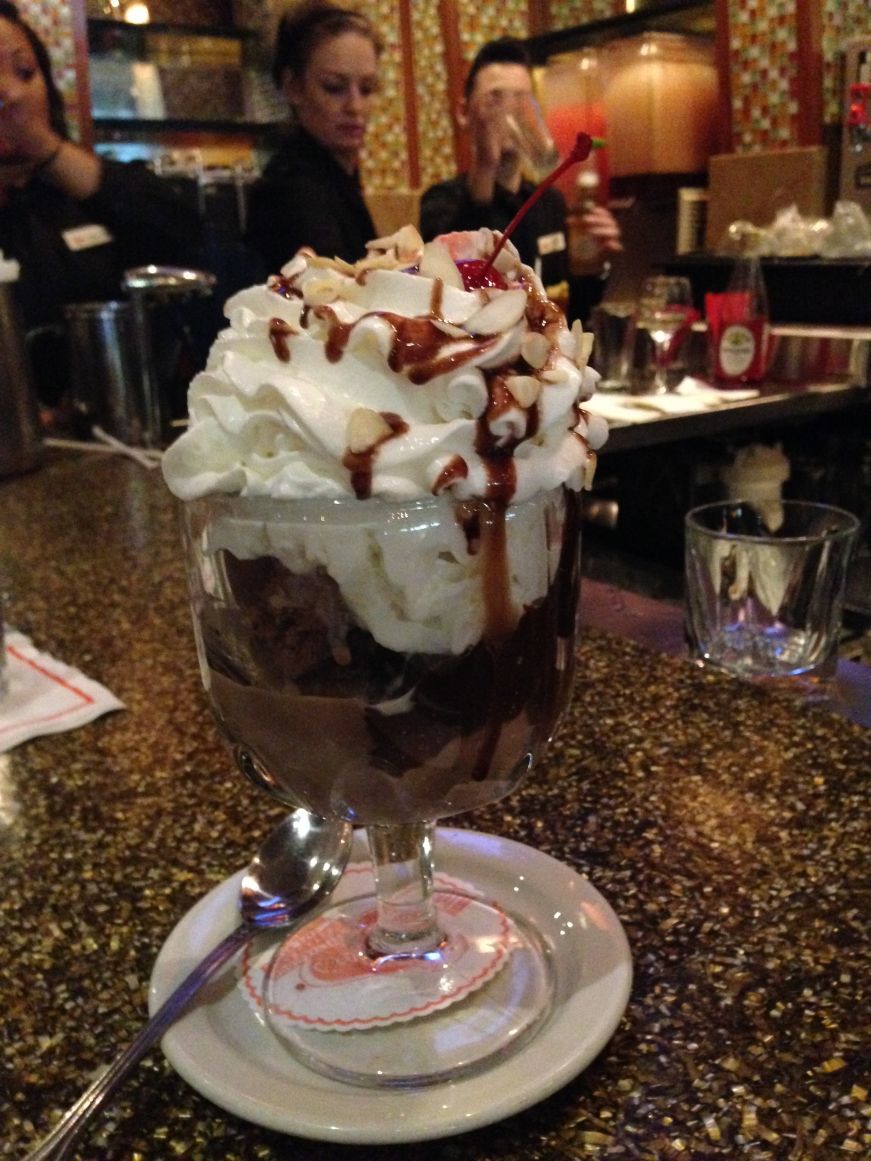 The "Mountain High" hot fudge sundae was just as impressively sized as the cheesecake: two large scoops of your choice of ice cream (vanilla, chocolate, strawberry, or coffee), with lots and lots of hot fudge and a veritable mound of whipped cream.  It could easily be shared by two, but be bold if you'd rather just eat the whole thing yourself--you're in New York.
Our "foodie" dinner of the trip was at Ivan Ramen, which I learned about via the 2 Food Trippers.  It's the first restaurant I've experienced where the waitress literally identified which dishes on the menu were "getting a lot of press," and all the female patrons were attired in swingy little smock dresses that haven't yet made an appearance in Midwestern malls.  Also, attempting to eat ramen with my mediocre chopsticks skills made me look like an idiot.  But hipster atmosphere and utensil trouble aside, Ivan Ramen really is worthy of a lot of press.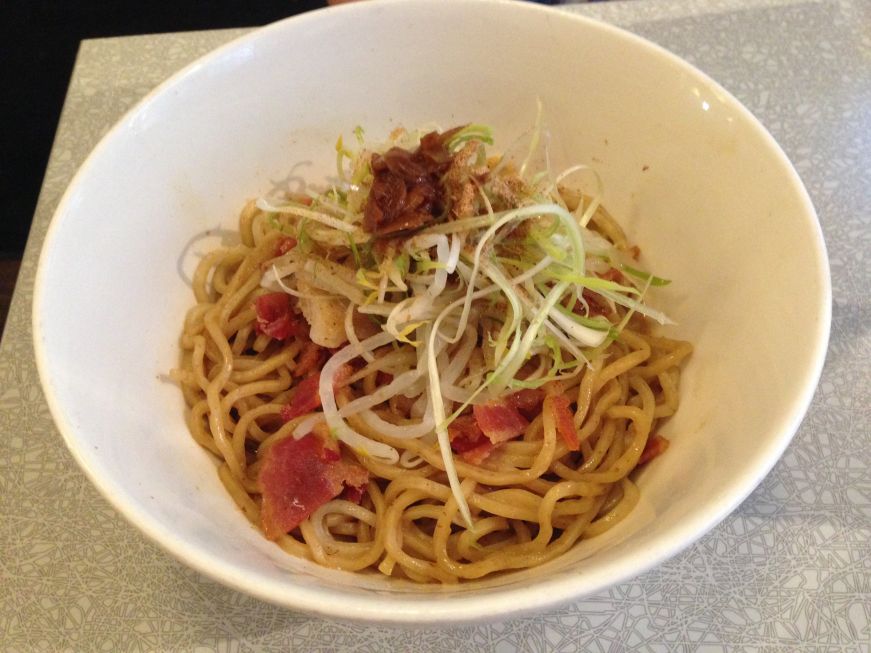 The triple pork triple garlic mazemen is nearly brothless, with thick wheat noodles and bits of seasoned chashu pork.  "Triple pork" isn't an exaggeration: the noodles are infused with such an intense pork flavor that they actually taste more meat-like than the pork itself.  In the face of the triple pork, the garlic becomes a subtle background note.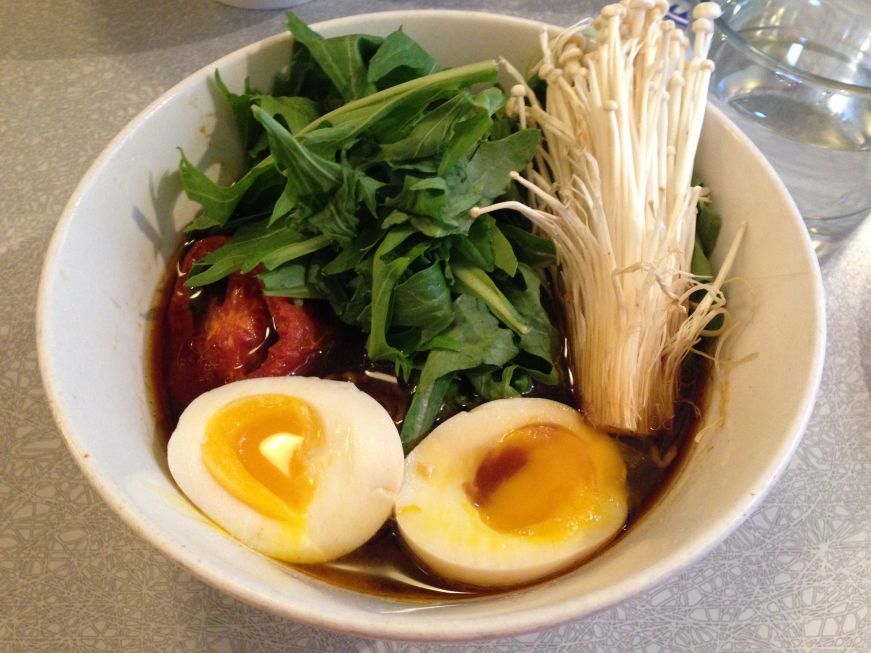 The rye noodles of the vegetarian ramen were served in a soy sauce and vegetable broth so substantial that I would have sworn under oath it was really beef broth.  Once the broth's initial umami fades, it hits you with an unexpected slow-burning heat that still manages to be surprising with every slurp.  The ramen comes topped with a handful of arugula, a roasted tomato, and a somewhat hard to eat bundle of enoki mushrooms, and you can add an optional egg for some extra protein.