Another year, another Christmas in Boulder, Colorado (you can read about last year here).  Our trip was filled with as many ups and downs as the Colorado weather: our plane to Denver was late, but our bus ride to Boulder was free due to a broken fare box; Mike's parents very kindly picked us up at the bus station, but then deposited us at the wrong hotel; we eventually got to the right hotel, but we were treated to a morning without hot water; and finally, we missed our bus back to Denver by minutes, waited outside in the 15 degree cold for an hour, faced a daunting check in-line at the Southwest counter, but still made it on our flight home to Minneapolis.  Throughout the ongoing drama, the weather oscillated from green grass and a balmy 50 degrees on Christmas Eve to several inches of snow on Christmas Day.  But despite the setbacks, we enjoyed our time with family, the views of the foothills, and lots of excellent food.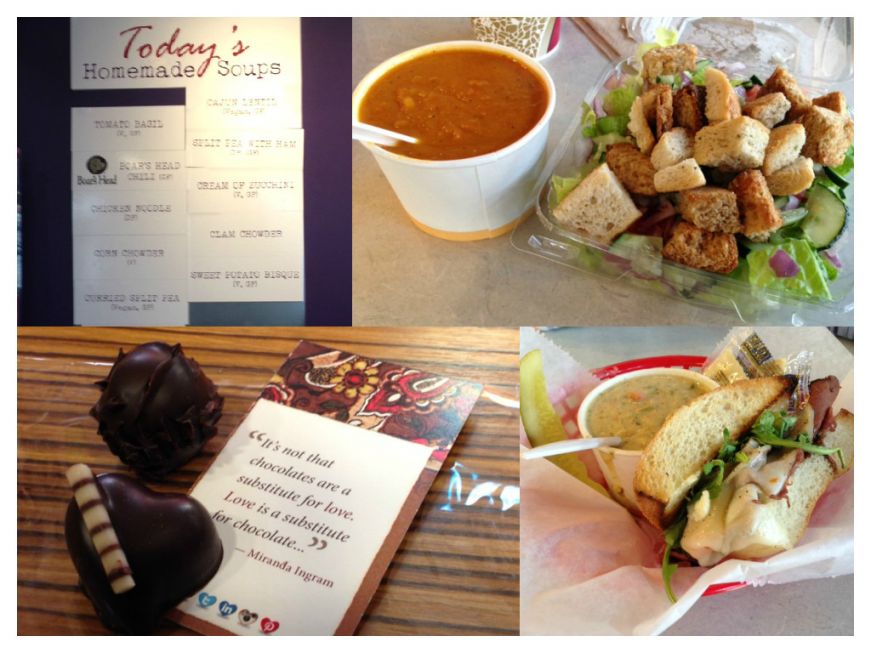 I could easily spend a whole day at downtown Boulder's Pearl Street Mall, with its dozens of neat local shops and interesting restaurants.  My favorite shopping spots are Peppercorn (1235 Pearl Street), a huge kitchen and home store with every cooking implement you can imagine;  Bayleaf (1222 Pearl Street), which stocks gift items and foods imported from Europe, letterpress cards, and the full line of Boulder-made Chocolove bars; and the Boulder Bookstore (1107 Pearl Street), which sprawls across three floors and is the sort of place book lovers dream of.
My favorite lunch spot on Pearl Street is Lindsay's Boulder Deli (1148 Pearl Street), for its array of homemade soups (10 on the day we visited), interesting sandwiches, and salads with amazing croutons.  The best part is that they let you sample the soups before you buy, ice-cream-counter-style (possibly because they are also a Häagen-Dazs outlet).  Although I was impressed by the clam chowder and Cajun lentil soups, I settled on the sweet potato bisque for its spicy flavor with a hint of smokiness.  If you're a meat lover in search of a sandwich, the It's What For Dinna is a solid choice, with roast beef, a zesty garlic mayo, and melting cheese on a hearty ciabatta roll.
If you skipped the ice cream counter at Lindsay's (or even if you didn't), head to Piece Love and Chocolate (805 Pearl Street) for dessert.  There's a variety of chocolate cakes and tortes by the slice, a counter with dozens of flavors of artisan truffles, and hot and cold chocolate beverages.  I sampled exquisite dark chocolate and vanilla truffles, but the highlight was Mike's 1/2 and 1/2 sipping chocolate.  A mixture of dark and white chocolate melted into whole milk, it is the fine champagne of hot chocolates, to be slowly savored instead of gulped.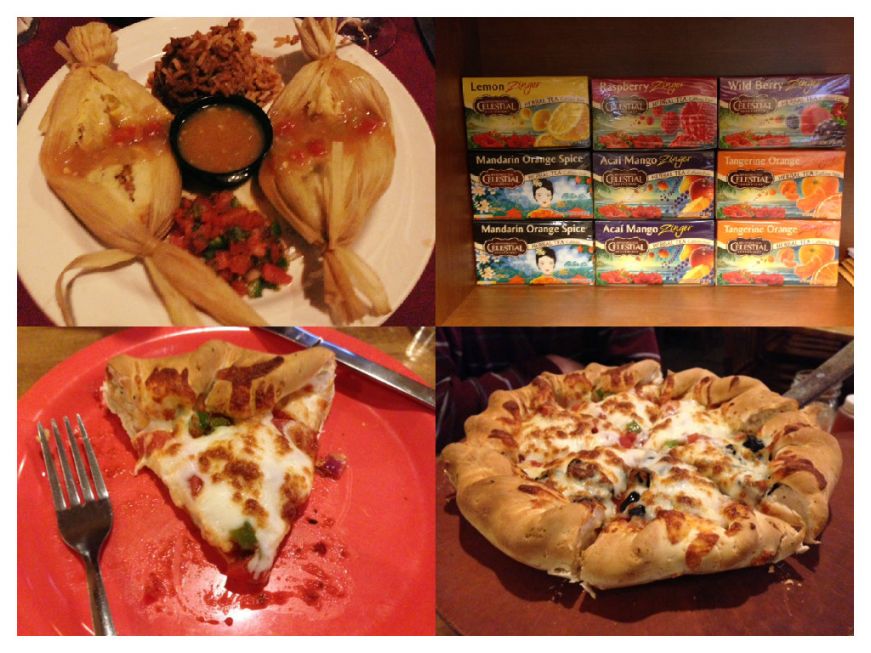 Although the performance and dessert were a bit of a letdown, I thoroughly enjoyed my vegan bean and corn tamales at the BDT Stage, Boulder's dinner theater (5501 Arapahoe Avenue).
Whenever we visit Boulder, Mike and I take advantage of the low prices and amazing selection at the Celestial Seasoning Tea Shop (4600 Sleepytime Drive) to stock up on our favorite teas (this year, we came home with 24 boxes).  You can sample all of the varieties at the nearby tasting room, and the factory tour is well worth your time (see last year's post for more details about the factory tour).
Beau Jo's (2690 Baseline, plus additional locations throughout Colorado and Rapid City, South Dakota) is in on my short list of all-time favorite pizza places.  Their specialty is the Mountain Pie, sold by the pound and ringed with a thick rolled crust that you drizzle with honey after finishing the cheese-topped portion of your slice.  For this bread lover, it's the perfect pizza: if you order the one-pounder (enough for two people if you add the salad bar option), one-third of your slice is glorious crust.  I prefer the honey wheat crust, but the standard honey white is good too, particularly with some extra honey.  The salad bar is quite respectable, and there is a gluten-free crust option.