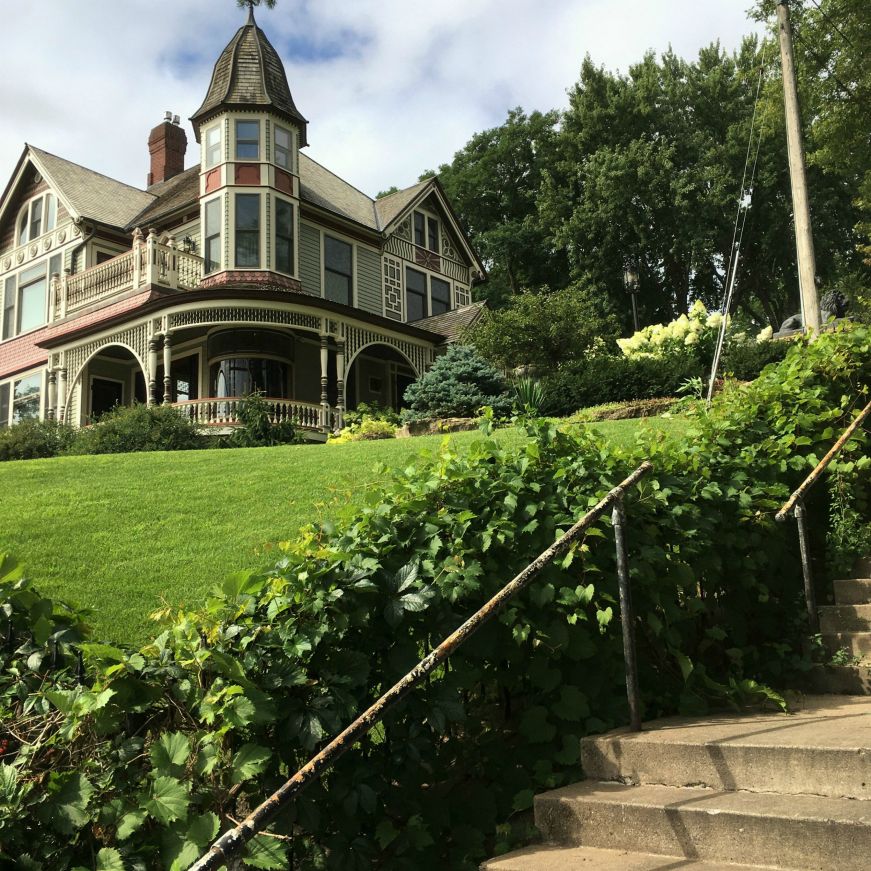 This post was originally published in June 2013 and was most recently updated in May 2021.
Over the years, Mike and I have made more trips to Stillwater, Minnesota than any other destination.  It's the sort of place where you can spend a satisfying few hours or an entire weekend.  The hilly terrain, views of the St. Croix River, historic downtown, and Victorian-era homes make it feel a world away from our life in the suburbs—but it's less than a 45 minute drive from our home in the Twin Cities metro.  There's a vibrant restaurant scene, plenty of local retailers, and nearby outdoor activities.  Accommodations range from cozy bed and breakfasts to boutique hotels, making it perfect for a romantic getaway or special occasion celebration.  Stillwater is where I celebrated my 30th birthday (plus one in my early 20s) and it's been the setting for some of our favorite travel memories.
Over the past year, we've had to take coronavirus risks into account when planning our Stillwater getaways.  In some ways, a trip to Stillwater makes a lot of sense given current conditions: it's close to bike trails and other outdoor activities, there's ample green space by the river to enjoy a picnic, and many restaurants offer outdoor seating, often with scenic views.  A stay at a bed and breakfast in a quiet residential neighborhood is especially conducive to socially distancing.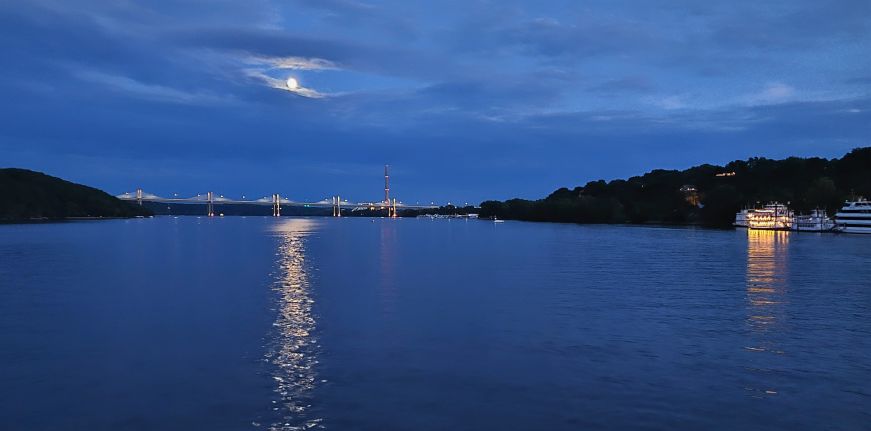 If you decide to visit Stillwater on a weekend day trip, I'd recommend getting there by 9:00 a.m., spending a couple of hours downtown, eating an early lunch, and then heading home or on a bike ride on a nearby trail.  Alternatively, you could have dinner around 6:30 p.m. and then explore afterwards.  Weekdays are less crowded, although some shops and restaurants have more limited hours.
Personally, I prefer spending the night in Stillwater.  Check in to your accommodation in the late afternoon and spend a few hours relaxing in your room with a bottle of local wine or beer from a local brewery.  Walk to a restaurant patio for dinner, and then explore downtown afterwards (some shops will be closed, but you can check out the Lift Bridge or get some ice cream).  The next morning, you can walk up the steps and duck into a shop or two before the crowds descend.
Ready to plan your your Stillwater getaway?  Here's a list of my favorite things to do, places to eat and drink, and places to stay in Stillwater.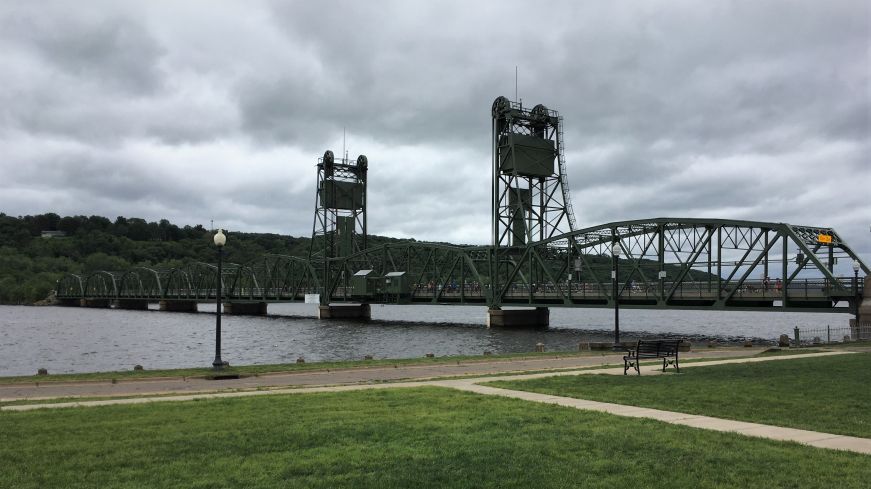 Things to do:
Stillwater takes shopping very seriously—there are over 50 independent retailers, including several antique shops.  Since antiques don't fit my Scandinavian minimalist aesthetic, my go-to housewares shops are Cooks of Crocus Hill, Scandinavian North, and Alfresco Casual Living. 
Candyland has a great assortment of chocolates, candy, and flavored popcorn (try the original Chicago Mix®). Minnesota Made offers sustainably-made clothing with Minnesota-themed designs.  If you're a yarn crafter, Darn Knit Anyway is a must.  Support an independent bookstore by picking up some reading material from Valley Bookseller.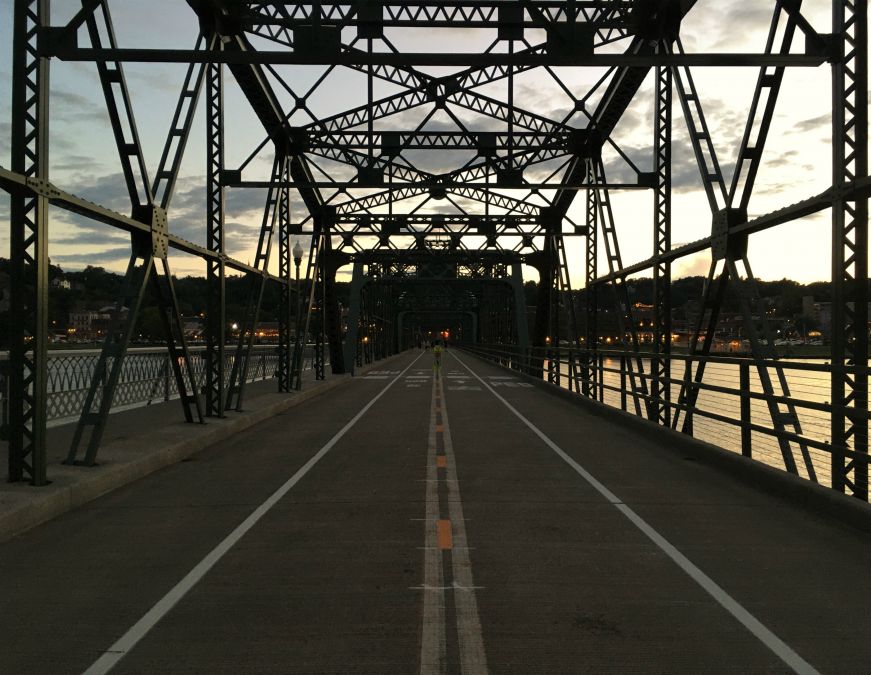 Stillwater's iconic Lift Bridge was built in 1931 to connect Minnesota Highway 36 and Wisconsin Highway 64.  After nearly 90 years of service, it was closed to motorized vehicles in 2017 and converted into a bicycle and pedestrian bridge.  The short walk across the bridge offers scenic views of the St. Croix River and downtown Stillwater.  Just keep in mind that it's still a working lift bridge—you might have to wait for marine traffic to pass while the middle section is raised.
Since the Lift Bridge is so popular, I enjoy walking across it at night to avoid crowds.  As an added bonus, the moon's reflection sparkling on the water makes for some stunning photos.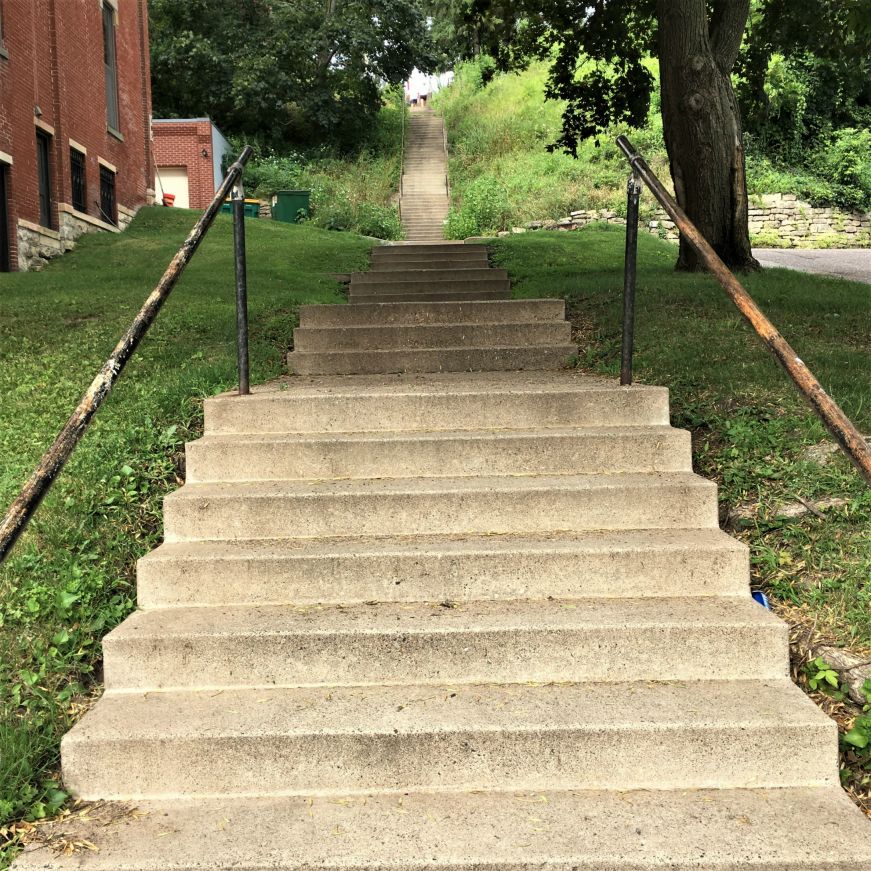 Downtown Stillwater is built across several hills, and there are five sets of historic steps that you can climb for exercise and a panoramic view of the river below.  Each stairway consists of about 100 very steep steps, and you can connect them all in a three-mile loop through downtown and the adjacent residential neighborhoods.  It took us an hour to complete the loop, with a few stops along the way to appreciate the scenic views and historic architecture.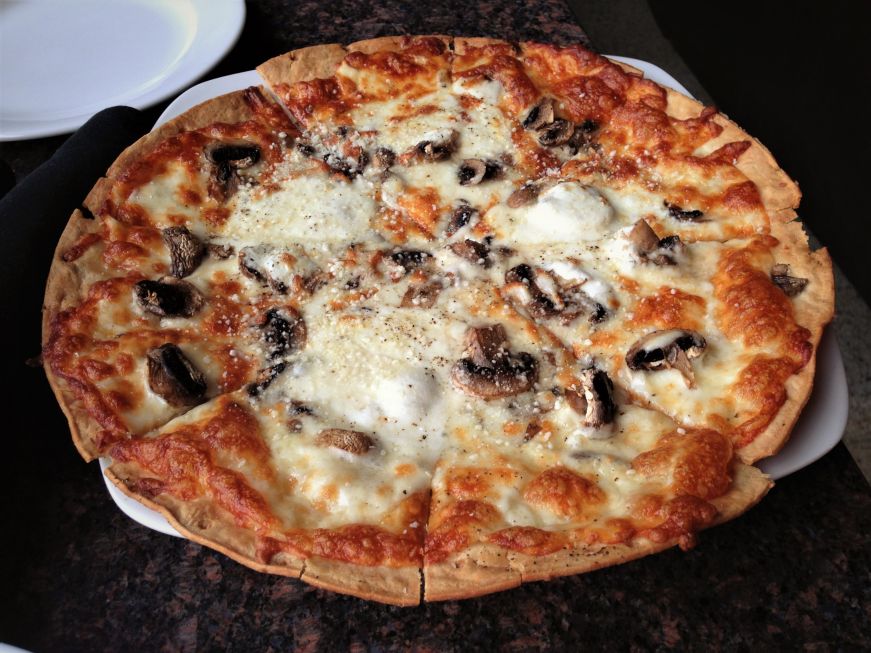 Places to eat:
QuickFire Pizza, a Neapolitan-style counter-service pizzeria, is our longtime favorite for a casual meal.  Pizzas are made in a wood-fired oven imported from Italy, and they have traditional and creative pies plus a build-your-own option.  I'm partial to the classic margherita and the Truffle Shuffle (wild mushrooms, truffle oil, and four kinds of cheese).  If you eat meat, try the Cuban or buffalo chicken pizzas. 
Since pizza is especially amenable to takeout, I recommend getting your pizza to go and enjoying it along the St. Croix River, which is less than two blocks away—there's lots of green space and a few picnic tables.  QuickFire Pizza also has patio and indoor seating.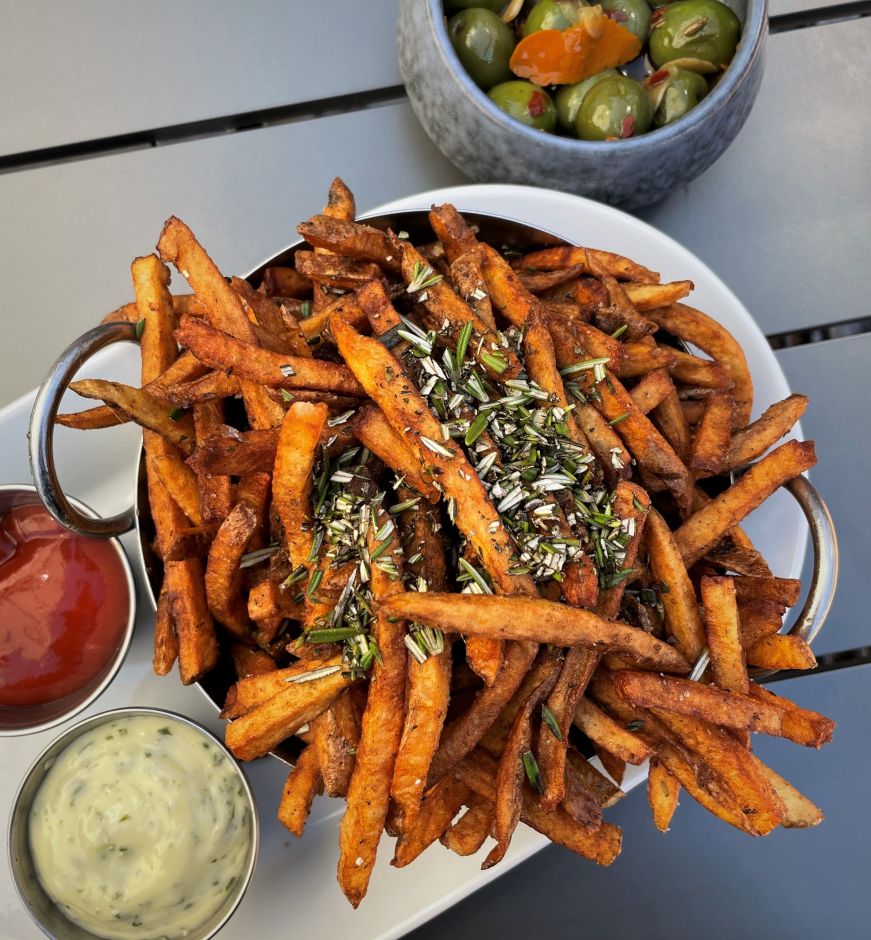 The contemporary American menu at LoLo American Kitchen has something for everyone: gourmet burgers, tacos, Asian-inspired rice bowls, and flavor-packed small plates.  I loved the smoked sea salt and rosemary fries, which are served with a basil aioli, and Mike gave his Jamz Burger high marks—it's topped with bacon jam, Gorgonzola, and greens.  LoLo American Kitchen has indoor and patio seating.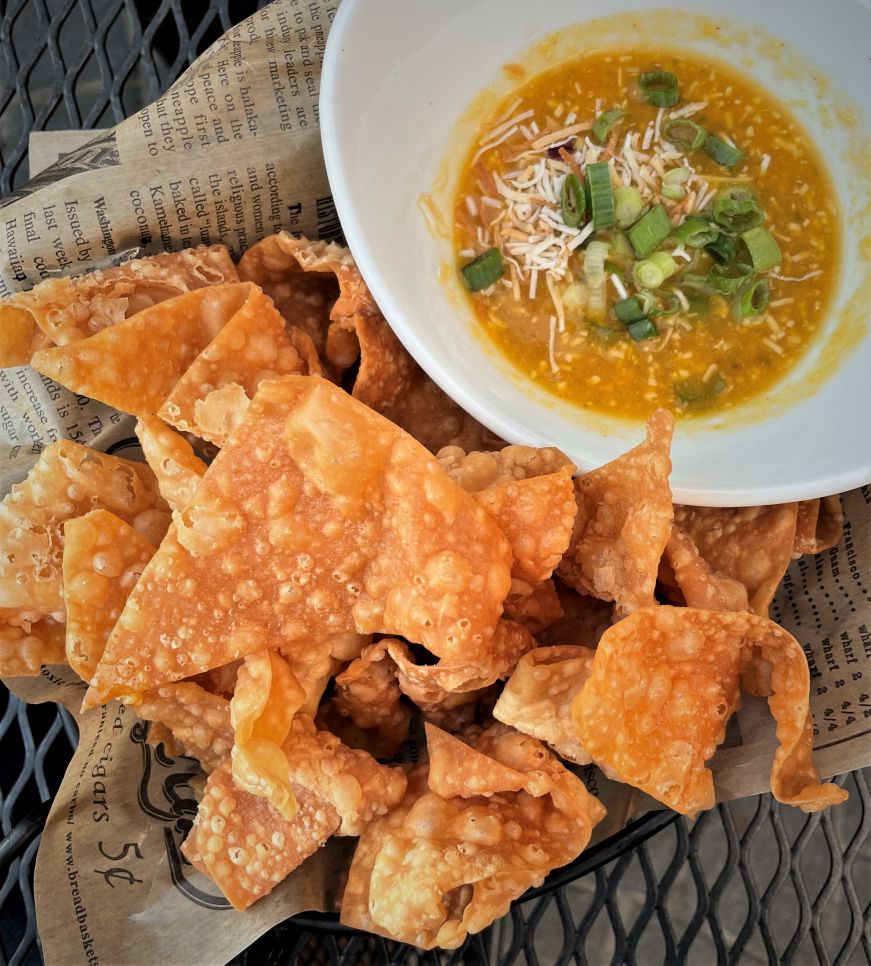 Sometimes when you're on vacation, you just want to eat deep-fried everything and wash it down with a stiff drink.  The Tilted Tiki is the perfect place for that, with a menu of appetizers, burgers, tacos, and several plant-based options.  The encyclopedic cocktail list includes classic tiki cocktails, house creations, mai tais, martinis, and more—it's a bit overwhelming, but I have a feeling that everything is pretty easy-drinking (my Molokai Mermaid certainly was).
I enjoyed the fresh wonton chips with a bright mango salsa, and the coconut shrimp are served with a tasty housemade pina colada mustard.  As far as atmosphere, it's pure kitsch, whether you opt for the beach-themed interior or the outdoor patio with faux palm trees. 
The Dock Cafe is our favorite place in Stillwater to eat riverside (they're currently closed and are scheduled to reopen in late spring 2021).  The view from the the deck is fabulous and definitely worth the additional wait time.  They do a good job with seafood—I like the grilled scallop salad and the shrimp diablo pasta—and Mike has enjoyed the perfectly-cooked steak.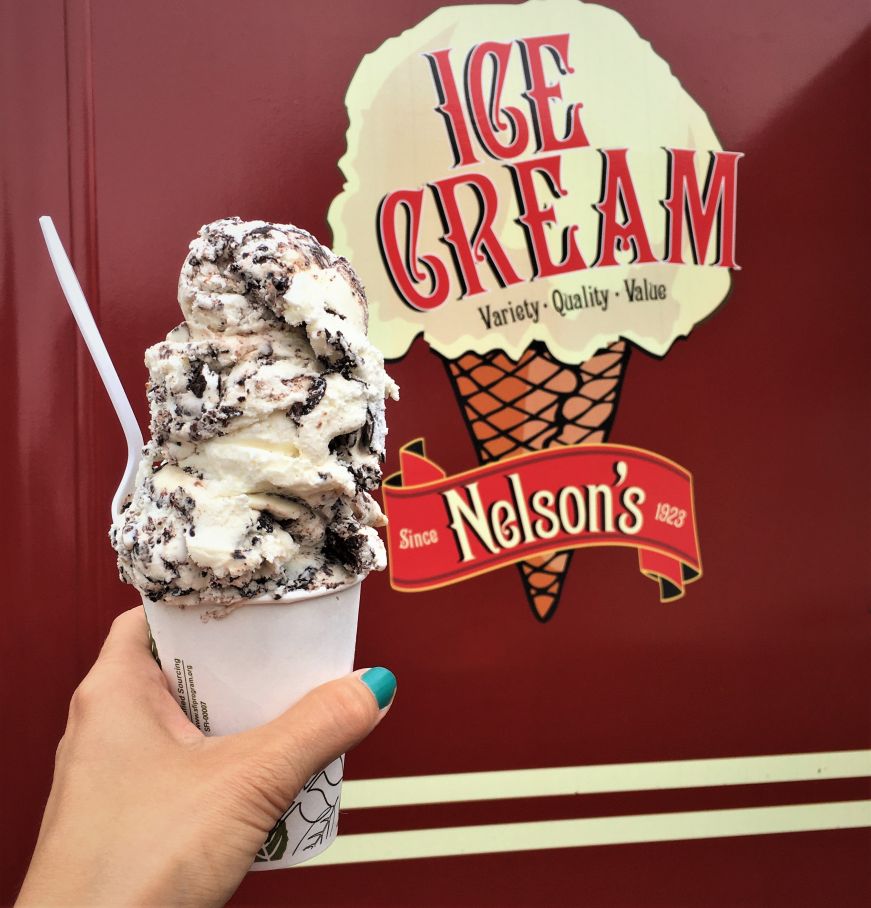 If you need an ice cream fix in Stillwater, the best value by far is Nelson's Ice Cream.  They have 44 Kemps flavors (I recommend Rich and Famous or Coconut Joy) and the serving sizes are massive: the "child" size consists of approximately six scoops of ice cream for a grand total of $4.25.  It is absolutely delightful, but plan accordingly—you might be so full of ice cream that you won't have room for dinner.
Nelson's is a short walk (about 0.8 miles) from downtown, which gives you a chance to check out some of Stillwater's historic houses along the way.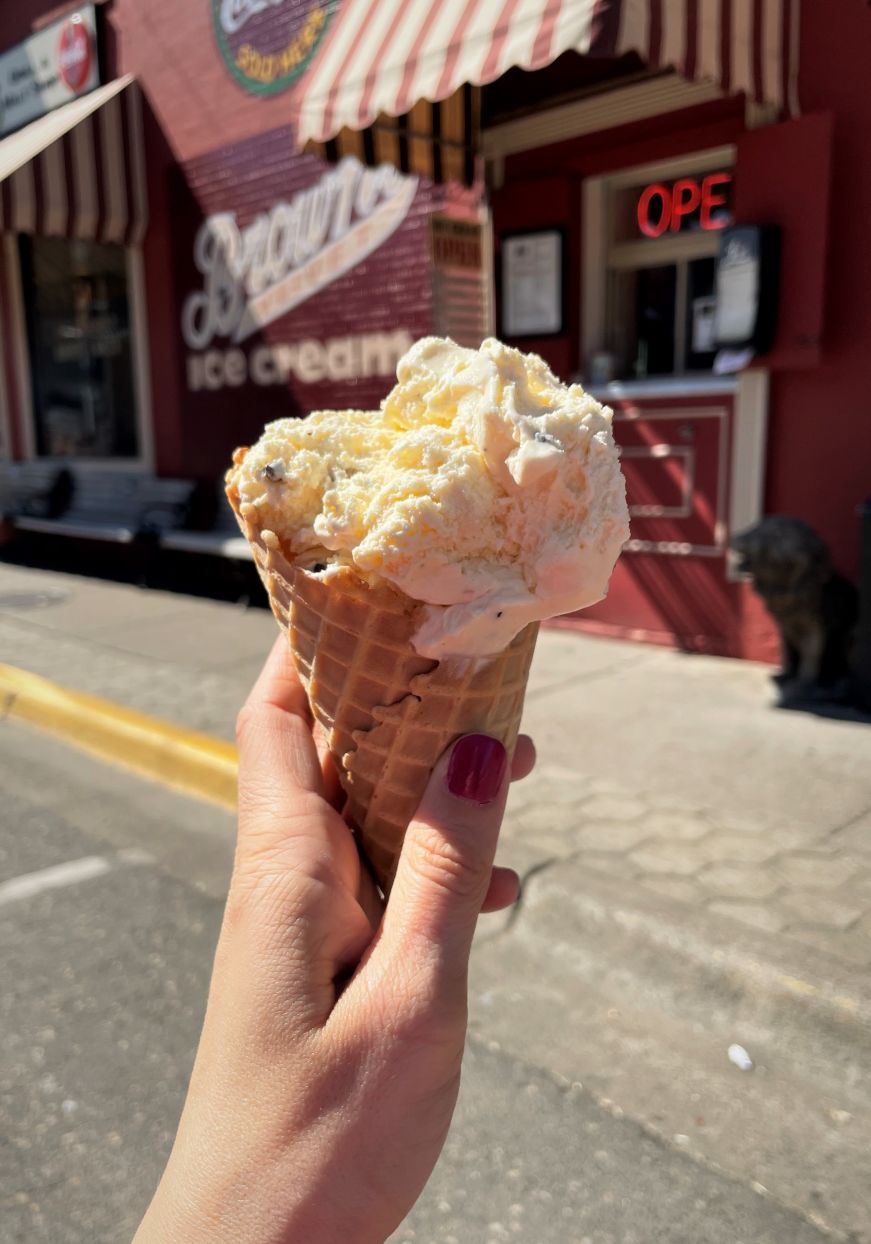 If you'd prefer to get your ice cream downtown, Leo's Grill & Malt Shop has a walk-up window that serves malts, shakes, floats, and ice cream in cups or cones.  There are about a dozen classic flavors available, including chocolate, vanilla, maple nut, peppermint bon bon, and chocolate chip cookie dough.  Seating is available at nearby picnic tables.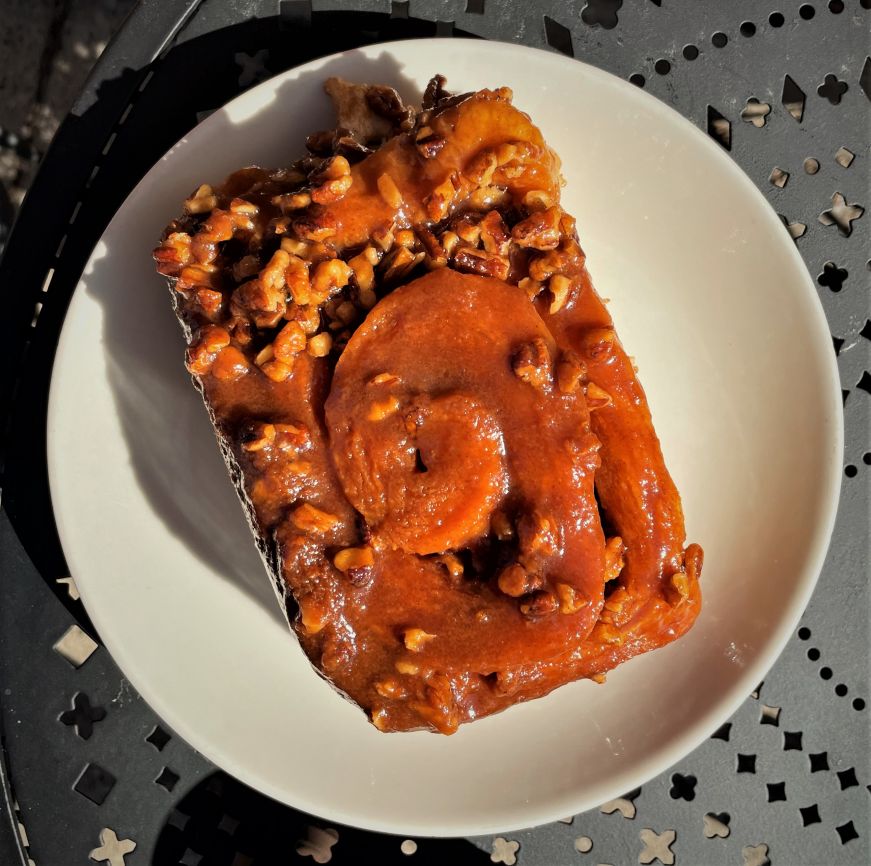 If I lived in Stillwater, Coffee Paw Cafe would be my go-to coffee shop: the coffee is roasted in-house, they make their own syrups and baked goods, and the espresso drinks are well-crafted.  In addition to indoor seating, there are several tables along the sidewalk.  The caramel rolls are huge but too delicious to share.  Other baked goods include cinnamon rolls, carrot cake, cookies, and savory pastries, and there's also quiche and soup for lunch.
If you're in the mood for old-school elegance, the Lowell Inn serves classic American fare in a dining room inspired by colonial Williamsburg.  They also have a pleasant patio seating area.  If you stay at the James Mulvey Inn (see below), breakfast at the Lowell Inn is included with your room—I enjoyed the cinnamon French toast with praline sauce and freshly whipped cream, and Mike's breakfast platter was well-prepared.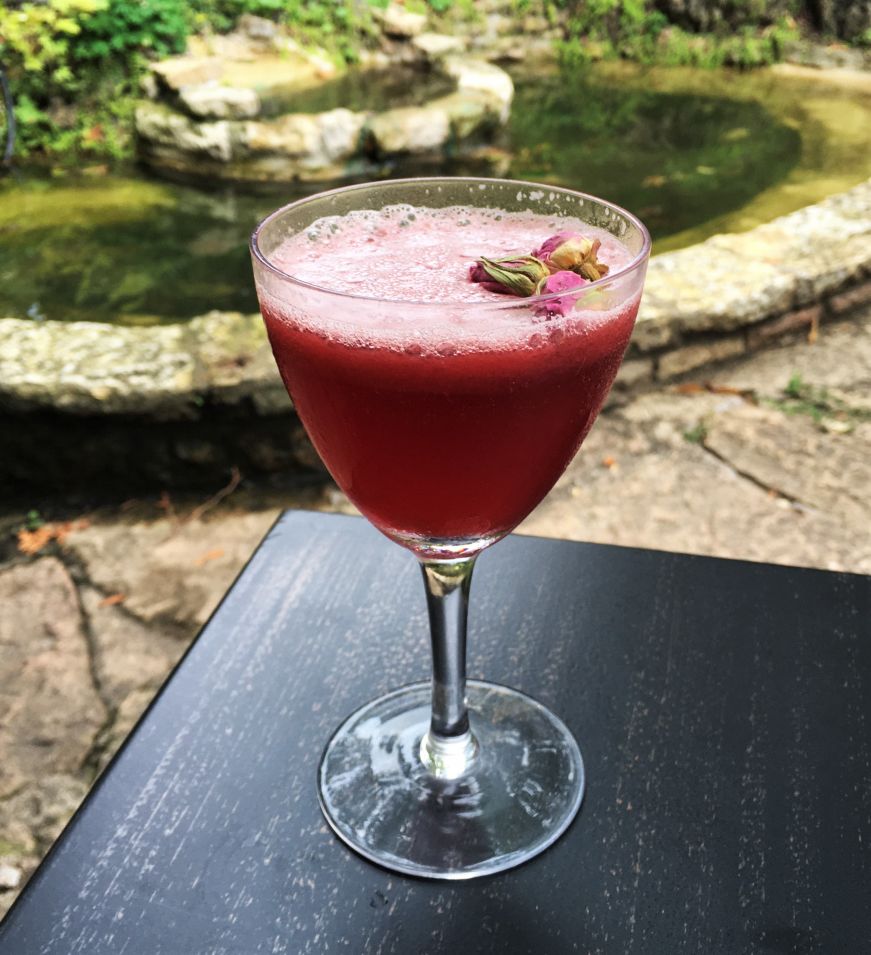 Places to drink:
If craft cocktails are your drink of choice, The Velveteen is your kind of place.  Their cocktails are creative and unexpected, and most evoke Prohibition-era drinking culture.  My new favorite from their current menu is That B*tch Carol Baskins (it's a Tiger King reference), which combines bourbon, cinnamon, chai, orange, and egg white.  The food is decent, and we typically order a couple of starters to share—the cheese plate is solid, and I've also enjoyed the kettle chips with Southwestern aioli, the tortilla chips with housemade salsa and guacamole, and the crostini with bruschetta.
On past visits, we've loved basement speakeasy atmosphere.  This year, we opted for outdoor seating in the small sunken garden—it's a wonderful setting, with a gurgling fountain and romantic vibe.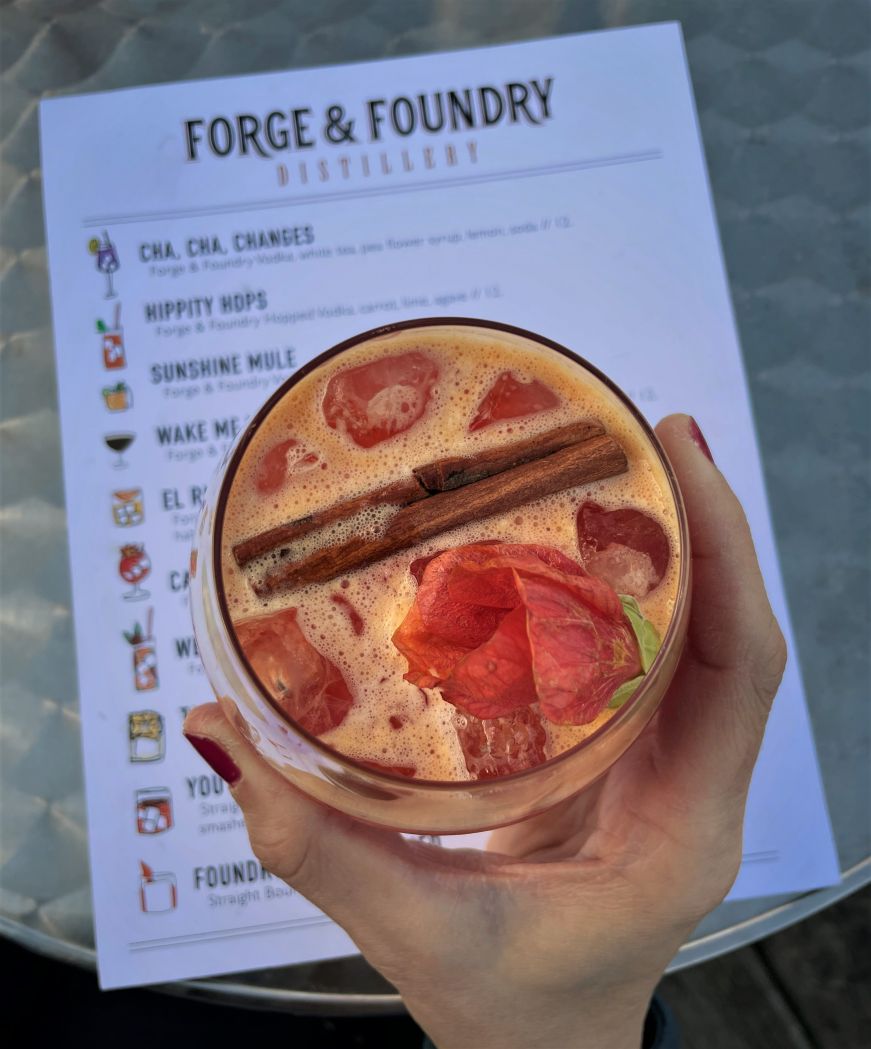 Forge and Foundry Distillery is another stellar spot for craft cocktails.  The craft distillery currently produces vodka, rum, and whiskey, and the on-site tasting room serves a menu of signature cocktails, plus some classic drinks and non-alcoholic options.  In addition to indoor seating, there are a few tables along the street and a lovely rooftop patio with a view of the Lift Bridge.
My favorite drink is the California Dreamin', which pairs rum with hibiscus, passion fruit, cinnamon, demerara, lime, and tiki bitters—it's tropical but not too sweet, with warming notes from the cinnamon and bitters.  The Wake Me Up Before You Go Girl (vodka, espresso, maple, and black walnut crema) is a nuanced dessert drink, and the Take Me Away is a beachy take on an old fashioned, with coconut washed whiskey and pineapple simple syrup.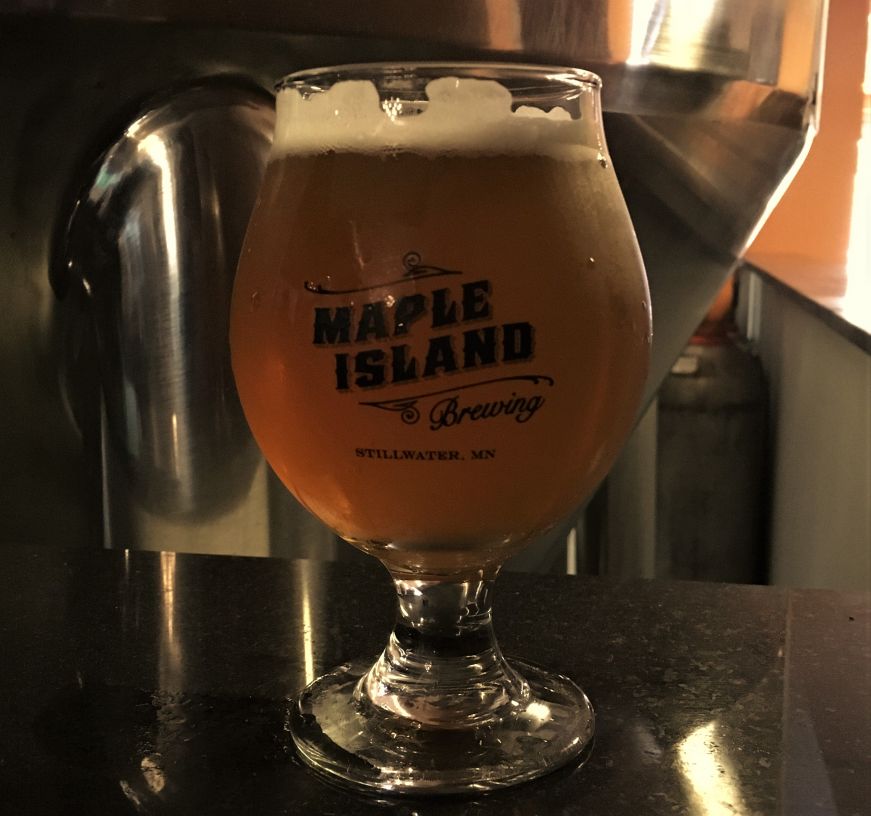 Lift Bridge Brewing has a special place in our hearts—their Farm Girl Saison was the first micro brew that we discovered after college.  Their taproom is about a 10-minute drive from downtown Stillwater and has patio seating.  In addition to a wide range of beers they serve housemade sodas (the old-fashioned root beer is excellent).
Maple Island Brewing operates a taproom in downtown Stillwater with patio seating and a river view.  I like their Maple Island Bock, which is made with pure maple syrup for a slight hint of maple flavor.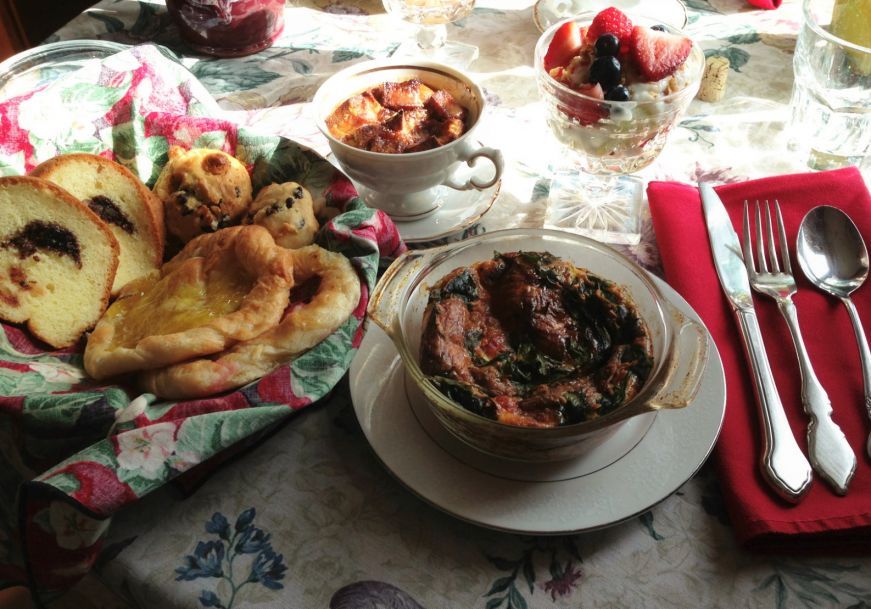 Places to stay:
As I mentioned in this post, our favorite accommodation in Stillwater is Cover Park Manor, a bed and breakfast about a five-minute drive from downtown.  We've stayed there three times and always splurge on the Michael E. Suite, a two-level suite with a fireplace, balcony, and king-sized bed on the main level and a double whirlpool tub and skylights upstairs.  A gourmet four-course breakfast is delivered to your room each morning (vegetarian by request), and a complimentary bottle of wine and and cheese plate is waiting for you in your suite when you arrive.  The only downside is that Cover Park Manor has a two night minimum for weekend stays.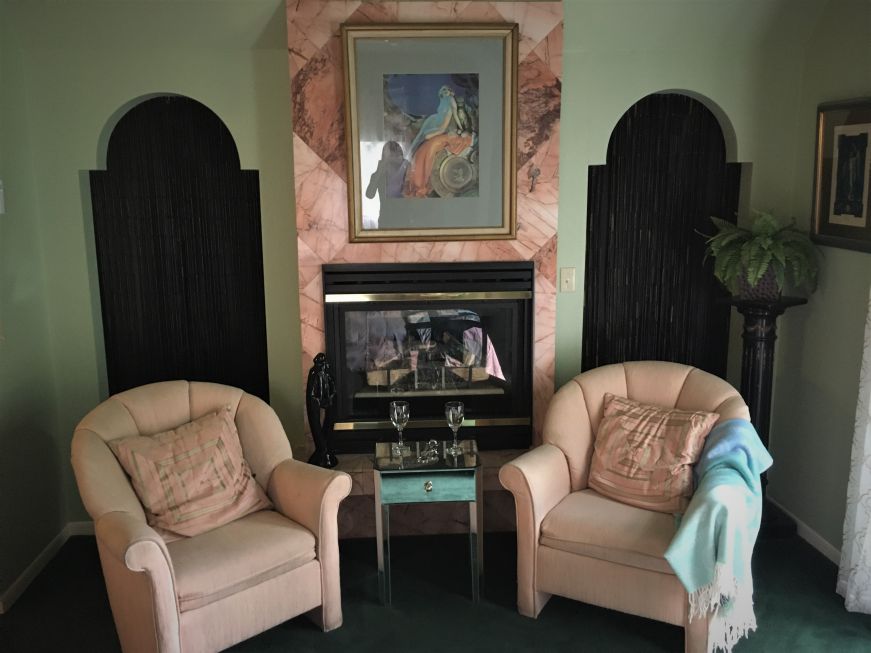 While it's a bit pricier, the James Mulvey Inn does offer one night weekend stays, so it was our pick for a recent trip.  We loved the opulent 1920s decor of the Art Deco Suite, which features a double whirlpool tub, fireplace, and a small balcony looking out over the grounds.  Check in is contact-free, and our room was stocked with a bottle of wine, sparkling and still water, juice, and snacks.  The inn is about a mile from downtown, and one of the highlights of our stay was walking back and forth to dinner and breakfast and admiring the historic houses, cozy porches, and gorgeous flower gardens.  As mentioned above, breakfast is served off-premises at the Lowell Inn.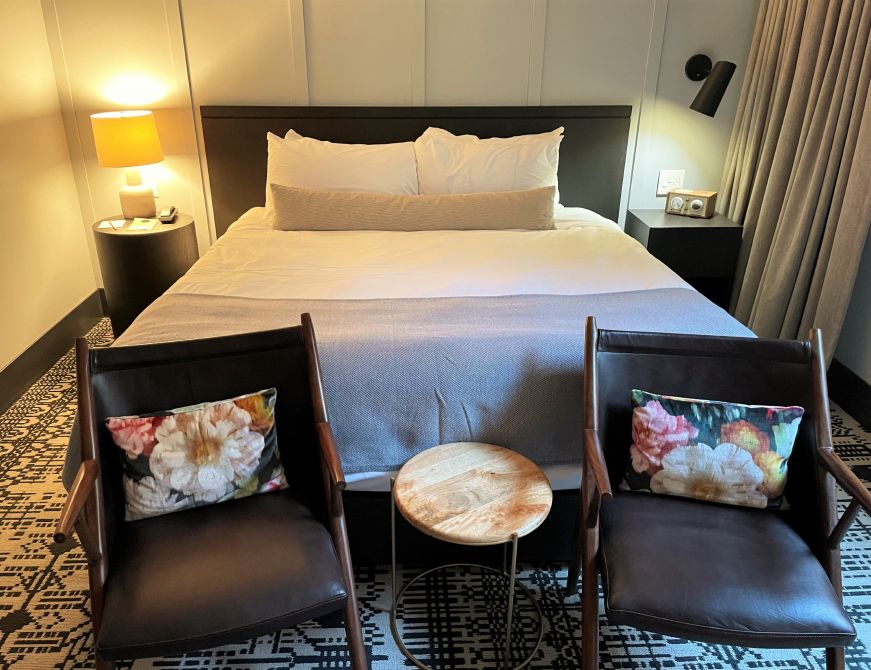 If hotels are more your style, Lora Hotel has an upscale feel and a convenient downtown location.  It's housed in a former brewery built into the bluffs, and the rooms are a upscale blend of historically-inspired touches and sleek design.  Amenities include cozy robes and an on-site restaurant and coffee shop; the hotel is also dog-friendly.  (In 2019, I received a complementary stay at Lora for research purposes.  I paid for a return visit in 2021 out-of-pocket.)
If you enjoyed this post, pin it!