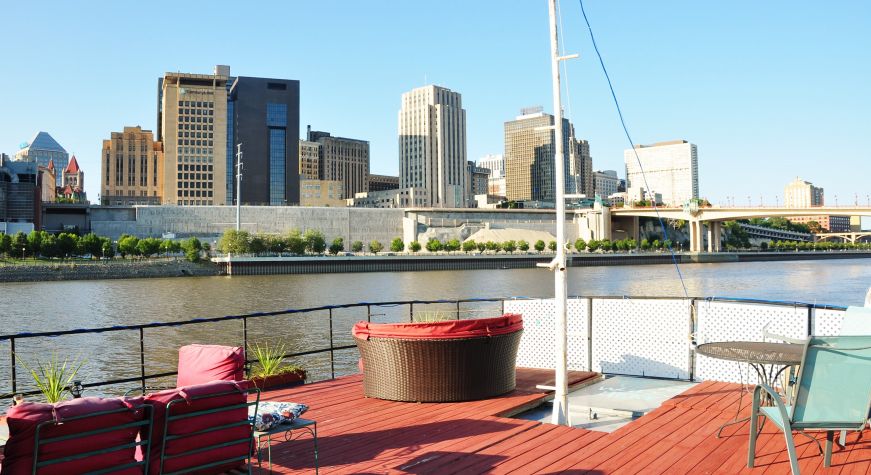 As someone who loves to travel, both for my writing work and in my personal life, I've spent my fair share of nights in hotels, bed and breakfasts, and Airbnbs.  Almost all of them have been clean, comfortable places to stay.  Some of them have been excellent.  And a handful have been so unique, so picturesque, or served such an amazing breakfast (this is a food blog, after all) that they were more than a place to sleep—they've lingered in my mind to become some of my favorite travel memories.
Here are my twelve most memorable stays, listed in chronological order.  Note that some of these accommodations were provided to me free of charge as part of a hosted trip or for travel article research.  I've indicated where that's the case. 
1. Emlagh Lodge, Dingle, Ireland
Mike and I spent our honeymoon in Ireland, driving down narrow country lanes, admiring panoramic vistas, and attempting to develop a fondness for Guinness.  The highlight was our stay in Dingle, a small town on the country's southwestern coast.  The rugged coastline and green fields seemed too beautiful to be real, and we had a front row seat from the window at Emlagh Lodge, a bed and breakfast on the outskirts of town.
In addition to the view, our room had a huge bathtub (it was one of the few times I've truly enjoyed a long soak in the tub), and we enjoyed the included full Irish breakfast—especially since I could opt for smoked salmon instead of sausage.  We're planning another trip to Ireland to celebrate our 10-year anniversary, and I'm hoping we can stay at Emlagh Lodge during our time in Dingle.
2. Ocean Breeze Hideaway, Kihei, Maui
As I mentioned in my post about Maui, Kihei is our favorite base due to its centralized location and laid-back feel.  It's also home to one of our all-time favorite bed and breakfasts: Ocean Breeze Hideaway.  Bob and Sandee are such warm, knowledgeable hosts, and the breakfasts of fresh fruit, homemade banana bread, and tropical jam are a vacation for your taste buds.  
The Ocean Breeze Hideaway has a bit more privacy than a typical bed and breakfast, which we appreciate—we've stayed in the Coral Room, which has a private entrance and an outdoor seating area with table and chairs.  Rooms are also well-stocked with a mini fridge, beach gear, and even jackets for brisk sunrise outings to Haleakala. 
3. Cover Park Manor, Stillwater, Minnesota
Stillwater is my go-to for a day trip or weekend getaway: it's only about an hour from home, which is far enough to feel like an escape without a long drive.  It's a pretty riverside town, with a historic downtown that has plenty of shops and restaurants.  And it's home to Cover Park Manor, a cozy bed and breakfast where we've stayed three times over the years.
It's perfect for a romantic stay, since each room has a private balcony and double-sized whirlpool tub, and a multi-course breakfast is delivered to your room each morning.  You also get a complimentary bottle of wine and cheese plate when you check in.  We always splurge on the Michael E. suite—it has a two-story layout, with the whirlpool on the second floor beneath skylights and windows that look out over the river valley. 
4. Altfränkische Weinstube, Rothenburg ob der Tauber, Germany
Rothenburg ob der Tauber is a Germany's best-preserved medieval town, with half-timbered houses, cobblestone streets, and Altfränkische Weinstube, a 650-year-old inn.  Rooms combine medieval style with modern amenities—we stayed in room #2, which has a sloped half-timbered ceiling, chandelier, four poster bed, and a large bathroom with a soaking tub.  Hotel breakfasts are quite good in Germany (lots of fresh bread, cold cuts, cheese, yogurt, and muesli), but Altfränkische Weinstube took it to the next level with an especially high-quality spread in picturesque surroundings.
In addition, the location within the historic portion of the city is perfect—we woke up early to take a walk atop the city wall and had it completely to ourselves.
5. The Black Hawk Hotel, Cedar Falls, Iowa
One of the highlights of my hosted stay in Cedar Falls, Iowa was the breakfast buffet at The Black Hawk Hotel: a generous spread of bread, pastries, fruit, all the fixings to build your own yogurt parfait, and spreads like jam, peanut butter, and Nutella.  While the selections were pretty different—berries and biscotti instead of cold cuts and cheese—the variety of high-quality selections reminded me of the breakfast buffets I enjoyed in Germany.
The rest of the hotel is very neat, too—the hotel has been open since 1853, when it served stagecoach passengers.  The design of the current building dates to 1914, and there's a separate motel building with retro 1970s-inspired rooms.  Since the hotel has been extensively renovated over the years, each room is different: I was treated to a spacious king suite with a four-person dining table, historic crown moldings, and a tin ceiling. 
6. Hotel Donaldson, Fargo, North Dakota
A very nice perk of being a travel writer is getting comped at hotels I couldn't afford on a travel writer's income, like the time I got to stay at the Hotel Donaldson on a hosted trip to Fargo, North Dakota.  It's an arts-themed boutique hotel, with 17 rooms decorated by works from different North Dakota artist.s  The amenities are top-notch, including extra-plush robes, a fancy fitness center, and a nightly reception with complimentary beer, wine, and snacks.  My favorite part of my stay was the turn down service, where the staff dims the lights, puts a CD by a local artist on the stereo, and leaves a plate of housemade chocolate truffles on the bedside table.
7. Covington Inn, St. Paul, Minnesota
For years, Mike and I fantasized about staying at the most unique accommodation in the Twin Cities: the Covington Inn, a floating bed and breakfast on the Mississippi River.  It's housed in a converted tugboat, with a view of downtown St. Paul.  I was able to work out a hosted stay to celebrate our 10-year anniversary as a couple, and it was just as romantic as we imagined.  A cozy cabin, a lounge area on the top deck, the gentle rocking of the ship to lull us to sleep at night, a breakfast of French toast with caramel sauce—it's the closest we can come to a cruise without hopping on an airplane.
8. Lora Hotel, Stillwater, Minnesota
Mike never understood my fondness for boutique hotels...until we got a comped stay at Lora Hotel in Stillwater, Minnesota so that I could check it out for future travel coverage.  It's housed in a former brewery built into the bluffs, and the rooms are a gorgeous blend of historically-inspired touches and sleek design. 
I couldn't track down a picture of our room, but I did find a photo of us in our cozy robes.  I also appreciated the in-room workout kit, which is available by request—it includes a yoga mat, resistance bands, and an iPad with yoga and Pilates videos.
9. Historic Park Inn, Mason City, Iowa
Mason City, Iowa is an improbable destination for architecture buffs: it's home to the world's only remaining Frank Lloyd Wright-designed hotel, the Historic Park Inn.  A night at the hotel is a unique way to experience history—I think I spent most of my hosted stay wandering around the hotel's public spaces and feeling like I had sneaked into a museum after hours.  You can even sit in the Frank Lloyd Wright-designed chairs!
The Historic Park Inn has been extensively remodeled over the years, so the guest rooms and some of the public spaces are completely modern.  However, there are lots of neat Wright-inspired touches, like carpets that look like Prairie School stained glass. 
10. Chateau Avalon, Kansas City, Kansas
Chateau Avalon in Kansas City, Kansas is unquestionably the quirkiest place I've stayed—each room has a fantastical theme, ranging from the Renaissance to a Tahitian treehouse.  There's a Serengeti room with a faux rhino head mounted to the wall, a Camelot room with a drawbridge, and a pirate-themed room with a railing made from fake bones.  My hosted stay included a Castaway Isle room, complete with a shipwrecked boat hull, palm trees, a Swiss Family Robinson-style shower, and a desert island mural.  My bed was up a flight of wooden stairs inside the ship, under a sailcloth canopy.
The vibe is more kitsch than upscale, but it's undoubtedly fun.  After a decade-plus of travel, not many hotels surprise me—but the Chateau Avalon did, every time I woke up to a mural of a desert island and showered in a rowboat bathtub.
11. Casanova Coulee House, Hudson, Wisconsin
Last December Josh and I needed to decompress, so we rented an Airbnb in Hudson, Wisconsin for a short staycation.  It was like stepping into a calming magazine spread—originally built in 1868, the house has been recently renovated, with white wooden floor boards, a gorgeous kitchen, and decorative touches that felt like a perfectly curated Pinterest board.  I loved the little nook on the second floor where I set up my laptop, and there was even a giant Christmas tree in the living room.
As much as I love historic houses, our stay was also a reminder that I'd never want to live in one—there was only one bathroom in the entire house, and I hadn't appreciated the meaning of the word "drafty" until walking past the antique front door on a sub-zero day.
12. Art of Animation Resort, Disney World, Florida
When we booked our rooms at Disney World's Art of Animation Resort, I was mostly interested in the relatively affordable price (for Disney) and the convenient location.  Various parts of the resort are themed based on Disney and Pixar movies: The Little Mermaid, The Lion King, Cars, and Finding Nemo.  I booked a Little Mermaid standard room since it was the cheapest option, so we were surprised at check-in to be directed to one of the Cars buildings—we got an unexpected upgrade to a family suite.
The extra space was a great perk, but my favorite part was feeling like I had stepped into one of my favorite animated movies.  From life-size statues of all of the Cars characters to a replica of the Wheel Well Motel's facade to a pool area with Cozy Cone-inspired pool cabanas, the attention to detail made our stay such a delight.  Every day I would discover something new—it made me feel like an excited kid again (which is kind of the whole point of Disney World).
If you enjoyed this post, pin it!