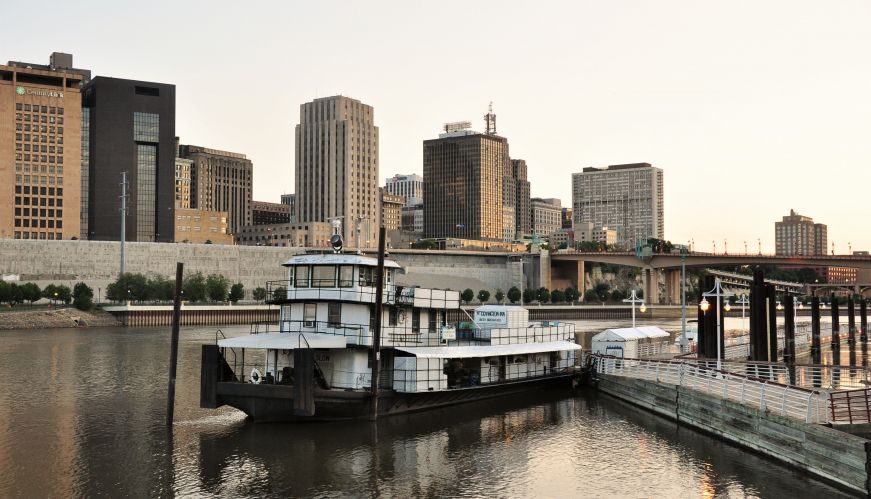 Thank you to Visit Saint Paul for hosting our romantic staycation in St. Paul.  As always, all content and opinions are my own.
As I've mentioned previously, my travel goal this year has been to explore my own backyard.  Travel doesn't need to be far-flung to be satisfying, and some of my favorite travel memories are from trips close to home: wine tasting in the St. Croix Valley, taking a cheap trip to Germany via New Ulm, and doing a food tour in Stillwater.  So this year, to celebrate our ten-year anniversary(!) as a couple, Mike and I took a very short jaunt to St. Paul for a romantic staycation.
Since we live in the western suburbs and Mike works in Minneapolis, going to St. Paul always seems like a bit of an occasion.  It's home to some of our favorite restaurants, like Moscow on the Hill, W.A. Frost and Company, Ghebre's, Cossetta, and Grand Ole Creamery.  We love strolling along Summit Avenue to gawk at the historic mansions, browsing the shops on Grand Avenue, and taking long walks along the river.  While Minneapolis is also located on the Mississippi, you feel it more in St. Paul—there's a certain intimacy with the water that sets it apart.
Fittingly, our staycation accommodation took advantage of St. Paul's riverside feel: we spent the night at the Covington Inn, one of the few floating bed and breakfasts in the country.  It's housed in a converted towboat docked on the Mississippi River.  There's a nearby parking lot in Harriet Island Regional Park and you simply walk down the dock to the inn.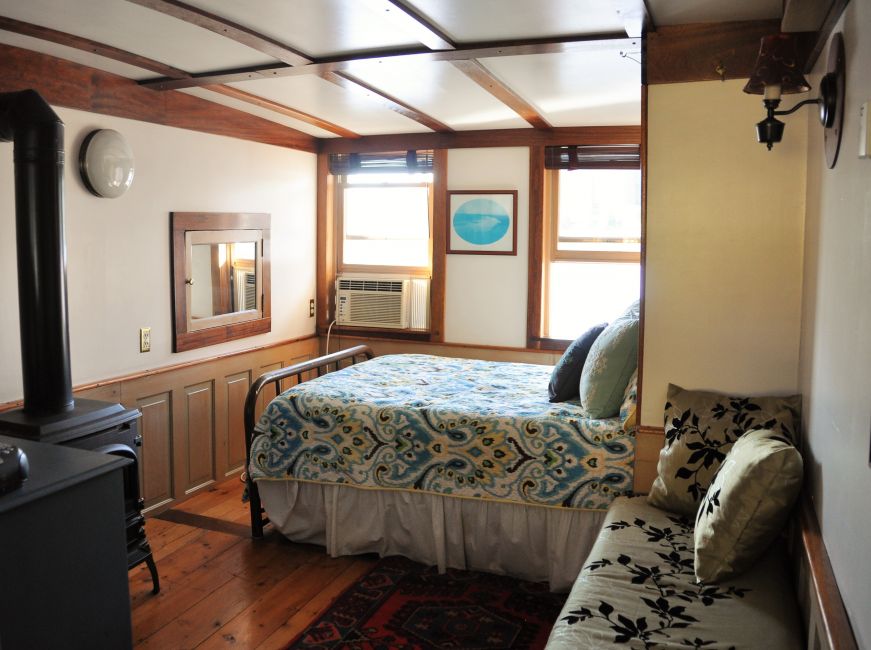 The bed and breakfast's four staterooms have unique floor plans that utilize the boat's nooks and crannies, and they all have private bathrooms, electric fireplaces, and air conditioning (the Covington Inn is open year-round).  We stayed in the Mate's Quarters, which features a double bed, a view of the St. Paul skyline, and an enclosed private deck.  
What's it like to stay in a floating bed and breakfast?  While I did feel a very slight rocking, since the Covington Inn is docked there's much less motion than on a moving cruise ship.  Our room was a bit smaller than the average American hotel room, but larger than a stateroom on a cruise ship (if you want more space, the Covington Inn's other rooms have more of a suite-style layout).  There's a common area where breakfast is served, with a couch, armchairs, and refrigerator for guests to use.  My favorite part of the boat was the top deck, which has tables, comfortable chairs, and a lounger for two—plus one of the best views in St. Paul.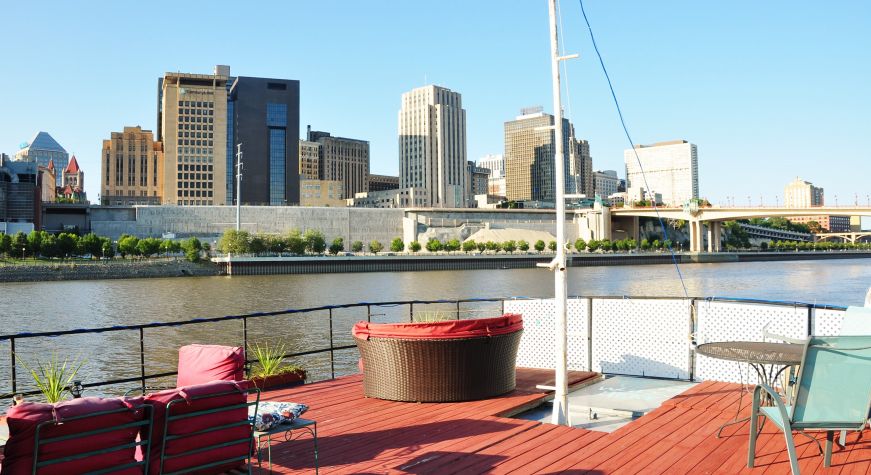 After admiring the view for awhile, we kicked off our staycation with dinner at W.A. Frost and Company in the Cathedral Hill neighborhood.  It's one of the most romantic restaurants in the Twin Cities: the interior has several fireplaces and elegant historic decor, and the leafy outdoor patio is lit with strings of lights (reservations are recommended, especially for the patio).  Treating ourselves to the six-course tasting menu on the patio has become our annual anniversary splurge, and as always the service and food were exquisite.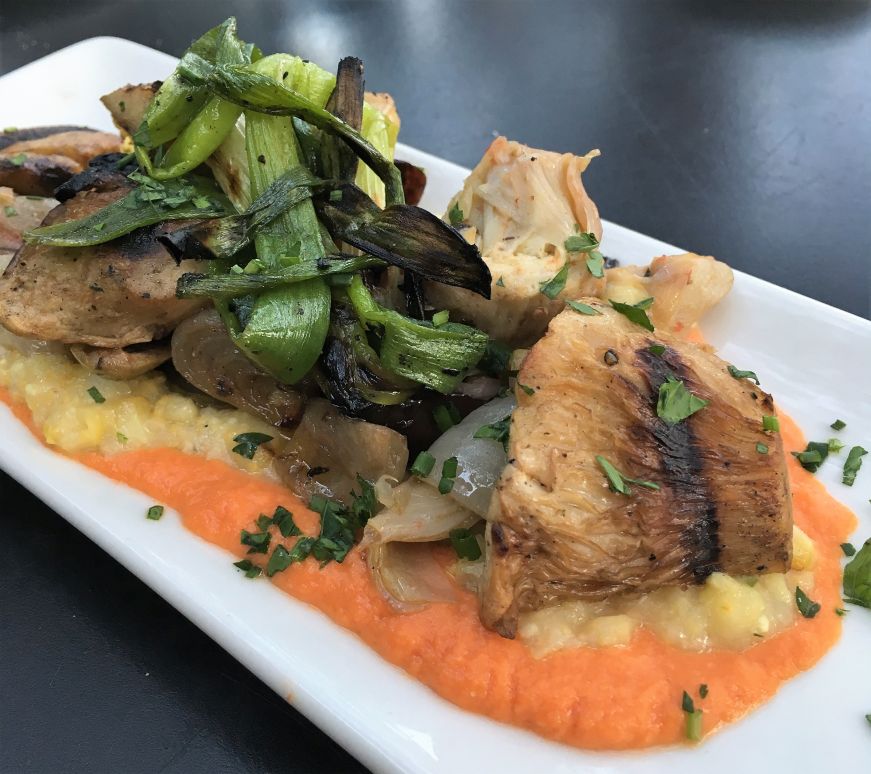 My favorite item on the vegetarian tasting menu was actually one of the simplest: the rigatoncini arrabiata, with a chili-spiced sauce that clung perfectly to every noodle.  I also enjoyed the complex flavors of the grilled nebrodini (a type of mushroom) paired with polenta, ramps, cherry tomatoes, cipolini onions, and olives.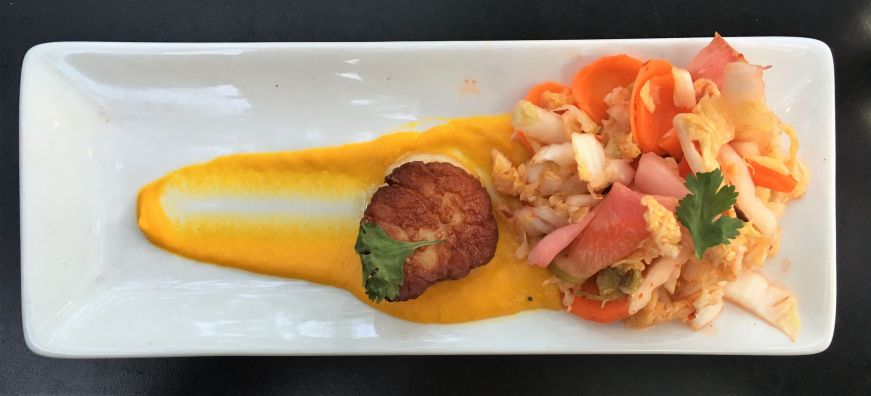 Mike loved the petite bistro steak on the standard tasting menu, served with varied accompaniments: a white bean and grilled succotash, tarragon cherry compote, and port wine demi glace.  I appreciated the bite I snagged of the excellently-executed scallop.  Dessert—a chocolate coconut truffle with banana custard and rum caramel sauce—was another highlight.  We kept taking smaller and smaller bites, trying to make it last as long as possible.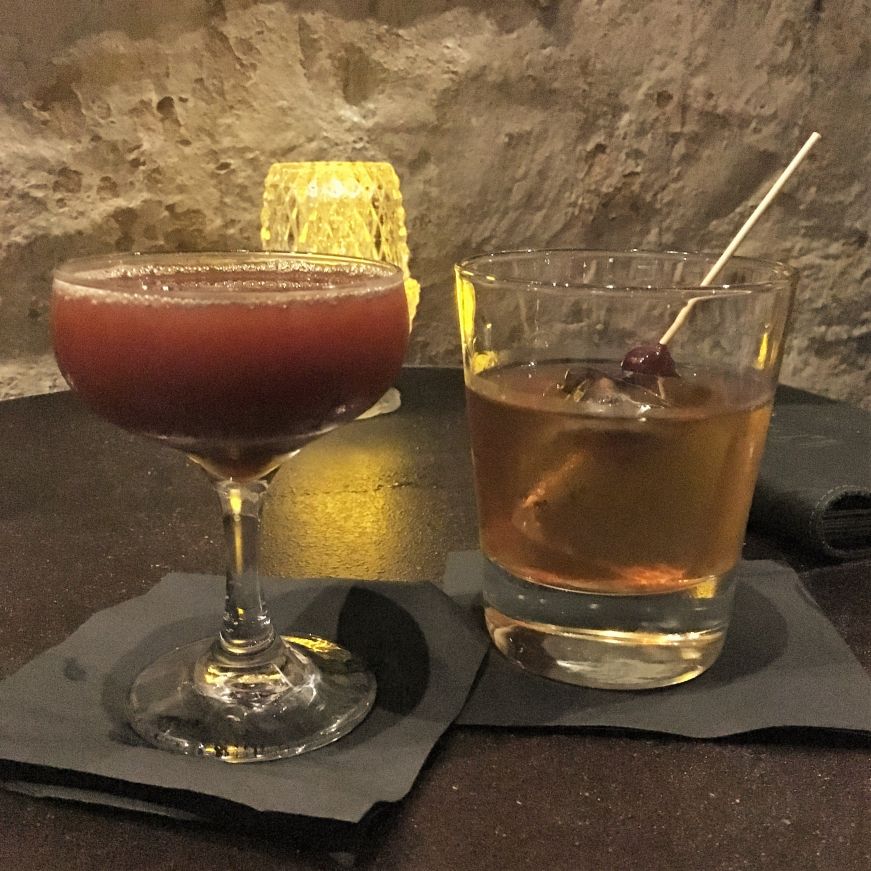 Next up was a nightcap at Green Lantern, a downtown speakeasy-style cocktail lounge with live music and an interesting menu of signature cocktails.  Mike went with the Odds On Favorite, a whiskey-based cocktail with vanilla-cinnamon syrup and house sarsaparilla-strawberry bitters (it reminded me of a gussied-up old fashioned).  I tried the 651, a gin cocktail with blood orange and basil; and the Wabasha, a vodka/St. Germain/apricot concoction served in the largest martini glass I have ever encountered.  Green Lantern has a low-key atmosphere that makes it perfect for a romantic date night—it wasn't too crowded, and the cozy armchairs and dim lighting certainly didn't hurt.
We wrapped up the evening by hanging out on the Covington Inn's top deck to admire the lights of the St. Paul skyline.  After a good night's sleep—I actually slept until 8:30, which is a feat at age 31—we woke up to rowers cruising by our bedside window.  We started off our day in a far lazier way, with French toast topped with fruit, caramel sauce, and whipped cream.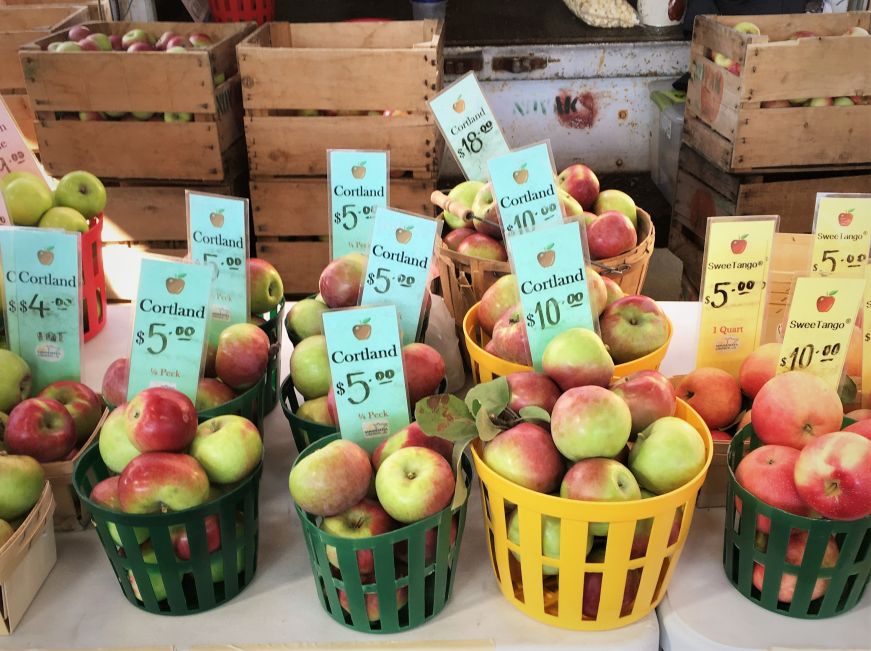 After breakfast, I popped over to the St. Paul Farmers' Market.  I'd recommend walking if you have the time, since parking can be a bit tricky (the market is a pleasant 1.3-mile walk from the Covington Inn).  The market's selection was amazing: canning tomatoes by the bushel, corn, colorful bouquets, watermelons, apples, smoked salmon, farmstead cheese, pastries, granola, hot sauce, and so much more.  I limited myself to some cucumbers, a bag of chestnut crab apples, and lots of sampling and photos.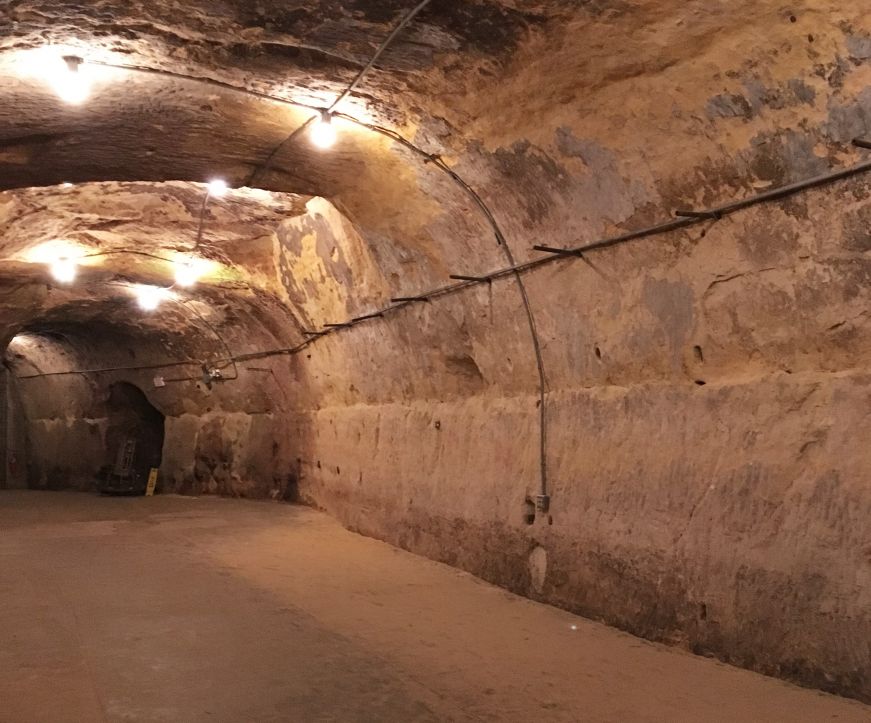 Pretending to be a tourist is crucial to a successful staycation, so Mike and I went all-out with the Wabasha Street Caves tour.  Honestly, the caves aren't terribly impressive: they're man-made caverns created by a mid-1800s silica mining operation, and in the years since they've served as a mushroom farm, nightclub, speakeasy, cheese storage facility, and event space.  What makes the tour worthwhile is the presentation—our guide regaled us with tales of St. Paul's gangster past, including a lurid triple homicide during the caves' speakeasy days that left bullet marks on the fireplace.  I suspect the tour might involve an element of "don't let the facts get in the way of a good story" but it's highly entertaining nonetheless.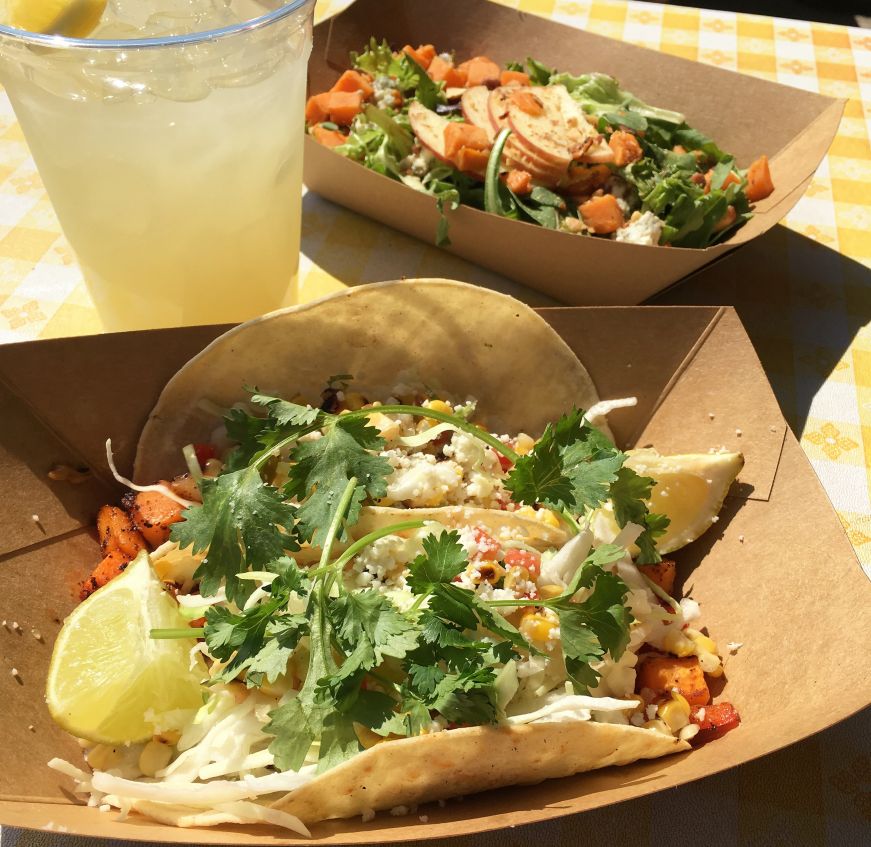 Since by this point it had shaped up into a gorgeous fall day, we walked along the river for a while before enjoying lunch at Red River Kitchen at City House, which is open May through October.  You can't beat the location: it's housed in a restored grain elevator right on the river.  I ordered the vegetable tacos, which were a decent healthy option, although I would've appreciated more spice.  Mike's autumn salad was quite tasty, although it seemed on the small side for $8.  Overall, though, we enjoyed the location and I appreciated that the menu offered some interesting vegetarian options.
After lunch, we headed over to the Science Museum of Minnesota.  I visited last year during my hosted stay in Roseville, but it was fun to have more time to explore.  I loved the part of The Human Body exhibit where you can see how much blood is in your body based on your weight, gender, and age (I have seven pints, Mike has nine and half).  Other highlights were the fossils and the weather experiments in The Mississippi River exhibit. 
I also appreciated the thought-provoking exhibits that transcended typical science museum fare.  Mental Health: Mind Matters (a temporary exhibit through January 6, 2019) is a very sensitively produced and informative look at mental illness, and RACE: Are We So Different? explores scientific, cultural, and historical aspects of race.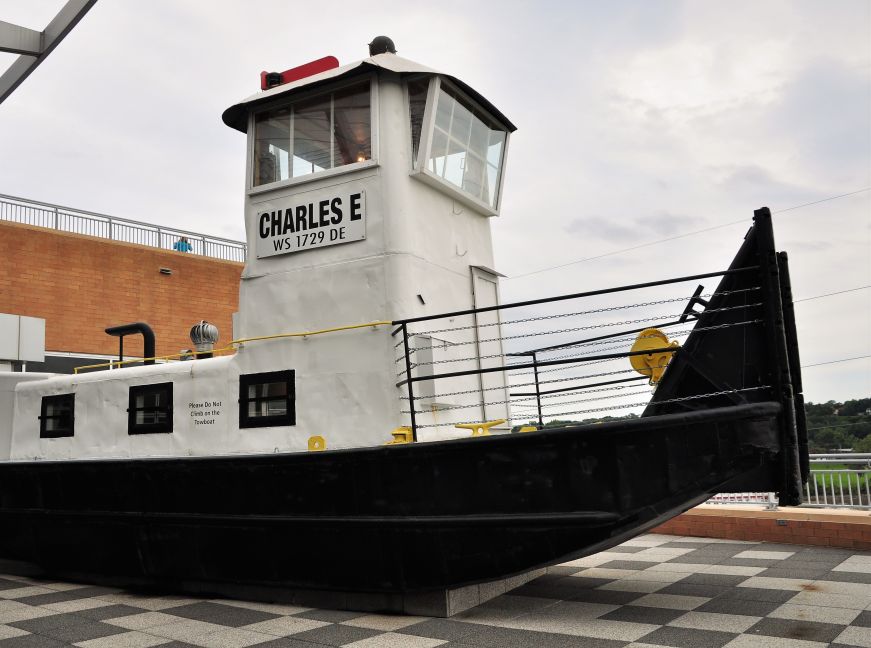 In addition to the impressive views throughout the museum, there are some neat tie-ins to the building's riverside location.  The Mississippi River exhibit includes an actual towboat, plus lots of fascinating information about the river's history and environment.  The Mississippi River Visitor Center in the museum's lobby has some kid-friendly interactive exhibits and park rangers who can give you advice about recreational opportunities along the river (museum admission isn't required for the visitor center, which is administered by the National Park Service).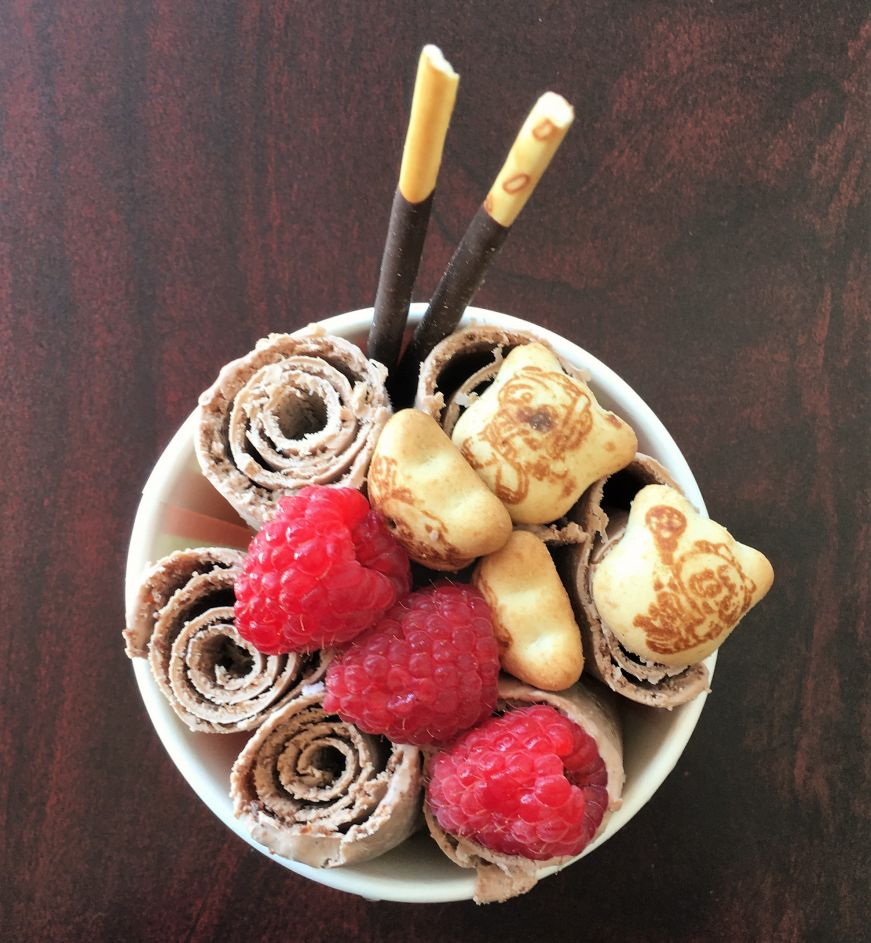 Longtime readers know that I need to track down local ice cream wherever I go (like Ample Hills Creamery in NYC and Chaeban Ice Cream in Winnipeg) so we wrapped up our staycation with a stop at Sota Hot & Cold's St. Paul location.  It's a Thai rolled ice cream shop (watching them make your order is half the fun) with a menu of sundaes ranging from Merry Berry to Cookie Combo, as well as a build-your-own option. 
Mike ordered the Minty Madness, and we were both impressed with how thoroughly the chopped mint Oreos were incorporated into the ice cream base.  I did the build-your-own, with a chocolate base, brownie mix-in, and raspberries, pocky sticks, and chocolate pandas for toppings.  It was a great combination, and I loved the ice cream texture—creamy but substantial, not really comparable to anything I've tried before.
Did our romantic St. Paul staycation measure up to some of our more ambitious trips?  Absolutely!  It was fun to feel like a tourist so close to home, and since it was a shorter trip without transportation expenses, we didn't feel guilty about splurging on dinner at W.A. Frost and drinks at Green Lantern.  The Covington Inn has a lovely romantic atmosphere, and its location on the river gave us a truly unique vantage point on St. Paul. 
Want to plan your own vacation or staycation to St. Paul?  Start with Visit Saint Paul for information about accommodations, dining, and attractions.
Many thanks to Visit Saint Paul for providing our stay at the Covington Inn, Wabasha Street Caves tour, and Science Museum of Minnesota admission.  We paid for all other expenses out-of-pocket.
If you enjoyed this post, pin it!