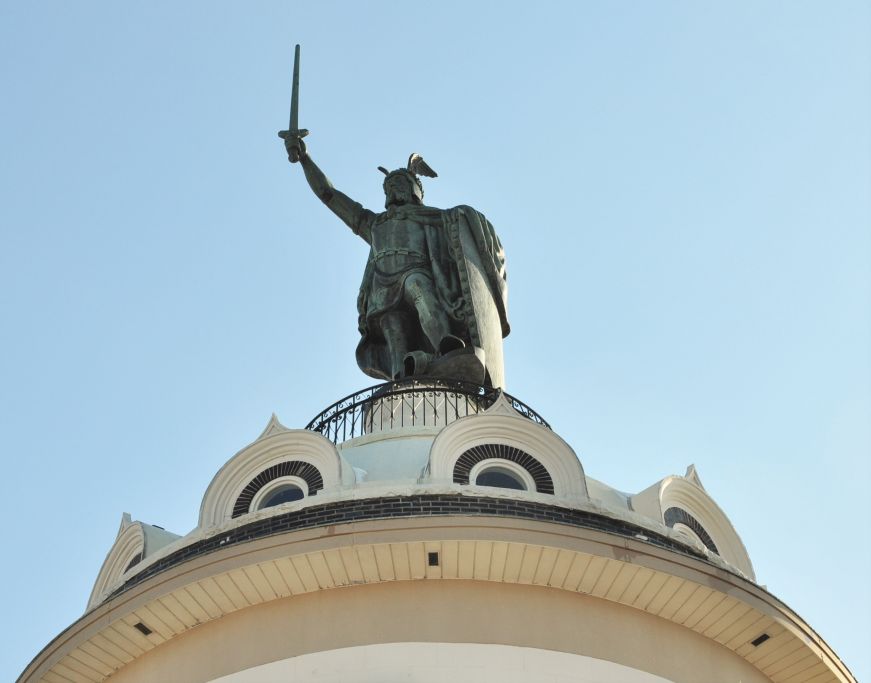 Thank you to the New Ulm Convention & Visitors Bureau for hosting my stay.  As always, all content and opinions are my own.
As I mentioned in my post on my day trip to Red Wing, this year I'm focusing on visiting as many Midwest destinations as possible.  Since Germany is my favorite international destination, a visit to New Ulm, Minnesota was a must (According to the 2010 census, New Ulm had the most Germans per capita of any city in the country, with 66 percent of residents claiming German ancestry).  New Ulm is a small town in the south central part of the state, about a 1.75 hour drive from the Twin Cities. 
One of the things I loved most about New Ulm is that it's an incredibly walkable destination for tourists.  All of the shops, restaurants, and attractions I visited were within a couple miles of my bed and breakfast—it reminded me of my time in small German cities like Rothenburg ob der Tauber and Bacharach.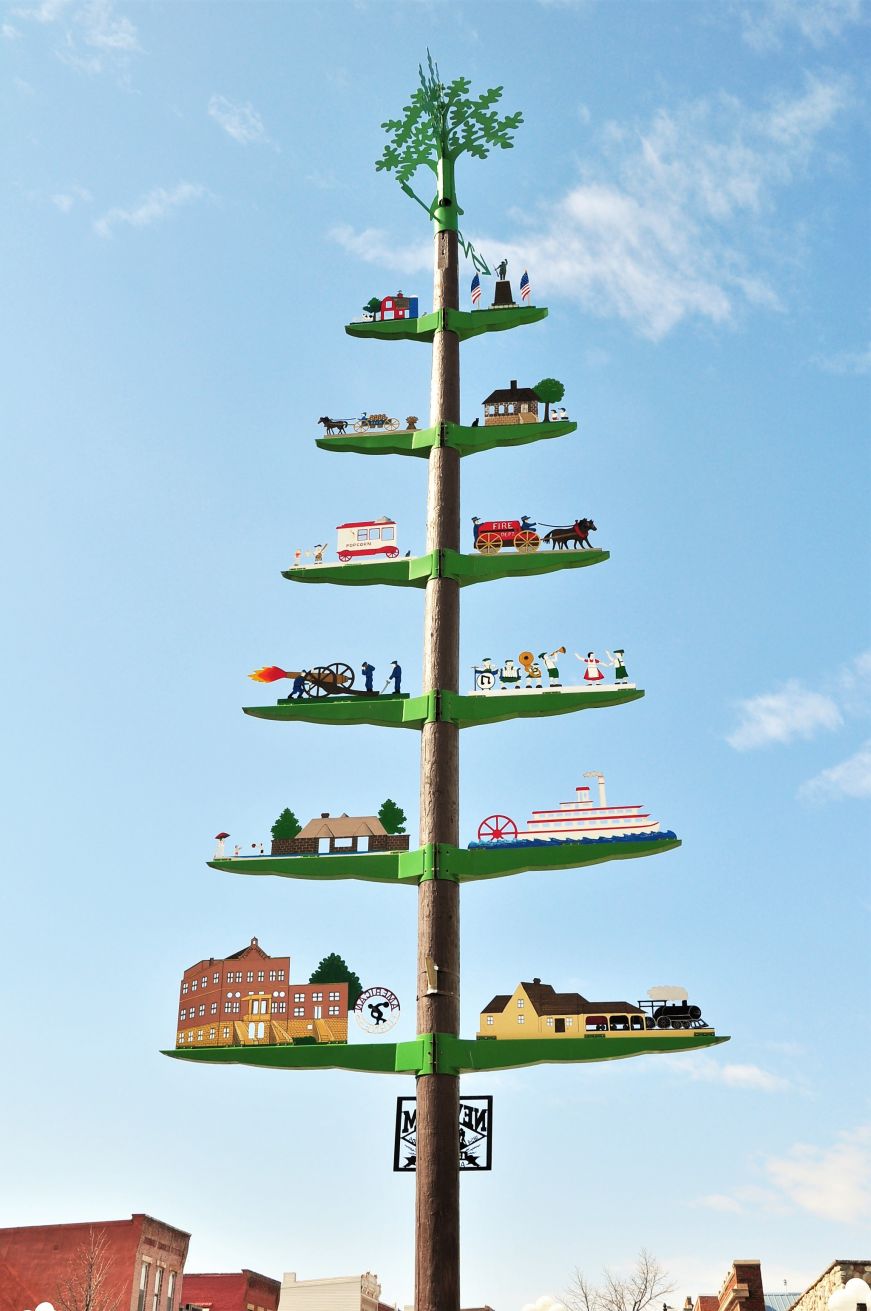 As you would guess from the name, New Ulm is very proud of its German heritage: the city was founded by German immigrants in 1857, and the German influence is still noticeable today.  There's a Glockenspiel that plays at noon, 3:00pm, and 5:00pm daily, and a Heritage Tree similar to the May poles in many German towns (I saw one during my stay in Munich).  New Ulm's Heritage Tree features items that represent the city's history, from a beer wagon to a WWI doughboy.  My favorite?  A popcorn cart, which represents that New Ulm is a good place to raise children.
New Ulm's most iconic landmark is Hermann the German, a 102-foot tall monument that depicts Hermann the Cherusci, a first-century chieftain who defeated the Romans and is considered a symbol of German unity and freedom.  From May through October, you can climb the tower for a small admission fee.  Even if you don't climb to the top (the monument was closed for the season during my April visit) the view from the surrounding park is still impressive.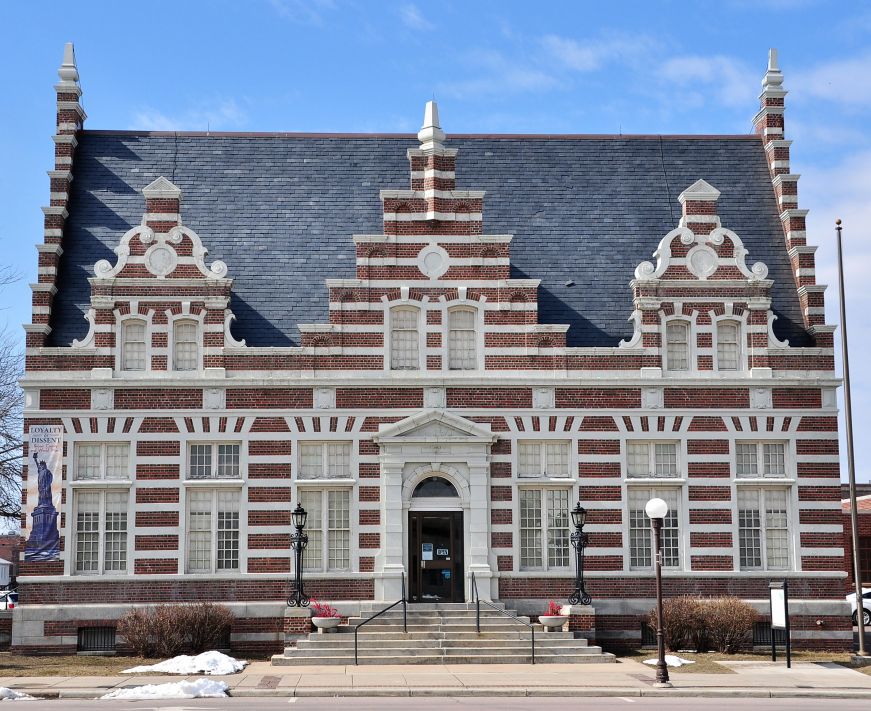 I was very impressed with the quality of the exhibits at the Brown County Historical Society, a museum housed in New Ulm's historic post office.  The second floor is devoted to "Loyalty & Dissent", an exhibit about Brown County and WWI, while the third floor features "Never Shall I Forget", an exhibit on Brown County and the U.S.-Dakota War.  The WWI exhibit explores the conflicting loyalties of Brown County's German-American residents: especially at the beginning of the war, many were sympathetic to Germany and felt that the U.S. should not be involved with the conflict.  On July 25, 1917, 8,000 people gathered in New Ulm for an anti-draft rally that had far-reaching consequences for the leaders and the community.  Throughout the exhibit, the events of WWI are examined through the lens of local experiences, and a particularly fascinating section discusses dissent and the suspension of constitutional rights during wartime.
New Ulm played a pivotal role in another, lesser-known conflict: the U.S.-Dakota War of 1862.  Despite spending my whole life in Minnesota, I knew very little about the war, and I appreciated the exhibit's comprehensive overview of the war's background, timeline, and the conflicting ways it has been interpreted over time.  To very briefly summarize, the war began in August 1862 after decades of broken treaty promises to the Dakota and a rapidly growing settler population.  Fighting lasted six weeks, and between 400 to 600 white civilians and an unknown number of Dakota were killed.  The U.S. government's policies of internment, forcible removal, and punitive expeditions in the years after the war resulted in the deaths of hundreds of Dakota and mixed-race people (if you're interested in learning more, the Minnesota Historical Society has a website about the war and its aftermath).
New Ulm was at the front lines and was attacked twice by the Dakota—over a third of the town was destroyed, and in the aftermath of the second attack, 2,000 residents fled to Mankato, St. Peter, and St. Paul.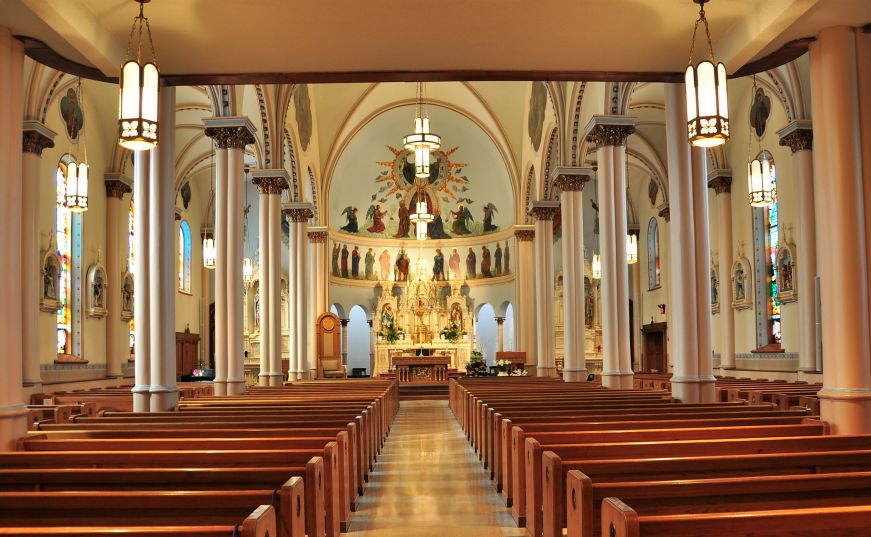 Other places to explore New Ulm's German heritage include The Way of The Cross, a Catholic shrine completed in 1904 featuring statues imported from Bavaria and captioned in both German and English; the Cathedral of the Holy Trinity, which has a German Baroque influence that reminded me of the churches I visited in Munich; and Schell's Brewery, a sixth generation family-owned German craft brewery which offers tours and a seasonal beer garden.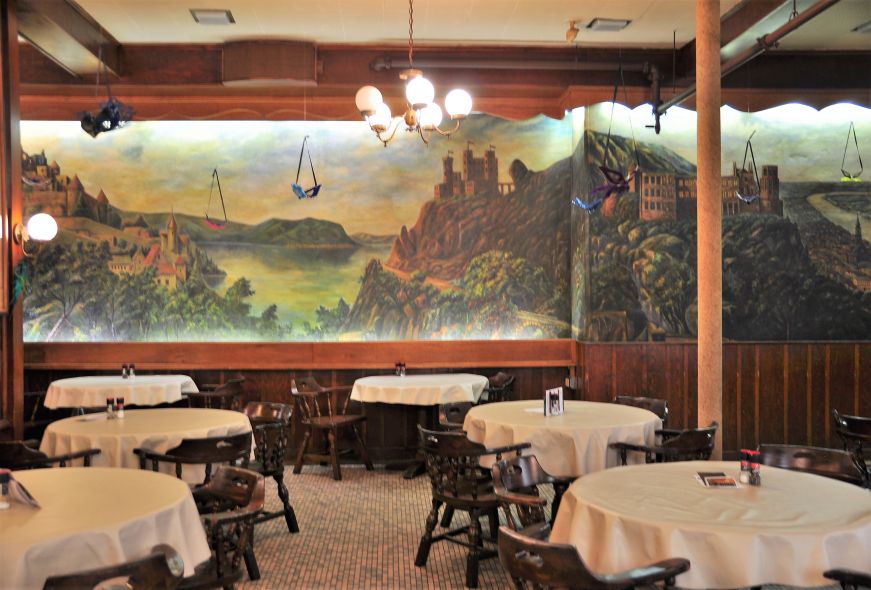 If you like your history with a side of fries, stop by Turner Hall for dinner.  New Ulm was founded by the Turnverein, a liberal nationalistic movement founded in Germany in the early 1800s.  Many Turners took part in the German revolutions of 1848-1849; after their defeat, many Turners emigrated to the United States to escape political persecution.  Unfortunately, the persecution continued in the United States, in the form of anti-immigrant violence.  New Ulm was founded by the National Turnverein in 1856 so that the Turners would have a safe place to settle, and the city's first Turner Hall was built that same year.    
New Ulm's Turnverien is still active, and the current Turner Hall (parts of the building date to 1873) houses as a restaurant and bar, events center, and gymnastics program.  The bar is Minnesota's oldest, and the restaurant is decorated with hand-painted murals that depict European castles (I recognized Rheinstein Castle from our stay along the Rhine River).  Non-members are welcome to dine in the restaurant, which serves German specialties like schnitzel and spätzle as well as salads, burgers, sandwiches, pizza, and ribs.  I enjoyed the Southwest Chipotle Salad, which is topped with a crumbled black bean burger and included a breadstick still warm from the oven.  For dessert, I ordered the cookie skillet: a warm, gooey chocolate chip cookie served in a cast-iron skillet with vanilla ice cream, chocolate sauce, and caramel.  It was most definitely worth the subsequent sugar headache.
In addition to Turner Hall, there's a range of dining options in downtown New Ulm—one of the most well-known is Veigel's Kaiserhoff, which has been serving up German fare and their famous ribs since the 1930s.  For vegetarians, I found the best variety at Lola and Turner Hall, with the Cottonwood Grill and George's Fine Steaks & Spirits each offering a handful of vegetarian options.
The Bäckerei & Coffeeshop is a no-frills, classic bakery offering over 40 varieties of donuts, as well as cookies, bread, and cinnamon rolls.  It's one of the best bargains in town—a giant cinnamon roll and a cup of coffee only set me back $2.15.  Note that the bakery only accepts cash or checks.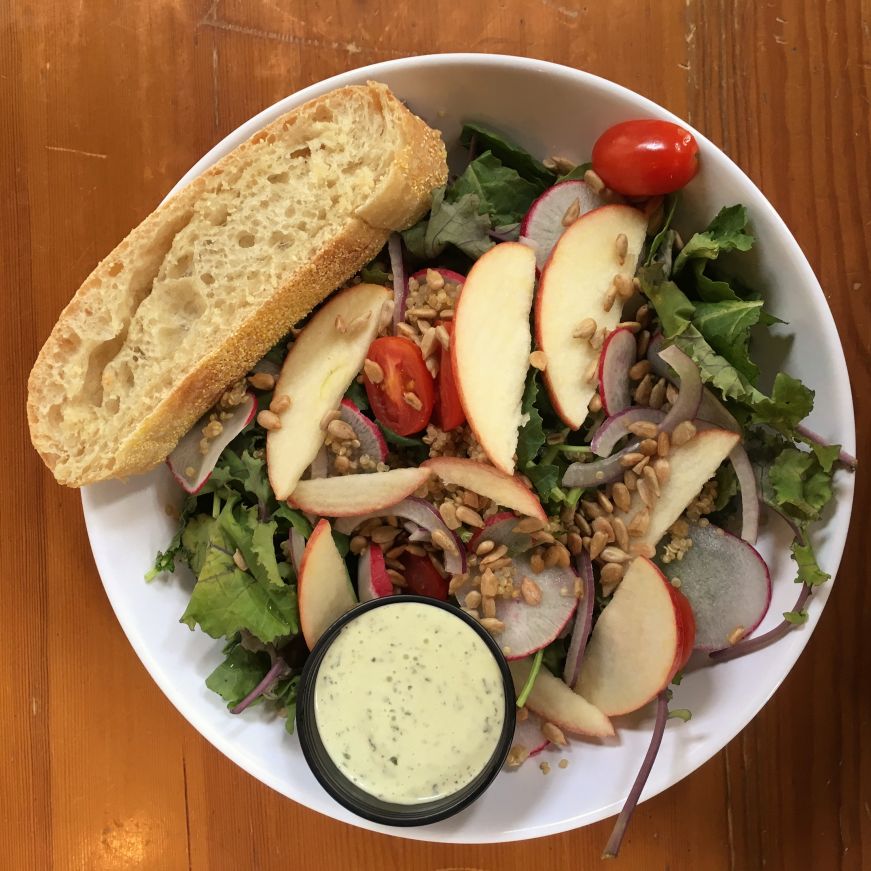 Lola—An American Bistro was my go-to for lunch and coffee breaks.  It has an urban funky coffeehouse ambiance with the benefits of a small town atmosphere—I was amazed by how many people left their laptops unattended on the tables while they wandered off to order food or chat with friends (sadly, this is not something I can do at home in Minneapolis).  Lola's has a breakfast menu that includes egg dishes, sandwiches, waffles, and pancakes, and lunch and dinner options range from salads and sandwiches to pasta and pot pies.  I enjoyed the baby kale salad, which includes apples and a hearty helping of quinoa and is served with a delicious green goddess dressing.
There are also a handful of daily specials—I loved the vegan quesadilla, which was filled with sauteed bell peppers, onions, and a housemade vegan cheese made with cashews and nutritional yeast, and served with salsa and a housemade tofu "sour cream" (seriously, it tasted better than the real thing).  And don't forget dessert—the bakery case offers giant cookies, bars, cake, and personal-sized cinnamon pull-a-parts with cream cheese frosting (be sure to have them warm your pull-a-part up for you).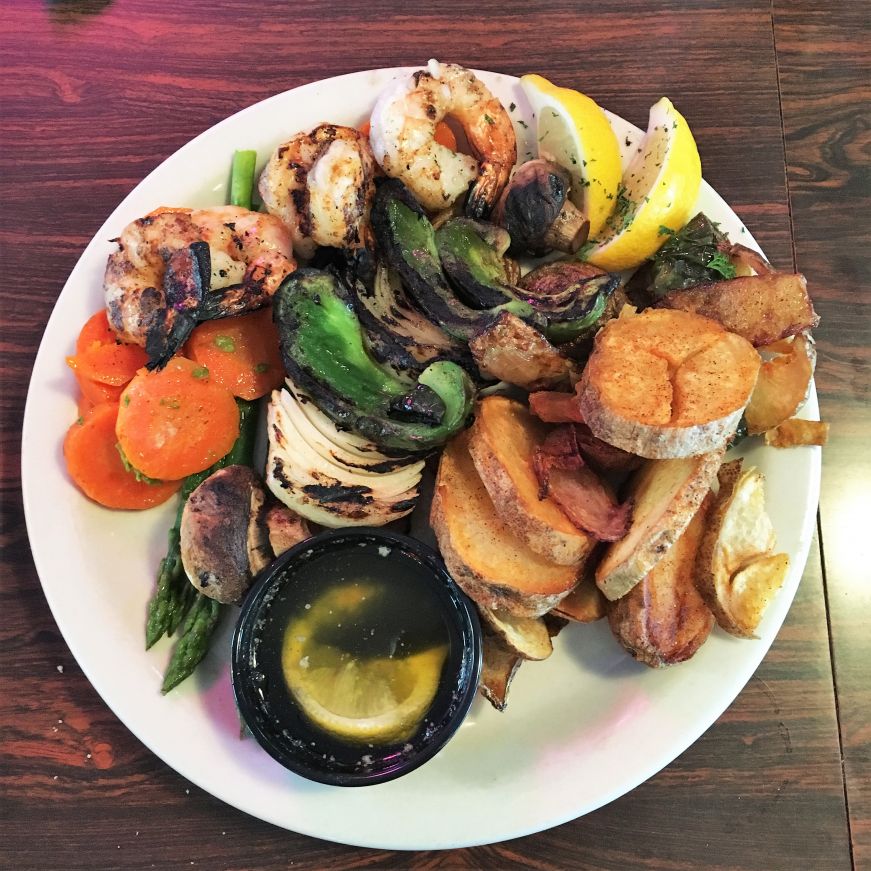 In addition to their namesake selection of steaks and a full bar, George's Fine Steaks & Spirits serves up sandwiches, seafood, and pasta.  The atmosphere reminded me of a classic small-town supper club, with the proprietor joking with the regulars (he also referred to me as "young lady" which pretty much made this thirty-something's night).
I treated myself to the grilled shrimp kebabs, which were served with biscuits, your choice of soup or salad, steamed vegetables, and your choice of a baked potato or George's fries.  The shrimp and vegetables were charred to perfection, and I loved the texture of the fries—thick rounds of potato that were a hybrid between a traditional fry and a baked potato.  For dessert I ordered the nightly special, a fluffy cheesecake layered atop red velvet cake and served with plenty of whipped cream.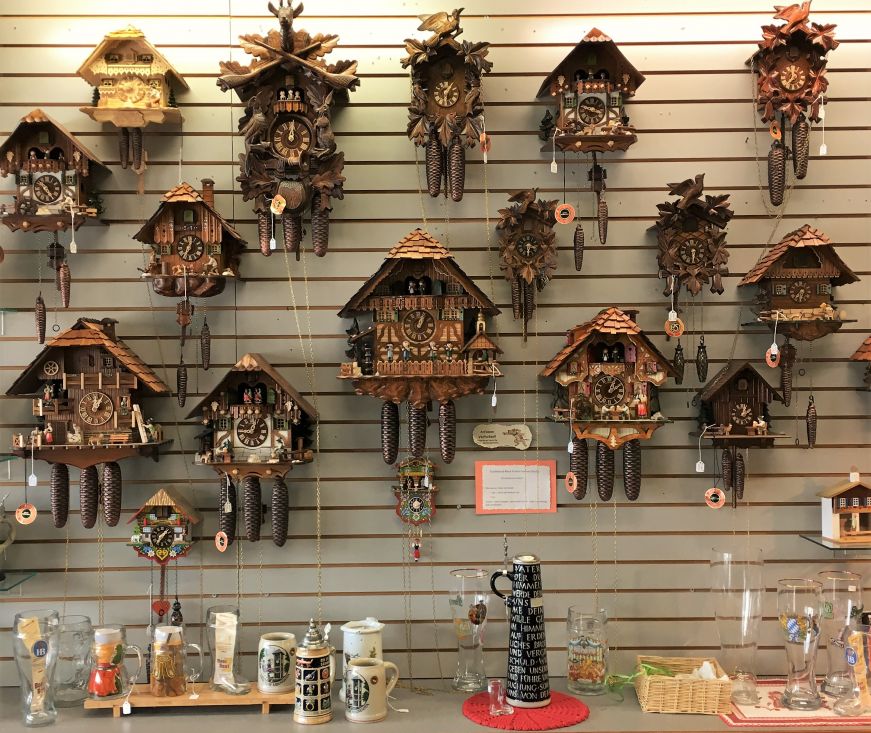 In addition to learning about New Ulm's history and eating plenty of tasty food, I enjoyed browsing the specialty shops in downtown New Ulm.  Here are some of my favorites:
Guten Tag Haus stocks a wide range of German beer steins, cuckoo clocks, foods (including my beloved Ritter Sport chocolate!), and Christmas decor.  They also carry Scandinavian items, home decor, and Minnesota-themed gifts.
Inspired features two floors of decor, kitchenware, candles, kids and women's clothing, accessories, toys, books, floral arrangements, and more (I could—and did—spend hours there).  My favorite find was a inspirational sign for my desk with a quote from Maya Angelou: "

You may encounter many defeats, but you must not be defeated."

A to Zinnia Florals & Gifts is a full-service florist that also carries a nicely curated selection of home decor items.
Gallery 512 Boutique offers trendy clothing, jewelry, and accessories, as well as items from Sota Clothing's line of clothing, accessories, and drinkware (it's like the upscale, design-centric version of a tourist t-shirt).
Bookshelves & Coffeecups is a well-organized used bookstore with an espresso bar.
The Grand Center for Arts & Culture is housed in a restored historic hotel, and features a cabaret, donation-based gallery, and gift shop with locally-made pottery, art, and accessories.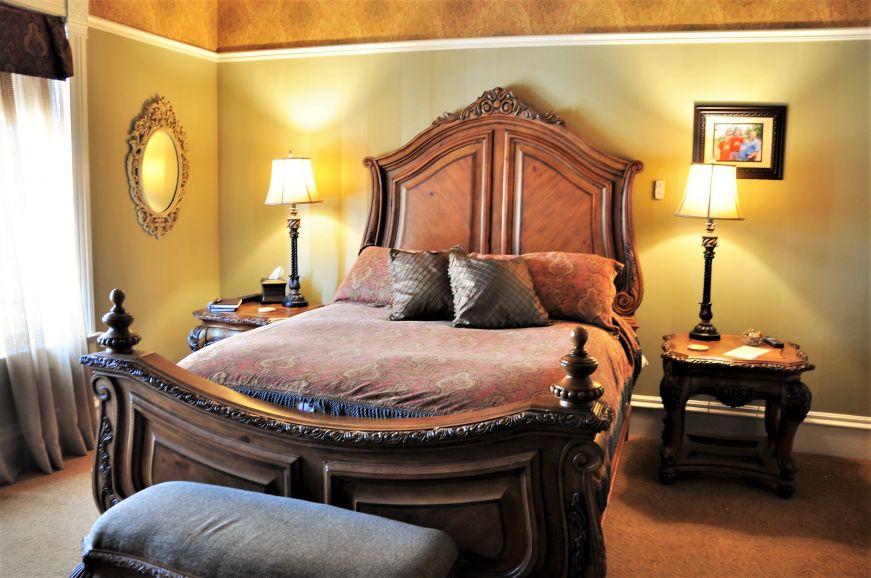 During my stay in New Ulm, I was hosted at Bingham Hall Bed & Breakfast.  Located in a historic home, the four rooms feature extremely comfortable memory-foam topped beds, and some rooms have fireplaces, whirlpool baths, and massage chairs.  I appreciated the many thoughtful touches: thick, cozy bathrobes; a dish of chocolates by the bed; and complimentary soda, bottled water, and ice cream (clearly, I have found my happy place in New Ulm).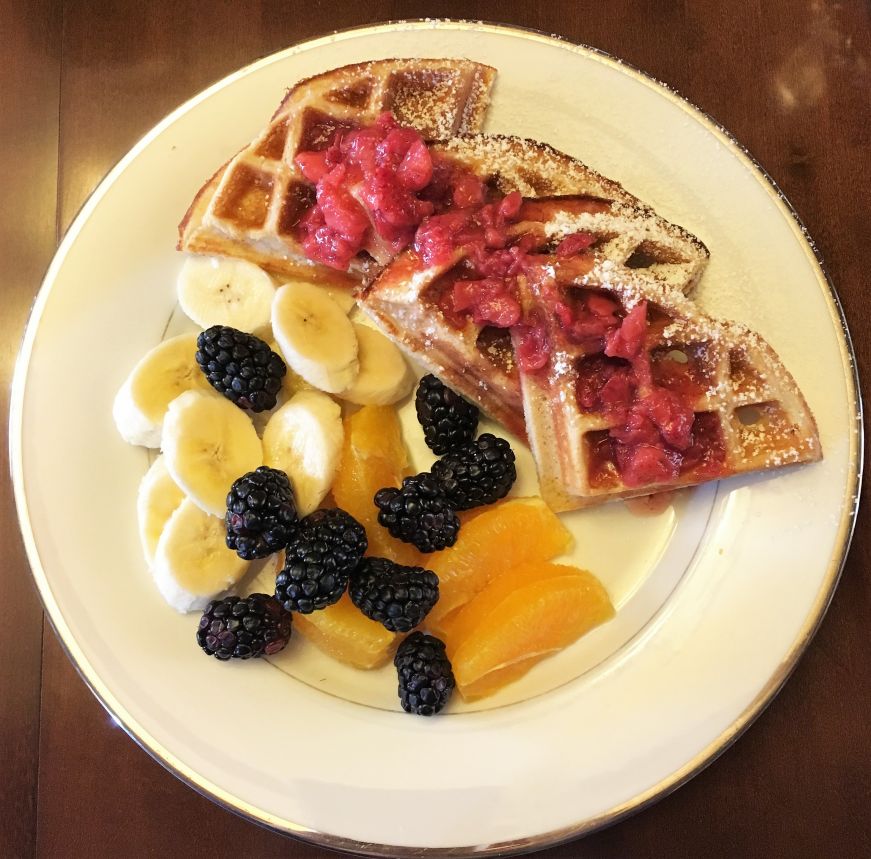 Besides soaking in the whirlpool and ensconcing by the fireplace, eating breakfast was another highlight of my stay at Bingham Hall.  On my first morning, I was treated to French toast stuffed with raspberry preserves and cream cheese; the next day featured Belgian waffles with strawberry sauce, maple syrup, and whipped cream.  Breakfast also includes coffee, tea, juice, fresh fruit, and a protein like bacon or sausage if desired. 
I spent two days in New Ulm, which was a gave me an in-depth chance to experience the city.  If you're planning to visit New Ulm on a day trip, I'd recommend visiting on a Friday or Saturday so that you can do the tour and tasting at Schell's, as well as check out the Brown County Historical Society, browse through the shops downtown, and finish your day with dinner at Turner Hall.
I thoroughly enjoyed my stay in New Ulm, and I'm already planning a return visit with my husband Mike for a summer weekend—we need to check out Domeier's German Store, the beer garden at Schell's, the Starkeller Brewery, Morgan Creek Vineyards, and The Retz 227, a modern speakeasy.
Want to plan your own trip to New Ulm?  Start with the New Ulm Convention & Visitors Bureau for information about accommodations, dining, and attractions.
Many thanks to the New Ulm Convention & Visitors Bureau for hosting my stay in New Ulm.
If you enjoyed this post, pin it!