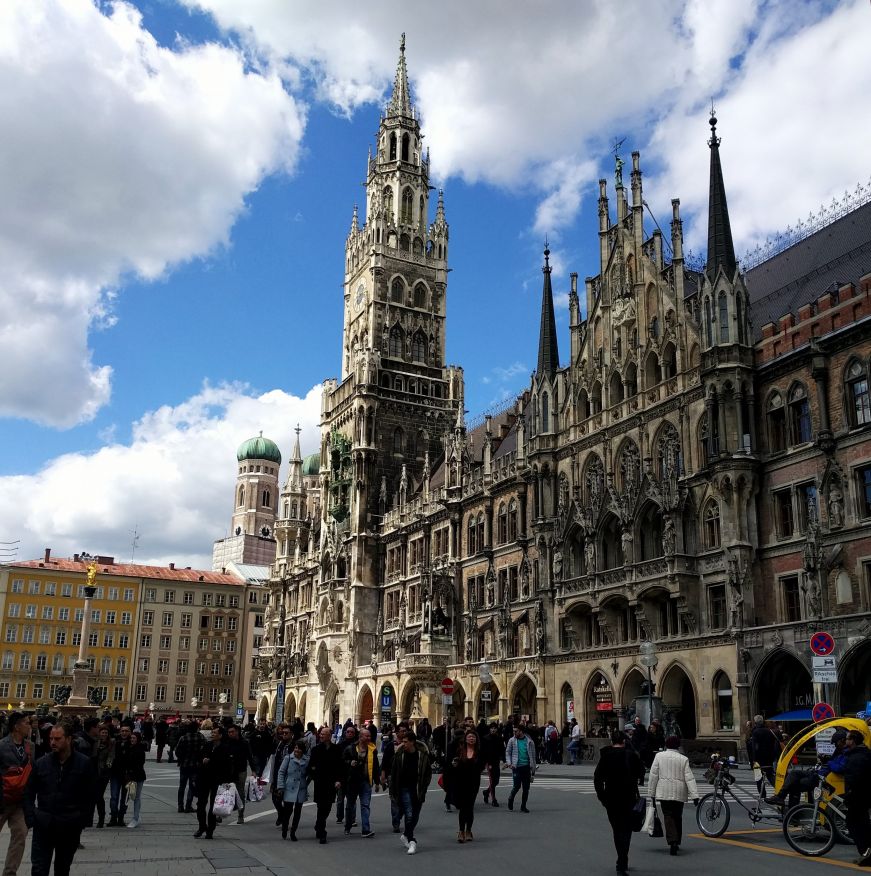 Beer, giant pretzels, oompah music, the Höfbrauhaus: Munich is the postcard stereotype of a German city.  But while you can find plenty of beer halls and Bavarian kitsch (plus crowds of tourists with selfie sticks), that's only part of Munich's identity.  Munich is a cosmopolitan city of 1.3 million people, home to designer shops and a world-class art museum.  But the city is uniquely approachable, thanks to pedestrian-only streets running through the city's core and a law mandating that no building can rise taller than the church steeples.  After exploring the tourist-dense historic city center, venture to the Museum Quarter to see masterpieces by Raphael and Rubens.  Spend an afternoon wandering the 910-acre Englischer Garten, gaping at surfers and devouring pretzels bigger than your head.
We spent one and a half days in Munich, which was barely enough time to get a feel for the city: we spent an afternoon walking around the historic city center, and a full day visiting the Alte Pinakothek, Nazi Documentation Center, and Englischer Garten.  If you have the time, I'd recommend allotting another day or two for Munich.  Visit the palatial Residenz; check out additional art museums (Neue Pinakothek and Pinakothek der Moderne, Egyptian Museum, and Lenbachhaus); tour the Nymphenburg Palace Complex; or take a day trip to the Dachau Concentration Camp Memorial or southern Bavaria.
Where to eat:
The Höfbrauhaus is the world's most famous beer hall and Munich's most popular tourist attraction after Oktoberfest.  Accordingly, it's mobbed by crowds and the noise level hovers at a dull roar.  If that's your scene, great.  If not, try the far more subdued Wirsthaus Ayingers (Platzl 1a) across the street.  It's a beer hall with a gastropub atmosphere, serving beer from the village of Aying and elegantly plated Bavarian cuisine.  There's an English menu, and a few options for vegetarians besides the standard cheese spätzle--I tried pretzel dumplings served with creamy sauerkraut.  The dumplings were made of bits of pretzel, like a bread pudding with a satisfying chew.  But the sauerkraut stole the show: meltingly creamy, with crisp slivers of radish and carrot.  Mike  enjoyed the beer roasted pork belly, also served with pretzel dumplings, although he was somewhat disappointed by his standard-issue sauerkraut after sampling my deluxe creamy version.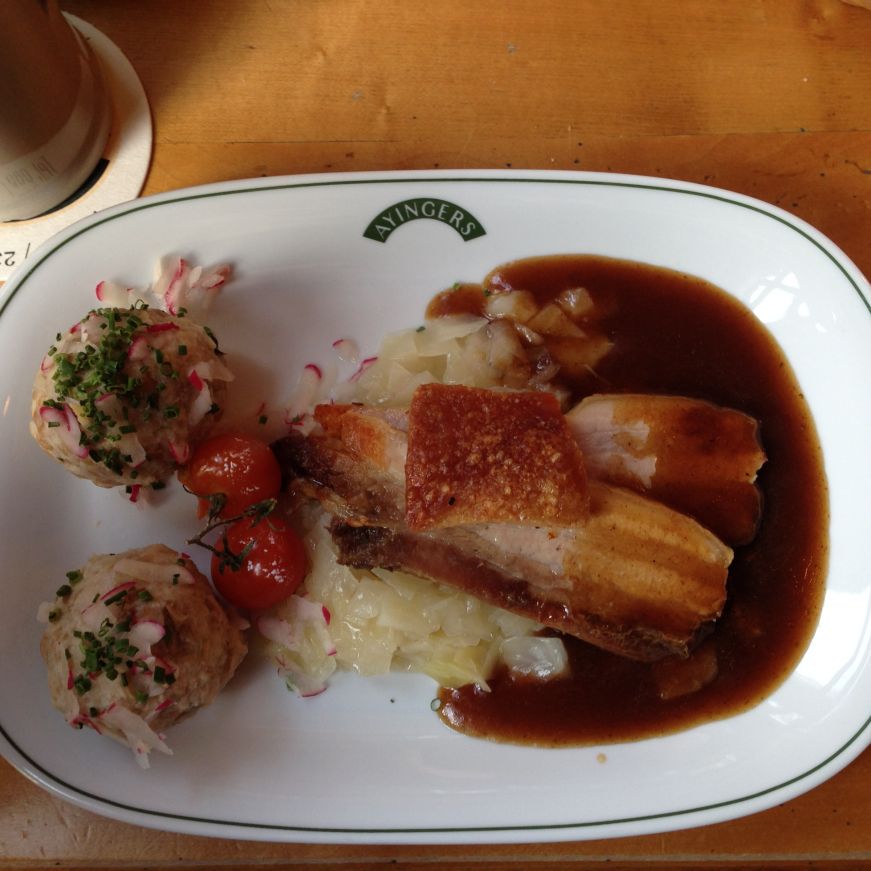 It's not worth a special trip, but if you're in Munich's Museum Quarter (i.e. near the art museums or Nazi Documentation Center) Feinkost Peric (Barerstrasse 38) is a budget-friendly option for a quick weekday lunch.  There's a deli counter serving lighter meals like soup, quiche, sandwiches, and salads, plus a handful of grocery items and beverages to go.  If it's available, the goulash soup served with hearty slices of rye bread is a good bet for omnivores, while vegetarians can enjoy an ample wedge of vegetable quiche.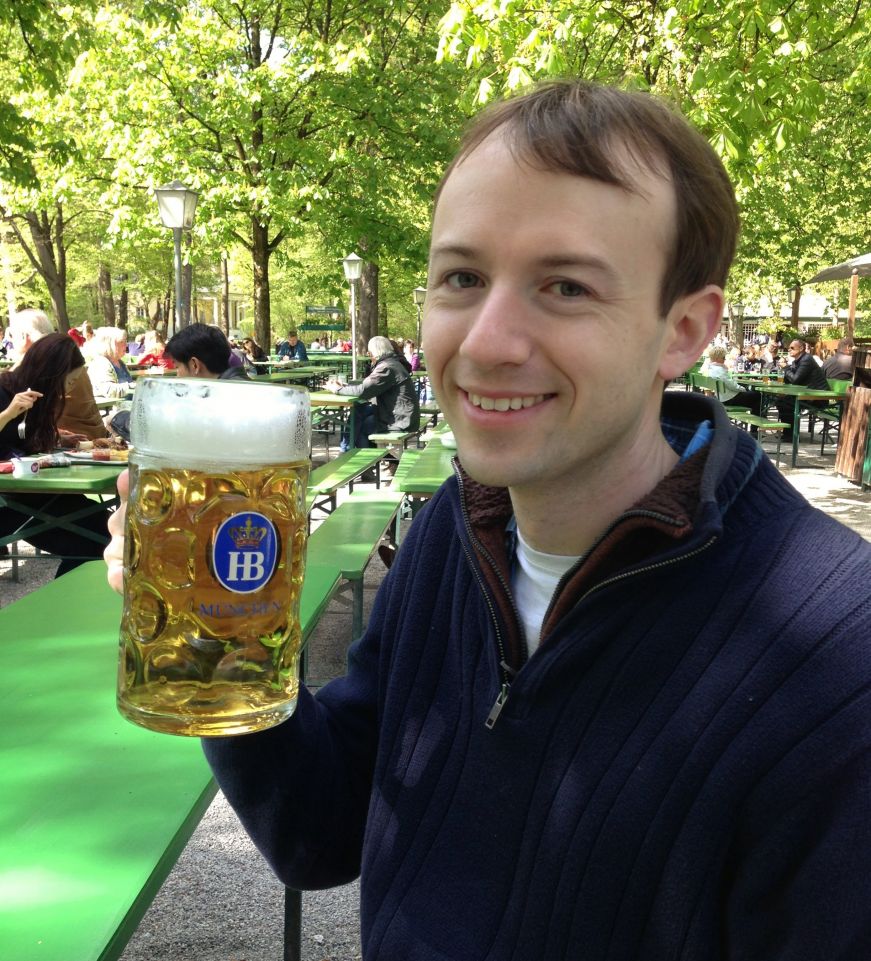 We ventured to the Chinese Tower Beer Garden in the Englischer Garten mostly because I wanted to eat a pretzel bigger than my head.  I found said pretzel, along with the quintessential German beer garden experience: a low-key, leafy retreat for tipsy college students, senior citizens, moms with strollers, and tourists alike.  Food and beer are purchased cafeteria-style (everything is labeled in German and English, with salads and vegetarian sides in addition to sausage and meat entrees), and then you find a seat at one of the long communal tables under the trees.  There's usually an oompah band performing in the tower.  Be sure to save your token so that you can redeem it for your deposit when you turn in your liter-sized beer stein.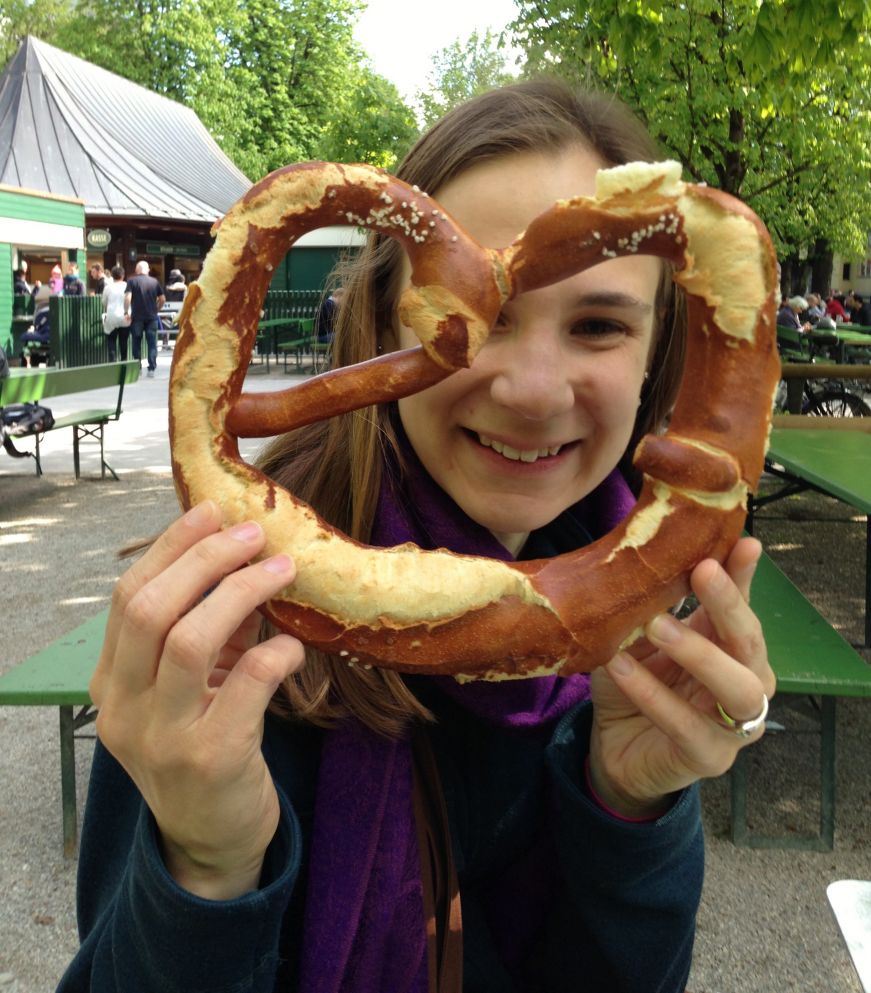 If you're like me and enjoy gawking at expensive food, visit Dallmayr (Dienerstrasse 14-15).  Tourists and elderly, well-dressed locals mill around counters displaying legs of venison, fancy cheese, caviar, and ridiculously expensive bottles of alcohol.  There's also a huge variety of chocolate bars, truffles, and pralines, all made in-house--a nice gift to bring home or a luxurious treat for yourself.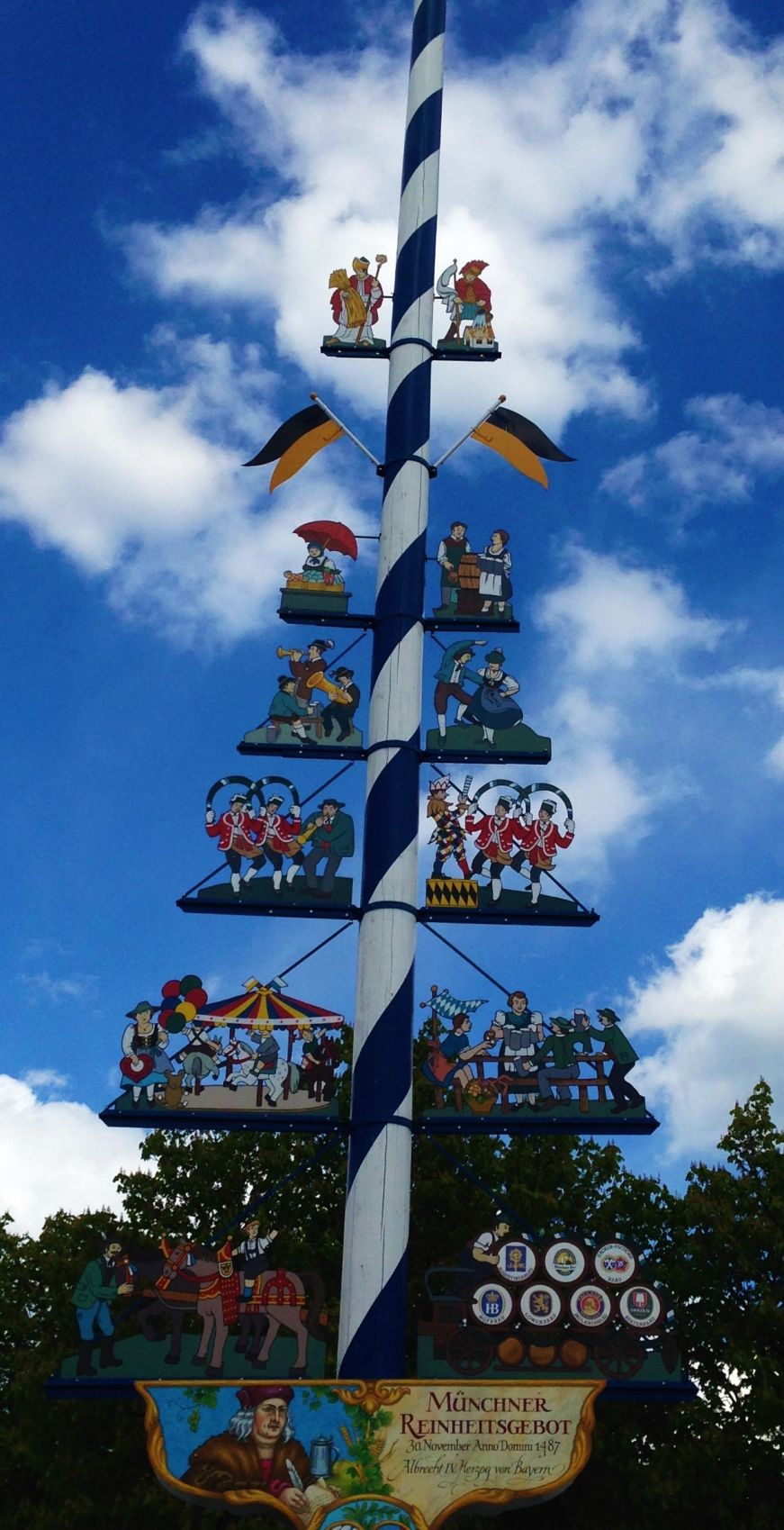 The Viktualienmarkt is another fun place to wander around and ogle food, although it's much more likely to be in your price range.  This historic open air market is home to 140 stalls that seem to sell everything edible: some are butcher shops, with pigs' heads and sausages; others specialize in produce, cheese, eggs, or honey.  If you're hungry, there are stands selling prepared food and a little beer garden.  The photo-worthy Maypole at the market's center depicts the various trades in Munich (unsurprisingly, beer brewing features prominently).
What to see: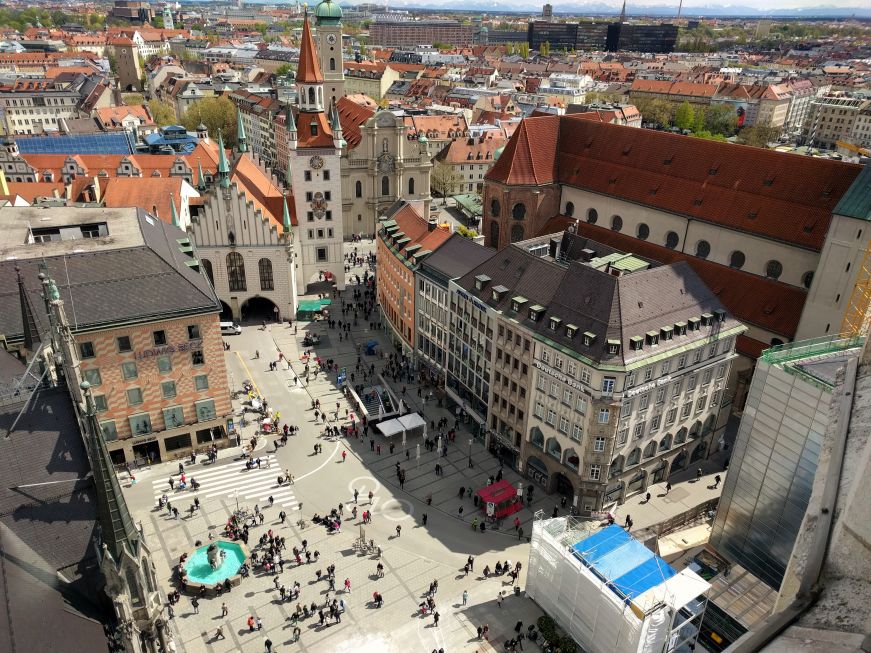 The Neues Rathaus (New Town Hall) is one of Munich's most impressive buildings: the Neo-Gothic facade is cluttered with elaborate carvings, while the 280 foot spire soars overhead.  Although it looks medieval, it was actually build from 1867-1908, hence the "new" moniker.  Tourists flock to see the Glockenspiel, the clock on the front of the tower that plays a tune while carved figures spin around.  The show happens daily at 11:00 am and noon year-round, and also at 5:00 pm May-October.  Don't feel bad if you miss it--the spectacle is available on Youtube.  On weekdays, you can pay a small admission fee to ride an elevator to the top of the tower for an impressive view of the city.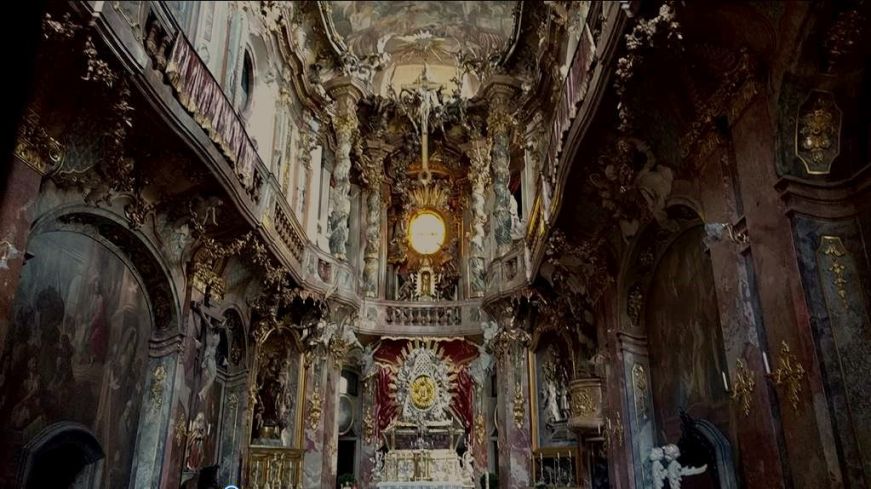 Munich's city center is dense with historic churches, many of them restored extensively after bombing damage from WWII.  The Catholic Church of St. Peter, built in 1368, is Munich's oldest and houses an impressive collection of relics--including the jewel-encrusted skeleton of St. Mundita, fully dressed and reclining in a glass box.  Tiny, gaudy Asam Church wasn't intended to serve as a house of worship; it was a sales brochure built in 1740 by the Asam brothers, architects who wanted to show off their skills to potential clients.  The church is only 30 feet wide, but packs in a cathedral's worth of embellishment.  The distinctive twin onion domes of the Frauenkirche make it the symbol of Munich, although since the church is under restoration the domes are currently peeking out over plastic-covered scaffolding.
The Alte Pinakothek is Munich's premier art museum, displaying European paintings from the 14th through 19th centuries.  Renaissance Italy is well represented, with paintings by Raphael, da Vinci, Botticelli, and Titian.  There's an extensive collection of works by Rubens, and the museum was literally designed around his 300-square-foot Great Last Judgement.  The massive scale that Rubens worked at is mind-boggling, which I didn't really get a sense of until I was dwarfed by his work in person.  A comprehensive English audio guide is included in the museum's admission fee, and many of the major works have signs with English descriptions.
The Nazi Documentation Center is less of a museum, more of an archive: an exhaustive display of photos, text, and some video clips documenting the Nazi Party's origins in Munich; early opposition to the Nazis; Nazi maneuverings to consolidate power; restrictions and violence against Jews, Roma, and Sinti that culminated in the Holocaust; Nazi atrocities in occupied Eastern Europe; the euthanasia and sterilization programs; and the slave labor the powered the Nazi war machine.  Visiting the Documentation Center is a heavy, sobering experience, but an important one.  All of the exhibit text is in German and English, and an English audio guide is included in the admission fee.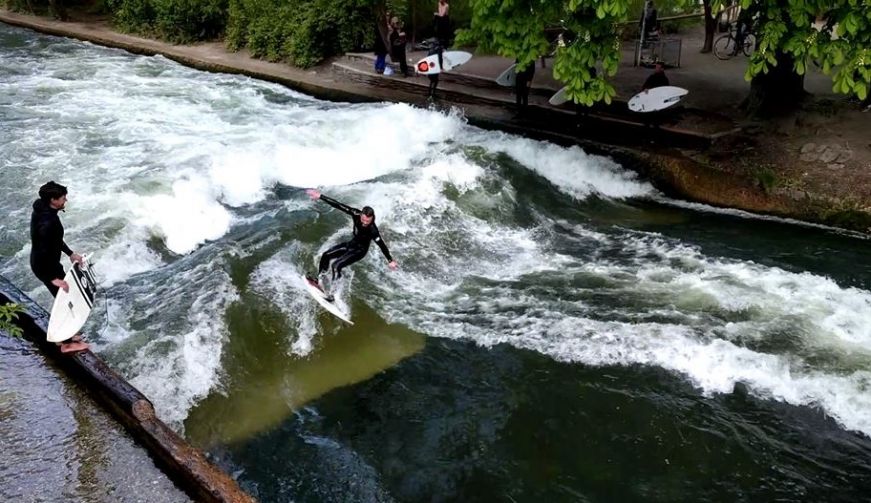 The Englischer Garten is one of the world's largest urban parks, with rivers, a lake, wooded paths, and wide open lawns--the perfect place to soak up your daily dose of nature.  For entertainment, watch skillful locals surf the man-made wave at the park's southwestern tip.  If you're in need of refreshment, check out the Chinese Tower Beer Garden (see above) with over 6,000 seats, live music, and cafeteria-style stalls selling beer and classic German fare.
Interested in learning more about Munich?  I recommend checking out Rick Steves' free audio tour of Munich's historic city center. 
More posts about my trip to Germany: