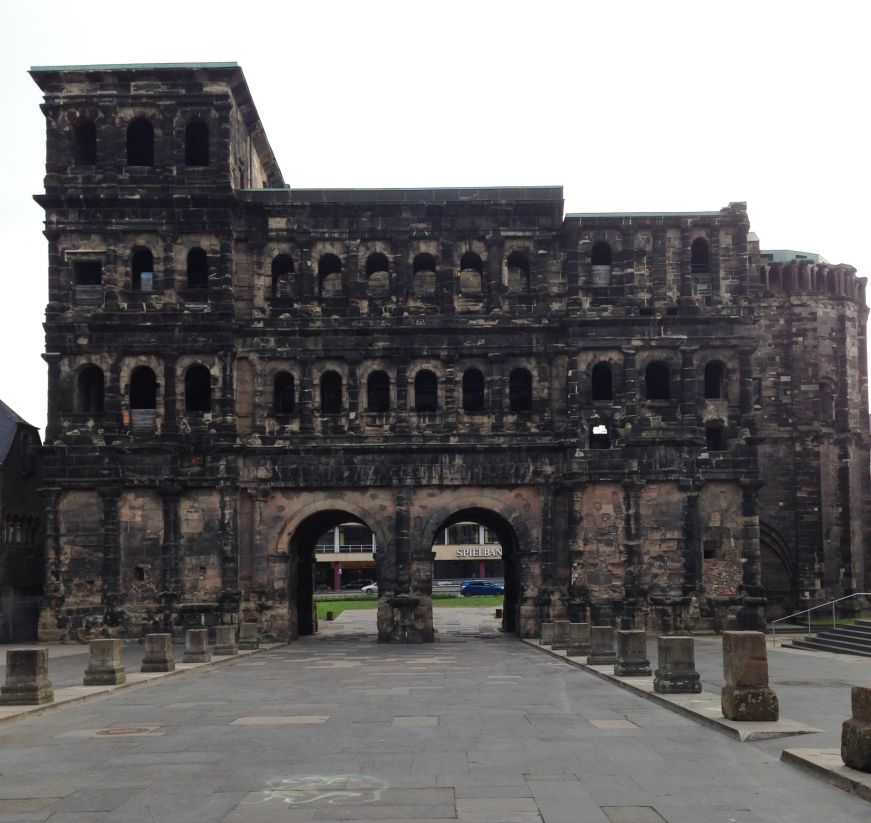 In most German cities, the historic quarter is focused around a church from the 1500s or the remnants of a medieval city wall.  In the western city of Trier, things go back much farther than that.  Known at the time as Augusta Treverorum, the city was an administrative capital of the western portion of the Roman Empire (today's Germany, France, Spain, and England) from about 300 to 395, which led to lots of impressive public works projects and infrastructure.  A few of these structures survive today, making Trier the best place in Germany to experience ancient Rome.  Although modern Trier has about 100,000 people, the historic city center is compact: all of the sights and restaurants I've listed below are within a 20 minutes walk of the Porta Nigra.
We spent an afternoon in Trier, which was enough time to see the Roman sights and the market square.  With a longer stay, you could take a half-day trip to Burg Eltz with a car, sightsee along the Mosel River, or even take a day trip to visit nearby Luxembourg.
Where to eat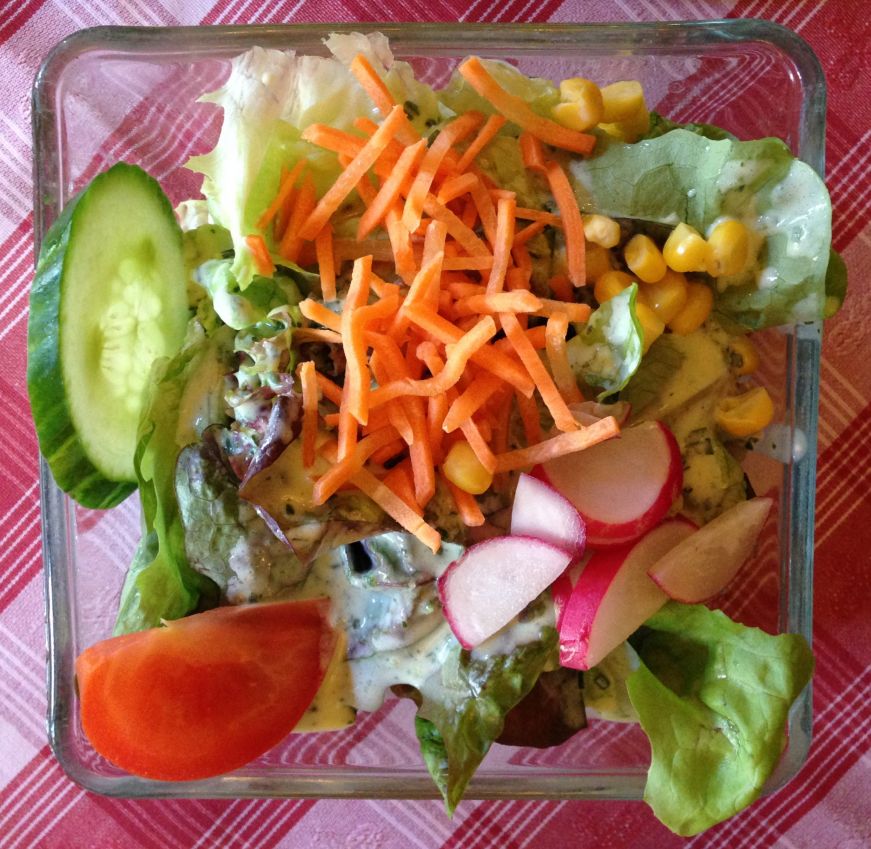 Theo (Simeonstrasse 59) has a relaxed neighborhood pub vibe, with a great location by the Porta Nigra.  Hearty German food is served in large portions with vegetable-packed side salads.  The Herzhafte Käsespätzle (hearty cheese spätzle) is comfort food at its finest, dense noodles mixed with roasted onion and topped with a thick layer of melted cheese.  Meat lovers will enjoy Theo's Schnitzel, a breaded veal cutlet served with a heap of fries and with your choice of sauces: zwiebelspeck (onion and bacon), Zigeuner ("gypsy sauce", made with bell peppers, paprika, and tomatoes), or champignon (mushroom)--the mushroom sauce's rich, earthy flavor is a fine complement to the schnitzel.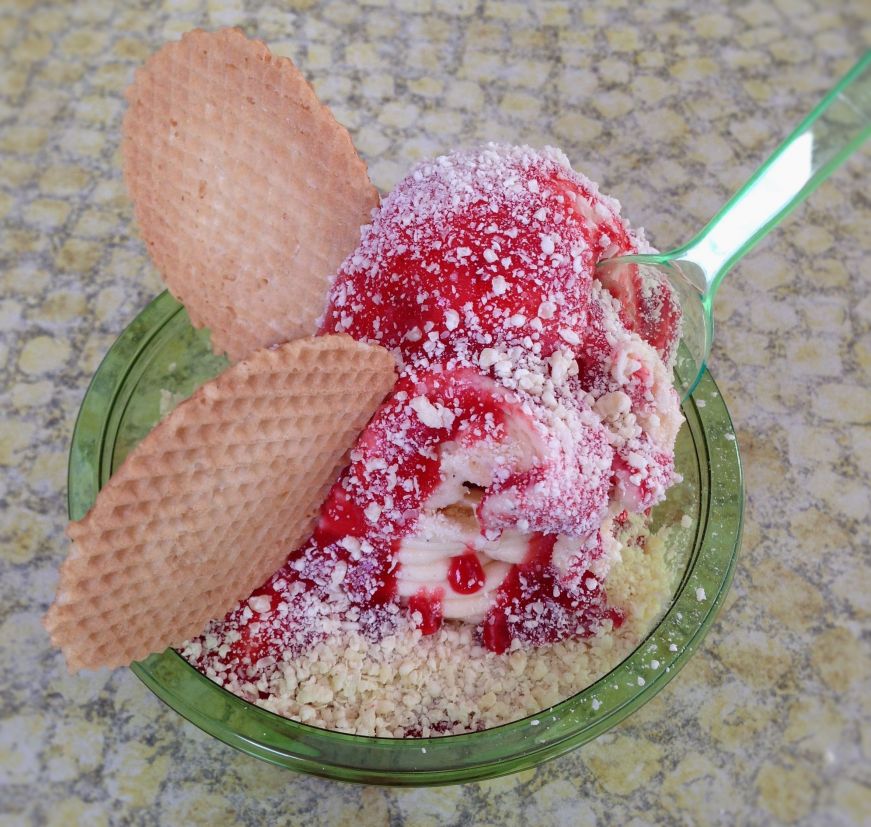 Simeonstrasse, the pedestrian-only street between the Porta Nigra and the market square, is lined with cafes and ice cream shops.  Try Calchera (Simeonstrasse 54), which serves housemade gelato to go from a streetside window or as  elaborate sundaes to sit down and savor.  I opted for the Spaghetti Eis--vanilla gelato extruded into "noodles" and topped with strawberry sauce and white chocolate shavings, channeling tomato sauce and Parmesan.  
Things to see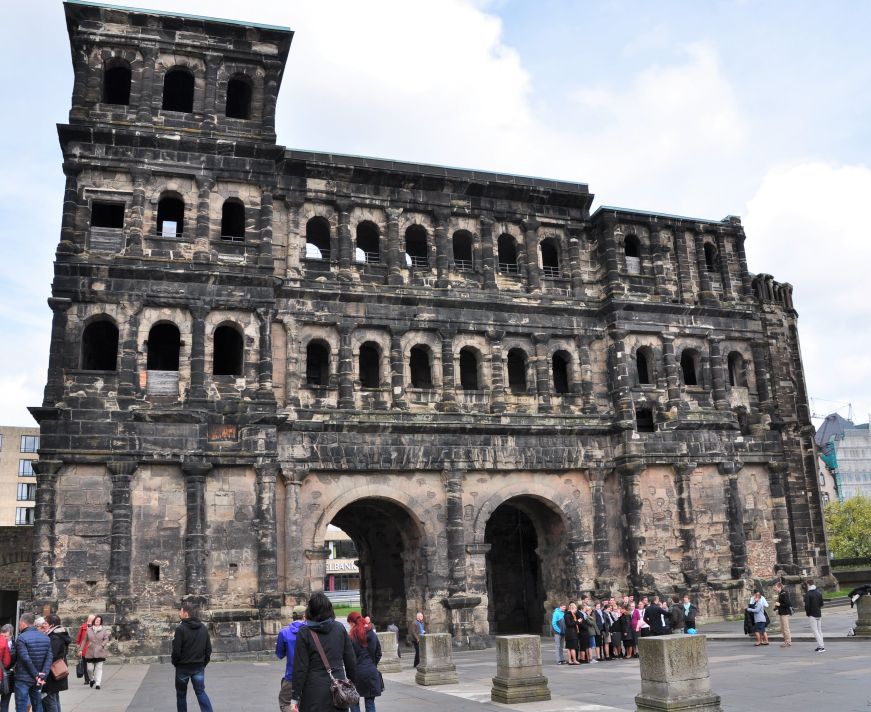 Trier's iconic landmark is the Porta Nigra, one of the four gates into the city in Roman times.  Today, it's the only one still standing, partly because it became a church in the Middle Ages.  You can pay to climb inside or just admire it for free from street level.
The imperial throne room/basilica is on an even grander scale than the Porta Nigra: it's a single room that's 90 feet wide, 108 feet high, and 220 feet long.  For scale, the Porta Nigra would easily fit inside.  I don't have any photos, since the building now serves as a Lutheran church and photography is prohibited.  But photos wouldn't do the throne room justice anyway--it's breathtaking in its vast simplicity, especially when you keep in mind that it was engineered in the 4th century.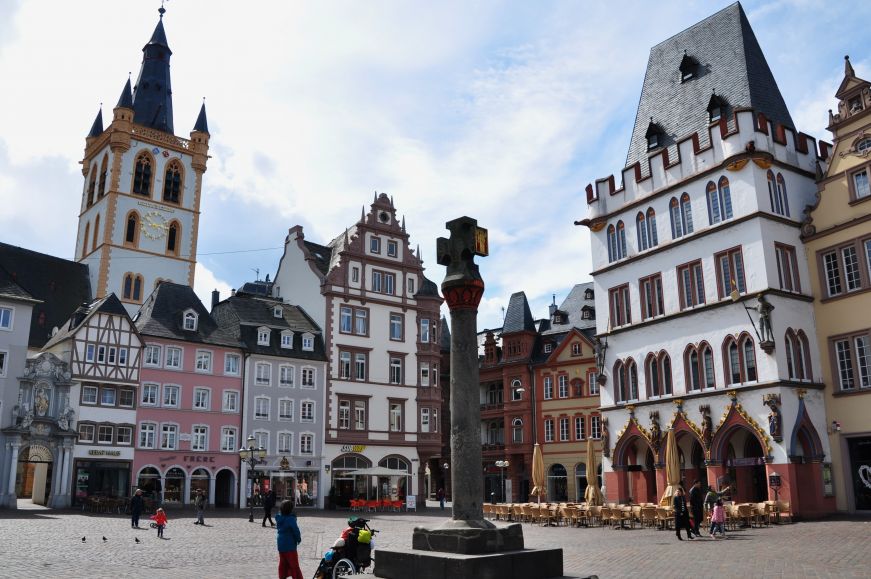 Trier's market square is a colorful mishmash of architectural styles, with plenty of options for a quick meal or a leisurely afternoon of people watching.  There are American fast food outlets like Subway and McDonald's, or you can go local with the German seafood chain Nordsee or a curry wurst.
The Rheinisches Landmuseum is an archaeological museum focusing on Trier's Roman period.  The artifacts are fascinating--unearthed mosaic floors, a huge model of Roman Trier, a horde of 2,600 gold coins discovered by construction workers in 1993--but nearly all of the exhibit text is exclusively in German.  Looking at the museum's website, it seems there's a free audio guide.  I'm not sure it it's available in English, but it's definitely worth asking about--more background information would have improved our museum visit immensely.
In addition to the Porta Nigra and the throne room/basilica mentioned above, Trier's other major Roman sights are the imperial baths and the amphitheater.  We skipped both, partly because they're not as impressive as the Porta Nigra and throne room (the baths were never actually finished) and partly due to inclement weather (both are outside).
Trier is about an hour's drive from Burg Eltz, making this fairy tale 12th-century castle an easy half-day trip.  We actually stopped at Burg Eltz in the morning on our way from Bacharach, and then continued on to Trier for an afternoon of sightseeing.  For more information about Burg Eltz and Bacharach, read my post on the Rhine River.
Where to stay
The Astoria Hotel (Bruchhausenstrasse 4) is a small, classic hotel within a five-minute walk of the Porta Nigra.  There's parking in a nearby garage for a reasonable daily fee (€5.70) and a friendly welcome complete with a city map and a complimentary glass of champagne.  WiFi is decent, and the small but comfortable rooms have helpful directories of local information (in German and English) ranging from restaurant recommendations to suggestions for day trips.  The lavish breakfast buffet includes more champagne and a nifty coffee machine so that you can brew your own cappuccino, mocha, or espresso.
More posts about my trip to Germany: