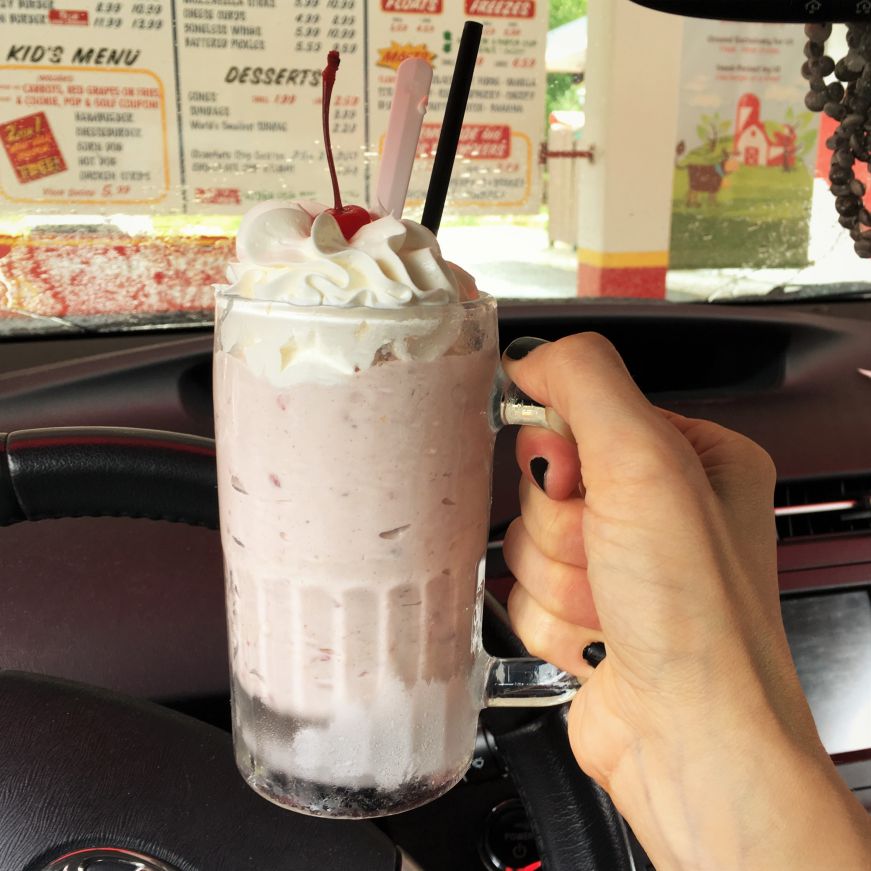 Thank you to the St. Croix Valley for hosting my stay.  As always, all content and opinions are my own.
Over the years, I've made plenty of trips to the St. Croix Valley for picnics and hiking in Interstate State Park, a paddle boat river cruise on the St. Croix River, and a knitting retreat that included a wine tasting at Chateau St. Croix Winery.  Taylors Falls, Minnesota and St. Croix Falls, Wisconsin are less than an hour from my home in the northern Twin Cities suburbs, so it's the perfect distance for a day trip.
But although my shorter trips were convenient, I was also missing out.  We've always wanted to stop in Lindström, but we're in too much of a rush to get where we're going.  While our picnic lunches were fun, it meant that we never had a chance to check out the restaurants in Taylors Falls or St. Croix Falls.  Doing a tasting at a winery looked interesting, but we didn't feel like we had enough time to linger.
So I was thrilled when the St. Croix Valley invited me to spend the night at the Holiday Inn Express in St. Croix Falls and take a couple of days to explore the area in-depth.  I recommend spending either a Friday or Saturday night, since wineries and other activities may have limited weekday hours.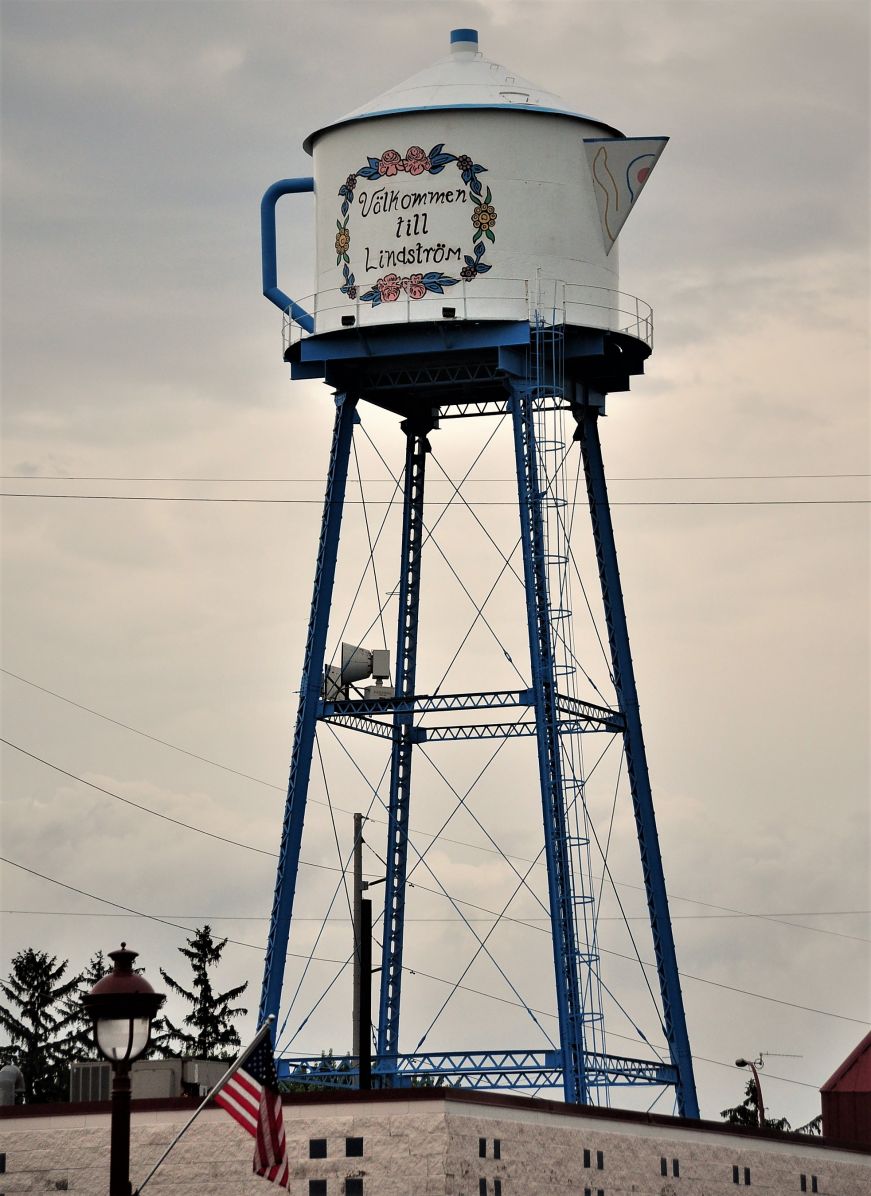 We started our St. Croix Valley getaway with a stop in Lindström, Minnesota, a small town famous for its teapot-shaped water tower and the Swedish letter in its name.  We're intrigued by the shops along Lindström's main street every time we drive through, but usually we're in too much of a hurry (or too tired) to stop.  This time, we made a point of stopping.  First up was the Lindstrom Bakery, billed as the "Home of the Scandinavian Donut."  Although the bakery offers cookies, Scandinavian breads, and cinnamon toast, we wanted to try the famous donut. 
Mike and I didn't think there was anything particularly notable about our glazed cake donut (maybe it was slightly crunchier than usual on the outside?) but it was very fresh and a bargain at 70 cents.
We also checked out a few of Lindström's specialty shops.  I loved the selection of Nordic Ware pans, kitchen gadgets, and Minnesota-themed dish towels at The Oven Mitt.  I also enjoyed browsing the lovely yarn selection at Miss Elsie's Yarnery, which is part of a gift shop that also stocks board games, tea, candy, jewelry, and more.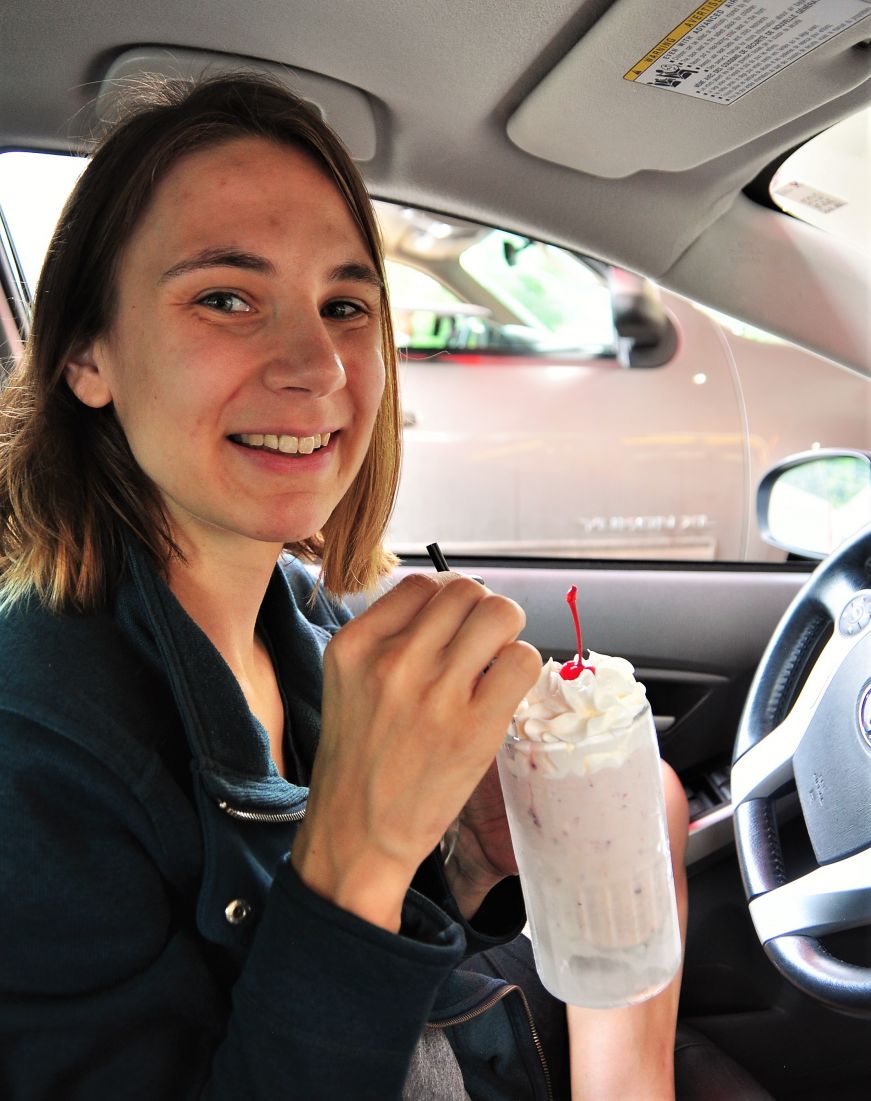 Our original plan was to have a picnic lunch at Interstate State Park, which has a scenic riverside picnic area, but we were thwarted by a persistent drizzle.  Instead, we ate our lunch in the car and then got dessert at the Taylors Falls Drive In while we waited for the rain to pass.  It's a classic seasonal drive in restaurant, with homemade root beer, carhops wearing poodle skirts, and 50s tunes playing over the loudspeaker.  The food menu features burgers, sandwiches, and ice cream treats.  We both ordered malts, which come in frosty mugs topped with whipped cream and a cherry.  My raspberry malt was wonderfully fruity, with plenty of raspberries blended throughout, and Mike's butterscotch malt had an intensely rich flavor.
Once the skies cleared, we ventured out for a new-to-us vantage point on the St. Croix River via a canoe from Taylors Falls Canoe & Kayak Rental.  Canoe rentals include two paddles, life jackets, and a return shuttle.  You park at Interstate State Park (note that you do need to purchase $7 daily pass if you don't have an annual Minnesota State Park pass), and then canoe seven miles downriver to Osceola or 17 miles downriver to William O'Brien State Park.  Return shuttles take you back to your car.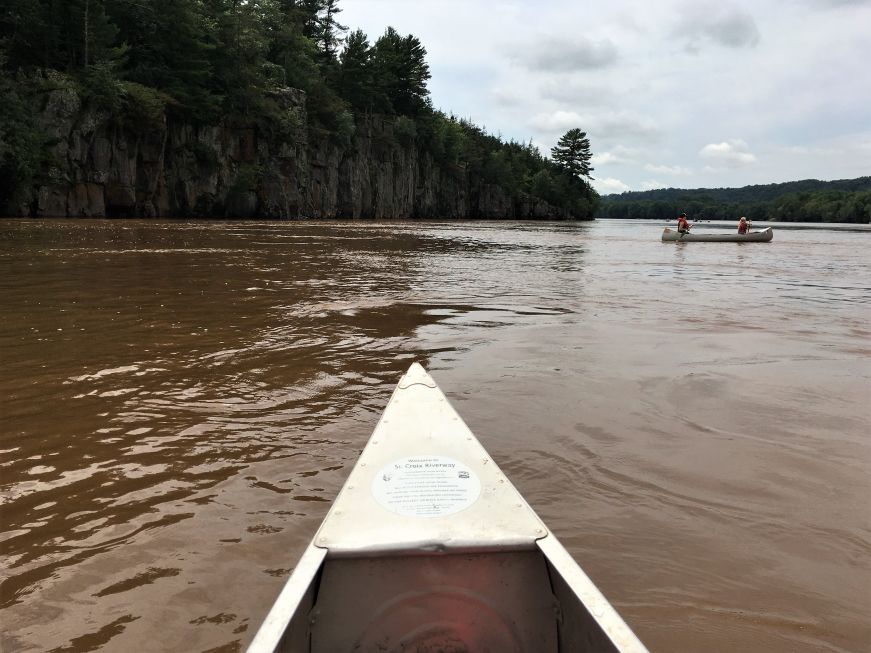 Since I hadn't been in a canoe in about 20 years and it was already 1:30pm, we opted for the 7-mile trip to Osceola.  It's a pretty mellow stretch of the river, with some interesting rock walls, a few islands, and plenty of fellow canoes and kayaks.  I wasn't a very strong paddler, but thanks to the current and Mike's abilities our trip took us about 90 minutes (average paddle time is two to three hours).  There was a mad dash at the end in order to catch the 3:00pm shuttle, but we didn't need to worry—our driver looked upriver to see if there were any nearby canoes and probably wouldn't have driven off if we had been minutes away.
I thought our canoe trip was the perfect length: enough time to see a good stretch of the river, but not too long to get bored or tired.  I definitely appreciated that we didn't have to wait to catch a shuttle ride, although there are restrooms, picnic tables, and water fountains at the pick-up location.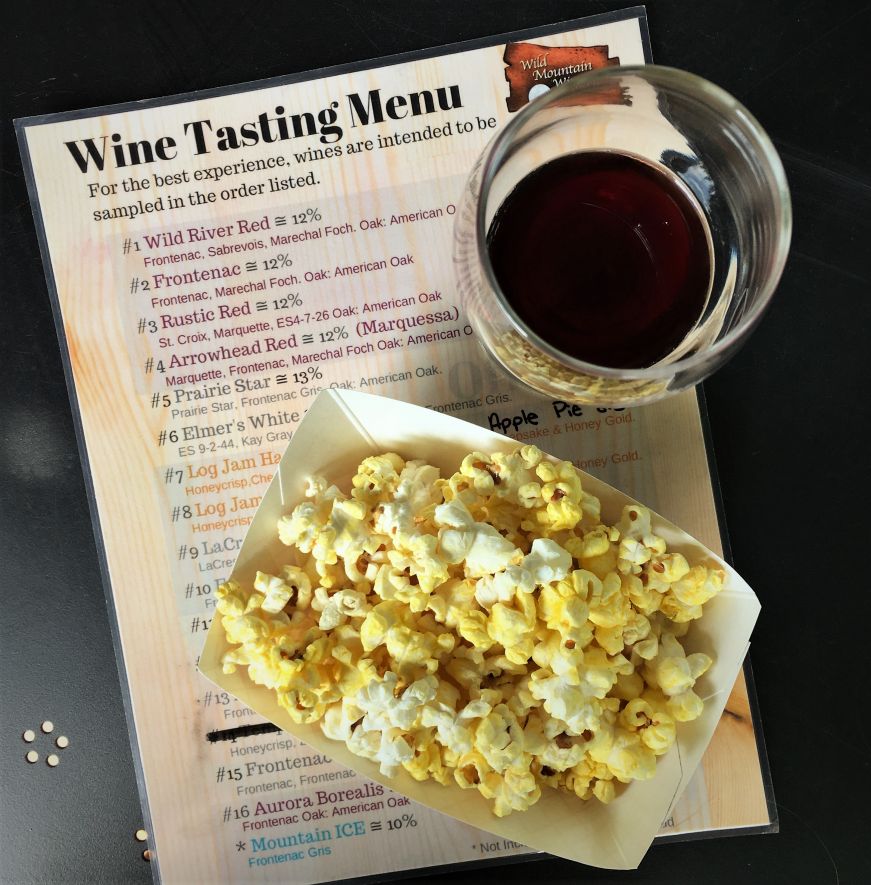 Our next activity was a tasting at Wild Mountain Winery, where we redeemed our Minnesota Wine Passports for a couples' wine tasting.  Wild Mountain Winery offers either a solo tasting of eight wines and ciders of your choice or a couples tasting where you try all 16. Tastings include complimentary popcorn (my kind of place) and a piece of chocolate if you sample the port.  There are also meat and cheese plates available for purchase, and you can buy wine by the glass or bottle as well.
I loved the winery's rural feel—we drove by a pasture of Holsteins on the way—and the tasting room has a relaxed, rustic atmosphere.  There's also lots of outdoor seating, including several tables in the shade.  Our tasting took us about 90 minutes (we got two pours at a time), which gave us time to linger and appreciate the surroundings.  I'd definitely recommend doing couples tasting—I was truly impressed by the diverse wines and ciders, all of which are made with with locally grown grapes and apples.  My favorites included the refreshing Elmer's White and the Apple Pie, a blend of cider and spirits; Mike's favorites were the Log Jam Bourbon Cider and the Mountain Sweet White (he even purchased a bottle for home).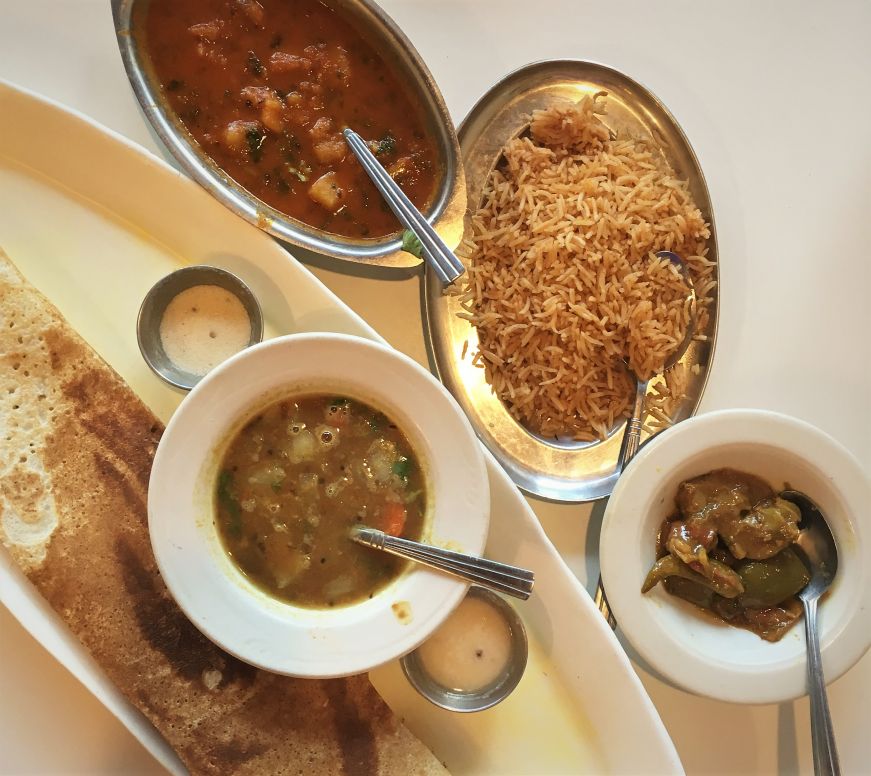 After checking into our Holiday Inn Express in St. Croix Falls (more on that below), we had dinner at The Vegetarian, an Indian restaurant in downtown St. Croix Falls.  They serve both North and South Indian cuisine, and the menu is exclusively vegetarian, with many items that are vegan or can be made vegan upon request.  All entrees are gluten-free, although breads are made with wheat.
An all-vegetarian Indian restaurant in small town Wisconsin seems completely out of place—the area is better known for its barbecue and supper clubs.  However, whether or not you follow a plant-based diet, The Vegetarian is well worth checking out.  Naan is baked to order (it arrived at our table charred and still steaming from the tandoor), and the delicate balance of flavors in our entrees was a delight.  I opted for the paper dosa, which was served with sambar and coconut chutney, and Mike ordered the dumm aloo, potatoes cooked with herbs in a spicy tomato sauce (he ordered the medium, which was flavorful but not overly hot).  Service was gracious, and the small dining room features a fireplace and photographs by a local artist—it was a perfect date night meal.
It was a beautiful evening, so after dinner we walked around downtown St. Croix Falls and came across a free outdoor concert at The Overlook Park.  It's a gorgeous venue, with the river as a backdrop and plenty of green space to set up a lawn chair.  It was the sort of laid-back event that we miss out on in the Twin Cities, where attending anything usually has to be planned in advance and involves a parking hassle and lots of traffic. 
"If you were trying to sell me on St. Croix Falls," said Mike, "This was pretty much the perfect way to do it."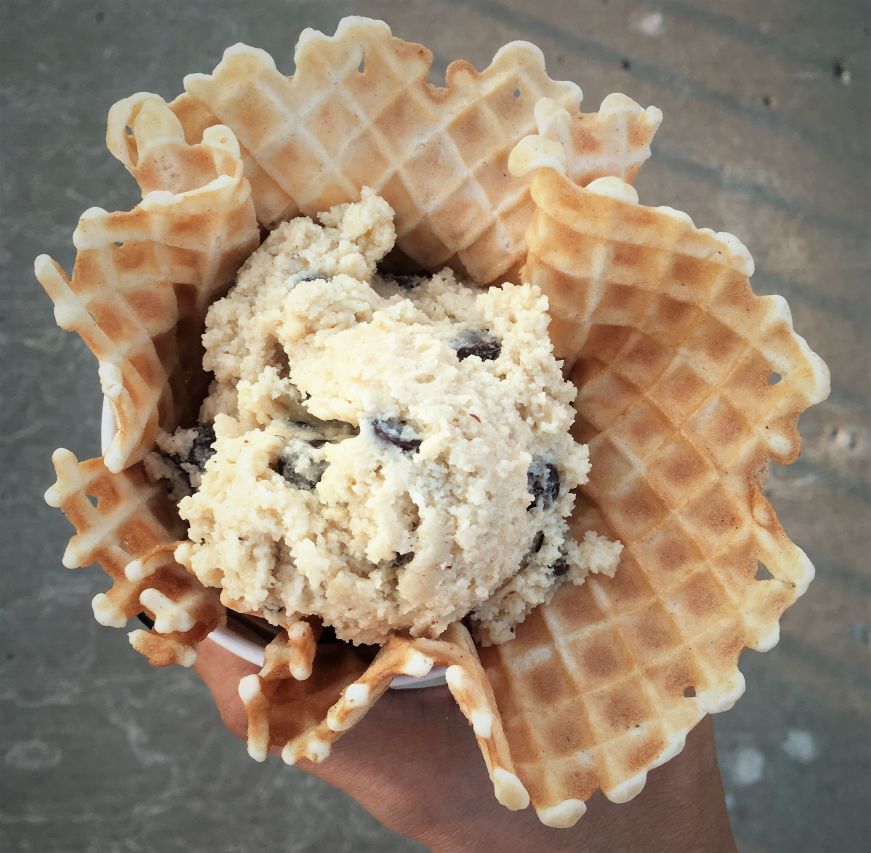 By this point, I was craving dessert, so we wandered over to Valley Sweets.  They sell old-fashioned and bulk candy, super premium ice cream from Madison's Chocolate Shoppe Ice Cream, and edible cookie dough.  I haven't been terribly impressed with the edible cookie dough I tried at the Minnesota State Fair and a Minnesota Wild hockey game, but I since I enjoyed a sample of Valley Sweets' edible cookie dough at an event earlier this year I decided to order a scoop of chocolate chip in a housemade waffle bowl.  It was incredible—they've somehow nailed the flavor, and it tasted exactly like the spoonfuls of cookie dough from my youth.  Even Mike was a fan, which was a good thing since the portion was very generous.  
After a good night's sleep and a lazy morning relaxing at the hotel (Mike) and going for a run along the river (me), we went to Chateau St. Croix Winery for a wine tasting.  The setting is much more formal than Wild Mountain Winery—the winery building is modeled after a French chateau and includes a statue-lined formal garden.  The tasting is structured differently as well: you purchase either five or 10 tokens, and each wine sample costs one or two tokens (white and rosé wines were one token, while reds and ports were two).  Wine can also be purchased by the glass, and there's a deli counter with cheese plates, cured meats, and olives.  There's an outdoor seating area under a permanent tent structure as well as picnic tables in the shade, plus indoor seating.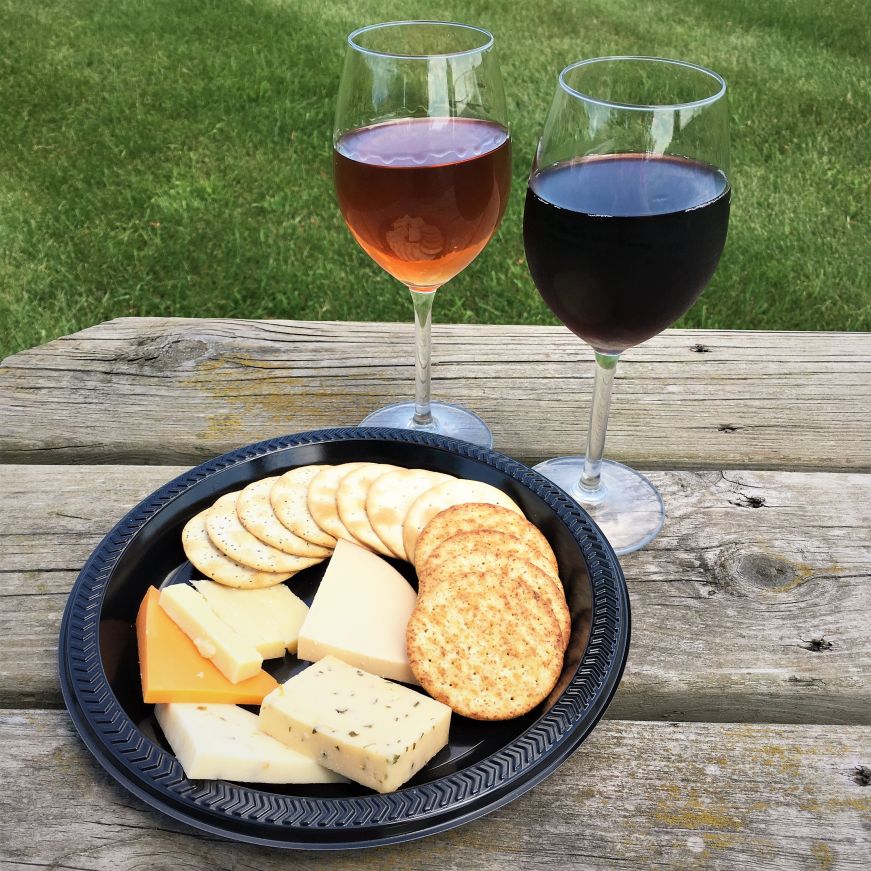 Some of Chateau St. Croix's wines are made with local grapes, while others are made with grapes sourced from the West Coast and some blend local and imported grapes.  My favorite wine was the sweetest on offer, the Wild River Rosé.  Mike loved the Jaune dÓR Port, a white wine port aged in French oak casks (so much so that he ordered a glass after our tasting).  It had an intriguing flavor he compared to butterscotch, and he ranked it as one of his all-time favorite wines.
We wrapped up our time in the St. Croix Valley with a ride on the Osceola & St. Croix Valley Railway.  We took the 40-minute round-trip coach ride from Osceola to Dresser.  There are also 90-minute round-trip coach rides to Marine on St. Croix and pizza, brunch, and dinner trains.  It was fun to ride in a historic train car—we sat in an air-conditioned mid-century car on the way there, and an open-air early 20th century car on the way back.  There were volunteers on board to provide information about the train and the history of the railroad line, and when we stopped in Dresser we had about 15 minutes to check out the historic train depot.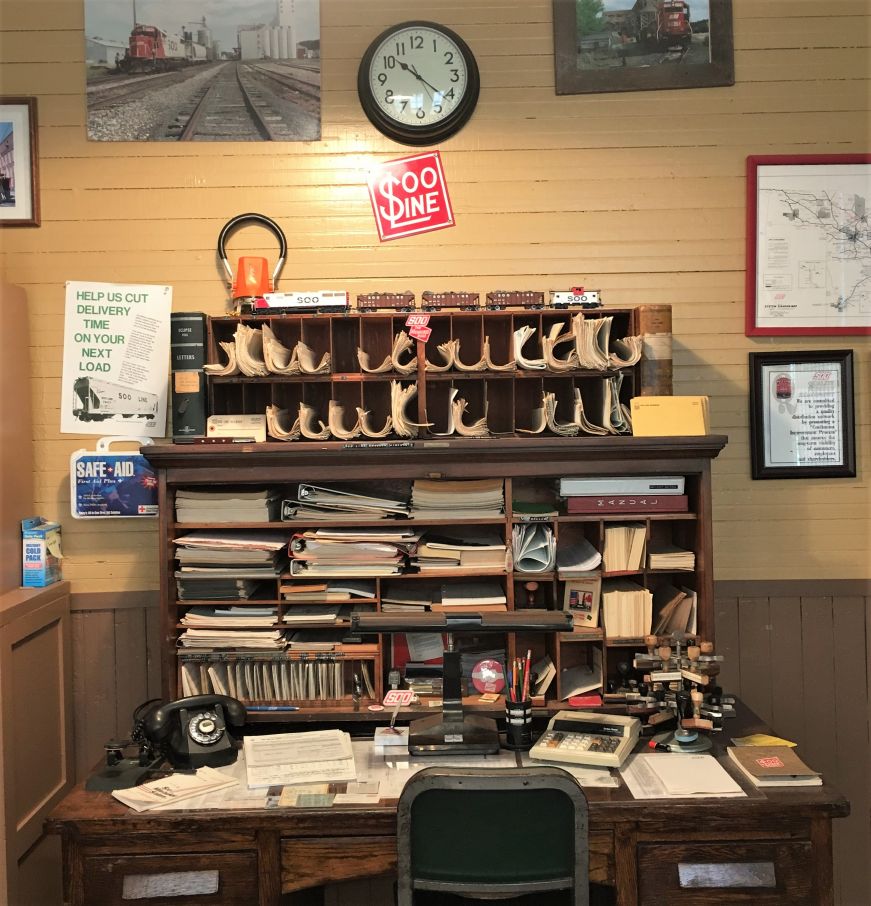 For me, the 40-minute ride was a good length of time, but if you're particularly interested in trains or want to enjoy a meal I can see the appeal of the longer route.
As I mentioned above, we stayed at the Holiday Inn Express.  The location is excellent, just minutes from downtown St. Croix Falls and Taylors Falls, and our king suite was spacious and comfortable.  Amenities include a pool, hot tub, fitness center, and complimentary hot breakfast.  I appreciated the range of breakfast options: healthy picks like oatmeal, fruit, egg white veggie omelets, and Greek yogurt, plus treats like Cinnabun rolls with cream cheese frosting.
The takeaway: Is staying overnight in the St. Croix Valley worth it?
Absolutely!  We got to experience so much more on this trip than all of the day trips we've taken over the years.  I appreciated that we could take the time to enjoy low-key things that we wouldn't have made time for on a day trip, like shopping in Lindström and hanging out at an outdoor concert in St. Croix Falls.  Honestly, we could have spent another day in the St. Croix Valley: we still need to check out the zip lines and aerial challenge course at Trollhaugen; take in the water park, alpine slides, and go-karts at Wild Mountain; visit the Wisconsin side of Interstate State Park; and sample some local beer at Amery Ale Works. 
Want to plan your own overnight getaway to the St. Croix Valley?  Start with the St. Croix Valley's website for information on activities, dining, and accommodations.
Thank you to the St. Croix Valley for hosting my stay!