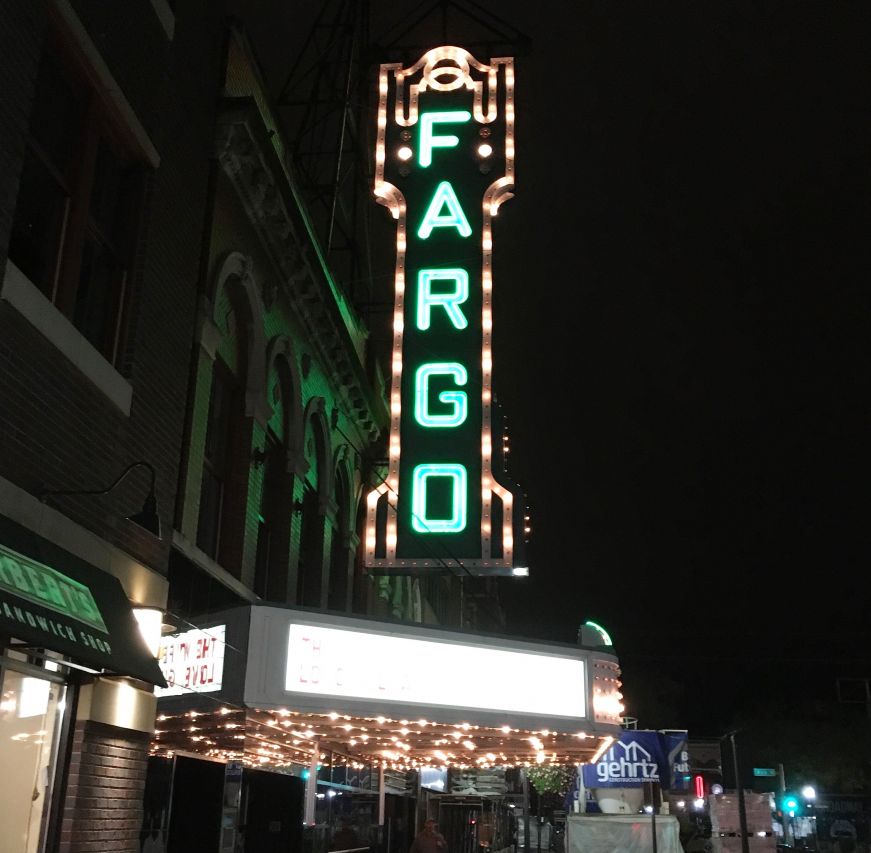 Thank you to North Dakota Tourism and the Fargo-Moorhead Convention and Visitors Bureau for hosting my stay in Fargo.  As always, all content and opinions are my own.
At a recent work event in Minneapolis, someone asked me what I had been up to over the summer.  "I've been traveling a lot," I said.  "I've been doing some press trips—one through Wisconsin, one in Iowa, and I'm going to North Dakota next week."
A colleague sitting next to me rolled his eyes.  "Wow," he said sarcastically.  "You're really hitting the highlights."
Setting aside the obvious snobbery and privilege of this sentiment, the comment irked me because it was just plain wrong.  My dinner at Lark in Janesville, Wisconsin was one of the most exquisite meals I've ever enjoyed.  I've savored craft cocktails in the Quad Cities; toured the only Frank Lloyd Wright hotel in the world in Mason City, Iowa; and spent the night on the Mississippi River in St. Paul.  Anyone who thinks that Midwestern travel is lacking should actually give it a try.
They should start in Fargo, North Dakota.
Although Fargo is only about a three and a half hour drive northwest of the Twin Cities, I've barely spent any time there—North Dakota has been a blind spot on my Midwest travel radar, so I was excited to be hosted for a stay in Fargo to rectify the situation.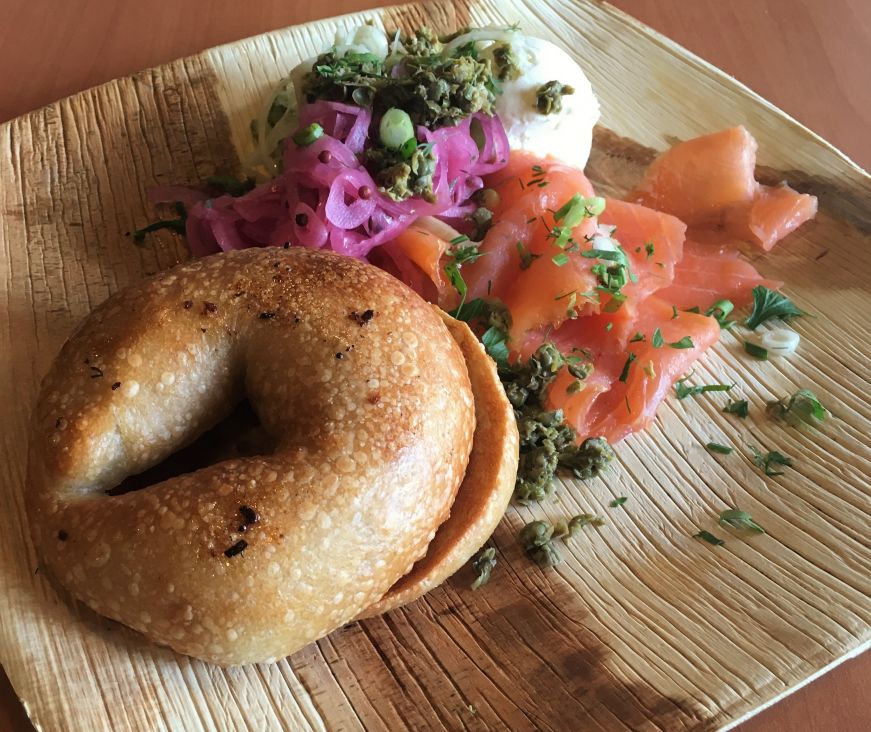 My first order of business was brunch at BernBaum's, a bagel spot that also serves small plates including latkes, egg bakes, and knishes.  Unfortunately, they were out of fresh bagels when I arrived at noon on a Sunday (get there early!) so I opted for the Iceland bagel platter with a day-old toasted plain bagel.
While I was initially hesitant to order it because of the price ($11.99) it was worth every penny: a rich chevre cream cheese, pickled onions, capers that tasted so much fresher than any I've eaten before, fennel that added a lovely sweetness, and lox.  So much lox I couldn't pile it all on my bagel and had to eat some of it on the side.
Other bagel plates include vegan lox made with smoked carrot, veg with beet hummus, chopped liver, and Mid-East with labne and hummus (that one seemed to be popular).  There's also a long list of bagel sandwiches.  In addition to the food, I also enjoyed the atmosphere: the seating area spills over into the adjacent mid-century modern furniture store for a neat retro feel.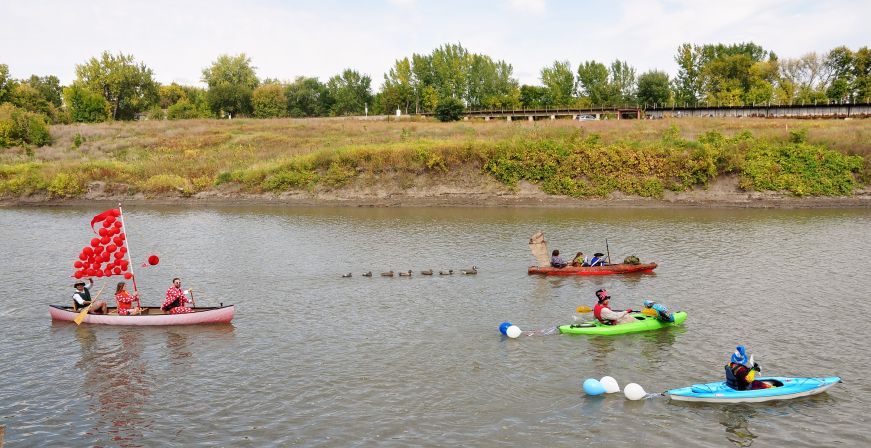 I happened to be in town for the annual Canoe Parade, which was held on September 23.  It's a low-key event—about 15 canoes and kayaks paddling down the Red River, with costumes and decorations ranging from non-existent to fairly elaborate (cow costumes, a sail made out of balloons, a pirate canoe with a Jolly Roger flag and skeletons dangling from the sides).  It's the sort of quirky, fun local thing to keep an eye out for on your travels; calendars on the convention and visitors' bureau website are a great way to discover these types of events (here's a link to the Fargo-Moorhead CVB website).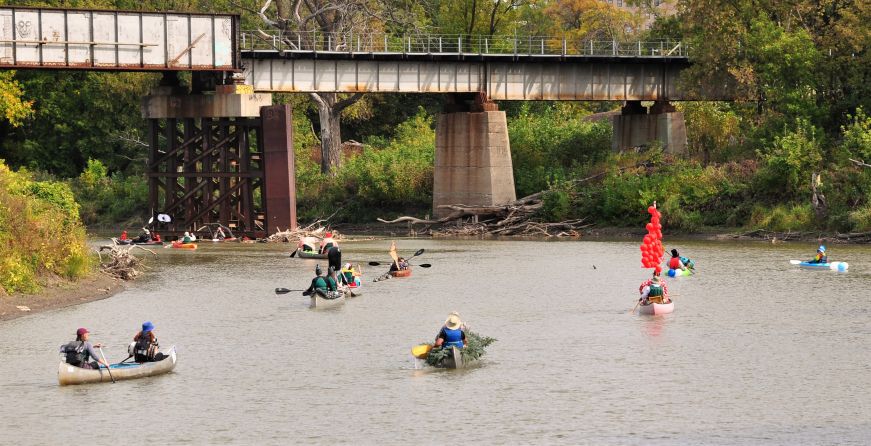 I spent the afternoon browsing Fargo's downtown shops.  The selection is impressive, and I loved how vibrant and walkable the downtown area is.  Some of my favorites were Kindred People, a boutique with trendy, wearable clothing; Stabo Scandinavian Imports, a small shop with an impressive selection of imported decor, housewares, food and clothing; Unglued, with a funky selection of North Dakota-themed products by local artisans; and Zandbroz Variety, with a huge and eclectic collection of books, stationary, kitchen gadgets, decor, jewelry, and more.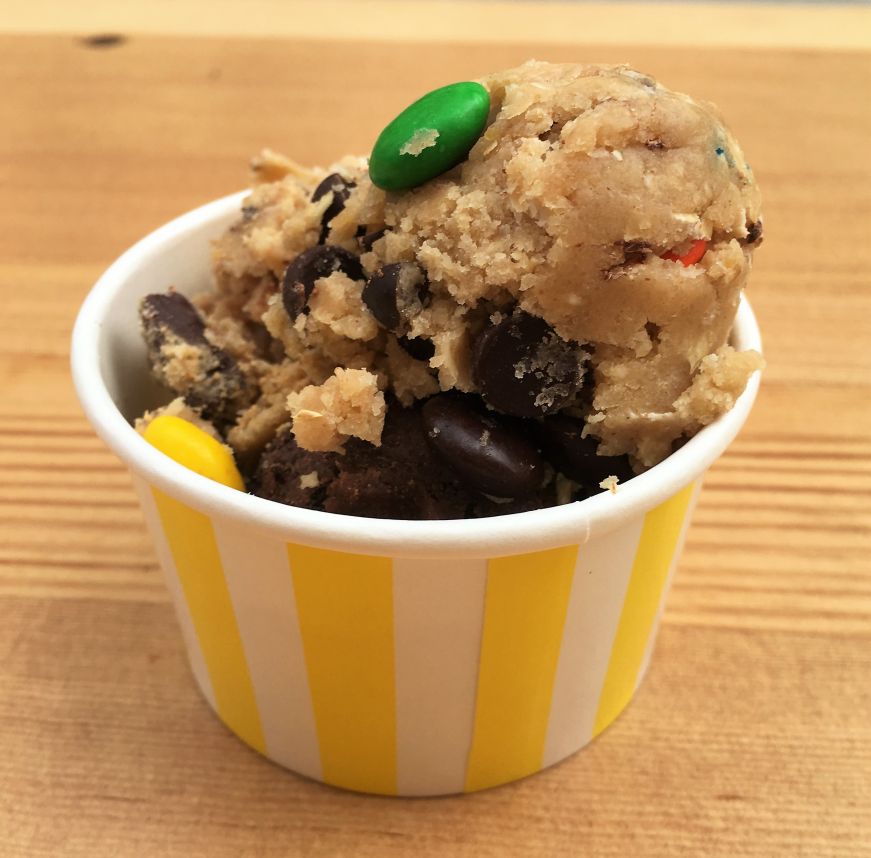 Due to all of this shopping I worked up an appetite, so I obviously had to stop by Scoop 'n Dough Candy Co. for a sugar fix.  They serve several flavors of edible cookie dough, Cedar Chest ice cream, popcorn, and bulk candy.  I went with the cookie jar, a sampler of three mini-scoops of cookie dough: monster cookie, chocolate milk 'n cookies, and s'mores.  It was a reasonably sized portion, and not too sweet going down (although the sugar high definitely hit about 10 minutes later).  You can also order regular-sized scoops of cookie dough in a cup or cone, or get a cookie dough sundae or milkshake. 
After checking into the Hotel Donaldson (more on that below) I continued my "run to the next state and back" initiative that I started on my trip to the Quad Cities, with an evening run that crossed over the Red River to Moorhead, Minnesota.  There's a great network of riverside trails on both the North Dakota and Minnesota sides of the Red River, with lots of fellow runners, dog walkers, and bikers taking advantage of a lovely fall evening.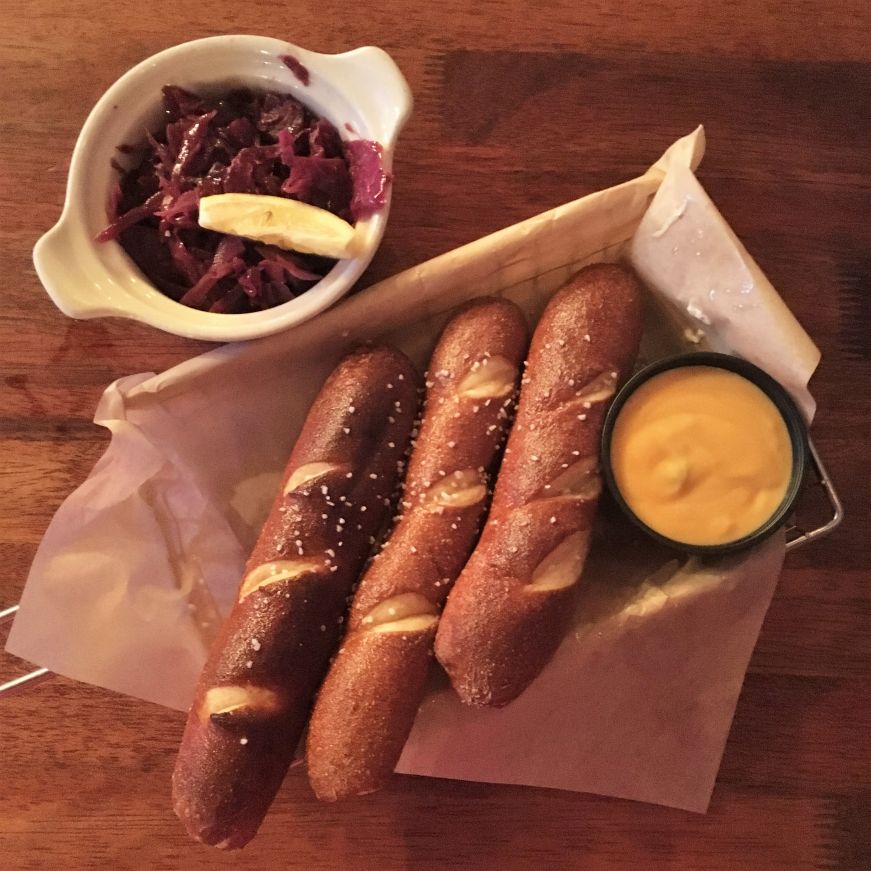 For dinner, I went to Würst Bier Hall, which has a menu of German-inspired cuisine and sausages.  It's actually surprising vegetarian and vegan friendly, with a dedicated vegan menu that includes options like beer battered cauliflower bites, a vegan Fieldroast sausage, and fries with vegan mayo or spicy vegan ranch. 
I went with the decidedly not vegan buttered pretzels with beer cheese dipping sauce and an order of cabbage.  Both were satisfying, and the pretzels were freshly prepared and a generous portion for the price.  Although I stuck with water, there's an impressive rotating selection of local, German, and domestic craft beers.
Würst Bier Hall is great if you're traveling solo—in addition to bar seating there are a bunch of high top tables for two alongside the wall opposite the bar that are perfect for single diners who don't want to seem too conspicuous.  I spotted four other solo diners during my visit, which isn't my typical experience and was actually quite refreshing.
Day two of my stay in Fargo was cold and rainy, so I modified my plans a bit.  After an in-room breakfast at the Hotel Donaldson, I spent the morning working at Young Blood Coffee, a hipster third-wave coffee shop with vinyl on the stereo, fresh flowers on the table, and an artisanal toast menu.  I ordered a chai latte made with almond milk, and I appreciated the warm, slightly sweetened spicy flavor profile.  The coffee shop itself was a good place to work, with a friendly neighborhood feel and ample seating.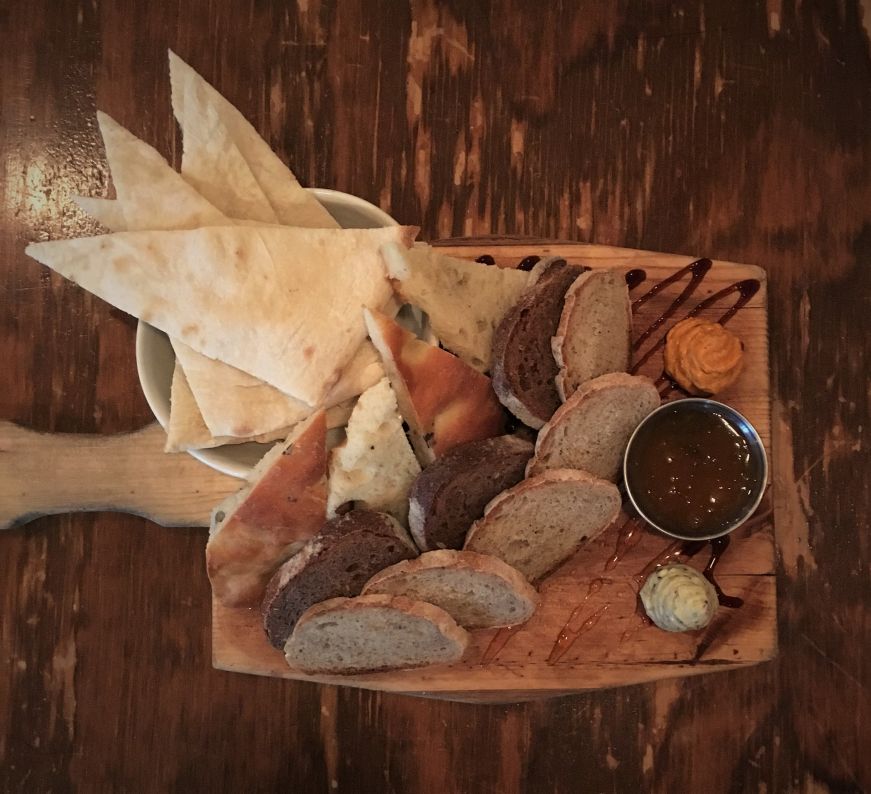 For lunch, I went to Blackbird Woodfire, which has a wood-fired oven and a menu of pizzas, tapas, and salads.  Maybe it was the weather, but I ended up carb loading.  First up was a bread plate served with whipped herb butter, hot honey butter, and housemade jam—my favorite combination was the rye bread with the hot honey butter. 
As an entree, I ordered the wild mushroom pizza—between the mushrooms, Parmesan, thyme, and garlic it hit all my favorite flavors—and also sampled the Blue Crush, which is topped with Parmesan, Gorgonzola, red onion, walnuts, roasted grapes, and fresh rosemary.  Both pizzas had unique and tasty vegetarian topping combinations, and I also enjoyed the thin, chewy pizza crust.  Plus, the lunch-sized pizza meant that I had enough room for dessert.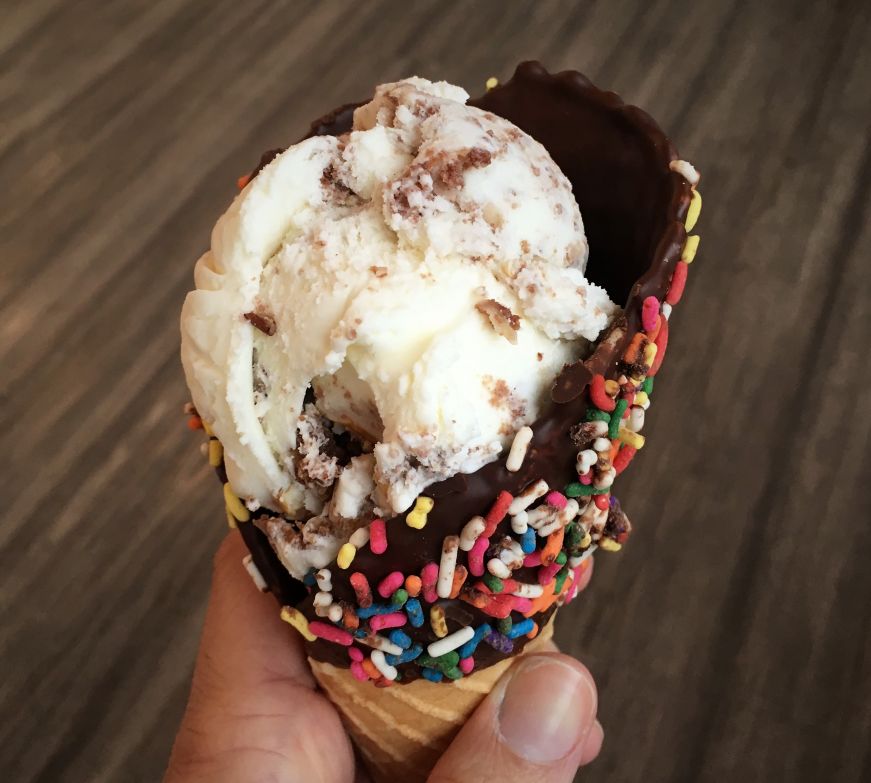 Since I seek out local ice cream wherever I travel, from New York City to Winnipeg, I had to check out The Silver Lining Creamery.  The company was founded in Rapid City, South Dakota in 2014 and they've expanded to a second location in Fargo.  Their premium ice cream is made in small batches on-site, with offbeat flavors like sage, Captain Crunch, and black licorice.  After some sampling (the pumpkin cheesecake was tempting), I settled on a scoop of Presidential Sweet in a chocolate dipped waffle cone: vanilla bean ice cream with pieces of German chocolate cake and pretzels.  It sounds strange, but the combination of sweetened coconut and salty pretzels was delicious.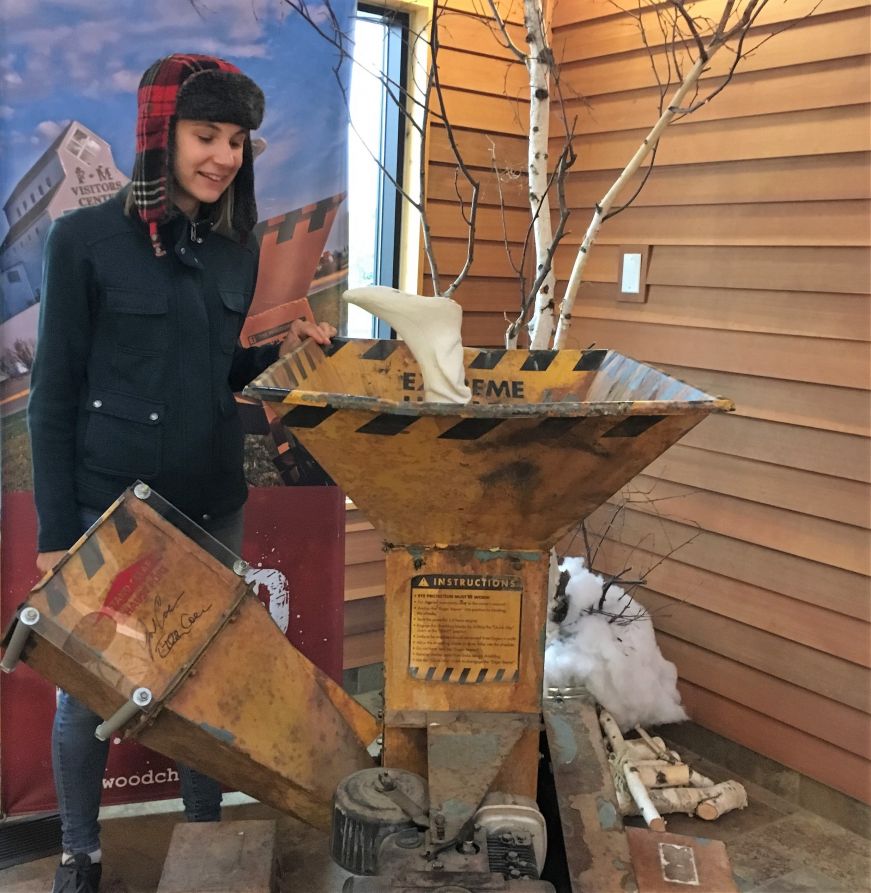 My original plan for the afternoon was to visit the Red River Zoo, but since the rain showed no sign of letting up I opted for some indoor activities instead.  Most people associate Fargo with the Coen brothers film (and now FX TV series) of the same name.  The convention and visitors bureau has embraced that notoriety, and the wood chipper from the movie (it's actually signed by the Coens) resides at the Fargo-Moorhead Visitors Center, along with a small collection of Fargo memorabilia.  The visitor center's friendly staffers are happy to take your picture with the wood chipper and will even loan you an earflap hat to complete the look.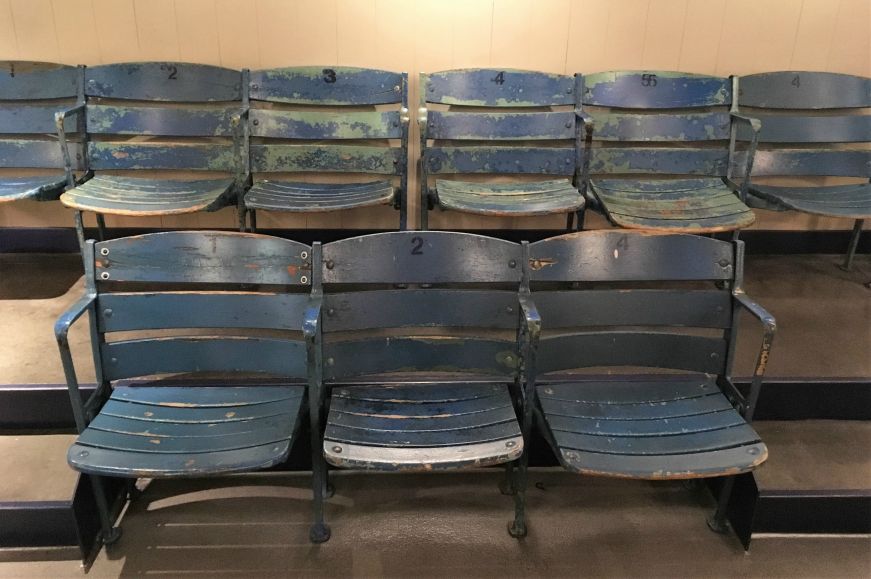 Another free, low-key Fargo attraction is the Roger Maris Museum, housed in the West Acres Shopping Center.  The museum includes a large display case of memorabilia focused on Maris' home run record and baseball career; there's also a small theater where you can watch a brief documentary.  The theater seats are vintage stadium seats that were in Yankee Stadium from 1930 to 1972, so they witnessed Maris' record-setting 61 home runs during the 1961 season. 
Note that both the Fargo-Moorhead Visitor Center and the Roger Maris Museum are about a 15-minute drive from downtown Fargo.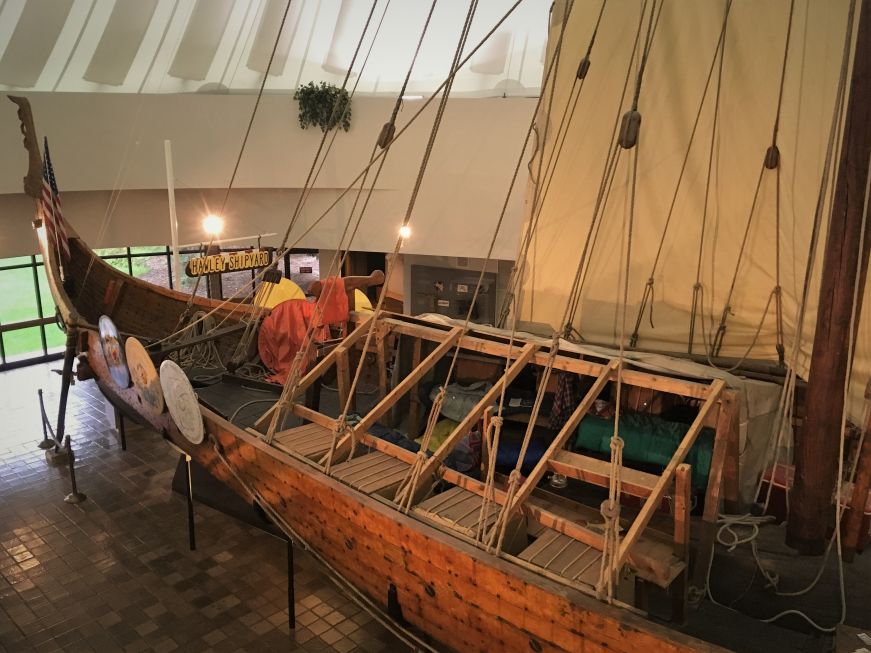 Just across the Red River and state border from downtown Fargo, Moorhead, Minnesota's Hjemkomst Center is one of the most unique county historical society museums I've come across.  The centerpiece is the Hjemkomst, a replica Viking ship that a 12-person crew actually sailed from Duluth, Minnesota to Bergen, Norway in 1982—the 6,100 mile voyage took three months and is recounted in a documentary that plays hourly at the museum.  Museum admission also includes the Hooperstad Stave Church Replica (there are hourly guided tours that last about 15 minutes or so, and give you some good background information about the design and function of stave churches).
The Hjemkomst Center also hosts rotating exhibits about local history.  I was especially struck by the War, Flu, & Fear: WWI and Clay County exhibit (through January 2021).  It uses the WWI-era letters and diaries of local residents as a lens to examine world events, and it was unexpectedly poignant—I was pretty choked up by the end.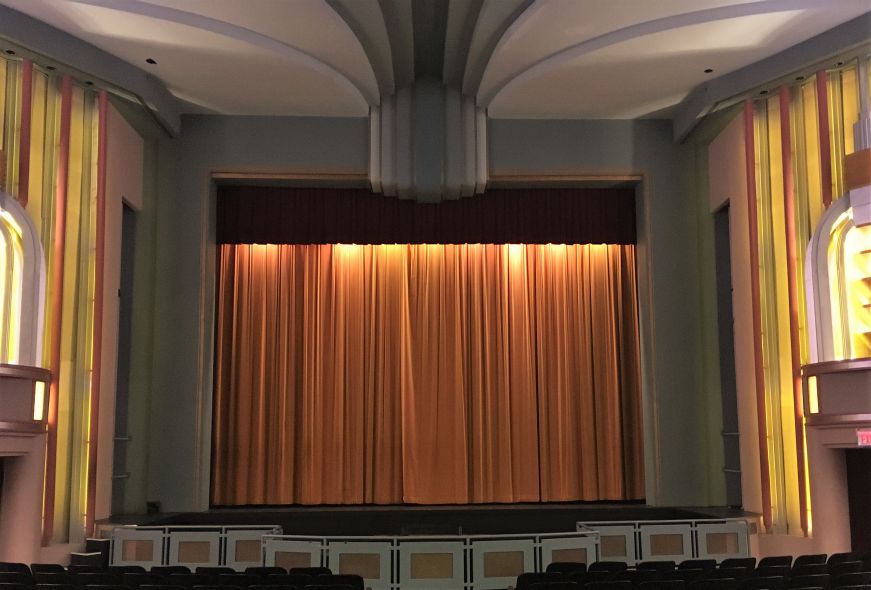 On a lighter note, I really wanted to check out the art deco interior of the Fargo Theater, so I went to the movies.  The restored 1926 theater hosts a range of events in addition to showings of new independent releases, including concerts, ballets, and classic film screenings.  In an age of recliner seats and 3D, it was fun to enjoy the historic surroundings and just focus on the movie (The Wife, with Glenn Close—I highly recommend it!)  Even if you can't take in a movie, make sure to stroll by the theater at night so that you can see the iconic neon sign when it's illuminated.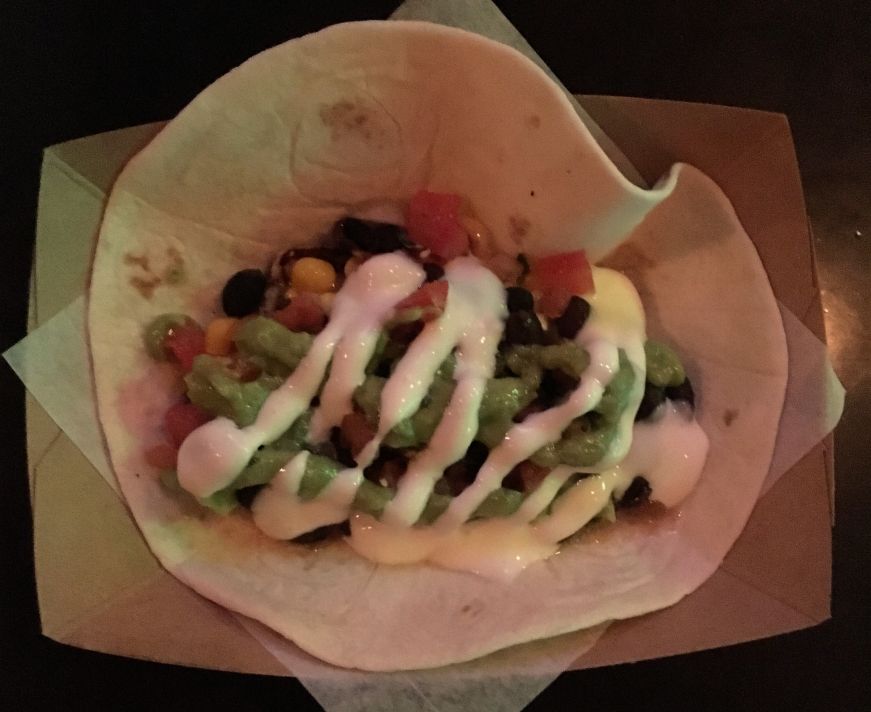 In need of some late-night eats, I headed over to Vinyl Taco (note that since it's technically a bar, you have to be 21 to enter).  It feels like an underground music venue, a little gritty and with records playing on turntables behind the bar.  The food menu is focused on Mexican street food, with a long list of tacos served on housemade flour tortillas.  I did wish that they had more than one vegetarian taco on the menu, but my appropriately named "vegetarian taco" was a great combination of ingredients, loaded with grilled queso fresco, corn, pico, black beans, a creamy serrano-avocado salsa, and blanco crema.  I filled out my meal with an order of tortilla chips still hot from fryer, served with green tomatillo and red roasted tomato salsa.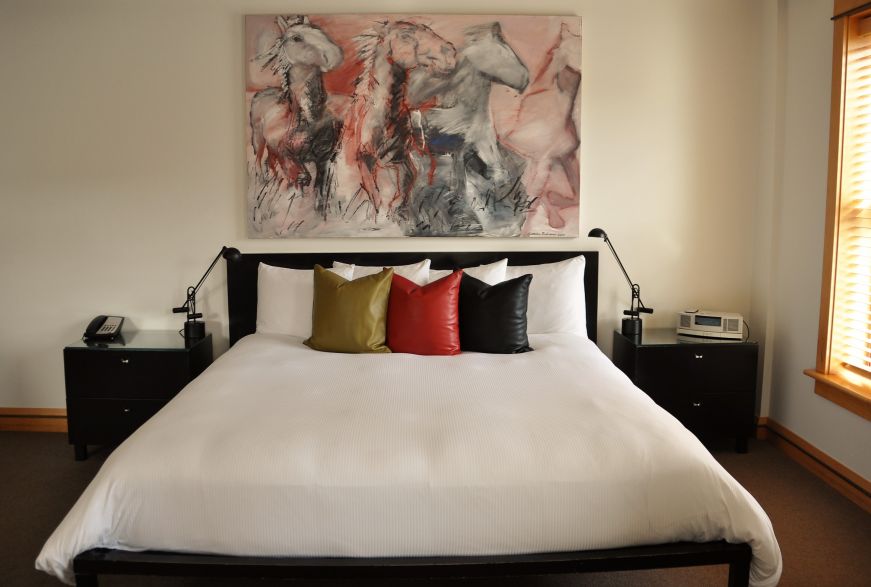 During my time in Fargo, I was hosted at the Hotel Donaldson (also known as the "HoDo").  The location is perfect, right in the heart of downtown, within a few blocks of all the shops and restaurants I mentioned above.  Each of the hotel's 17 rooms is decorated by works from a North Dakota artist.  I was in suite #2, which featured works by Gretchen Bederman; I loved the warm color palette and the sense of motion in the painting of horses above my bed.
A stay at the Hotel Donaldson is a splurge (rooms start at $184 per night), and the amenities reflect that.  There's a reception from 5:00pm to 6:00pm each evening with complimentary wine, local beer, soda, and cheese and charcuterie.  There are cozy robes, fancy Aveda toiletries, a workout room with nicer decor than my entire house, and a hot tub on the roof.  My personal favorite was the turn down service: they bring you a bucket of ice, dim the lights, put a CD by a local artist on the stereo, and leave you a plate of delightfully rich housemade chocolate truffles.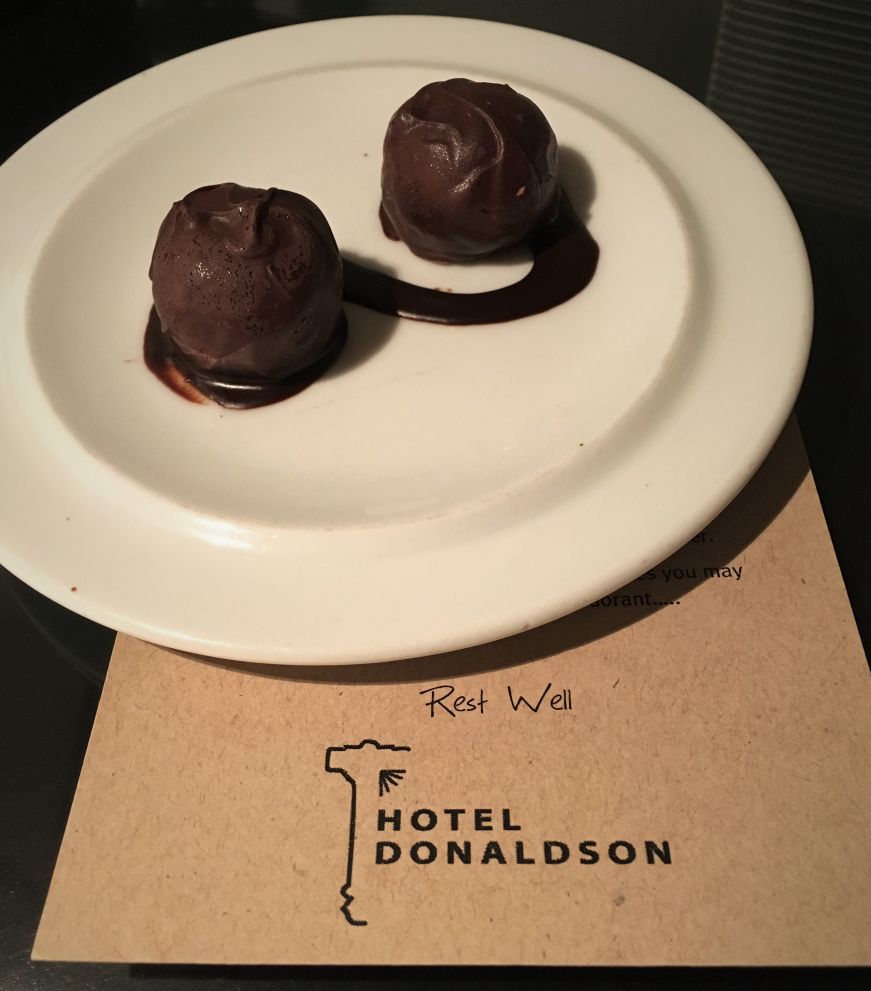 For breakfast, you can opt for the complimentary artisan pastry basket with coffee, or you can purchase something from the expanded menu.  The pastry basket was more than enough food for me (a muffin, scone, and piece of quick bread) and the baked goods were quite fresh and delicious.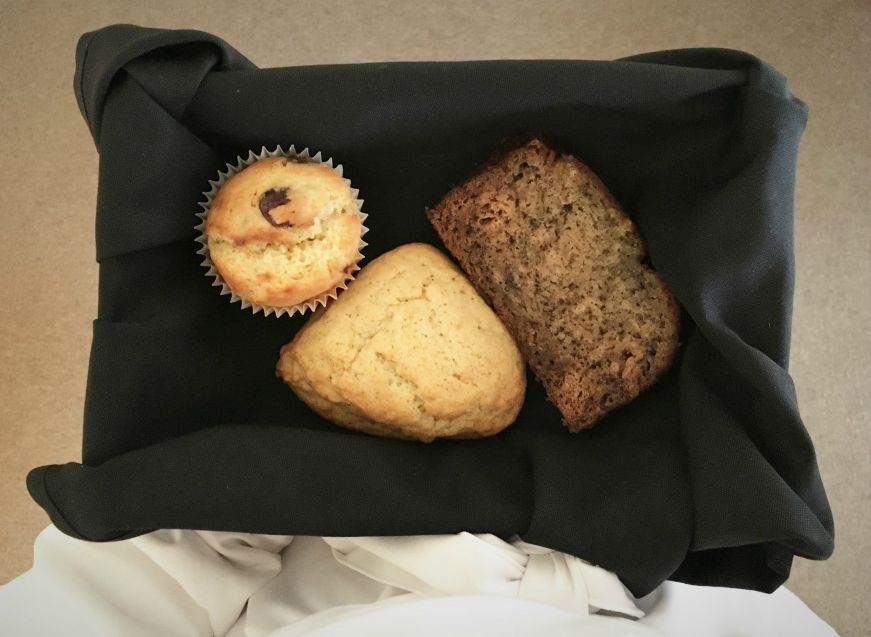 Other fun things to do in Fargo that I didn't get a chance to check out due to scheduling and weather:
Want to plan your own trip to Fargo?  Start with the Fargo-Moorhead Convention and Visitors Bureau for information about accommodations, dining, and attractions.
Thank you to North Dakota Tourism and the Fargo-Moorhead Convention and Visitors Bureau for my stay at the Hotel Donaldson and lunch at Blackbird Woodfire.  I paid all other expenses out of pocket.
Further reading:
If you enjoyed this post, pin it!