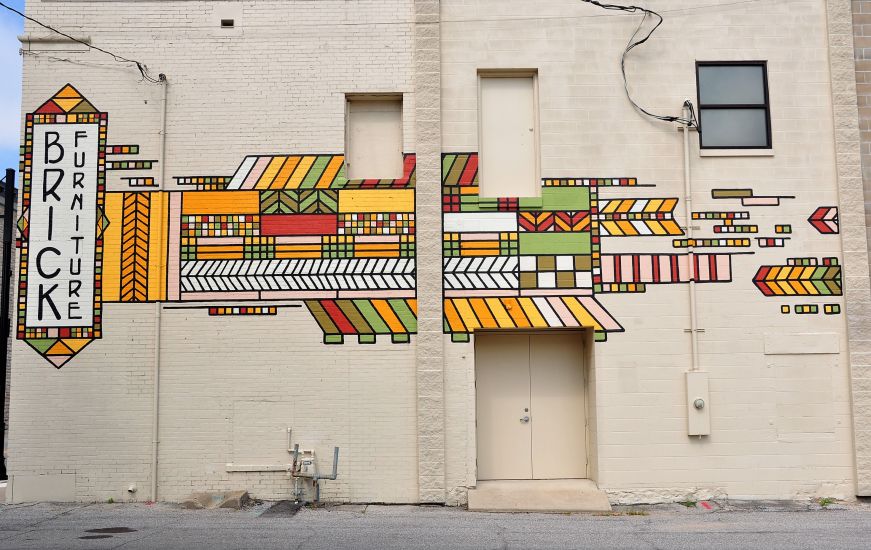 Thank you to Visit Mason City for hosting my stay in Mason City.  As always, all content and opinions are my own.
Mason City, Iowa feels like a small Midwestern city straight out of central casting.  In a way, it is—The Music Man composer Meredith Willson grew up in Mason City and modeled River City after the town.  Frank Lloyd Wright, who focused his early career on developing a uniquely American style of architecture, designed the Stockman House (now a museum) and the Historic Park Inn, and his influence can be spotted in Mason City's many Prairie School homes.  There's a notable dose of small town hospitality: as I wandered around on a Sunday morning, people greeted me from their porches.  When a man spotted me snapping photos of a Frank Lloyd Wright-inspired mural, he walked me over to another one on the next block. 
I was also impressed with Mason City's wide-ranging food scene, which includes a retro Greek steakhouse, Chicago-style deli, third-wave coffee house, and a Thai restaurant with a sushi counter.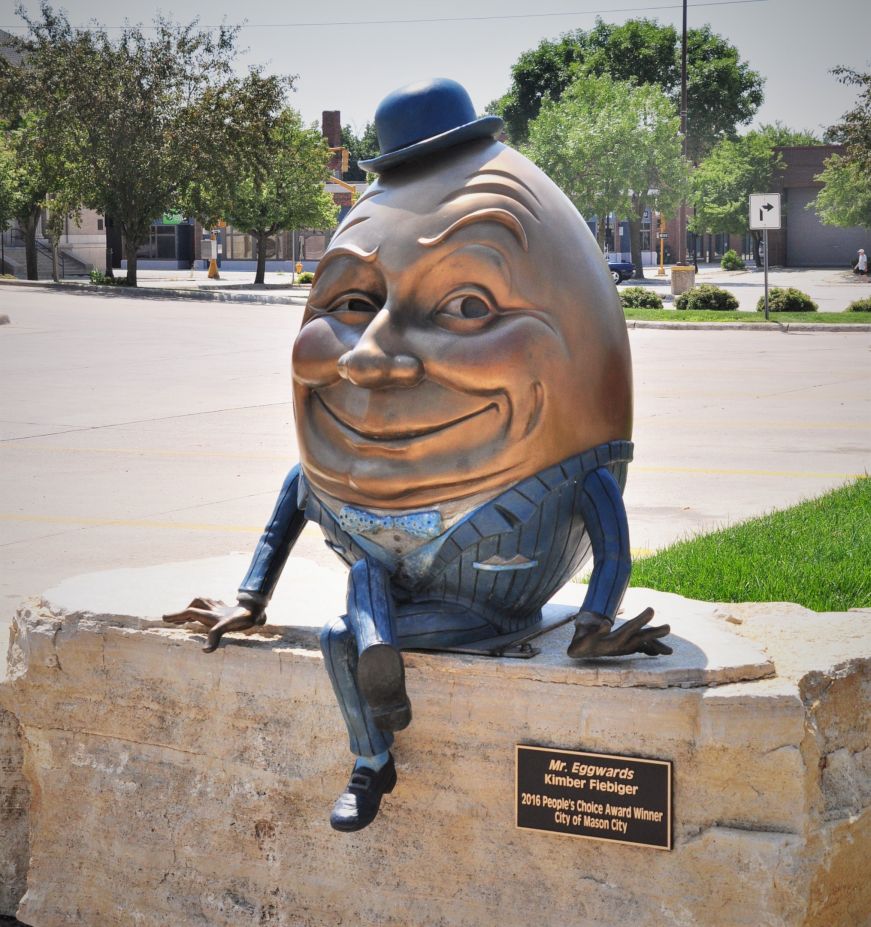 I started my stay in Mason City with River City Sculptures on Parade, a yearly-rotating collection of public art installed throughout downtown (I did a similar sculpture tour in Mankato).  The over 50 sculptures range from abstract to realistic and serious to whimsical.  The tour was also a perfect way to get my bearings and take a couple brief detours to see landmarks like The Music Man Footbridge and Suzie Q Cafe.  Maps of the route are available at the Mason City Visitors Information Center and online.
It took me a leisurely hour and a half to complete the tour, which included lots of photo stops and the detours mentioned above.  I'd recommend allocating at least an hour so that you can appreciate all of the works without feeling rushed.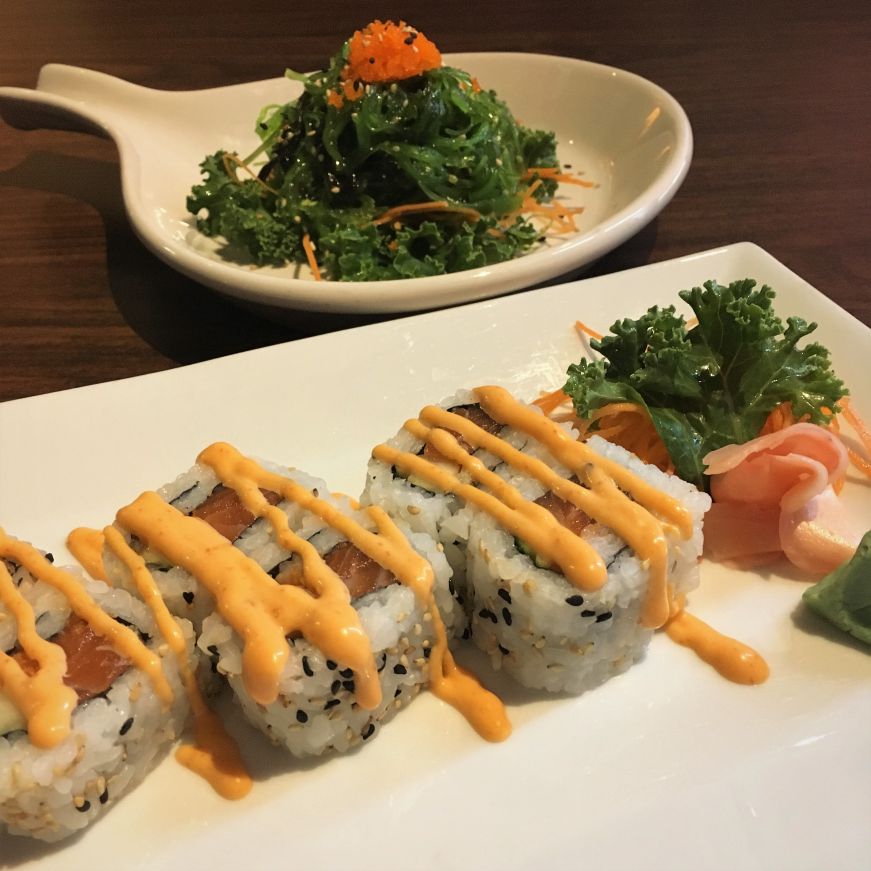 For lunch, I went to Thai Bistro, which also offers a comprehensive selection of sushi.  The menu features a wide range of noodle and rice dishes, curries, soups, salads, and stir fries.  Since most dishes can be ordered with vegetables or tofu, it's one of the best options in town for vegetarians; there are plenty of seafood entrees as well as sushi for pescatarians.  Since I was bit crunched for time, I ordered a seaweed salad and spicy salmon roll.  I appreciated that the salad included carrots and kale in addition to the seaweed, and my roll was generously sized and well-prepared (although not very spicy even by Midwestern standards—I added a fair amount of wasabi).  Service was attentive and gracious, and the restaurant has cozy booths and nice decor that would make it fun for date night.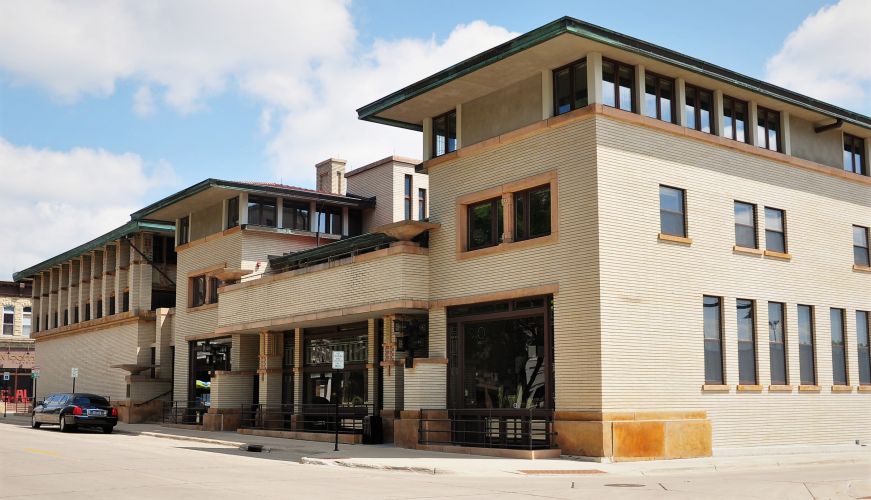 Next up was a tour of the Historic Park Inn with Wright on the Park, the nonprofit group that restored and owns the hotel.  Frank Lloyd Wright designed seven hotels, six of which were built; the Historic Park Inn, which originally opened in 1910, is the only one that remains.
While today the whole building is a hotel, it was originally designed as a bank, law office, and hotel.  Eventually the bank space was converted into retail and the law firm and hotel became apartments.  The former hotel portion was abandoned in 1993, fell into disrepair, and ownership passed to the city due to unpaid property taxes.  In 2005, Wright on the Park purchased the hotel from the city for $1 as well as the bank portion at market rate from the private owner.  The group completed the $20.7 million restoration in 2011, and the hotel's second grand opening was exactly 101 years after the first.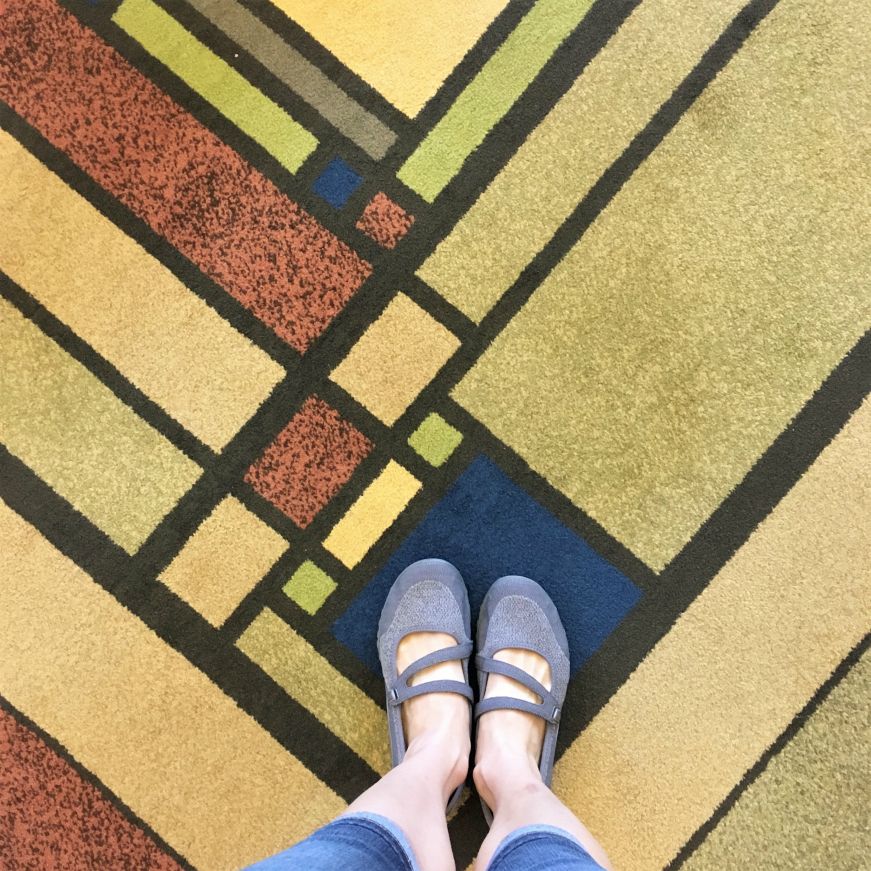 The guided tour was quite comprehensive and included the lobby, various guest areas and event spaces, the outdoor balcony, and a walk across the street to view the exterior.  The docent who led my tour was very involved in the restoration project, and she did an excellent job of discussing the building's original design, what the restoration project preserved and adapted, and how the building is used today.  There were lots of juicy tidbits about Wright's famous temperament, and I enjoyed learning about the often arcane preservation rules for historic buildings (for example, you can only replace a pane of art glass if it has more than 13 cracks).  I was most impressed by the fact that our guide made the tour accessible to a Wright novice (me) as well as fascinating for the architect/Wright aficionado on the tour.  The tour was about one hour and forty-five minutes in length, which seems like a long time but the guide was engaging enough to keep my interest.
In addition to the docent-led tours, you can obviously spend the night at the hotel, and there's also a restaurant and lounge.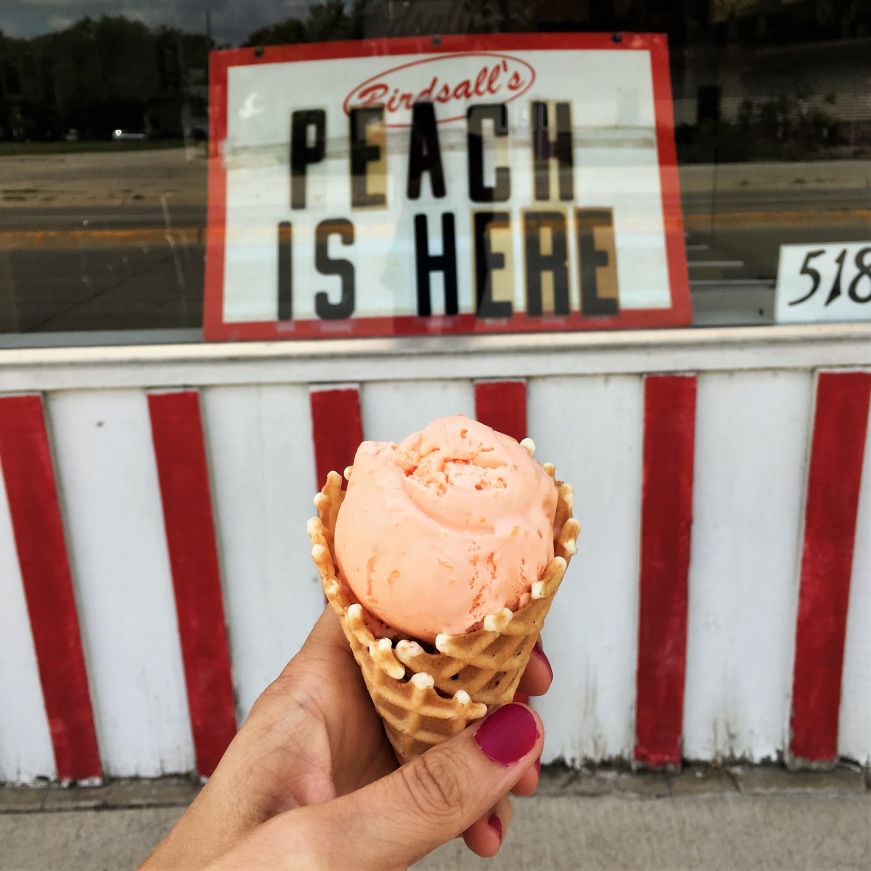 In need of some refreshment (and a place to sit down) before I launched into my next tour, I walked a few blocks to Birdsall's Ice Cream, a beloved local ice cream shop that's been serving homemade ice cream since 1931.  It's truly retro: they don't have a website or official Facebook page, seating is on stools at a diner-style counter, and ice cream is stored in metal pails.  Most of the flavors are classics, like butter brickle, praline pecan, cherry nut, peppermint candy, banana fudge, and strawberry.  When peaches are in season, they also have a fresh peach ice cream—since the peach crop was a bit early this year, I lucked out and got to try a scoop of peach ice cream in a housemade waffle cone.
My peach ice cream wasn't the thick, creamy style I'm used to from local purveyors.  Instead, it had a lighter, slightly icy texture, almost like a fruit sorbet.  It was quite refreshing on a warm afternoon, with plenty of flavor from the fresh peaches, and I appreciated the unique folded bottom of my waffle cone—no drips!  I also thought it was quite reasonably priced, only $2.88 for a single-scoop waffle cone.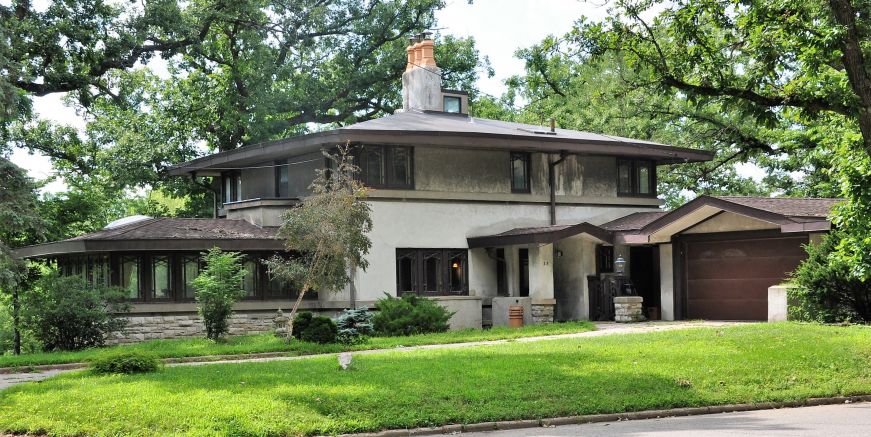 Since I wanted to see more of Mason City's Frank Lloyd Wright-inspired Prairie School architecture, I took a self-guided walking tour (you can purchase a tour guidebook online or at the Charles H. MacNider Art Museum, The Music Man Square, Mason City Visitors Information Center, or the Stockman House).  The guidebook provides a walking route and information on 71 notable historic buildings, including about 40 Prairie School homes.  Only one, the Stockman House, was designed by Frank Lloyd Wright (more on that below); the others were designed by former associates and others who were influenced by Wright's work.
Although I walked most of the two-mile route, I focused my attention on the Prairie School homes.  It was neat to see so many of them in such a small area (in many cases, next door to each other), and I also appreciated how well many of them have been preserved as private residences over the years.  It took me just over an hour to do the tour.  Give yourself more time if you want a closer look at the non-Prairie School buildings.
Dinner was at Northwestern Steakhouse, another Mason City culinary institution.  The Greek-style steakhouse has been around since 1920, and they're famous for cooking their steaks in extra-virgin olive oil, butter, and Greek seasoning.  The menu also features chicken, walleye, shrimp, and Greek salads.   Uniquely, in addition to standard sides like baked potatoes, rice, and fries, you can order spaghetti topped with steak drippings and Parmesan.
I seriously considered ordering a steak.  However, for the past several years my red meat consumption has been limited to occasional bites of my husband's hamburgers, and I wasn't quite sure how a 9-ounce fillet cooked in butter would land.  Instead, I played it safe and opted for broiled shrimp with a Greek salad and side of spaghetti; my meal also included bread and butter.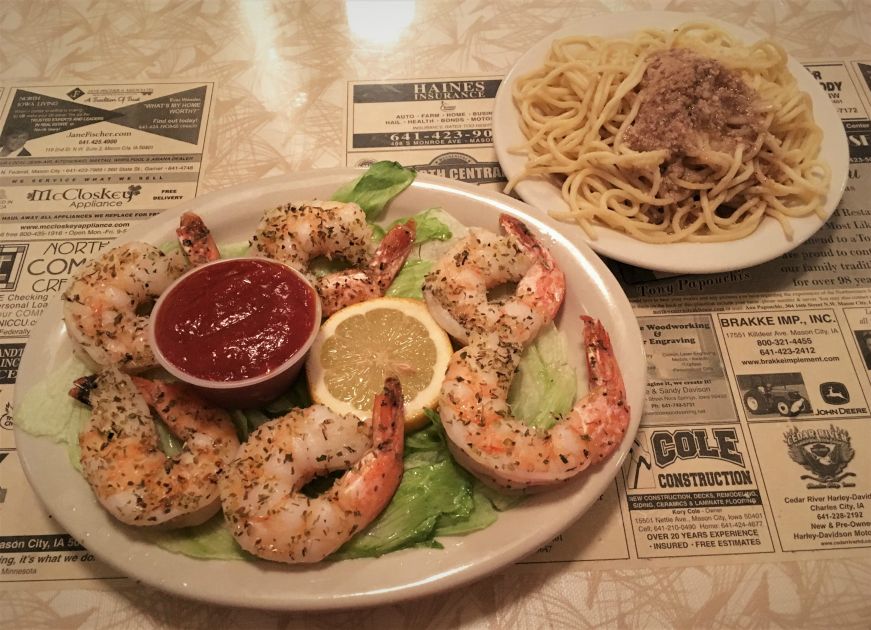 I get the feeling that Northwestern Steakhouse has been doing things exactly the same way every night for decades, oblivious to the latest dining trends.  The thing is, it works.  An iceberg lettuce salad isn't something I'd typically seek out, but when topped with feta and a vinegar-heavy Greek dressing it was a fine way to start my meal.  The soft white bread was comforting.  The shrimp were well-prepared and the Greek seasoning (it seemed to be mostly oregano) actually paired quite well with the cocktail sauce.
And the spaghetti?  The same noodles and Parmesan you can eat at home, but when you add in the steak drippings, something unexpected happened.  It somehow tasted both nostalgic and unexpected, and I don't think I've tucked into a plate of plain pasta with such gusto since my childhood.
Since Northwestern Steakhouse is very popular and seating is limited, reservations are a must.  However, the atmosphere is quite casual, and shorts and T-shirts seemed to be perfectly acceptable attire.  Other than the bread and salad, there isn't anything on the menu for vegetarians, and strict pescatarians will need to avoid the spaghetti.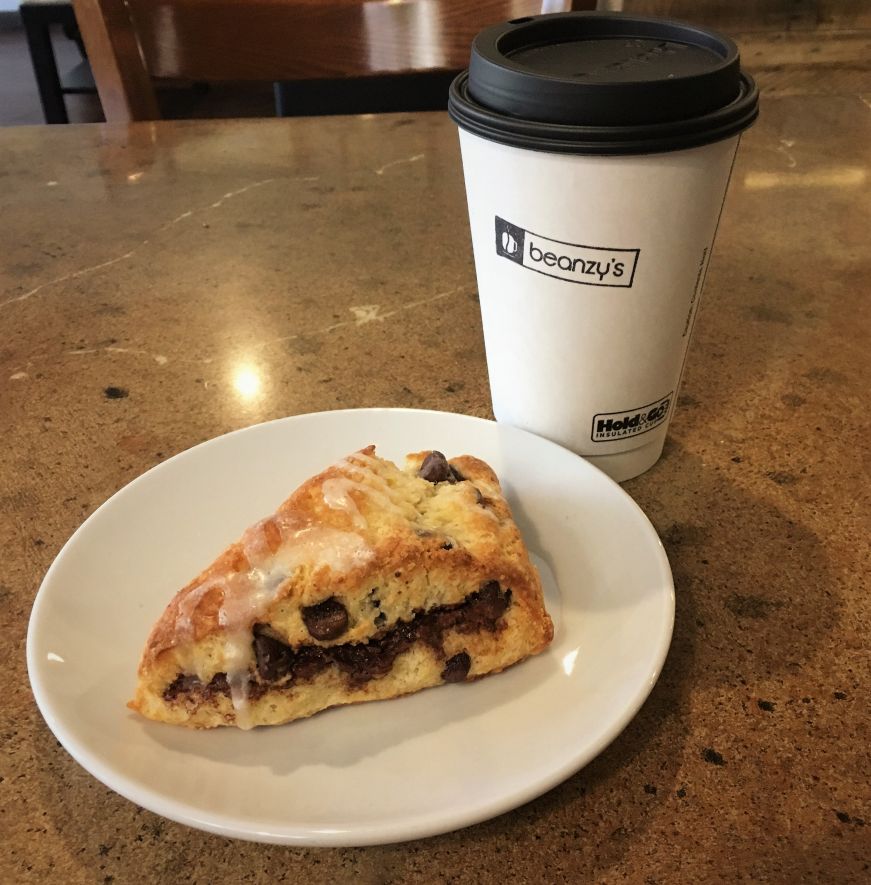 I started my second day in Mason City at Beanzy's Coffee Co., a local coffee shop with a farmhouse chic aesthetic, plenty of seating, and housemade baked goods.  The coffee is also roasted in-house, and I loved how smooth my Americano tasted.  They also offer loose leaf teas, Italian sodas, and fruit smoothies.
There's an impressive list of rotating sweet and savory scone flavors—on the morning of my visit my choices were peanut butter and jelly or Nutella.  The Nutella scone was a tasty treat, the right crumbly texture with a layer of Nutella, chocolate chips, and a warm drizzle of icing (my barista heated up my scone for me, which was perfect).  Besides scones, the bakery case featured lemon bars, gluten-free monster cookies, and vegan biker bars made with oatmeal, cranberries and walnuts.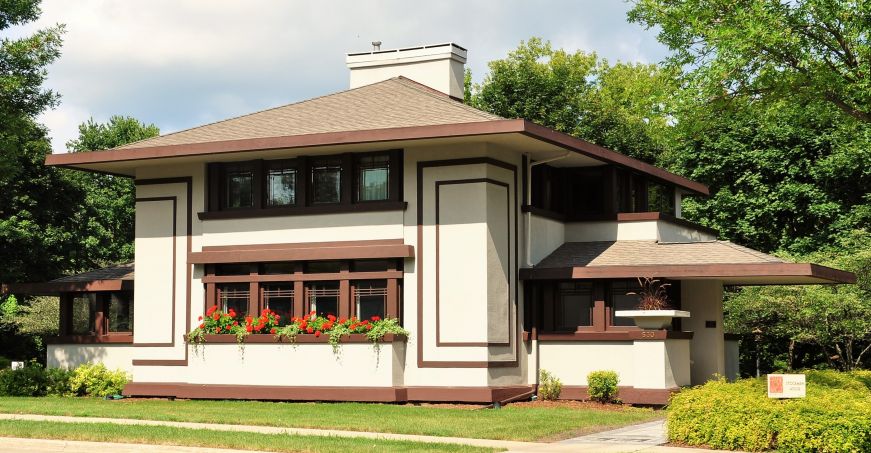 After seeing so many Prairie School houses from the outside during my self-guided walking tour, I was eager to check out the interior of the Frank Lloyd Wright-designed Stockman House.  The only way to see the house's interior is via an hour-long guided tour.  Arrive 15-30 minutes early so you can look at the exhibits in the adjacent Architectural Interpretive Center, which has models, photographs, and information about Frank Lloyd Wright and Prairie School architecture.  I especially appreciated the interior photos of the homes I saw on my walking tour.  Also check out the gift shop, which has Frank Lloyd Wright-themed gifts and decor items like socks, ties, jewelry, glassware, and votive candles.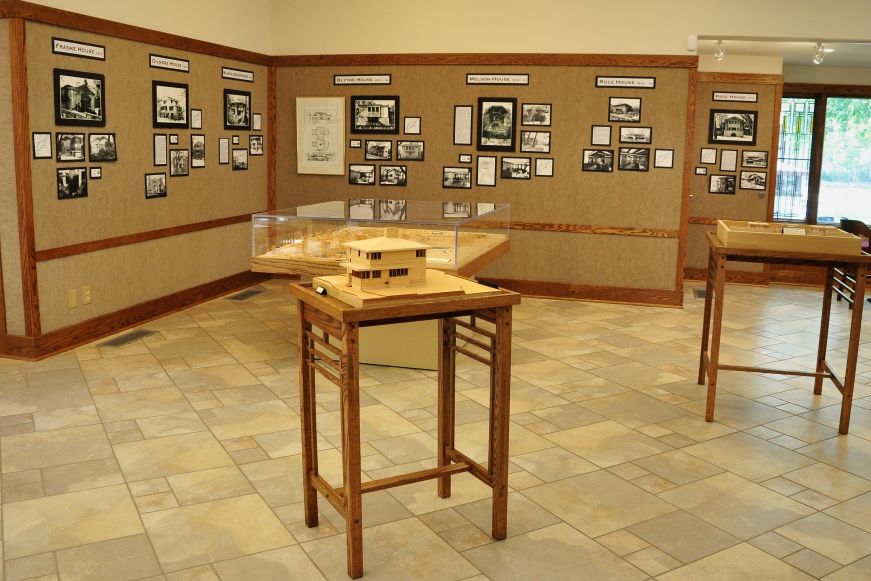 The Stockman House tour starts with a brief video presentation about Mason City's Prairie School architecture and the history of the Stockman House.  Completed in 1908, it was moved to its present location and restored in the 1990s.  The tour itself includes both floors of the house, which is furnished with Craftsman and Mission-style pieces that are based on photographs of the original interior.  I was most struck by the open floor plan and extensive natural light—despite being over a century old the house felt quite modern.  The signature Prairie School horizontal lines of the house's exterior are continued throughout the interior, and the roof's exaggerated overhang allowed the inhabitants to keep the windows open during rainstorms.
Touring the Stockman House was a nice complement to the previous day's hotel tour and walking tour—I recommend doing them all to get a well-rounded look at Mason City's Prairie School architecture.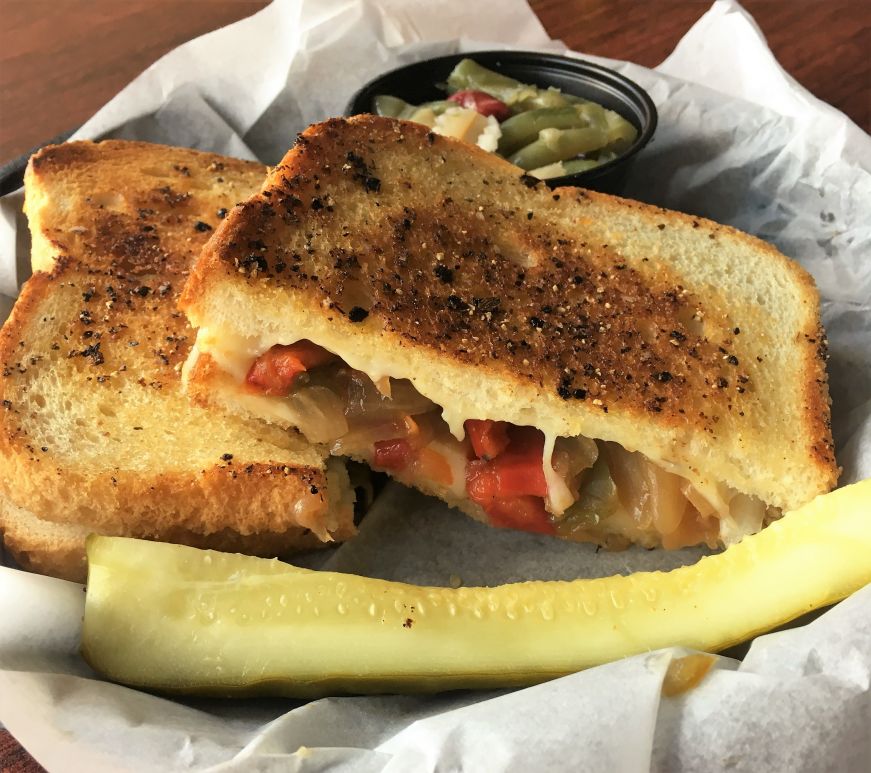 For lunch, I ate at State Street Deli, a Chicago-style deli with sandwiches, soups, and salads.  In addition to classic hot and cold sandwiches like Ruebens and chicken salad, there are also signature creations named after Chicago streets.  Sandwiches are served with a pickle spear and a small cup of deli salad (coleslaw, potato salad, pasta salad, three bean salad, or macaroni salad).  Although most of the sandwiches include meat, but there was a toasted veggie sandwich as a daily special on the Monday I visited.  It reminded me of a gourmet grilled cheese, with peppered sourdough bread, provolone, and fire roasted peppers and onions.  The seasoning on the bread was reminiscent of an everything bagel—in addition to pepper, there was salt and garlic.  I loved how much flavor the seasoning and the roasted vegetables added to the sandwich, and you can never go wrong with melted cheese. 
Service is quick and you can easily get your sandwich to go, but there's also lots of seating and excellent WiFi if you want to hang out and get some work done.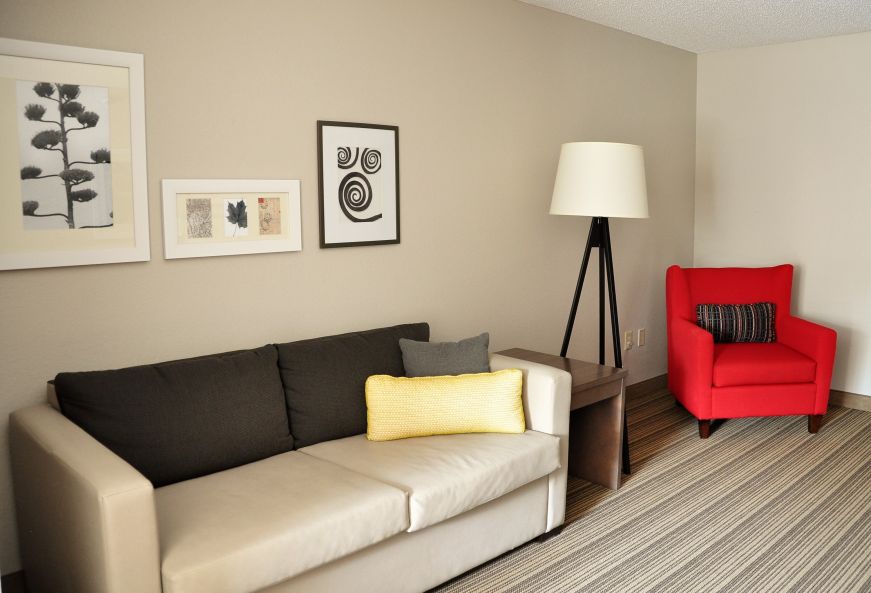 During my time in Mason City I stayed at the Country Inn & Suites, which is about a 10-minute drive from downtown.  Guest rooms have been recently refurbished and have a sleek, modern decor style that felt a bit Scandinavian.  I also appreciated the pops of color, like a yellow throw pillow and bright red chair.  My suite, #230, was extremely spacious (seriously, the living room area was larger than my actual living room) with a comfortable bed and view of a nearby cornfield.
Hotel amenities include a pool, fitness center (the treadmill I used was decent), free newspapers, a coffee and cookie station in the lobby, and complimentary breakfast.  Although I channeled my inner five-year-old and treated myself to a huge bowl of Lucky Charms, there are also various breads, pastries, yogurt, hard boiled eggs, fruit, and hot selections like make-your-own waffles, omelets, oatmeal, and biscuits and gravy.
While I focused on the dining scene and Frank Lloyd Wright and Prairie School architecture, Mason City's other attractions include The Music Man Square and Meredith Willson's boyhood home; the Charles H. MacNider Art Museum; and Rancho Deluxe-The Original Bicycle Garden.
Want to plan your own trip to Mason City?  Start with Visit Mason City for information about accommodations, dining, and attractions.
Many thanks to Visit Mason City for hosting my stay in Mason City.
Further reading about Mason City:
Mason City was the first stop on my 2018 Iowa road trip.  Read about the other places I visited:
If you enjoyed this post, pin it!