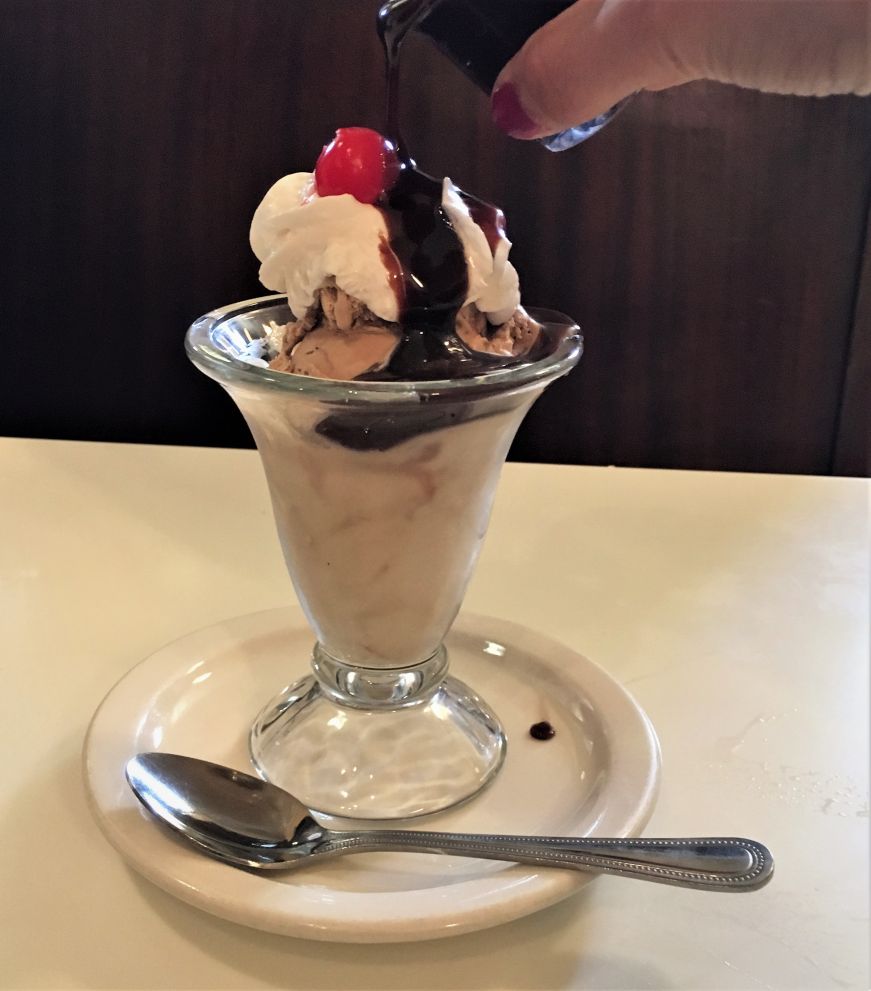 Thank you to the Quad Cities Convention & Visitors Bureau for hosting my stay in the Quad Cities.  As always, all content and opinions are my own.
First things first: the Quad Cities are actually made up of five cities.  On the Iowa side of the Mississippi, there's Davenport and Bettendorf; across the river in Illinois, there's Rock Island, Moline, and East Moline.  Each city has its own unique character, but they share a focus on the Mississippi River thanks to numerous bridges, riverside parks and trails, and the Channel Cat water taxi route.
I spent nearly two days and nights in the Quad Cities, which was a good length of time to explore the area's attractions and dining scene.  I was delighted to discover local flavor in the form of pizza, ice cream, cocktails, and even vegan barbecue.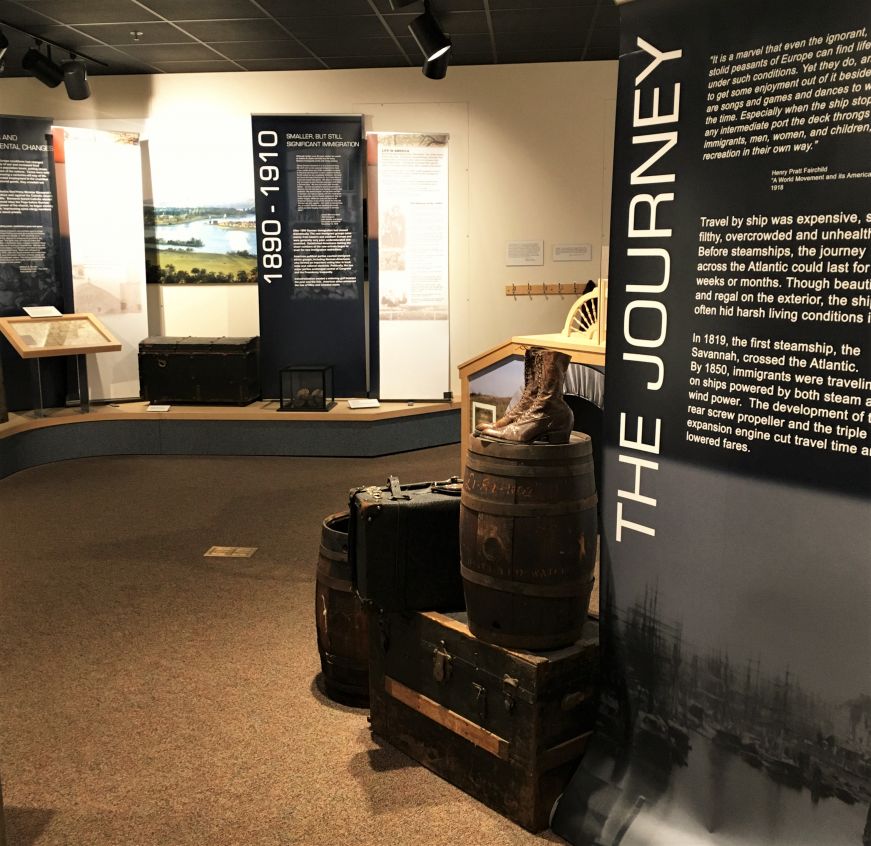 I started my time in the Quad Cities at Davenport's German American Heritage Center & Museum.  In addition to temporary exhibits about vintage wooden carousels and the Turners (a neat tie in to my recent visit to New Ulm), there's an impressive permanent exhibit about the German immigrant experience.  Due to my German minor and personal heritage, this is an area I have quite a bit of background in, but I still learned so much: about the bleak conditions on the immigrant ships, migration routes Germans took once they arrived in the U.S., the immigrant hotels that housed recent arrivals (the museum is appropriately housed in a former immigrant hotel), and the persecution of Iowa's German-American residents during WWI.  There are some neat interactive portions where you can listen to actual immigrant accounts, as well as activities geared towards kids, like a chest of period clothing to try on.
Plan on spending one to two hours at the museum.  Although it has a small footprint, there's a lot of fascinating information to take in.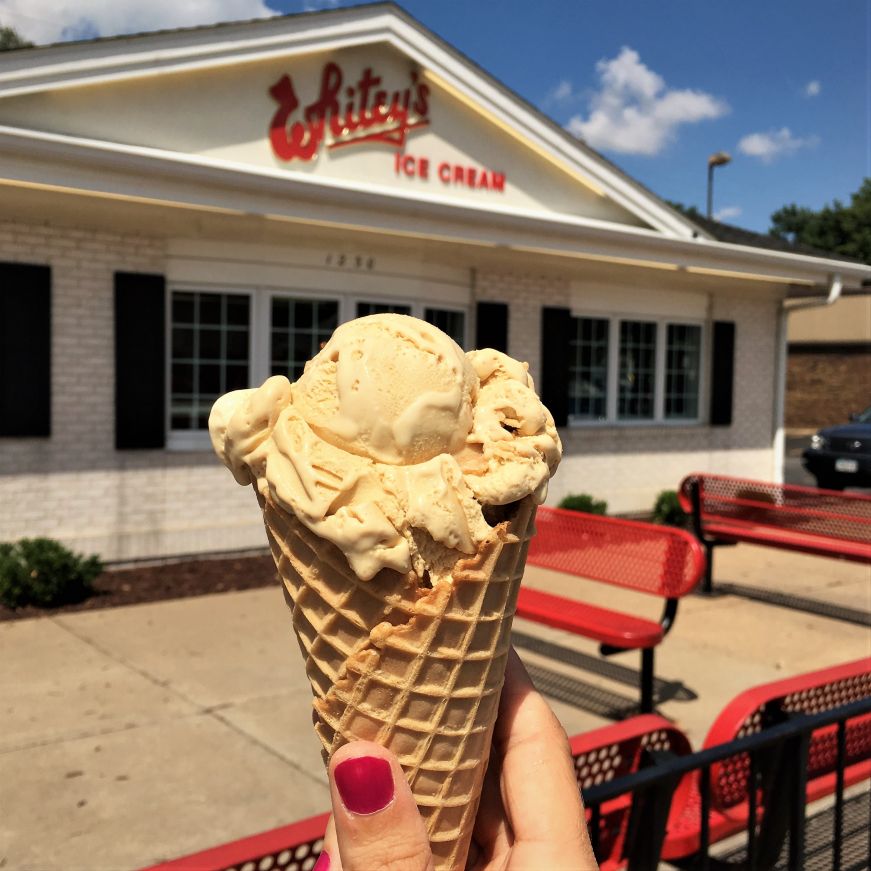 Next up was a stop at Whitey's Ice Cream, a local chain with several locations throughout the Quad Cities (their ice cream is also available at HyVee and Fareway grocery stores).  I stopped by the Davenport location on West Locust Street; although there isn't any indoor seating, there are several benches outside.  There's a long list of classic flavors, and the menu includes every iteration of ice cream treat imaginable.  Shakes, malts, sundaes, cones, floats, sodas, even something called a "Boston", a large malt or shake with a sundae on top.
While the chocolate chip cookie dough and key lime were tempting, I wanted to try one of Whitey's signature flavors, so I went with Graham Central Station.  It's truly one of most unique flavors I've tried: a graham cracker-flavored ice cream loaded with pieces of graham crackers.  It brought back childhood memories of the little individually-wrapped graham crackers I got in my school lunch, and the ice cream had a creamy texture that reminded me of childhood trips to Bridgeman's.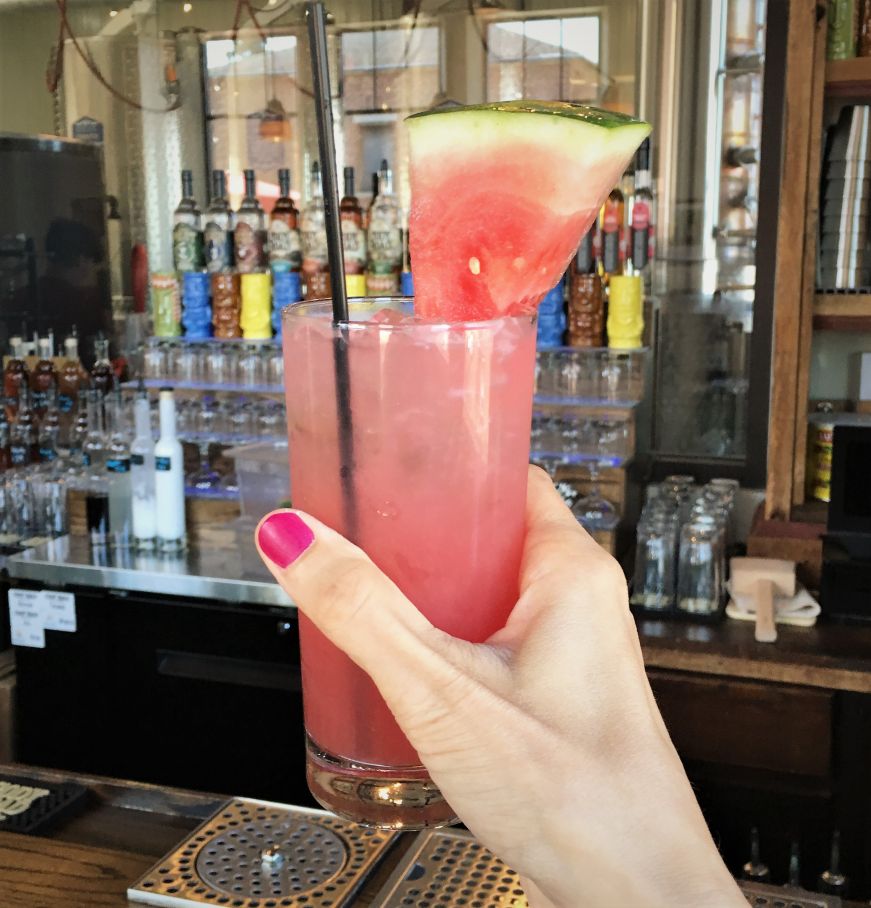 After checking in to My Place in Davenport (more on that below) I drove to Le Claire, Iowa, a nearby town with a lovely riverside downtown with lots of shops and restaurants.  I did a quick tour and tasting at Mississippi River Distilling Co. and enjoyed a couple cocktails at the adjacent Cody Road Cocktail House.  My favorite was the Rosie River, a gin cocktail with watermelon and mint.
I walked over to Crane and Pelican for dinner, an upscale restaurant housed in riverboat captain's mansion dating to 1851.  Some of the tables have river views; I'd recommend arriving early or making a reservation, since the restaurant was quite busy on the Tuesday night I visited.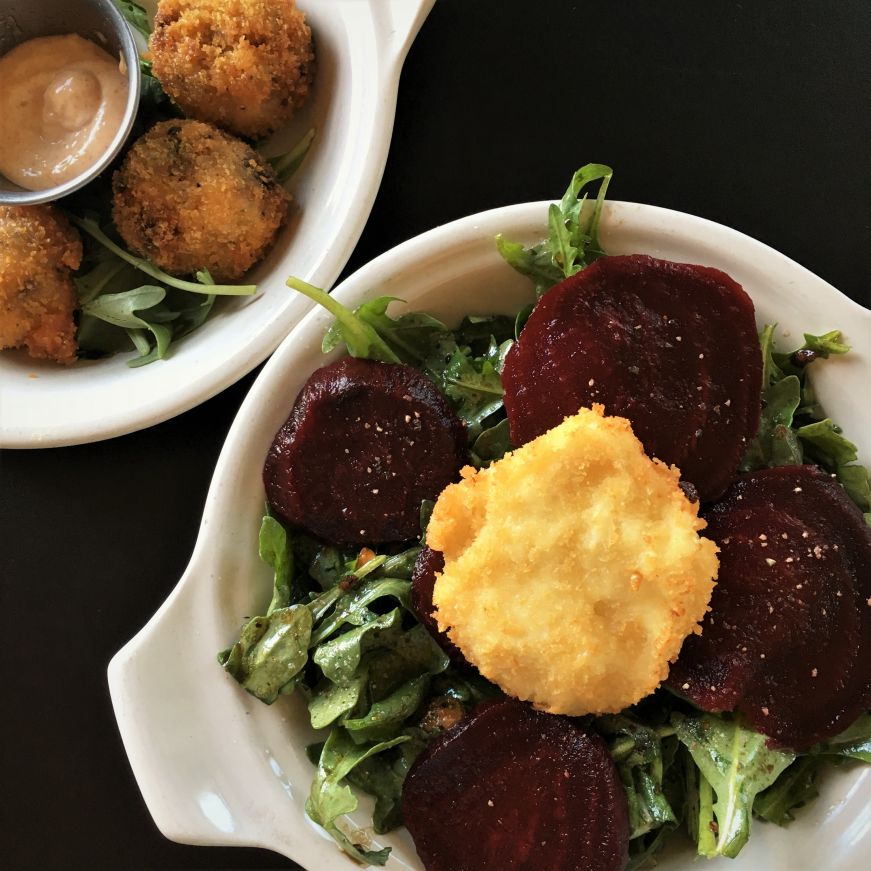 The menu features classic American fare with a few global touches, like hummus and a soba noodle dish with peanut sauce, and a handful of options for vegetarians.  I ordered the salmon croquettes, a mixture of salmon, rice, mushrooms, and garlic that was breaded, fried, and served with a wasabi aioli; and a half beet salad, which included arugula, pistachios, roasted beets, fried goat cheese, and a balsamic vinaigrette.  Both dishes were well prepared (although for the price the croquettes could have included a bit more salmon), and I especially liked the combination of bright and earthy flavors on the salad.
I also tried the orange crepes, which were filled with orange cream cheese and served in a bowl of orange liqueur caramel sauce.  It was an unusual presentation—since the sauce was quite thin, the crepes had soaked it up and taken on the texture of raw pie dough.  I enjoyed it, especially since the caramel sauce had such a pronounced orange note, but the texture might not be for everyone.  Other dessert options include housemade ice cream and pie.
After dinner, I spent some time by the river—there's plenty of green space with benches and picnic tables, and it was a relaxing way to enjoy a beautiful summer evening.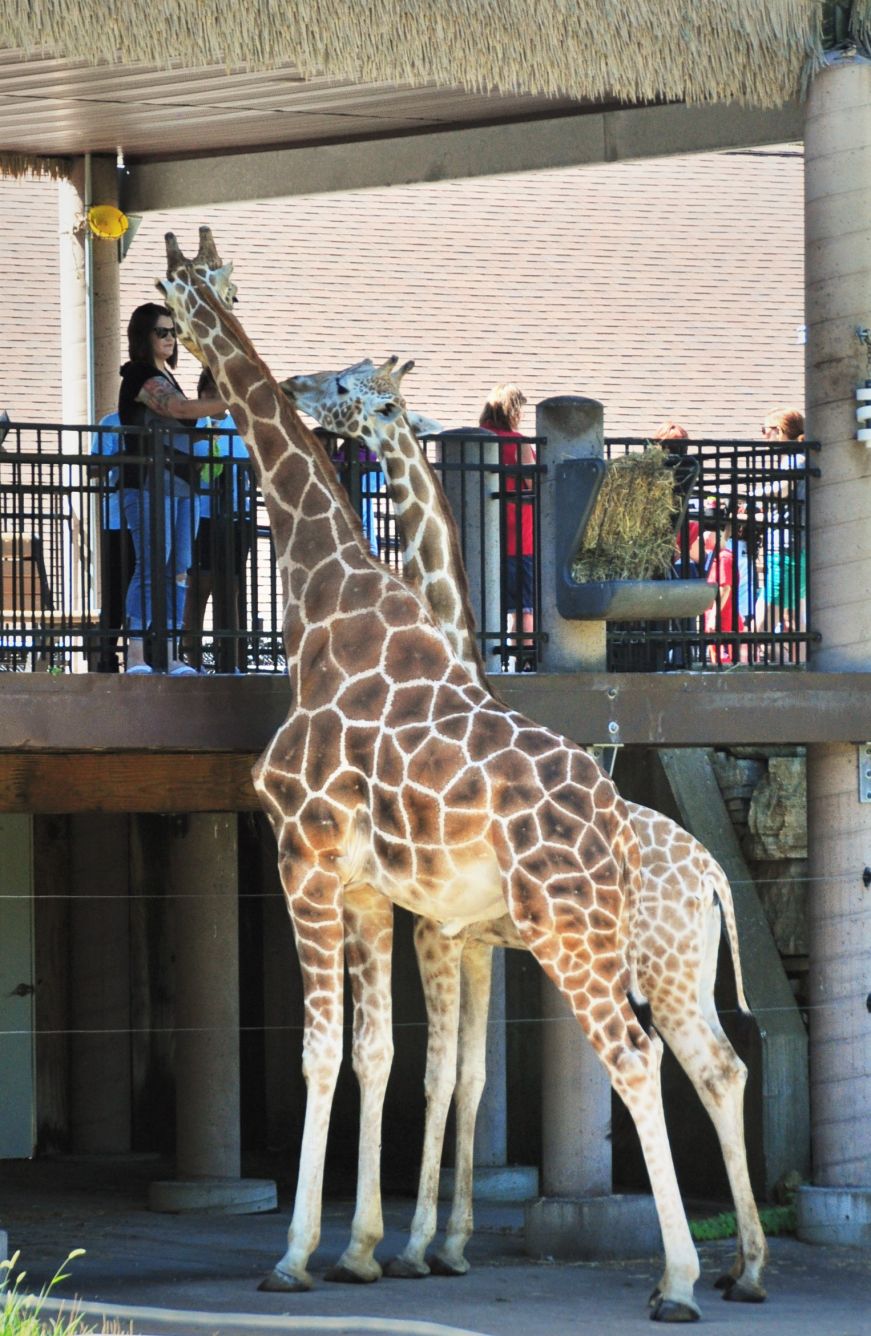 I started my second day in the Quad Cities at the Niabi Zoo in nearby Coal Valley, Illinois.  It's a smaller zoo, which makes it manageable for little legs or perfect for anyone who wants an affordable, low-key zoo experience.  Exhibits include Oceans, a collection of aquariums with different sea life; Passport to Africa, with giraffes, lions, and zebras;  Big Cats, with leopards and bobcats; and Reptiles, an assortment of snakes and lizards.  My personal favorites were the octopus in the Oceans exhibit; the rainbow lorikeets, Australian birds that look too brightly colored to be real; and the Hall of Biodiversity, which included animals I'd never seen before like a binturong and an African porcupine.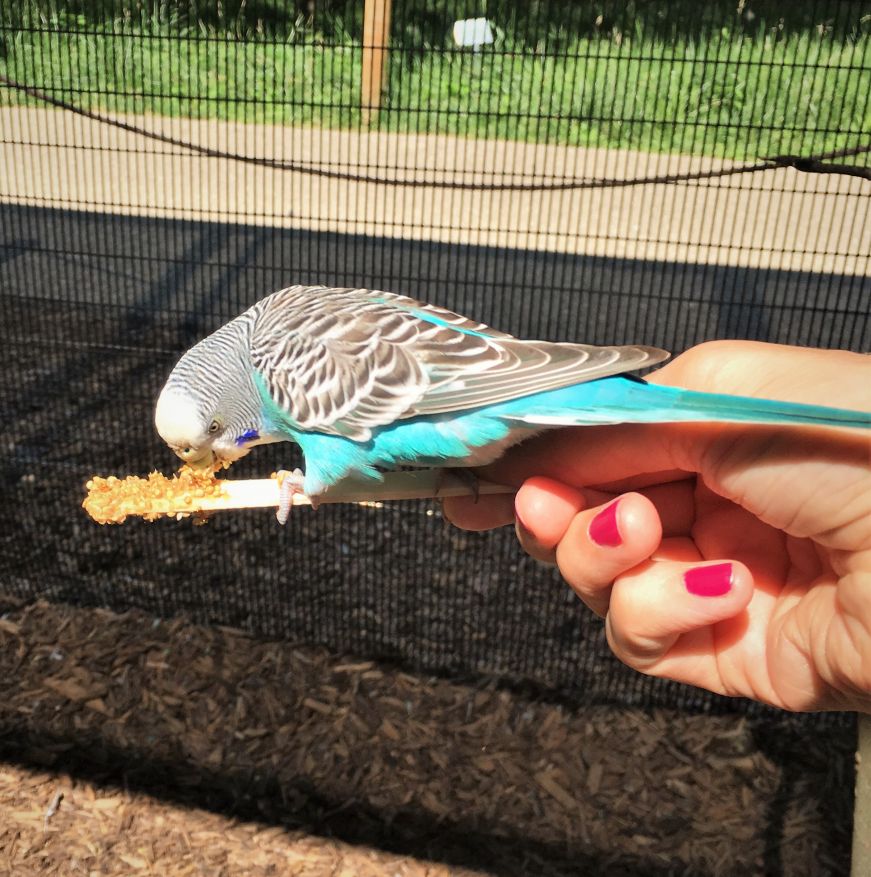 For an additional charge, visitors can feed the giraffes or parakeets, and there are vending machines with food for the domestic barnyard animals and the massive koi.  Feeding the parakeets was unexpectedly delightful: you get a popsicle stick coated with peanut butter and bird seed, and then you hold it out for the parakeets to land on.  They also landed on my hand, hopped on my feet, and swooped around my head, and it was neat to see all their different color variations.  I did the parakeet feeding shortly after the zoo opened and had the whole exhibit to myself.
There's also a zoo train that circles the property and a carousel, both of which require an additional fee and are geared towards the younger crowd.
My visit to the Quad Cities had to include a taste of the area's namesake pizza.  Quad City-style pizza is unique in that the crust is made with malt, most of the toppings are placed under the cheese, and it's cut into strips instead of squares or slices.  Harris Pizza is one of the iconic purveyors, with locations in Rock Island, Davenport, and Bettendorf; I visited the location in Rock Island, which has seating and table service.  Harris Pizza's menu includes a handful of vegetarian options, and I tried the Shut Out Taco and the Grecian Goalie, with garlic sauce, spinach, olives, artichokes, and tomatoes.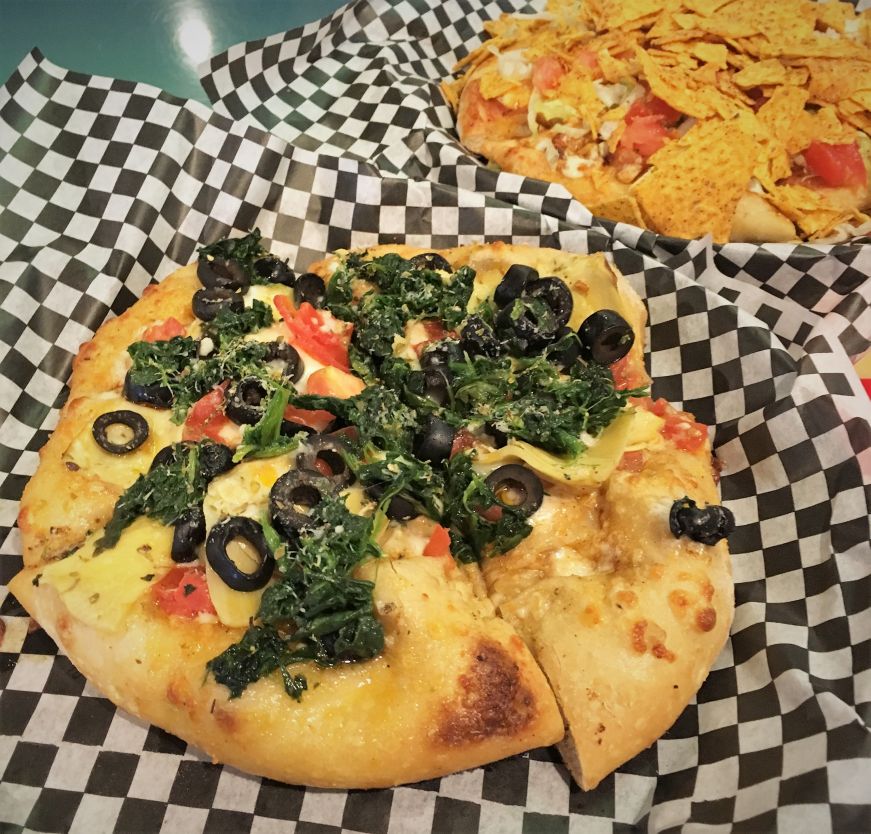 Since the pizzas were personal-sized, they weren't cut into strips.  However, they had all the other hallmarks of a Quad City-style pizza, and I especially loved the savory, slightly nutty crust.  It had an unusual texture, quite crisp on the outside and very soft on the inside.  The Shut Out Taco pizza was topped with Doritos-style chips, which seem like a gimmick at first but the crunchy texture really did add some nice additional texture.  They also made the pizza very messy to eat—grab extra napkins!  The garlic sauce on the Grecian Goalie pizza paired nicely with the spinach and olives. 
For dessert, I headed to Lagomarcino's Confectionary in Moline.  Sitting down for a sundae feels like stepping back in time: the classic soda fountain was founded in 1908, and features a long counter, dark mahogany booths, and a vintage tile floor.  The classic deli menu also nods to bygone days, with sandwiches on housemade Swedish rye bread, old-fashioned ice cream sodas, and sundaes with fanciful names like "Bachelor's Kiss."  Ice cream is made in-house, and the famous hot fudge sauce is served on the side in a little pitcher.
Since I wanted to try the hot fudge sauce, I ordered the Mississippi Marvel, two scoops of mocha fudge ice cream with whipped cream, a cherry, and hot fudge.  The mocha ice cream had a very subtle coffee flavor and was a nice backdrop for the hot fudge—I loved that I could add it myself to make sure it was carefully dispersed over every bite.  Be sure to save a little sauce to eat straight up at the end.  It's a dessert for your dessert!
Lagomarcino's also has a location in the Village of East Davenport, with classic styling and the same menu; while it's only been open since 1997, it's housed in a former pharmacy that dates to 1915 and incorporates historic fixtures.
By this point, the temperature was in the high 80s—perfect museum weather. The Figge Art Museum in downtown Davenport has a small but wide-ranging collection; it's a nice way to get a sense of Western art history without feeling overwhelmed.  There's a helpful overview sign in each gallery that provides some context about the particular locale and era, and a mobile audio tour via cell phone offers in-depth information about specific works.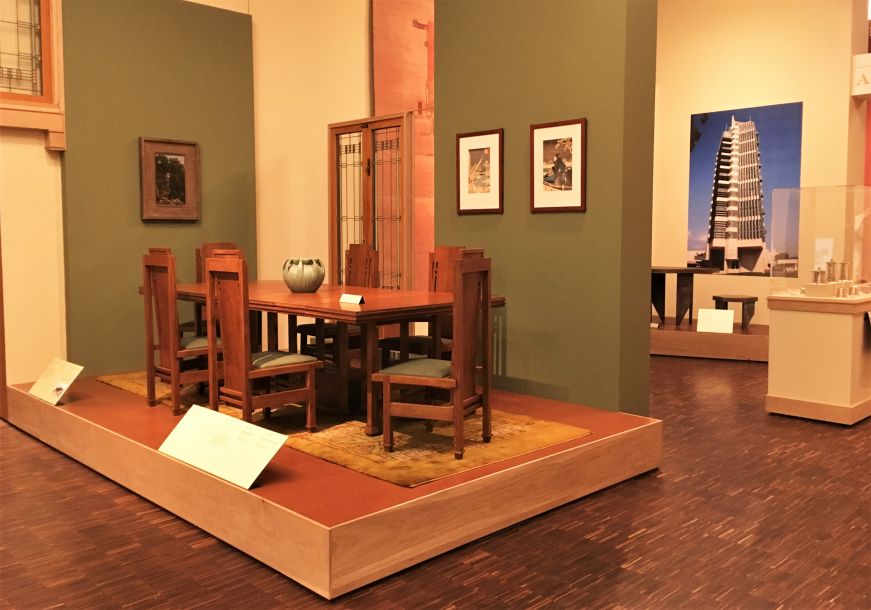 For me, the main highlight was the Frank Lloyd Wright gallery, which includes furniture, glass, and graphic design.  It was a nice way to build on my Frank Lloyd Wright tours in Mason City, and some of the pieces (like office furniture designed for the S.C. Johnson headquarters) were interesting departures from his Prairie School work.
I spent the rest of the afternoon browsing the shops in The Village of East Davenport and LeClaire, with a stop at Royal-Tea to get some work done and cool off with an iced tea.  The non-profit shop (it's staffed by volunteers and profits support Christian-based humanitarian and mission work) stocks over 75 varieties of loose-leaf tea, which you can get hot or iced.  There are little sample jars so that you can smell before you buy, which was a neat touch.  I highly recommend the Kauai Cocktail, a very fruity, slightly tart herbal tea.
For dinner, I went to Armored Gardens, a barbecue joint with 100 beers on tap.  Since barbecue is the food I've missed the most since transitioning to eating a primarily vegetarian diet, I was excited to try the vegan barbecue.  I ordered the platter, which came with two portions of meat and two sides (I went with the Carolina slaw and Mexican cornbread.  In hindsight, I should've asked for only one portion of vegan barbecue and an extra side, since the slow greens and house pickles both sounded good.)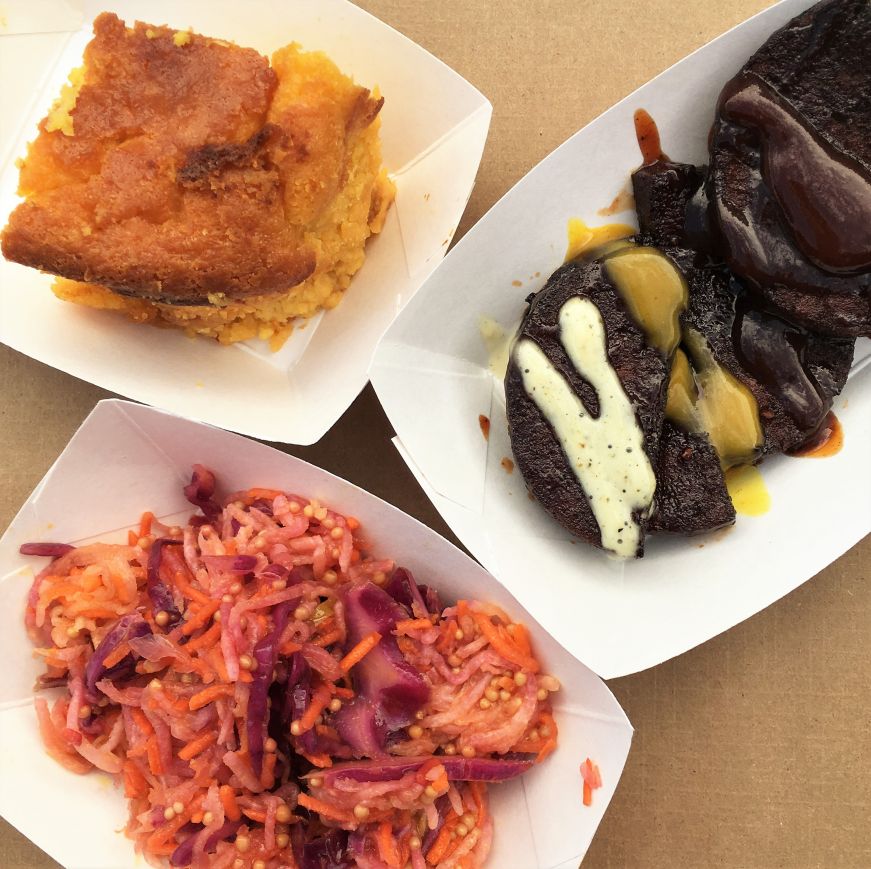 The coleslaw was tasty, more zesty than spicy, with a light vinegar dressing.  The Mexican cornbread reminded me of the little scoops of corn cake served on the taco platters—very moist and dense, more like a sweet corn pudding than a traditional corn bread.  The vegan barbecue wasn't quite what I was expecting.  It was basically a bunch of veggie burger patties, with a disappointingly mushy texture.  However, there was a nice char on the outside and a smokey flavor, and the patties were a serviceable vehicle for the sauces.  My favorites were the Carolina yellow, a tangy mustard-based sauce, and the red heat, which was flavorful and actually a fairly mild heat.   
Armored Gardens would be a great place to hang out with a group, thanks to the beer hall-style seating and a fun retro patio with lawn chess and beer pong. 
Once my dinner had settled and it had cooled down a bit, I went for a run along the Mississippi on some of the Quad Cities' many miles of trails.  I appreciated the extensive riverside trail system, both on the Illinois and Iowa sides.  I carefully planned my 5-mile route so that I could say that I ran to the next state and back: I parked in a public lot in the Village of East Davenport, Iowa; ran along the river until I got to the Arsenal Bridge; ran across to Rock Island, Illinois; and then ran along a bit of the river in Illinois before heading back to Iowa.  I came across plenty of other runners and bikers, and the trails were well-maintained and scenic—definitely one of the highlights of my time in the Quad Cities.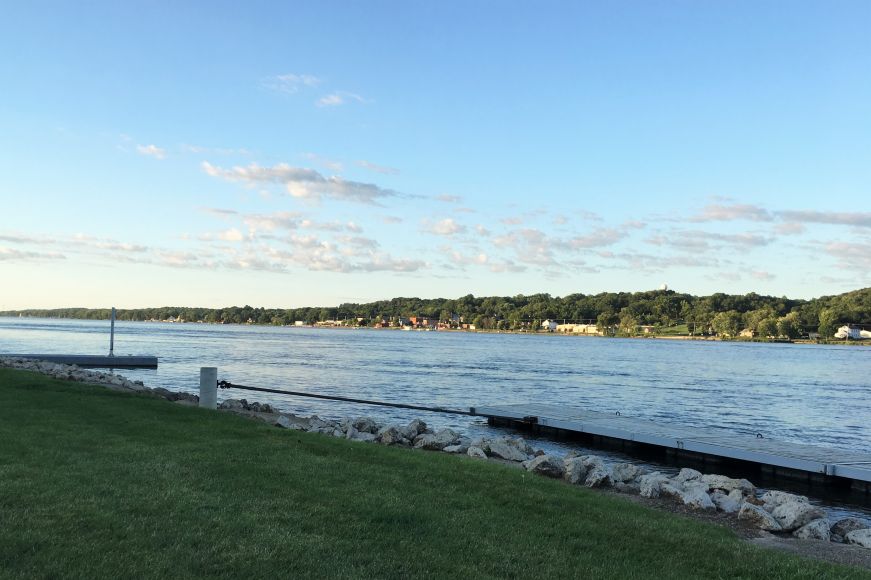 If you're not a runner or biker, another way to enjoy the Mississippi is on the Channel Cat water taxi, open-air passenger ferry boats that make scheduled stops in Moline, Bettendorf, and Davenport.
During my time in the Quad Cities, I stayed at My Place in Davenport.  It's geared towards extended stays, with rooms that include a full-sized refrigerator, two-burner cooktop, and microwave.  Rooms either have two queen beds or a queen bed and a recliner—after several days on the road, it was nice to have a comfortable place to curl up with a book.  Another feature I liked was the breakfast in bed option.  The day before, you can fill out a menu card with your entree, side, and beverage choice and then your breakfast is delivered to your fridge the night before.  It's perfect for early risers in a time crunch and those of us who prefer to eat breakfast in our pajamas. 
Breakfast entrees include microwavable sandwiches and instant oatmeal, sides range from Pop Tarts to fresh fruit, and beverages include juice, milk, and bottled water.  If you want coffee or tea, there's a 24-hour coffee station in the lobby and a coffee maker in your room.
The Quad Cities also are home to several museums and attractions I didn't get a chance to check out, including Bettendorf's Family Museum; The Putnam Museum & Science Center in Davenport; the Rock Island Arsenal Museum; and the John Deere Pavilion in Moline.
Want to plan your own trip to the Quad Cities?  Start with the Quad Cities Convention & Visitors Bureau for information about accommodations, dining, and attractions.
Many thanks to the Quad Cities Convention & Visitors Bureau for hosting my stay in the Quad Cities.
The Quad Cities were the final stop on my Iowa road trip.  Read about the other places I visited:
If you enjoyed this post, pin it!