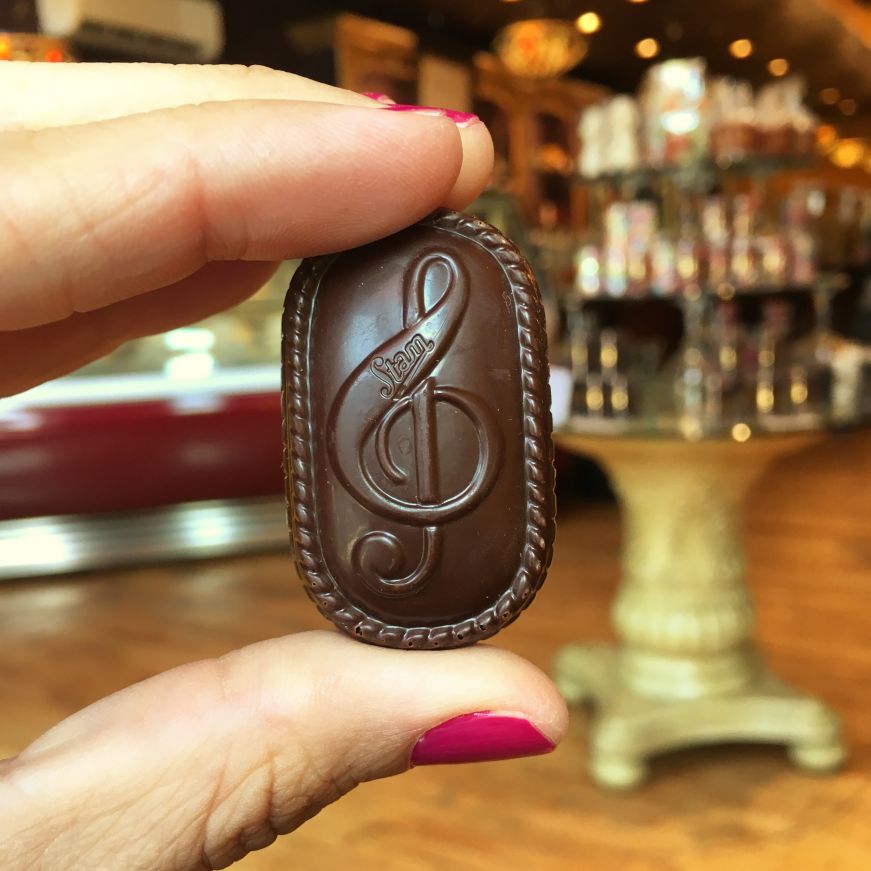 Thank you to Cedar Falls Tourism & Visitors Bureau for hosting my stay in Cedar Falls.  As always, all content and opinions are my own.
The biggest contradiction of my life is that I'm a city girl who needs the woods.  I love the dining options, entertainment, and energy of a big city, but I also need solitary time in green space to feel balanced.  Cedar Falls, Iowa is basically my ideal destination.  The compact downtown features dozens of shops and restaurants, but there are also miles and miles of wooded trails and a state park within walking distance.
Appropriately for a dessert lover, my time in Cedar Falls started with a visit to Chocolaterie Stam.  It's a Dutch company founded in 1913, with various U.S. locations opened by descendants who immigrated to the United States.  Stepping into the shop feels a bit like a trip to Europe, thanks to the elegant decor, jars of Dutch licorice, and the gelato case.  And there are obviously chocolates: bonbons, molded chocolates, truffles, and more.  The fun part is that each of the bonbons are a different shape, ranging from straightforward squares and circles to accordions and hedgehogs.  Most are offered in your choice of dark or milk chocolate.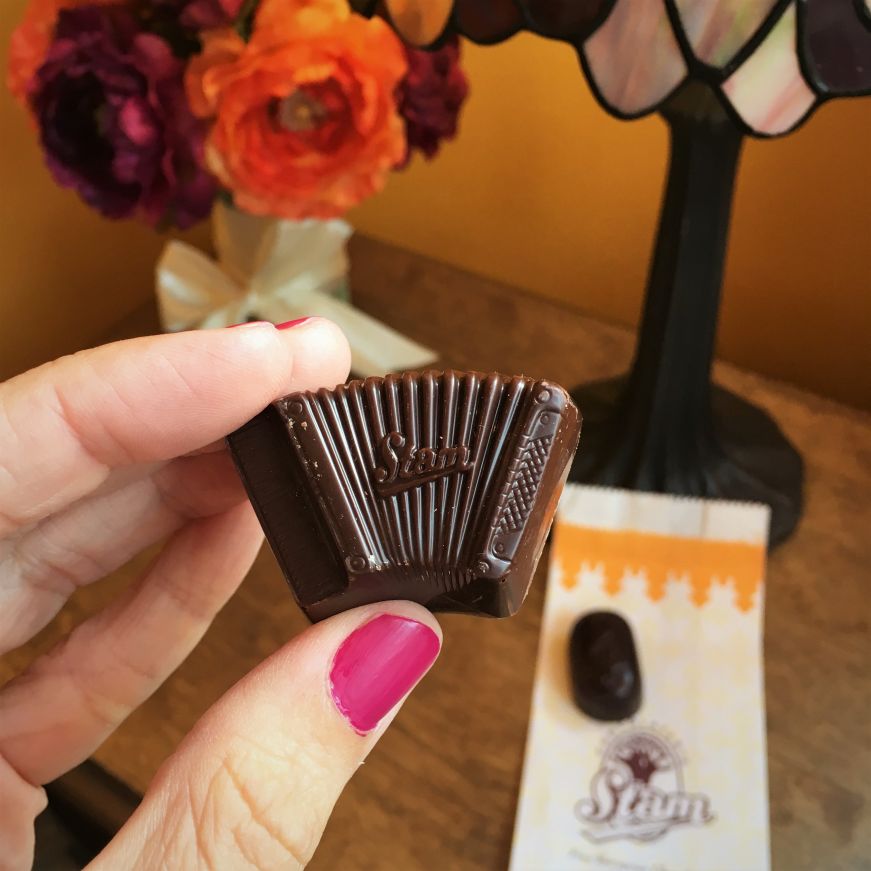 I tried two bonbons, the forest berry cream (a cream filling with a layer of berry jam) and the chocolate truffle (a light whipped chocolate filling).  Both were exquisite, thanks to the excellent quality chocolate and flavorful fillings.  While the price tag is a bit high ($1.75 per bonbon if you buy them individually) it was such a worthwhile indulgence.  I appreciated that the store has tables and armchairs so that you can savor your chocolates on-site and don't need to worry about them melting on warmer days.
Cedar Falls' Main Street has lots of local shops, and I spent a pleasant couple hours browsing.  Favorites included Vintage Iron Co., which has a fun selection of gifts, home decor, and accessories, and World's Window, which stocks free trade items like jewelry, gifts, stationary, and food.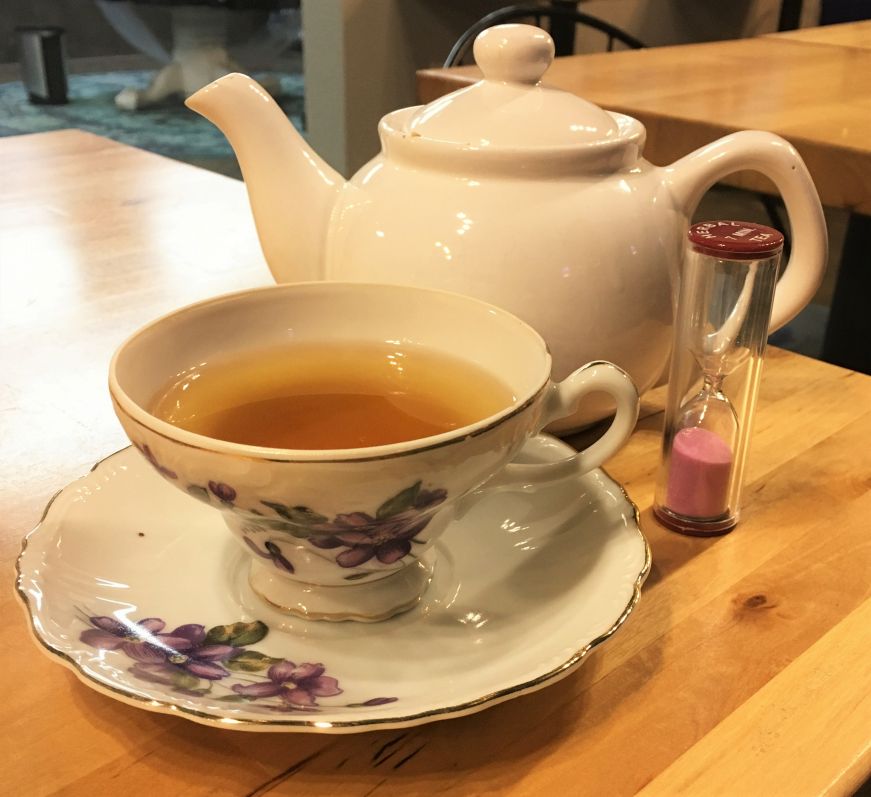 Tea Cellar is both a shop and a tea room, with loose leaf teas and accessories for sale and available by the pot.  You get to pick out your own vintage tea cup from a rack by the front counter, which is a fun touch.  I loved the On The Waterfront, an herbal tea with mint, peach, and spice (I bought a sample-sized container to bring home to Mike).  I also sampled the Honey Almond, which had a sweetness that reminded me of amaretto.  A pot of tea was only $3 for a 20-ounce pot—if I lived in Cedar Falls the Tea Cellar would be my hangout of choice.  (Note that the Tea Cellar is located on the basement level of Basket of Daisies).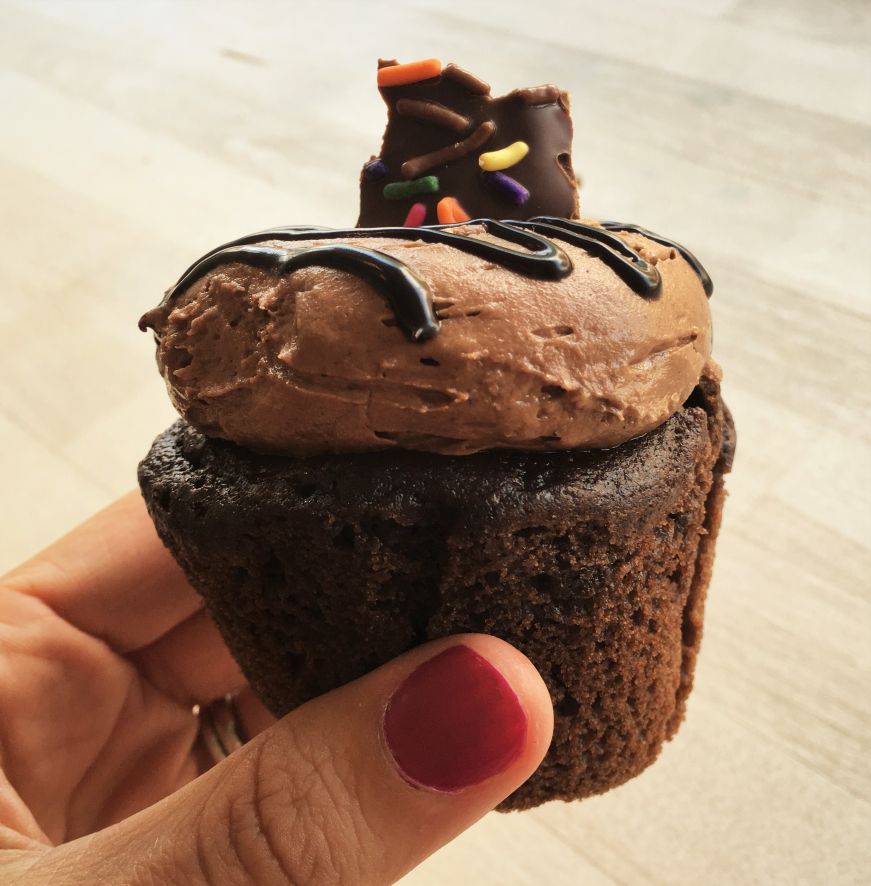 Although I didn't really need more sugar, I had to check out the selection at Scratch Cupcakery in the name of research.  They offer nearly 20 cupcake flavors daily, ranging from classics like red velvet to creative flavors like cherry limemade.  The menu also includes cookies, edible cookie dough, and cupcake shakes.
After much deliberation, I settled on the chocolate covered waffle, a chocolate cupcake filled with chocolate chip pudding and topped with chocolate buttercream and a chocolate-covered waffle cone garnish.  It was tasty, but so sweet that I wished I had someone to split it with.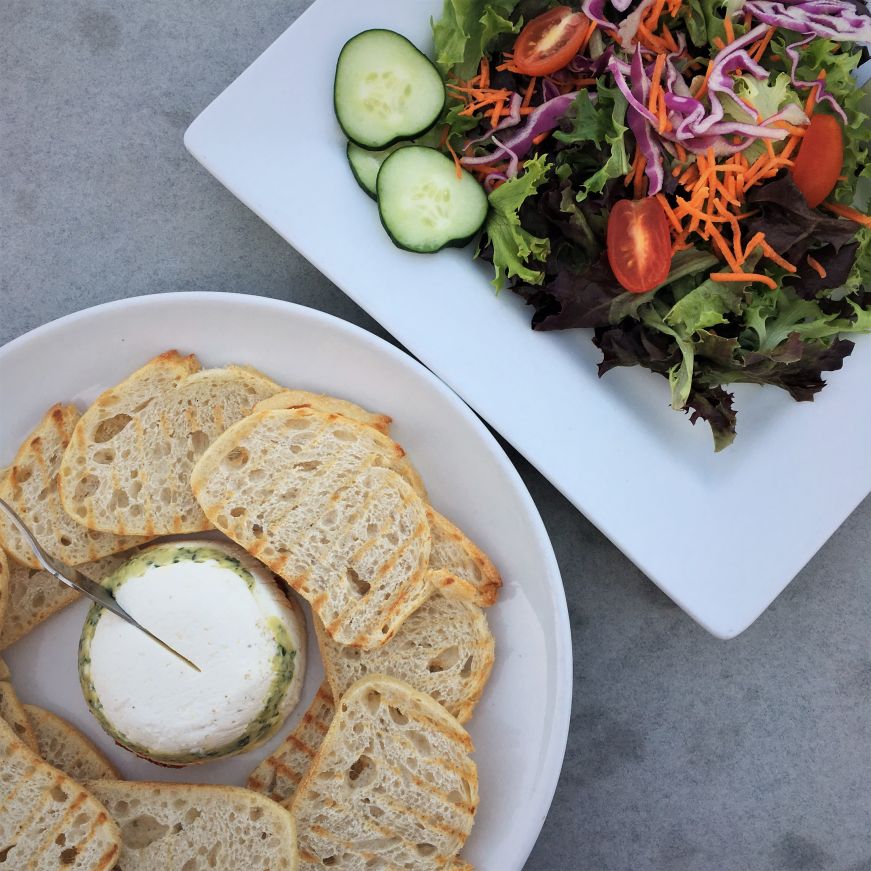 On the plus side, my sugar high powered me through a couple of hours of work back at my hotel (more on that below).  Since it was a lovely evening, I treated myself to a late dinner on the rooftop patio at Montage, which serves upscale contemporary American fare.  It's a something-for-everyone kind of place, with small plates, flatbreads, salads, pasta, burgers, steaks, and seafood.  I ordered the goat cheese torta (molded goat cheese layered with basil pesto and sun dried tomatoes, served with a toasted baguette) and a spring blend salad with the housemade hot citrus dressing.  I assumed "hot" meant spicy—it actually meant the dressing was served warm, an interesting touch.  The torta was delicious, with the brightness of the goat cheese pairing well with the pesto and the sundried tomatoes.
The next morning I had to leave Cedar Falls fairly early, but I had time for a 5-mile run on some of the area's over 100 miles of trails.  I plotted a course from my downtown hotel across the river to George Wyth State Park, which has a network of about 5.5 miles of paved trails with lake and river views.  It was such a relaxing way to start the day, and I absolutely loved that I could go for a run through the woods straight from my hotel without needing to get in my car.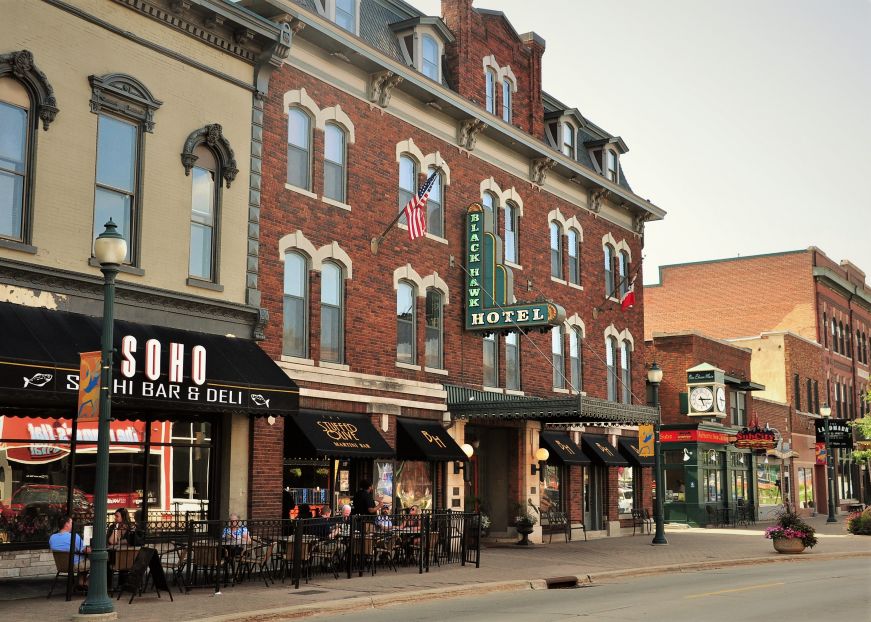 Downtown Cedar Falls is home to the oldest continuously operating hotel in the country: the Black Hawk Hotel has been open since 1853, when it served stagecoach passengers.  The design of the current building dates to 1914, and there's a separate motel building with retro 1970s-inspired rooms.
My hotel room (#214) was an executive king suite that included a separate room with a four-person dining table and wet bar with a microwave and mini fridge.  I loved the historic crown moldings and tin ceiling, and I had a great view of Main Street.  Hotel amenities include bottled water, a lobby coffee station, fitness center, DVD library, and a fabulous continental breakfast spread that reminded me of my stays in small hotels in Germany.  There was yogurt with various fresh and dried fruits, nuts, and granola; pastries like mini muffins, chocolate croissants, and biscotti; and several different kinds of bread with jam, peanut butter, and Nutella.  In addition to milk, juice, tea, and coffee, there were also a few flavors of kefir, a drinkable yogurt-style beverage.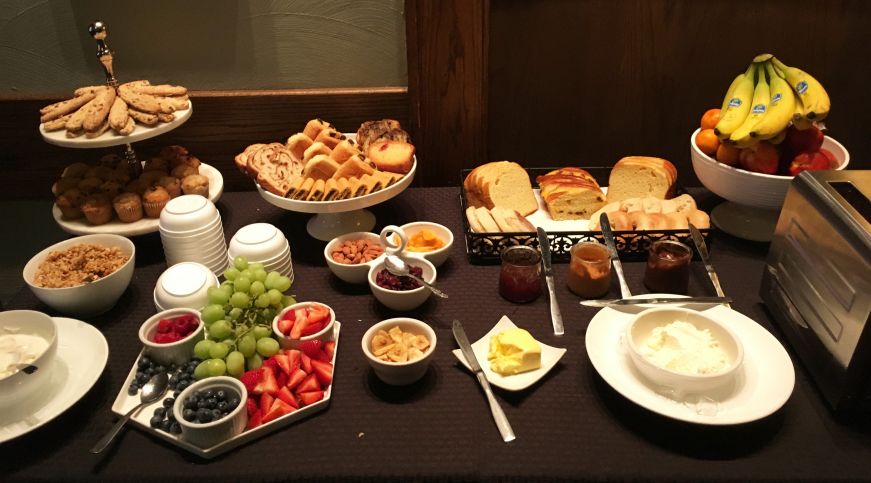 My only regret about my time in Cedar Falls is that it was too short!  I would have loved to explore more of the trails and sample more of the dining scene, including Figaro Figaro, an Italian restaurant with singing waiters; The Stuffed Olive, which offers dozens of specialty martinis; and Cup of Joe, a retro-themed espresso bar.  In addition, it would have been nice to check out nearby Waterloo, especially SingleSpeed Brewing's taproom in a repurposed Wonder Bread factory and Hansen's Dairy.
Want to plan your own trip to Cedar Falls?  Start with the Cedar Falls Tourism & Visitors Bureau for information about accommodations, dining, and attractions.
Many thanks to the Cedar Falls Tourism & Visitors Bureau for hosting my stay in Cedar Falls.
Cedar Falls was the second stop on my Iowa road trip.  Read about the other places I visited:
If you enjoyed this post, pin it!