Thank you to Visit Mason City for hosting my stay in Mason City.  As always, all content and opinions are my own.
As I mentioned in my post about my trip to Mason City, the city has a notable collection of Prairie School and Frank Lloyd architecture.  Prior to my visit, I didn't know much about this distinctively American style and architect, other than many drives past the Frank Lloyd Wright gas station near my hometown and reading Loving Frank, a novel based on Wright's relationship with Mamah Cheney.
Today, Mason City, Iowa might seem like an improbable architectural destination.  But in the early 20th century, Mason City was the fastest growing city in Iowa, thanks to its role as a railroad hub as well as its meatpacking plant and booming cement, brick, and tile industries.  Well-to-do residents turned to Frank Lloyd Wright and other Prairie School architects like Walter Burley Griffin, Marion Mahony Griffin, James Blythe, Joshua Melson, J.E.E. Markley, and W.J. Holahan to design their homes.
The Prairie School style originated in the Midwest in the late 19th century and is defined by horizontal lines meant to evoke the flat prairie landscape.  Other features include flat or hipped roofs with broad overhanging eaves, windows grouped in horizontal bands, integration with the surrounding landscape, and minimal ornamentation.  While Frank Lloyd Wright is most commonly associated by Prairie School architecture, he wasn't the sole inventor or practitioner of the style, and it only represents a portion of his decades-long career.
The best way to get an appreciation for architecture is to see it in person—here's a round up of where I found Frank Lloyd Wright and Prairie School architecture on my trip to Mason City.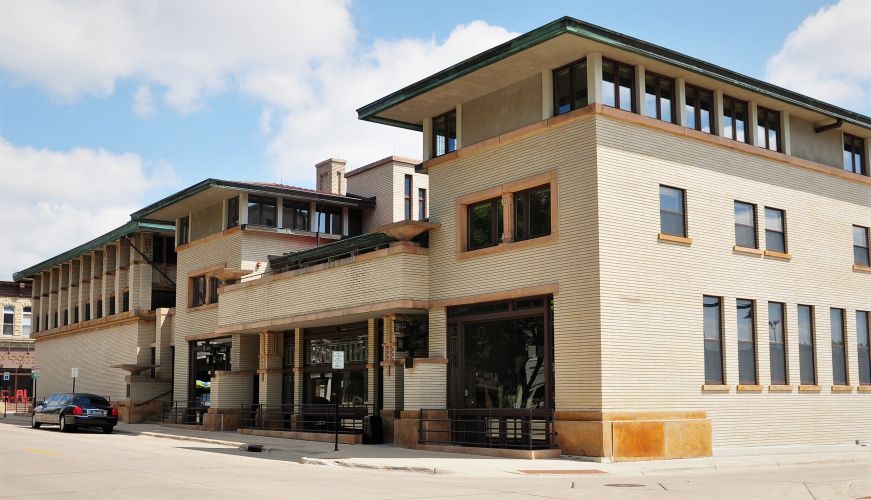 Historic Park Inn
The Historic Park Inn is Mason City's most famous building—it's the world's only remaining Frank Lloyd Wright-designed hotel.  The building was initially envisioned as a bank with flexible office space, and then the hotel was added as the project unfolded.  Frank Lloyd Wright was reportedly pleased with the result, although he never saw the completed structure (and he only made one site visit).  The hotel opened in 1910, and with separate entrances for the bank, law firm, and hotel it was a sort of prototype strip mall.
Eventually, the bank portion of the building was converted to retail space, and the law firm and hotel became apartments.  The hotel portion of the building was abandoned in 1993, fell into disrepair, and ownership passed to the city due to unpaid property taxes.  In 2005, a nonprofit purchased the hotel from the city for $1 as well as the bank portion at market rate from the private owner.  The nonprofit, Wright on the Park, undertook a $20.7 million restoration that was completed in 2011.
Today, the hotel takes up the entire building, with the former bank portion now housing a meeting space and six hotel rooms.  The floor plan of the original hotel was dramatically altered by expanding the rooms and adding ensuite bathrooms (there is one historic 10 foot by 10 foot suite, with a shared bathroom and three-quarter bed).  While the original hotel had 43 rooms, today the space has 27 rooms.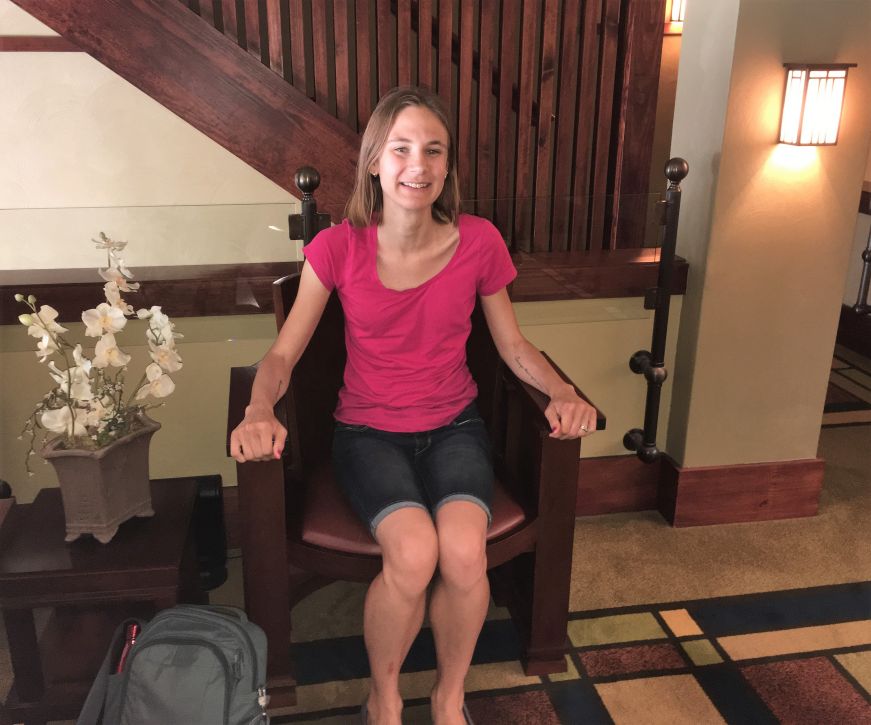 Hour-long guided hotel tours are offered by Wright on the Park on Thursday, Friday, and Sunday at 11:30 am and 1:00 pm and on Saturday at 11:30 am. Tours cost $10, and children ages 12 and under are free.  
Rooms at the Historic Park Inn start at around $110 per night.  Breakfast and dinner are available at the upscale 1910 Grille, and the 1910 Lounge offers drinks and appetizers.
To learn more about what to expect from a stay at the Historic Park Inn, check out this post.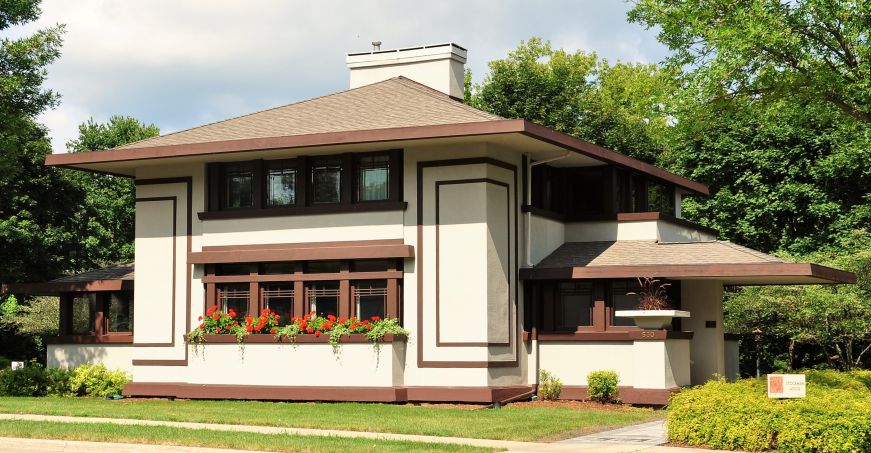 Stockman House & Architectural Interpretive Center
Mason City's other top Prairie School site is the Stockman House and Architectural Interpretive Center.  The Stockman House, which was designed by Wright as a middle-class home for a local doctor, was built in 1908 and has been moved to its current location and restored.  The trim and woodwork are original, and the house is furnished with period pieces that are similar to the original Craftsman and Mission-style furniture. 
An hour-long guided tour is required to see the Stockman House's interior.  Daily tours are scheduled May through October and cost $10 for adults and $5 for children ages 6-17.
I recommend arriving 15-30 minutes before your tour so that you can check out the exhibits in the neighboring Architectural Interpretive Center, which has models, photographs, and information about Frank Lloyd Wright and Prairie School architecture.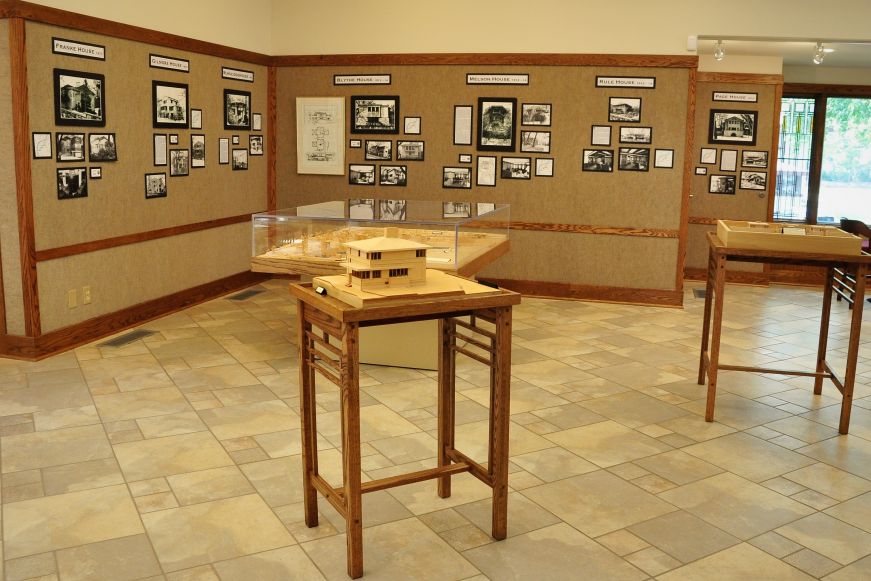 I was most struck by the Stockman House's open floor plan—the flowing design with a central brick fireplace would be right at home in the 21st century, and I had to keep reminding myself that the house is over 100 years old.
Prairie School architecture walking tour
While the Historic Park Inn and the Stockman house are the only buildings designed by Frank Lloyd Wright, Mason City is also home to about 40 Prairie School homes designed by former associates and others who were influenced by Wright's work.  Guided walking tours by Wright on the Park are available through May 1 through September 30 on Friday, Saturday, and Sunday at 9:00 am.  Tours cost $10, and children ages 12 and under are free.  
Another option is a self-guided walking tour (you can purchase a tour guidebook online or at the Charles H. MacNider Art Museum, The Music Man Square, Mason City Visitors Information Center, or the Stockman House).  The guidebook provides a walking route and information on 71 notable historic buildings, including the Prairie School homes.  During my stay in Mason City, I did the self-guided walking tour in just over an hour.  While I walked the entire route, I focused on the Prairie School homes.  The guidebook also outlines a shorter route that only covers Prairie School architecture.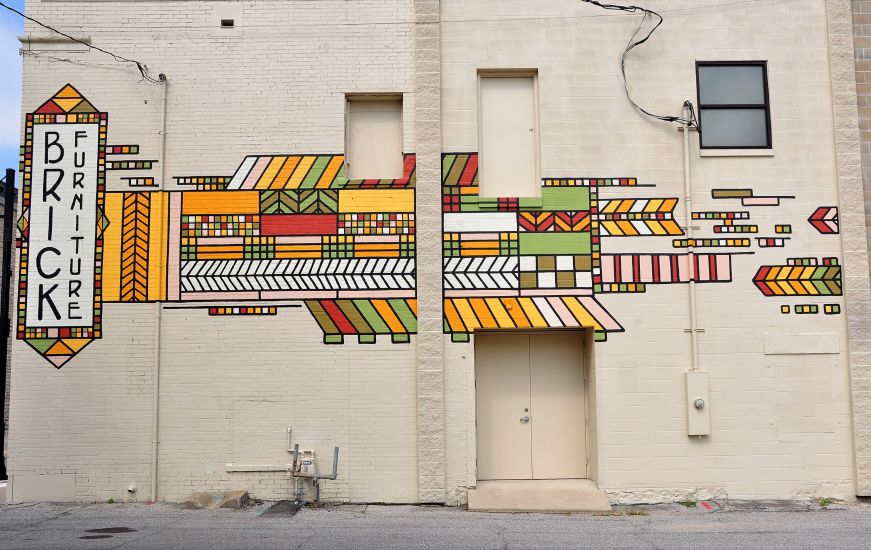 Murals
As of September 2019, downtown Mason City boasts three murals inspired by the art glass that's a common design feature in Prairie School architecture.  One mural is painted on the side of Brick Furniture (107 N Federal Avenue).  Another adorns the fire escape stairwell on the City Center building (5 N Federal Avenue).  The third mural is painted on the north side of Central Park Dentistry (23 N Federal Avenue).
Unexpected places
Besides historic building and walking tours, you can also find Prairie School-inspired details in unexpected places.  The planters I spotted downtown evoke Prairie School art glass.  I also noticed signs in the Commerce Center parking lot with an art glass-style logo.
Don't forget to look down—I also found a Prairie School-inspired crosswalk and hopscotch boards painted on the sidewalk.
Mason City might not be the first place that springs to mind as an architectural destination—but the Iowa city celebrates its connection to Frank Lloyd Wright and Prairie School architecture in an accessible way that will delight visitors.
Further reading:
Want to plan your own trip to Mason City?  Start with Visit Mason City for information about accommodations, dining, and attractions.
Many thanks to Visit Mason City for providing my accommodations, food, and activities during my stay in Mason City.
If you enjoyed this post, pin it!