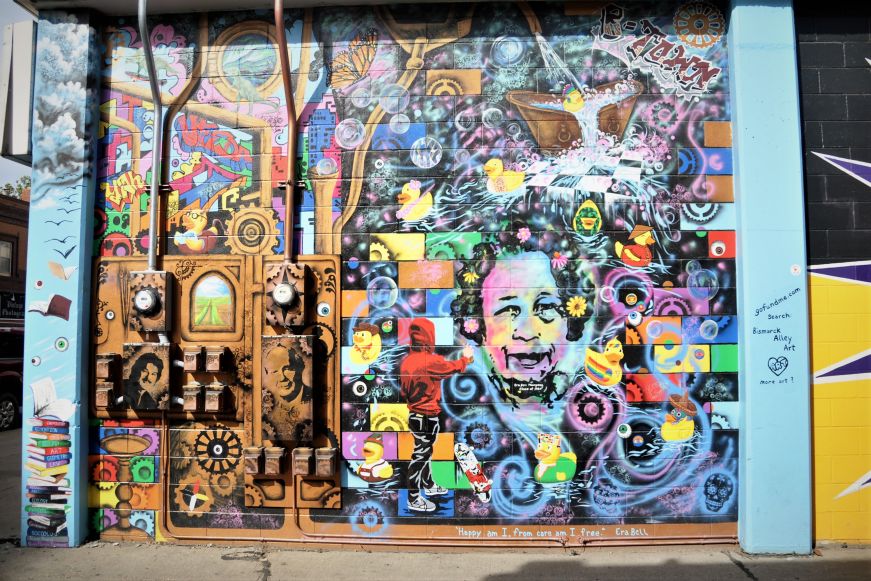 Thank you to North Dakota Tourism and the Bismarck-Mandan CVB for hosting my stay in Bismarck.  As always, all content and opinions are my own.
Before I started planning my recent trip to North Dakota, I knew absolutely nothing about Bismarck besides its role as the state capital—including how to spell the city's name.  Since it's named after German chancellor Otto von Bismarck (city founders were hoping to attract German immigrants and investors), Bismarck ends in "ck" instead of "k" as I had previously assumed.
Other interesting facts about Bismarck: it's home to the tallest building in North Dakota, the 21-story State Capitol.  Thanks to the nearby Missouri River and rolling hills, the area has a landscape that contradicts North Dakota's image as a flat-as-a-pancake state.  And possibly most importantly for a food blogger, for a city of 73,000 Bismarck has an impressive restaurant scene—I found everything from Neapolitan-style pizza to locally sourced vegetarian cuisine to a transcendent beet salad. 
I kicked off my stay in Bismarck with lunch at Terra Nomad, a downtown cafe and clothing store.  Soft light, a row of succulents lining the window, stainless steel tumblers, gluten-free baked goods, a seasonal menu that changes weekly and features local ingredients—it has the hipster feel of an Brooklyn cafe in the heart of North Dakota.
The lunch menu features sandwiches served on savory cheddar scones, salads, and a handful of entrees.  Many items are vegetarian and a few can be made vegan on request; on the day I visited vegetarian options included a wild rice-stuffed delicata squash, a maple balsamic wrap with quinoa and sweet potatoes, a pear salad, and a Caprese melt.  I went with the savory pie, which was more akin to a quiche: a pastry crust with eggs, aged cheddar, roasted mushrooms, asparagus, and Dijon mustard.  The Dijon mustard was a surprisingly excellent flavor pairing with the eggs and cheddar, and I appreciated the ample portion of lightly dressed greens on the side.
I spent the rest of the day at my favorite attraction in Bismarck: the North Dakota Heritage Center and State Museum, a hybrid natural history and historical society museum.  There was a temporary exhibit (through early 2020) about the history of the horse in North Dakota.  The permanent exhibits are the Adaptation Gallery, which features fossils; the Innovation Gallery, an exhibit focused on North Dakota's Native American peoples; and the Inspiration Gallery, which covers North Dakota's history from the mid-1800s through today.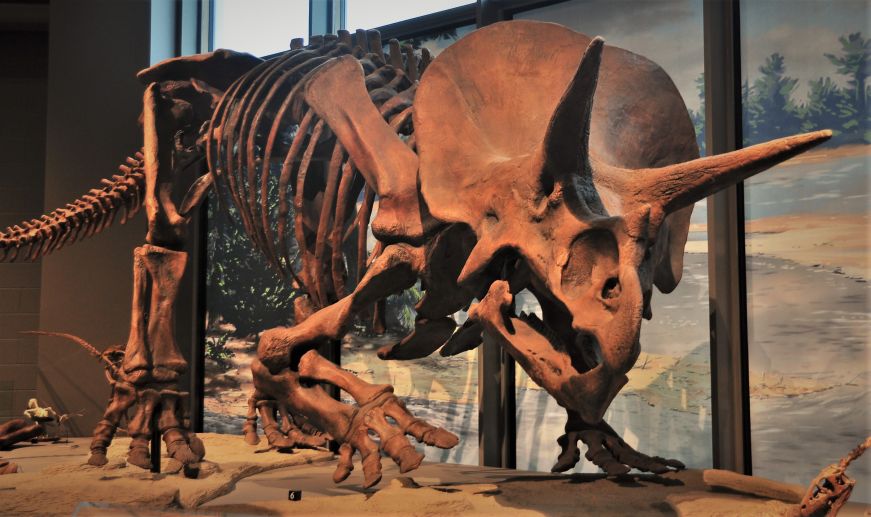 I was impressed with the quality of the exhibits, especially the Inspiration Gallery.  As much as I appreciate historical society museums, they sometimes suffer from the "we put a bunch of old stuff in a room" approach.  The Heritage Center and State Museum has done an excellent job of curating their collection, arranging the objects in ways that draw intriguing parallels and engage visitors.  For example, vintage housewares were used to interpret the influence of European immigrants and Native Americans on North Dakota cuisine, and there were recipe cards for borscht, Norwegian porridge, and Lakota dried meat stew that visitors could take home.
The best part?  Admission to the North Dakota Heritage Center and State Museum is free of charge!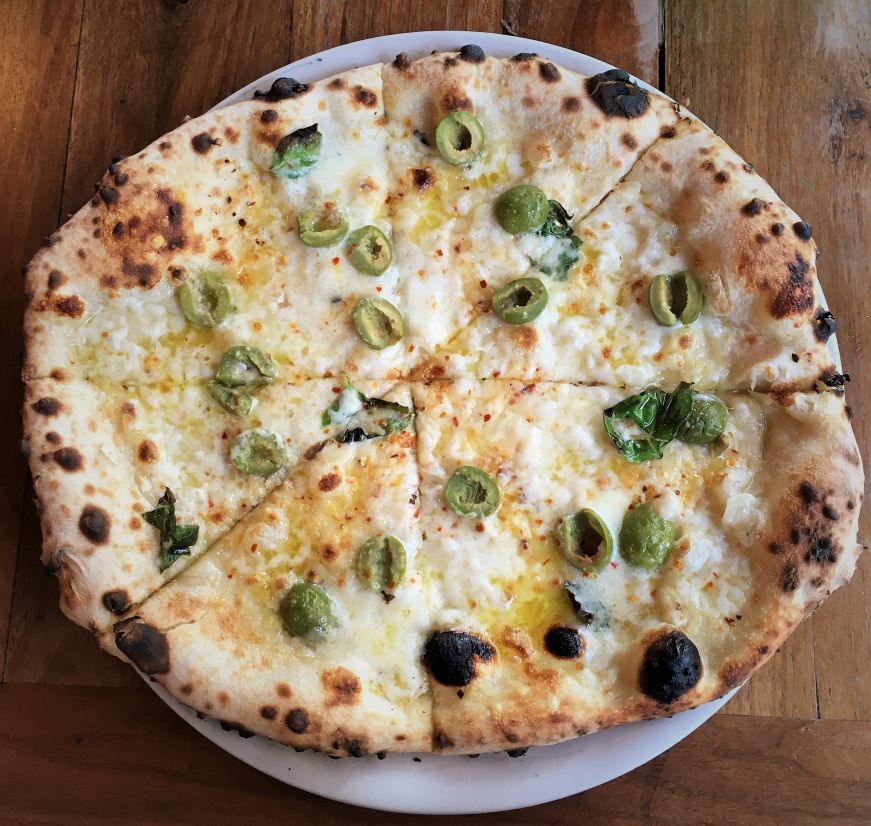 For dinner, I returned to downtown Bismarck for a Neapolitan-style pie at FireFlour Pizzeria & Coffee Bar.  Pizzas are cooked in an oven imported from Naples, and the dough is allowed to ferment for 48 hours before being baked at up to 900 degrees.  Ingredients are hand-crafted, high quality, and sourced locally when possible.
I appreciated the range of vegetarian pizzas—in addition the standard tomato/mozzarella/basil combo, there was a cheese-less pizza with fresh garlic and chili oil and a seasonal pesto pizza.  Other options included the Uptown, loaded with vegetables, goat cheese, and walnuts; and the pizza I went with, the Bianca.  It's a white pizza, with both mozzarella and Grana Padano (a hard cow's milk cheese) plus fresh garlic, red pepper flakes, basil, and castelvetrano olives.  I loved the contrast of the olives and garlic with the cheese, and the crust was perfect—chewy with just enough char.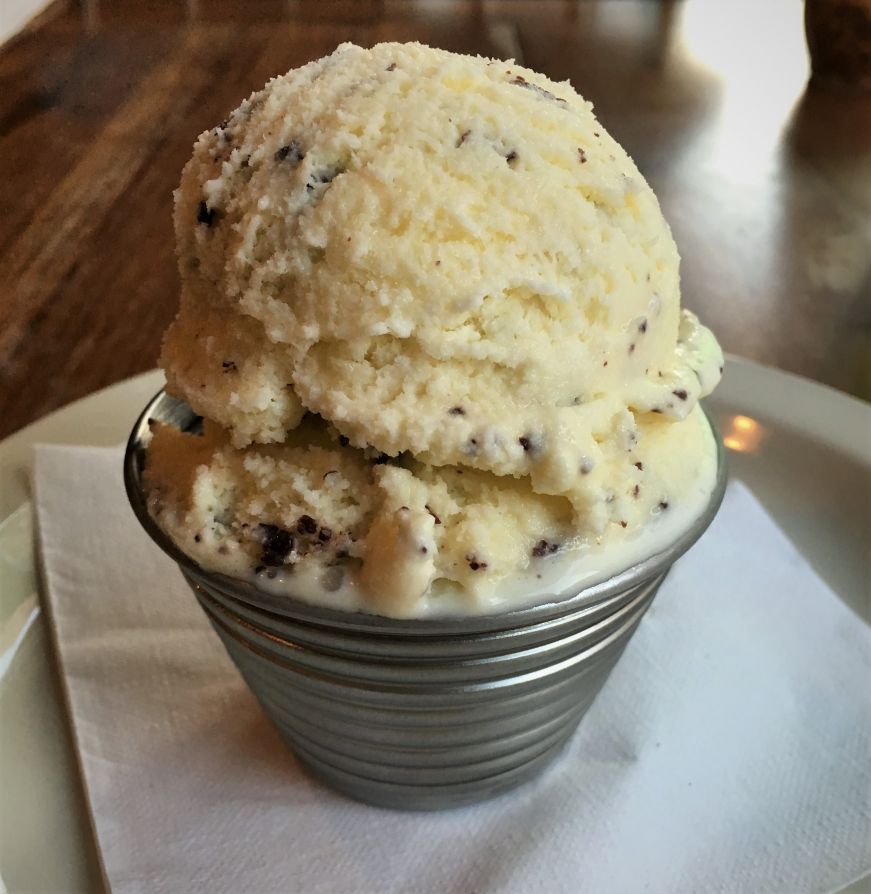 Although my 12-inch pizza was a generous amount of food, I did find room for dessert.  There are several rotating flavors of gelato, and I scored the last scoop of mint stracciatella.  The texture was much more whipped and icier than the typical gelato, but along with the natural mint flavor that made it a refreshing end to my meal.
The next morning was on the chilly side, so I spent the morning getting some work done at Boneshaker Coffee Co., a cozy local spot with espresso drinks and a bakery case stocked with pastries.  I eventually made my way to neighboring Mandan for an early lunch at Mandan Depot Bier Hall.  As the name suggests, it's housed in former train depot, and thanks to the bench-style seating and big band music playing in the background, it felt a little bit like stepping back in time to the heyday of rail travel.  The menu features German specialties like brats, schnitzel, and rindfleisch, plus flatbread pizzas.  I went with the spätzle (I had them leave off the bacon), which came with red cabbage, and I also ordered a side of sauerkraut.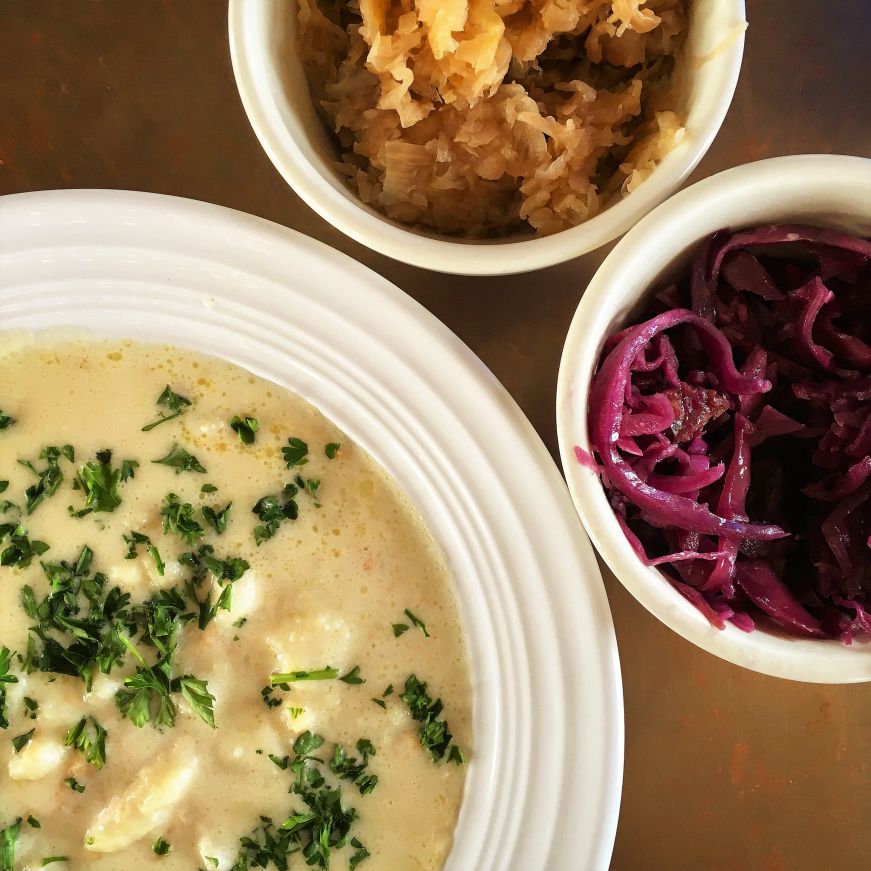 The cheese spätzle was very different from the typical German preparation—it was served in an almost soup-like bechamel sauce, and the spätzle were more like dumplings than pasta.  Nonetheless, it was tasty comfort food, and the extra tangy sauerkraut helped cut the richness of the sauce.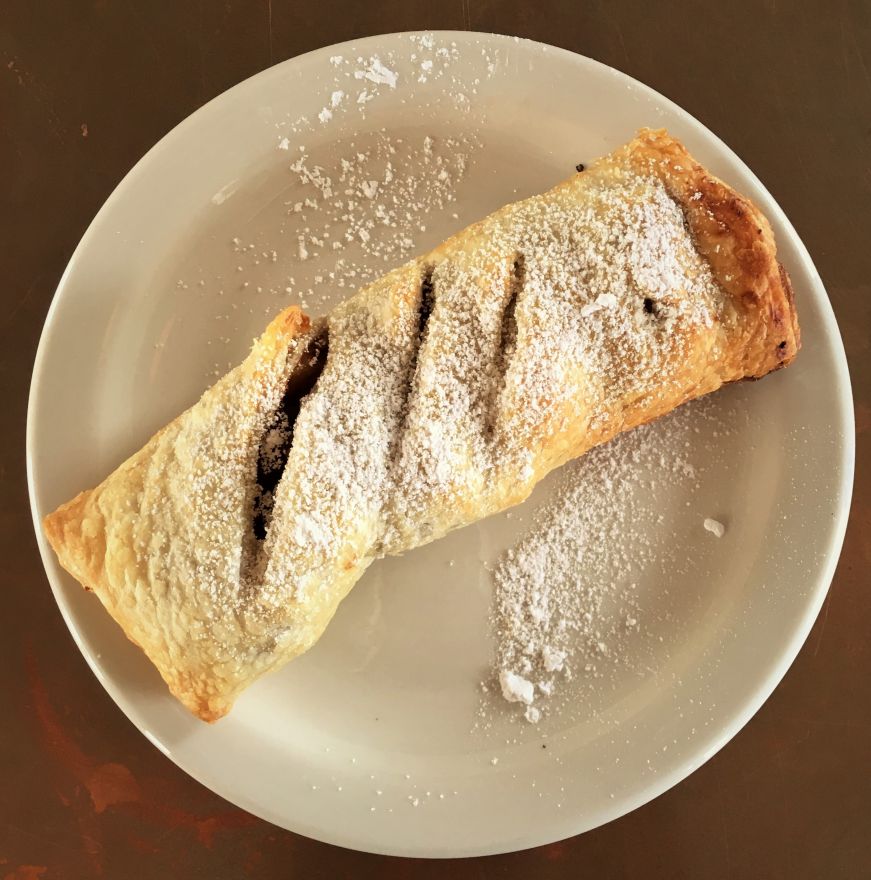 For dessert I tried the housemade apple strudel: chunks of spiced apple in an extra-flaky pastry, with a generous dusting of powdered sugar—it's what a McDonald's apple pie wants to grow up to be.
Next up was a visit to Fort Abraham Lincoln State Park, which is about a 25-minute drive from downtown Bismarck.  I admit that until my visit to Fort Lincoln, I didn't really get the appeal of the North Dakota prairies.  I grew up in the pine forests of northern Minnesota, and the main reason we bought our townhouse was its proximity to a forested park reserve.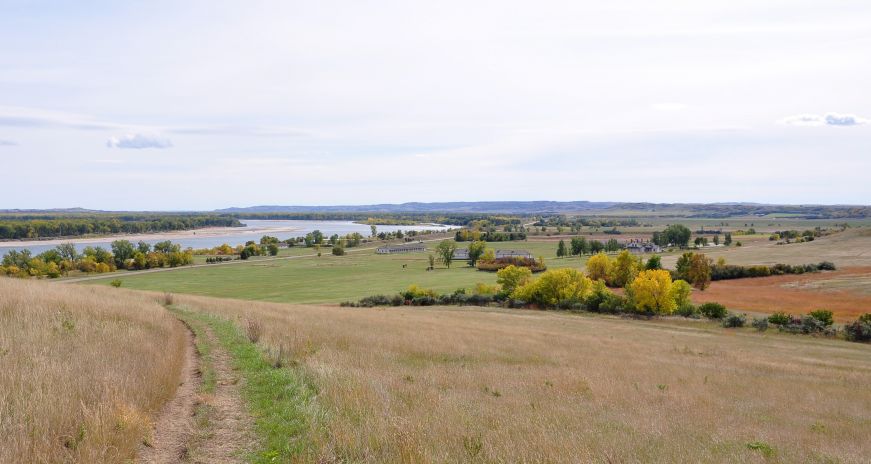 But there was something about the park's rolling hills, with the clouds hanging low in the sky and the meandering river, that got under my skin.  Fort Abraham Lincoln State Park is mainly a historic site and was once home to an important infantry and cavalry post.  It's where Lt. Col. George Armstrong Custer was based when he rode out with the Seventh Cavalry on their ill-fated expedition against the Sioux at the Little Big Horn.  Today, there are reconstructions of some of the military buildings, including Custer's house.  The park is also home to the On-A-Slant Village, which is made up of five reconstructed earthlodges that would have been typical of the Mandan Indians who occupied the site from about 1575-1781.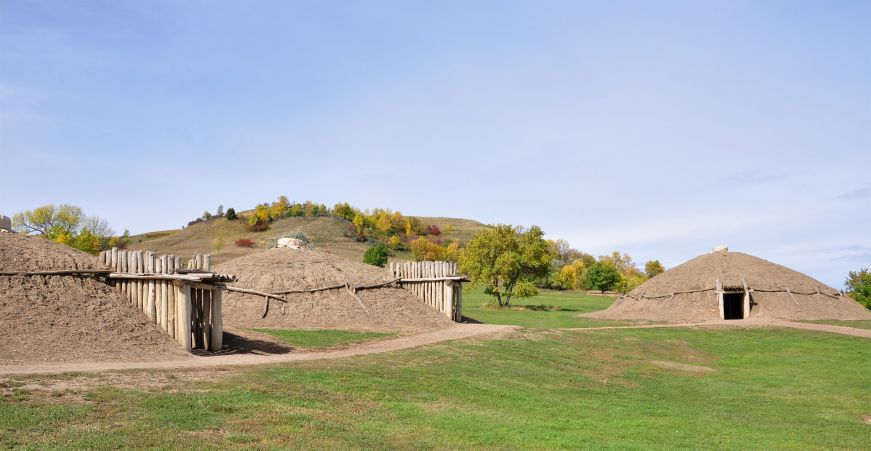 During the summer, costumed interpreters give tours of the reconstructed military post set in 1875, focusing on General Custer and the site's significance.  During the fall, the site becomes the Haunted Fort, a wildly popular and absolutely terrifying Halloween-themed tour that you could not pay enough me to take (there's an entire building devoted to scary clowns!) 
Even if you're not able to take in a tour, I highly recommend visiting Fort Abraham Lincoln State Park for the hiking trails—on a trip that was mostly focused on North Dakota's cities, my time at the park gave me an appreciation for the state's wide open spaces.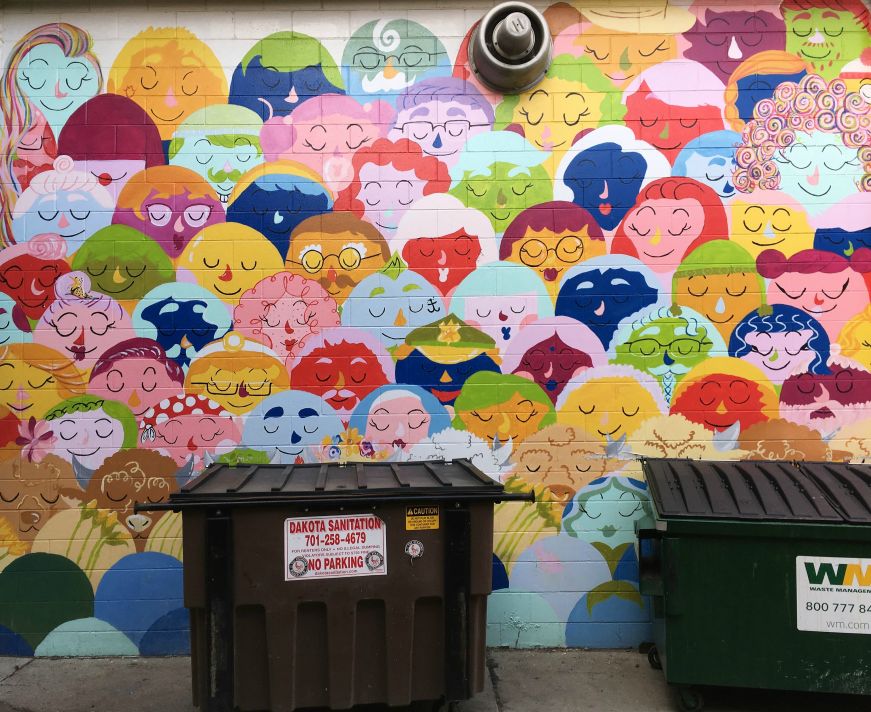 Back in downtown Bismarck, I took a walk down AlleyArt, a block of murals located on 5th Street halfway between Main and Broadway Avenues.  Most of the murals are North Dakota-themed, and they're almost hidden in plain view—I realized that I had walked by the alley several times without realizing there was a public art gallery footsteps away.
To wrap up my time in Bismarck (and my stay in North Dakota) I splurged on dinner at Butterhorn, an upscale restaurant that serves French and Italian inspired cuisine made with seasonal Midwestern ingredients.  Since there weren't any vegetarian pastas or main courses, I opted for the beet and pumpernickel salad and the marinated olives, which were served with housemade ricotta, toasted bread, and honey.
The salad had an elegant stacked presentation, with thin slices of beets and watermelon radishes layered with butter lettuce and garnished with crumbled pumpernickel, honey chevre, fresh dill, and an orange bitters vinaigrette.  As a food writer, a big part of my job is breaking down dishes, analyzing the components, and thinking about how the flavors work together.  But this salad defied that approach—while I could pick out the beets, the dill, and the chevre, what the salad really tasted like was stepping outside after a rainstorm, when everything smells fresh and full of possibility.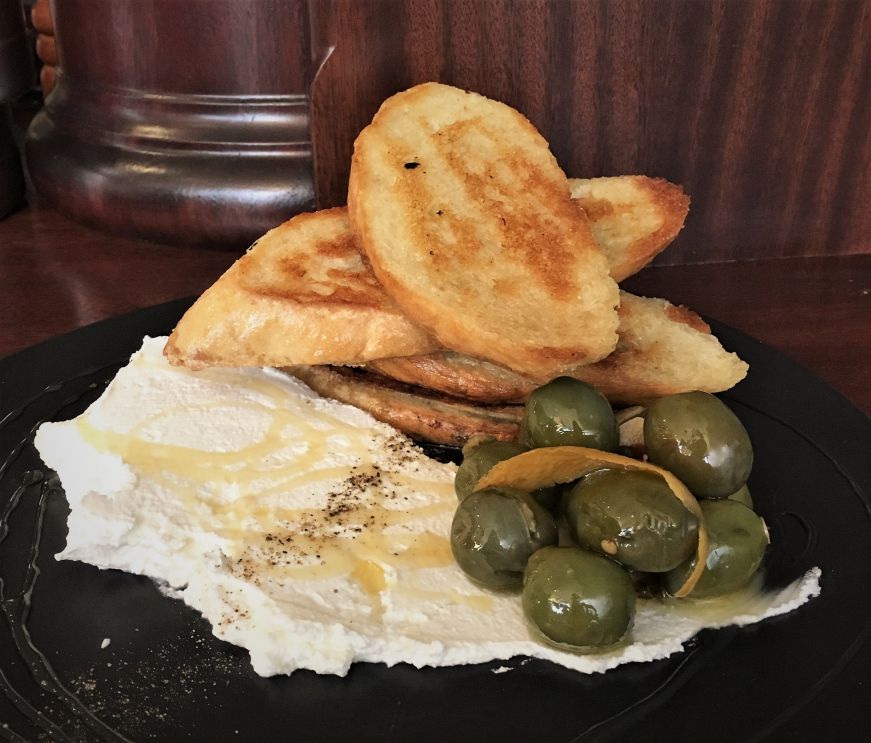 The marinated olive starter was likewise impressive—the olives themselves had a bright orange flavor that contrasted nicely with their brininess.  The housemade ricotta had a light texture that was akin to whipped cream, and the honey (I'm guessing it's local) had a rich, floral flavor.  Even the bread (a housemade baguette, grilled and buttered) was notable—I don't know how they made toast taste so good.
I hadn't been planning on dessert, but dinner was so amazing that I wanted to see what the kitchen would do with sweets.  I ordered the strawberry and basil tart, solely because it was the most unusual offering: a crust filled with fresh strawberries and basil buttercream (although the texture was more like a custard), topped with more fresh strawberries and fresh basil leaves.  It reminded me of a summer cocktail, and it was utterly delicious—the perfect end to my meal and to my trip.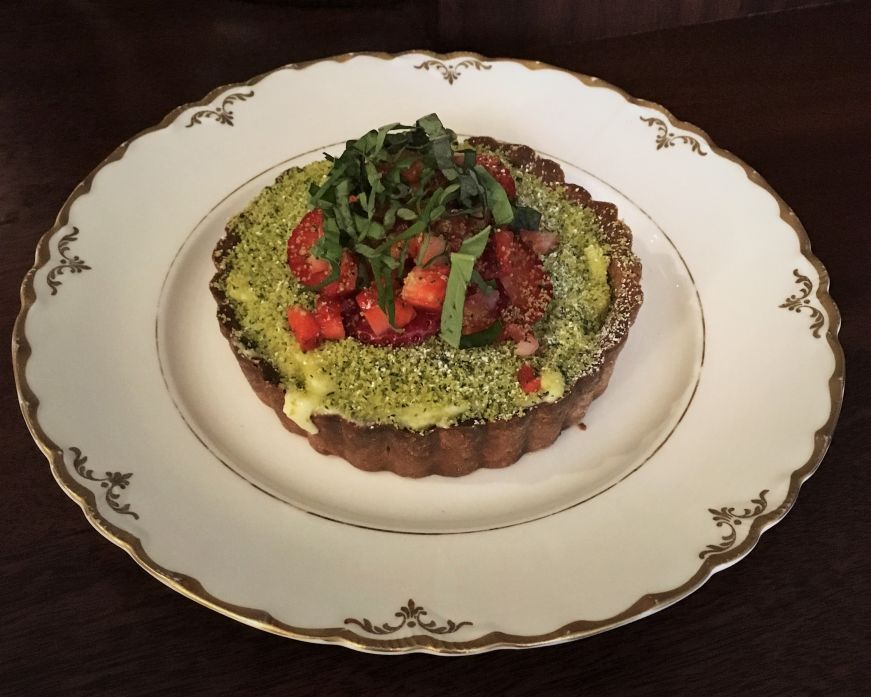 During my time in Bismarck, I stayed at the EverSpring Inn & Suites.  The location is excellent, less than a five-minute drive from downtown.  My king suite featured a mini fridge, microwave, coffee maker, loveseat, and desk, with plenty of power outlets and USB charging ports.  Hotel amenities include a seasonal outdoor pool, indoor hot tub, exercise room (I took advantage of the treadmill), and a continental breakfast with make-your-own waffles and hot biscuits and gravy.
Want to plan your own trip to Bismarck?  Start with the Bismarck-Mandan CVB for information about accommodations, dining, and attractions.
Thank you to North Dakota Tourism and the Bismarck-Mandan CVB for my stay at EverSpring Inn & Suites and coffee at Boneshaker Coffee Co.  I paid all other expenses out of pocket.
Further reading: 
If you enjoyed this post, pin it!