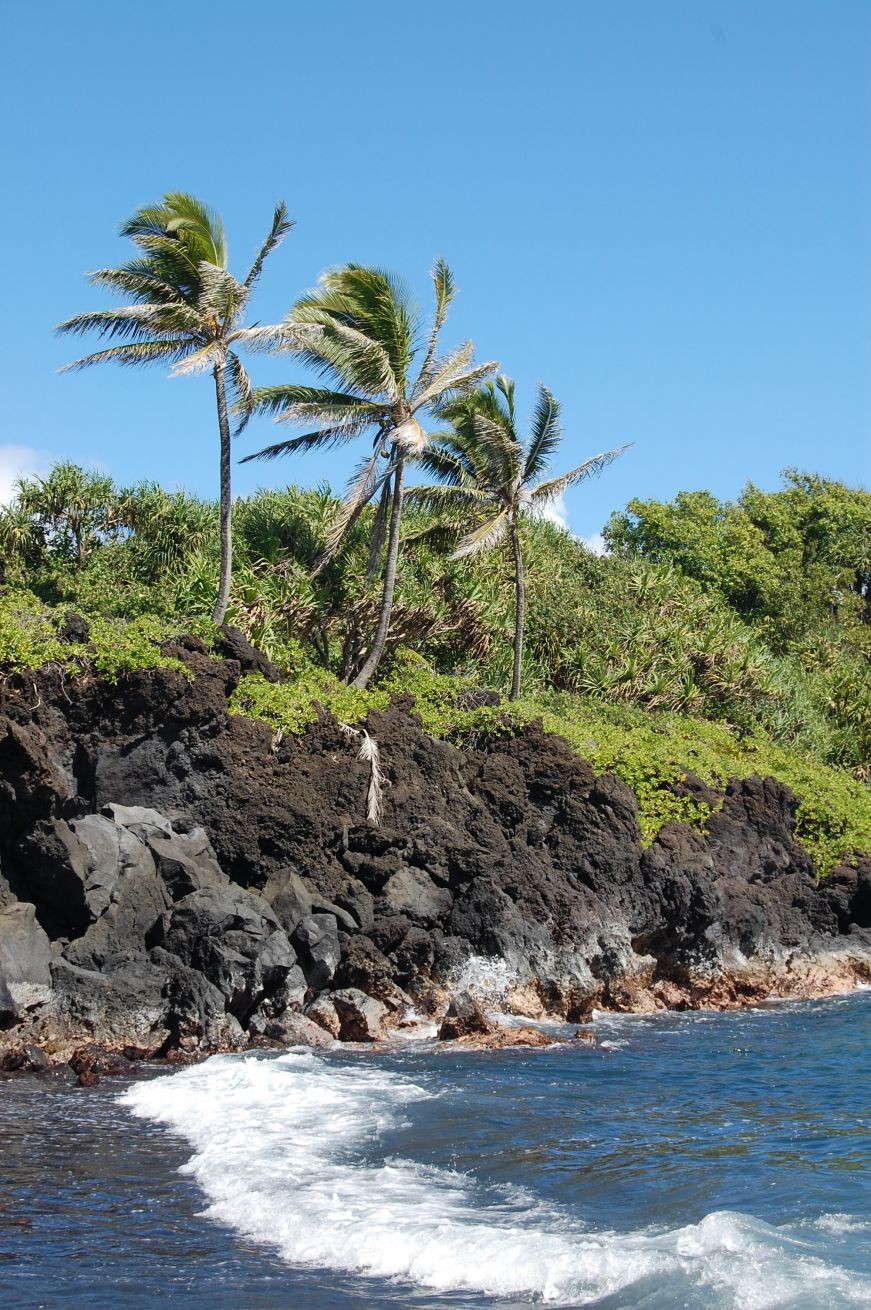 This post was originally published in December 2015 and was updated in February 2020.
Mike and I have done a lot of traveling together, and it's impossible to pick a favorite destination.  But our favorite place to return to?  That's Maui.
We love the beauty, the culture, the beaches, the sunsets.  On all three of our trips to Maui (2012, 2015, and 2019) we've stayed in Kihei, a coastal town situated in the central portion of the island.  It's a great base due to its centralized location, and we've found Kihei to have a more laid-back feel than other coastal areas of central and northwestern Maui (especially Lahaina).  But wherever you're staying on Maui, here's a helpful guide to my favorite places to eat, see, and stay—many of which we've found ourselves returning to again and again.
Where to Eat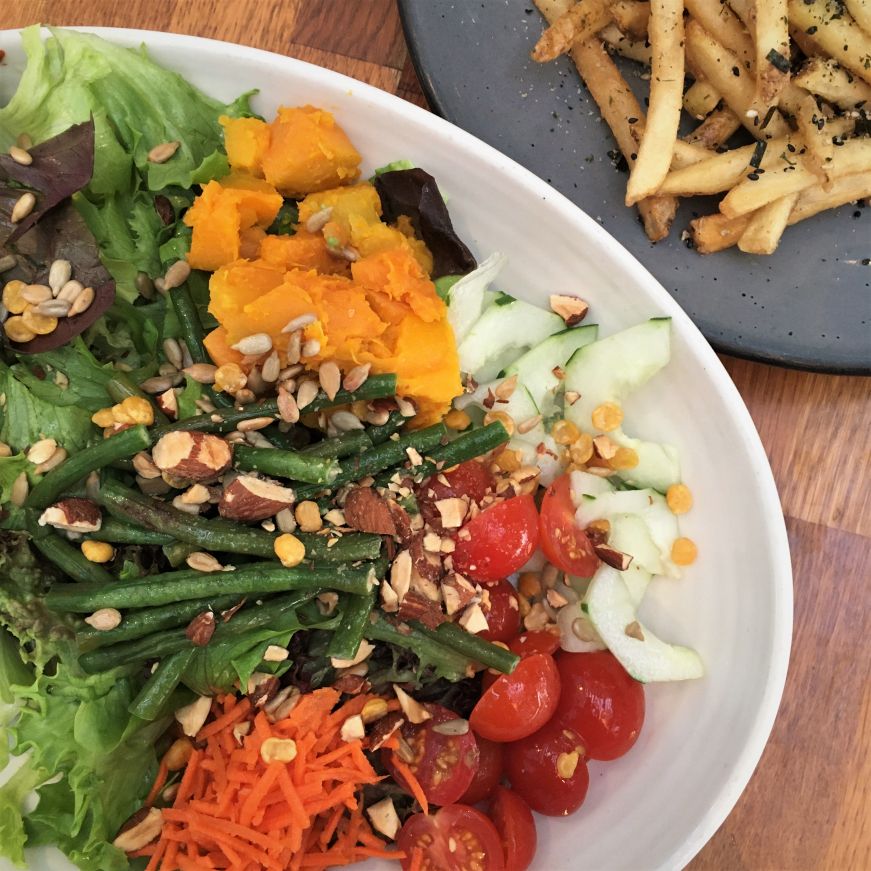 Aloha Mixed Plate (Lahaina) is probably the best dining value on Maui—this beachside restaurant serves large portions of Hawaiian favorites like teriyaki beef and kalua pork plate lunch-style, with two scoops of white rice and a scoop of macaroni salad.  There are also vegetarian options, like a vegetable stir fry and salads.  Reservations are accepted—try to time your dinner for sunset.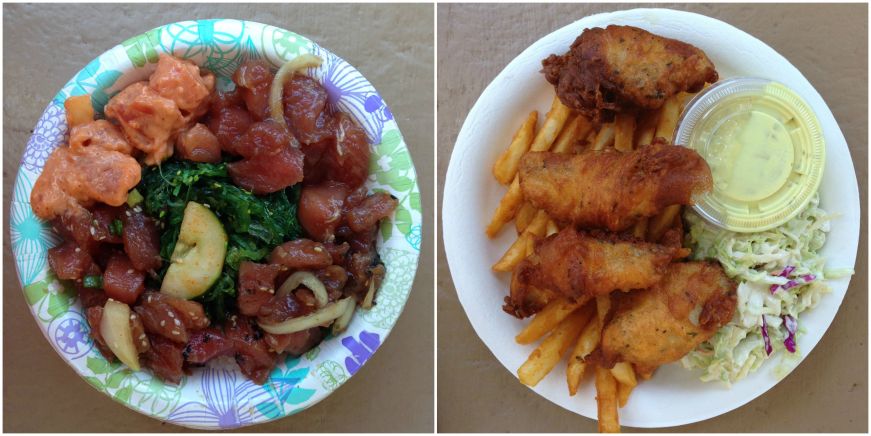 If you're looking for fish—and on Maui, you should be—Eskimo Candy (Kihei) has you covered.  This counter-service eatery serves up seafood in all forms, from coconut shrimp and fish-n-chips to chowder and poke (raw marinated fish).  I recommend the poke bowl, an assortment of pokes ranging from mild to spicy served with seaweed salad and rice.  But if you like your fish cooked, the fish-n-chips have an ethereally light batter and are made with freshly caught Hawaiian fish.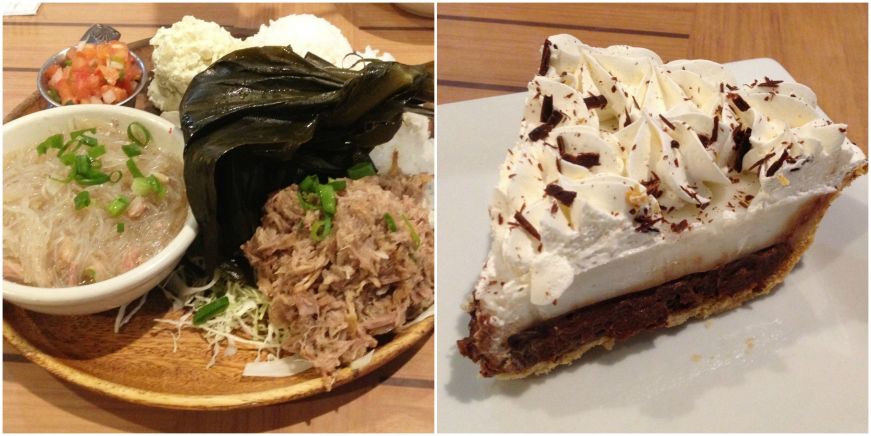 Though it's located in a generic strip mall, the food at Da Kitchen (Kahului) could only be found in Hawaii.  The lengthy menu offers plate lunch classics like kalua pork and chicken katsu; creative riffs on loco moco; saimin; and American-style salads, sandwiches, and burgers. 
The Hawaiian plate—kalua pork, lau lau, lomi salmon, chicken long rice, two scoops of white rice and the obligatory scoop of macaroni salad—is the perfect way to taste several traditional specialties and is big enough to split.  Mike loved the tender shreds of kalua pork and the rich chicken broth of the chicken long rice (a soup made with glass noodles).  I'm partial to lau lau: packets of tender pork, supple butterfish, and bitter, spinach-like taro greens, wrapped in a sturdy leaves and steamed.   If you still have room for dessert, try the chocolate haupia pie—chocolate pudding layered with coconut custard and whipped cream to create a tropical variation on French silk.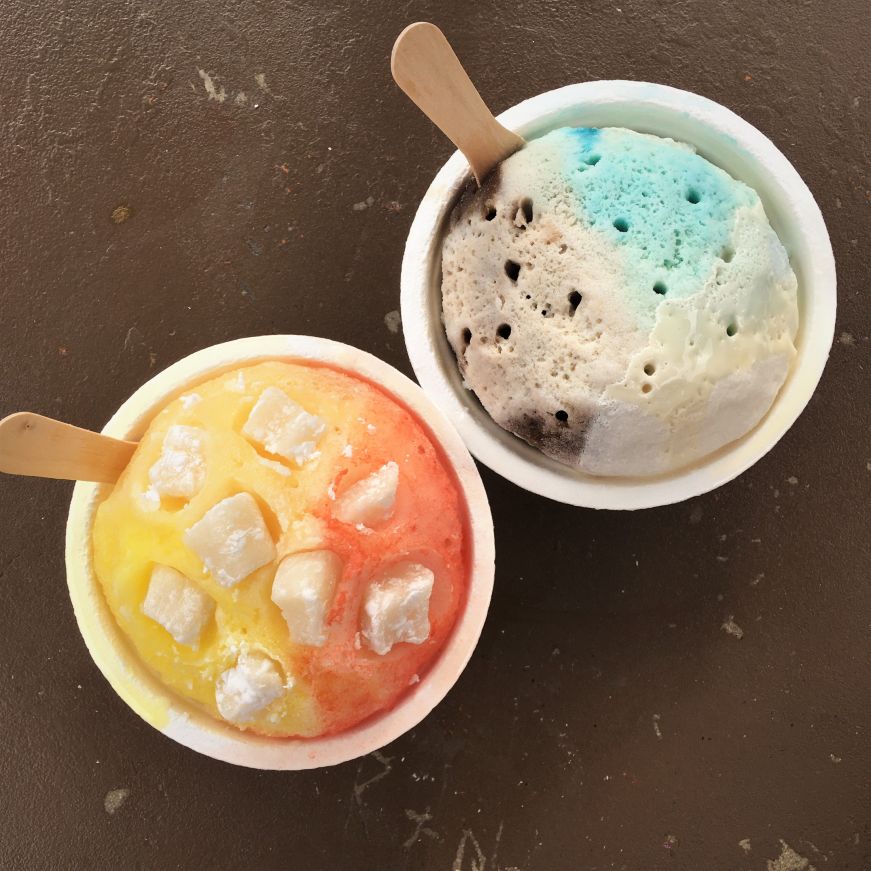 Ululani's Shave Ice (several locations) stands out for their careful application of naturally flavored syrups made with fruit puree.  You can pick your own flavor combination, or try one of the recommended versions—my favorites are the fruity Lahaina (pineapple, coconut, and banana) and Sunset Beach (guava, mango, and passion orange).  For a creamier treat, try the Haleakala, which is flavored with coconut and leche and then topped with sweetened condensed cream.
For more shave ice tips and recommendations, check out this post.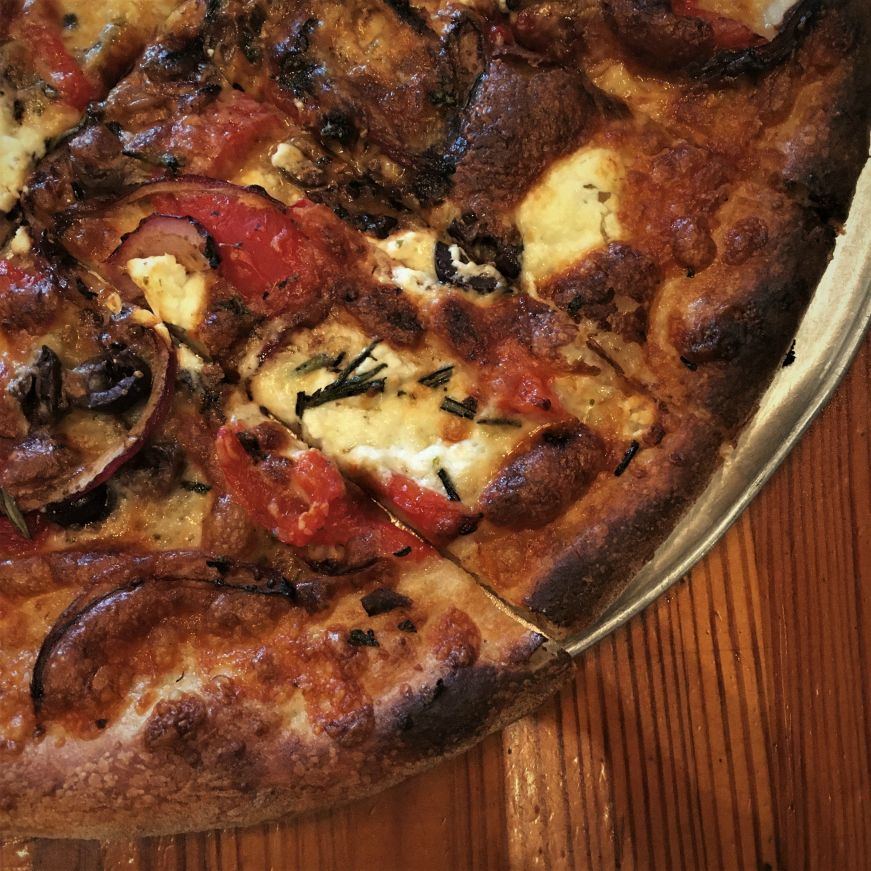 Although Flatbread Co. is a national chain, their menus reflect local tastes and ingredients—and at their Paia location, that translates to pizzas made with kalua pork, mango barbecue sauce, or macadamia nut pesto.  I appreciated that the majority of the pizzas are vegetarian, and we loved the bold flavors of the Punctuated Equlibrium pie, which is topped with olives, rosemary, onions, goat cheese, red peppers, mozzarella, and Parmesan.
Things to Do
Watch the surfers off Ho'okipa Beach, one of the top spots for ocean sports in Maui.  There's a convenient parking lot at the top of the hill that gives you the perfect vantage point for watching the surfers' awe-inspiring displays of grace and athleticism.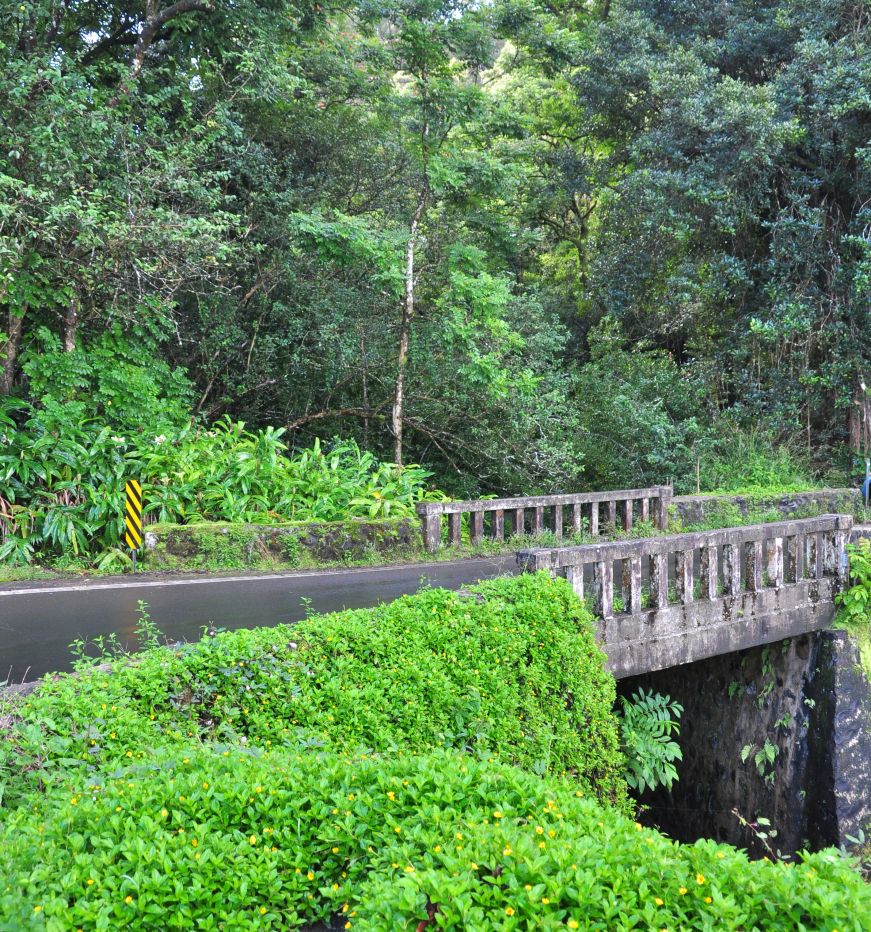 Spend a day on the Road to Hana, a winding and narrow rainforest drive that's a highway only in the technical sense of the term.  Distance-wise, it's only about 60 miles to Hana, but your journey will take all day: there's a 25 mph speed limit for much of the route, dozens of one-lane bridges, frequent photo stops, detours for hikes, and multiple swimming opportunities.  There's no conceivable way to see every stop along the way in one day, so pick the sights that look most interesting, relax, and enjoy the drive.  Also, note that some of the best stops—Hamoa Beach and Wailua Falls—are actually after Hana, so keep going!  (For more tips, I have a whole post on the Road to Hana.)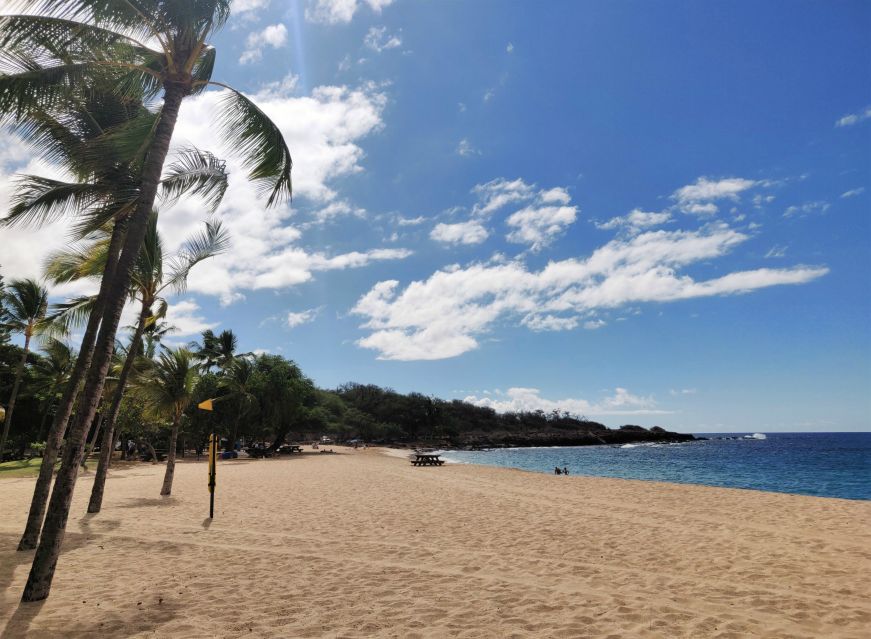 Take the ferry to Lanai.  A small, sparsely-populated island off Maui's western coast, Lanai offers visitors the chance to escape the crowds and enjoy some excellent snorkeling.  The Expeditions ferry makes several trips per day between Lahaina and Lanai, and the 45-minute voyage offers scenic views of Lanai's coastline (grab a seat on the top deck).  Once you're on Lanai, Hulope Beach is a 5-minute walk from the ferry dock.  There are bathrooms, showers, drinking water, and picnic tables available, and the snorkeling is the best I've experienced in Hawaii—impressive coral formations and a large variety of fish.
There's a small general store by the ferry dock, but I recommend bringing food with you for a picnic lunch, as well as sunscreen and beach gear.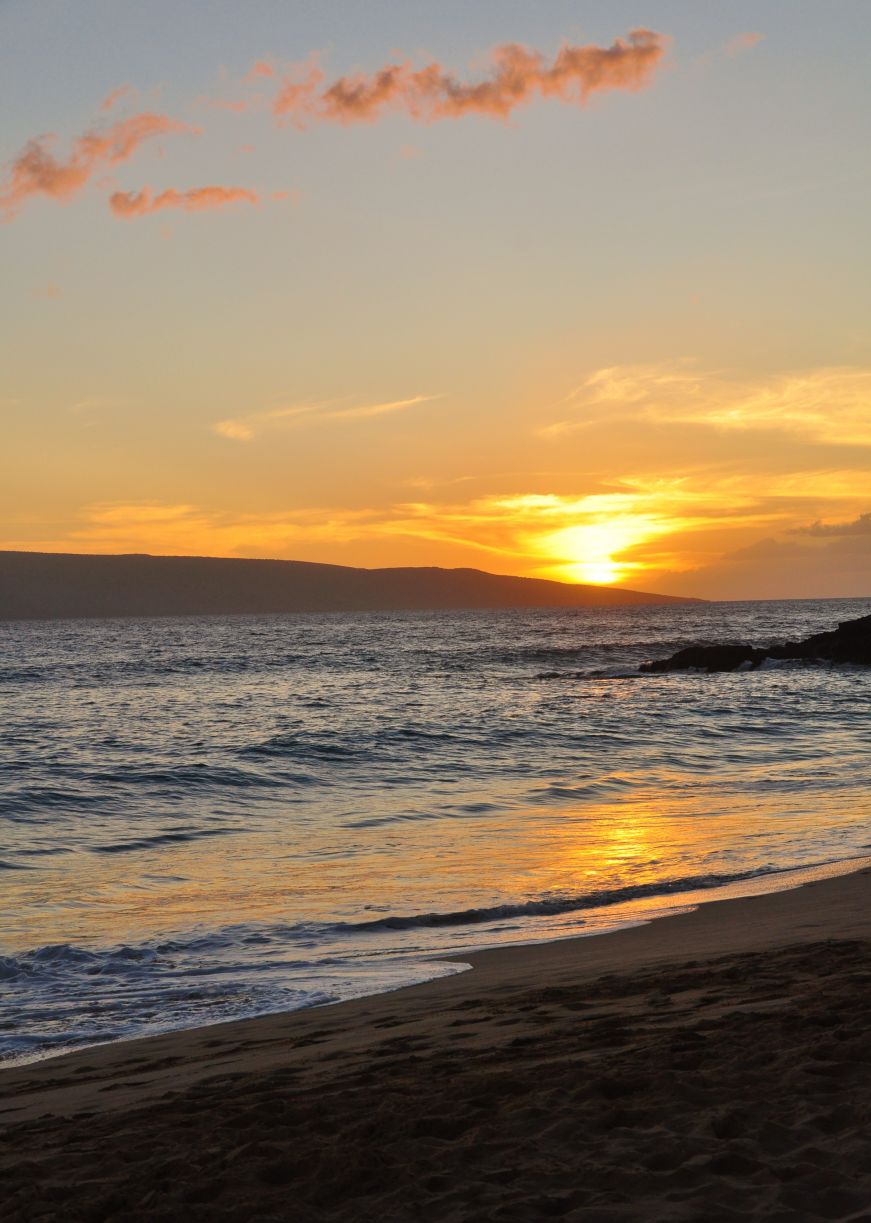 Admire a sunset from Makena Beach.  Also known as Big Beach, it offers big waves for experienced body surfers and sunbathing for everyone, plus stunning views of the Molokini Crater and Kaho'olawe (the smallest Hawaiian island).
Drive the Kahekili Highway (CR 340) in West Maui for some amazing views.  The narrow, winding road has a somewhat similar feel to the Road to Hana, although the rugged, windswept landscape is completely different from the lush rainforest of Maui's more famous drive.  Since the distance is shorter and there aren't as many stops as the Road to Hana, you can easily complete the drive in a half day.  If you want a meal along the drive, Karen Lei's Gallery in Kahakuloa has an on-site food truck that serves tasty burgers (plus fish and vegetarian options) with an incredible view.
Snorkel in Honolua Bay, with its colorful coral formations and diverse and plentiful fish populations—the snorkeling is among the best on Maui.  We saw several varieties of butterfly fish, cornetfish, parrotfish, humuhumunukunukuapua'a (Hawaii's state fish), and even an eel.  Note that the beach is very rocky, and facilities are limited to portable toilets.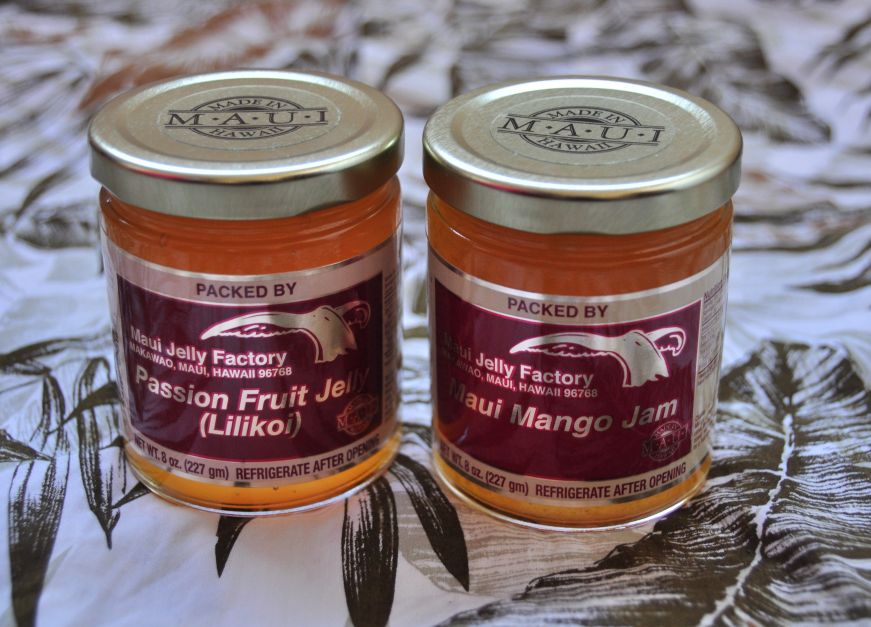 If you want to wear the aloha spirit home, buy a Hawaiian shirt at Hilo Hattie's (located in Lahaina at the Outlets of Maui, plus locations on Oahu, Kauai, and the Big Island).  Their shirts are actually made in Hawaii, and Mike found an earth-toned version subtle enough for his Minnesota workplace.
Shop for souvenirs at Long's Drug (several locations).  Although the chain is owned by CVS, Long's has a great selection of made-in-Hawaii food products at reasonable prices, from macadamia nuts and Kona coffee to papaya syrup and passionfruit jam.
Listen to KPOA (93.5 FM)—"Hawaiian music, Maui style".  If the mellow music and good-natured DJs don't put you in a Hawaii frame of mind, nothing will.  There's also an online live stream that I sometimes listen to at home.
If you have to check out at 10:30 a.m. but your flight isn't until 9:50 p.m., buy a day pass to the Maui Family YMCA (located in Kahului) and take a shower before heading to the airport.  Washing off a day's worth of sweat, saltwater, and sunscreen before embarking on 14 hours of travel was the best $20 Mike and I spent on our 2015 trip to Maui.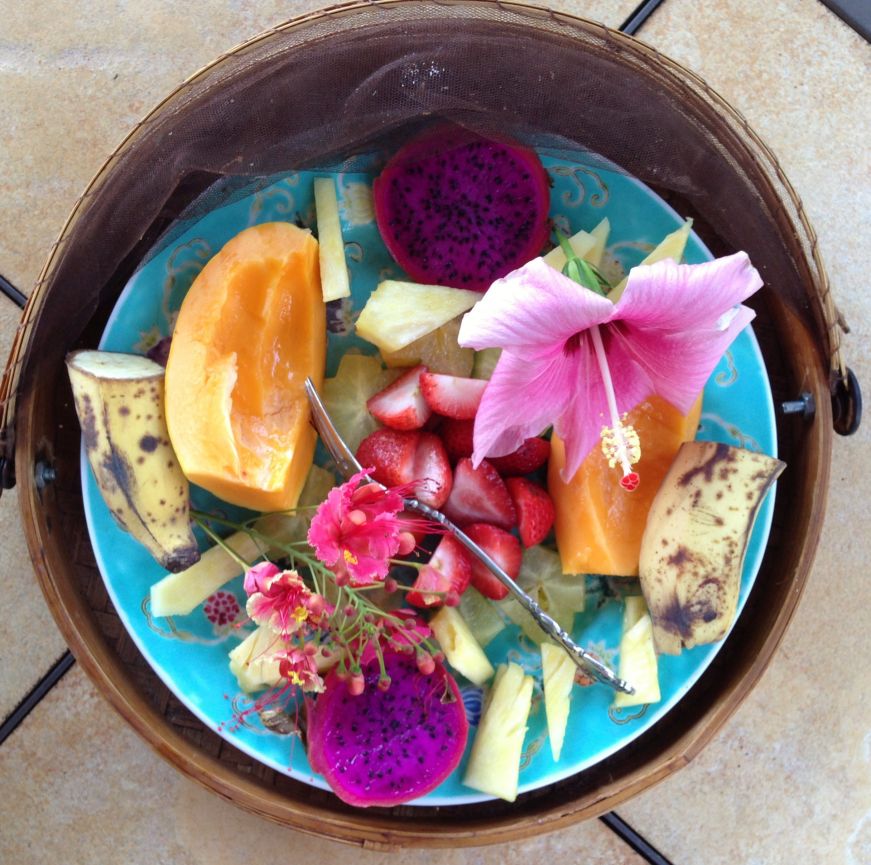 Where to Stay
On our 2012 and 2015 trips to Maui, we stayed at the Ocean Breeze Hideaway in Kihei.  This reasonably-priced little B&B is a gem, with welcoming, knowledgeable hosts Bob and Sandee and delicious breakfasts of fresh fruit and bread with tropical jam.  We stayed in the Coral Room, which has a queen-size bed, private entrance, and an outdoor seating area with table and chairs; the larger Ocean room has a king-size bed.  Both rooms include thoughtful extras for your stay on Maui, from beach chairs and a cooler for long days at the beach to a mini fridge and cork screw for a romantic evening in with a bottle of wine.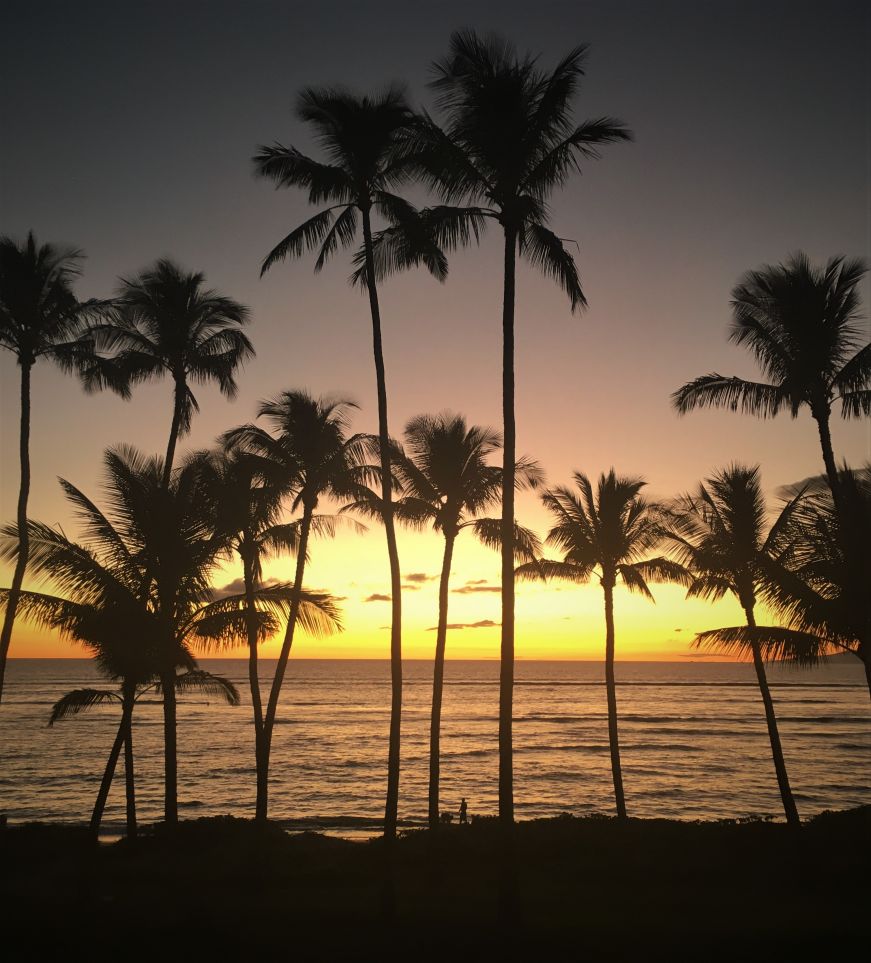 Since we wanted a more space and an ocean view on our 2019 trip, we stayed at this beachfront condo we rented via VRBO.  The location is amazing—there's a balcony that overlooks a sandy beach, and it's conveniently located to two grocery stores and several restaurants.  The unit is well-stocked with kitchen equipment and beach gear, and the owner kindly allowed us to check out late (we had a 10:00 p.m. flight, and being able to relax and take a shower before flying home made our final day on Maui a true vacation).  While the condo was very clean, the decor was a bit dated and worn.  This didn't detract from our stay, but if you're looking for more upscale accommodations it wouldn't be a good fit.
Further Reading
If you enjoyed this post, pin it!