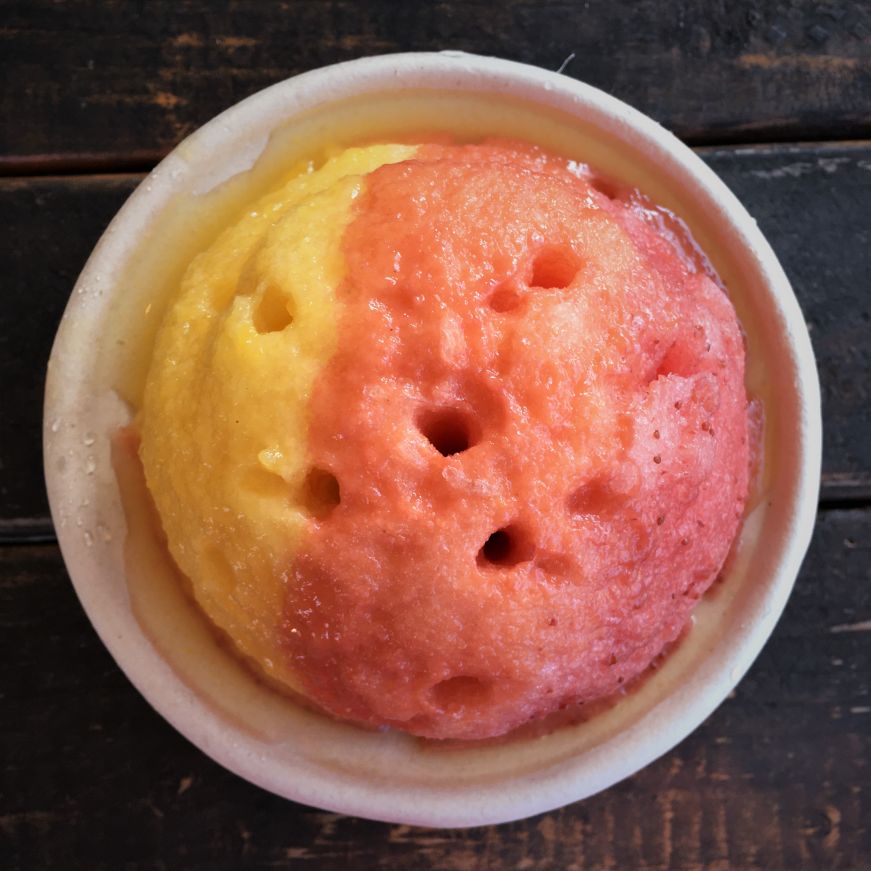 As you may have noticed from my posts about Maui and Hilo, I have a thing for shave ice.  It's the perfect pick-me-up on a hot Hawaiian afternoon, and it's also a local specialty that you probably won't find on the mainland.  Wondering what the deal is with the brightly-hued dessert pictured above?  Here's your guide to Hawaiian shave ice.
What is shave ice?
Shave ice is a domed mound of ice drizzled with flavored syrup, served in a cup and eaten with a spoon.  While it bears some resemblance to a snow cone, shave ice is far superior.  Since it's made with shaved (rather than crushed) ice, syrup can be absorbed by the ice instead of pooling at the bottom of the cup.  Shave ice was originally brought to Hawaii in the early 1900s by Japanese immigrants and quickly became a beloved local treat.
Shave ice shops typically offer a wide range of colorfully flavored syrups to choose from, including popular fruit flavors like strawberry, cherry, and blue raspberry, and locally-influenced options like guava, lilikoi (passion fruit), and pineapple.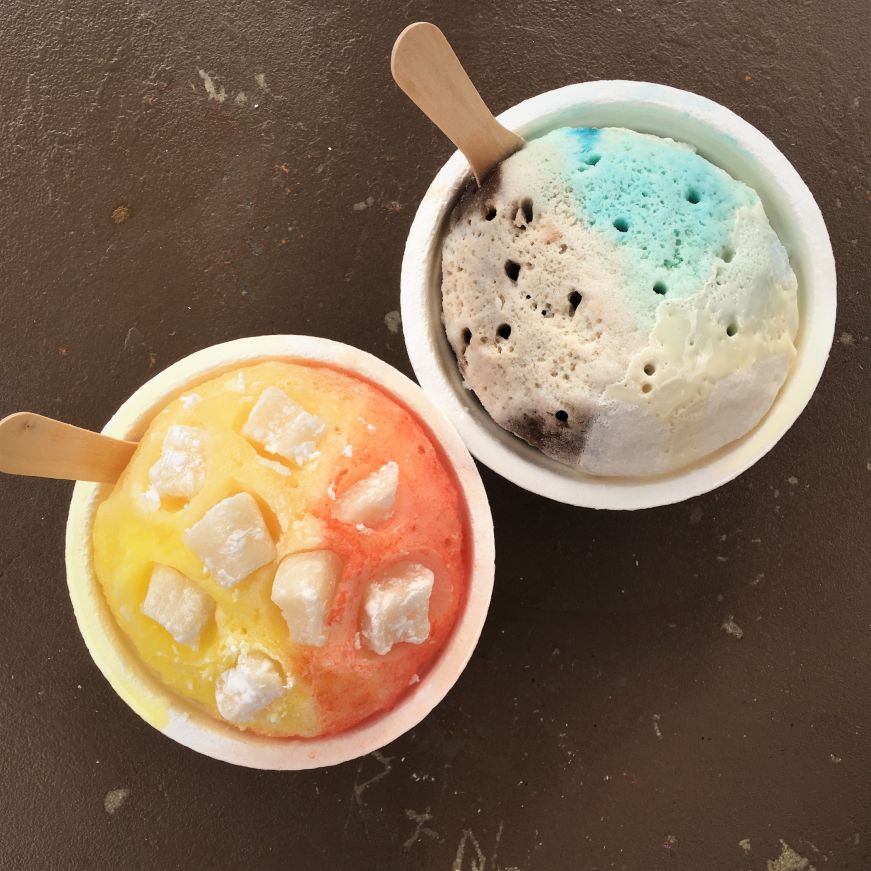 Where can I find the best shave ice?
Shave ice is widely available throughout Hawaii.  It's sold from dedicated shave ice shops and food trucks, and some retails shops and candy stores have a shave ice counter.  I prefer places that make their own syrups from fresh fruit or fruit juices rather than using artificial flavors.  Another thing to look for is whether the shave ice is poked all over with a chopstick before the syrup is drizzled on—that ensures that the syrup will penetrate all the way to the center.  There's nothing sadder than shave ice with a white, unflavored gob of frozen water in the middle.
One of my favorite shave ice spots is Ululani's Hawaiian Shave Ice, which has several locations on Maui plus an outpost on the Big Island in Kailua-Kona.  They have about 50 different syrup flavors, including several sugar-free options, made with fruit purees and juices (if you can't decide, there's a long list of recommended combinations).  Best of all, they'll add more syrup if you come across any white spots. 
On the Big Island, Kula Shave Ice in Hilo is a must.  Their syrups are made with organic fruit, and you can add a scoop of housemade macadamia ice cream to your shave ice.  They also offer vegan substitutions for all of the popular shave ice add-ins (more on that below), and they have some unique add-ins like poi (a local specialty made from taro).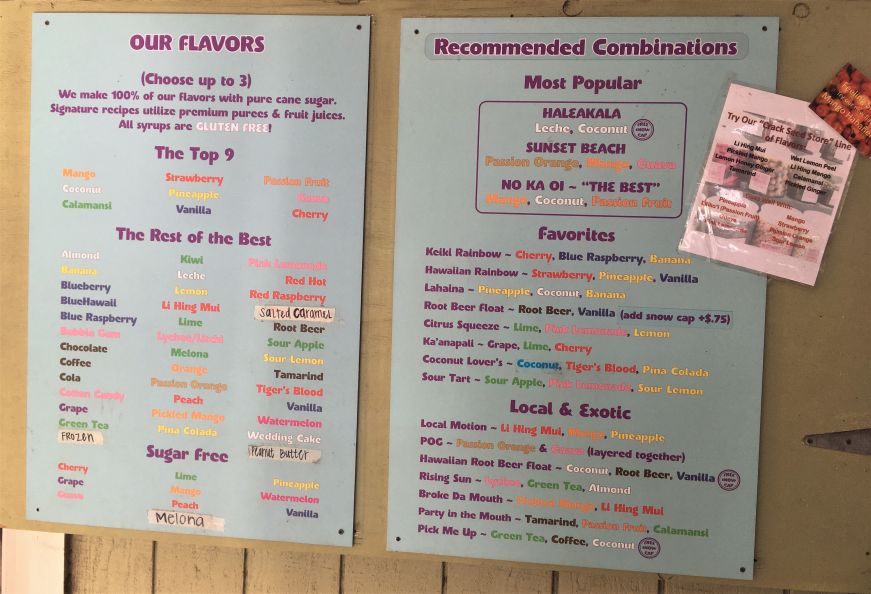 How do I order shave ice?
First, you'll need to pick your flavors—typically two or three are included.  The menu will usually also list some recommended combos if you need some inspiration. 
Personally, I prefer natural, tropical fruit flavors (after all, you're in Hawaii!)  But it's totally up to you—in addition to fruit flavors, Ululani's offers options like almond, bubble gum, chocolate, and wedding cake.  Mike enjoyed their Hawaiian Root Beer Float combo, which included coconut, root beer, and vanilla syrup with a free snow cap.
What's a snow cap?  While shave ice is delicious on its own, you can also add a variety of toppings.  A snow cap is a drizzle of condensed milk that makes the outer portion of your shave ice slightly creamy.  Other common toppings include toasted coconut and mochi (cubes of sweetened, chewy rice cake).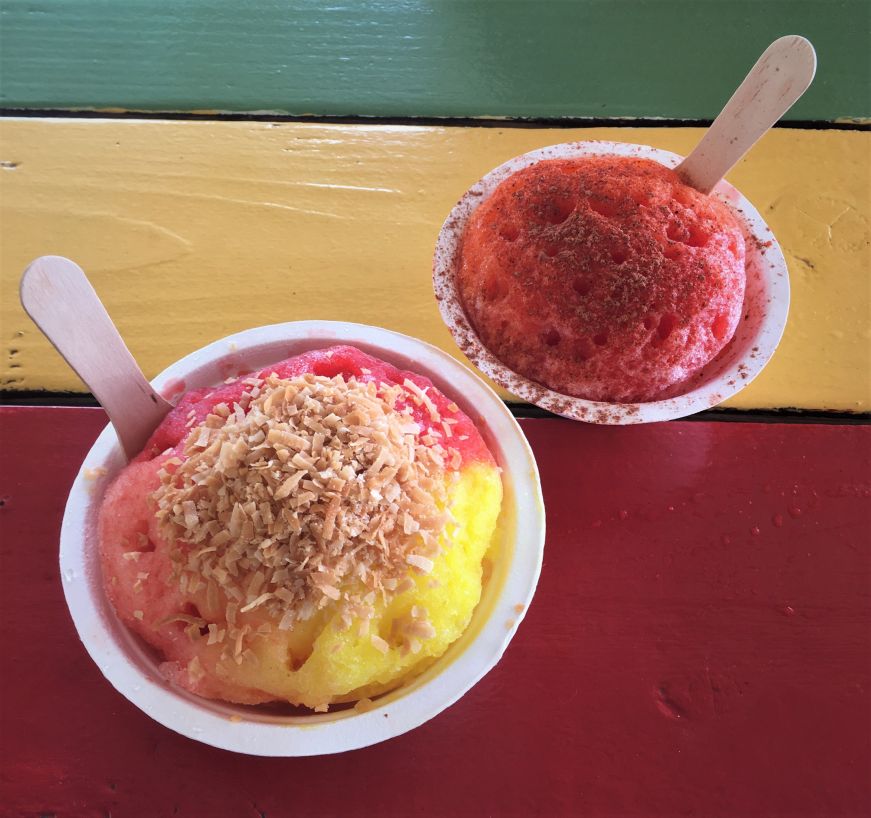 You can also add a filling, typically either a scoop of ice cream or azuki bean paste.  My ideal shave ice order includes a macadamia or coconut ice cream filling; strawberry, pineapple, lilikoi, and/or passion orange syrup; and maybe some mochi on top.
But there isn't a perfect or right way to order—my favorite thing about shave ice is how much you can customize it to your tastes.  Order something familiar or try something new, and enjoy your creation!
More posts about Hawaii
If you enjoyed this post, pin it!