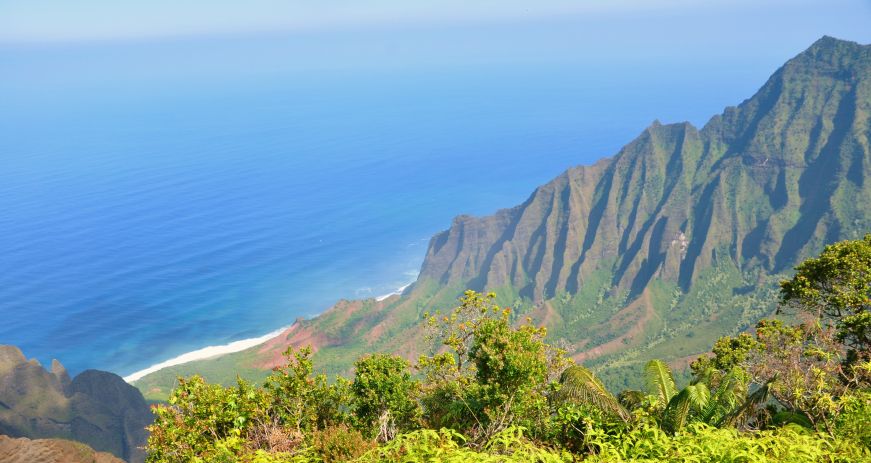 For many of us on the mainland, Hawaii evokes images of swaying palm trees and sandy beaches.  While the islands do have palm trees in abundance and plenty of beaches, Hawaii offers so much more: rugged coastlines and plunging waterfalls, lush rainforests and picturesque small towns.  Likewise, Hawaiian food is more than pineapples and tropical drinks with little paper umbrellas--the islands' unique cuisine combines traditional foods from the original Polynesian settlers; ingredients from Chinese, Japanese, Korean, Filipino, and Portuguese immigrants; and convenience products like Spam and mayonnaise, often on the same plate.  
We started our Hawaiian vacation on Kauai, geologically the oldest of the Hawaiian islands.  With a population of about 70,000, it has a more laid-back feel than Oahu or Maui, although there are plenty of restaurants, shops, and resorts to accommodate the tourist crowds.  We spent the first portion of our stay at a bed and breakfast in Kalaheo, a convenient base for exploring the western and southern portions of the island, and then moved to Lihue, which is better positioned for sightseeing on the eastern and northern coasts. 
Where to Eat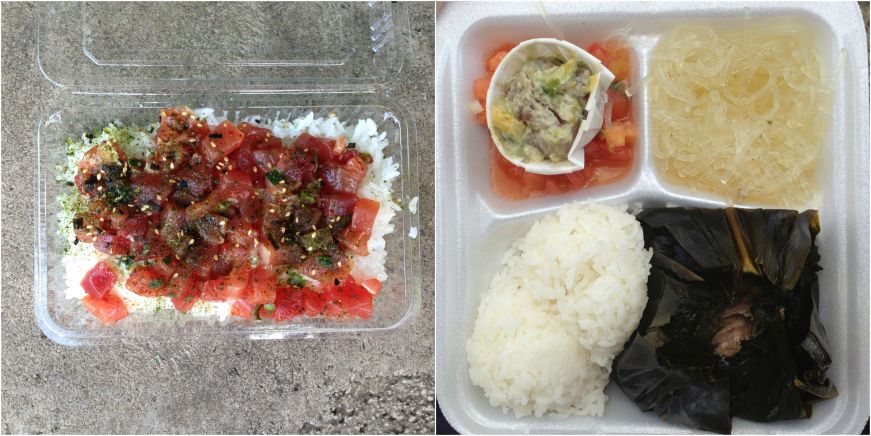 Koloa Fish Market (Koloa) is more of a grab-and-go deli than a restaurant--we found ourselves eating lunch perched on a retaining wall in the parking lot.  But seating issues aside, my poke bento was what I imagined Hawaii would taste like: silky chunks of raw marinated fish over rice, seasoned with a bit of wasabi mayo.  In addition to the various types of poke, there are a couple meat-based plate lunch specials.  Mike tried the laulau, a traditional Hawaiian specialty of pork, butterfish, and taro leaves steamed together in a leaf-wrapped packet.  It came with a side of rice, glass noodles, lomi-lomi salmon (a tomato and salmon salad), and a small portion of poke.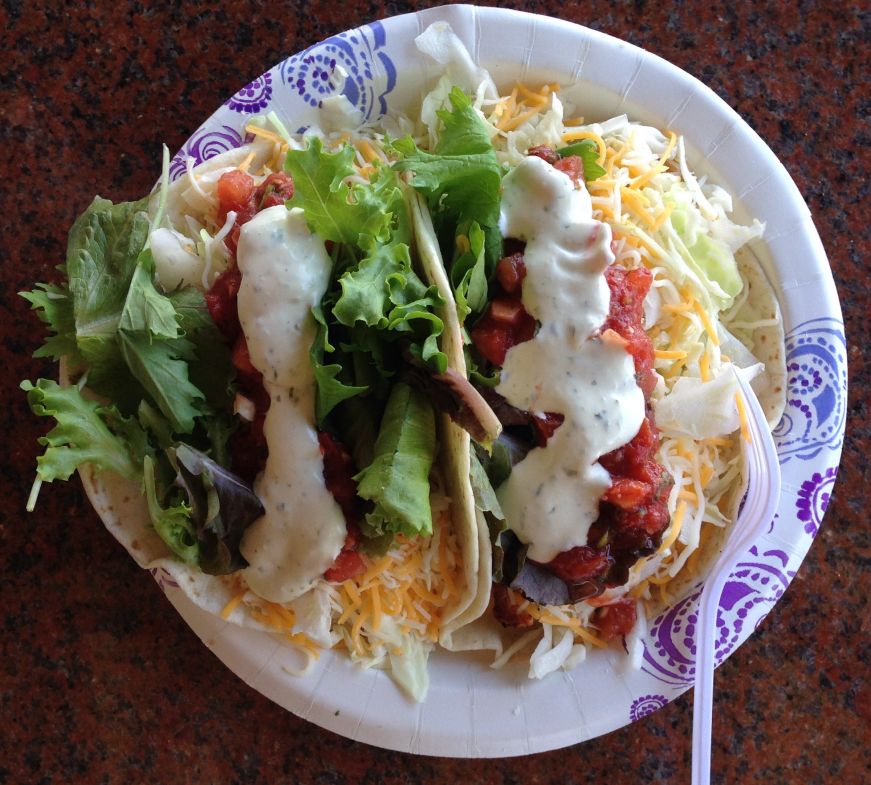 Although there is a refrigerator case full of poke at the front of the store, Kilauea Fish Market (Kilauea) is primarily a counter-service café, with ample outdoor seating and a menu of lunch-friendly entrees like wraps and fish tacos.  The massive ahi wrap is more like a burrito, laden with seared ahi, lots of brown rice, carrots, cabbage, bean sprouts, and an Oriental dressing.  It's more food that I really needed to consume in one sitting, but the combination of crisp vegetables and fresh fish kept me eating through to the last bite.  The fish tacos were similarly delicious, although the chipotle seasoning and fixings made picking up the flavor of the fish difficult.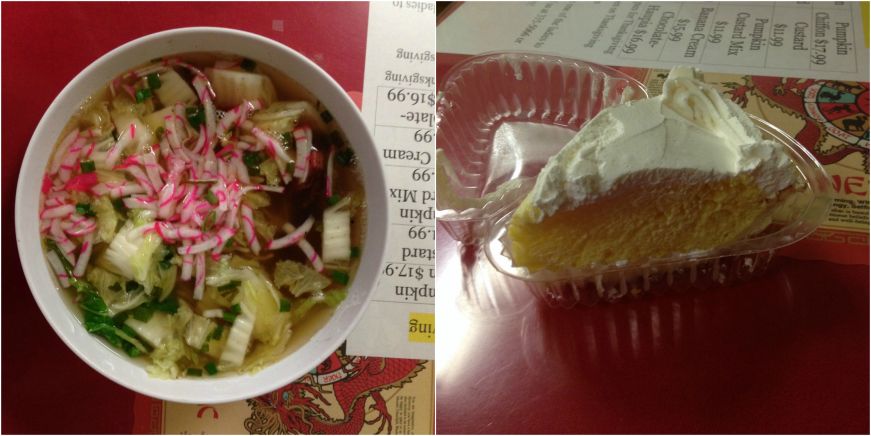 At first glance, Wong's Chinese Restaurant (Hanapepe) seems like your standard Chinese-American joint: a counter with pans of fried rice and beef with broccoli, and the obligatory Chinese zodiac placemats. But a closer inspection reveals the only-in-Hawaii touches: various types of saimin, a Hawaiian noodle soup influenced by Japanese, Chinese, Filipino, Korean, and Portuguese cuisines; plate lunches served with a scoop of macaroni salad; and an ethereally light and fruity liliko'i (passion fruit) chiffon pie.  The surroundings and service are basic, but prices are budget-friendly--two large entrees and dessert rang up under $20.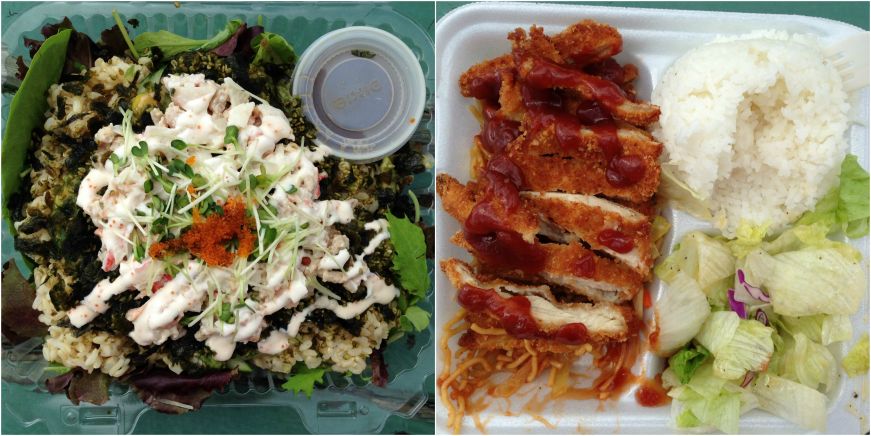 Located in an industrial park, Mark's Place (Lihue) is far from the tourist track--but it's worth visiting for its huge plate lunches and more healthful options, like daily salad specials.  Service is friendly and although the restaurant is takeout only, there are several picnic tables out front.  The plate lunches are big enough to split, and can be ordered with brown rice and tossed salad in lieu of the standard white rice and macaroni salad; protein options are traditional and include chicken katsu, a breaded, deep-fried chicken cutlet; teriyaki beef; and loco moco, a hamburger patty topped with a fried egg and brown gravy.  I opted for one of the daily specials, a delectably fresh California sushi salad made with mixed greens, brown sushi rice, imitation crab, cucumber, and avocado; at $9.95, it was one of the best bargains I found for vegetable-based fare on Kauai.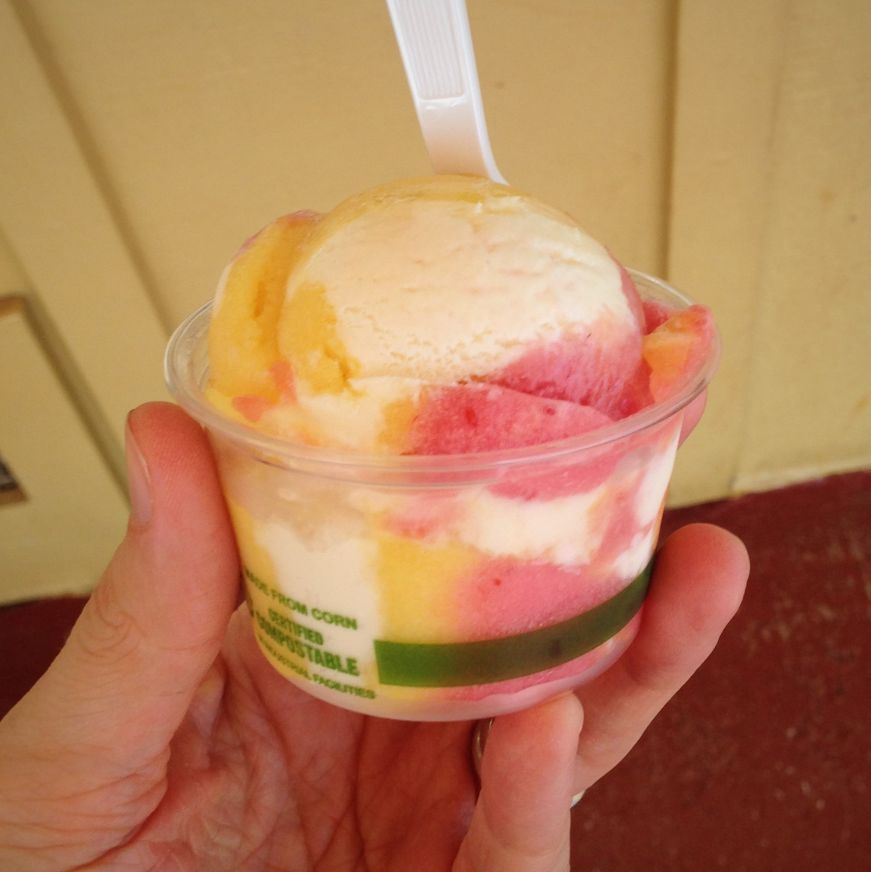 Although the namesake product at Lappert's Ice Cream is delicious--"super premium" ice cream, made with quality ingredients like Kona coffee--I fell in love with the fruity sorbets.  Made with real fruit purees, the sorbet is as flavorful as biting into a piece of fresh tropical fruit, but even more refreshing.  My favorite flavor was Luau Delight, a combination of coconut and passion fruit sorbets.  Don't want to choose between ice cream and sorbet?  Order Tutu's Anniversary, coconut ice cream swirled with raspberry and passion fruit sorbets.  The original Lappert's is in Hanapepe, and there are also stores in Koloa, Kapaa, and Princeville, plus locations on Oahu and Maui.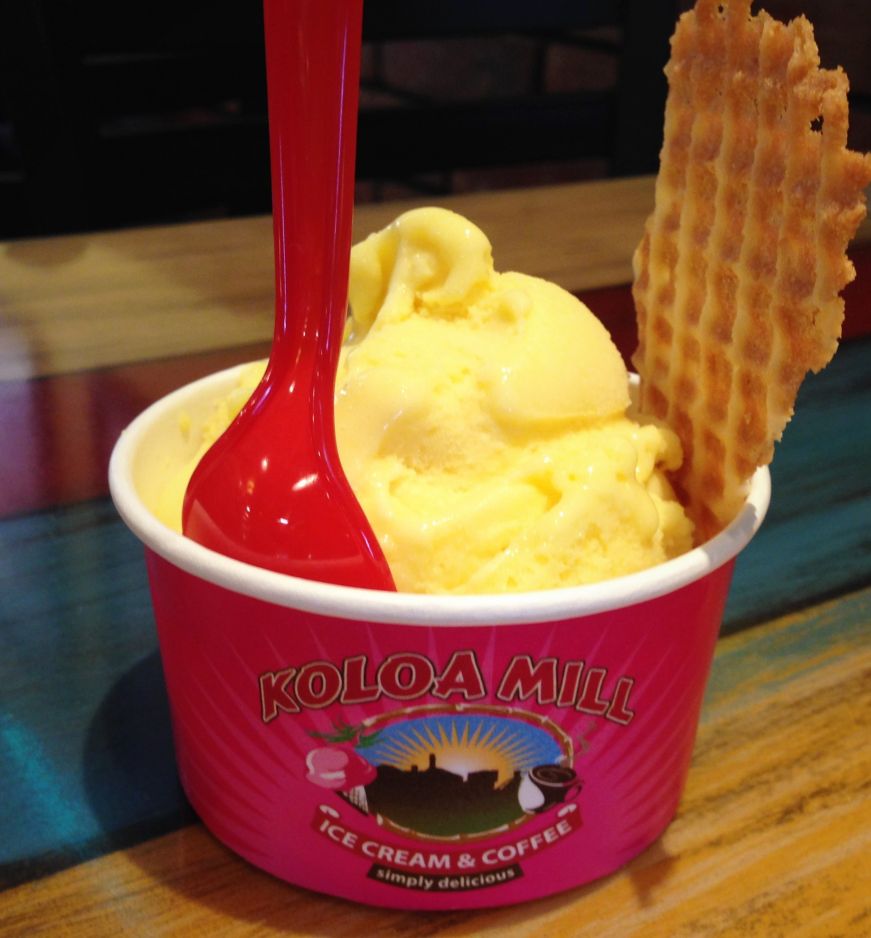 Koloa Mill Ice Cream & Coffee (Koloa) serves Kauai-grown coffee and Maui-made Roselani ice cream in a neighborhood coffee shop-style setting, complete with free WiFi and the occasional feral chicken wandering through the door.  The single scoops are generous and come topped with a bit of waffle cone--I enjoyed the Kona Mud Pie, a Kona coffee ice cream with bits of chocolate cookie.  The flavor line up includes a few of tropical fruit flavored sherbets; try the intensely flavored liliko'i (passion fruit)
Things to Do
Drive along Route 550 through Waimea Canyon and Koke'e State Parks.  Sometimes referred to a the Grand Canyon of the Pacific, Waimea Canyon's striking red rock formations reminded me more of the American Southwest than a tropical idyll.  The scenic drive offers lots of overlooks to admire sweeping panoramas of the canyon, and there are ample hiking opportunities if you're feeling ambitious (I was too jet lagged).  Continue along Route 550 to see the adjacent Koke'e State Park, which has more hiking trails and an amazing view of Kalalau Valley (shown in the picture at the top of the post).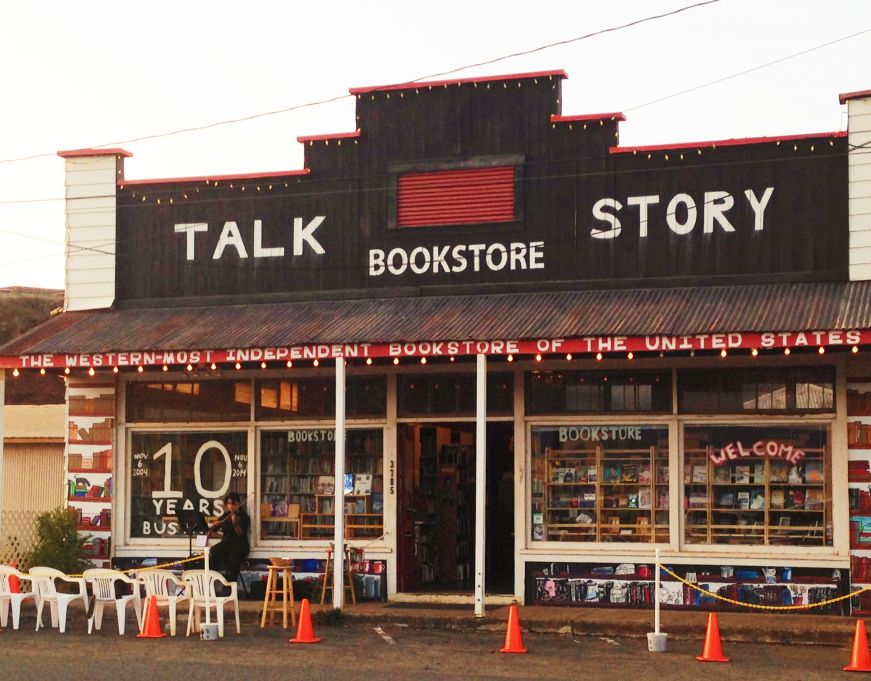 On Fridays, head to Hanapepe for Art Night.  The atmosphere is small town and festive, with musicians performing on the sidewalks, street food ranging from macadamia nut sticky buns to avocado-stuffed arepa, and galleries and shops open late for browsing.  My favorites were Talk Story Bookstore (the "Western-most independent bookstore of the United States") and Banana Patch Studio, which sells hand painted ceramic tiles and pottery.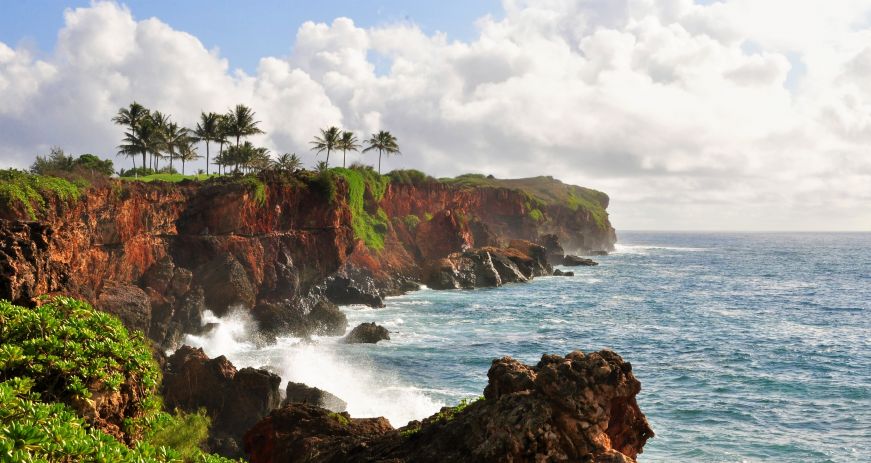 Hike the Maha'ulepu Trail, a 4 mile long coastal trail from Shipwrecks Beach (in Poipu, in front of the Grand Hyatt Kauai) to Ka-wai-loa Bay (note that the hike is 8 miles round trip).  We turned back at Maha'ulepu Beach, for about a 6 mile round trip hike.  Besides incredible coastal views, the Heiau Ho'oulu i'a (an ancient fishing temple) and enormous Makau-wahi Sinkhole are located along the route.  Definitely start the hike early in the day, and bring plenty of water; there isn't much shade and there isn't any fresh water available enroute.  You can request a very informative (and free!) trail map via the Poipu Beach Foundation's website.
Explore the rainforest on the Kuilau Ridge Trail.  This 2.25 mile (4.5 miles round trip) hike ascends 760 feet through lush greenery.  Ultimately you end up gazing down at the rainforest canopy, with vegetation so thick that it looks like someone draped a blanket of leaves over the trees.  The trail is wide and well-maintained, but can be a bit muddy. 
Snorkel at Lawai Beach.  The beach itself is underwhelming, so don't bother with sunbathing--jump in the water to admire the colorful fish and coral.  I spotted several varieties of butterfly fish, parrotfish, humuhumunukunukuapua'a (Hawaii's state fish), and even a sea turtle.  If you need to rent snorkel gear, there's a Boss Frog's in the nearby Beach House Restaurant building with very reasonable prices.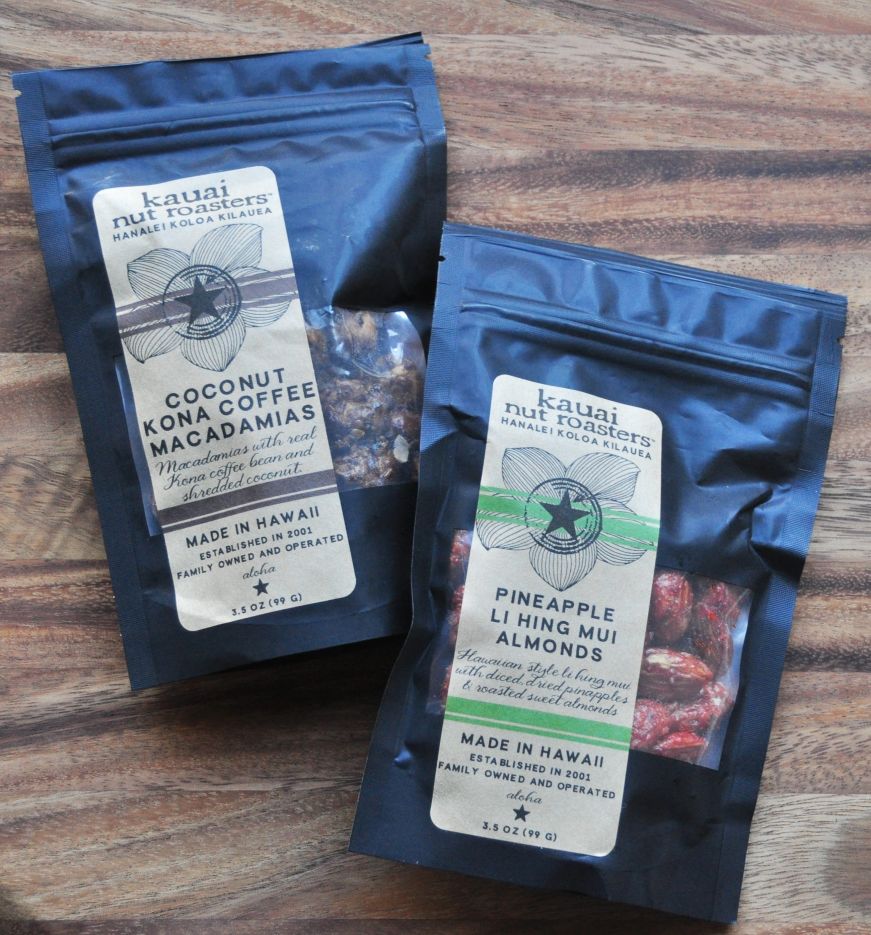 Sample the wares at Kauai Nut Roasters, which offers macadamias, walnuts, and pecans in a variety of sweet and savory flavors.  We stopped by the Kilauea location after lunch at the nearby Kilauea Fish Market (mentioned above), and after much nibbling settled on the coconut Kona coffee macadamias, coconut pineapple li hing macadamias, and pineapple li hing almonds.  Clearly we were in the mood for dessert.
Pretend you're in the South Pacific at Makua (Tunnels) Beach--the mountain backdrop will look familiar to fans of the 1958 film musical.  If you're not in the mood to sing some Rogers and Hammerstein, the beach offers great body surfing and snorkeling (although you do have to walk quite a way down the beach to get to the best snorkeling location).  The coral formations were the most impressive we saw on our trip, and we spotted lots of butterfly fish and humuhumunukunukuapua'a. 
Take a guided tour of the Kauai Museum for an appreciation of Hawaiian culture.  Although you can explore the museum's large collection of artifacts on your own, time your visit to coincide with the guided tour.  Our extremely knowledgeable tour guide focused on pre-contact Hawaiian culture, including traditional dress, the production of food products such as salt and poi, and the significance of hula.  What I learned on the one-hour tour added a cultural depth to the rest of the trip, so visit the museum early in your stay if possible.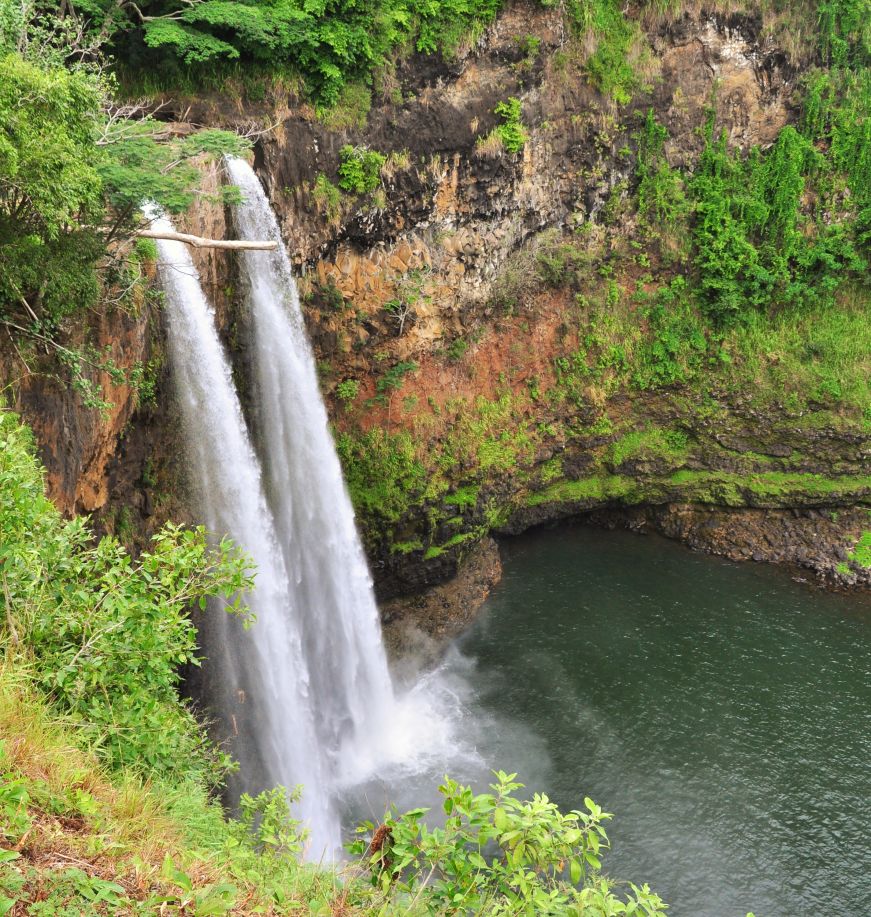 Admire Wailua Falls, a dramatic double waterfall famous from the opening credits of the TV show Fantasy Island.  The falls can be easily seen from a roadside pull off.
Browse the aisles at Times Supermarket to get a sense of Hawaii's diverse food culture.  Granted, I'm obsessed with food, but the selections at this local supermarket chain are fascinating: the fish counter is stocked with an assortment of poke; the produce section offers ripe papayas and diminutive apple bananas; the bakery selections include guava and taro rolls; and there are hot prepared foods like spam musubi, a slice of Spam and rice wrapped in nori.  The waves of immigration to Hawaii during the plantation era are evident in the Asian foods aisle, divided into well-stocked Japanese, Chinese, and Filipino sections, and there's also mind-boggling array of rice and Asian noodles.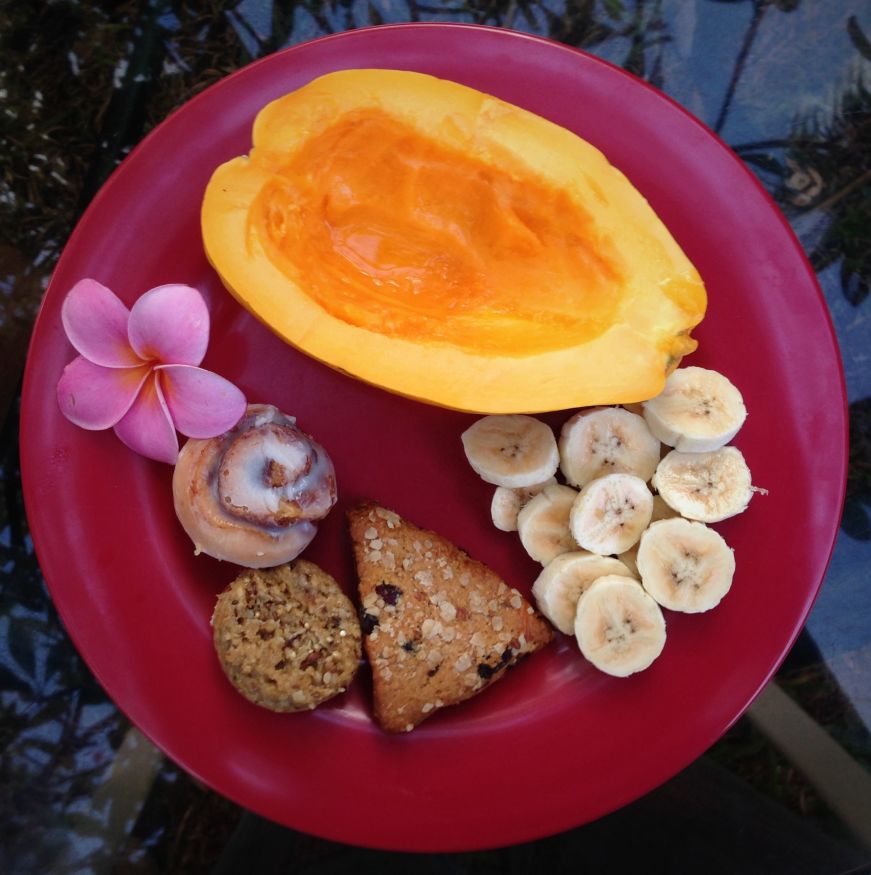 Where to Stay
After a few nights at a lackluster B&B in Kalaheo, we relocated to the Garden Island Inn in Lihue.  It's a budget-priced option, with a busy road and rec field between the hotel and Kalapaki Beach.  But the service is four-star: at check-in, we got a helpful printout with information about local restaurants and activities, and the friendly desk clerk offered us microwave popcorn and chocolate when we borrowed a board game.  Complimentary snacks and coffee are available in the reception area all day, and you can borrow snorkeling equipment, beach gear, board games, and DVDs.  Rooms are clean, comfortable and include a mini fridge, microwave, and coffee maker.  The lush courtyard has lots of seating and festive colored lights in the evening--perfect for a game night or relaxing breakfast.
Further reading