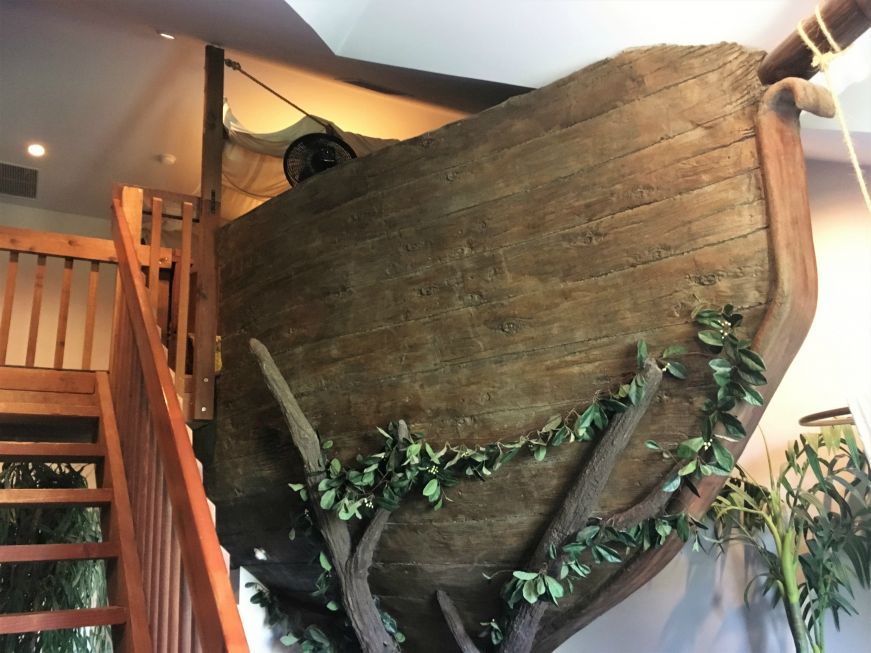 Thank you to Visit Kansas City Kansas for hosting my stay in Kansas City, Kansas.  As always, all content and opinions are my own.
Over my past decade of travel, I've stayed at boutique hotels and bed and breakfasts.  I've checked into budget motels and hostels.  I've rented Airbnb apartments and cabins at national parks.  I've stayed on a boat and at the world's only Frank Lloyd Wright hotel. 
Nothing prepared me for the Chateau Avalon in Kansas City, Kansas.
On the outside, it evokes a French chateau, a stately building improbably perched down the road from a sleek corporate campus and an outlet mall.  On the inside, it's a mishmash of over-the-top theming and gaudy decor, and "bonkers" is the word that I found myself using repeatedly when I tried to describe my shipwreck-turned-hotel-room to my husband Mike.
Wondering what to expect from a stay at the Chateau Avalon, Kansas City, Kansas' most unique hotel?  Here's everything you need to know.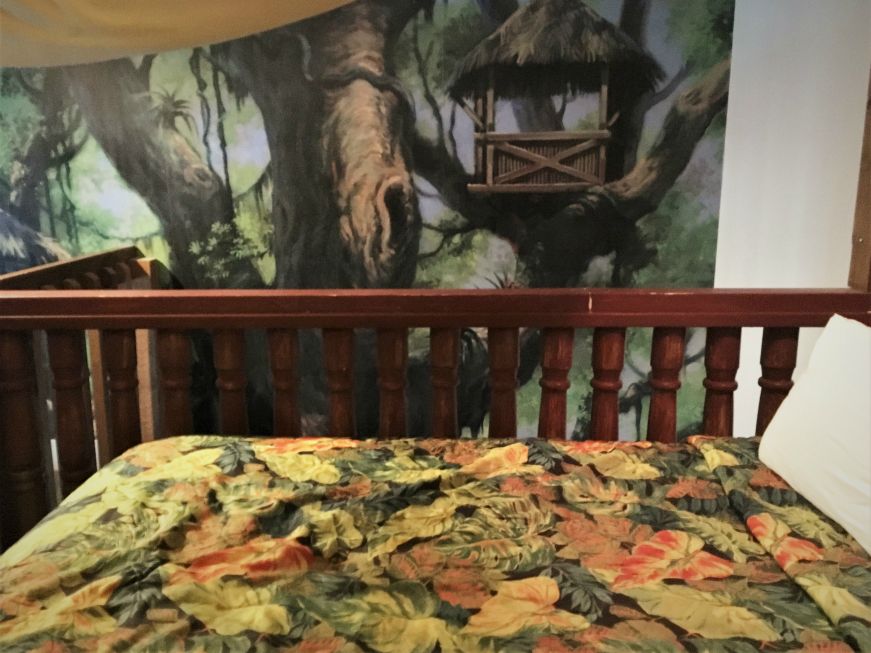 The 61 guest rooms have 23 different themes.
As you may have gathered from the photos, nothing about Chateau Avalon is cookie cutter.  There are 23 different room themes, divided into three different categories.  Classic rooms are the closest to a standard hotel room, with historical themes including Hemingway, Renaissance, and Casablanca.  The Classic rooms are reminiscent of a whimsical bed-and-breakfast, with furniture and decor that reflect the room's time period.
Then there are the Adventure rooms, with exotic themes like the Mayan Rainforest or an Egyptian Palace.  Ever wanted to stay in a hotel room with a faux rhino head mounted on the wall?  Book the Serengeti room.  There's also a Tahitian Treehouse room, complete with Easter Island-style heads.  Most Adventure rooms have hand-painted murals related to the room's theme.
For the most over-the-top experience, there are the Luxury rooms.  Think Las Vegas: there's a Camelot suite with a drawbridge and flaming torches and a Monte Cristo Suite with a sweeping staircase.  The Presidential suite has a hidden door behind a bookcase that leads to the bedroom. 
I stayed in a Castaway Isle Adventure room, which featured a shipwrecked boat hull, palm trees, a Swiss Family Robinson-style shower, and a desert island mural.  My bed was up a flight of wooden stairs inside the ship, under a sailcloth canopy.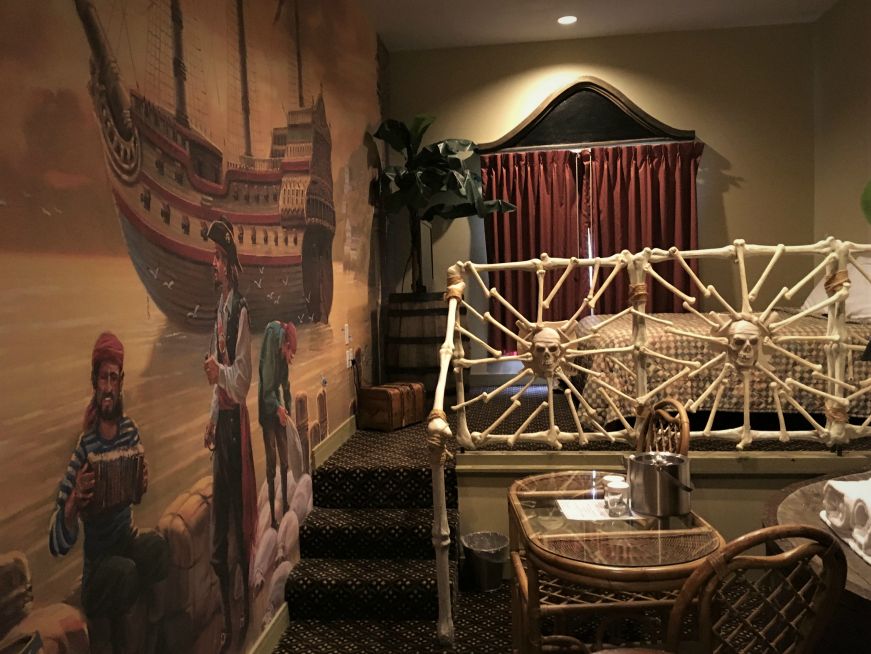 The theming is...not subtle.
When I was describing my hotel room to Mike, I told him, "It's not like Disney World—it's more like a roadside attraction."  Chateau Avalon is not going for historical accuracy or conventional boutique hotel design.  They lean hard into kitsch, with results that are fabulously ridiculous.  The Pirate's Cove room has a railing made out of bones, and the Roman room has busts of Julius Caesar.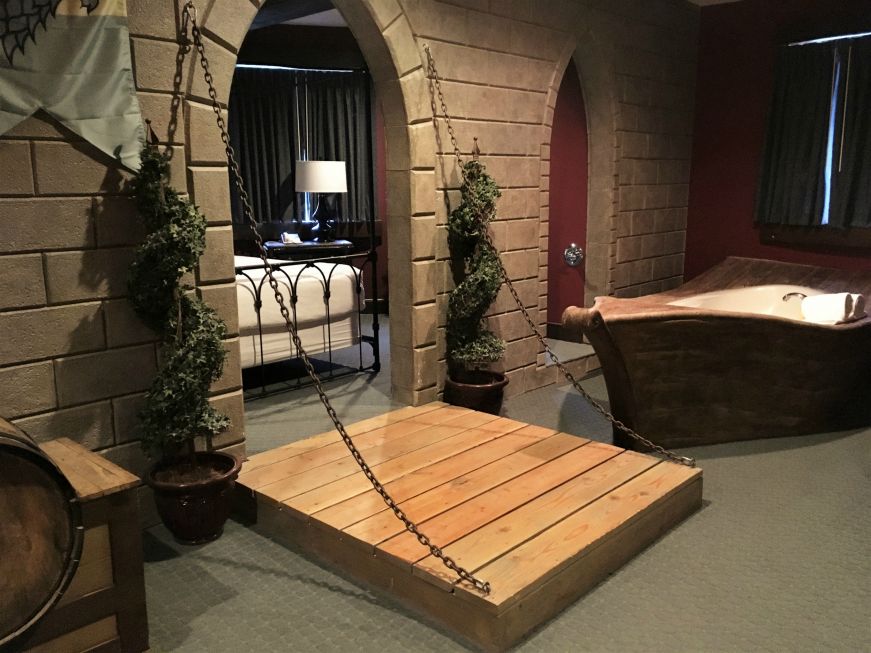 If you want to feel like you've actually traveled back in time to the Middle Ages or escaped to the tropics, the garish decor at Chateau Avalon will probably let you down.  But if you want to feel like you're in a zany, low-budget television show, Chateau Avalon is the place for you.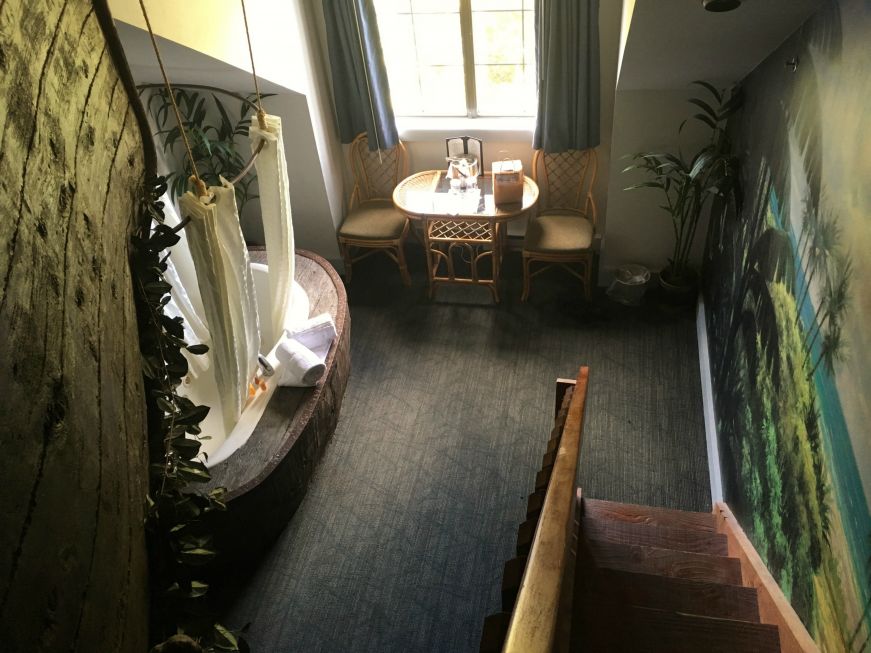 Take accessibility into consideration.
Many of the Adventure and Luxury rooms have a two-story layout, with the bed located up a steep flight of stairs.  Make sure that will work for you—do you want to climb up and down stairs in the dark in the middle of the night to get to bathroom?
Another thing to consider is the shower—many of the rooms feature non-standard showers, like my Castaway Isle rowboat-turned-shower in the middle of the room.  Showering with a view of a shipwreck and a tropical mural was one of the highlights of my stay.  However, I'm an athletic, 5'7" person with long legs, and it was awkward for me to climb in and out of the tub—shower accessibility is definitely something to keep in mind if you have mobility issues or are on the shorter side.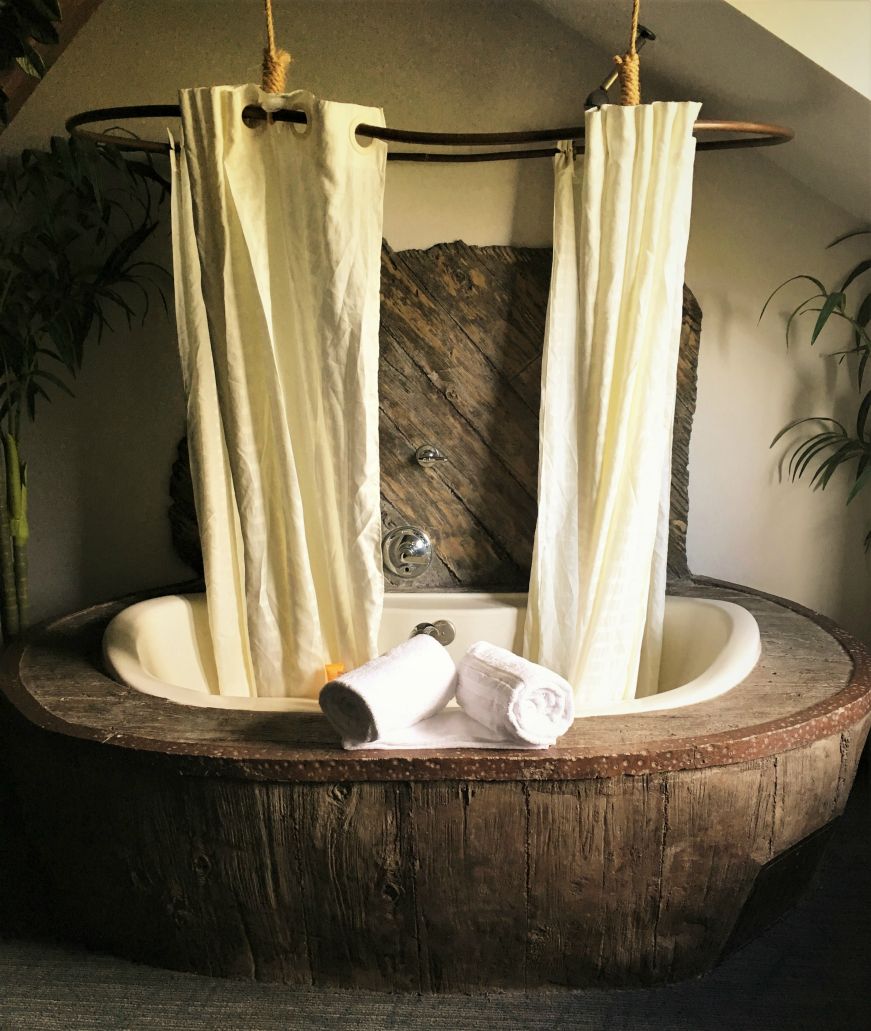 Amenities-wise, it's similar to a mid-range chain hotel.
Chateau Avalon does offer a few upscale touches, like bathrobes, complimentary cookies and coffee in the lobby, and an on-site spa.  But for the most part, it's more akin to a mid-range chain hotel than an upscale boutique experience.  The pillows, linens, and towels are nothing to write home about.  There's no in-room coffee maker or refrigerator and very few power outlets. 
Fun theming aside, my room felt a little tired, with walls in need of a fresh coat of paint and worn-out carpet.  Chateau Avalon is currently being remodeled to update the themes of some rooms, and hopefully that remodeling will include a refresh of existing rooms.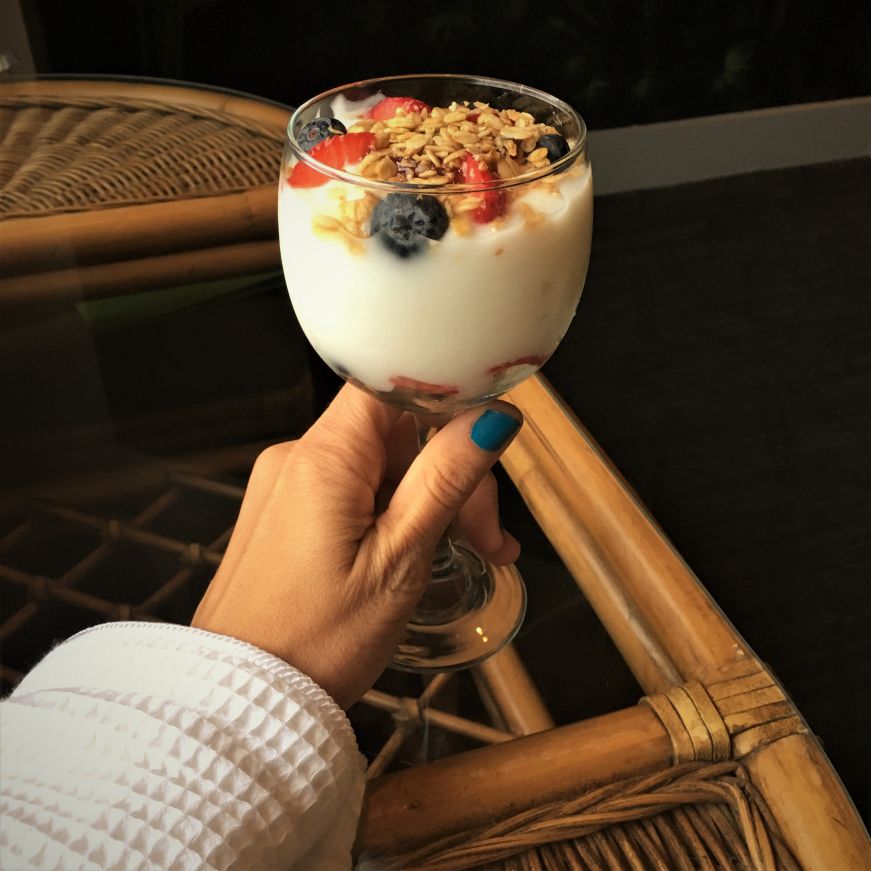 The room service breakfast was on point.
When I'm traveling, ordering room service is one of my minor thrills—at home, my breakfasts are very simple, and I enjoy getting the chance to eat something more elaborate while I'm still wearing pajamas.
Over the course of my stay, I tried the two vegetarian options on the breakfast menu: a yogurt parfait with vanilla yogurt, fresh berries, and granola; and whole-wheat avocado toast served with hard-boiled eggs, tomato, and a side of fruit.  Both were well-prepared and a good-sized portion for the price. 
Other breakfast options include a build-you-own baked strata bowl and a build-your-own breakfast plate with choices like eggs, pancakes, toast, bacon, sausage, and a biscuit with gravy.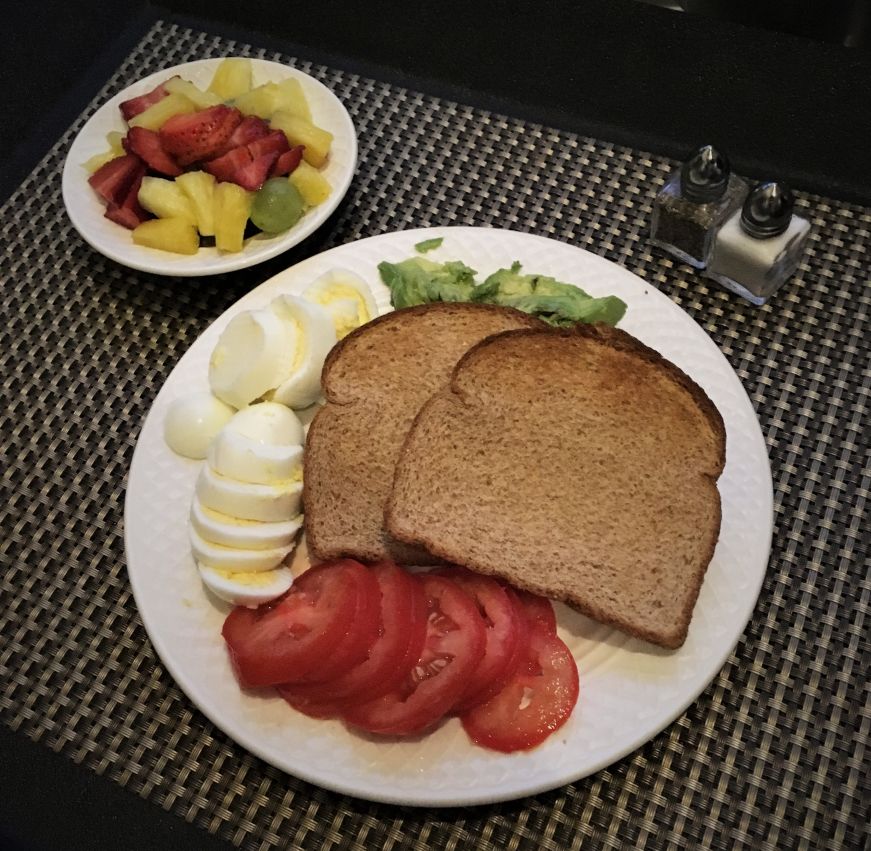 Make sure the location works for you.
Chateau Avalon is located in western Kansas City, Kansas, just across the road from the Kansas Speedway and Hollywood Casino.  It's a perfect location if you're planning on doing some shopping at Legends Outlets, which are only minutes away.
However, Chateau Avalon is about a 15-drive from downtown Kansas City, Kansas, and the surrounding area is not very walkable.  This isn't a deal breaker (I would recommend renting a car in Kansas City regardless of where you stay) but it's something to keep in mind.
The takeaway:
Staying at the Chateau Avalon was truly memorable.  While it might not have been the most luxurious place I've stayed at, it was the most fun.  I think a one-night stay would be adequate to experience the property.
Prices vary widely depending on the theme of your room, and there are significant savings if you opt for a weeknight stay (for example, when I checked the rates in October 2019, my Castaway Isle room was $161 on a weeknight and $227 on a weekend).
You can stay at a chain hotel anywhere in the country—but you can only experience the Chateau Avalon in Kansas City, Kansas.
The details:
Chateau d'Avalon
701 Village West Parkway
Kansas City, KS 66111
(913) 596-6000
chateauavalonhotel.com
Further reading:
Want to check out the Chateau Avalon for yourself?  Start with Visit Kansas City Kansas for information about accommodations, dining, and attractions.
Many thanks to Visit Kansas City for flying me to Kansas City and providing my accommodations, food, and activities during my stay.
If you enjoyed this post, pin it!