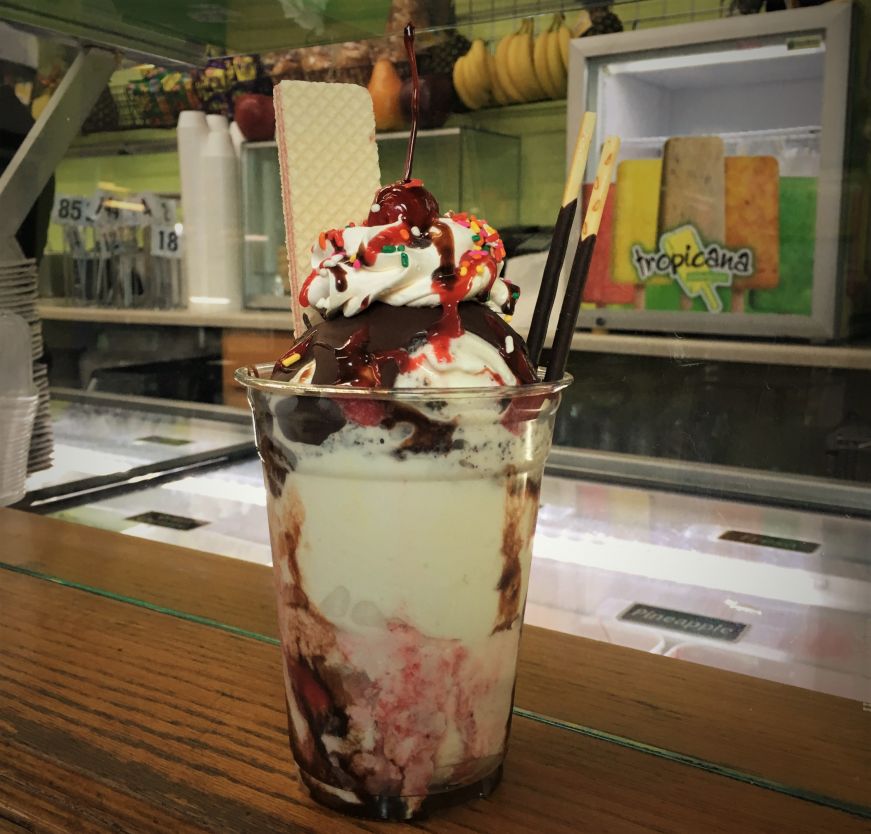 Thank you to Visit Kansas City Kansas for hosting my stay in Kansas City, Kansas.  As always, all content and opinions are my own unless otherwise noted.
Kansas City-based Paleterias Tropicana is a restaurant that defies a simple description.  The company started in 2004 as an ice cream parlor, serving housemade Mexican-style ice cream and paletas (ice pops). 
But then the menu kept expanding.  There's a lineup of smoothies, made from the piles of fresh fruit behind the counter.  You can order the Jugo Verde, a cup of freshly squeezed celery, cactus, grapefruit, parsley, and pineapple juice.  There are funnel cakes and nachos.  Looking for a quick lunch?  You can get an order of tacos or a torta (Mexican sandwich) stuffed with shredded pork and avocado. 
In short, you can eat very, very well at Paleterias Tropicana's five locations across Kansas and Missouri.  Here's what I discovered when I visited this one-of-a-kind Mexican ice parlor/smoothie shop/snack bar/restaurant.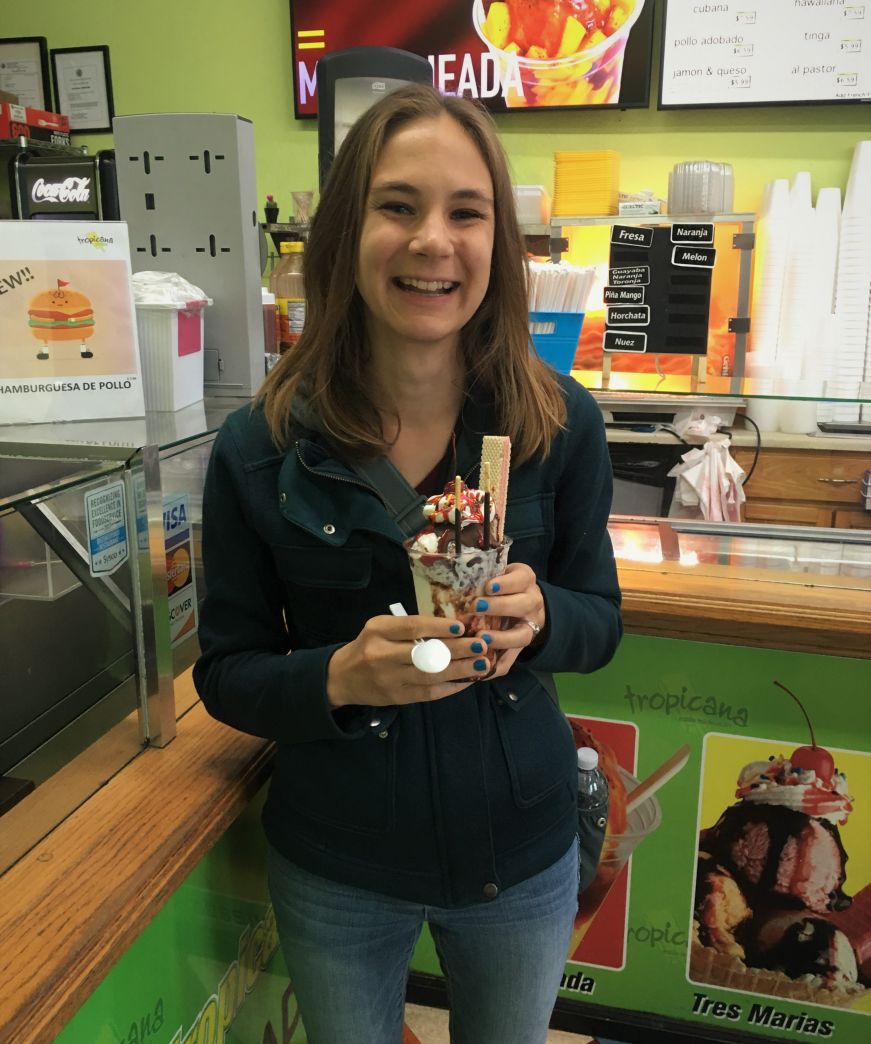 You've gotta try the ice cream.
Full disclosure: ice cream is probably my favorite dessert, so ordering an ice cream sundae was an obvious choice.  You get to pick three flavors (I opted for coconut, Oreo, and strawberry & cheese), and then they add a several toppings, including chocolate shell, strawberry syrup, whipped cream, and sprinkles.  It's fabulous.
The ice cream is light, smooth, and flavor-forward.  The strawberry & cheese flavor had a pronounced tartness from the cheese, akin to cheesecake.  I also got a chance to sample some of the more unique flavors (there are over 50, with most of them on hand at any given time).  I loved the horchata, and the pinenut had an interesting savory quality.
Ice cream is also available by the scoop in a cup or cone, or as a banana split or waffle bowl sundae.
(Shout out to Ann from Postcard Jar for capturing the look of glee on my face as I prepared to eat ice cream at 10:30 in the morning.)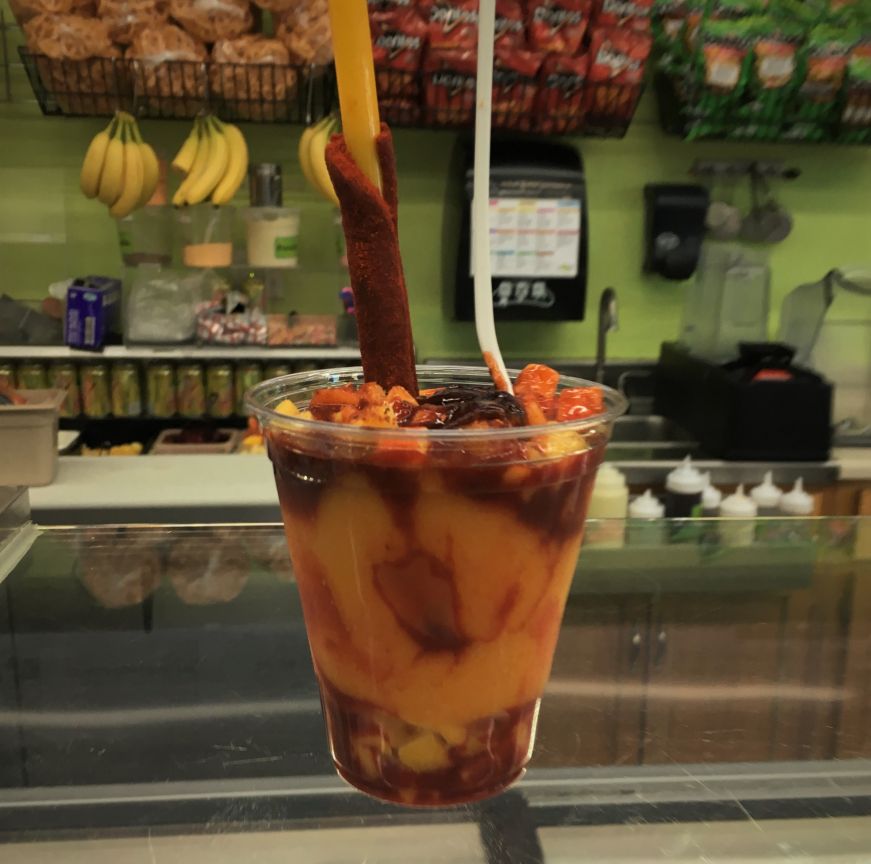 There are plenty of other frozen treats, too.
However, the frozen dessert selection isn't limited to ice cream.  There are dozens of flavors of paletas (ice pops that have either a fruit or cream base), with everything from lime to Mexican peanut brittle.
If you want something fruit-focused, there are sorbets and smoothies.  You can also opt for shaved ice drenched with your flavor of choice, a frozen banana dipped in chocolate, or a fruit milkshake with boba pearls.
One of Paleterias Tropicana's most popular items is the Mangoneada Especial, a mango sorbet topped with pieces of mango, tamarind sauce, and chamoy (a condiment made from salted, pickled sour fruit and chiles).  Every bite is sweet and sour with a touch of heat, for a refreshing dessert that kept me going back for another bite.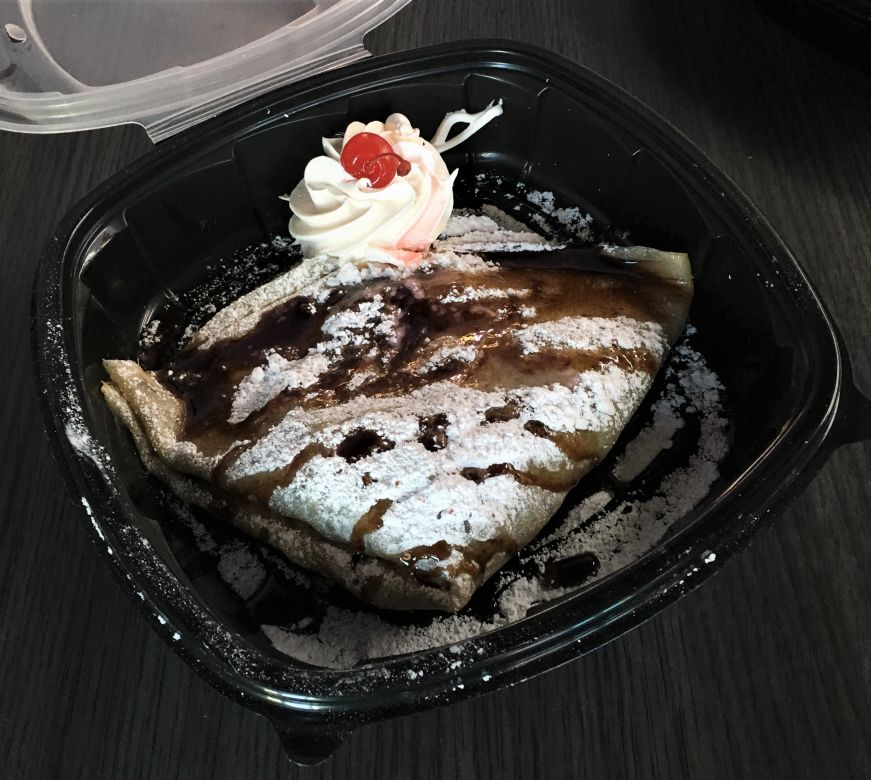 And that's only the beginning of the dessert menu.
Paleterias Tropicana also offers a variety of non-frozen desserts, although since they're scattered across the menu board it's a bit tricky to find them.  In the "Tropisnacks" section, I was intrigued by the Frutti Tacos, described as "3 tacos served in fruit tortilla with assorted fruit, peanuts & chamoy" (next time!) 
The "Ensaladas" section of the menu features various fruit salads, ranging from fruit cocktail with a slew of toppings to strawberries with fresh cream.  On the opposite side of the spectrum, you can go for something from the list of deep-fried items like funnel cake or churros.
Suzanne of Adventures of Empty Nesters spotted crepes on the menu, stuffed with bananas and drizzled with chocolate.
Or you can take a different approach and order something savory.
I was too dazzled by the desserts to pay much attention to the savory side of the menu, but Paleterias Tropicana does serve an impressive list of breakfast, lunch, and dinner entrees, as well as savory snacks. 
Steve from Postcard Jar raved about the tacos, and there are also burritos, chilaquiles, wings, quesadillas, a dozen types of tortas, and more.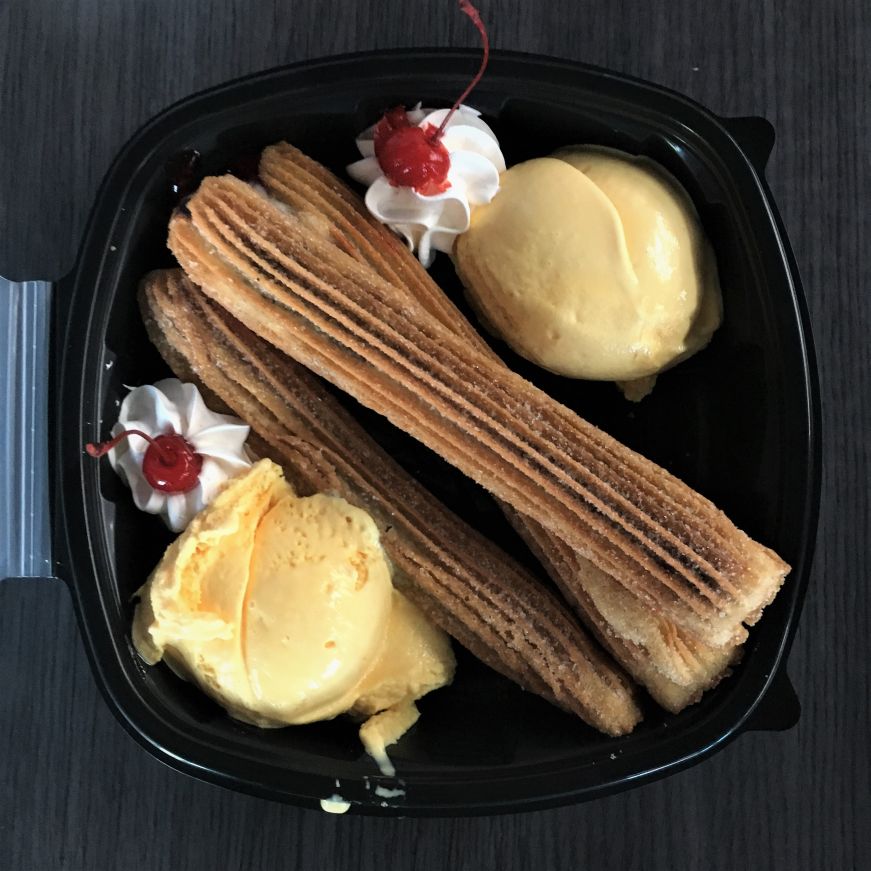 You can watch churros getting made while you eat.
Once you've finally decided what to order (no exaggeration, it took me 10 minutes), grab a table by the window that looks into the kitchen.  You can watch the staff making churros, a fried tube of pastry dough filled with chocolate, strawberry, or cajeta syrup (similar to caramel).  When I took a bite, I realized that I had never actually tasted a freshly-made churro, and the difference is amazing—kind of like your first loaf of homemade bread after years of subsisting on the pre-sliced supermarket variety.
And the housemade vanilla ice cream served alongside the churros?  It's delicious, obviously.
The details:
Paleterias Tropicana
paleteriastropicana.com
Locations in Kansas City, KS; Kansas City, MO; Olathe, KS; and Wichita, KS
Want to try the sweet treats and savory eats at Paleterias Tropicana for yourself?  Start with Visit Kansas City Kansas for information about nearby accommodations, dining, and attractions.
Many thanks to Visit Kansas City for flying me to Kansas City and providing my accommodations, food, and activities during my stay.
Further reading:
If you enjoyed this post, pin it!