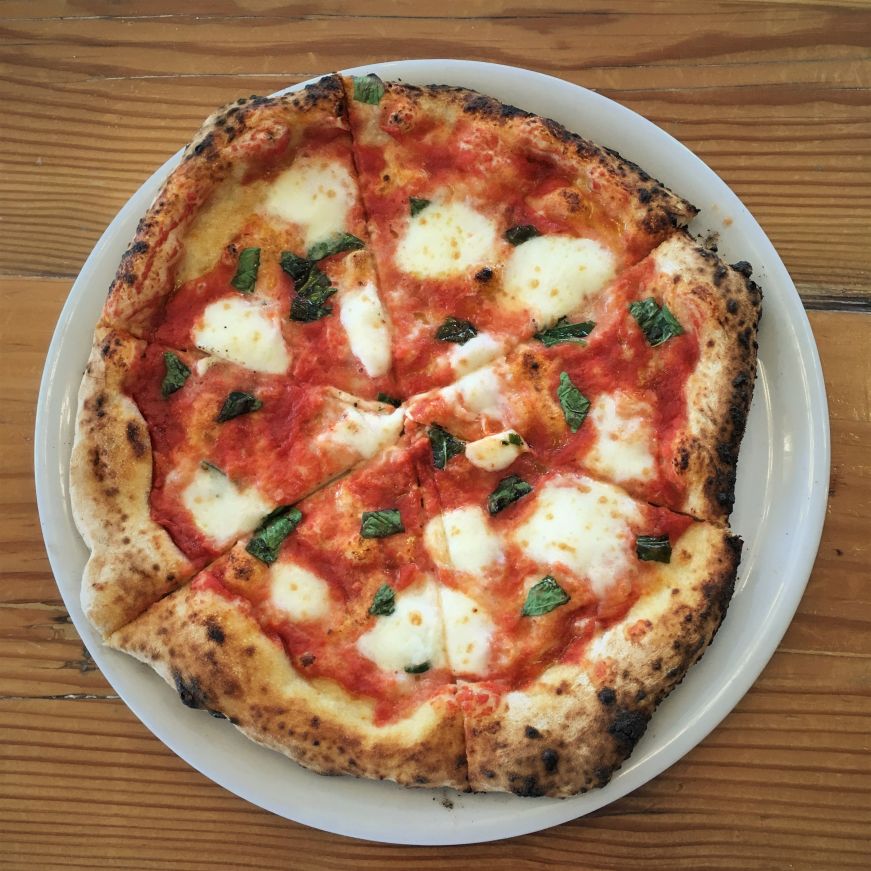 Thank you to Visit Kansas City Kansas for hosting my stay in Kansas City, Kansas.  As always, all content and opinions are my own unless otherwise noted.
I've eaten plenty of pizza on my travels, from classic coal-fired pizza at Grimaldi's in Brooklyn to the Mountain Pie at Beau Jo's in Colorado.  But on my recent trip to Kansas City, Kansas, I got to enjoy pizza in a whole new way: by making it myself at 1889 Pizza Napoletana.
1889 Pizza Napoletana serves up Neapolitan-style pizza very, very far away from Italy, in a storefront next to the original gas station location of Joe's Kansas City Bar-B-Que.  While owners Jason and Kelli Kolich offer a wide range of specialty pies, their signature is the margherita pizza (that's what the restaurant's name refers to—the margherita pizza was invented in 1889).
While you can always stop by and order a pizza, 1889 Pizza Napoletana also offers pizza making classes, dough making workshops, and more (you can find the details on their Facebook page).  You can also schedule your own Neapolitan pizza class for a special occasion or as a team building event.
Your pizza making experience starts with a mound of flour and a lump of dough, made with specialty 00 pizza flour imported from Italy.  Although it might not look like anything special, it's much more flavorful than an average hunk of pizza dough.  That's because 1889 Pizza Neapoletana's dough is allowed to rise for five days in the refrigerator.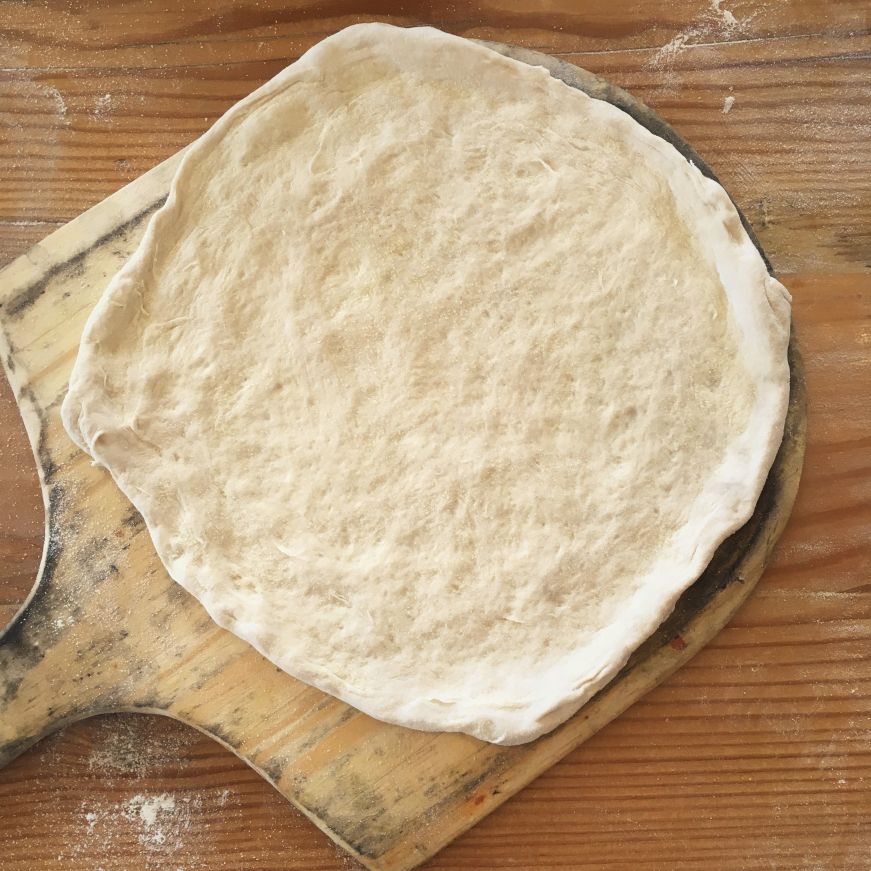 The first step of pizza making is transforming your lump of dough into a round crust about 12 inches across.  You can pat it down with your fingertips, taking care to leave a rim around the edge to keep the sauce from spilling.  Another option is picking the dough up by the edge and gradually turning it, letting the weight of gravity stretch the dough.
Or you can try tossing it in the air, a process that requires much more finesse that I possess.  The look of horror on my face captured by my classmate Ann of Postcard Jar says it all.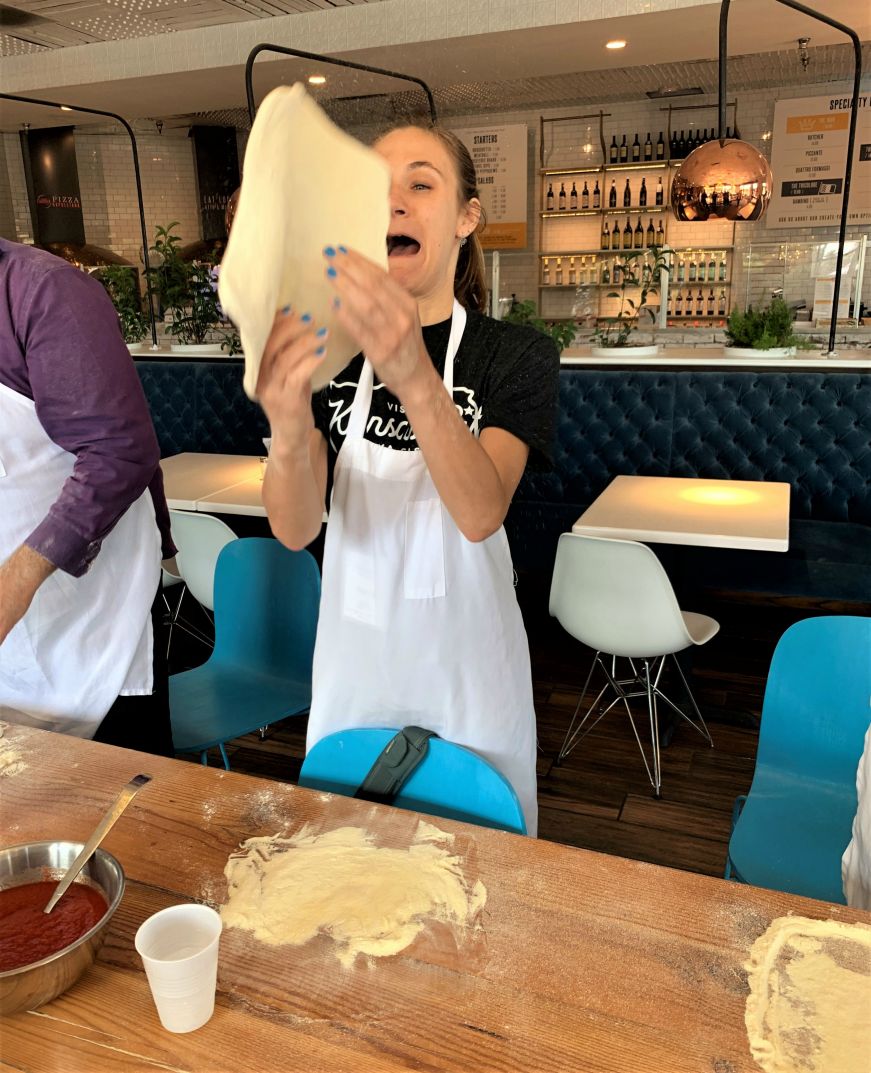 Don't worry if your dough tears, or you drop it on the floor, or your pizza ends up shaped like a lopsided rectangle instead of a circle—there's plenty of extra dough, and Jason and Kelli will make sure that you end up with a pizza crust that will bake up into a delicious pie.
Once you have an acceptable pizza crust, it's time to add the sauce.  Like the dough, the key ingredient is imported from Italy, in this case San Marzano tomatoes.  The sauce spoons are also from Italy, and each one holds exactly enough sauce for a 12-inch pizza.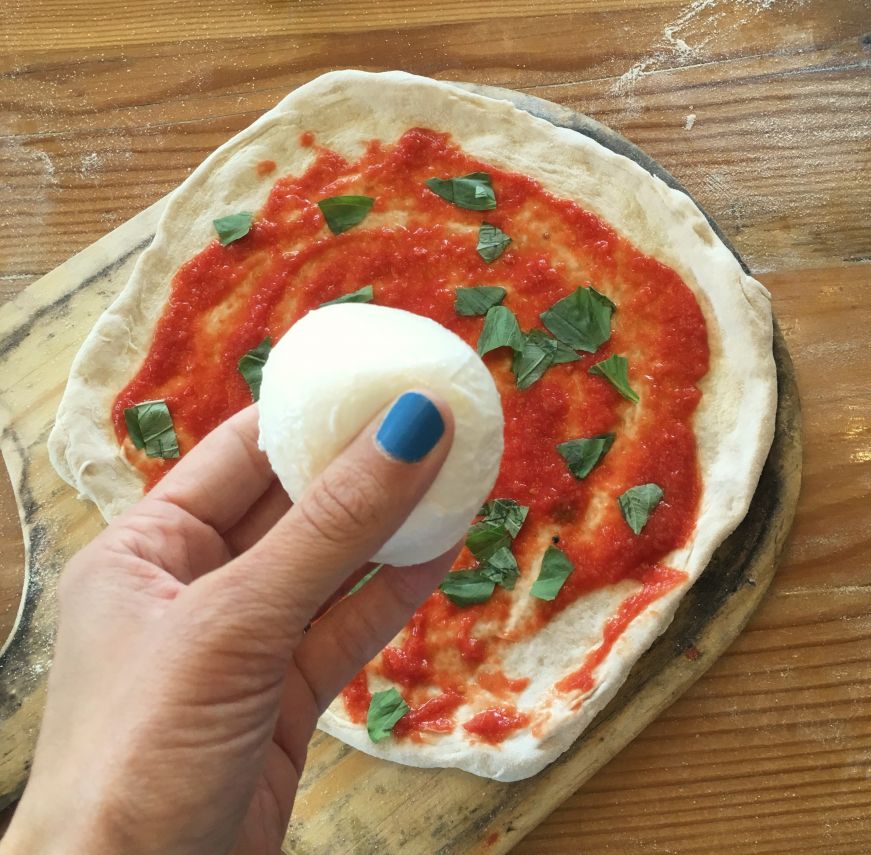 Margherita pizzas are topped with fresh mozzarella and basil—if your only experience with mozzarella is the pre-shredded variety, you're in for a treat.  Fresh mozzarella has a marvelously bouncy texture and a clean, fresh flavor that reminds me of spring.  Definitely taste a piece (or several) as you're pulling apart your ball of mozzarella to add to your pizza.
After a final drizzle of olive oil, your pizza is ready for the oven!  1889 Pizza Napoletana imported their wood-burning ovens from Italy, and they fuel them with white oak.  Why use wood?  It can get twice as hot as gas, reaching temperatures over 1,000 degrees.
Roberto, the restaurant's Italian-born pizza chef, was on hand to make sure I didn't injure myself or my pizza as I carefully slid it into the oven.
Since the oven is so hot, your pizza will be ready in only a few minutes.  Then comes the best part: eating it!  I don't know if it was the dough, the fresh mozzarella, or the sauce (it certainly wasn't my dough tossing abilities), but it was truly one of the tastiest pizzas I've eaten. 
The crust was the perfect balance of chewy and crispy.  There was plenty of cheese, just the way I like it.  And best of all, I made it myself—with some expert assistance from the team at 1889 Pizza Napoletana.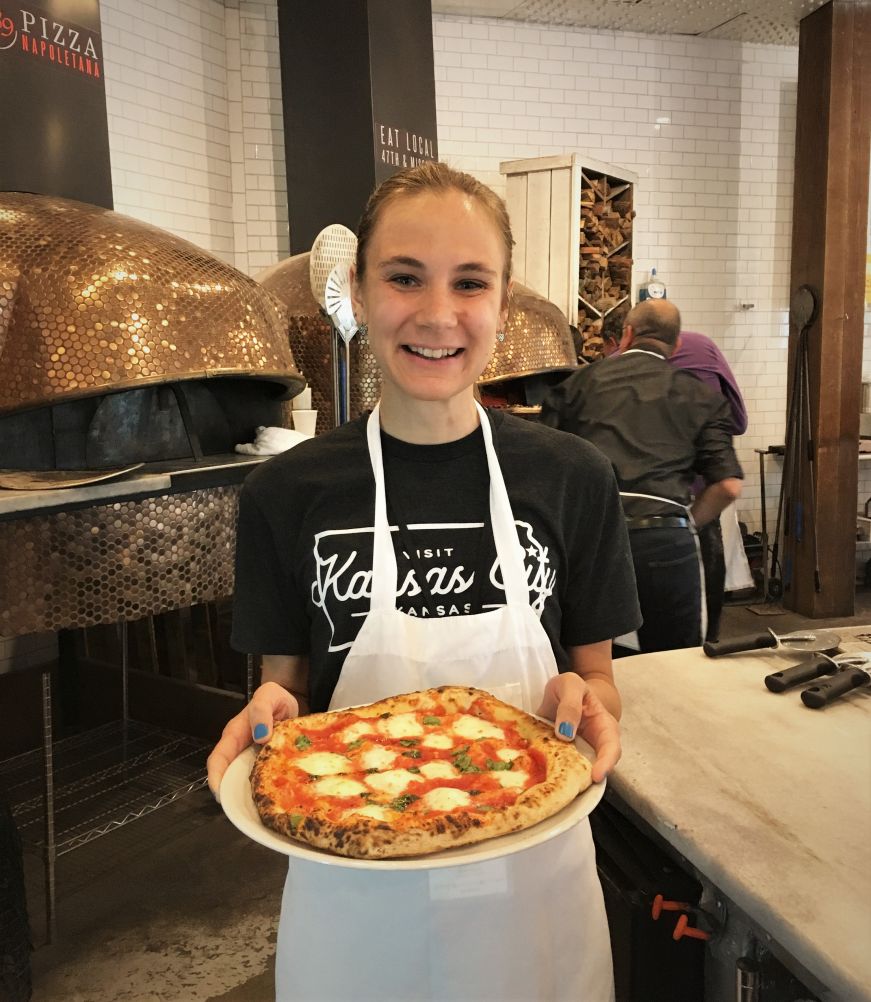 The details:
Visit 1889 Pizza Napoletana's Facebook page to purchase tickets to upcoming pizza classes.
1889 Pizza Napoletana
2876 W 47th Avenue
Kansas City, KS 66103
(913) 608-5889
1889pizza.com
Further reading:
Want to try your hand at pizza making at 1889 Pizza Napoletana?  Start with Visit Kansas City Kansas for information about nearby accommodations, dining, and attractions.
Many thanks to Visit Kansas City for flying me to Kansas City and providing my accommodations, food, and activities during my stay.
A huge thank you to Ann of Postcard Jar for capturing such great photos of my mediocre attempts at pizza making. 
If you enjoyed this post, pin it!