I minored in German, which means that I can fluently ask foreign attorneys if they speak English when I call them with legal questions, and I also have a general understanding of what the Nazis are saying in WWII movies without resorting to subtitles.  Back in college, I put my language skills to the test with a study abroad course in Potsdam.  It was an amazing trip, and I learned about everything from Goethe's literature to Stasi surveillance, but unfortunately my college self was far less culinarily adventurous than I am today.  Most of my food discoveries centered around my sweet tooth: Haribo Goldbären, so much better than the U.S. version; Ritter Sport chocolate bars; spaghettieis, extruded vanilla ice cream with strawberry sauce and white chocolate shavings that looks like a plate of spaghetti; and daily breakfasts of Nutella spread on rolls fresh from the bakery.  I did try a couple German savory specialties: currywurst, a sausage topped with ketchup and curry powder, and döner kebab, a flatbread wrap with meat, salad, and sauce, which is one of the most popular fast foods in Germany and is based on Turkish cuisine.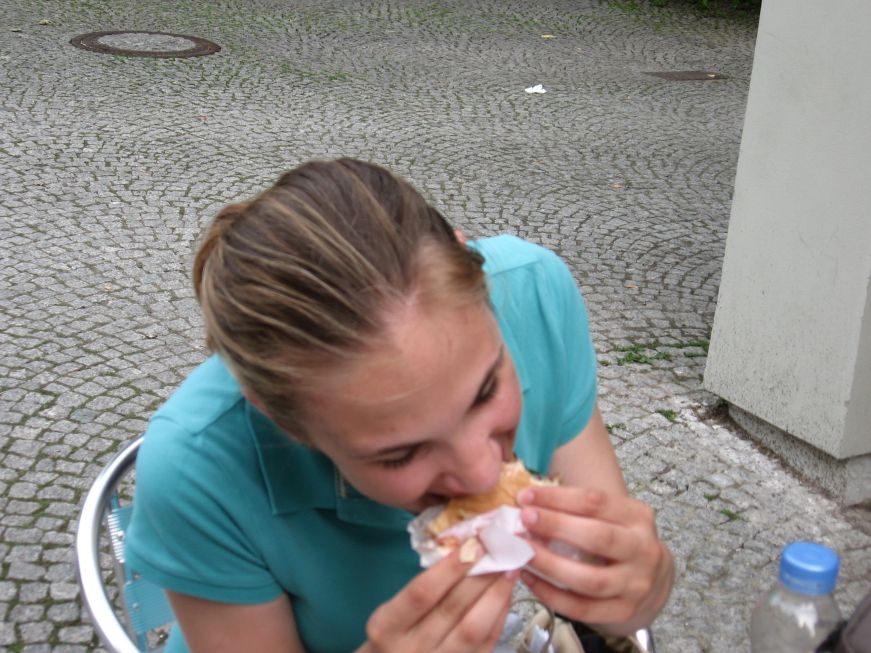 But the best part of German cuisine is the bread.  I think my love affair with bread started that spring.  For breakfast and lunch every day, we would have small, crusty rolls, plain or with seeds on the top, chewy on the outside and meltingly soft on the inside.  My professor would jokingly tell us about students who got "Brotangst"--the condition of eating so much bread that you get fed up with it.  I seem to be genetically immune to Brotangst, and the hardest thing about leaving Germany at the end of the course was leaving behind all that delicious bread.  So when I had to choose what to bring to a Christmas potluck with a bunch of my friends from the German program, it was obvious that I had to bring bread.  I settled on pretzel rolls: a nod to the amazing rolls we ate every day and the wonderful pretzels that are also a German bakery staple.
Pretzels get their unique flavor and texture from being boiled briefly in a baking soda bath before baking, so that's the secret for turning an ordinary roll into a pretzel roll.  If I'm making these for me and Mike, I make 8 large rolls, but for the potluck I made 16 small rolls.  Be sure to line your baking sheets with parchment paper to prevent the pretzel rolls from sticking--I've tried simply greasing them and ended up with a minor disaster.  Also, use a stockpot for the baking soda bath to make sure that the water doesn't boil over.
Adapted from Mel's Kitchen Cafe
Yield: 8 large or 16 small rolls
Ingredients:
3/4 cup warm water (approximately 110 degrees Fahrenheit)
1 cup warm milk (approximately 110 degrees Fahrenheit)
1 3/4 teaspoons active dry yeast
1 tablespoon olive oil
1 teaspoon table salt
3 1/4 to 3 1/2 cups all-purpose flour, or enough to form a soft dough
shortening or butter, to grease bowl
3 quarts water
1 tablespoon sugar
1/4 cup baking soda
coarse sea salt
Combine 3/4 cup water, milk, and yeast in a large bowl and let sit until yeast has swollen and small bubbles appear on the liquid's surface (about five minutes).  Add the oil and table salt.  Stir in the flour, one cup at a time, until a soft dough that pulls away from the sides of the bowl forms.  Turn the dough onto a floured surface and knead, adding more flour if needed to prevent sticking, until dough is smooth and bounces back when pressed lightly.  Place dough in a greased bowl and turn dough to grease its surface.  Cover bowl with a towel and let rise until dough has doubled in size, about one hour.
Divide dough into eight (for large rolls) or sixteen (for small rolls) equal portions, and roll each into a tight ball.  Place rolls on a floured surface and allow to rise until slightly puffy, about 20 minutes.
Meanwhile, bring 3 quarts water, sugar, and baking soda to a boil in a large stockpot.  Preheat oven to 425 degrees Fahrenheit.
Being careful not to deflate the dough, tuck the edges of each roll towards the bottom to form into a taut ball.  Place rolls in the boiling water, four at a time, and cook for 30 seconds on each side.  Remove from water with a slotted spatula, allowing the excess water to drain.  Place rolls on baking sheets lined with parchment paper.  Sprinkle rolls with sea salt and slice two 1/4 inch deep parallel cuts in the top of each roll with a sharp knife.
Bake rolls for 20 minutes or until deep golden brown.  Place on a wire rack to cool.
The rolls are best if eaten the same day you make them, but if there are any left, store them in an airtight container and microwave for 15 to 30 seconds to soften before eating.