Thank you to Ella + Mila for providing the products reviewed in this in this post.  As always, all content and opinions are my own.
Although this is primarily a food and travel blog, longtime readers have likely noticed that I have a penchant for colorful manicures.  I paint my nails at least once a week, usually in bold, jewel-toned hues, and some of my favorite food photos I've taken are the ones that also feature my nails.
Recently, a media representative for Ella + Mila reached out to me with an offer to try the company's nail polish for a possible article or review, and since I've been curious about their products it seemed like a neat opportunity.  Ella + Mila products are widely available (in my area, they're stocked at Target, Walgreens, and CVS), and they're also an eco-friendly, high-end brand.  All products are vegan, animal cruelty free, and free of 17 chemicals that can be allergens (like formaldehyde) or irritate your skin (like acetone).
In addition to polish, Ella + Mila generously sent me nail care, lip, and body products.  Here's what I thought.
Nail polish, $10.50 each
Ella + Mila polishes come in a wide range of colors, with glitter, shimmer, pastel, neon, and bold options.  I was gifted the Birthday collection, which features pinks, blues, and a white glitter shade, as well as single bottles of BonBon My Rain-Beau (pale blue), BonBon Hooray of Sunshine (pale yellow), Enchanted Everglow (white shimmer), and Elite In Line for Wine (burgundy).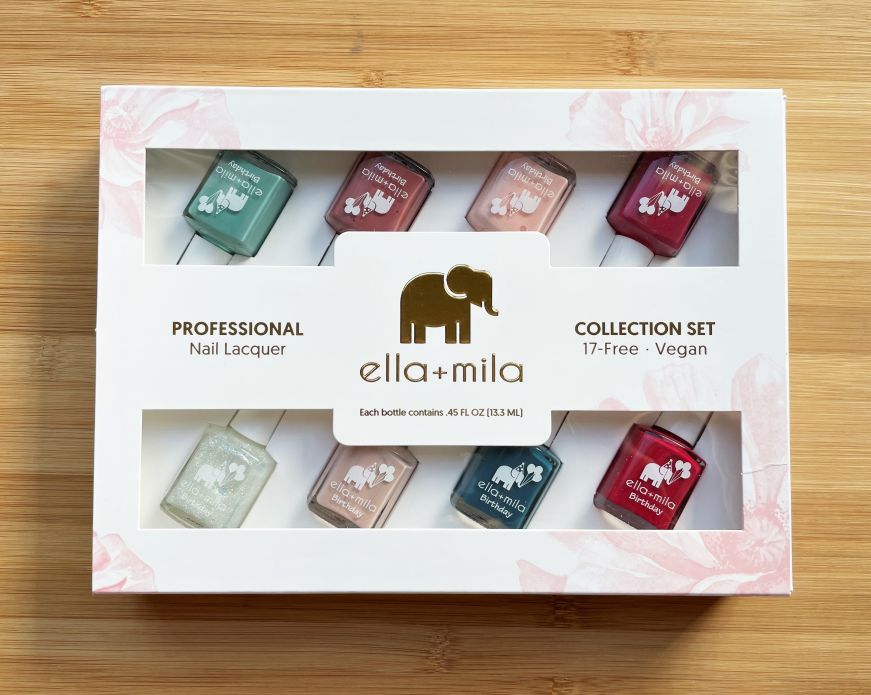 Where Ella + Mila nail polish really delivers is the coverage—I got consistent, solid color without any streaks, even with the lighter, pastel shades.  My previous go-to nail polish was Sinful Colors, which is considerably cheaper ($1.99 per bottle versus $10.50) and provides decent coverage, but it's just not comparable to the professional-grade quality of Ella + Mila.
As far as durability, I was satisfied.  I always use two layers of a polish and a top coat, and with Ella + Mila I consistently got five days of wear before any major chipping.  That's about the same as Sinful Colors.
Top & Base Duo, $21
I always use a top coat, but in the past, I haven't consistently used a base coat because I haven't noticed any difference in durability.  My go-to top coat is Sally Hansen Dries Instantly, which is less than half the price of Ella + Mila ($3.99 versus $10.50 for the Ella + Mila top coat if you buy it individually).
Compared to my usual Sally Hansen product, the Ella + Mila top coat goes on much more smoothly and dries more quickly.  I didn't notice a difference as far as durability.  
Similar to what I've experienced with other base coats, the Ella + Mila base coat didn't improve the durability of my manicure.  However, it did an excellent job of protecting nails from staining—I used it beneath black nail polish (which has always stained my nails in the past) and when I removed my manicure, there wasn't any discoloration.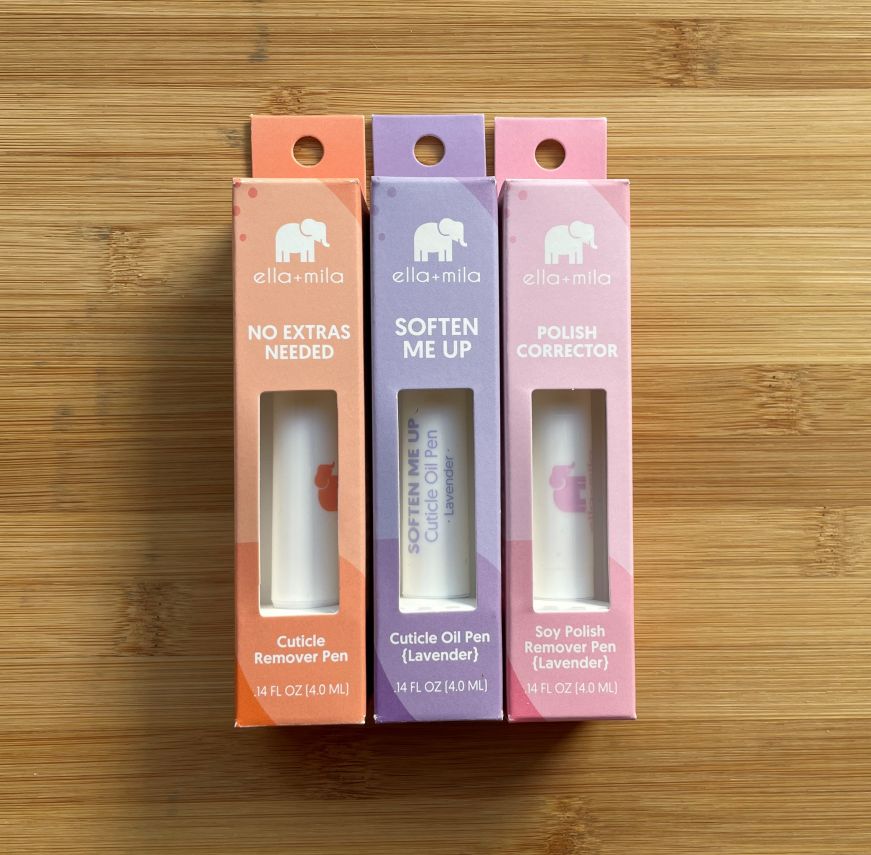 No Extras Needed Cuticle Remover Pen, $13
I had never used a chemical cuticle remover before—these products are intended to break down the thin layer of dead skin that can build up at the bottom of your nail, providing a cleaner surface for nail polish to stick to.  The Ella + Mila cuticle remover is a liquid that you apply to your cuticles and leave on for 2-3 minutes.  Then you use a wooden stick to scrape your nails and push back your cuticles, washing your hands afterwards to remove any excess product (this video is a helpful how-to).
With its chunky plastic tube and firm slanted foam tip, the applicator reminds me of a highlighter, and it was easy to apply.  It dissolved the majority of the cuticle build up on my nails without irritating my skin.  However, it didn't seem to make much a difference as far as making my manicure look better or last longer.
Soften Me Up Cuticle Oil Pen (Lavender), $13
The cuticle oil has a pleasant lavender scent and the highlighter-style applicator makes it easy to apply.  Unfortunately, it wasn't moisturizing enough for my cuticles—after a week of daily use, they were still dry.  Personally, I've experienced better results by simply applying my hand cream to my cuticles when I'm moisturizing my hands, and that doesn't add an extra step to my routine.
Polish Corrector Soy Polish Remover Pen (Lavender), $13
Like the other nail care products, the polish corrector applicator is a similar to a highlighter, with a firm, slanted foam tip.  It contains Ella + Mila's lavender-scented nail polish remover, which is free of acetone and acetates that can irritate and dry out your skin and damage your nails.
This worked as advertised—the tip was precise enough to remove polish from the skin around my nails without damaging my manicure.  However, it didn't remove polish in one swipe; I found that I had to go over the area two or three times.
Keep in mind that Ella + Mila nail polish remover is formulated to remove natural nail polish and doesn't work on gel nail polish (for a non-acetone nail polish remover that works on both natural and conventional polish, I like Mineral Fusion).
Lip Service Lip Moisturizer, $14
Applying this lip moisturizer felt like a return to my teenage years in the early 00s—although this shade has subtle shimmer, it's basically a clear lip gloss with a dulce de leche scent.  I liked that it was lightweight and non-sticky, although it doesn't have much staying power.  It left my lips feeling very moisturized.
I'm not enough of a lip gloss aficionado to spend $14 per tube, but if lip gloss is your thing this might be worth it for you.
Smooth Squad Moisturizing Cream (Unscented), $12
This is exactly what I'm looking in a body cream—it's very thick but doesn't leave a greasy residue, and it's perfect for moisturizing my skin during the fall and winter months.  Although it's unscented, it does have a light botanical smell from the natural ingredients.
Since I like scented lotions, I think I would prefer the lavender scented version.  However, it's about twice the cost of my usual Body Shop Body Butter, so I don't know that I would purchase this on my own dime.
The takeaway:
I loved the high quality and ease of use of the nail polish, top coat, and base coat, and I'm planning to purchase those items out-of-pocket. 
The moisturizing cream and nail polish remover both worked well, but due to the significantly higher cost compared to similar products I don't plan to purchase them. 
The cuticle remover, cuticle oil, and lip moisturizer didn't work for me and/or aren't worth adding to my routine, but based on your needs they might be a fit for you.
Ella + Mila provided me with the products mentioned, but I didn't receive any additional compensation for this blog post.
If you enjoyed this post, pin it!