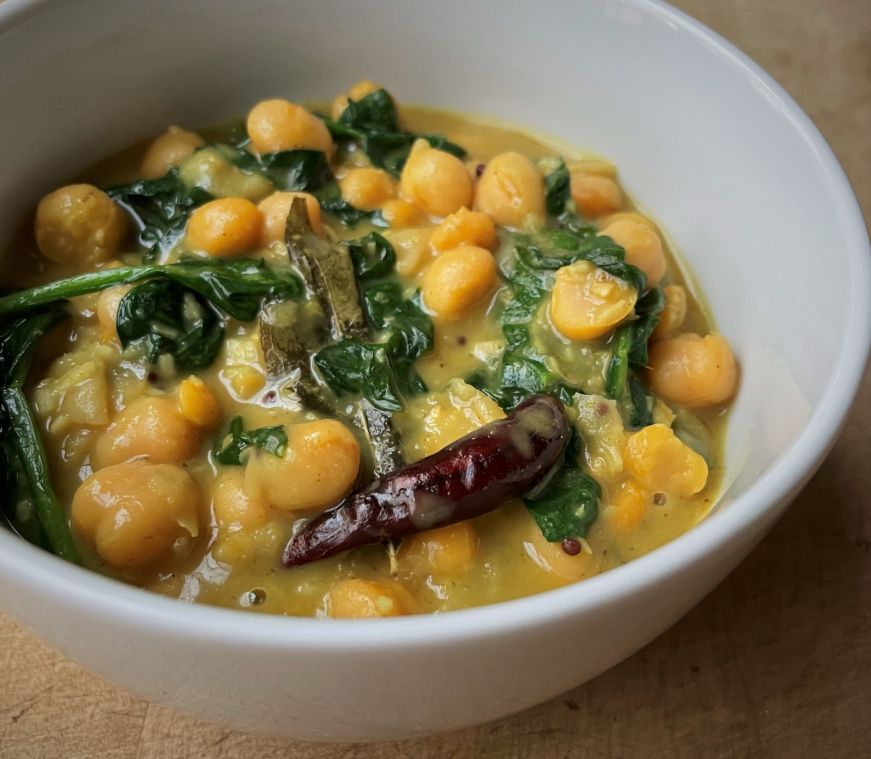 Thank you to Wicked Foods for providing samples of the plant-based products reviewed in this post.  As always, all content and opinions are my own.
Occasionally, I get invited to media previews and influencer events, like a party Wicked Foods hosted to celebrate their U.S. launch.  I wasn't able to attend, but they kindly sent me a box of samples so that I could try their plant-based products at home.  Although I'm not vegan (or even a strict vegetarian—I love sushi too much), I do eat a primarily plant-based diet for environmental reasons, and I love trying new products.  I've spent the past few months cooking my way through Wicked Foods' breakfasts, meal pots, meal kits, and condiments, so I wanted to share an honest review.  Some products were so tasty that I'd happily purchase them; others were okay; and some were disappointing.
The products mentioned below are only a sampling of Wicked Foods' offerings.  There are several additional flavors, as well as frozen meals and plant-based meats requiring refrigeration (I only tried shelf-stable items).  Currently, Wicked Foods products are available at select Kroger supermarkets and Sprouts Farmers Markets nationwide.
On The Go Breakfast
The breakfasts are single-serving cups of instant oatmeal with various dried fruits and flavorings.  I tried the Apple Pie Porridge and Very Berry Porridge.
Full disclosure: I'm not a fan of the texture of instant oatmeal, so I'm not really the target audience for these.  That said, I liked the spice profile of the Apple Pie Porridge and the rich flavor of the Very Berry Porridge—the black currants add a depth that reminds me of wild berries.  Plus, thanks to the addition of soy protein these are more filling than typical instant oatmeal.
Meal Pots
The meal pots are single-serving cups of noodles and seasonings that you add boiling water to and let sit for 5 minutes.  Wicked Foods sent me two flavors to try: Spicy Smoky Dreamy Mac and Late Night Rice Noodles.
Portion-wise, I would need to add a serving of fruit and some vegetables to consider these a meal; as is they're more of a substantial snack. 
The Spicy Smoky Dreamy Mac has a nice heat level (it's listed as medium, but I think it's edging into hot), and I liked that it had little bits of vegetables and 14 grams of protein.  On the downside, the noodle texture isn't great—they're kind of tough.
The Late Night Rice Noodles have a good texture, but the smoky barbecue flavor wasn't to my personal taste.  However, it was very flavorful and filling, and if a smoky barbecue flavor profile is your jam this would be a nice, easy lunch option.
Meal Kits
Wicked Food's meal kits fall into two categories: flavored mushroom shreds and soup kits.  I tried the Mexican Style and Korean Style M'Shroom Shreds, as well as the Punchy Pumpkin Laksa Kit and the Crackin' Coconut Korma Kit.
The mushrooms shreds are made from king oyster mushrooms that have been seasoned with spices, herbs, and other ingredients: the Mexican-style shreds are flavored with cilantro, oregano, and lime, and the Korean-style shreds are flavored with miso, sesame, and chili.  Although you can prepare them in the microwave, the package recommends spreading them on a baking sheet and baking for 15 minutes at 350 degrees.  I found that method crisps up the mushroom shreds nicely, giving them a meaty texture.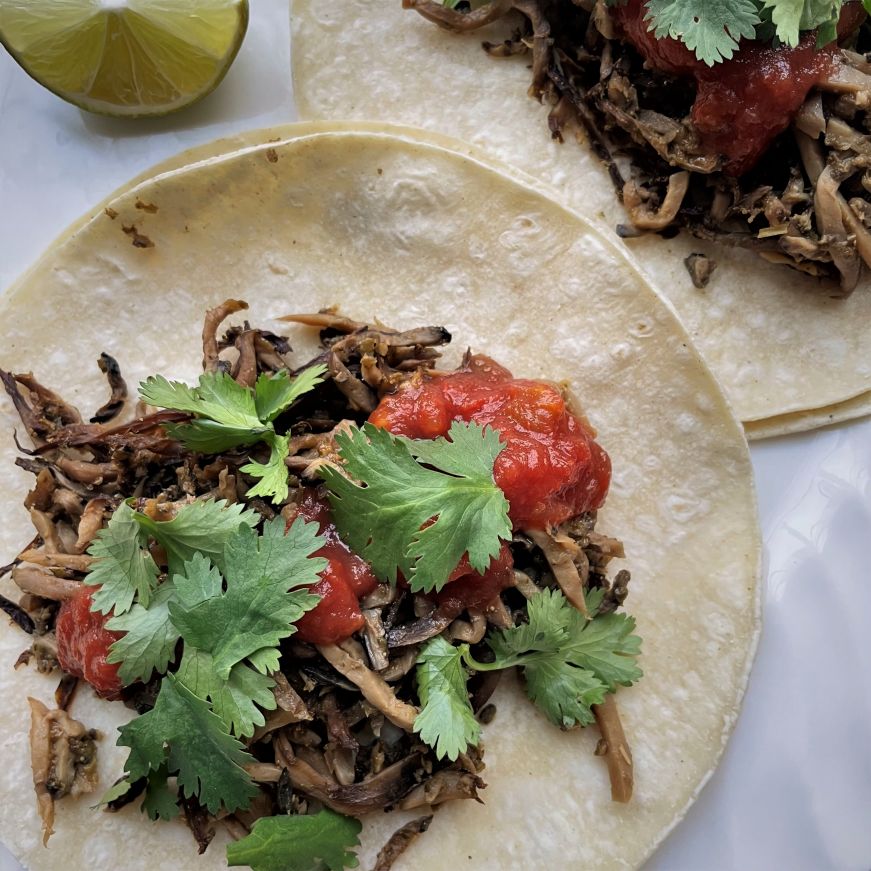 Flavor-wise, the mushroom shreds are good on their own, but they really shine when layered with other ingredients.  I used the Mexican-style shreds to make tacos with salsa, cilantro, and a squeeze of fresh lime.  I added the Korean-style shreds to a bowl of rice with some green onions.  Both made for a delicious lunch, and I would definitely purchase these products.
The Punchy Pumpkin Laksa Kit was a tasty, simple meal (I added prepared rice noodles and two cups of spinach), although not memorable enough to want to purchase again—for all of the various spices and flavorings, it basically just tasted like pumpkin with some chili peppers.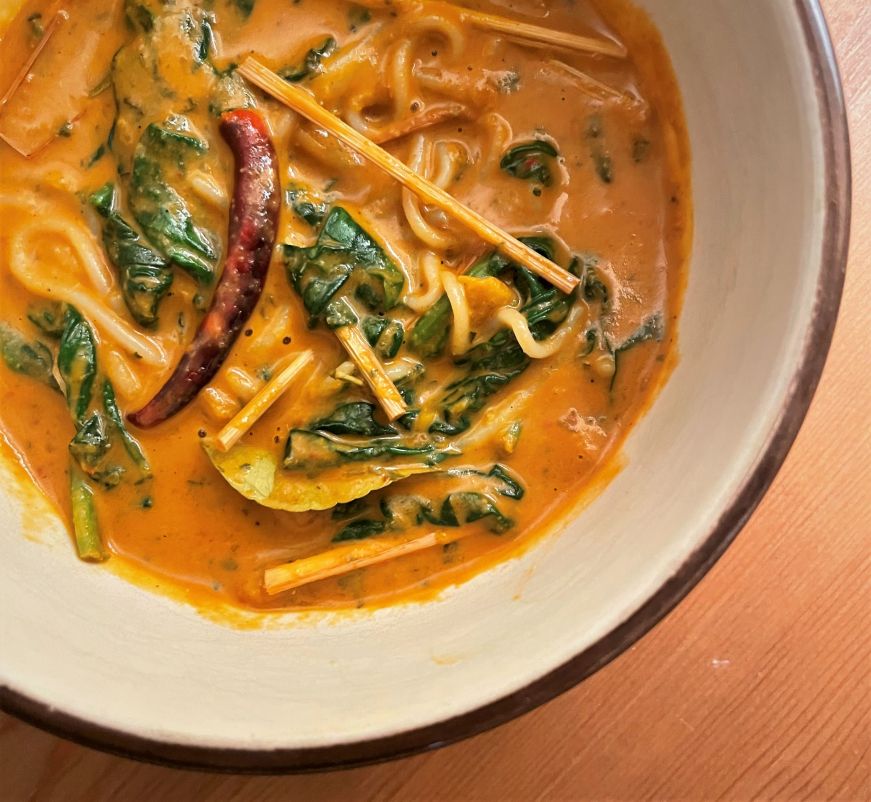 In contrast, the Crackin' Coconut Korma Kit was my favorite Wicked Foods product.  The layers of flavor are incredible, and it tasted like something made from scratch rather than squeezed out of a foil pouch.  The kit includes  packets of korma paste, broth, and dried spices; I added a can of chickpeas and four cups of spinach.  Be sure to follow the package instructions—you gradually add the different components for the best results.
Kitchen Essentials + Sauces & Marinades
Wicked Foods also produces a variety of condiments, including sauces, pestos, and plant-based mayo.  I tried the Orange Pumpkin Pesto Sauce, the Pink Beetroot Pesto Sauce, and the Asian Style BBQ Sauce.
The Orange Pumpkin Pesto Sauce has a prominent curry powder flavor.  I followed the serving suggestion on the label and tossed it with pasta (whole wheat rotini for me, regular rotini for Mike).  It was okay, but I found the flavor a bit one-note and wouldn't purchase this.
The Asian Style BBQ Sauce was a disappointment.  The label mentions ginger and five spice mix, so I thought it would be an easy way to jazz up some chickenless patties and rice.  Unfortunately, the only flavor I could detect was a cloying sweetness.  This was the only product that I didn't bother to finish—I gave it to Josh and he said it was decent on salmon burgers and tofu.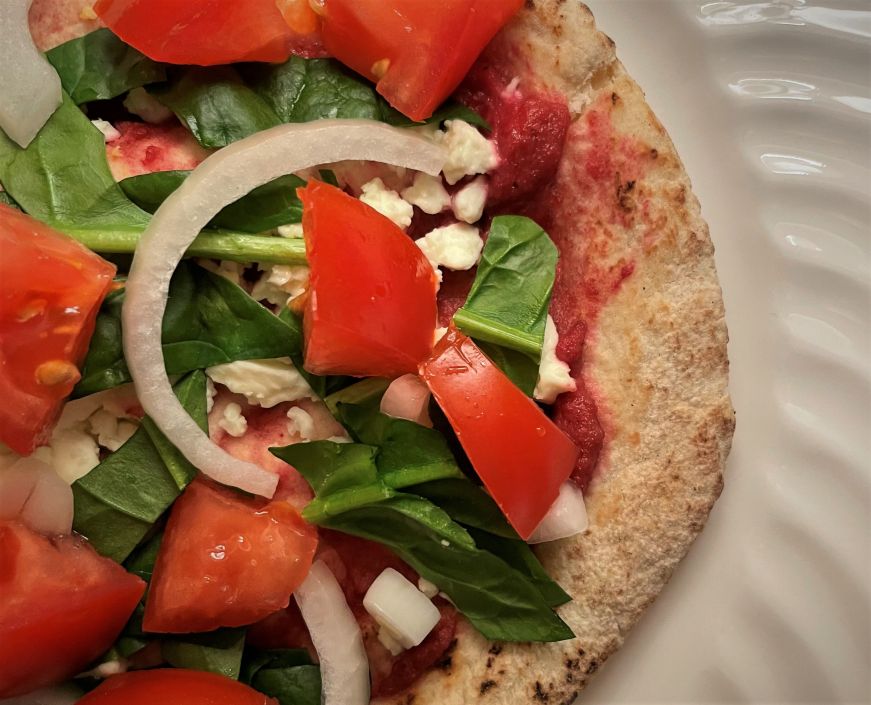 In contrast to the other sauces I sampled, the Pink Beetroot Pesto Sauce was delicious and complex, with a rich, earthy beet flavor complemented by notes of roasted garlic and smoke.  The label recommended using it as a topping for a vegetable pizza.  I used it to make pita pizzas with crumbled feta and fresh spinach, tomatoes, and onion—the pesto worked well with fresh vegetables and balanced the saltiness of the feta.  It was also tasty in sandwiches with sauteed mushrooms and fresh peppers, as well as spread on toast topped with a fried egg.
The takeaway: Hands down, the meal kits (especially the m'shroom shreds and coconut korma) were my favorite products, and I plan to purchase them when they're available in Minnesota.  I also enjoyed the beetroot pesto and would buy it on my own dime.  While the breakfast cups and meal pots weren't to my personal taste, it is nice to see plant-based options in those categories. 
Wicked Foods provided me with their products reviewed in this post.  I purchased all other ingredients out-of-pocket, and I didn't receive any additional compensation for this blog post.
If you enjoyed this post, pin it!