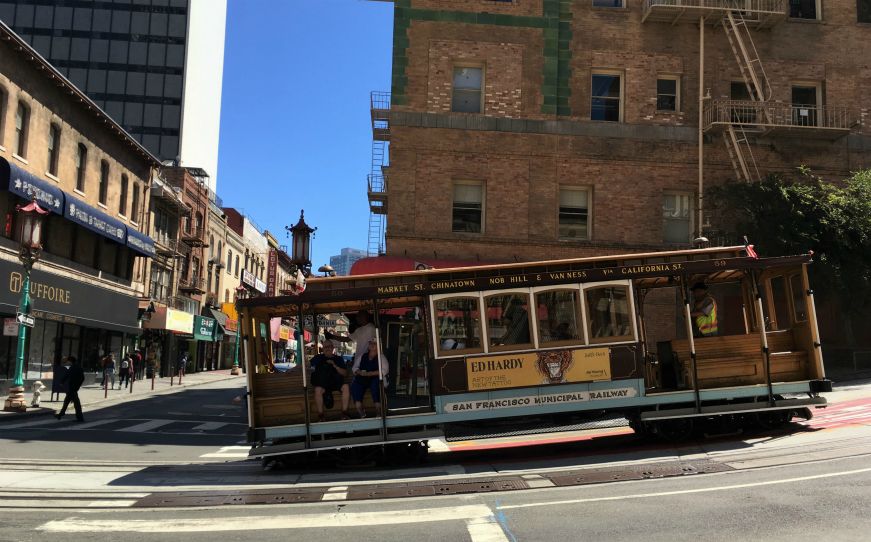 For the past several years, I've been very rigid about how I traveled—meticulously researched itineraries, figuring out the very best places to eat, and so on.  That makes sense for my press trips for this blog and research trips for articles, since I'm on the job and have professional commitments to the convention and visitors bureaus and publications I'm working with.  But in my personal life, it became an increasingly stressful way to travel—I was always afraid I would miss out or do something wrong, and it became more about checking things off than living in the moment. 
So when Mike had a business trip to San Francisco come up on relatively short notice, I decided to tag along for a few days and take a different approach to travel.  I limited my research to figuring out how to get from the airport to downtown San Francisco and establishing that tickets to Alcatraz were sold out.  I read a couple of articles about different neighborhoods on the San Francisco Travel website and made notes of some recommendations from friends.  Then I got on a plane and set off the most spontaneous trip of my life.
Day 1:
6:00pm: I arrive at the San Francisco airport and hop on a BART train to Powell Station.  Mike meets me at the station and spotting him on the escalator after nine days apart is hands-down the happiest moment of my trip—it's been the longest period of time apart since we met 11 years ago!
Mike's employer is paying for his very spacious room on the 27th floor of the Grand Hyatt San Francisco, which features a fabulous view of the city, a fancy button-operated shade, a ton of outlets and USB ports for charging, and very nice smelling cucumber-melon toiletries.  It's the little things.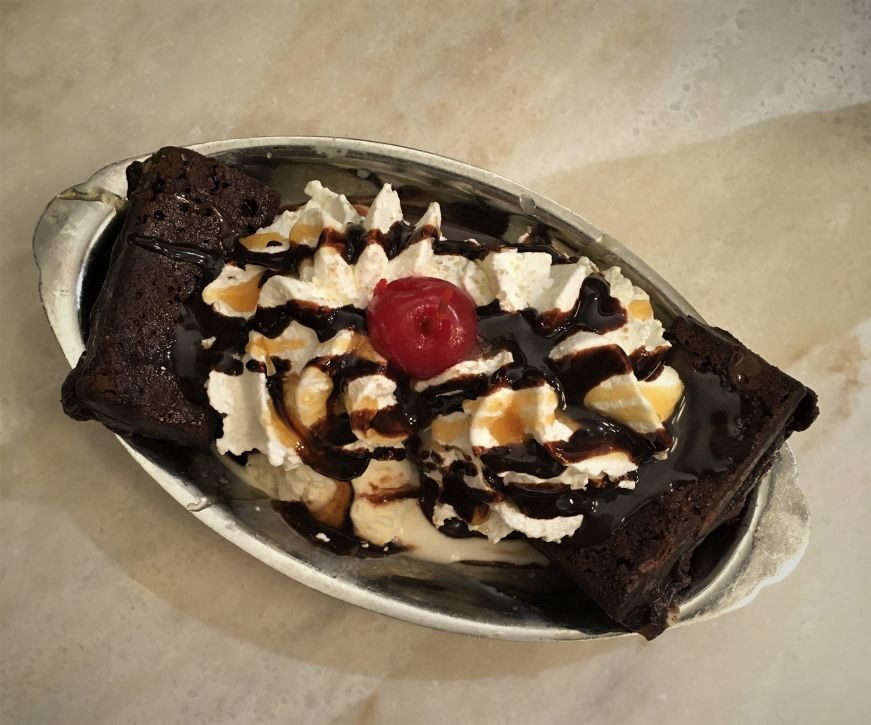 8:00pm: After a meandering walk through Chinatown and North Beach, we make it to the Ghiradelli Ice Cream and Chocolate Shop at Ghirardelli Square for ice cream sundaes.  The smell of chocolate wafts through the air as we dig in: the Lands End salted caramel brownie sundae for me and Midnight Reverie Painted Ladies parfait for Mike.  The brownie was fabulous (fudgy and dense, just the way I like them), the caramel sauce and hot fudge are high-quality, and they don't skimp on the whipped cream.
Yes, the Ghirardelli ice cream experience is expensive and touristy.  But sometimes, you just want a classic over-the-top and very chocolatey ice cream sundae, and boy, do they deliver.  Also, they hand out free chocolate in the gift shop.
9:00pm: We take a Lyft back to our hotel because it is dark and I am very tired.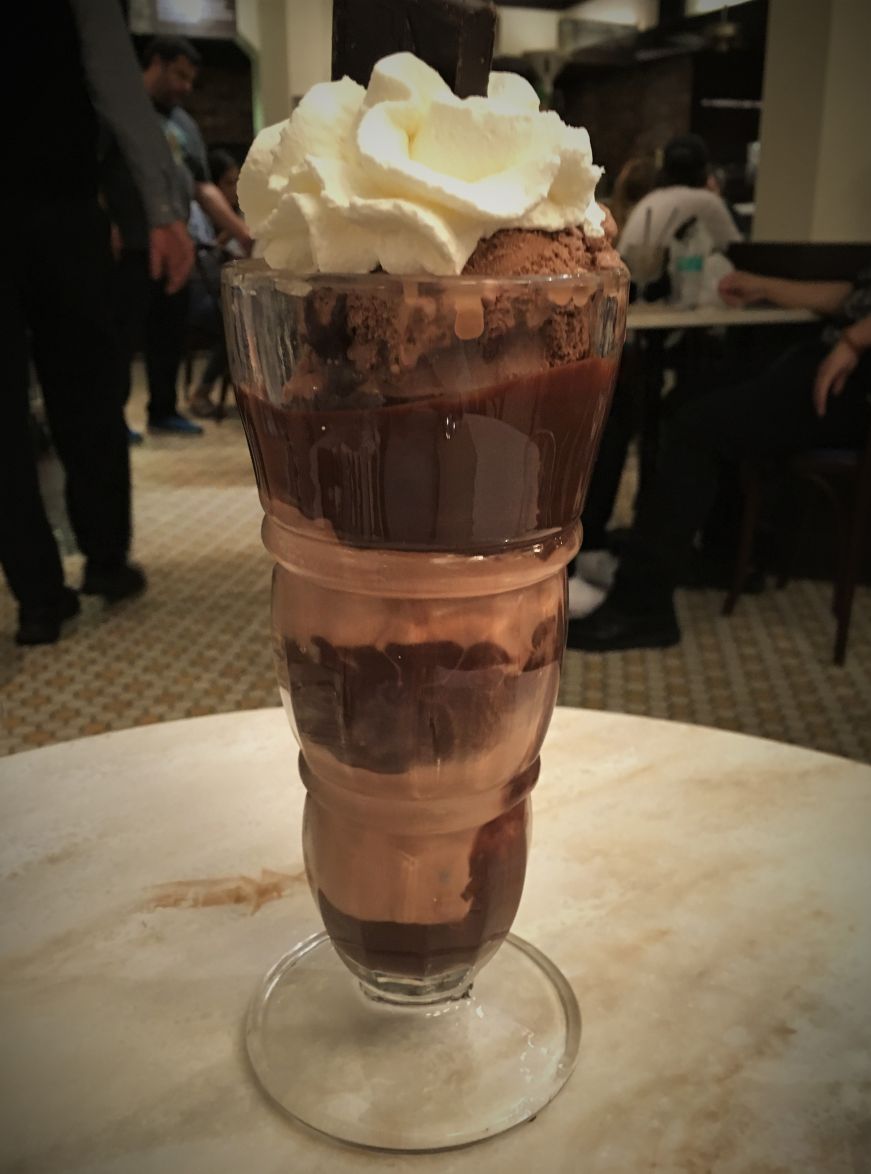 Day 2:
Way too early: I wake up and crank through some work e-mails while sitting on the floor of the bathroom so that the light from my laptop doesn't wake up Mike.
7:00am: I go for a run in the fitness center on the world's coolest treadmill.  You can run on different courses, complete with elevation changes and a photo realistic landscape and avatars of your fellow treadmill runners on a giant screen.  This will probably be the only time in my life that I virtually jog through a rolling Irish landscape with a bunch of Australians.
9:00am: I walk Mike to work and take his picture, because I'm a dork.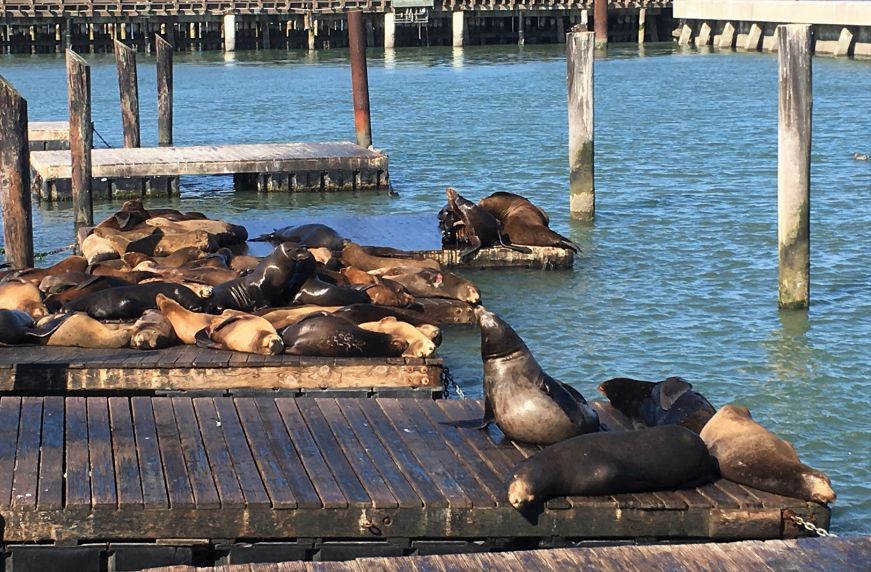 9:30am: In keeping with the living-my-best-tourist-life theme of the trip so far, I walk to Fisherman's Wharf to ogle the sea lions at Pier 39.  They are loud and massive (males can weigh up to 800 pounds), and for a lifelong Midwesterner, it's neat to see marine mammals in the wild. 
Next, I make my way to Boudin Bakers Hall.  The bakery is San Francisco's oldest continuously operating business, and they bake their sourdough with a starter that dates back to 1849.  Their flagship location at Fisherman's Wharf offers a museum, observation windows where you can watch the bakers at work, a full-service bistro, counter-service cafe, and an espresso bar where you can purchase loaves of sourdough in fanciful shapes like bears and turtles.  I'm tempted by the miniature sourdough bear and a dense loaf of chocolate sourdough, but I settle on sandwich roll that's basically a personal-sized sourdough loaf.
Like Ghirardelli, Boudin is very touristy, but you can't beat tucking into fresh sourdough at a sunny outdoor table while the cable cars roll by.  And by San Francisco standards, my roll is a bargain—$2.19 for a hefty chunk of fresh bread, delightfully chewy and unapologetically tart.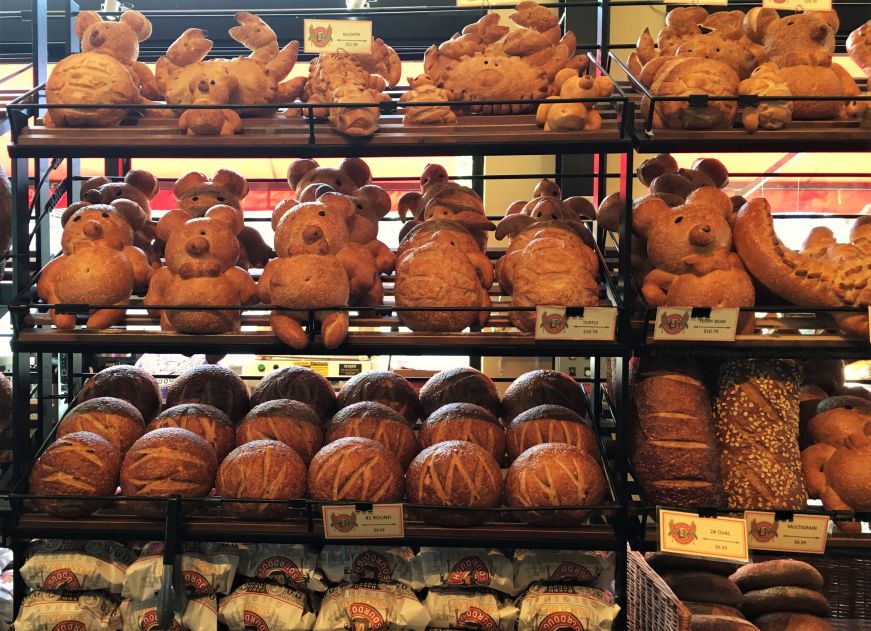 11:00am: I spot a sign for the San Francisco Maritime National Historic Park and head inside the visitors center, mostly to see if I can get a stamp for my national park passport.  I can, and the visitors center also has a free museum with exhibits about seafaring and local history.  My favorite is The Waterfront exhibit, which features reproductions of six different San Francisco harborside neighborhoods over the centuries.  I learn why the North Beach neighborhood I keep walking through has so many Italian eateries (Sicilian immigrants who came for the gold rush and stayed on to work in the fishing industry), and I get an appreciation for the sailors, dockworkers, and immigrants who shaped the city.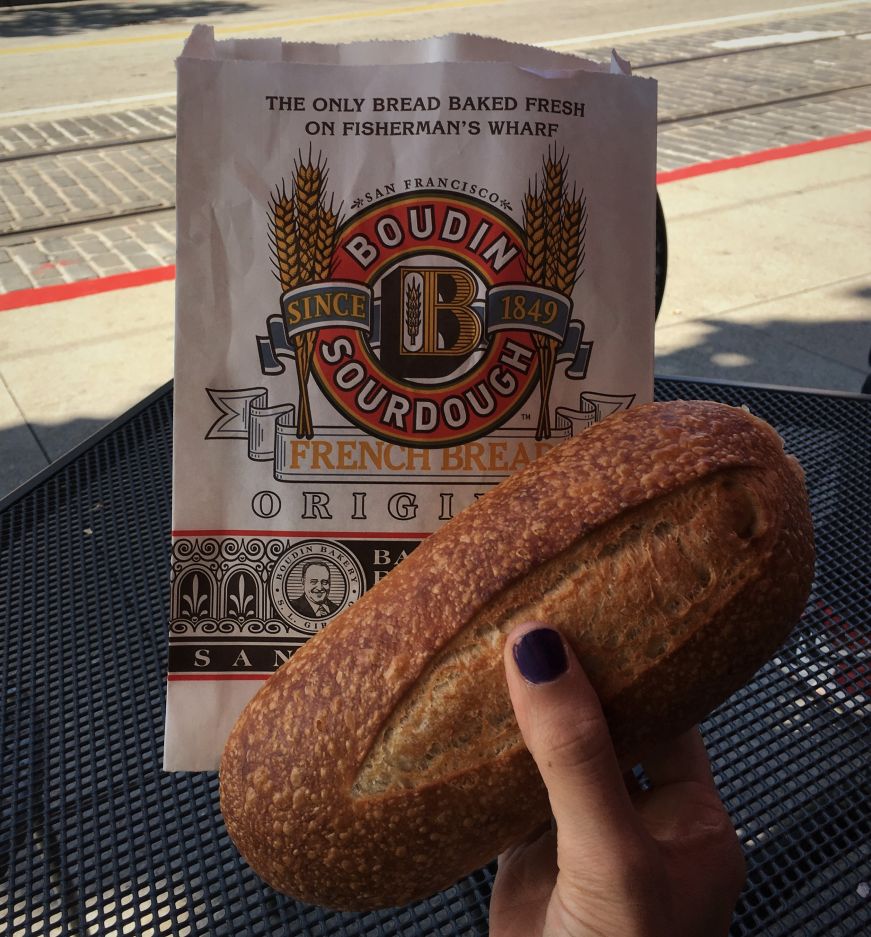 The San Francisco Maritime National Historic Park also encompasses a fleet of historic vessels dating to the late 1800s and early 1900s.  Even if you're not a maritime buff, I recommend spending an hour at the visitors center at the beginning of your stay—it gave me the historical background and context to better appreciate my time in San Francisco.
After finishing my tour of the museum, I swing by Ghiradelli Square in search of postcards.  I find the perfect sea lion themed-one at Lola, a gift shop which also stocks everything from socks and tote bags to stationary designed by local artists.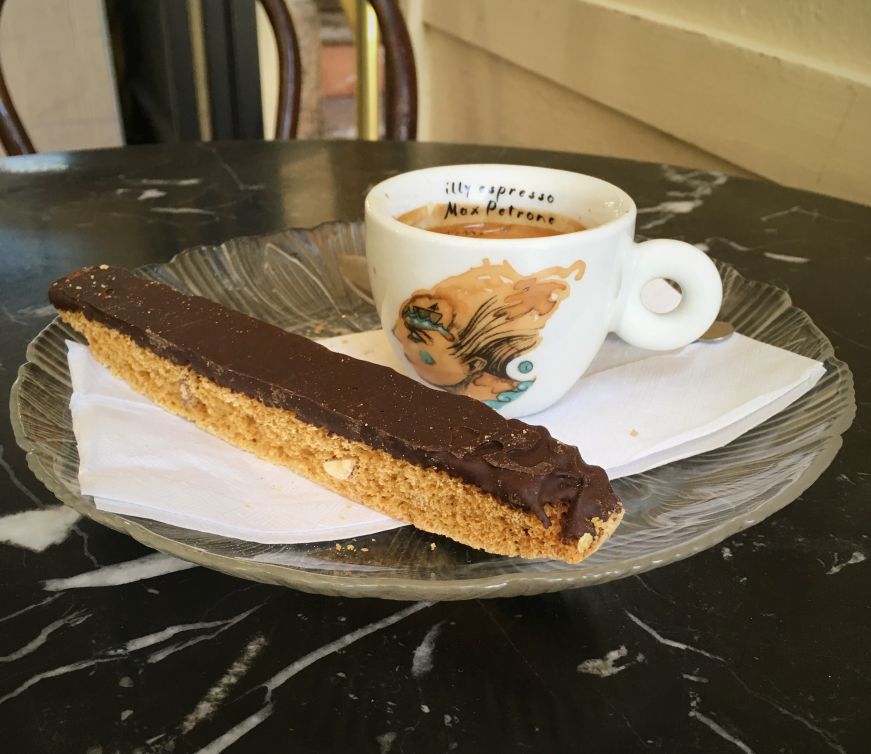 12:00pm: By this point I've walked by Caffe Greco in the Italian-influenced neighborhood of North Beach on both of my trips to Fisherman's Wharf, and it seems like the perfect spot to savor a biscotti and fill out my postcard.  I've never been to Italy, but it looks like my vision of a classic Italian neighborhood cafe: marble tables and well-worn woodwork, with a hand-lettered menu board and a bakery case filled with housemade baked goods.  I opt for the chocolate dipped biscotti with a tiny cup of very strong espresso, and it's the sort of spontaneous moment of joy that I never would've scheduled on an itinerary.
Helpful note: Caffe Greco is cash-only.
12:30pm: I realize that I'm only a few minutes' walk from Coit Tower, so I decide to check out the view from the top.  Perched atop Telegraph Hill, the tower was built in 1933 with a bequest from eccentric heiress Lillie Hitchcock Coit, who instructed that the money be used "for the purpose of adding to the beauty of the city I have always loved."  WPA murals inside the tower's base reflect life in California during the Depression.
There's a 30-minute wait and $9 fee to ride the elevator, but the 360 degree views are worth it: the Golden Gate Bridge in the distance, towering over a haze of fog; the San Francisco skyline; the ferry boats crisscrossing the harbor on the way to Alcatraz.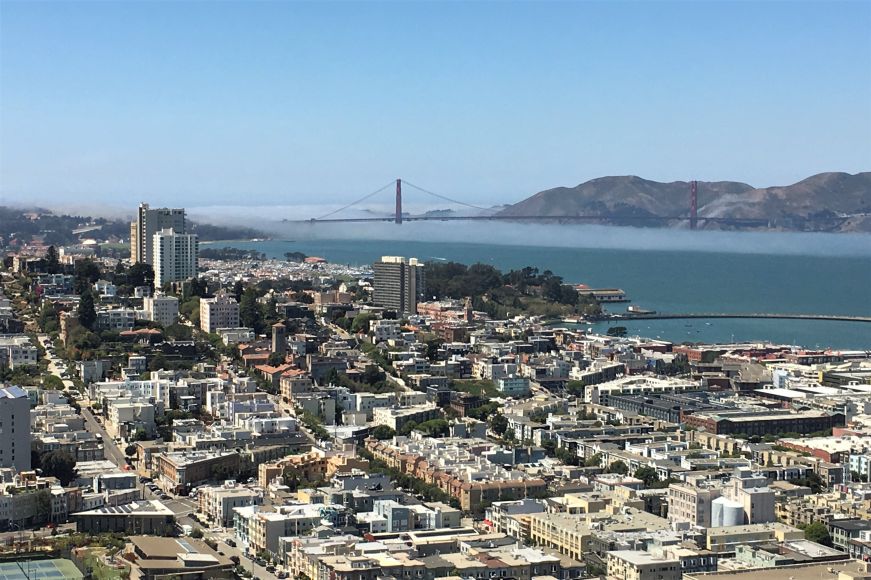 I feel like I'm on top of the world, in a literal and metaphorical sense.
2:00pm: I really want to eat a late lunch in Chinatown, but the sheer volume of restaurants is causing decision paralysis.  I consult a neighborhood guide and settle on Great Eastern Restaurant because it's listed as being affordable and President Obama's favorite.  If it's good enough for Obama, it's good enough for me.  (And in fact, his beaming face features prominently in several photographs at the restaurant's entry).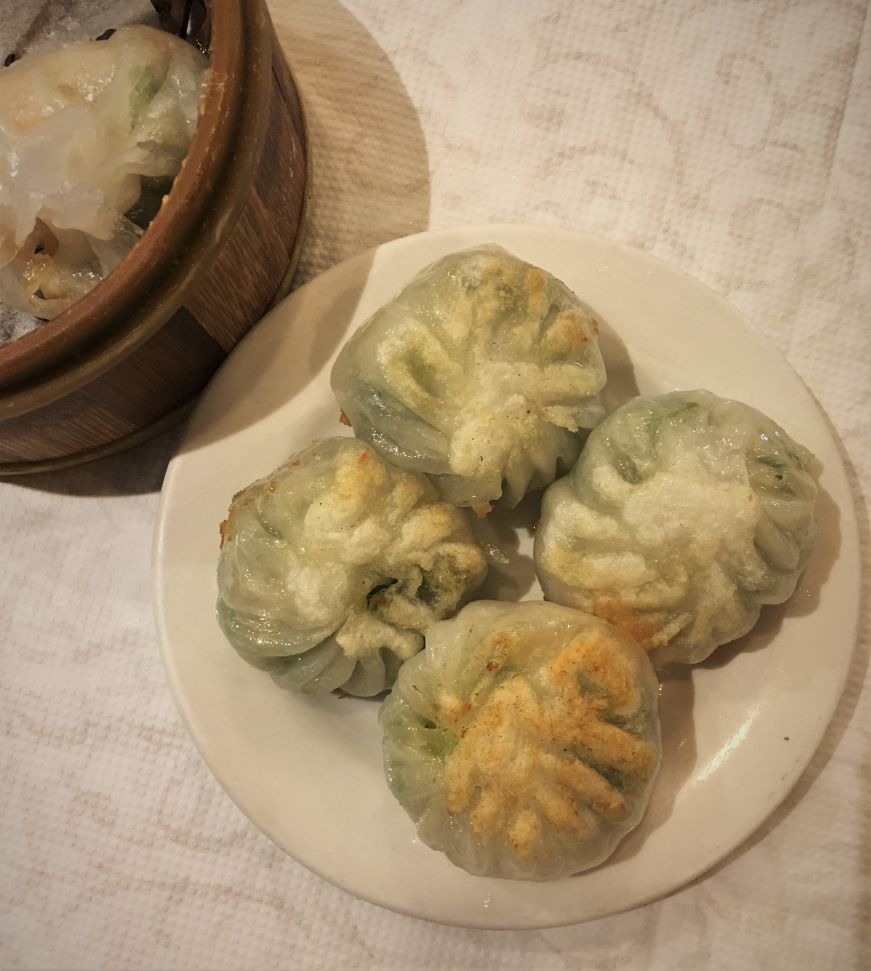 The menu is a bit daunting, mostly because I'm not very familiar with the various dim sum offerings.  I eventually opt for one order of snow pea sprout and shrimp dumplings and an order of pan-fried leek and shrimp dumplings, and am rewarded with very tasty and filling meal for about $12.  (I'm still not sure if I handled the whole ordering and payment process correctly—there's a form you fill out to select your dim sum, and various staffers stop by your table to deliver food and annotate the form.  Note that you have to pay by cash if your tab is under $20.)
After lunch, I spend a couple hours wandering around Chinatown, browsing the import shops filled with silk scarves and jade jewelry, ogling the produce and ingredients that spill out of grocery stores onto the sidewalks, and stopping by the Gold Gate Fortune Cookie Factory to watch two workers hand-fold fortune cookies coming off a manufacturing line that looks like it dates back to the factory's 1962 founding.  There are bags of fortune cookies for sale in various flavors, and I buy an assortment of regular and green tea cookies.  They're the freshest fortune cookies I've ever tasted, and it's going to be hard to go back to the cellophane-wrapped ones.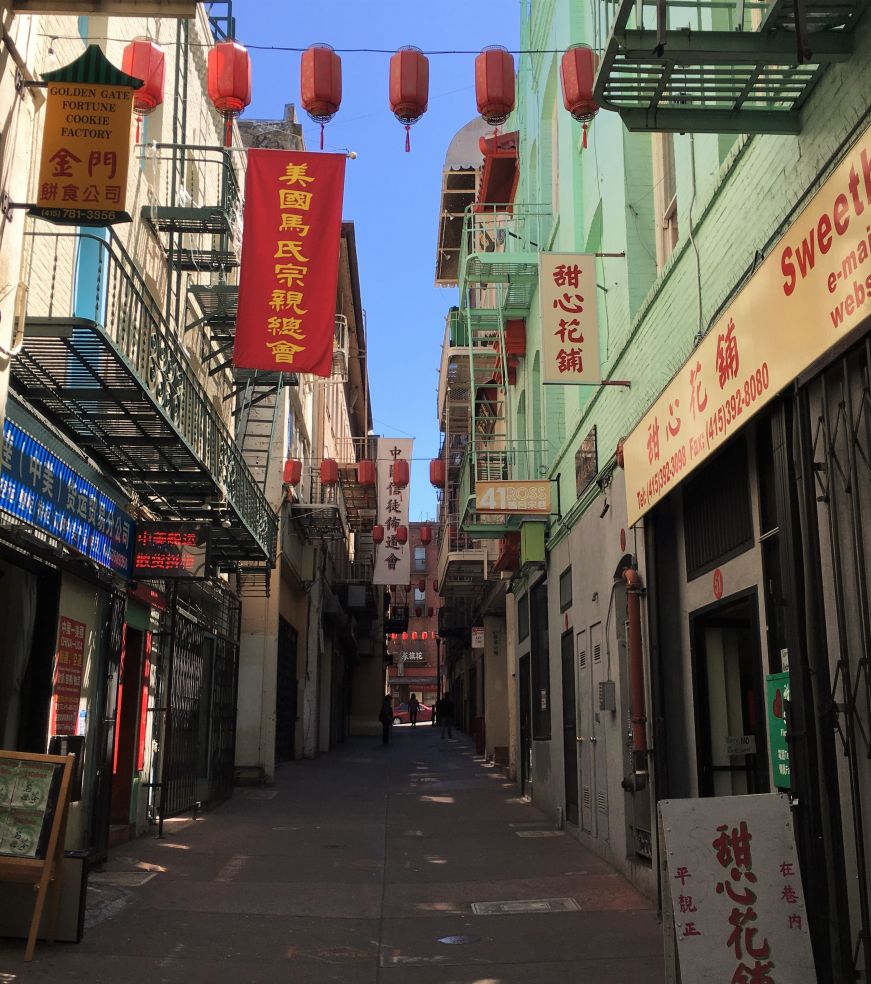 6:15pm: Mike and I decide to walk to the Ferry Building for dinner, since we want to eat by the ocean and I've already spent the morning at Fisherman's Wharf.  A former transportation terminal that's been repurposed as a food hall, the Ferry Building is located in the Embarcadero neighborhood near the Bay Bridge.  I'm in the mood for seafood, so we get in line for a table at Hog Island Oyster Co., which is a company that farms oysters and operates a handful of oyster bars.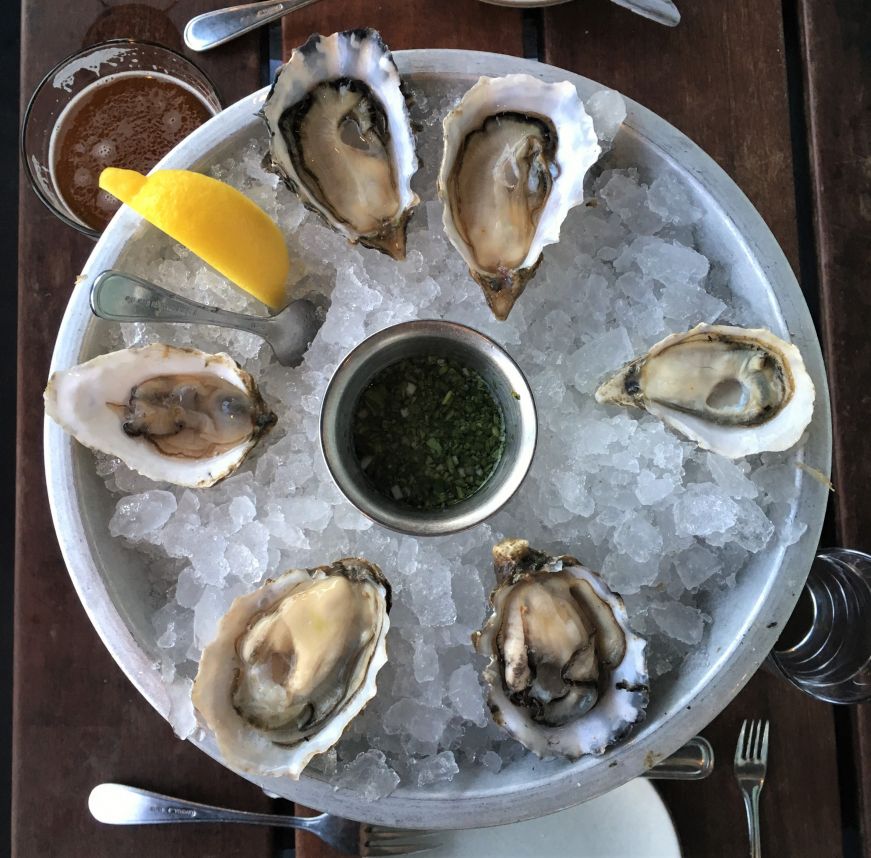 7:30pm: The 45-minute wait was worth it: we're seated at a table by the waterfront with a stunning view of the Bay Bridge.  I have no idea what kind of oysters to order, so I just go with the bar mix and get one of each.  I can taste a difference between the varieties, but I'm not sophisticated enough to describe the flavor notes—it's kind of like wine tastings, where I can tell that I like some Chardonnays better than others but can't pinpoint why.
Our meal comes with a never-ending supply of excellent French bread, and we also get a couple of orders of fries with Old Bay seasoning.  Despite his Maine roots, Mike doesn't like seafood, so he opts for the baby back ribs.  They come in a generous portion of six ribs with a jicama-cucumber slaw, and are excellent, especially considering we're at an oyster bar.   It's a meal that's everything I wanted dining in San Francisco to be.
9:00pm: Because I manage to work my affinity for ice cream into even the most spontaneous of vacations, we stop at the Humphrey Slocombe stall in the Ferry Building so that I can get dessert.  They're a chain with locations primarily on the West Coast and specialize in offbeat flavors, often made with seasonal ingredients.  After a bit of sampling, I settle on a scoop of their most popular flavor, Secret Breakfast: bourbon ice cream with cornflakes.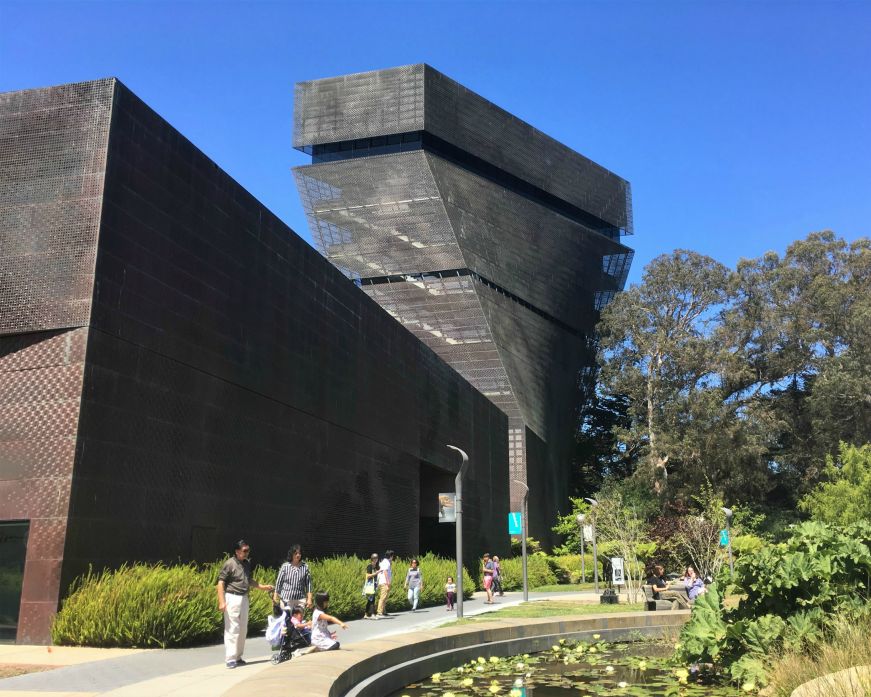 Day 3:
Way too early: Same routine—wake up in the wee hours of the morning, get some work done for my paralegal and writing gigs, and walk Mike to work.
9:45am: After some embarrassing almost-mishaps, I get on a bus to Golden Gate Park.  The no-plan approach to travel leads to some delightful discoveries as far as food and attractions, but it makes navigating a city via mass transit pretty frustrating.
10:30am: I arrive at the de Young Museum, which features American art, works from Oceania, Africa, and the Americas, and costume and textile arts.  One of Mike's coworkers is a member, and he graciously provided me with a guest pass.  I start with the Ed Hardy: Deeper than Skin special exhibit, which honestly isn't something I would've paid out of pocket to see—I have a couple of simple tattoos, but I'm not an aficionado.
However, the exhibit is absolutely fascinating.  It covers American tattoo history, Ed Hardy's background, and both his work as a groundbreaking tattoo artist and subsequent more traditional fine art.  There are larger-than-life reproductions of some of the full body tattoos he created, and they're breathtakingly beautiful—not only the tattoos themselves, but the way he's able to frame them on people's bodies.
After buying a souvenir mug at the gift shop, I peruse the contemporary American art.  The collection is arranged thematically (for example, works that deal with trauma are in one gallery, works that are "out of the box" in another).  I can appreciate that it's an interesting approach to curation but most of the art is way over my head.
11:30am: I eat an overpriced beet, blue cheese, and walnut salad at the museum cafe and begrudgingly admit to myself that it actually is pretty tasty.  I make way through the rest of the American art collection, which is arranged by both theme and era.  That helps me see some parallels that I wouldn't have otherwise, and there are also lots of interesting interpretive signs providing historic and cultural context.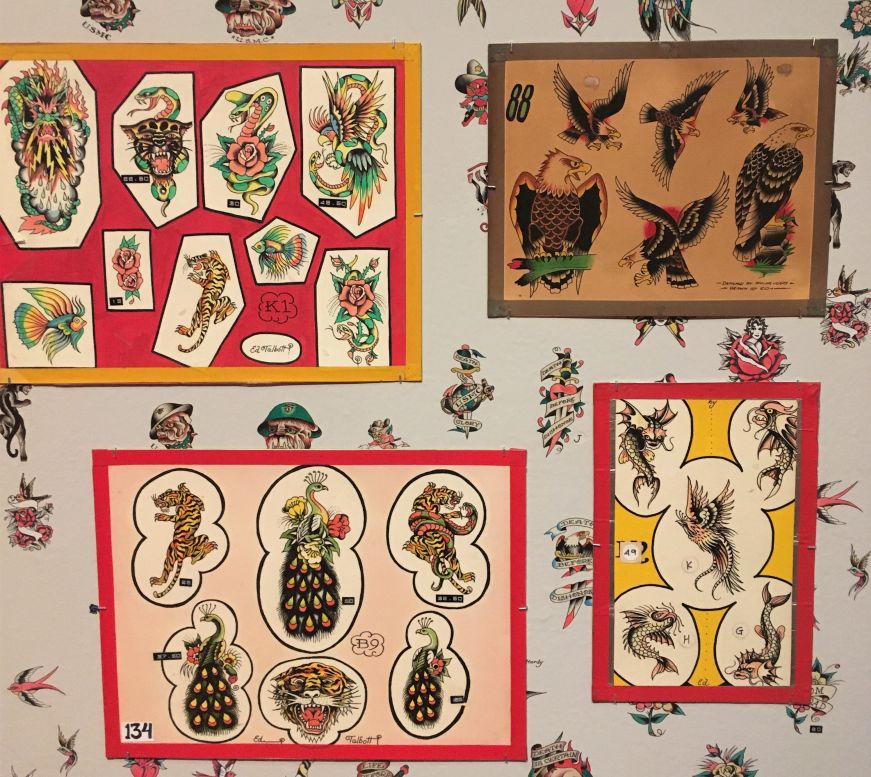 12:30pm: The sleep deprivation is hitting me hard and I am started to feel art overload, so I skip the rest of the museum and ride the bus back to the hotel.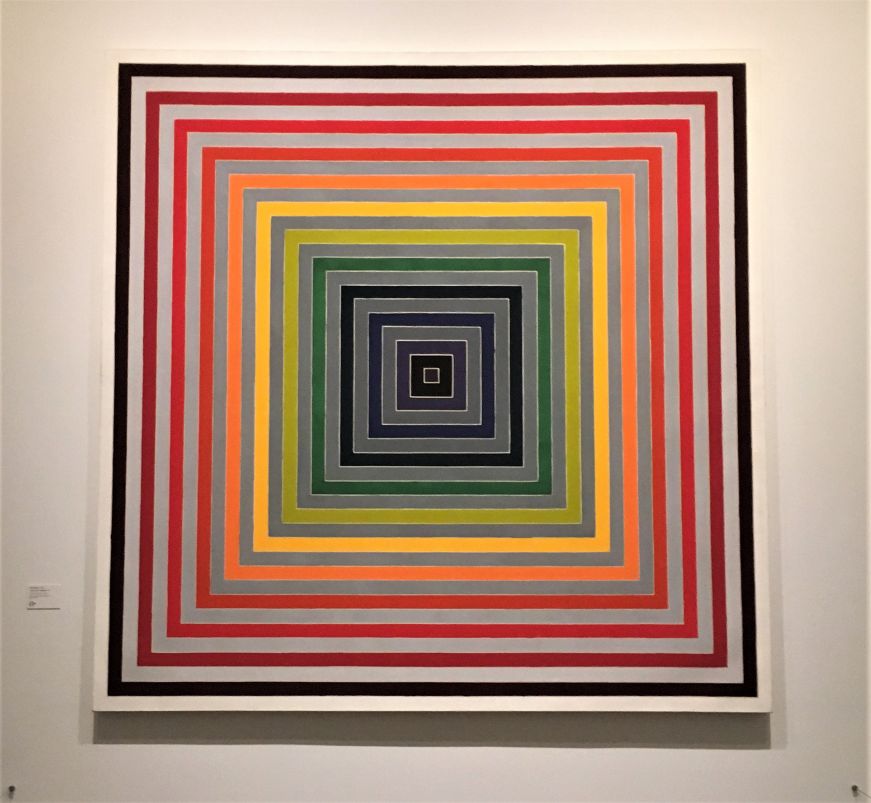 1:30pm: I try to nap, but it's a lost cause because that salad was not very filling and I'm hungry.  I wander around Chinatown and then North Beach in search of a snack, and end up at Mara's Italian Pastries (no website, 503 Columbus Avenue).  The window is filled with trays of dessert pastries and foccacia, and there's a bakery case inside with cakes, biscotti, and cannoli.  There aren't any price tags, and I have a bit of sticker shock when my raspberry ring costs $5.25.
But then I bite into it as I sit at one of the tables outside, and it's worth every penny.  Flaky layers with a thick ribbon of raspberry jam, not too sweet, and simultaneously light in texture and substantial enough to be satisfying.  There are crumbs all over my pants and tourists are actually gawking at me and taking my picture in front of the shop (maybe I add a picturesque touch to the array of pastries?)  I couldn't care less.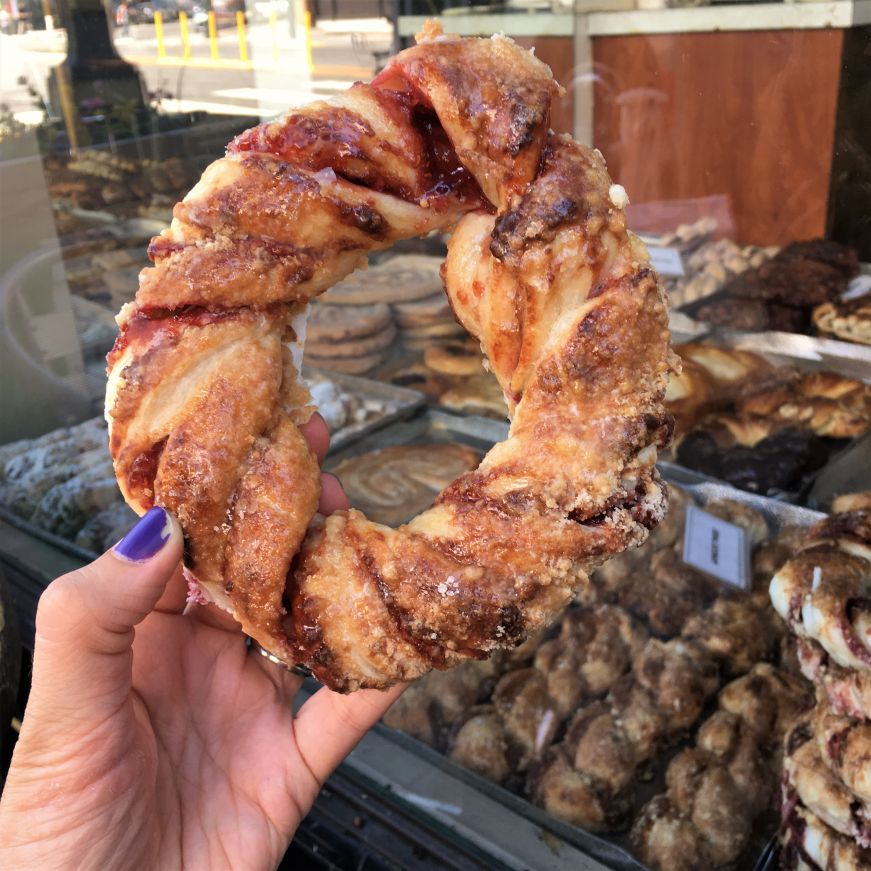 6:00pm: After finally getting a nap in, Mike and I set out for the Golden Gate Bridge so that we can walk across it.  We both get thoroughly confused by the San Francisco mass transit system and buy the wrong tickets (apparently there are two separate bus systems, one of which will bring you right to the Golden Gate Bridge from the Financial District and one of which won't).  We give up and call a Lyft.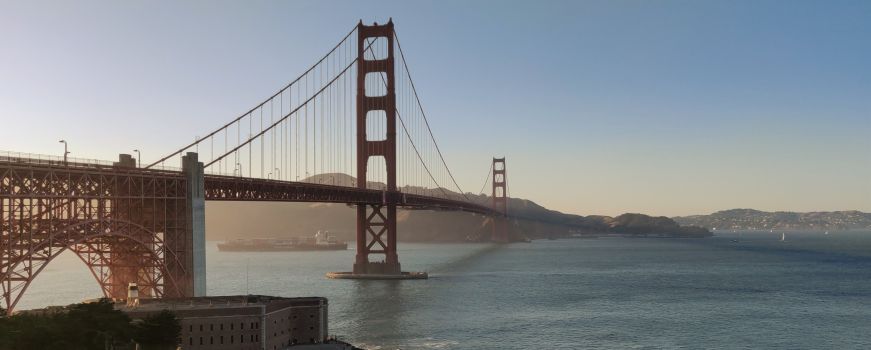 7:15pm: We finally arrive at the bridge and take lots of pictures.  Then we walk all the way across the 1.7 mile span to Marin County, turn around, and walk back.  The moon is rising over the San Francisco skyline, and even though the wind is brisk and we are both pretty tired, it's the highlight of our trip.  The natural beauty of the bay combined with the staggering feat of engineering is a wonder that leaves us a little speechless.
8:30pm: Back on the San Francisco side of the bridge, we catch a Muni bus that will put us somewhat in the vicinity of our hotel.
9:30pm: I have a craving for Italian food, so we stop at L'Ottavo Ristorante on our long walk back to our hotel.  It's an unassuming, cozy place, with dim lighting and a long list of pastas.  I order the cannelloni: sheets of pasta rolled around spinach and cheese and served with a creamy tomato sauce.  Mike gets the spinach ravioli, which are stuffed with sundried tomatoes and accompanied by a creamy Parmesan sauce.  It's exactly the sort of comfort food that we need.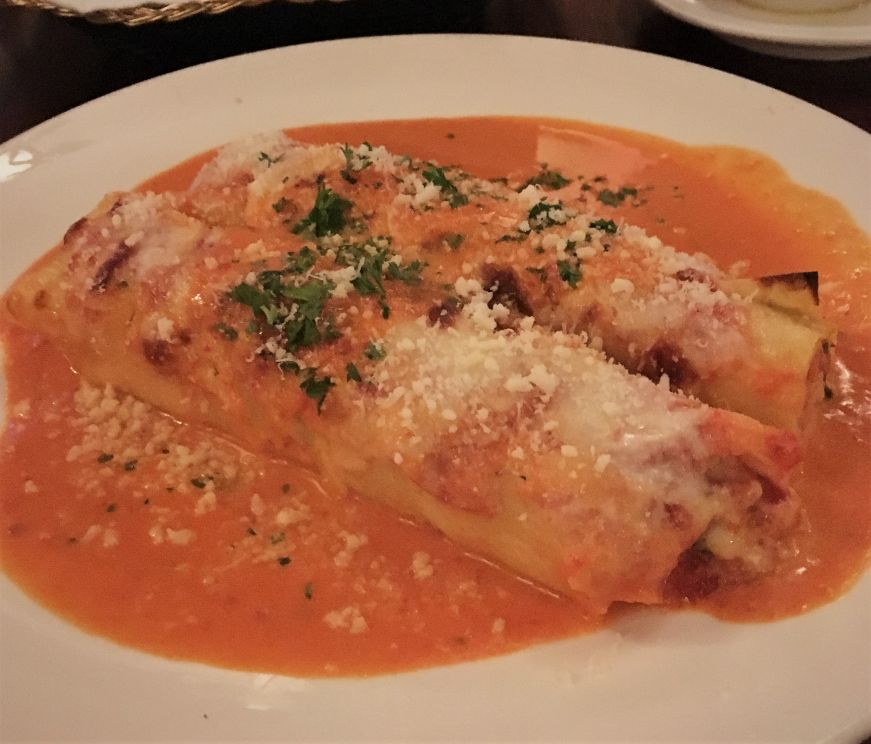 10:30pm: We get back to our hotel and fall into bed. 
Day 3:
3:00am: ...and I'm awake for the day.  I'll miss Mike, but I am very much looking forward to returning to the Central time zone.
6:00am: I leave the hotel and walk to the Powell Street station to take BART to the airport.  I really love walking through urban areas early in the morning, just as the businesses are starting to open and my fellow pedestrians  are construction workers gearing up for the day and people in scrubs on their way to work.  It makes me feel like I'm a part of the place I'm visiting.
7:00am: As I'm wheeling my suitcase through the airport, I start crying.  Partly it's sheer exhaustion and some of it is because I miss Mike already.  But mostly it's because briskly striding through an airport on my own makes me feel competent and accomplished.  That's the thing I wanted the most of out of travel when I started fantasizing about it as a teenager.  Somehow, I've lucked into a life where I get to be the person I wanted to be when I grew up.
10:00am: After a hour's delay, my plane takes off.  Did I squeeze the very most out of my 64 hours in San Francisco?  Probably not.  But I hit the highlights, took some delightful detours, ate plenty of delicious food, and spent quality time with my partner in travel and life.
That counts as a win for me.
Since Mike was in San Francisco for work, his employer paid for his flight, hotel room, and meals.  His coworker David graciously provided me with my ticket to the de Young Museum.  I paid for all of my other expenses out of pocket.
If you enjoyed this post, pin it!