Based on a perusal of my recent posts, it appears that I've taken to subsisting on restaurant meals and pumpkin baked goods.  But fortunately (or unfortunately, since the pumpkin oatmeal cookies were pretty darn tasty), I'm still cooking.  I just haven't been making anything blog-worthy.  There have been lots of recipe repeats from previous years: ravioli with apples and walnuts, spinach and leek bean soup, savory roasted sweet potatoes, mushroom barley risotto, and Thai butternut squash soup.  Meanwhile, the new recipes I've been trying keep falling short: the slightly-scorched sockeye salmon cakes that tasted great, but need some further refining of technique; the Japanese-inspired dish that involved lots of running around to find soba noodles and miso, only to yield a disappointingly mediocre result; the kimchee stew that needed more of a punch; and the roasted delicata squash salad that didn't quite happen since I got lazy and just ate the squash plain.
But finally I found a hit in in the form of an easy weeknight salmon recipe, and as an added bonus it used up some of the leftover miso from my Japanese noodle dish experiment.  Miso is a thick paste made from fermented soybeans, similar in texture to chilled cookie dough.  It mostly tastes salty, with an earthy, fermented kick at the end.  I tracked down miso at Whole Foods, in the refrigerated section with the tofu and meat alternatives.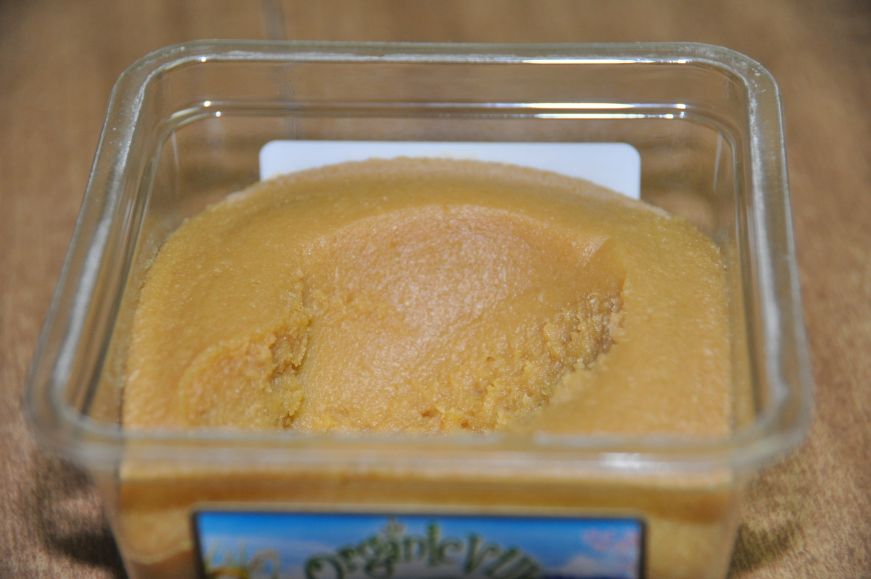 The mellow flavor of the salmon makes it a pleasing backdrop for the assertive miso sauce, and a side of honey glazed brussels sprouts further balanced out the saltiness of the sauce.
Adapted from the Real Simple recipe by Dawn Perry
Serves 2
Ingredients:
1 1/2 tablespoons white miso
2 1/2 teaspoons canola oil, divided
1 1/2 teaspoons rice vinegar
2 (4-ounce) frozen salmon fillets, thawed
salt
pepper
crushed red pepper
Combine the miso, 1 1/2 teaspoons canola oil, vinegar, and 1 1/2 tablespoons water in a small bowl and whisk until smooth.
Heat a medium skillet over medium-high heat.  Add remaining 1 teaspoon canola oil and tilt to evenly coat bottom of skillet.  Place the salmon filets in the skillet, skin side up if applicable, and cook for 2 1/2 minutes.   Flip filets over and sprinkle lightly with salt and pepper.  Continue cooking until filets are opaque throughout, about another 2 1/2 minutes.
To serve, pour miso sauce over salmon and sprinkle with crushed red pepper.