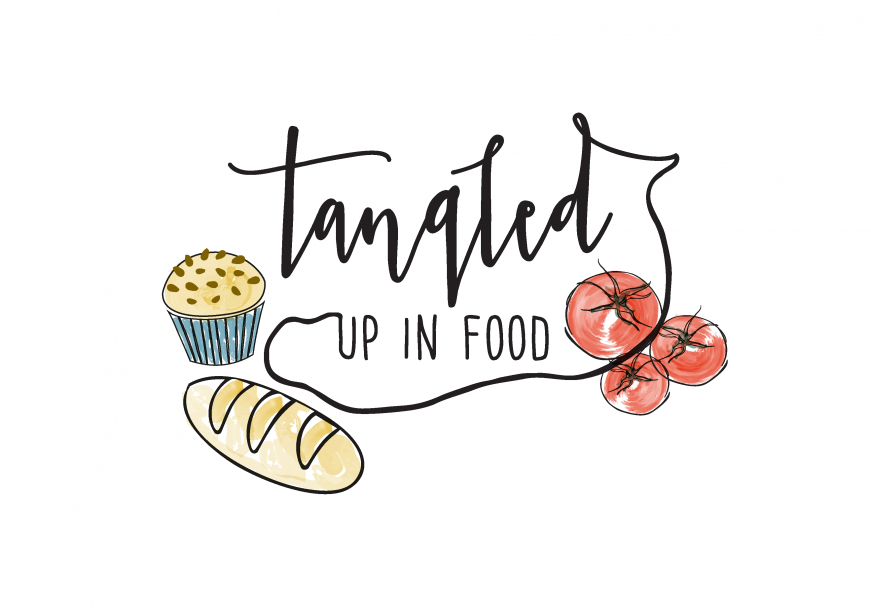 I briefly mentioned in last month's anniversary post that I will be re-branding my blog in September.  Although all of the existing content (recipes, restaurant reviews, travel posts, etc.) will be migrating to the new site, there will be some major changes that I'm really excited about:
The name.  When I started My Mixing Bowl in 2012, it was a home cooking and baking blog.  Since then, as I've expanded into writing restaurant reviews and travel posts, I've outgrown the My Mixing Bowl name.  After the re-brand, the blog's name will be Tangled Up In Food, and the web address will be tangledupinfood.com (mymixingbowl.com will redirect to the new site).  The new name better encompasses the wide range of food topics my blog covers and is a nod to my favorite Minnesota-born musician.
The design.  As you may have deduced from my current site, graphic design is not my strong suit.  For the re-brand, I hired a professional graphic designer (Korko Design Studio) to create a logo and layout for Tangled Up In Food.  The logo is pictured above, and the site itself will be even better.  The design is much more photo-centric than my current layout, and it will provide easier navigation to my most recent content and allow me to highlight favorite past posts.  There will also be thoughtfully designed smartphone and tablet versions of the site.
The photography.  My major focus on this site has always been the writing--it's why I blog.  But food blogging has become a mostly visual medium (somewhat to my dismay), and my rudimentary photography skills have become a distraction from the written content I work so hard to produce.  I've taken a basic photography class, started using photo editing software to clean up my photos, and have been putting more effort into styling my shots.  It's a learning process, but I feel like I'm headed in the right direction.
Social media.  I have been resistant to social media in the past--it seems like too many blogs are driven by likes and tweets instead of quality writing.  However, if I want to expand my readership beyond a loyal circle of family, friends, and acquaintances (as much as I appreciate you all!), people need to be able to find my blog, and social media provides a way to make that happen.  I'm already active on Twitter and Instagram--follow me for tasty links and pictures of what I'm cooking and eating.  On Facebook, I will be transitioning away from posting blog content on my personal account and will instead have a Tangled Up In Food Facebook page.  My Pintrest account is under construction, and I hope to develop it more fully in the coming months.
A monthly newsletter.  In addition to receiving notifications whenever I add a new post, blog subscribers will receive an e-mail newsletter at the end of each month.  There's lots of content that doesn't make it onto the blog: variations on past recipes, return visits to restaurants I've already reviewed, and tips and reflections that aren't quite right for a full-length post.  The newsletter will include all of these, plus a digest of the month's posts, my most popular Instagram photo of the month, and interesting food-related links.
The plan is to have the new site go live before I head to the International Food Blogger Conference on September 18.  None of this would be possible without my husband Mike's web programming skills and extensive time commitment.  His attention to back-end details and knowledge of cutting-edge technology (the new site will be built on Drupal 8) are making Tangled Up In Food a blog I will be proud to write for.
In the meantime, let me know if you have any questions, and follow me on Twitter and Instagram for updates.  I'll still be posting here for the time being, and I'm looking forward to seeing you over at the new site in September.