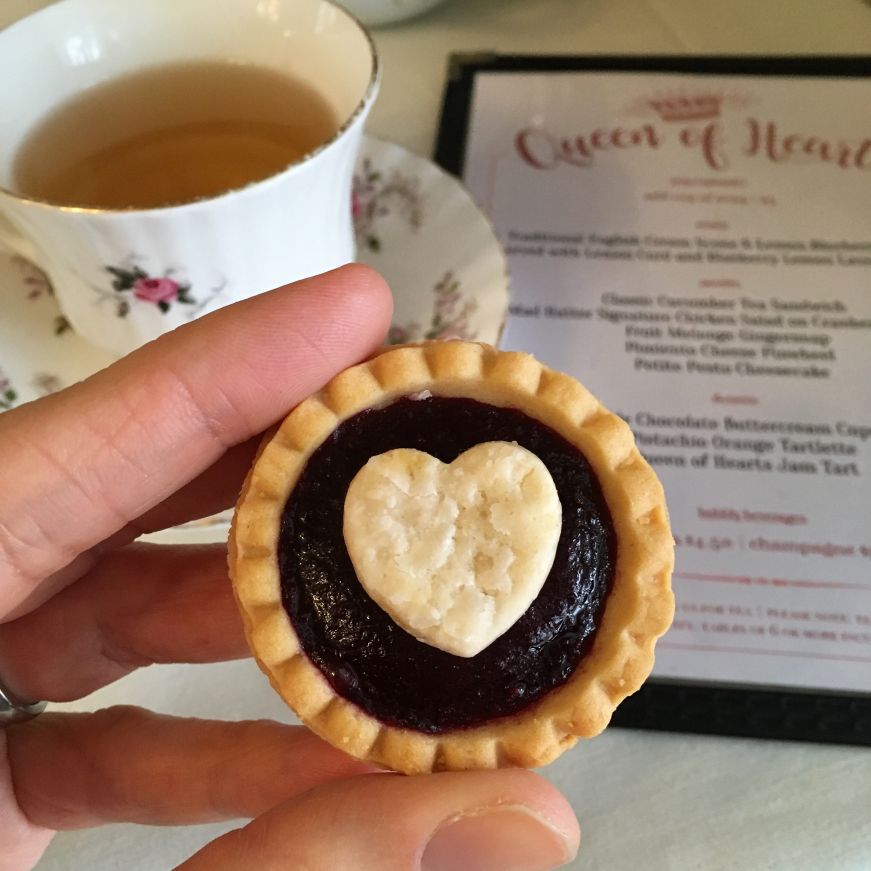 It's impossible to miss—a stately white house on a hill overlooking Highway 169 in Anoka, Minnesota.  Built in 1857, the house is now home to The Mad Hatter, a full-service restaurant that serves brunch and high tea.  Since Mike and I developed a fondness for afternoon tea during our stay in London, we treated ourselves to a belated Valentine's Day tea last month.
The Mad Hatter's tea service is available every Tuesday through Sunday by reservation only, with a minimum of 24 hours advance notice.  There are two options: the Queen of Hearts Tea ($32 per person), which includes assorted scones, savories, desserts, and unlimited hot tea; and the Cheshire Dessert Tea ($22 per person), which includes scones, desserts, and unlimited hot tea.  There's also a children's tea menu ($20 per person) with milk and cookies, finger sandwiches, applesauce, and a cupcake.  Vegetarian and gluten-free tea services are available (there is an additional charge for the gluten-free tea service).  Be sure to mention any dietary restrictions when you're making your reservation.
I opted for the vegetarian Queen of Hearts tea, while Mike had the standard Queen of Hearts menu.  Note that the menu varies seasonally, and our visit reflects the winter 2018 menu.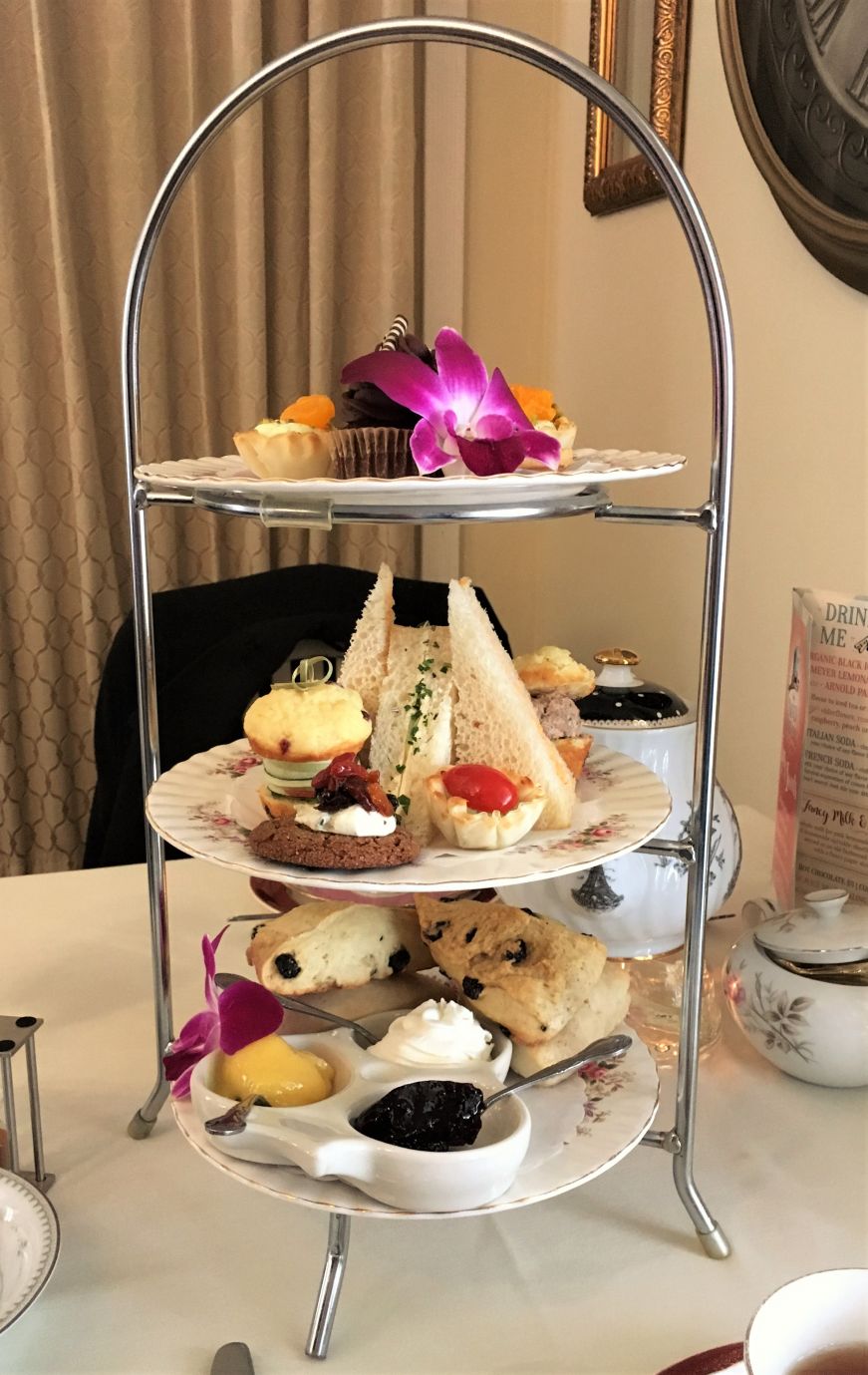 We were presented with the tea menu when we arrived: a set menu of scones, savories, and desserts, with the option to add a cup of soup ($3), a mimosa ($4.50), or a glass of champagne ($5.50).  The tea menu includes over 20 different black, green, and herbal teas.  You order one large pot for the table, but can switch to a different tea once you finish your first pot.
We started with the Earl Grey Lavender, which was a good choice for sipping with our savory items.  There was a nifty crystal tea warmer that kept our tea nice and toasty, as well as an hourglass timer to make sure that we brewed the perfect pot.
The bright and welcoming dining room is elegant without being fussy, with mismatched china and a crystal chandelier.  Most of our fellow diners and tea-goers were groups of older women, although there were a few multi-generational family groups consisting of grandma, mom, and the kids, as well as one other couple.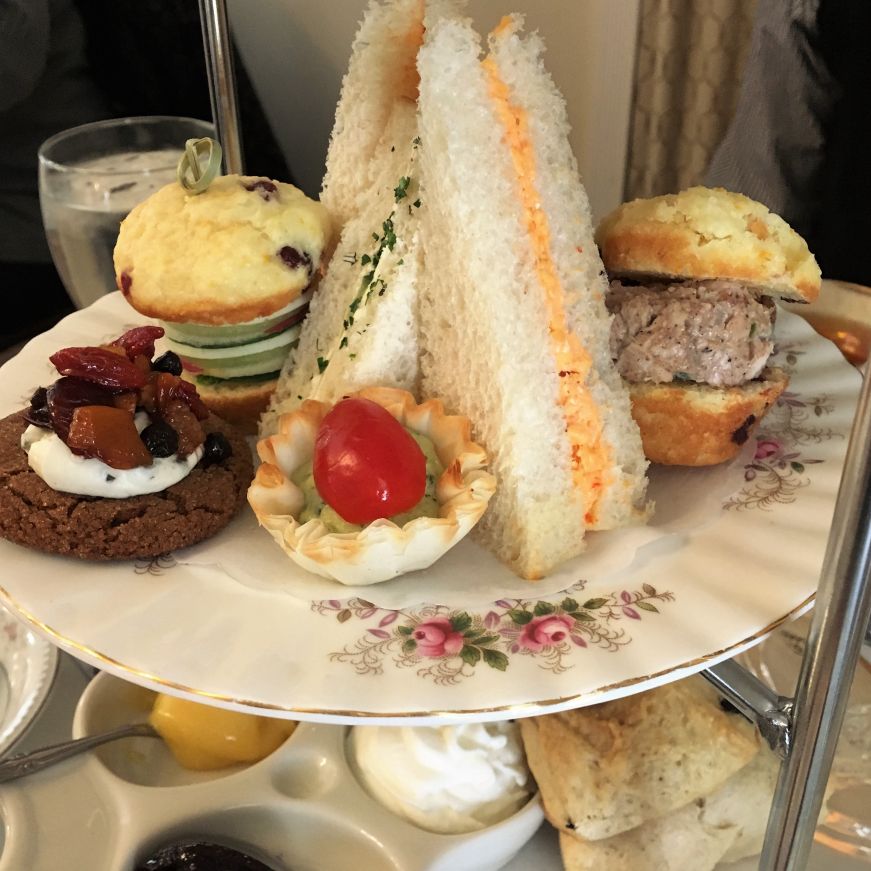 We started our tea with the scones: a traditional English cream scone and a lemon blueberry scone, served with lemon curd, cream, and blueberry lemon lavender jam.  I was partial to the bright flavor of the lemon blueberry scone, especially when spread with the unsweetened whipped cream.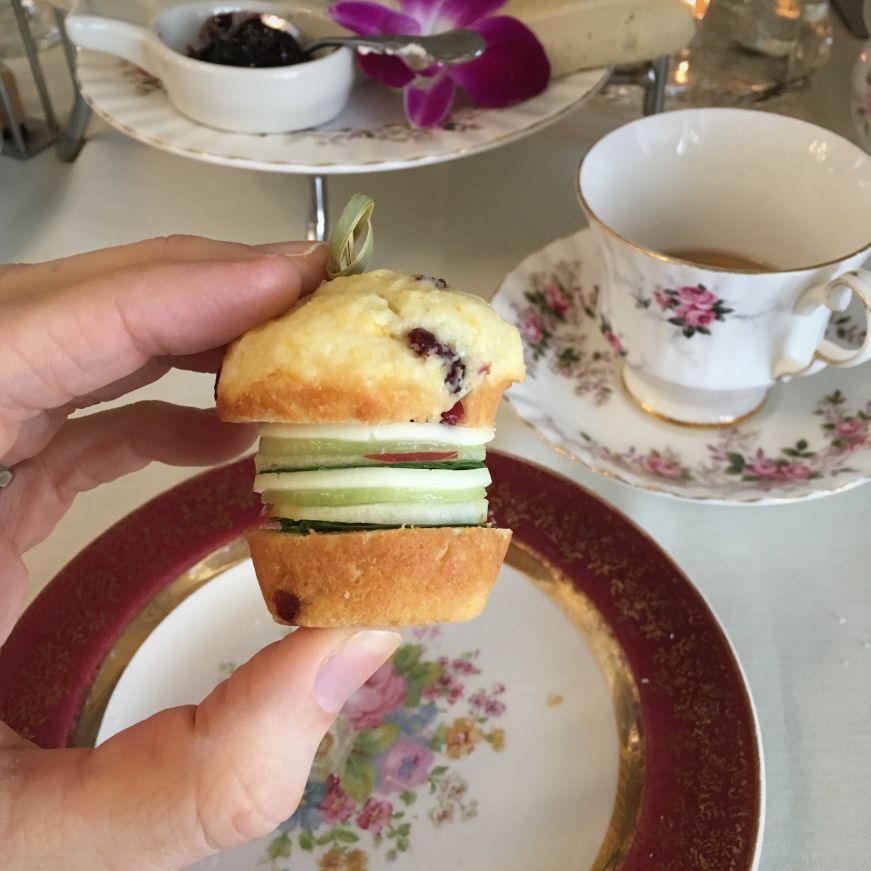 Next up was the savory course.  The only difference between the standard and vegetarian tea service was the filling in the cranberry muffin: Mike got the Mad Hatter's signature chicken salad, while my muffin was filled with Caprese-inspired layers of cucumber, basil, and mozzarella.  Other items included cucumber and pimento cheese finger sandwiches, a phyllo shell with a pesto cheesecake filling, and a gingersnap topped with fruit melange.
While everything was well-prepared, I particularly appreciated the unexpected flavor pairings.  The sweet cranberry muffin was a surprisingly tasty match for the savory Caprese ingredients, and my favorite item was a crisp gingersnap spread with herbed cream cheese and plumped dried fruit.
At this point, we had worked our way through our first pot of tea and were feeling thoroughly caffeinated, so we switched to an herbal Maple Walnut tea for the dessert course.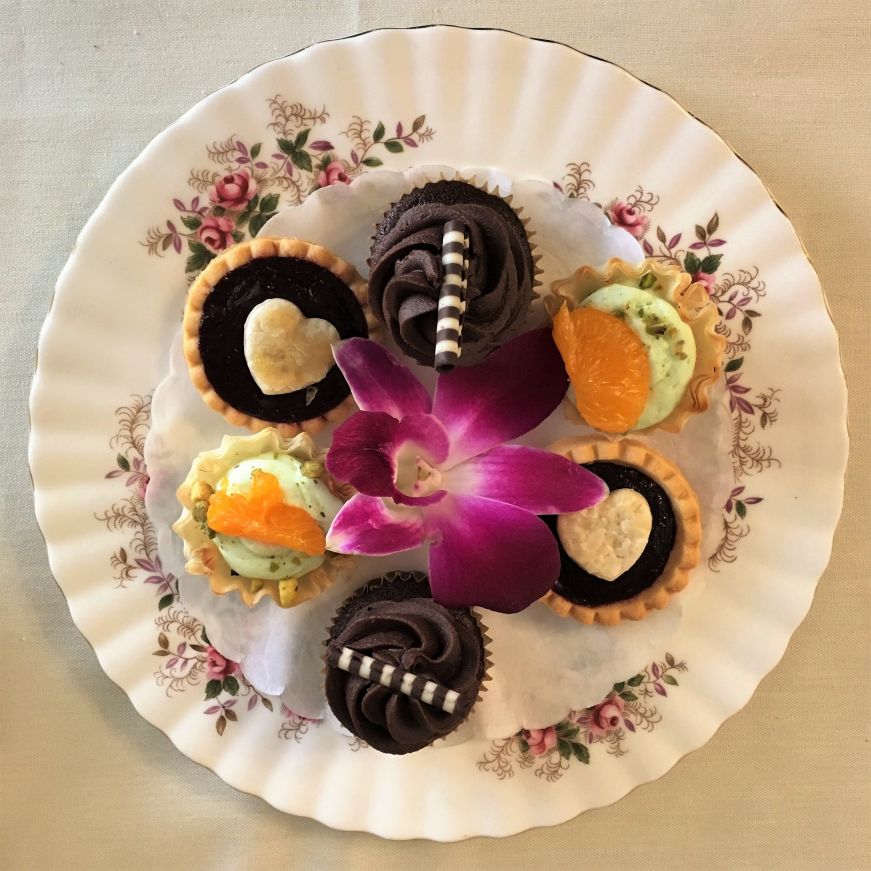 The standout of the dessert course was the rich dark chocolate buttercream on the cupcake (seriously, I could have just eaten a double serving of frosting and skipped the cupcake), and I loved the perfectly executed crust of the Queen of Hearts jam tart.  Dessert also included a phyllo shell filled with pistachio whipped cream and garnished with a tiny orange segment.
Throughout our tea, service was attentive, but not hovering; our waitress was happy to let us linger and refill our pot of tea as needed.
The Mad Hatter recommends allowing one and half hours for tea service, which we found to be a perfect amount of time.  Afterwards, you can stop by the upstairs gift shop, which stocks all of the teas available on the menu, tea cups, and tea accessories (we were tempted to buy a little hourglass tea timer for ourselves).
The takeaway:
Tea service at the Mad Hatter was a fun and delicious special-occasion splurge, and I'm already looking forward to making it an annual tradition.
The details:
Tea service at the Mad Hatter is available every Tuesday through Sunday by reservation only.  Vegetarian and gluten-free tea services are available upon request.  Allow one and half hours for tea service.
The Mad Hatter Restaurant & Tea House
1632 S Ferry St
Anoka, MN 55303
763-422-4160
madhatteranoka.com
This post isn't sponsored by The Mad Hatter—I paid for my tea out-of-pocket.
If you enjoyed this post, pin it!