Although I spent the evening eating corn-on-the-cob on my patio, it's the day after Labor Day.  Summer is officially over.  Since summer is the reason I keep hanging around Minnesota, winter after winter, I am experiencing a bit of a post-summer slump.  Sure, fall is nice, with apples, squash, colored leaves, and pumpkin spice-flavored everything, but as each noticeably shorter day passes, subzero temperatures and piles of snow draw nearer.  My main coping strategies for most of life's adversities are making lists, consuming copious amounts of carbohydrates, and running (nice how those last two cancel each other out).  So here's my list of the highlights, food and otherwise, that made the summer of 2014 possible:


A dozen or so lemon ices from Culver's, a Midwestern fast food chain known for its signature Butterburgers and frozen custard (also delicious).  Their lemon ice is light, refreshing, and best when topped with blueberries or raspberries.
Picking strawberries, eating a few pounds of them during the cleaning process, and making classic strawberry shortcake.
Picnics along the Mississippi River on the giant waterproof LL Bean picnic blanket I got as a birthday gift last year.  Favorite picnic food: a loaf of homemade bread, still warm from the oven, supplemented with homemade hummus and fresh vegetables and fruit from our CSA.
Seeing the Mississippi River at historic heights in downtown St. Paul, the day after it crested at 20.5 feet (the 7th highest level on record).
My first meal from a food truck, the satisfying Thai veg pasty from Potter's Pasties.
Workday picnic lunches of sugar snap peas, some strawberries or watermelon, and a couple fresh rolls from Whole Foods, enjoyed on my favorite bench along the Mississippi River.
Running the Red White and Boom Hot Dam 5K in a respectable 26:28, since I didn't get cut off by a train this year.
An amazing birthday weekend with lunch at the Finnish Bistro with my parents, sister Rachel, and Mike; a day trip to Stillwater featuring a rooftop patio lunch at the Green Room, self-serve frozen yogurt at CherryBerry, and a Key Lime truffle from Candyland; dinner at the Barbary Fig; and the happy discovery that you can get a kid-sized serving of Grand Ole Creamery ice cream in one of their house-made waffle cones (my flavor of choice is Black Hills Gold, sweet cream ice cream studded with praline pecans and Oreos).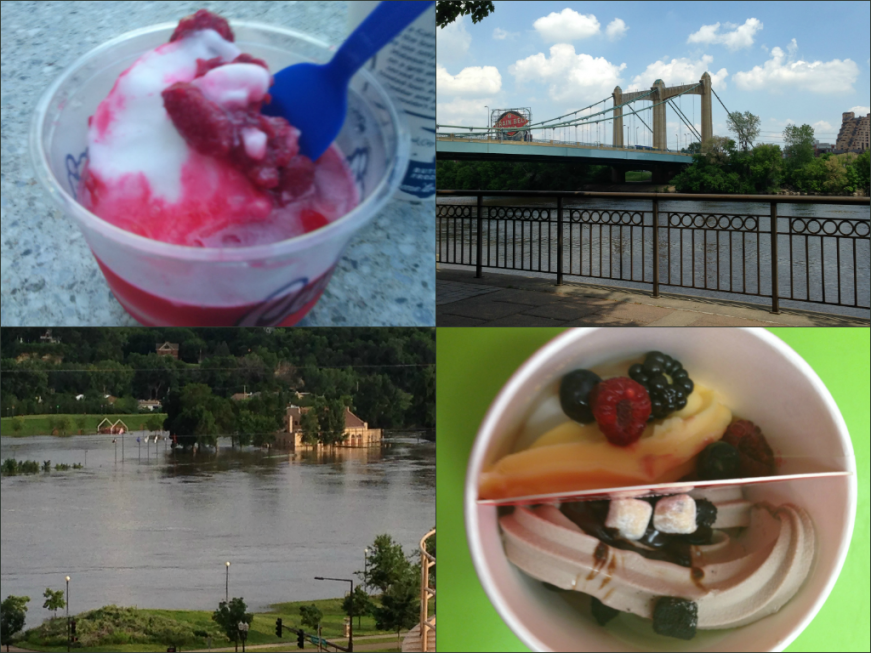 A veggie burger on the rooftop of Brit's Pub, followed by a hilarious (and free!) performance of The Complete Works of William Shakespeare Abridged on the lawn bowling green.  
Attending a St. Paul Saints baseball game, where I ate a giant bag of cotton candy that turned my lips and mouth a highly attractive shade of blue and enjoyed the minor league antics between the innings (a tire rolling contest, men dressed in drag raking the field, a pig on a leash, etc).
Lots and lots of CSA vegetables, fruits, and herb plants.
A day trip to Red Wing for the farmer's market and River City Days.  The food highlights were a spinach pizza from Firebrick Bread's mobile wood-fired pizza oven, with a perfectly chewy crust and whole cloves of roasted garlic and sun-dried tomatoes, and mocha almond fudge Izzy's ice cream from the Red Wing Confectionary.  The non-food highlight was seeing the world's largest boot at the Red Wing Shoe Museum.
Irish dancing, a concert by the Mahones, shopping, and a giant piece of Claddagh Coffee's Dublin crumb cake at Irish Fair.
Taking a random Tuesday off from work to enjoy a beautiful summer day with a run in the park, blogging on the patio, more blogging and ice cream at Sebastian Joe's, a picnic supper, and a walk around Lake Harriet.
Speaking of Lake Harriet, the fabulous truffle popcorn at the lakeside Bread & Pickle.
Spending an afternoon at the Chipotle Cultivate festival.  Yes, it was a giant commercial for Chipotle, but there was also some great music, tofu bowls from ShopHouse (Chipotle's LA Southeast Asian restaurant), and caramel corn made with local vendor Bare Honey's chile-infused Hot Honey.
A day at the Minnesota State Fair complete with a Minnesota Cooks demonstration, newborn farm animals, and cheese curds.
Walking around the Minneapolis lakes with my sister Rachel.
Enjoying dinner with Mike on our patio almost every night.