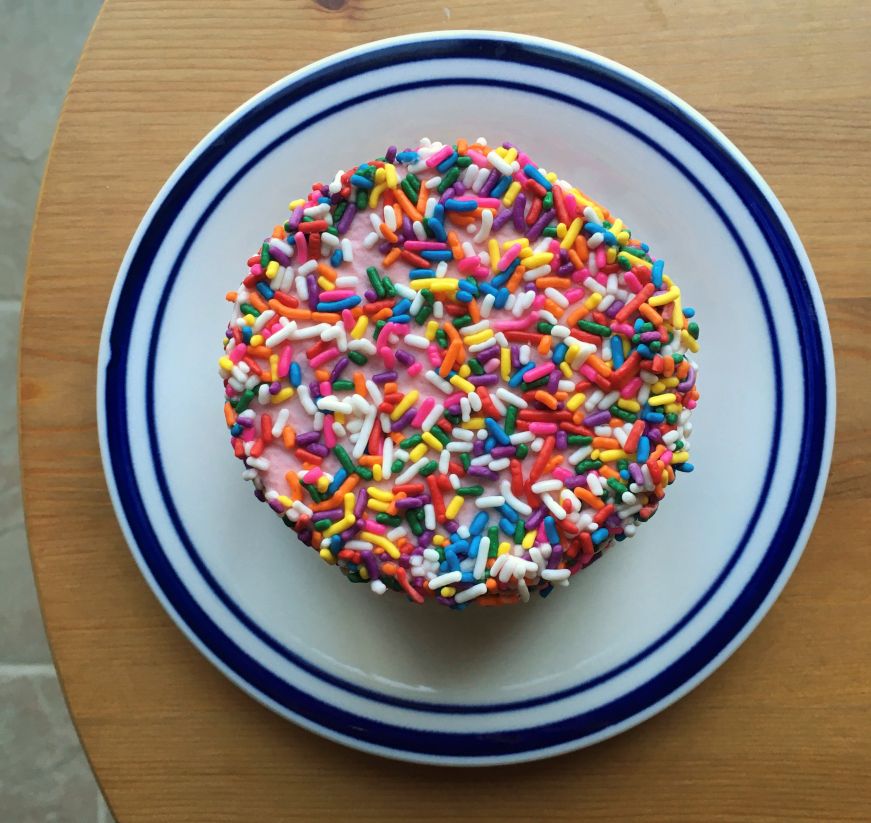 This post was originally published on April 8, 2020 and was most recently updated on May 13, 2020.
This is a hell of a time to be a freelance writer who focuses on food and travel.
In a three-week period, I went from writing about martini lunches at the Lexington to writing about distilleries producing hand sanitizer to not writing at all.  The main journalistic outlets I write for have either eliminated their freelance budgets or ceased publication until further notice, and since many of them are on shaky financial footing in the best of times, I'm afraid this will be the final blow for some of them.  On the content creation side, I anticipate that tourist destinations will have smaller budgets for marketing and won't be commissioning freelance content for the foreseeable future.
However, I am more fortunate than many, many people who are unemployed or underemployed due to COVID-19.  My paralegal gig, which makes up a significant portion of my income, is unaffected.  Mike's job (and our health insurance) is relatively secure.  We still have money for discretionary things like takeout restaurant meals, and in order to do the most economic good with our dollars, we're focusing on locally-owned restaurants and food producers and tipping generously. 
The Twin Cities restaurant community has given me so much over the past several years, professionally and personally.  At this unprecedentedly difficult time, I want to use my small platform to support this creative, generous, and hardworking group of people as much as I can.
I'll be updating this post regularly (likely every other week) with additional takeout recommendations, and restaurants are listed alphabetically within each category.  Keep in mind that restaurants may close without notice and hours and menus are ever-changing—be sure to call ahead.
For coffee...
Our go-to local coffee shop is the Daily Dose, which has locations in Maple Grove and Brooklyn Park.  They're doing an excellent job of providing contact-free curbside pickup, and they also offer takeout and delivery.  Order online (double-check that you've selected the correct location) or by phone.  I'm really enjoying the online ordering process because I've learned just how many ways I can customize my beverage.  In addition to coffee drinks, the Daily Dose offers housemade baked goods (the biscotti are fabulous, especially the chocolate chip and salted caramel mocha flavors), sandwiches, salads, and soups.
15517 Grove Circle N., Maple Grove and 9878 Noble Parkway, Brooklyn Park; 763-657-0919 and 763-762-8104; dailydosemn.com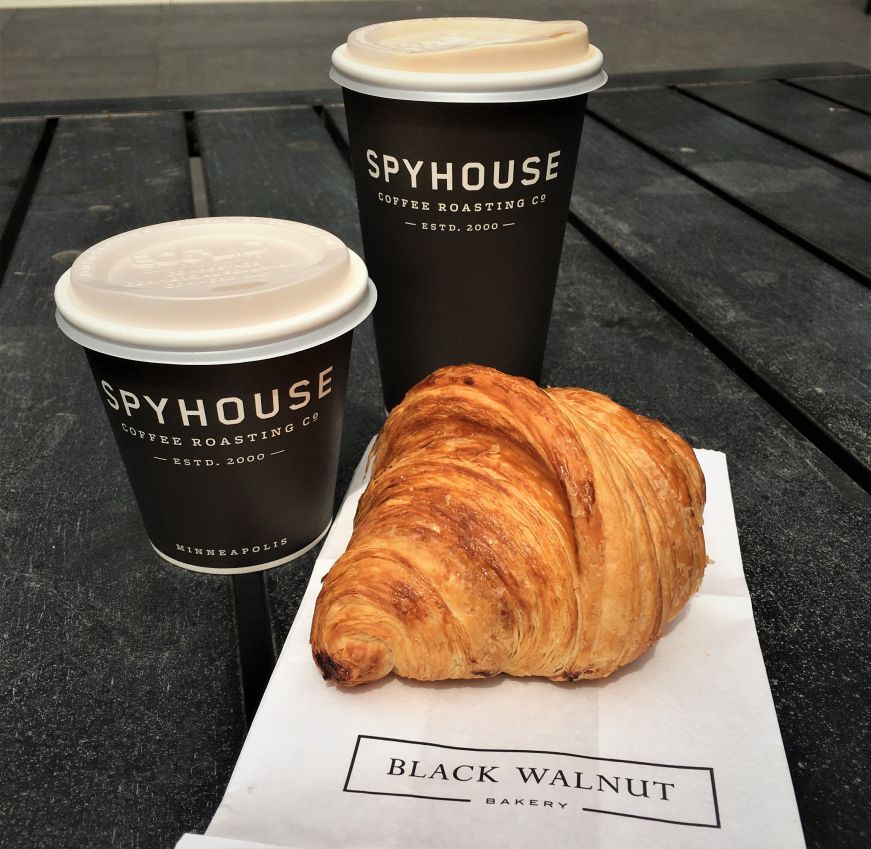 Spyhouse Coffee has long been one of my favorite bastions of third-wave coffee culture in the Twin Cities—I especially love their almond cappuccino and cold press.  They don't charge extra for alternative milks, syrups are housemade, and the exquisite baked goods are sourced from Black Walnut Bakery.
Five of Spyhouse's six locations are now open for takeout.  If you want to make a date of it, I'd recommend the Uptown cafe, since it's within easy walking distance of Lake of the Isles, or the North Loop location, which has an adjacent courtyard that accommodates social distancing (we were the only people there on the weekday afternoon we visited).
You do need to order in person—only 3-5 customers are allowed inside at a time (depending on the cafe), stickers on the floor indicate traffic flow and are positioned six feet apart for social distancing, and the payment touch screen is sanitized after each customer. 
Multiple locations; spyhousecoffee.com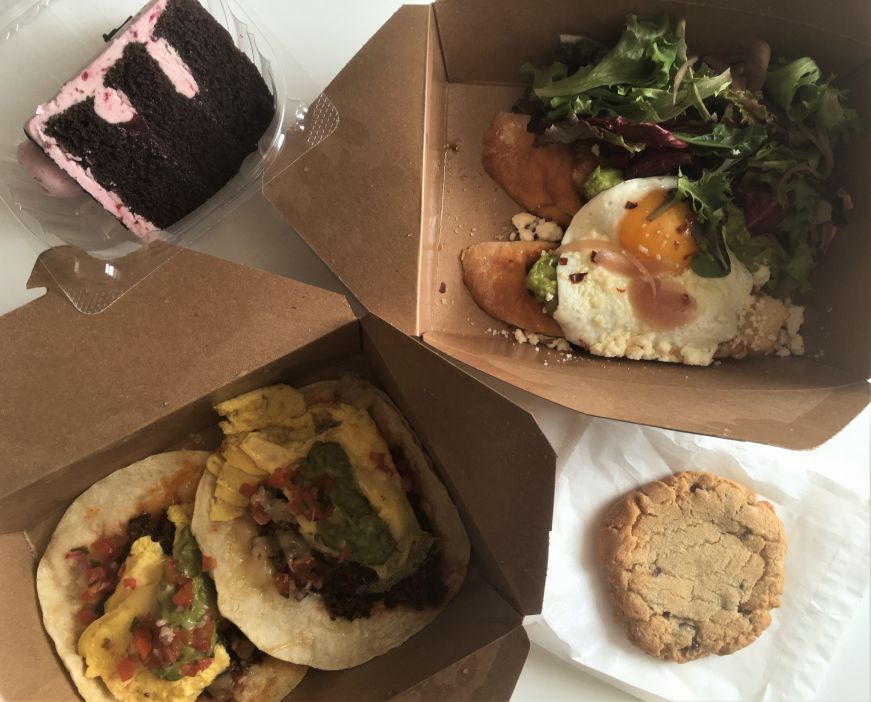 For brunch...
If weekend brunch is your favorite meal of the week, check out the Buttered Tin.  Their menu has a wide range of breakfast entrees, salads, and sandwiches, plus housemade baked goods.  The avocado toast held up surprising well on the journey home, with pickled onions that added a nice snappiness.  The breakfast tacos are especially hearty, loaded with refried black beans and a flavorful housemade chorizo.  But as tasty as our meals were, the Buttered Tin's baked goods were the highlight—a moist slice chocolate cake with a raspberry filling and bright raspberry buttercream and an extra buttery chocolate chip cookie.
Order online for no-contact pickup or delivery.  The online order form doesn't list the specific daily flavors for the baked goods, but you can call for details.  I especially appreciated how easily you can customize your meal, from your egg preparation to your choice of sides.
237 7th Street E., St. Paul; 651-224-2300; thebutteredtin.com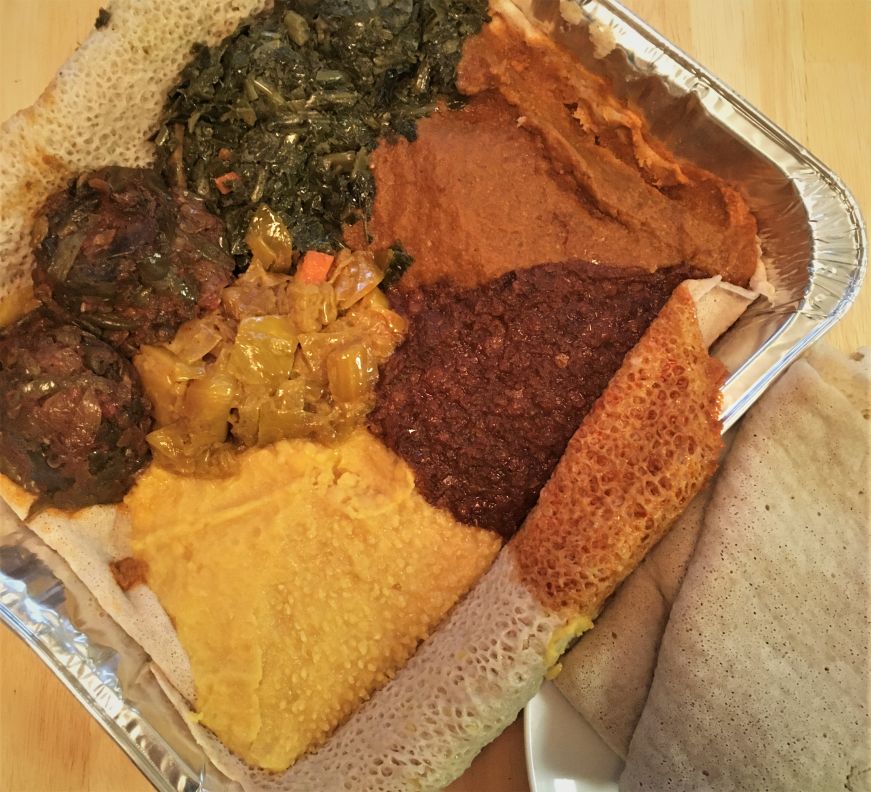 For dinner...
Bole Ethiopian Cuisine is one of my favorite Ethiopian restaurants, so I'm delighted that they're offering curbside pickup and delivery (order online or over the phone).  What sets them apart is how they coax out rich layers of flavor in every dish, and the menu has an impressive array of specialties that I haven't spotted elsewhere.  We ordered the Super Veggie Sampler, which included every vegetarian dish on the menu and plenty of injera (they also gave us a box of Kleenex, which was an unexpected and kind touch).  My favorite vegetarian dishes are the shiro (ground chickpea sauce) and tiqel gomen (curried cabbage, carrots, and potatoes).
490 N. Syndicate Street, St. Paul; 651-917-9332; boleethiopiancuisine.com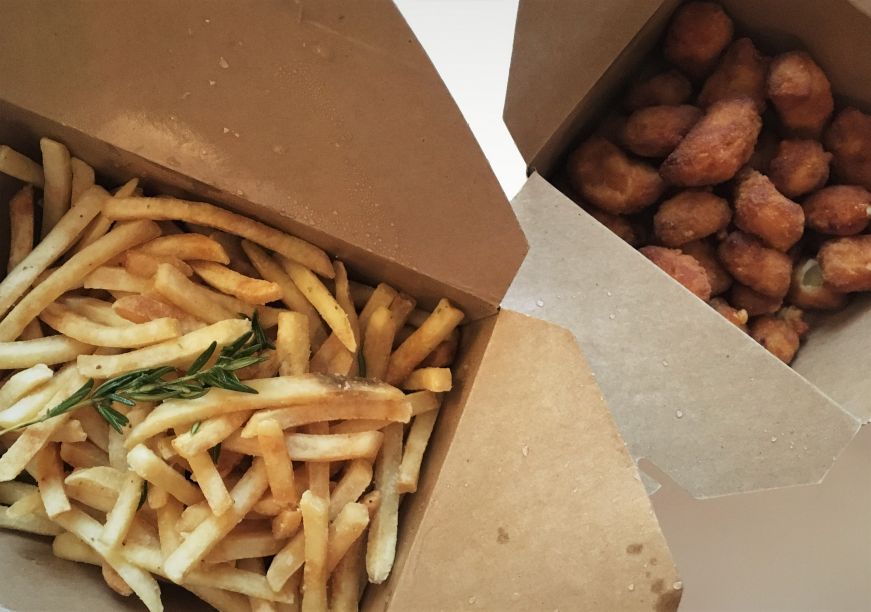 Gray Duck Tavern serves up my version of comfort food: thin, crisp fries seasoned with rosemary and deep-fried cheese curds with really good housemade ranch.  We also ordered the hot beef sandwich, a token piece of sourdough loaded with prime rib, mashed potatoes, and an ocean of delicious gravy—there was no way we could it eat it all, but it was supremely satisfying.
The takeout menu is posted on the Gray Duck Tavern Facebook page; expect elevated versions of Minnesota standbys, like Swedish meatballs with smoked gouda and a tater tot hotdish featuring short ribs and wild mushrooms.  Order by phone for curbside pickup.
345 Wabasha Street N., St. Paul; 651-340-9022; grayduckstpaul.com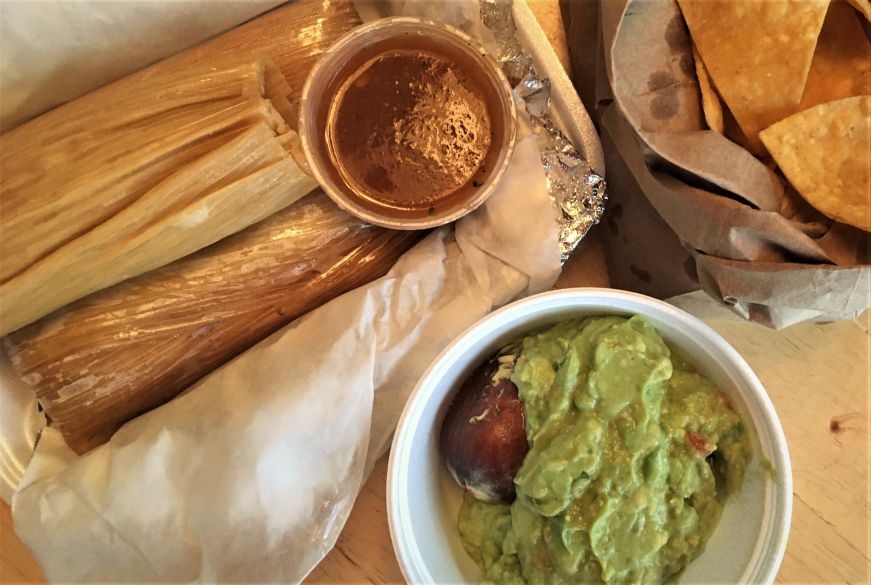 A quest for meatless tamales let me to Homi Restaurant, and I'm so glad it did.  In addition to tamales richly flavored with ribbons of melted cheese and plenty of jalapenos, the expansive menu features about a dozen vegan options.  Our order of chilaquiles verdes (fried pieces of tortillas with a spicy green sauce) was enough for two satisfying meals, and we appreciated that the various fresh garnishes were carefully packaged separately.  Even though we had chips in the pantry, I couldn't resist an order of guacamole—you can't beat freshly fried tortilla chips heaped with avocado.  Order by phone for curbside pickup or delivery.
864 University Avenue W., St. Paul; 651-222-0655; homirestaurant.com
Momo Sushi is a Japanese restaurant with a twist—in addition to traditional sushi (lots of vegetarian and cooked options available) and cooked entrees, there are several menu items that reflect chef and owner Sonam Nyorie's Tibetan heritage, such as momo (dumplings) and a sushi-style Tibet Mountain Roll with steak and cheese.
My Beauty & the Beast and salmon avocado sushi rolls and Mike's order of gyoza (pork dumplings) were good, but his steak hibachi dinner was the standout.  A generous portion of fried rice, well-seasoned noodles, and tender chunks of steak—it was a delicious and a good value for the price.
Order online at this link for takeout via a walk-up window where you pay by credit card and pick up your food.  Hand sanitizer is available and each customer is provided with a clean pen to sign the receipt.
1839 Central Avenue NE, Minneapolis; 612-789-9190; momosushimn.com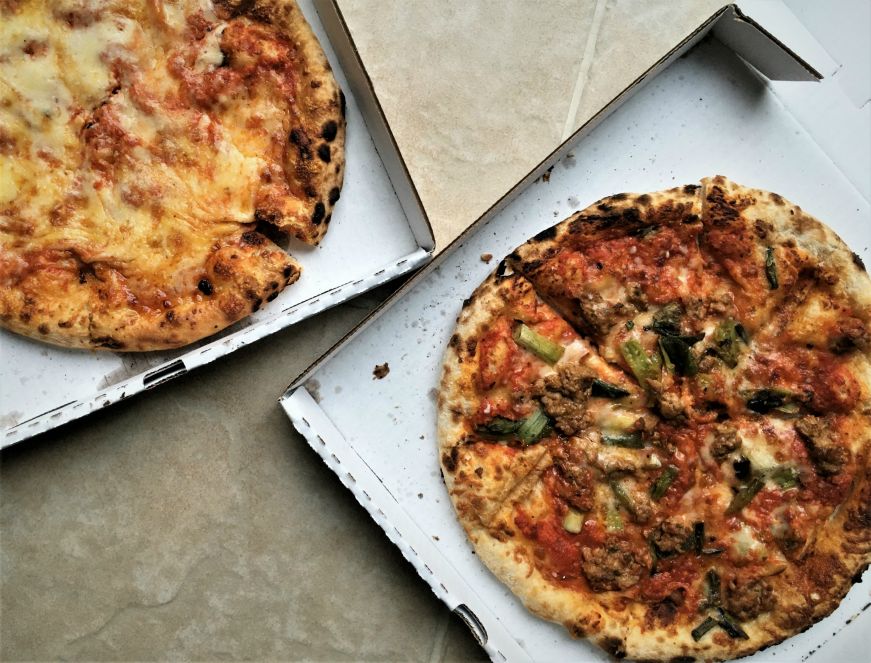 Red Rabbit makes some of my favorite pizza in the Twin Cities—the chewy Neapolitan-style crust is perfection, and the toppings are thoughtful and high-quality.  Currently, they're offering take-out, curbside pickup, and delivery from their Minneapolis location via online or phone orders, with a menu of pizzas, pastas, cocktail kits, and take-and-bake family-style entrees.  We ordered a couple of  pizzas: a cheese pizza with a nice balance of mozzarella, fontina, and Parmesan, and a sausage pizza featuring a zesty housemade sausage, charred scallions, and fennel pollen.
There was a mix up with our curbside pickup and our order got lost in the shuffle—since Red Rabbit is doing a brisk business and still seems to figuring things out, I recommend calling again if you haven't received your curbside order after 15 minutes.
201 N. Washington Avenue, Minneapolis; 612-767-8855; redrabbitmn.com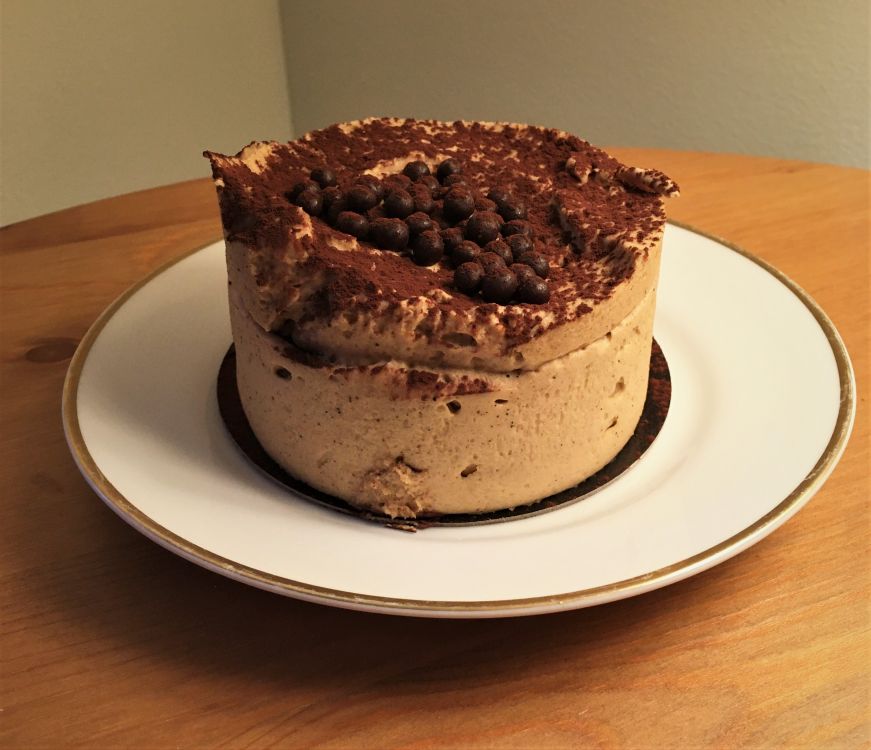 For dessert...
The Lynhall is famous for their whimsical funfetti cake, and if I ever needed a bunch of sprinkles in my life it would be right about now.  It's a made-for-Instagram dessert that looks as good as it tastes, a lemon-lime cake layered with raspberry-and-prickly-pear panna cotta.  We also enjoyed the bittersweet and warm spice notes of the chocolate chai cake.  Besides sweets, the Lynhall menu offers a modern American menu of la carte entrees and sides, plus dinner bundles that include a salad, entree, and sides for 1-2 or 3-4 people.  Order online for delivery or contact-free pickup.
2640 Lyndale Avenue S., Minneapolis; 612-356-5941; thelynhall.com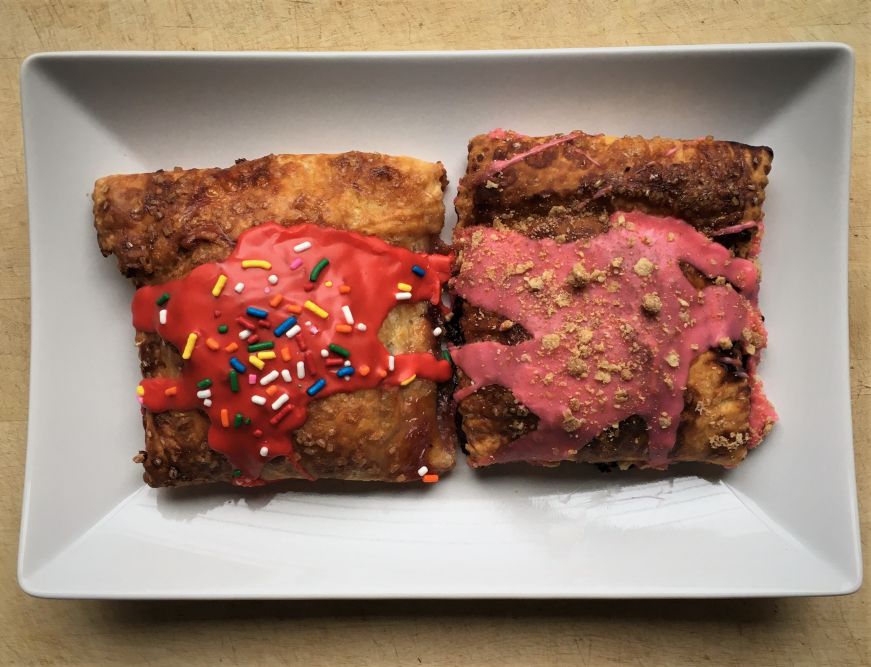 Fruit & Grain Bakery is a little different from the other businesses I've highlighted—instead of a brick-and-mortar location, Emily Lauer is cottage food producer who usually sells her pastries at farmers markets, popups, and other events.  Currently, she's offering no-contact "Pandemic Pastry Pickup" at her Minneapolis home and delivery to the surrounding neighborhood.
The weekly menu is posted on Instagram every Monday at noon, and since she typically sells out within a few hours, you need to place your order quickly.  Expect gourmet pop tarts, savory galettes, and cupcakes—the pop tarts are my favorite, thanks to the extra-thick flaky crust and sweet-tart homemade jam fillings.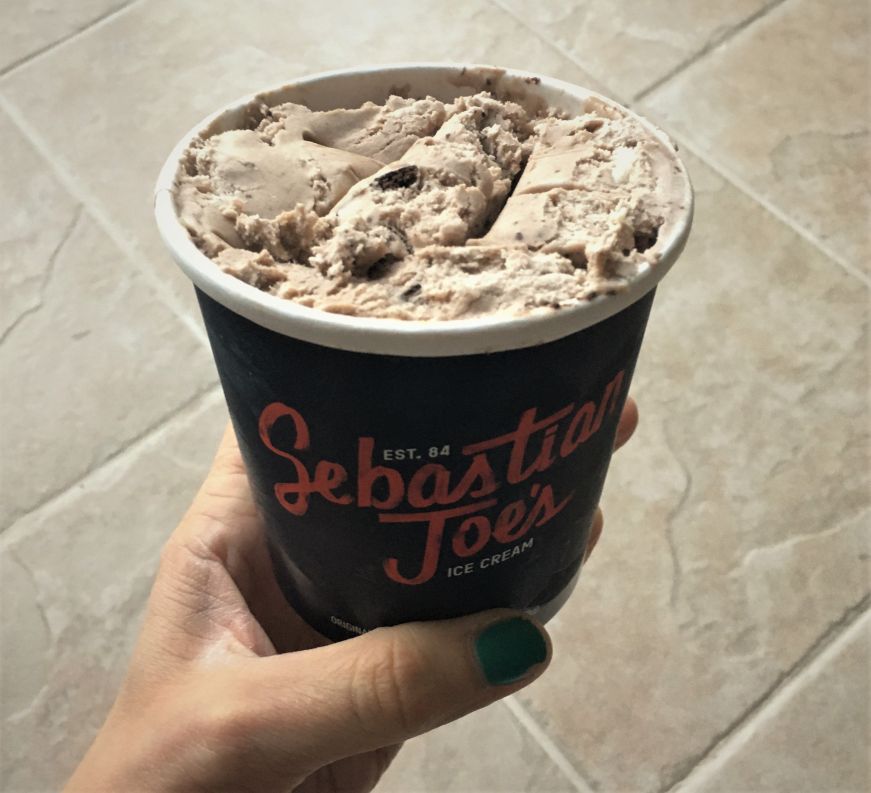 While the flavor selection is more limited than usual, Sebastian Joe's is scooping ice cream for sale by the pint, quart, and half-gallon at their Lowry Hill and Linden Hills locations.  The seven "always & everyday" signature flavors are available, plus a couple of rotating options.  We went with Oreo, a cookies-and-cream ice cream with chunks of cookies—it somehow manages to pack in more Oreo flavor than an actual Oreo. 
Other signature flavors I highly recommend are the raspberry chocolate chip, Pavarotti (vanilla cream with caramel, bananas, and chocolate chips) and Nicollet Avenue Pothole (chocolate ice cream with caramel, Heath bar chunks, fudge truffles, fudge swirl, and sea salt).  Each location's flavors are listed on the Sebastian Joe's website; order by phone for contact-free curbside pickup.
1007 W. Franklin Avenue S. and 4321 Upton Avenue S., Minneapolis; 612-870-0065 and 612-926-7916; sebastianjoesicecream.com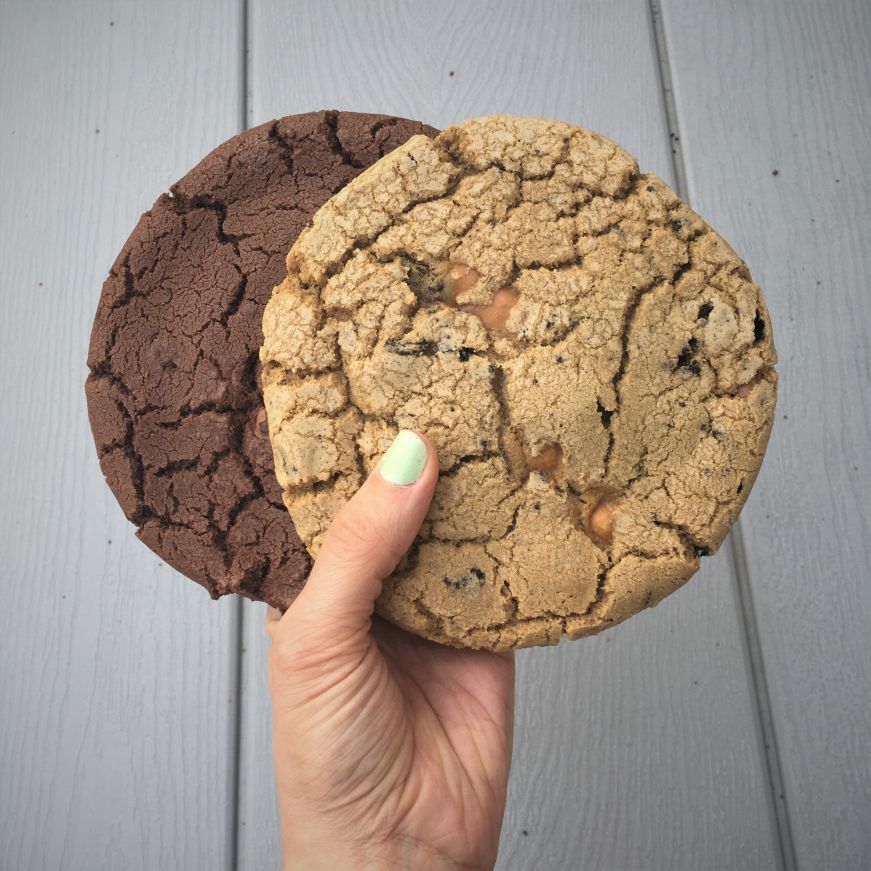 T-Rex Cookie Kitchen specializes in half-pound cookies which theoretically could be shared.  As someone whose favorite part of the cookie is the soft middle portion, I heartily approve of the edge-to-interior ratio.  Most flavors are classics—think chocolate chip, peanut butter, monster, sugar, and snickerdoodle—but my favorite is the caramel Oreo, with gooey ribbons of caramel and Oreo pieces.  There's also a "cookie of the week" which typically highlights seasonal flavors or unexpected ingredients.  Order online for curbside pickup at the Eagan location, and nationwide shipping is also available.
525 Diffley Road, Suite 2080, Eagan; 612-345-5815; trexcookie.com
Further reading:
If you enjoyed this post, pin it!