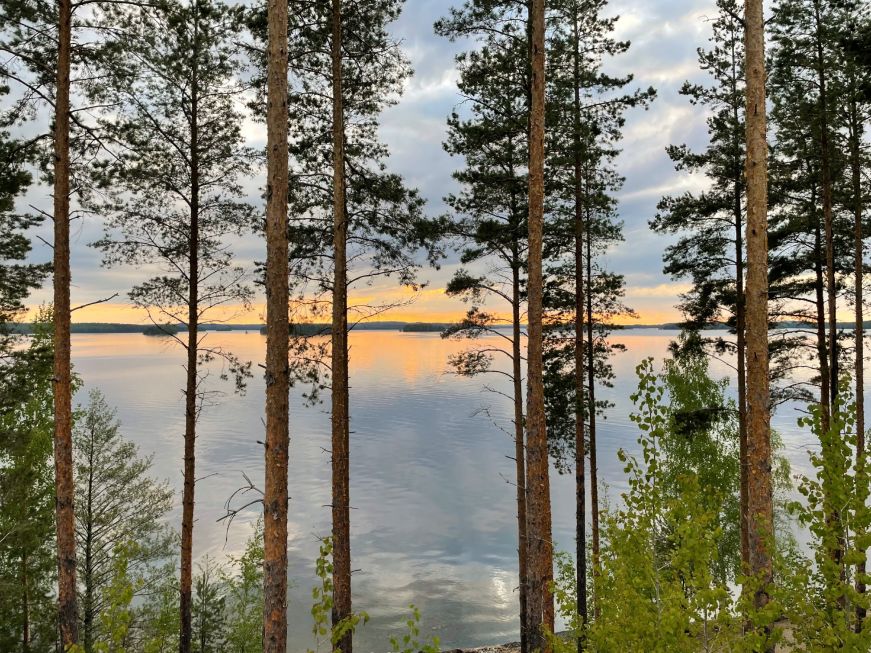 Pristine lakes, dotted with pine tree-covered islands.  Rustic cottages and stately manner houses.  Hiking, boating, fishing, foraging.  The Lakeland region is instantly recognizable as the postcard version of Finland (as well as the opening credits of the Netflix show Bordertown).  It's the country's largest region, encompassing the central and eastern portions of Finland. 
It would take a lifetime to fully explore this area.  On our recent trip, we focused on Lake Päijänne (the second largest lake in Finland), with Vääksy as our base.   
Vääksy is a town in southern central Finland, with a population of about 4,000 people.  It's located on an isthmus between Lakes Päijänne and Vesijärvi, which are connected by a picturesque canal that runs through the town.
Although Vääksy is quite small, there are two distinct areas: an Old Town with a handful of restaurants, locally owned shops, and the canal, and a modern commercial district with supermarkets and a Tokemanni (Tokemanni is a Finnish discount store chain roughly equivalent to Wal-Mart).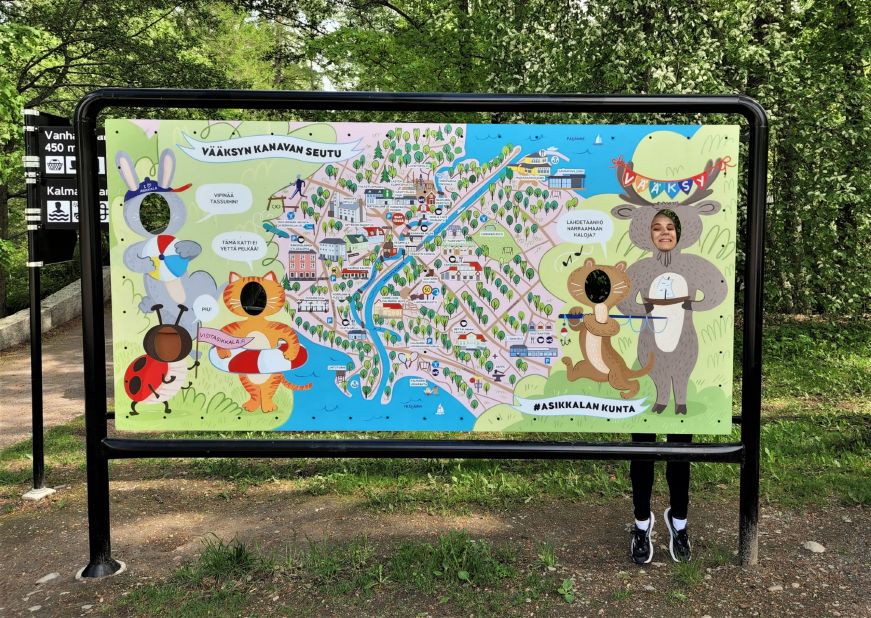 Thanks to its size, Vääksy is easy to navigate on foot, and there are helpful directional signs and pictorial maps throughout the Old Town to point you towards local businesses and attractions.  (Putting your head through a cutout in the map and pretending to be a reindeer is a nice side benefit.)
This post is a guide to Vääksy's attractions, dining, and accommodations, as well as the pros and cons of making it your base for exploring Finnish Lakeland.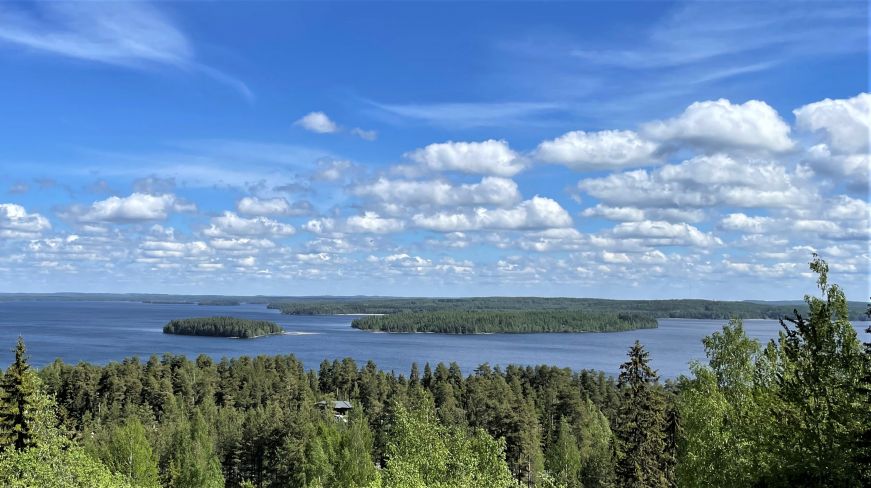 Attractions and activities
Aurinkovuori Hill is adjacent to Vääksy's Old Town and offers hiking trails with panoramic views of Lake Päijänne and Lake Vesijärvi.  We took a short hike (about one mile) to the hilltop observation platform overlooking Lake Päijänne.  In addition to the observation platform, the hilltop has a picnic area with a table, lean-to shelters, firewood, and a fire ring.
Vääksy is a 15-minute drive from Lake Päijänne's most famous feature, the Pulkkilanharju Ridge.  The 8-kilometer-long narrow ridge of land is part of Päijänne National Park and features a beautiful hiking trail through the woods.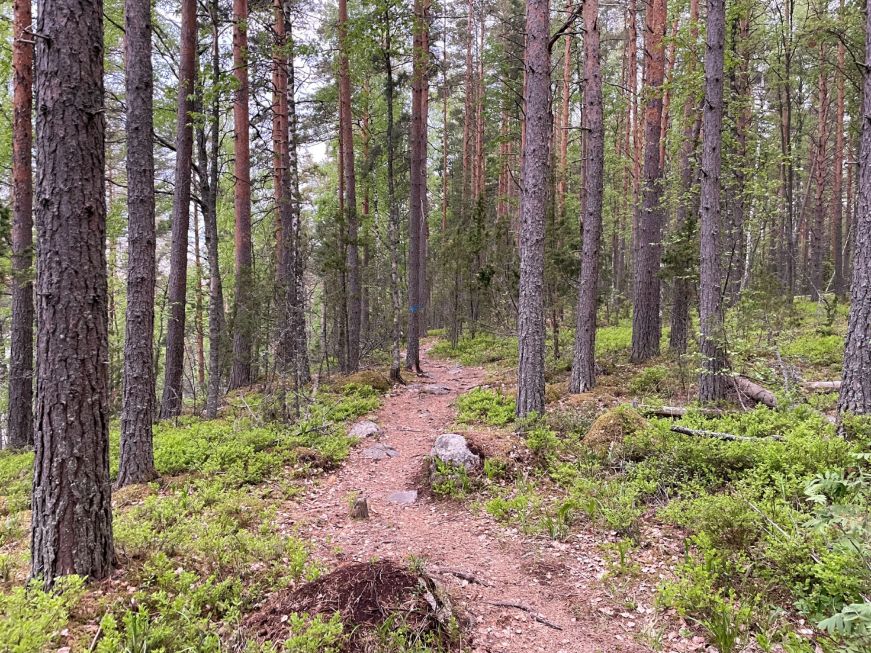 Due to inclement weather, we weren't able to spend as much time as we wanted exploring the trails at Päijänne National Park.  In addition to hiking trails, you can rent boats in Vääksy and check out the park's boating routes.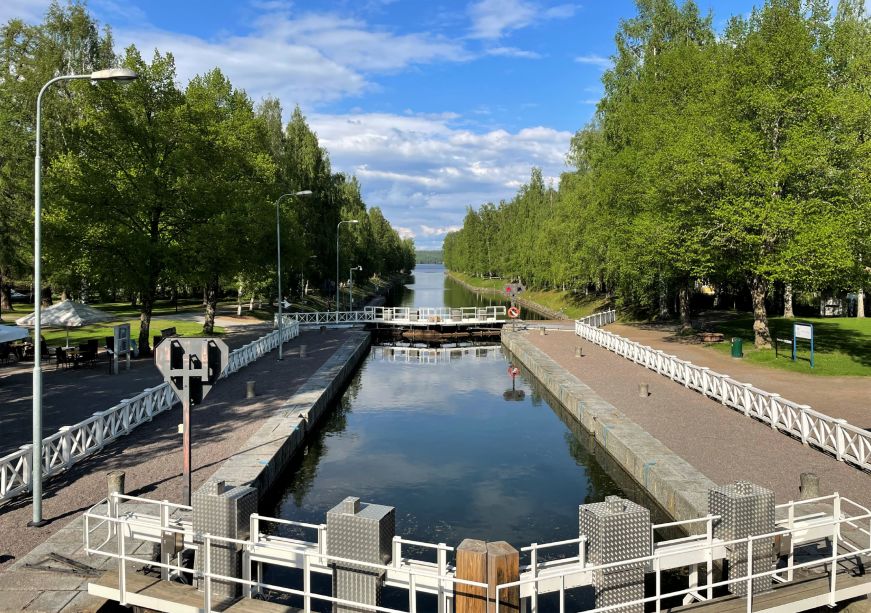 Vääksy's Old Town is home to several boutiques that specialize in apparel, home decor, ceramics, and gift items.  A full list of shops is available here.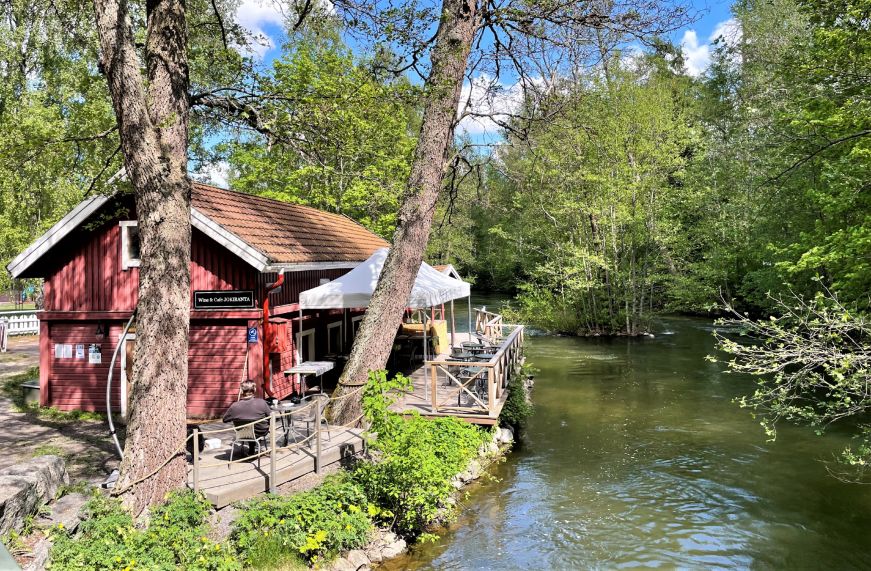 Dining options
Our favorite spot in Vääksy was Wine&Cafe Jokiranta, which has a cozy indoor space and outdoor seating areas overlooking the river.  The menu includes charcuterie boards, wine, beer, cocktails, salads, quiche, and desserts.  We visited for a before dinner drink—wine for Mike and an Aperol spritz for me.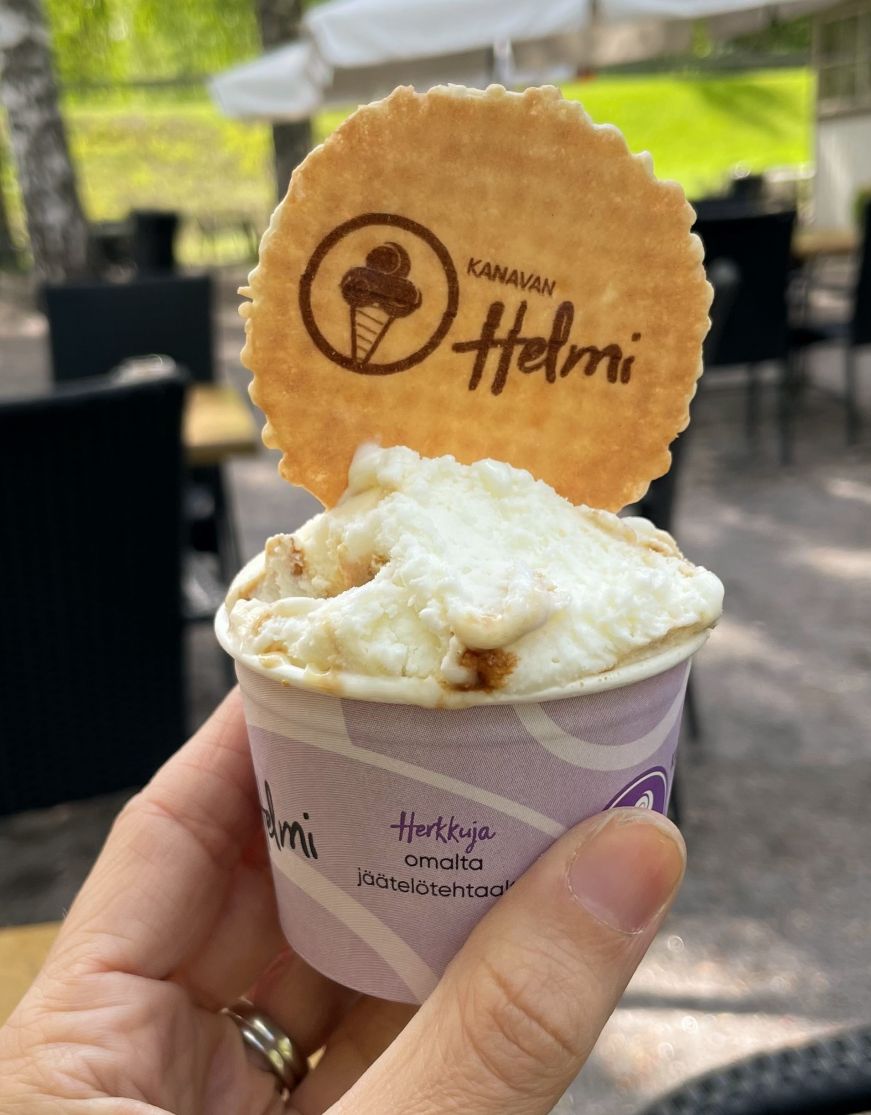 Kanavan Helmi is a cafe along the canal that serves pastries, coffee, and housemade ice cream.  There isn't any indoor seating, but there are plenty of tables outside.  The quality of the ice cream is quite good, especially since premium ice cream is hard to track down in Finland.  The lemon licorice flavor is quite tasty—the lemon is bright and refreshing and the licorice adds an unexpected depth.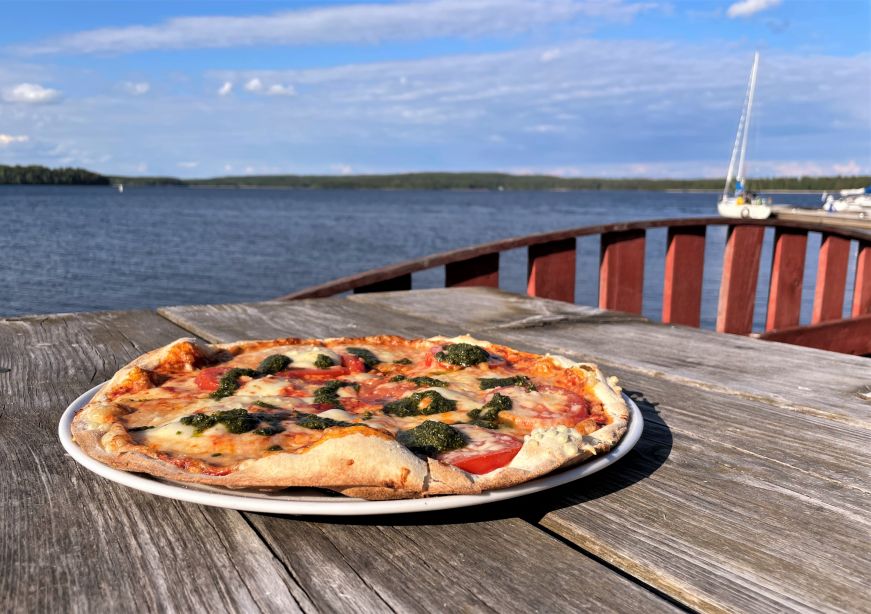 Majakkapaviljonki is a restaurant next to the marina, serving a menu that includes pizzas, calzones, nachos, salads, and wings.  It's roughly equivalent to your neighborhood bar and grill—the food is fine and the vibe is low-key.  You can't beat the views of Lake Päijänne, and there's also plenty of indoor seating.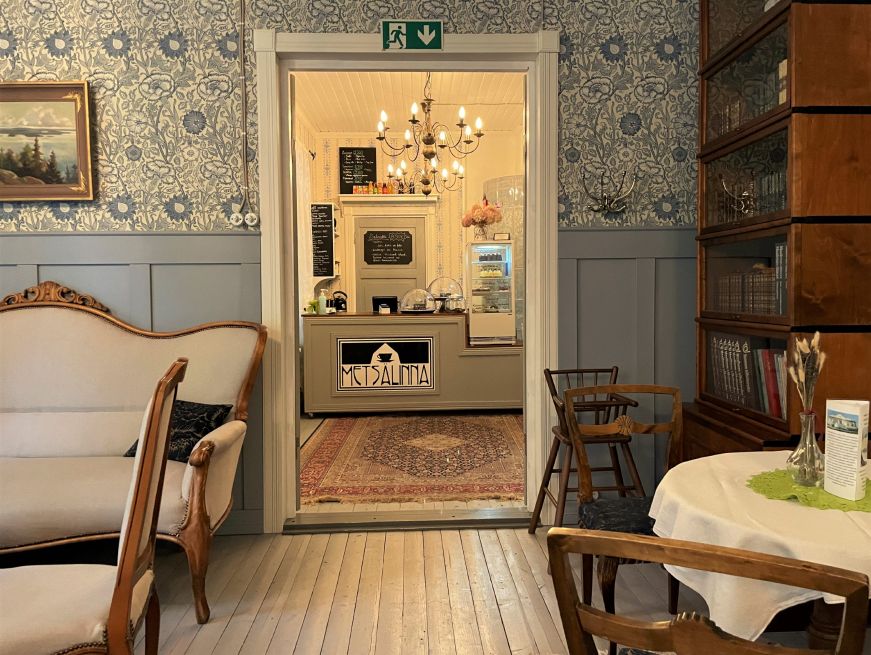 Kahvila Metsälinna is an elegant tea room in a historic home.  In addition to a robust selection of tea and coffee, the menu includes sandwiches, salads, and desserts.  My salmon salad came with a tasty housemade balsamic vinaigrette and slice of focaccia, and the chocolate cake was excellent.  This was a close second for our favorite restaurant in Vääksy.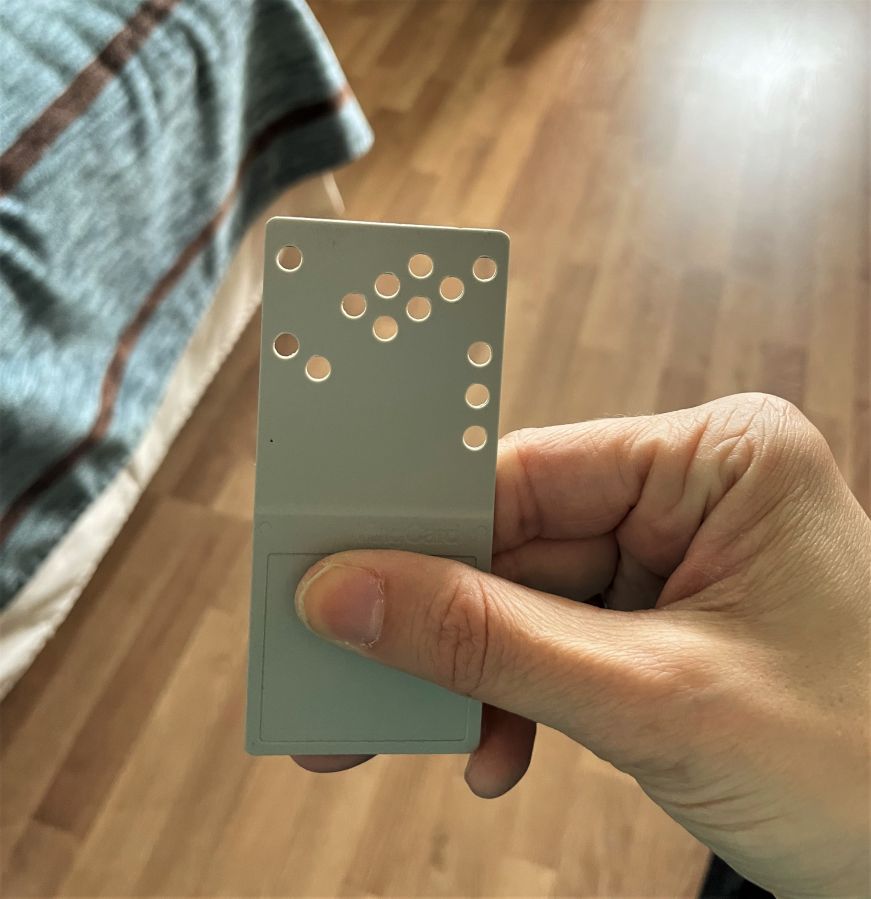 Accommodations
During our time in Vääksy we stayed at Hotelli Tallukka, a large resort-style hotel in the modern commercial district (the Old Town is within walking distance, about 1.5 miles away).  The hotel doesn't seem to have been significantly updated since the 1970s—the dining room looked like a period movie set, and we accessed our room with a punch card key.  Our room was clean, although the furnishings were worn, and the breakfast buffet was mediocre.  We did appreciate the English-language signage and informational materials, and the staff was helpful.
Another Vääksy accommodation option is Vääksyn Apteekinmajoitus, a bed and breakfast with a central location in the Old Town.  The website is Finnish only, but there's an English listing on Booking.com.  In hindsight, I think this would have been a better choice than Hotelli Tallukka (although not as weirdly memorable).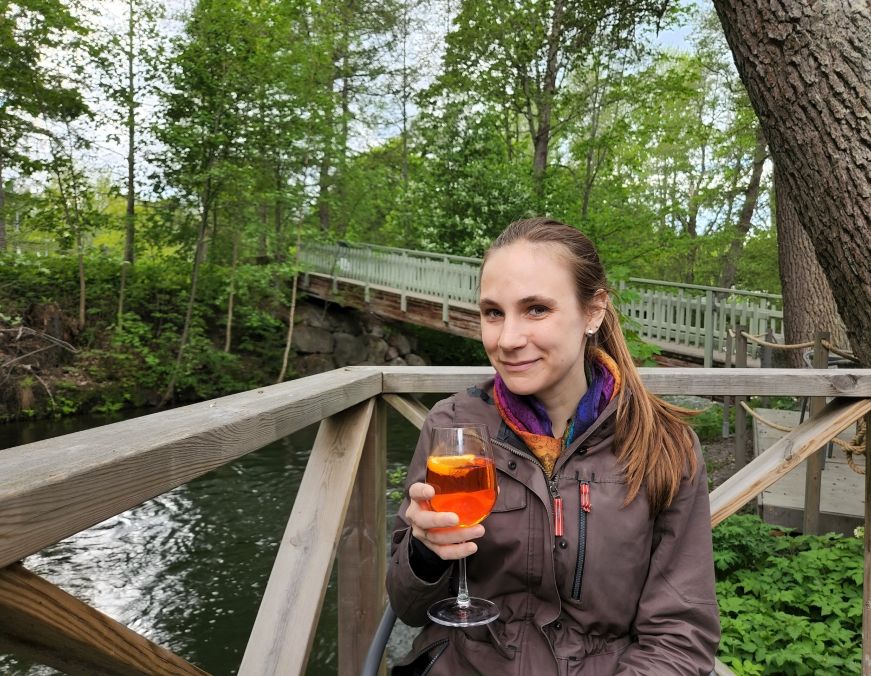 Pros and cons
Vääksy's appeal is that the town combines proximity to nature with amenities for comfort-loving tourists, including several decent dining options, grocery stores, and accommodations.  Driving out to the Pulkkilanharju Ridge for a sunset hike at 10:30 p.m. was one of the most memorable experiences of our time in Finland, and I doubt we would have been up for making the trip if it had been a long drive.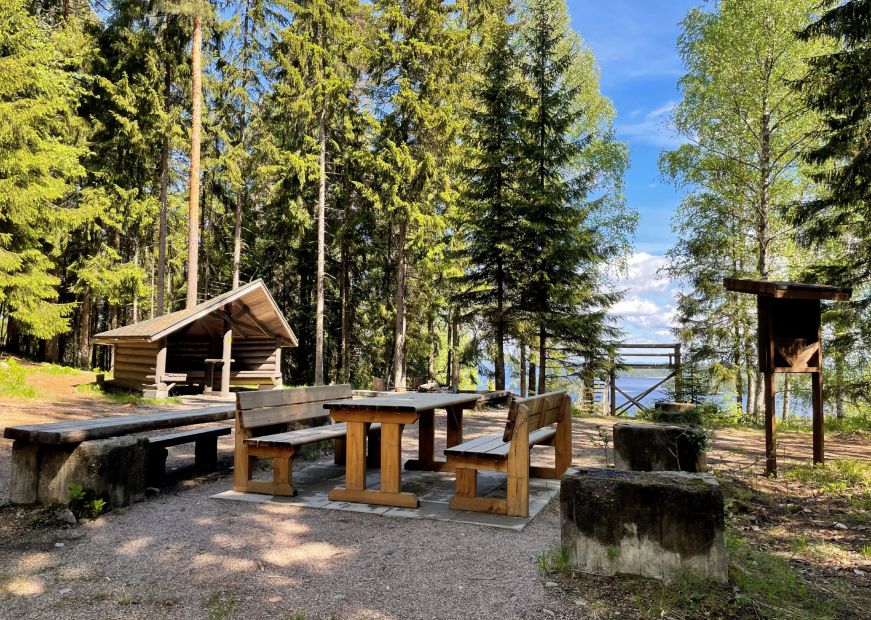 However, since Vääksy is so small there are limited activities in inclement weather.  Our second day in Vääksy featured unrelenting rain, so we ended up making the 30-minute drive to Lahti.  It's a city of about 120,000 and has a downtown shopping district with a mall, dozens of restaurants, an art museum, and a harbor area with restaurants and boutiques.
In addition, if you're looking for a more rustic getaway, Vääksy may be too developed and tourist-centric for your tastes.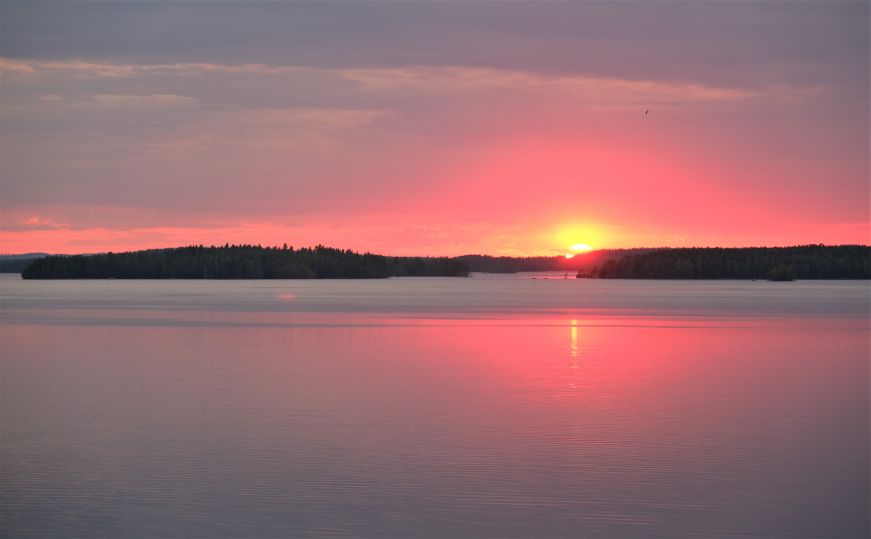 The takeaway
For us, Vääksy was a good base for exploring Finnish Lakeland—we were close to the natural beauty of Lake Päijänne, but we didn't have to figure out the logistics of a rustic cabin rental.  However, I think Vääksyn Apteekinmajoitus is likely a better accommodation option than Hotelli Tallukka, and since local activities are limited during inclement weather, you may want to scout out some options in Lahti as a backup plan.
Further reading Lakeland lake-hopping: five distinct lakes in Finland (Visit Finland)
If you enjoyed this post, pin it!