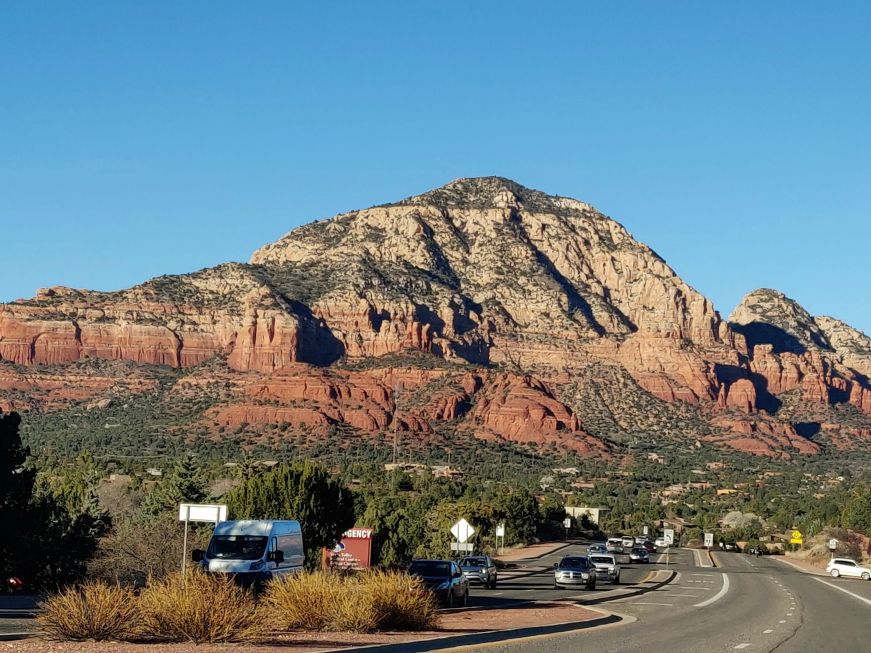 We wound up in Sedona for a few days in February because of Mike.
He grew up in Maine, so much of his childhood travel was focused on the East Coast: Acadia National Park, Boston, New York City.  He is familiar with some parts of the West—his extended family lives in Colorado, within sight of what they call foothills but what look like mountains to a lifelong Minnesotan.  But he's never experienced anything like the red rock formations of Sedona, and the online photos left him mesmerized.  Instead of spending our entire Arizona getaway in Phoenix, we decided to drive straight from the airport to Sedona for three nights.
It was one of the best travel decisions we've ever made.  Here's why.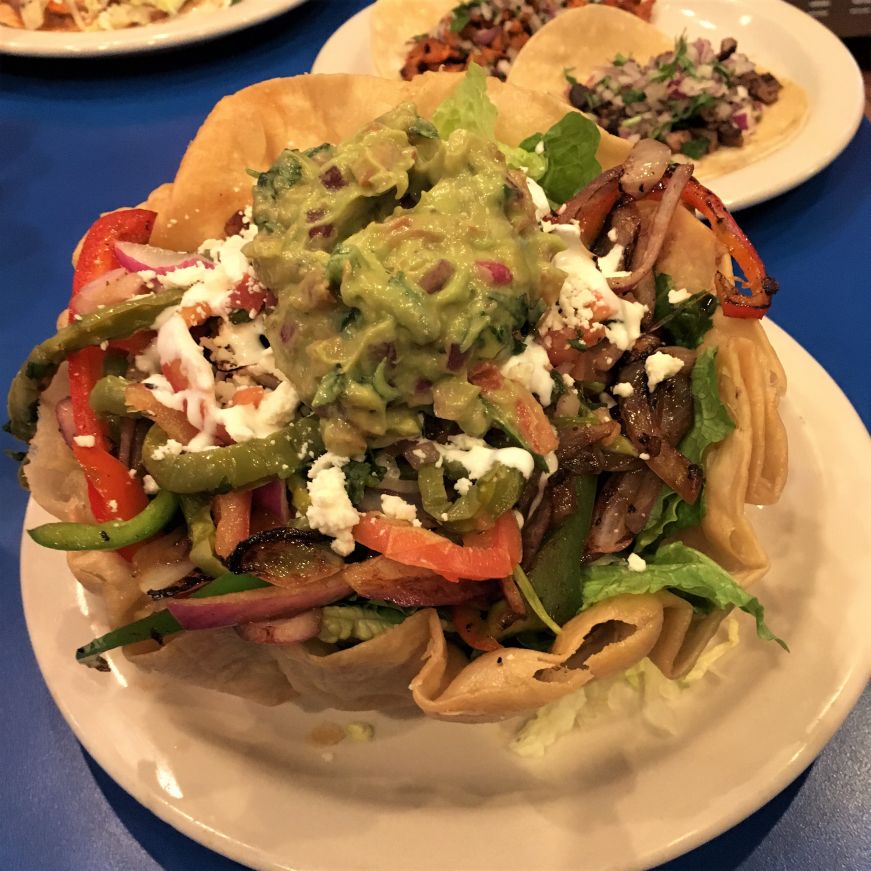 The food scene is impressive.
Despite its relatively small size (just over 10,000 people) Sedona has dozens of restaurants, with lots of options for vegetarian, vegan, and gluten-free diners.  It's a place where you don't have to try very hard to find a quite satisfying meal, which was exactly what I needed.  On our first night, we enjoyed Pisa Lisa, which has a unique rural-sports-bar-meets-upscale-pizzeria vibe and lots of inventive vegetarian pies.  I highly recommend the Funghi Decadente, which is topped with mushrooms, caramelized onions, and four kinds of cheese (provolone, mozzarella, Gorgonzola, and Parmesan Reggiano), with a finishing drizzle of truffle oil.
Oak Creek Brewing Co. has a relaxed taproom, good beer, and free peanuts. Tortas de Fuego has an expansive menu of Mexican made with care from high-quality ingredients—my taco salad featured a freshly fried tortilla bowl, heaps of romaine lettuce, queso fresco, smoky seared vegetables, and a generous dollop of fresh guacamole.  With more time, we would have loved to check out Tamaliza for their tamales and Mariposa for the view.
Since we were staying at an Airbnb with a kitchenette, we also appreciated having several grocery stores nearby, including Safeway, Whole Foods, and Natural Grocers, an organic grocery store.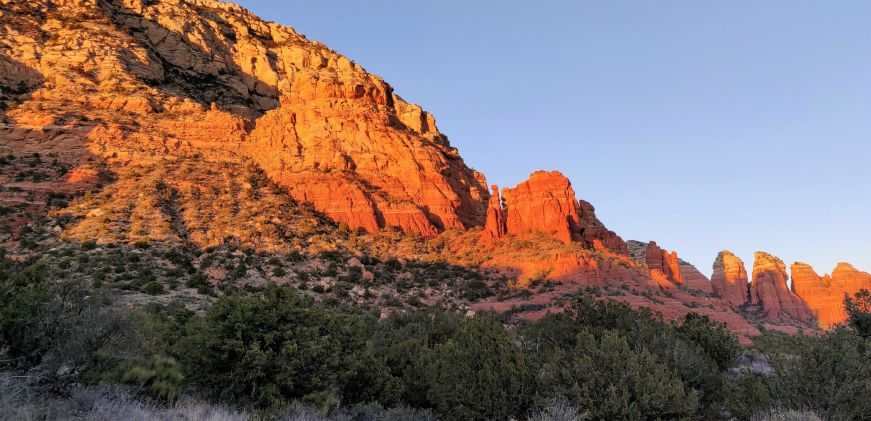 The views are amazing.
I was expecting some decent scenery, but I wasn't prepared for it be in my face everywhere I turned.  There were gorgeous views from the parking spot at our Airbnb, from the coffee shop where I lingered over a cappuccino, from the road.  It was so beautiful, it almost didn't seem real.   Some sights I see on my travels turn out to be underwhelming in person; in Sedona, I was filled with a sense of appreciation for what a beautiful place the world really is.
We enjoyed the views along the Verde Canyon Railroad in Clarksdale, although it's a tourist attraction that is priced accordingly ($64.95 plus tax per person).  The four hour, out-and-back route definitely has a booze-cruise vibe, with a full bar and wine for sale by the bottle.  Concessions were actually fairly reasonable, considering the setting.  For example, we paid $2.00 for a bag of M&Ms, $1.00 for an ice cream sandwich, and $7.00 for a spiked hot chocolate that was at least half Kahlua (this may have been why Mike enjoyed the train ride a lot more than I did).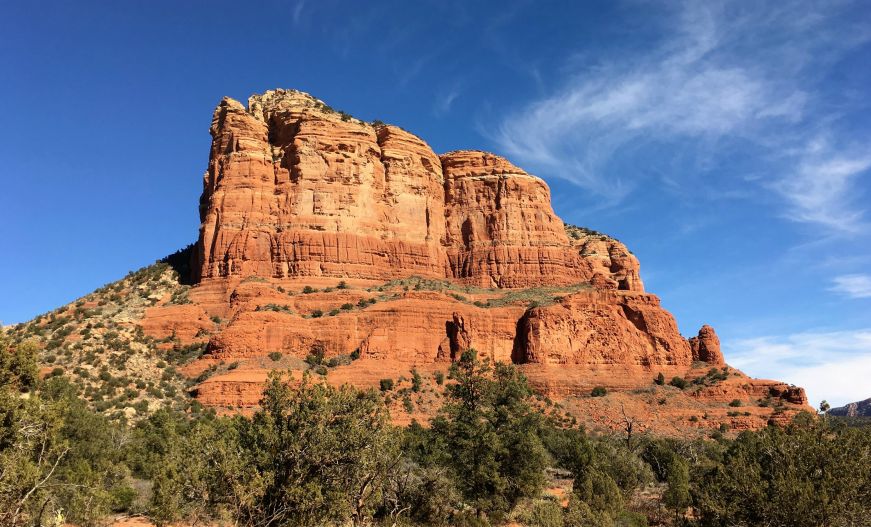 There's incredible hiking for all ability levels.
While there are some incredible views from the road and in town, it's worth the effort to get some hiking in, whatever your abilities.  Bell Rock Trail is an relatively level gravel trail near the Village of Oak Creek.  Our out-and-back hike took about one hour.  In order to park at the trailhead, you need to purchase a pass at the automated machine.  Our 24-hour pass was $5.
Our most challenging hike was Doe Mesa, which starts outside of West Sedona.  It's an out-and-back hike to the top of a mesa, so while the distance is fairly short (less than two miles total) there is a significant elevation change with some scrambling up and down rocks.  However, as someone who has a fairly pronounced fear of heights, the trail was wide enough for me to not feel too anxious.  The view from the top of Doe Mesa was the highlight of my time in Sedona—you can see miles and miles of rock formations, and it feels like you're on top of the world. 
Our hike took us about 1.5 hours, and the trailhead parking lot was covered by the pass we purchased at the Bell Rock trailhead.
Cathedral Rock is more of a walk along the river than a hike, and part of the trail is paved.  It's a nice way to get some photos and relax, although the $10 entrance fee seemed a bit steep.  It would probably be more impressive in spring and summer when the trees are leafy.
For more information, check out the book Sedona's Top 10 Hikes.  We found it to be a helpful guidebook with a wide range of scenic hikes, broken down by ability level and length.  That's what we used to plan our hikes to Bell Rock, Doe Mesa, and Cathedral Rock.  While we were looking for short easy and moderate hikes, the guidebook also includes longer and challenging hikes.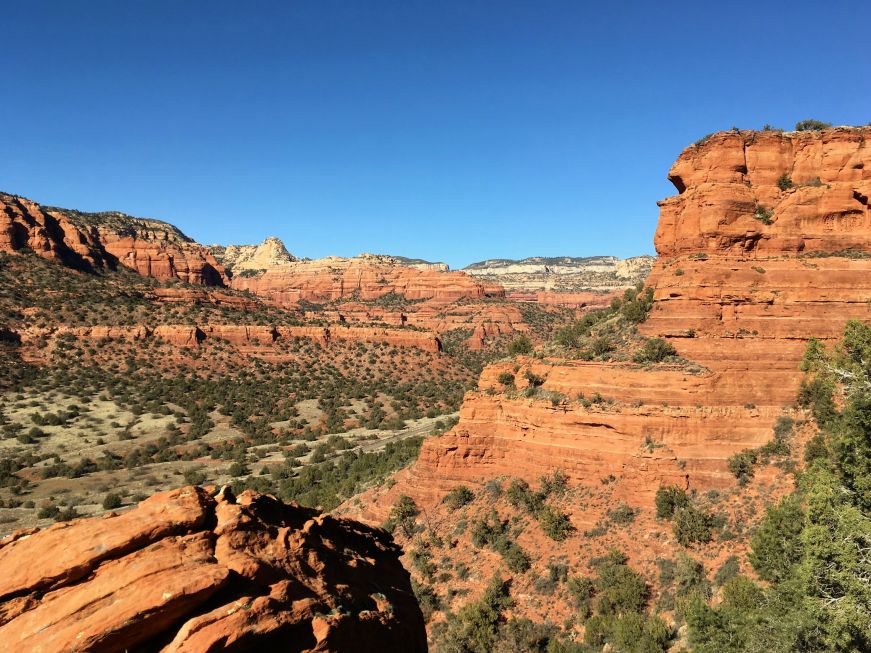 The stargazing is exceptional.
I have never seen as many stars in my life as I did in Sedona.  Familiar constellations had so many extra stars in them, and the night sky had an almost overwhelming beauty.  That's because Sedona has been designated as an International Dark Sky Community and has taken steps to limit light pollution.  There are very few streetlights in Sedona, and even dense residential areas are quite dark.
One of my favorite memories of my time in Sedona is bundling up, rolling down the top our our convertible, and admiring the stars from a trailhead parking lot near our Airbnb.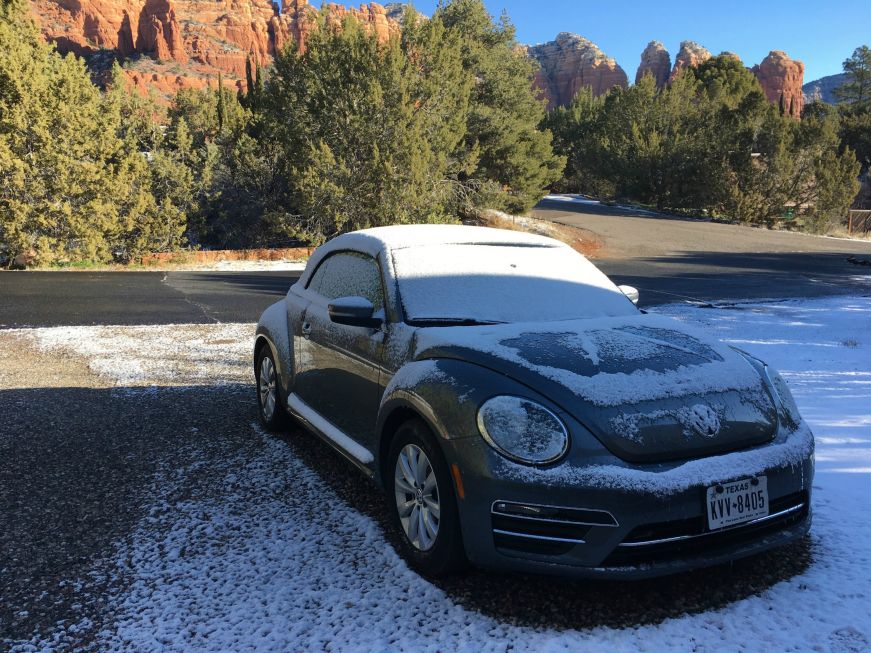 Some Sedona recommendations:
Bring warm clothes.  As optimistic Minnesotans, we packed for 60 degree days; high temperatures were actually in the mid-40s to mid-50s, with early morning and late evening temperatures in the 20s and 30s.  On several occasions, we ended up wearing the wool coats and hats we had worn to the airport back in Minneapolis and had originally planned to leave in the car. 
Our mistake?  Only checking the forecast for Phoenix.  Sedona is in the mountains and is significantly cooler.
I highly recommend the Airbnb we stayed at, Thunder Mountain Haven. It was spacious, with a kitchenette/sitting room, a good-sized bedroom, and a bathroom with ample counter space.  The view was lovely, but it was also close to the restaurants and shops of West Sedona.  I appreciated all the thoughtful touches: plush towels, extra blankets, owner's manuals for all of the kitchen gadgets, local guidebooks, and a list of restaurant recommendations.
If you enjoyed this post, pin it!