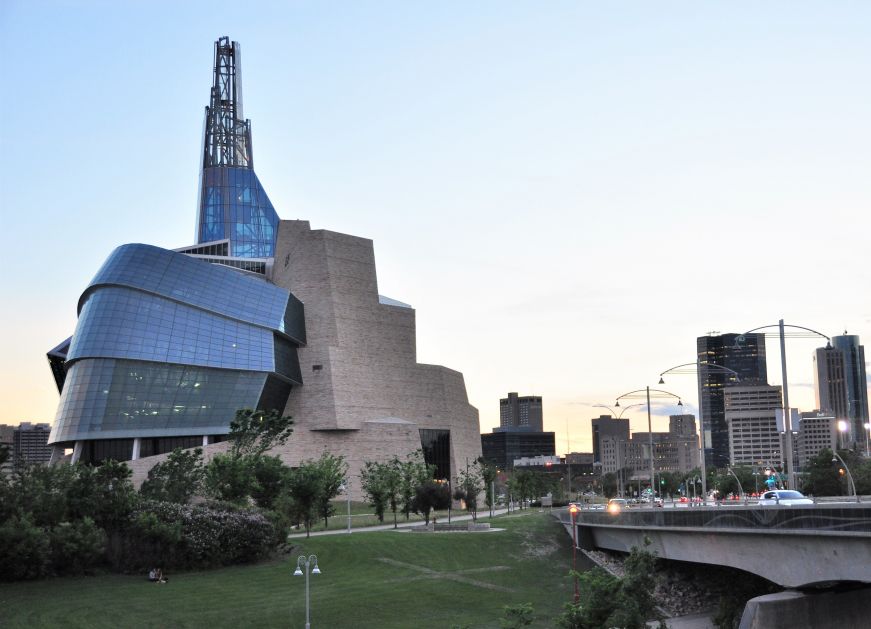 Thank you to Travel Manitoba and Tourism Winnipeg for hosting my stay.  As always, all content and opinions are my own unless otherwise noted.
A couple of years ago, I wrote about how Winnipeg was a budget-friendly way to satiate my international wanderlust.  Since then, Winnipeg's dining scene has exploded, The Forks Market has been revitalized, and I've been reading all about the spa experience at Thermëa.  So when Travel Manitoba and Tourism Winnipeg offered to host me for a few days, I was eager to see if Winnipeg was worth a return visit. 
As I mentioned in my previous post, Winnipeg is ideal for a long weekend getaway from the Twin Cities: it's a seven hour drive from Minneapolis or an hourlong flight.  It's quite a walkable city if you stay downtown or at The Inn at the Forks, since most of tourist attractions and plenty of restaurants are located downtown, at The Forks, in the Exchange District, and just across the Red River in St. Boniface.  (One memorable restaurant is actually located on the Red River—more on that later!)
My latest visit to Winnipeg started with a tour of the city's highlights by trolley—Winnipeg Trolley Company offers public tours that run approximately two hours and depart from The Forks Market.  Our very knowledgeable guide and driver, Gary, shared information about Winnipeg's history and culture, background on various neighborhoods, and facts about notable Winnipegers. 
Our custom tour included Osbourne Village, the Exchange District, and St. Boniface neighborhoods, with views of the Manitoba Legislative Building, Louis Riel Bridge, Canadian Museum for Human Rights, Winnipeg Art Gallery, and St. Boniface Cathedral.  A map of the public tour route is available online.
The Winnipeg Trolley Company tour was a great way to get my bearings and figure out what areas and sights I wanted to go back and check out.  I'd recommend doing it as one of your first activities in Winnipeg.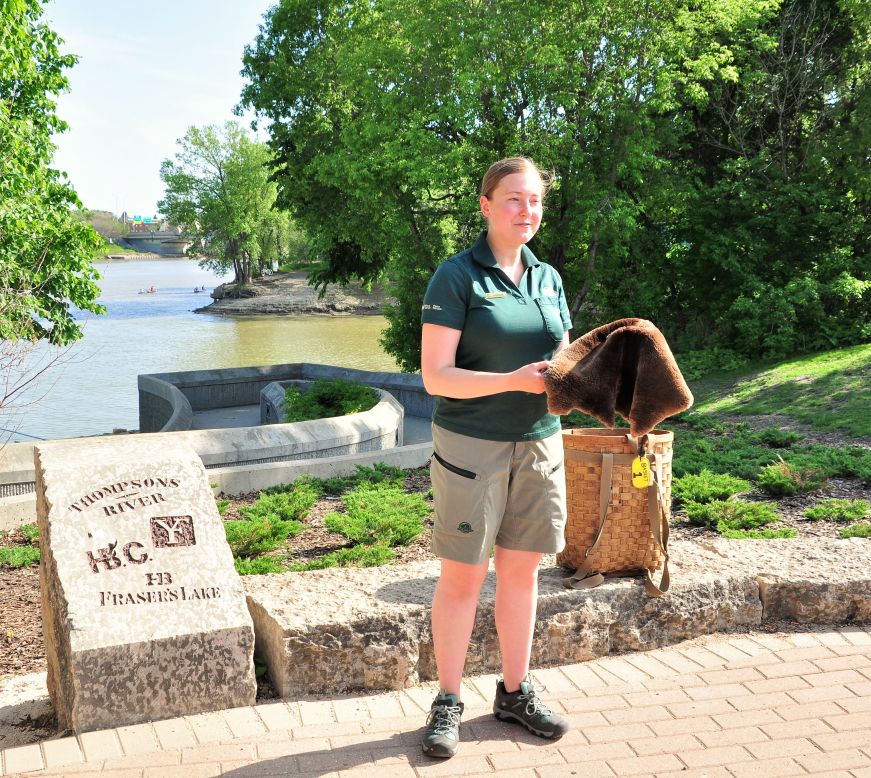 Next up was the 6,000 Years in 60 Minutes! walking tour of The Forks by Parks Canada (the Canadian version of the U.S. National Parks Service).  Our guide, Stephanie, did an excellent job of providing a historical and cultural context for The Forks, which is the spot at the confluence of the Red and Assiniboine Rivers.  Over the centuries, this strategic spot served as a meeting place for trade among First Nations peoples, played an important role in the fur trade, and ultimately became Winnipeg's railroad hub.  I especially recommend the tour for American visitors, since it's a fun way to learn quite a bit about Canadian, Manitoba, and Winnipeg history.
The tour was so engaging that I was surprised to discover our hour was up—I appreciated how the tour included plenty of interactive elements.  We got to hold a bison molar and sniff a sample of pemmican (a sort of energy gel made with dried meat, fat, berries, and wild rice).  Stephanie even demonstrated how the voyagers tied their sashes (knotted in front, to provide crucial back support while carrying 90 pound bales of furs). 
Like the trolley tour, I'd recommend doing the 6,000 Years in 60 Minutes tour early in your stay.  The tour schedule is available online, and the tour is offered in French and English.
For dinner, we visited The Forks Market, a food hall and retail space located in a historic stable.  Today, there are food vendors in the former horse stalls and shops in the second floor hayloft.  Some of the restaurants have counter seating, and there is also a food court-style seating area at the market's center.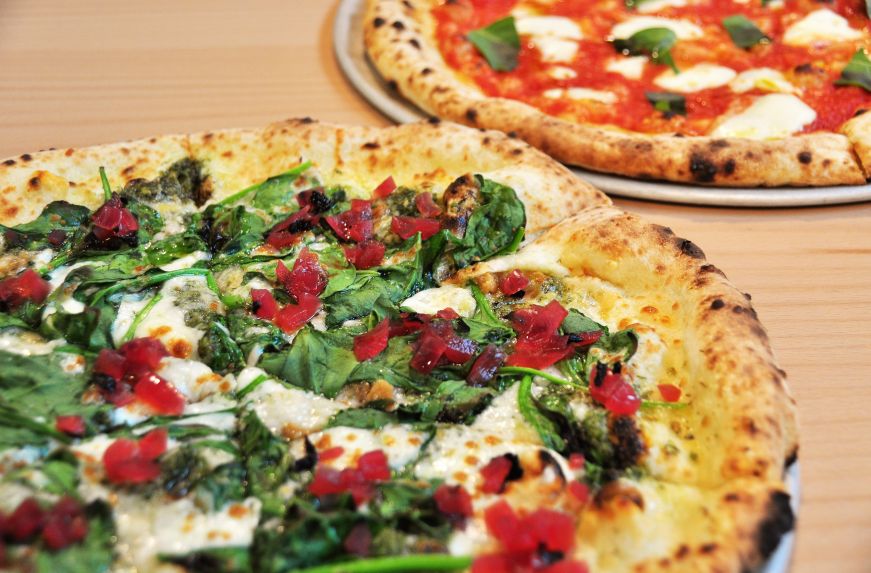 There are a wide range of dining options, including The Common, a craft beer and wine kiosk; Fergie's Fish 'n Chips (go with the pickerel, known as walleye to Americans); NuBurger, a gourmet burger place; Empanadas & Company by Simon's Cuisine, which serves Argentinean fare; and Bindy's Caribbean Delights, which has some great vegetarian options.  I tried out Red Ember Common, which offers Neapolitan-style pizzas made with local ingredients.  I opted for the Crete-za, which is topped with dill pesto, goat cheddar, roasted garlic, spinach, and pickled onions.  I loved the mix of strong flavors and the brightness the dill added—although I definitely didn't need to finish the whole thing, I just couldn't leave the last piece.
Our first day in Winnipeg ended with Uncommon Pours, a wine tasting with wine selections by The Common's sommelier, Veronique Rivest, and food pairings from several Forks Market restaurants.  I appreciated how laid back and approachable the event was—while Ms. Rivest is incredibly knowledgeable and passionate about wine, she also emphasized her number one rule in pairing wine with food: "Eat what you like and drink what you like."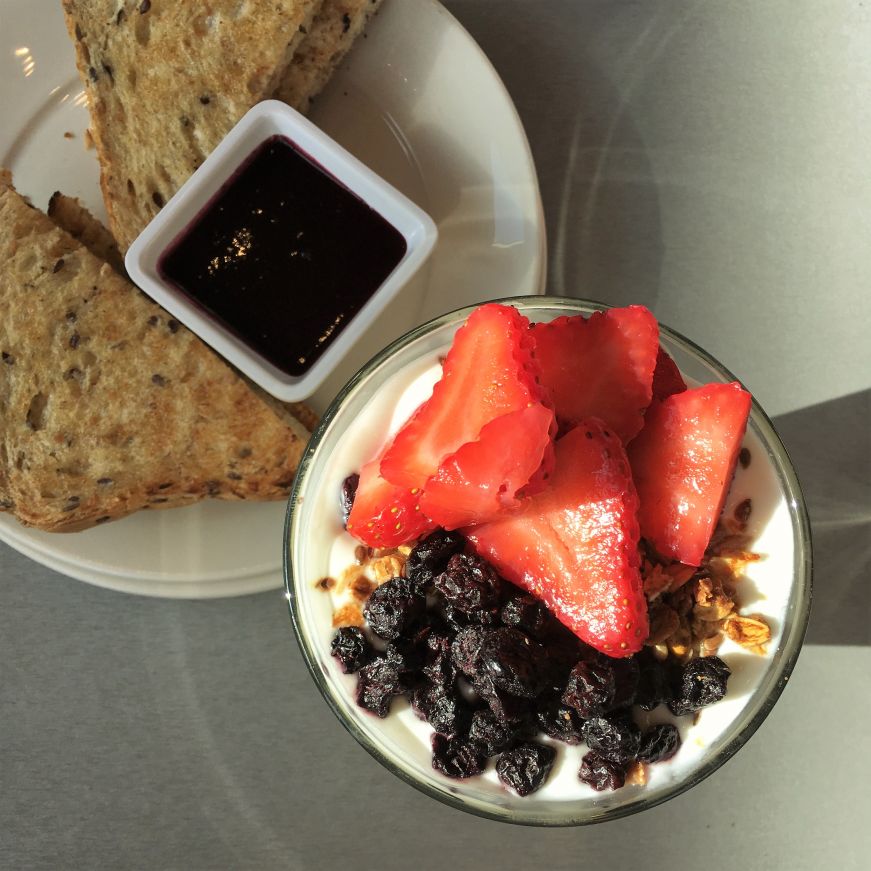 Day two began with breakfast at the Park Cafe in Assiniboine Park—I loved the bright, sunny dining room.  I ordered multigrain toast with housemade blueberry jam and the Greek yogurt parfait, which was made with housemade flax seed granola, fresh strawberries, and sundried blueberries.  I appreciated that the parfait wasn't too sweet; the Greek yogurt had a nice tartness that balanced the fruit and the granola had an almost savory quality.
We took a brief walk through Assiniboine Park's English Garden and Leo Mol Sculpture Garden on our way to the Assiniboine Park Zoo for the Canadian Signature Experience Tour.  The tour focuses on the Journey to Churchill exhibit and includes behind-the-scenes experiences at the musk oxen exhibit, where zookeeper Kaitlin gave us background on the zoo's four musk oxen and large animal husbandry, and the Leatherdale International Polar Bear Conservation Center, where researcher Laura discussed the conservation initiatives and research projects that the zoo is involved with.
The Journey to Churchill exhibit is a naturalistic environment that sprawls across 10 acres, with Arctic and sub-Arctic species including Arctic foxes, caribou, pronghorns, and harbor seals.  The Gateway to the Arctic portion of the exhibit features the 360-degree Rhythms of the North film, and the highlight of the exhibit is seeing the zoo's 11 polar bears (unfortunately, they weren't terribly active on the morning of our visit, likely due to the hot weather.  As our guide pointed out, "This is a zoo, not a circus—we let the animals do what they want, and that might mean you don't get to see them".)   
For lunch, we went to Deer + Almond in the Exchange District, a globally-inspired restaurant by chef Mandel Hitzer, a pioneer in Winnipeg's burgeoning culinary scene.  The lunch menu included several vegetarian options; I settled on the edamame and tofu bowl, which also included roasted cauliflower, wilted greens, fresh herbs, and shallot confit.  Each bite had a different balance of balance of flavors and textures, and I loved how perfectly the tofu was cooked: delicately crisped with a creamy interior.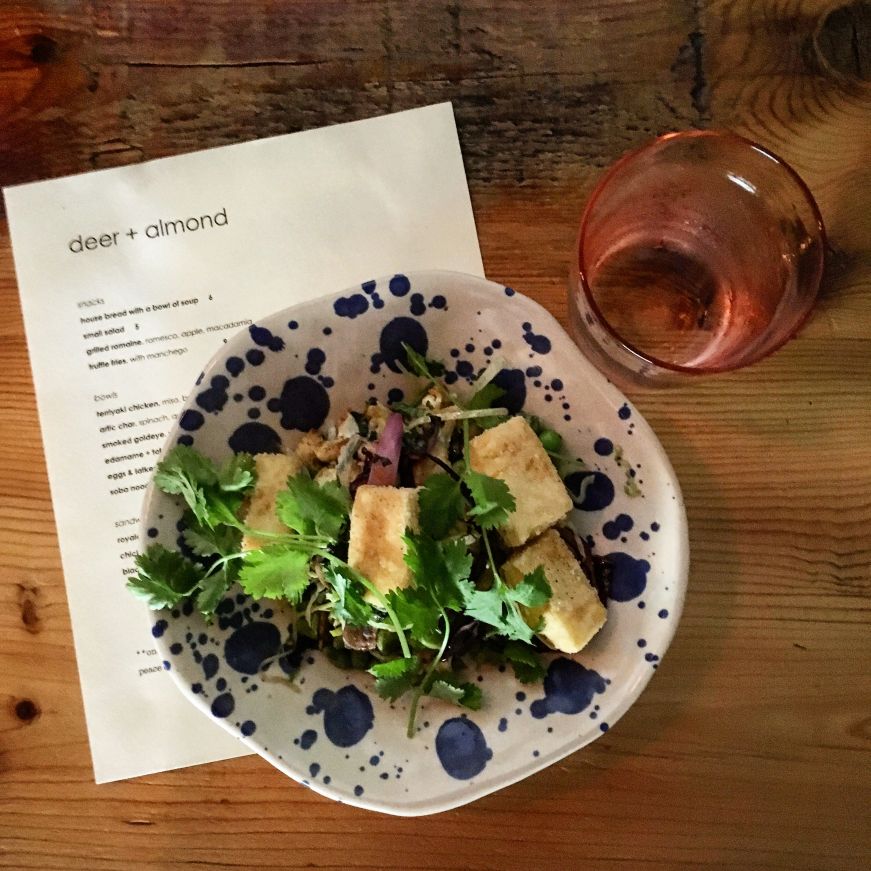 For dessert I sampled the semifroddo, salt of the earth, and lime mousse tart—my favorite was the very nutty semifroddo, a chocolate cake with peanut, caramel and sea salt, although I also enjoyed the beet ice cream in the salt of the earth dessert as well.
After lunch we toured the Exchange District.  Public walking tours focus on the district's history, and there are also food tours that explore the vibrant dining scene.  Our guide, Sabrina, shared an infectious enthusiasm for Winnipeg's original downtown.  The neighborhood was primarily developed from 1880 through 1920, with over 180 heritage buildings in a 30-square block area.  Developers envisioned that Winnipeg would become the largest city in Canada (the "Chicago of the North"); however, WWI, a lagging economy, and the devastating general strike of 1919 stagnated the city's growth.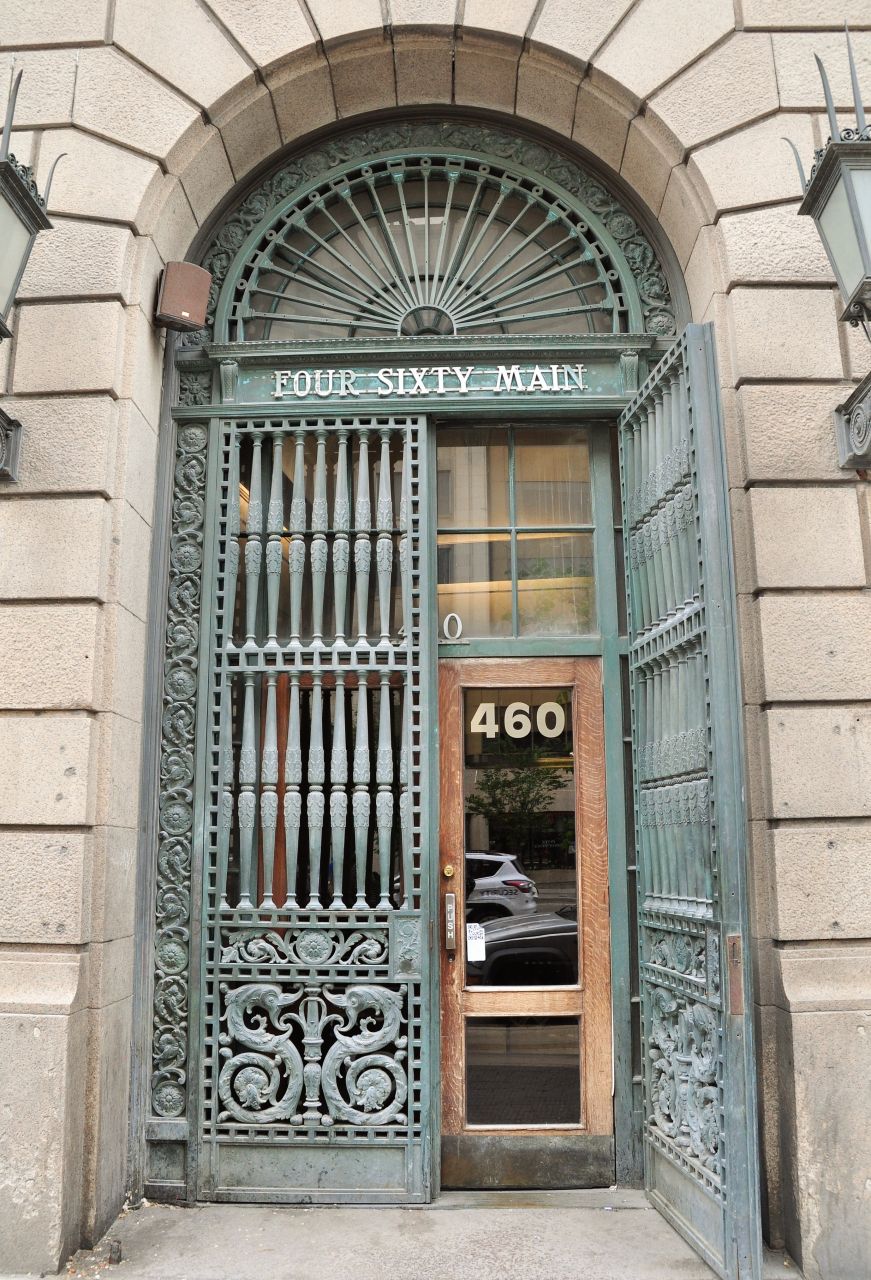 However, Winnipeg's failure to thrive meant that the buildings of the Exchange District were preserved instead of being torn down to make way for new development.  Today, the area serves as a turn-of-the-century movie double for U.S. cities including New York and Chicago.  Historic warehouses now house galleries and boutiques, and banks have been repurposed as restaurants and nightclubs.  The neighborhood's modern buildings, like the Red River Community College, often incorporate historic facades and building materials.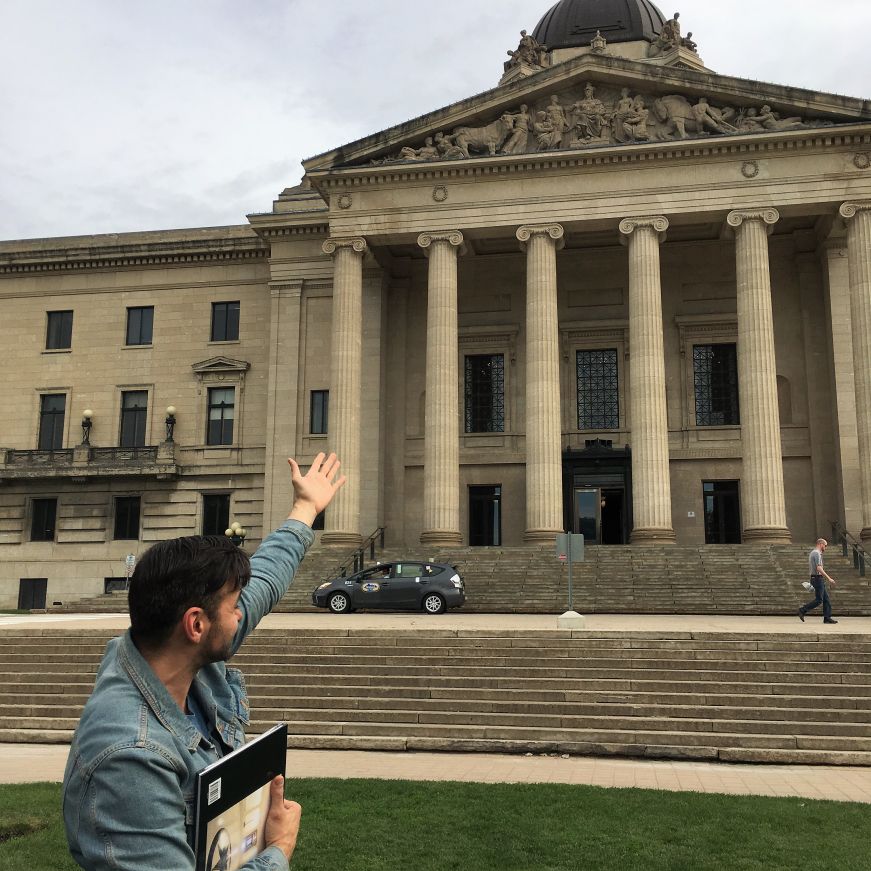 My most unusual experience in Winnipeg was the Hermetic Code Tour of the Manitoba Legislative Building led by Dr. Frank Albo.  Dr. Albo spent a decade analyzing the building's architecture and uses numerology, geometry, alchemy, and astrology to explain the hidden meaning built in by architect Frank Simon.  This sounds a bit zany, but the tour is worth taking if you're intrigued by conspiracy theories, liked The Da Vinci Code, or enjoy tagging along while someone shares his passion—Dr. Albo is an intensely engaging guide.
For dinner, we got to eat on a Winnipeg landmark.  Mon Ami Louis is perched over the Red River on the Louis Riel Bridge and features a wall of floor-to-ceiling windows overlooking the water.  The menu is French-inspired with a Canadian flavor: think braised brisket poutine, tartes flambees, and seafood bouillabaisse.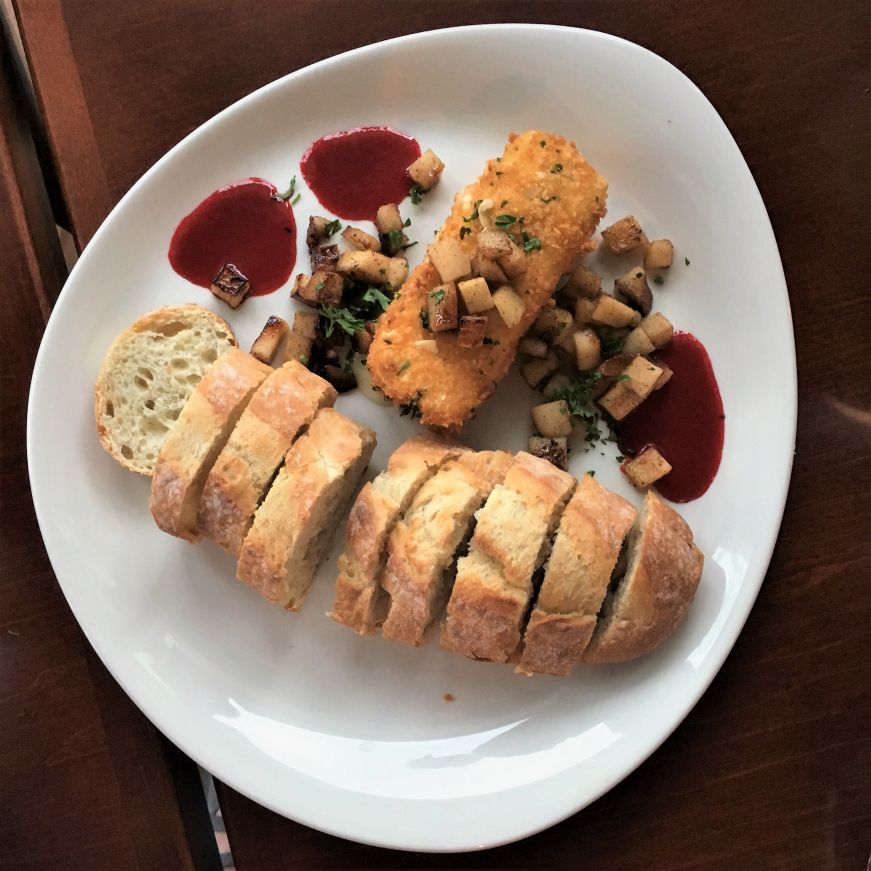 Highlights of the meal were the deep-fried almond crusted Brie and the oh-so-tender housemade gnocchi; I also enjoyed the richly vanilla flavor of the gelato served with my flourless chocolate cake.
The next day started with Winnipeg's most recognizable landmark: the Canadian Museum for Human Rights (pictured at the top of this post).  This national museum promotes dialog about human rights through story-based content.  The building itself is highly symbolic and represents a journey from darkness into light as visitors ascend ramps and stairs or the elevator to the viewing platform at the top of the glass tower.
Various galleries explore the idea of human rights through the lenses of art, history, and current events to encourage visitors to reflect on their personal definitions of human rights.  Indigenous content about Canada's First Nations, Metis, and Inuit people is integrated throughout the museum.  Exhibits focus on topics including Canada's steps and missteps regarding human rights, Canada's legal system as it relates to human rights, the Holocaust and other genocides officially recognized by the Canadian government, and international efforts to recognize and protect human rights.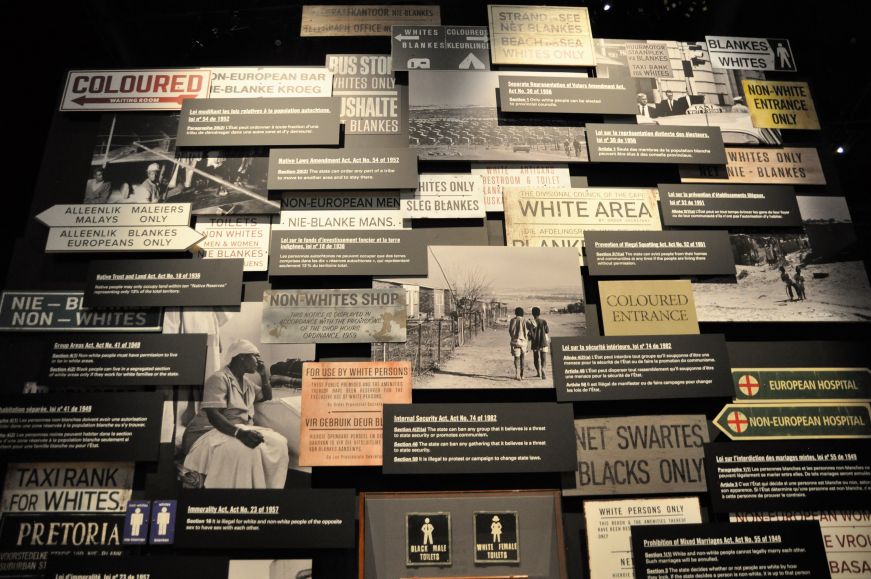 We took the 90-minute guided Explore the Galleries tour and viewed the excellent temporary Nelson Mandela exhibit.  I would recommend allowing yourself at least a few hours to explore the galleries on your own—there's so much fascinating content, and for U.S. visitors it's particularly interesting to compare and contrast Canada's history with human rights and minority groups to U.S. history.
The museum's full-service restaurant, ERA Bistro, offers a menu of salads, sandwiches, and entrees made with many local, sustainable, and Fair Trade ingredients, with several vegan and vegetarian options.  I enjoyed the bright, fresh flavors of the quinoa salad as well as the unusual housemade pickles (rhubarb and pineapple) on the falafel board.
After a few activity-packed days, it was time to relax at Thermëa, a Nordic-style spa with saunas, steam rooms, cold baths, and relaxation areas.  The spa is designed to be experienced in a thermal cycle: first heat, then cold, and finally relaxation.  You have four different heat options: a Finnish dry sauna, a small barrel-style dry sauna, and two steam baths, one scented with eucalyptus and one with orange.  My favorites were the Finnish dry sauna (especially sitting on the top bench—so hot but so good!) and the orange steam room.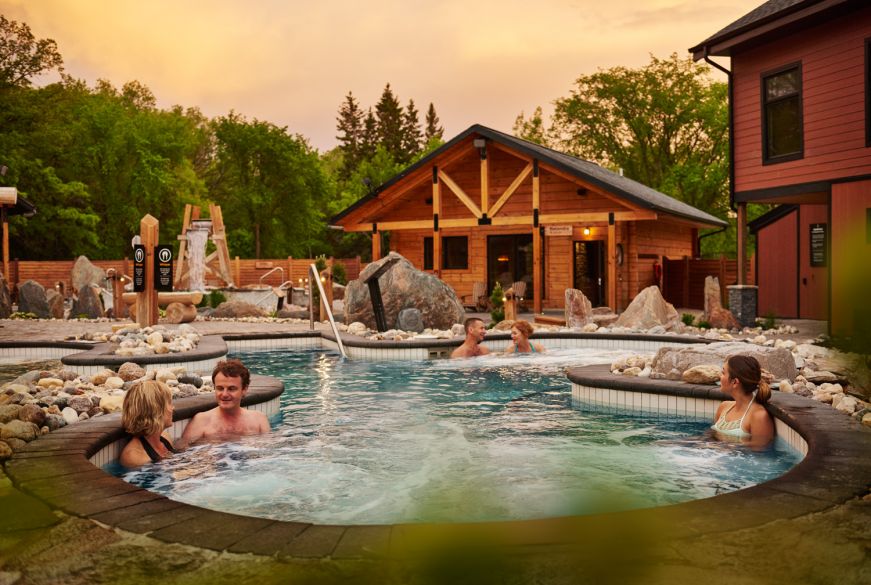 After you've heated up, step two is to cool down.  There are two chill pools, a deeper one you can swim through and a shallow one where you walk under a waterfall, or there's the "dump a cold bucket of water over your head" approach.  Because I'm a wimp, the bucket of water was actually my preferred option—walking or swimming through a cold pool gives me too much time to reconsider.  It seems counter-intuitive, but the cool down felt much better than I though it would.
Finally, you get to my favorite phase: relaxation.  Thermëa has several rest areas: a hot tub, a more temperate pool, a cabin-style area with lounge chairs and a fireplace, and my favorite, the relaxation chalet.  The chalet is stocked with infused waters (I loved the orange sage) and herbal tea.  You can lie down on a heated slab, enjoy the view from a heated lounger, or swing outside in a hammock (in the winter, you get to zip yourself in a heated hammock).  The hammocks were my favorite: they're set off a bit from the hustle and bustle, and the swinging motion was very meditative.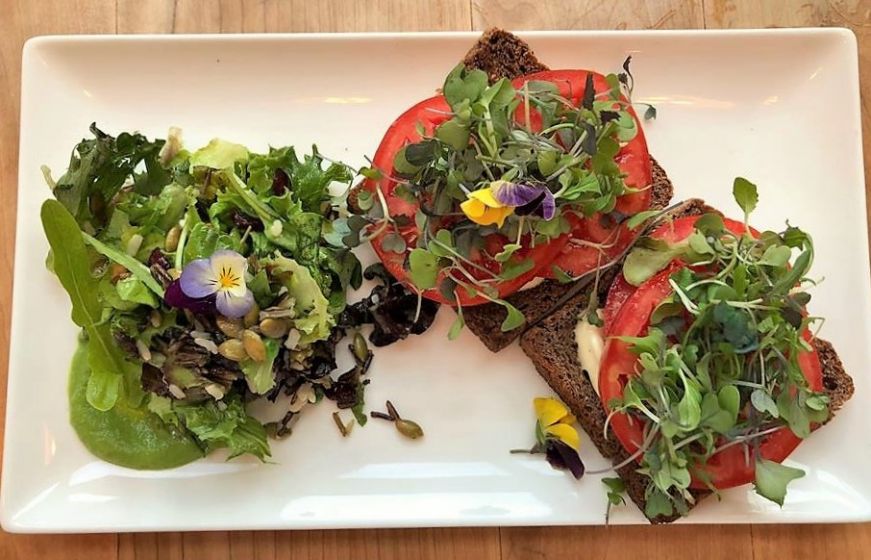 Thermëa also has a restaurant, Restö, that serves a range of Nordic-inspired and Canadian fare featuring local ingredients.  I enjoyed a gorgeous beet hummus platter and an open-faced tomato sandwich on rye.  For dessert, I had a refreshingly tart grapefruit sorbet as well as s'mores by the fire.
My time at Thermëa was one of the most incredible experiences I've had on my travels: it felt amazing physically, but it also resonated emotionally.  Just taking some time for myself, to reflect and unwind, to let go of the anxiety that forms the backdrop of my life—it was a relaxation in the truest possible sense.  I'd highly recommend making several hours at Thermëa part of your stay in Winnipeg.
Our visit to Winnipeg ended with breakfast at Clementine Cafe, a trendy underground brunch restaurant with a globally-inspired menu.  I ordered the porridge, which sounds like kind of a health nut move, but the artistically arranged toppings of shredded coconut, pineapple butter, blueberries, and cashews would convert anyone to whole grains.  I also loved the creaminess of a chia seed pudding served with rhubarb and granola.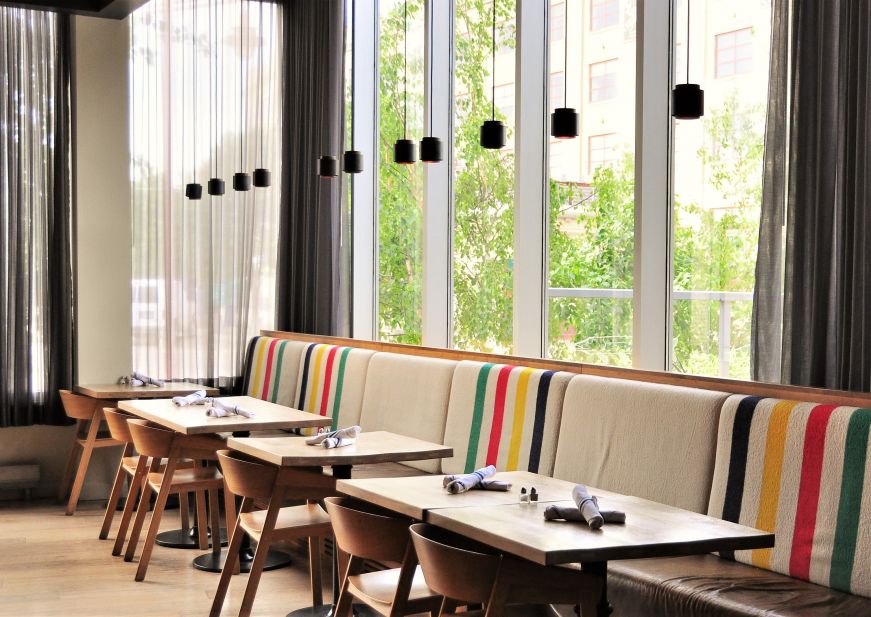 During my time in Winnipeg I stayed at The Inn at The Forks, a boutique hotel steps from The Forks Market.  The hotel has a sleek, modern design and the restaurant, SMITH, incorporates Canadian-inspired decor like antler chandeliers and Hudson's Bay Company blanket-patterned upholstery.  My room was lovely, and I especially appreciated the thoughtful touches: loaner umbrellas, aromatherapy toiletries from the on-site spa, and even a run concierge who leads 5K runs of the city's top sights.
The takeaway:  Was Winnipeg worth a return visit? 
Absolutely!  It has all of the amenities of a big city—a vibrant dining scene, a world-class zoo, fascinating neighborhoods—but with plenty of green space and a compact footprint.  Winnipeg also offers some truly unique attractions—the Hermetic Code Tour, Canadian Museum for Human Rights, and Thermëa—that you'll get more out of with each visit.
Want to start planning your Winnipeg getaway?  Visit Travel Manitoba and Tourism Winnipeg for more information about accommodations, dining, and attractions.
Further reading: Chaeban Ice Cream: Premium Flavors in Winnipeg
Many thanks to Travel Manitoba and Tourism Winnipeg for hosting my stay.
If you enjoyed this post, pin it!