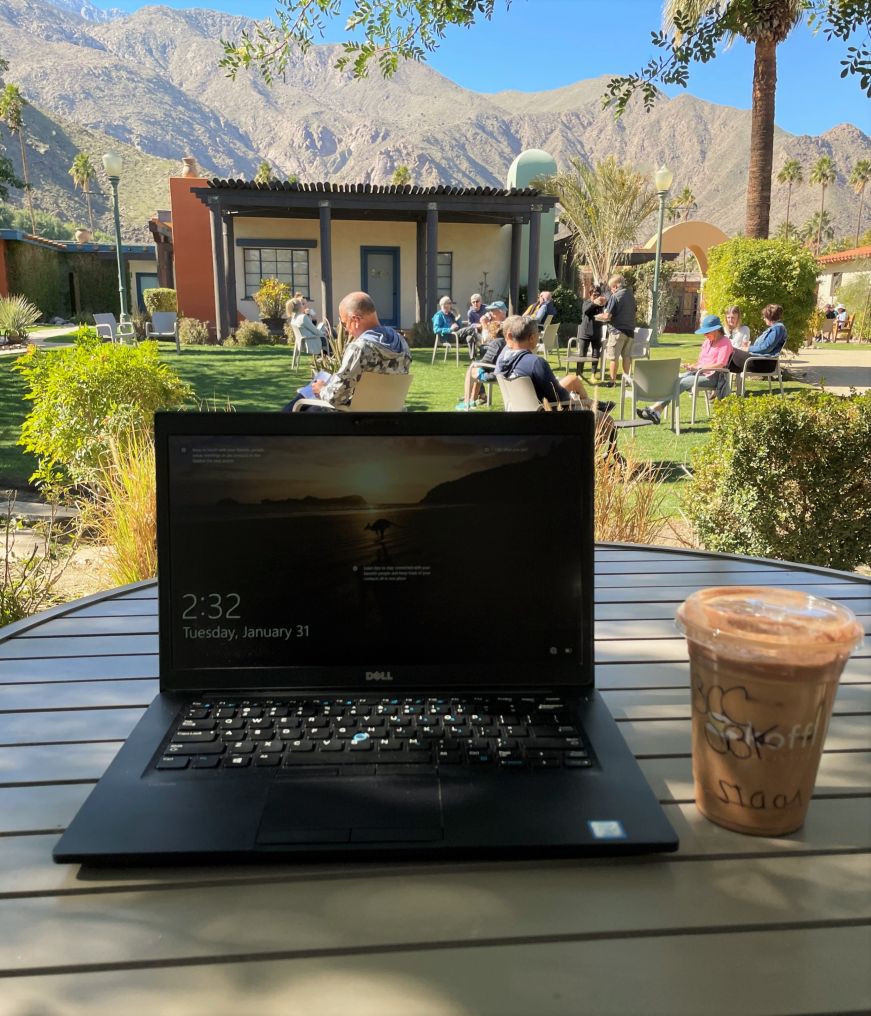 Thanks to rise of remote work, the term "workation" has entered my vocabulary.  A portmanteau of "work" and "vacation", it's a nod to the fact that if you can work anywhere, why not head somewhere far from home?  Maintain your regular work schedule during the day and sightsee in the evenings, all while enjoying scenic views, a different culture, and/or more favorable weather.
Late January through mid-March is my least favorite time of year at home in Minnesota—the holidays are over and the novelty of winter activities has worn off, but it's still cold and snowy.  When Mike's company announced a company-wide work week in Palm Springs, California during that time period, it seemed like the perfect opportunity for me to get away in a relatively budget-friendly way.  I could mooch off of Mike's hotel room and airport transfers, so I just needed to pay for my flight and some of my meals (plus-ones were included at several of the company's evening social events).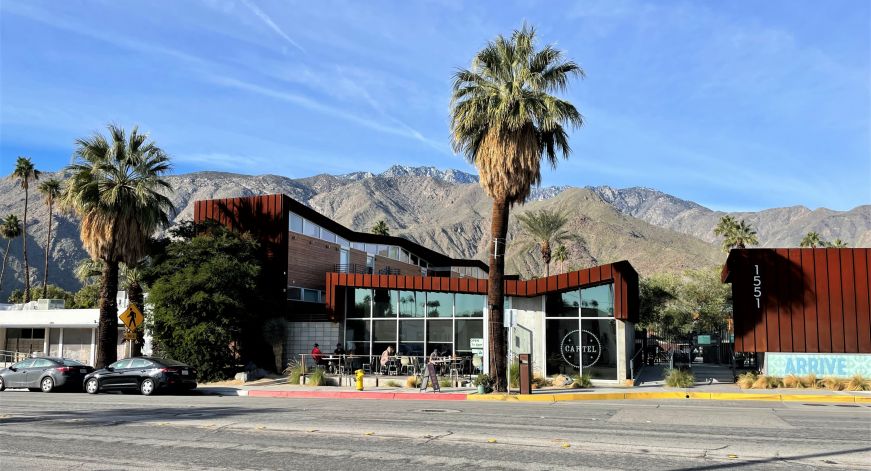 Palm Springs is a city in southern California's Sonoran desert known for its mid-century modern architecture, stylish hotels, and golf courses, and it's also a popular LGBTQ+ vacation destination.  The downtown business district along Palm Canyon Drive offers restaurants, interior design shops, vintage shops, and art galleries; our hotel was about a 30-minute walk from the heart of downtown, and if you don't have a car I would recommend staying as close to downtown as you can—I spent a lot of time walking back and forth. 
Although I didn't select Palm Springs as a destination, it was well-suited to a workation.  It's a large enough city that there are various coffee shops to work at and and some interesting sights, but there's not so much to do that I felt like I was missing out by working most of the time.  The late January/early February weather was ideal, with a daily average high of about 70 degrees, dropping to about 40 degrees overnight.  I also appreciated the scenery—many coffee shop and restaurant patios, as well as our resort, offered mountain views.
Here's my guide to planning your own workation in Palm Springs, with recommendations for coffee shops to work at, dining, and activities.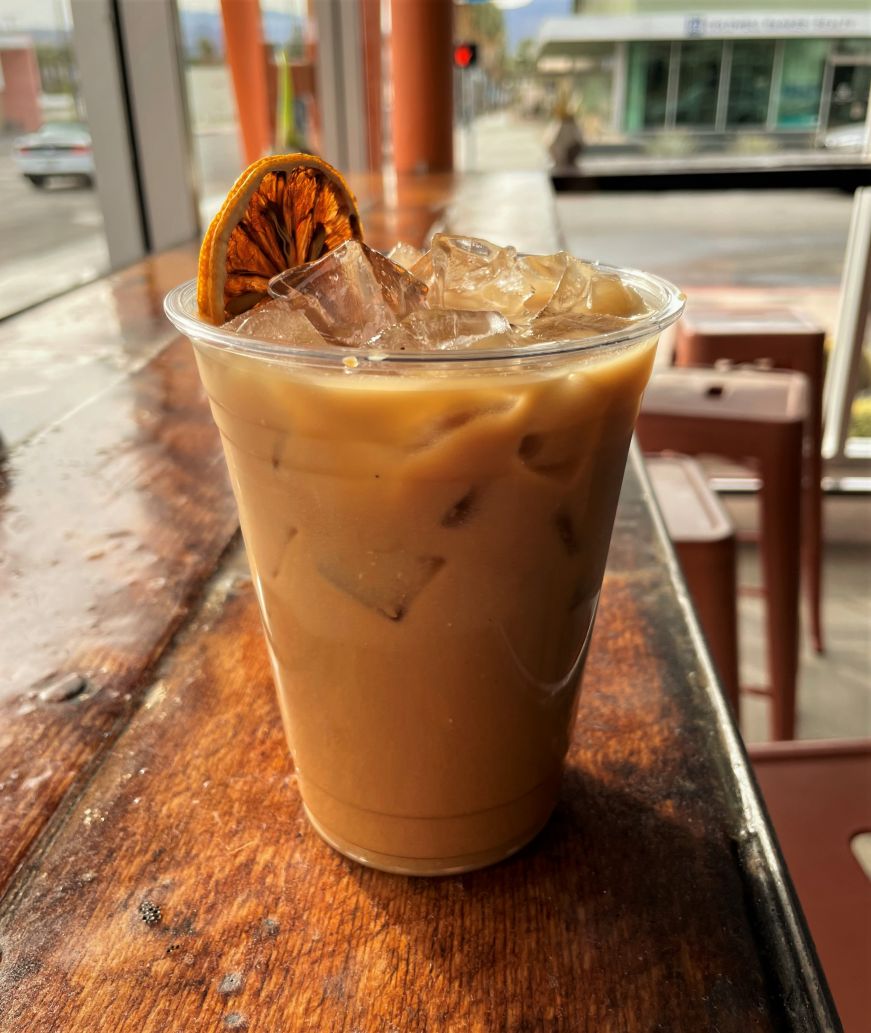 Best Palm Springs coffee shops to work at
I spent most of my workation in coffee shops: I'd go to one in the morning, work for a few hours, take a break for lunch, and then settle in at another one for the afternoon.  These were my favorites, some of which I visited on multiple occasions.  All of them have fast, reliable wifi.
Ernest Coffee was my favorite coffee shop in Palm Springs thanks to the unique drink menu, high-quality espresso (they serve Stumptown Coffee), and welcoming atmosphere.  It's located inside the building that once housed legendary tiki bar Don the Beachcomber, and it still has a bit of a beachy vibe.  Two walls of windows provide plenty of natural light, and there's a neat wallpaper along one wall that looks like library shelves.  There's also a patio adjacent to the coffee shop with mountain views. 
In addition to serving excellent espresso, syrups are made in-house, and you can get your drink customized with a variety of plant-based milks.  Although I drink dairy products, I thought it was a thoughtful that all of the specials available when I visited were designed to be plant-based (you can substitute dairy milk if you prefer).  I visited twice so that I could try a couple of drinks: the pistachio rose latte made with pistachio rose orgeat, rose water, and almond milk was a surprisingly delicate drink, and the lemon hello latte combined a citrus cordial, coconut milk, and lemon zest with espresso for one of the most unusual coffee drinks I've tried, with the citrus really drawing out the bright notes in the espresso. 
It's an inconsequential thing, but as a Stacy-with-just-a-y whose name is inevitably spelled incorrectly, I appreciated that both baristas wrote my name correctly on my cup without asking—maybe my spelling is more common on the West Coast?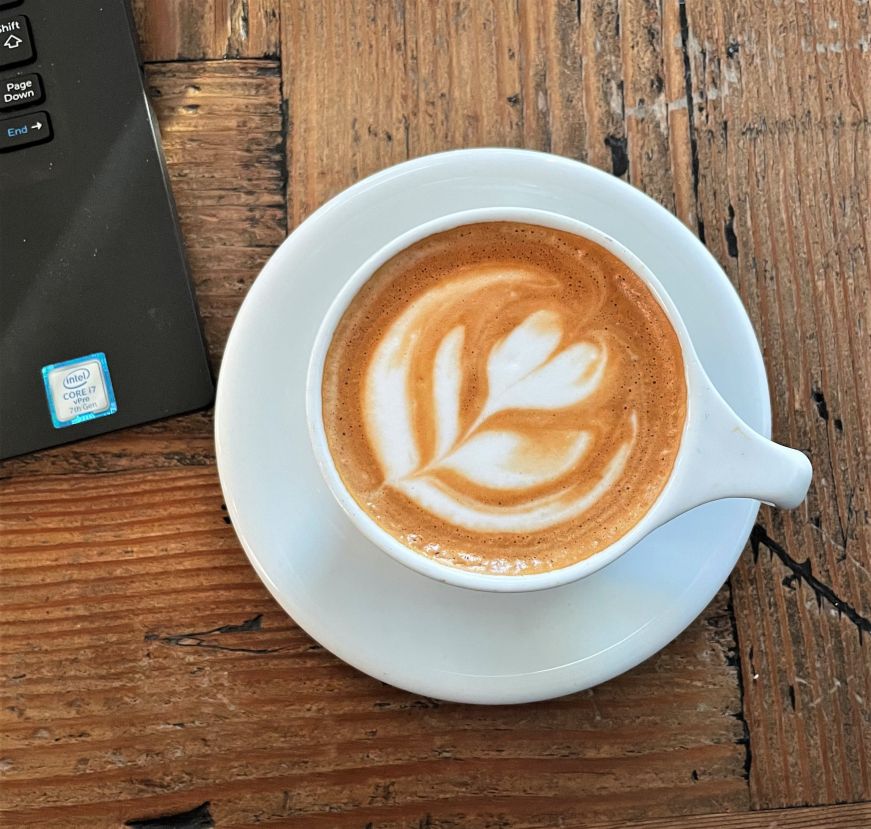 Cartel Roasting Co. was a close second to Ernest for my favorite coffee shop.  Cartel is a regional chain with locations in California, Arizona, and Texas; the Palm Springs location is in a funky contemporary building that evokes mid-century design.  It has a more eclectic feel than most starkly modern third-wave coffee shops, with palm wallpaper and geometric glass light fixtures, plus a high top booth with tufted upholstery running the length of the shop.  The menu focuses on classic espresso drinks, with a few seasonal specials; their espresso (which the chain roasts in-house) has a complex, layered quality, and I especially enjoyed my cappuccino.  There's a small selection of pastries and grab-and-go burritos—my kouign-amann was lovely.  The location also offers a small streetside patio, although it faces away from the mountains.
Cafe La Jefa is the most stylish spot on the list; there's a plant wall with a neon sign that reads "But first coffee", elegant starburst light fixtures, and the to-go cups have pink lids.  It also has an expansive patio with mountain views.  They serve Latin-inspired drinks and have some nice matcha options, as well as pastries, a cooler full of kombucha, and a menu of toasts.  I visited a couple of times.  The first time I enjoyed a tender, flavorful buttered pecan scone and well-made iced latte.  On my second visit, I tried the chai chata, which I highly recommend—it's an iced drink made with coconut chai tea, organic oat milk, condensed milk, and cinnamon, and it manages to be both refreshing and comforting.
The only downside is that the wicker chairs on the patio have seats that slant backwards slightly; I'm sure that's great for relaxing, but I found it quite uncomfortable for typing.  I found the indoor seating much more comfortable, with counter seating and high-top tables.
Cafe La Jefa shares a building with several small shops rented by local artisans, stocked with jewelry, stationary, clothing, bath products, and other gift items; definitely check them out if you have the time.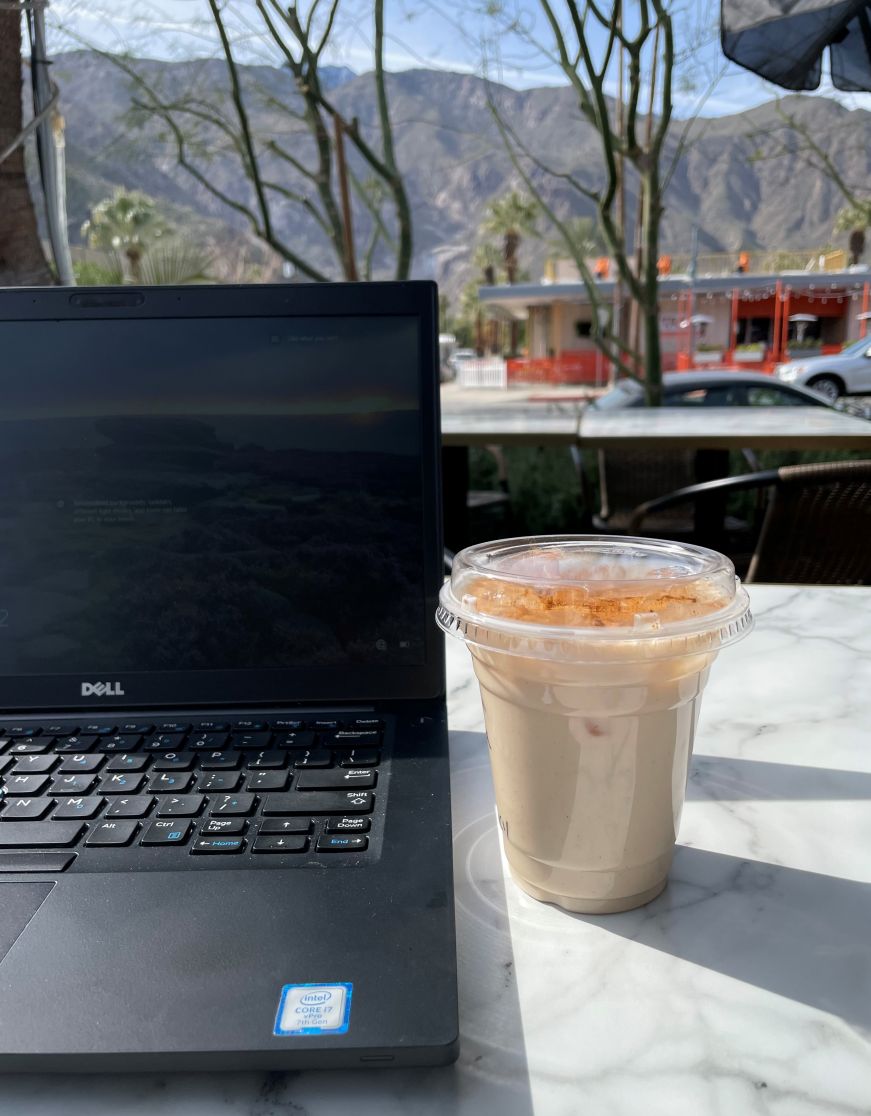 Koffi is a local chain with three locations in Palm Springs and another in the nearby town of Rancho Mirage; I visited Koffi North, which is located in the Uptown Design District.  They roast their own coffee and have a variety of specialty drinks, mostly iced.  I enjoyed the caramel Belgian chocolate cold brew fusion, which has a dessert vibe without being sickeningly sweet.  There are also pastries and grab-and-go sandwiches and salads.  It feels like a middle ground between a chain like Starbucks and a craft coffee house.
For me, the appeal of Koffi is the view—Koffi North has a beautiful palm tree-lined courtyard with a view of Mount San Jacinto.  Hands-down, it was the most scenic place I worked.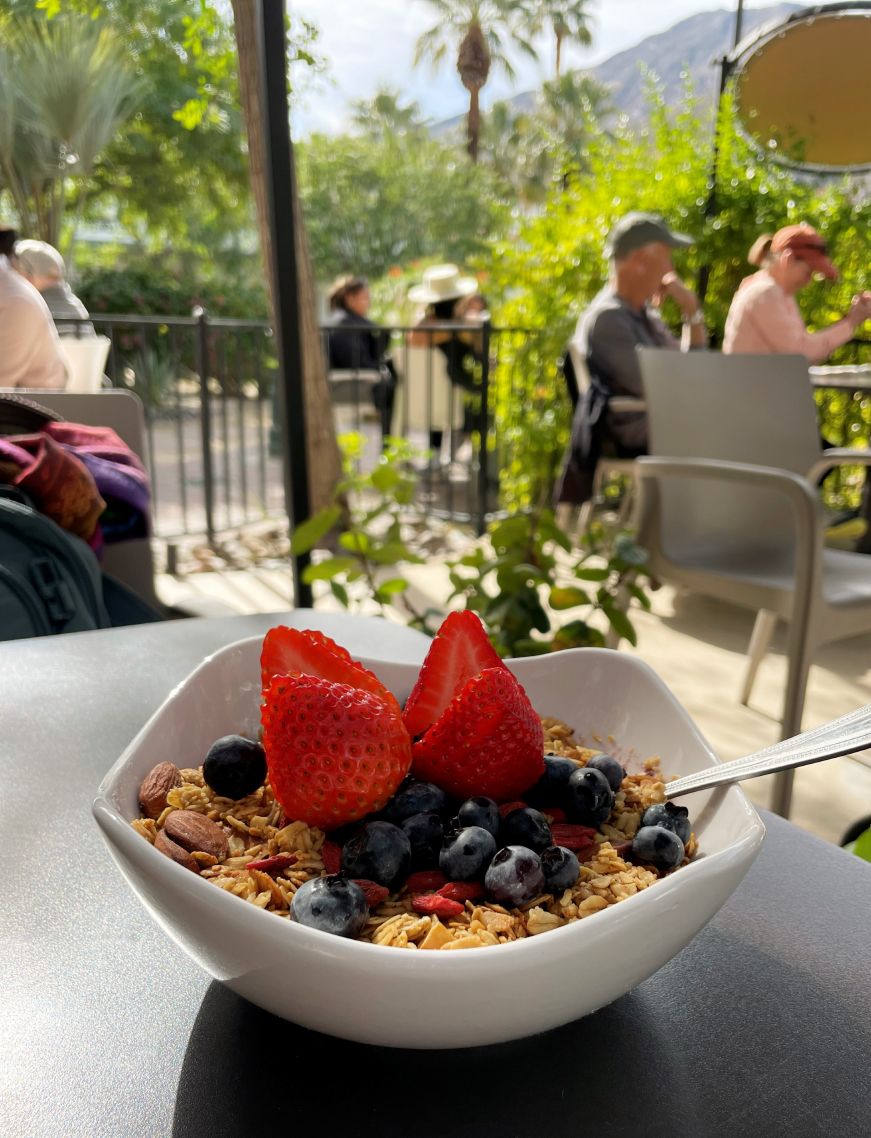 Additional Palm Springs dining
Nearly all of Mike's meals were catered by the resort that hosted his work week, and I prioritized quick and convenient meals over tracking down the best Palm Springs restaurants.  That said, here are some spots that we were able to check out and enjoyed.
Mid Mod Cafe doesn't look like anything special from the street, but it was my favorite spot for solo dining in Palm Springs.  The full-service cafe shares a courtyard with Koffi North, so there are wonderful views, and the menu has fresh, high-quality salads, wraps, and breakfast items offered all day, with plenty of vegan options and many other items that can be made vegan by request.  I loved my acai bowl, a refreshing smoothie-like blend of tart acai berries, bananas, mango, and almond butter topped with granola, dried goji berries, cacao nibs, and fresh fruit.  Service was speedy and gracious, and I actually paid less for a full-service meal including a 20% tip at Mid Mod Cafe than at many counter-service spots—for downtown Palm Springs, it's a relatively budget-friendly option.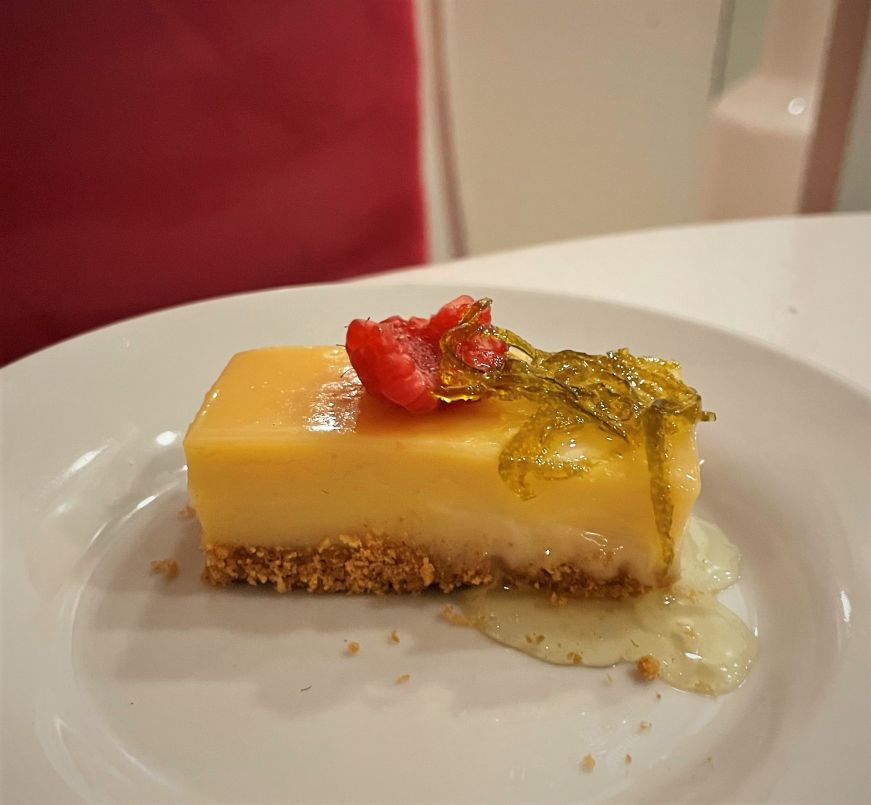 Eight 4 Nine hosted the work week farewell party, and although it was a catered event some of my favorite items are on the restaurant's regular menu, including the ahi tuna poke with housemade kimchi, cauliflower steaks, Coachella lime pie, and flourless chocolate torte. The decor is beautiful but hard to describe, and it seems custom made for Instagram—think white, hot pink, 1950s glamor, and quirky modern art.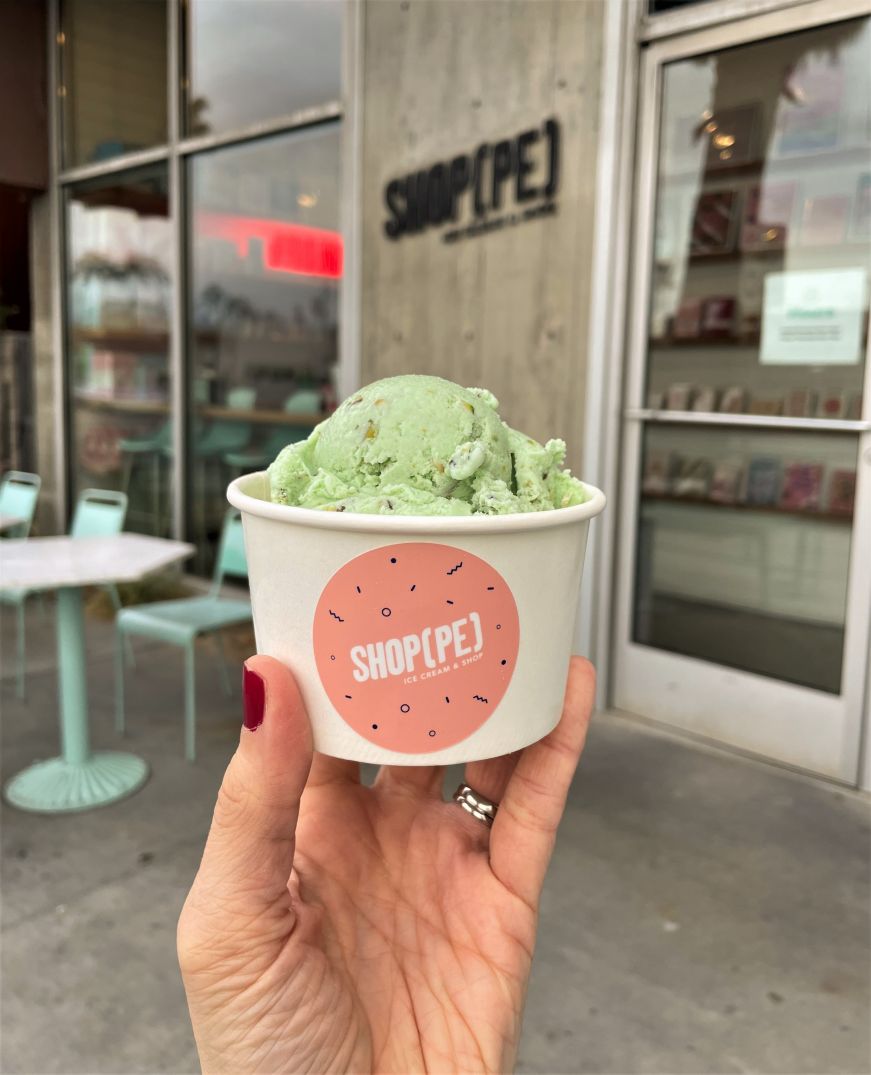 Ice Cream and Shoppe is a cute combination gift shop and ice cream parlor, with a rotating selection of unique flavors.  The ice cream is loaded with fresh ingredients, but without the extra-creamy texture I associate with artisan ice cream—it's lighter and more refreshing.  I stopped in a couple of times and especially enjoyed the pistachio, horchata, and Coachella Valley date flavors (Note that Ice Cream and Shoppe is in the same building as Cartel Roasting Co., if you want to get some ice cream after working there.)
Brandini Toffee is a California candy maker that also operates several toffee and ice cream shops, including one in downtown Palm Springs.  The toffee shakes (which can be made with your choice of vanilla or chocolate ice cream) are on the expensive side, but if you're a toffee lover like Mike is, they're totally worth it.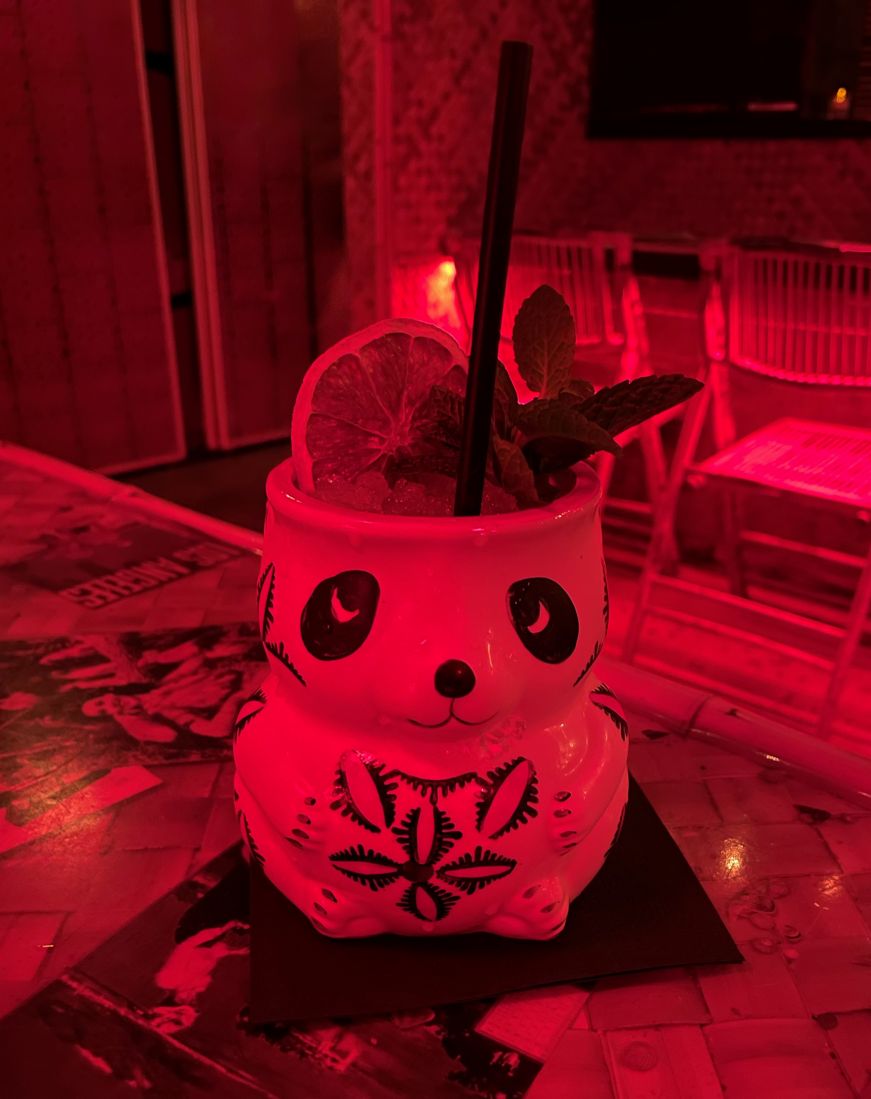 Bootlegger Tiki is a fun retro-inspired tiki bar located in the former Don the Beachomber restaurant, next door to Ernest Coffee.  It's very kitschy, with faux Polynesian decor and a red-hued lights, and the drinks are craft takes on classic tiki cocktails (and very, very strong).  I enjoyed the A Familiar Face drink, with two types of rum, curacau, lime, orgeat, passionfruit, cinnamon, and bitters.
Seating is fairly limited—a handful of booths and the bar, plus a small patio—so I'd make a reservation if you're visiting on a Friday or Saturday evening, or anytime with a larger group.  Note that due to California law you need to be 21 to enter and provide valid U.S. government-issued identification that lists your birth date.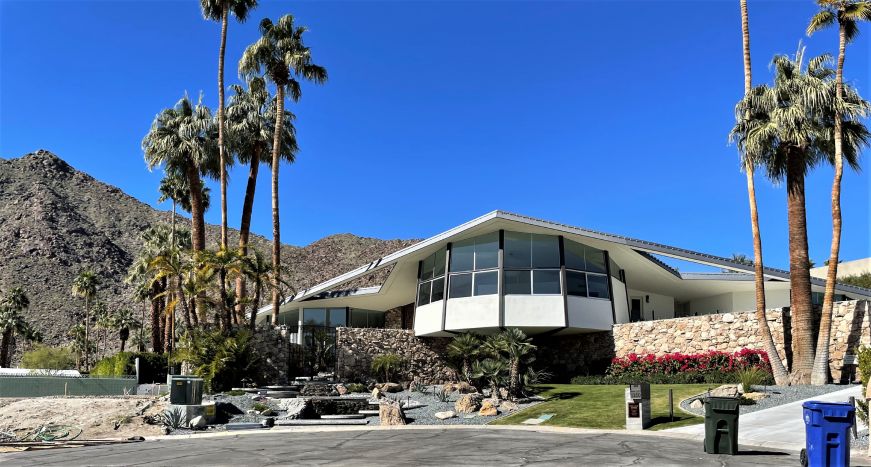 Palm Springs activities
Since our time in Palm Springs was primarily spent working, our sightseeing time was limited, especially since sunset was approximately 5:30 p.m.  However, we did get a chance to check out the Palm Springs Aerial Tramway together on a day when Mike's meetings ended early, and I intentionally set aside some time for an architecture tour with Palm Springs Mod Squad.  Both of these activities were about a 10-15 minute drive from our hotel via Lyft.
If you're planning to incorporate sightseeing into your workation, be honest with yourself about how it will affect your productivity if you're taking time off during the workday (which is sometimes the only option for scheduled tours).  Other options are to do your sightseeing in the evenings, or to set aside some designated vacation time during your workation (possibly the first or last day of your trip.)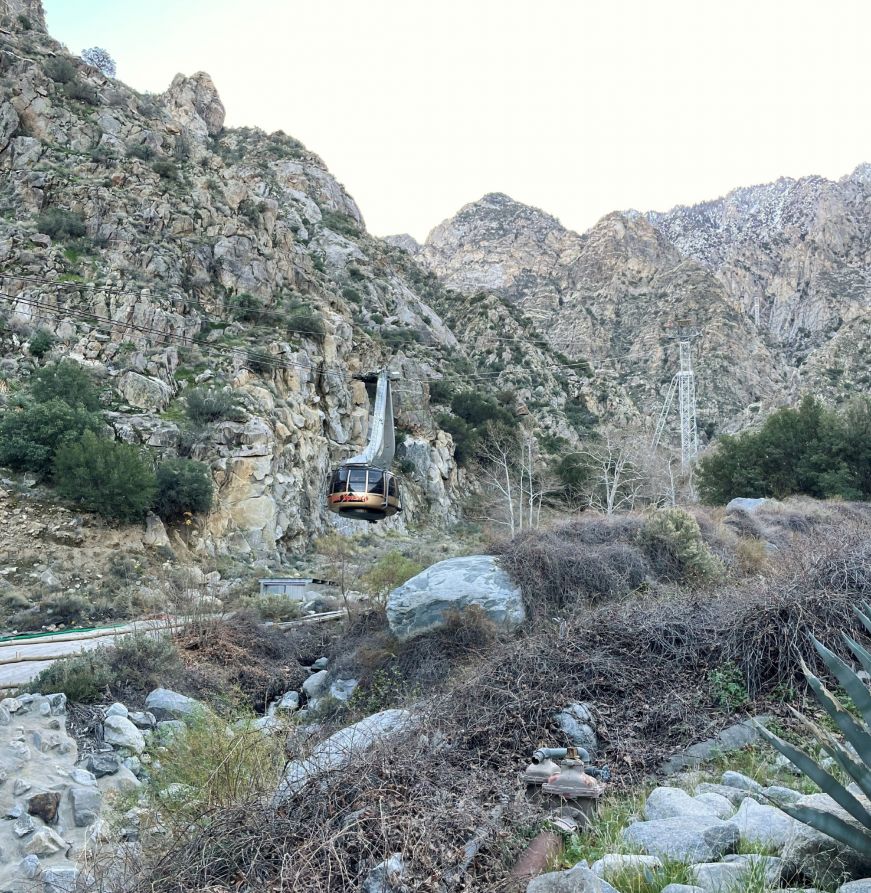 The Palm Springs Aerial Tramway ascends 6,000 feet over the course of a 10-minute, 2.5 mile journey, while the glass-walled car slowly rotates 360 degrees.  The views are incredible, and you get to see the ecosystem dramatically shift from the Sonoran desert to an alpine forest.  The mountain station at the top offers observation decks, two restaurants, 50 miles of hiking trails, a small natural history museum, and two small theaters showing videos about the tram's construction (I love a cheesy audio visual and these do not disappoint).  It's about 30-40 degrees cooler at the top of the mountain than the desert floor, and typically there is snow from December through March.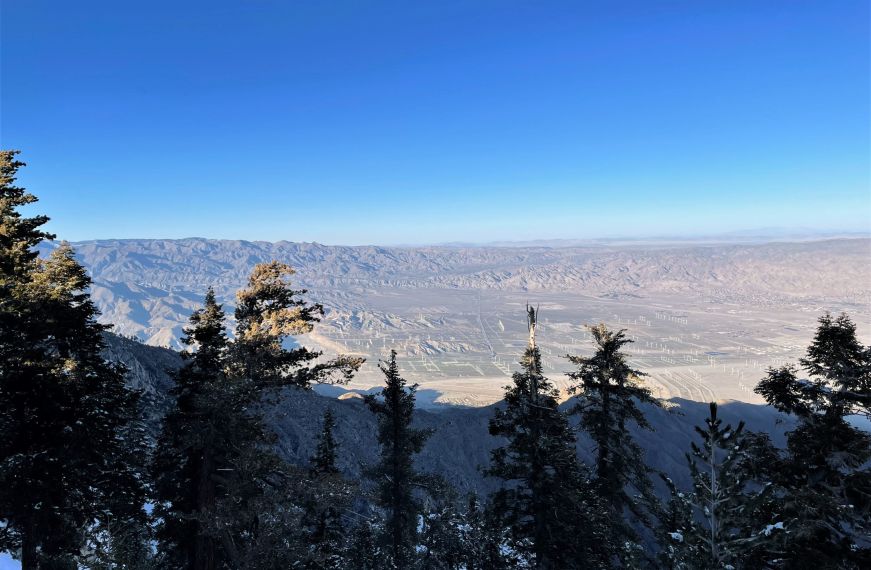 Definitely wear your warmest clothes—the temperature at the mountain station was in the mid-20s when Mike and I visited (compared to mid-60s downtown), and we were thankful for our Minnesota-weight jackets, hats, and mittens.  Although you can pre-purchase tickets to skip the wait for the tram, there are also tickets available on a walk-up basis.  We had to wait about 30 minutes for the next tram car with vacancies; they run every 15 minutes.  There's a cafe, gift shop, and some outdoor observation and picnic areas at the bottom station for you to kill time while you wait.  Since the tram ride is really only worth doing in clear weather, I don't think pre-purchasing your tickets is worth the risk.
If you're prone to motion sickness, you might want to take Dramamine beforehand.  I've only gotten motion sick a few times in my life (usually on very small planes), but the angle of the ascent and the rotating car made me very queasy. 
Palm Springs Mod Squad offers tours that highlight Palm Springs architecture, with a focus on the city's iconic Desert Modern residences as well as municipal and commercial buildings.  I took the Essential Palm Springs Tour, which is an exterior-only tour and lasts 90 minutes.  Tours are small (five guests plus a guide who drives you around in an SUV) and also touch on local history, pop culture, and the city's other architectural styles.  Kurt, the owner and tour guide, is very knowledgeable and entertaining.  I'd recommend taking a tour early in your stay if possible, since it's fun to spot the design features mentioned on the tour when you're walking around town later.
In addition to the Essential Palm Springs Tour I took, Palm Springs Mod Squad offers an interior tour of three mid-century houses and a Rat Pack martini tour that features the homes of 1960s stars like Frank Sinatra, Dean Martin, and Marilyn Monroe and includes a martini.   Since tour capacity is limited, book as far in advance as you can.
The takeaway: Would I recommend Palm Springs as a workation destination? Definitely!  There are several coffee shops conducive to working remotely, a wide range of dining options, and fun activities, and in January and February it's a nice warm-weather escape from cooler climates.
If you enjoyed this post, pin it!