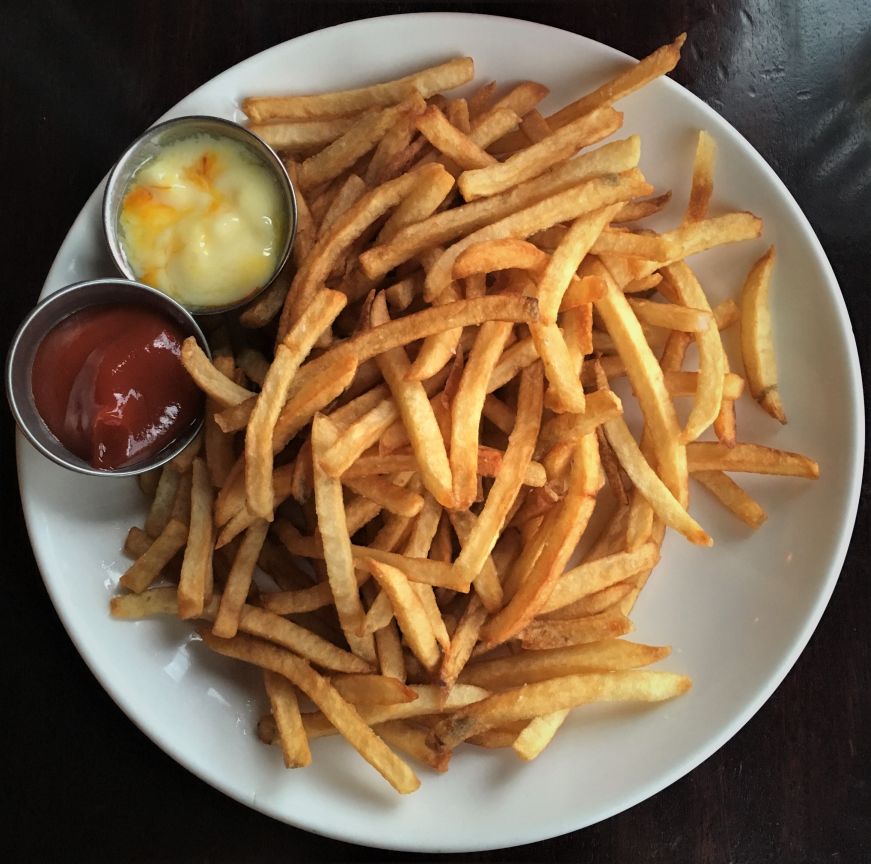 Lately, my favorite thing to order when I eat out is French fries.
It started a couple of months ago when Josh and I were deciding where to go for dinner.  He threw out an impressively eclectic list of suggestions—Spoon & Stable, the Mill Northeast, Punch Pizza.  But the thing is, I didn't want to eat award-winning French-inspired cuisine or elevated bar fare or Neapolitan pizza.  All I wanted was an order of fries.
My job provides me with many opportunities to eat truly amazing food, and I'm grateful for that.  Much of my professional life is devoted to writing about the latest developments in the local food scene or scoping out restaurants on my travels.  But what that means is that I end up eating a lot of things because I need to write about them, not necessarily because they're what I feel like eating at a given moment.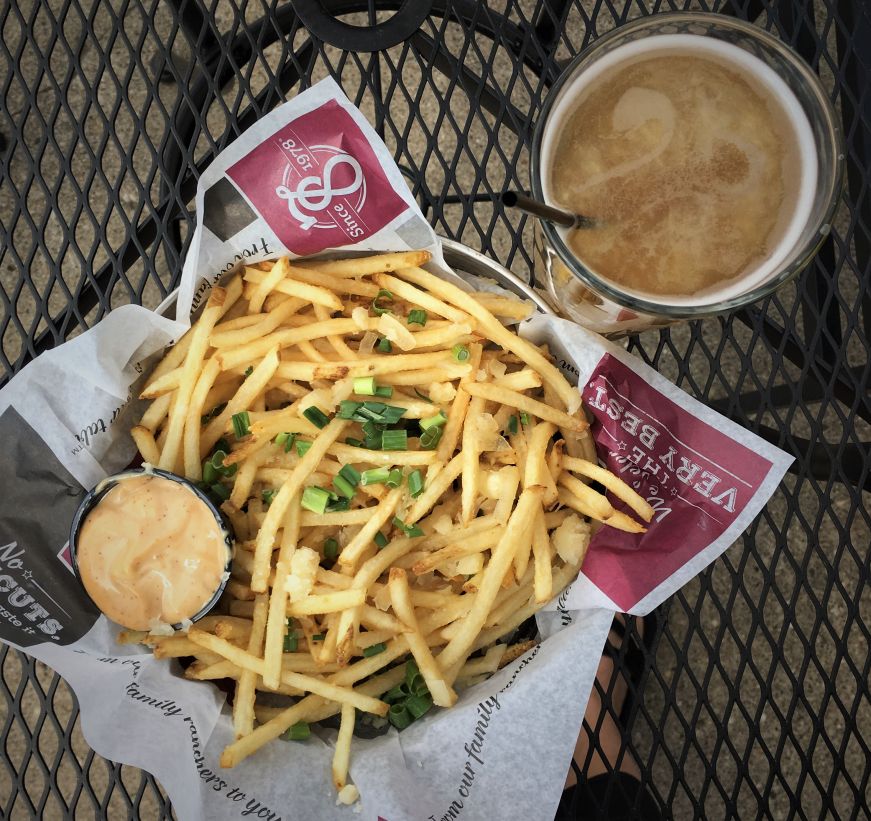 So when I'm going out on a Saturday night, I'm not necessarily looking for a novel culinary experience.  I want to eat something that I know I'll enjoy.  Something that I can't cook at home.  Something that makes me happy. 
Right now that something happens to be lots of French fries.
My ideal fries are slender and crispy, with some sort of interesting seasoning or fancy dipping sauce.  They should be served in a heaping portion and are ideally offered at a discount during happy hour.  Here are four excellent places in the Twin Cities for French fries—including Eastside, which is where Josh and I ended up going that night.  I had an order of fries for dinner, and it was one of most satisfying things I had eaten in a very long time.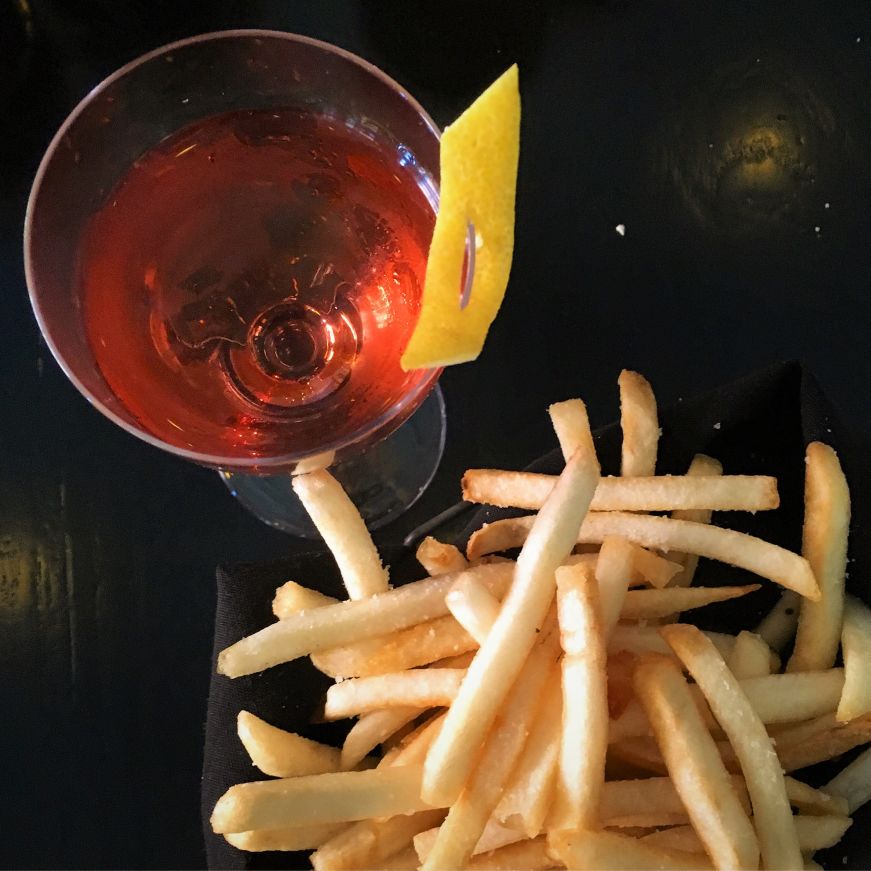 French fries at Eastside
The fries that started it all.  Eastside's fries are served in a fancy cone with a cloth napkin and come with a side of "fancy sauce."  It's some sort of aioli, pleasantly creamy but not particularly memorable.  The fries themselves taste quite a bit like McDonald's fries, which in my opinion isn't a bad thing.  The portion is definitely big enough to share as a side for two or eat for dinner solo, and they're discounted $1 during happy hour.
305 Washington Ave. S., Minneapolis; 612-208-1638; eastsidempls.com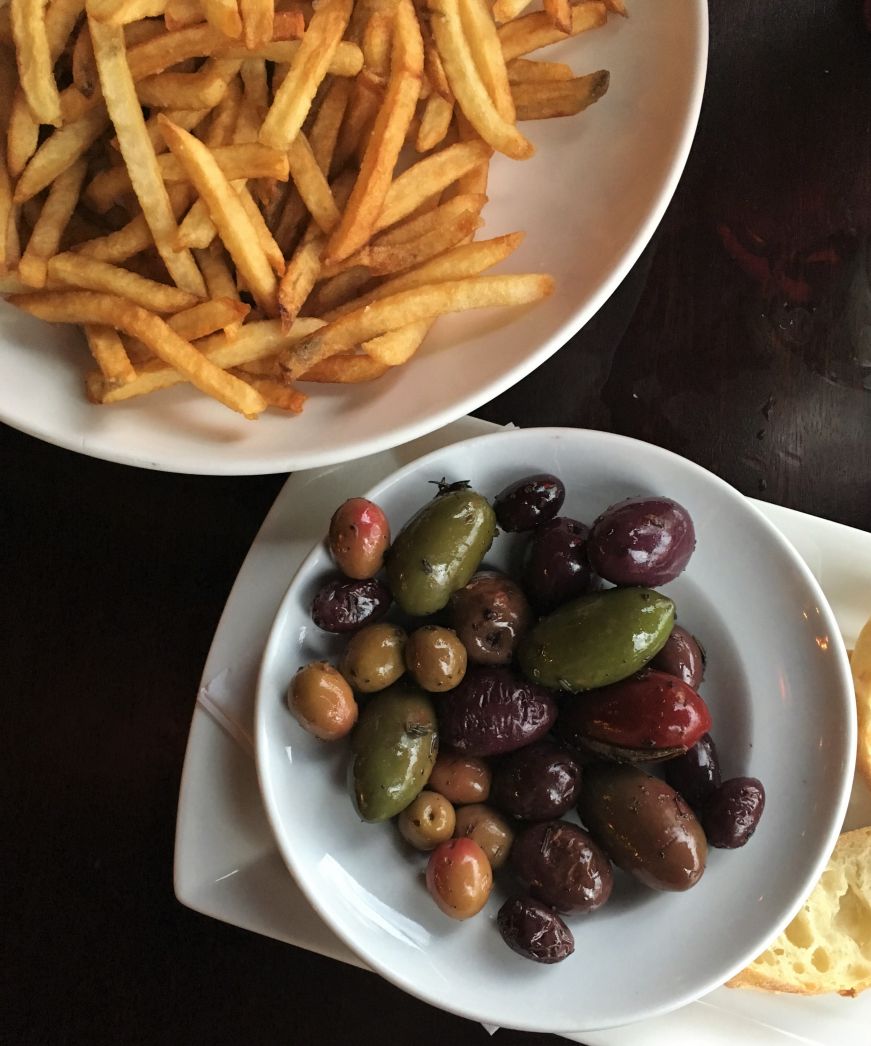 Pommes frites at Barbette
Heaped on dinner plate and served with saffron aioli and ketchup, the pommes frites at Barbette are served in a truly generous portion.  The fries are very thin and perfectly crispy, although they seemed to cool off more than I would've expected as I ate them—possibly because they're spread across a plate instead of nestled into a basket.  The pommes frites are discounted during happy hour, and I think they pair particularly well with the warmed olives, another happy hour special.
1600 W. Lake St., Minneapolis; 612-827-5710; barbette.com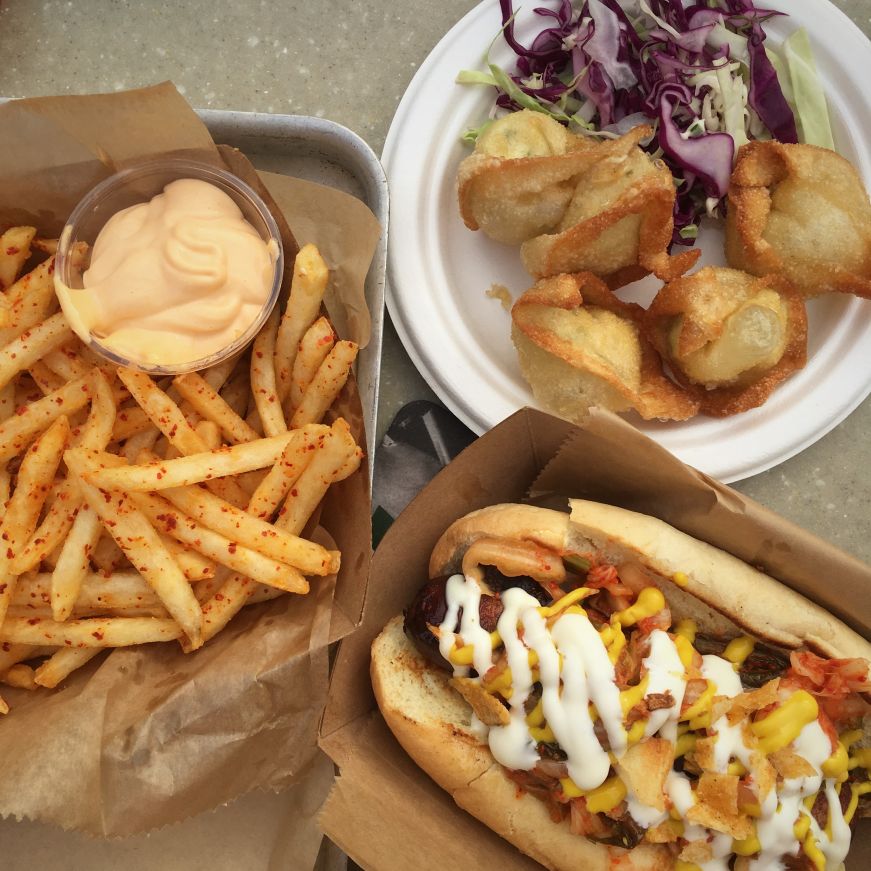 Korean chili fries at The Lexington
Confession: I have never actually eaten inside the Lexington—I wait until the warmer months and head straight to the casual tiki bar on the roof.  The rooftop menu is much different than the dining room's and includes Korean chili fries served with sriracha mayo.  The fries have a modest heat from a sprinkling of chili powder, and the mayo adds another notch or two of heat—overall I'd rate them as moderately spicy. 
While the tiki bar doesn't have a happy hour, the chili fries are available at the indoor martini bar during tiki happy hour year round.  
1096 Grand Ave., St. Paul; 651-289-4990; thelexmn.com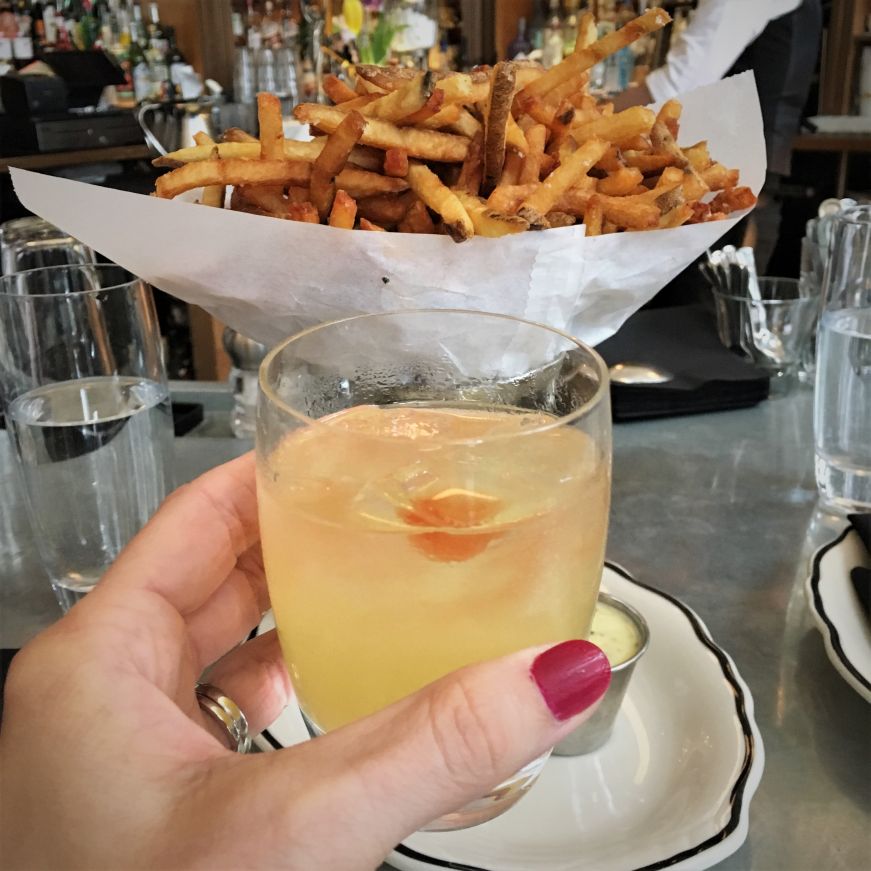 House-cut pomme frites at Meritage
The pomme frites at Meritage are my all-time favorite, in no small part because of the atmosphere.  To me, Meritage feels like a special occasion sort of place, even if you're just ordering fries at the bar during happy hour.  The portion is fairly large, and I didn't feel cheated by splitting them with Mike.  They're served with béarnaise sauce, which is similar to Hollandaise sauce—it's wonderfully rich, with a snap of flavor from fresh herbs and pepper.
The pommes frites are discounted at happy hour, which is available in the bar area only.
410 St. Peter St., St. Paul; 651-222-5670; meritage-stp.com
If you enjoyed this post, pin it!