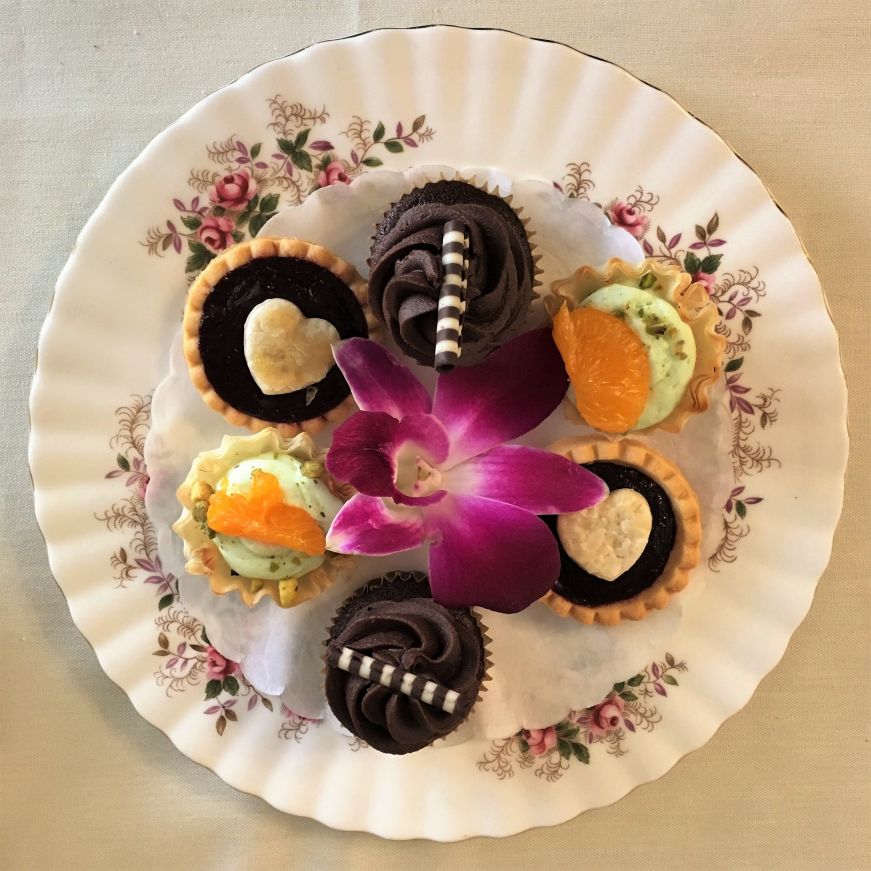 This is the time of year for best-of lists: the best songs, the most talked about news stories, the most important books.  2018 has been a banner year for me personally—in February, I quit my job as a paralegal to make my side gig as a freelance writer into a full-time career.  While there have been plenty of ups and downs, one thing has been constant: so much delicious food.  When it came time to sum up 2018, really the only way to do it was through my most memorable meals.
Full disclosure: some of these meals were comped as part of a hosted stay, and others were provided as a free preview to me as a member of the media.  I've noted where that's the case. 
1) Afternoon tea at The Mad Hatter
Mike and I fell in love with afternoon tea in London, so for Valentine's Day we treated ourselves to a fancy afternoon tea closer to home at The Mad Hatter in Anoka.  Scones with whipped cream, a savory gingersnap sandwich, and a tiny jam tart—we're already planning to make Valentine's tea an annual tradition.  
2) Wild mushroom toast at Fieldhouse
I found myself in Clear Lake, Iowa for a travel blogging conference and appreciated the opportunity to sample the local food scene.  The highlight was the wild mushroom toast at Fieldhouse (sadly, now closed) which combined two of my favorite foods: mushrooms and bread.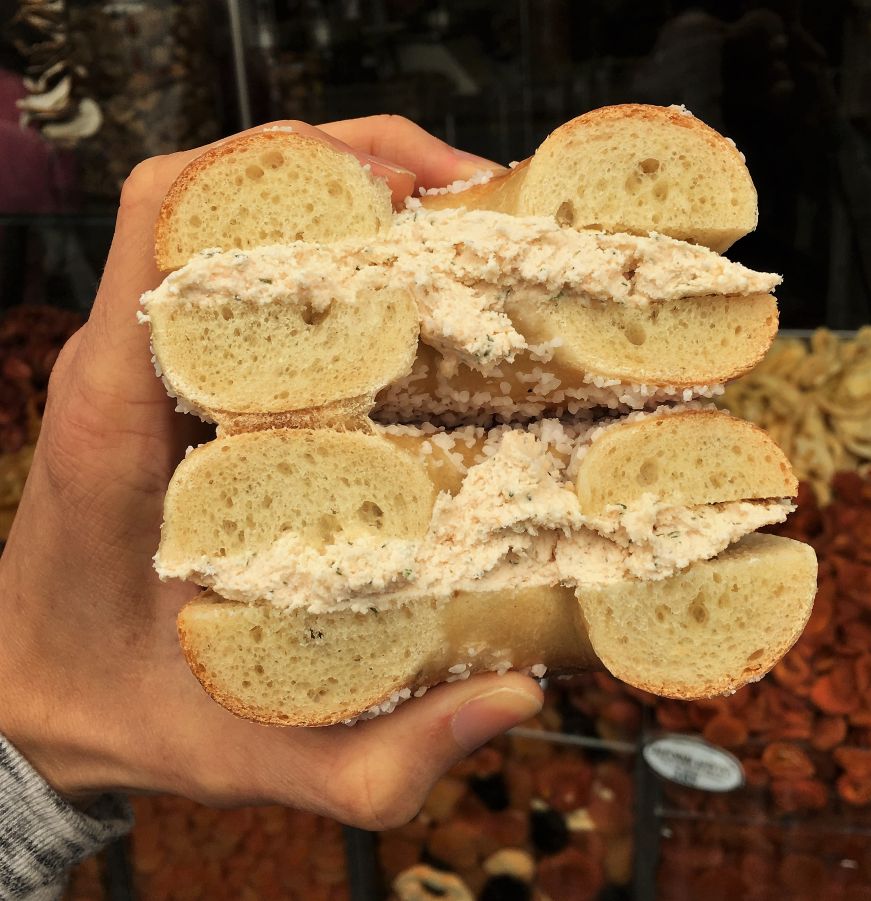 3) Bagels from Russ & Daughters
Russ & Daughters is an iconic appetizing shop on the Lower East Side beloved by New Yorkers and tourists alike.  I think their bagels are the quintessential New York bagel: not too big and chewy instead of puffy.  My favorite combination is an egg bagel with lox cream cheese, but you really can't go wrong with anything on the menu.
4) Sweet as Honey ice cream at Ample Hills Creamery
As Mike and I planned our trip to New York City, I had a long list of things that I wanted to eat and restaurants to visit.  But my favorite find was completely unexpected—our Airbnb was blocks away from the original Ample Hills Creamery location.  Sampling their inventive flavors became one of the highlights of our trip, and my favorite was Sweet as Honey, a sweet cream ice cream with honeycomb.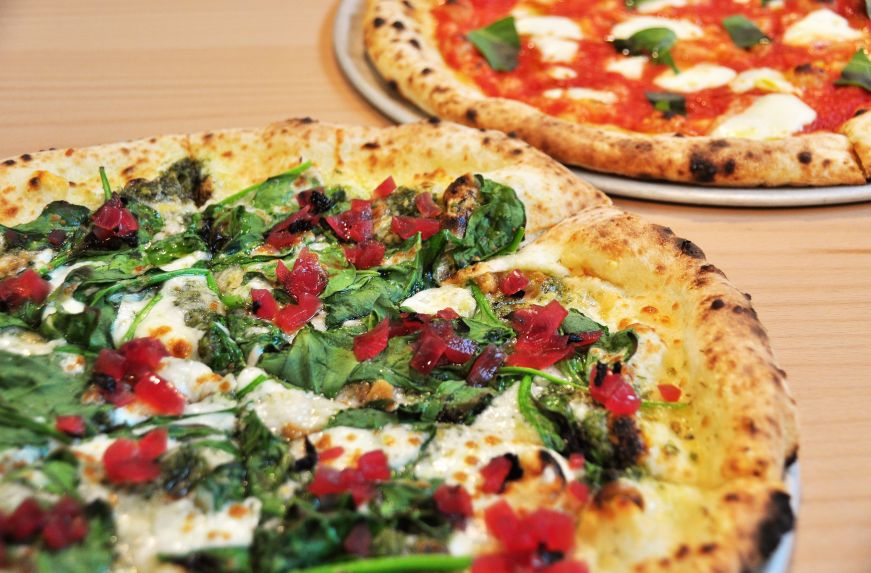 5) Crete-za Pizza at Red Ember
I spent a whirlwind few days sampling the Winnipeg's culinary scene on a press trip.  One of my favorite stops was The Forks Market, a food hall and retail space located in a historic stable.  I got to sample food from a range of vendors, and I loved the Neapolitan-style pizza topped with dill pesto, goat cheddar, roasted garlic, spinach, and pickled onions at Red Ember Common.  
6) Flourless chocolate cake at Lark
While I enjoy flourless chocolate cake as much as the next person, it's usually the same wherever you order it.  However, during my hosted stay in Janesville, Wisconsin, the version at Lark stood out.  It included espresso custard, toasted marshmallow, and pistachios for a completely unexpected take on a standard.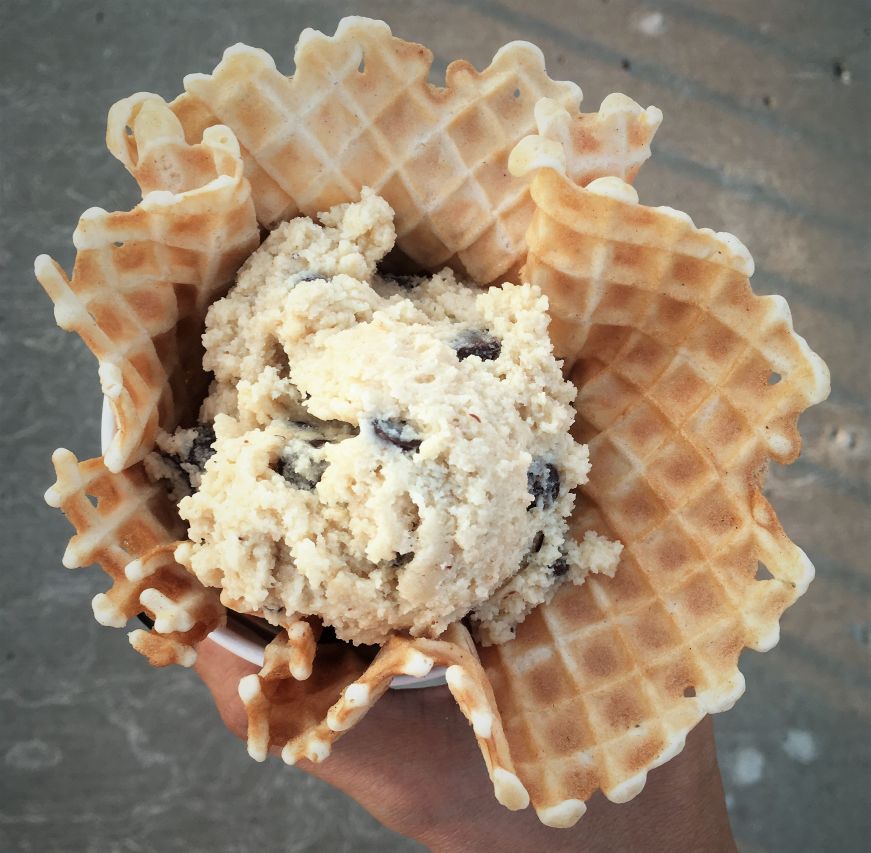 7) Edible chocolate chip cookie dough at Valley Sweets
As an unabashed fan of the real stuff, edible cookie dough usually falls short for me.  Either it's too sweet or it tastes like it's missing something.  Somehow Valley Sweets in St. Croix Falls, Wisconsin has managed to create an edible cookie dough that tastes exactly like spoonfuls of cookie dough from my mom's recipe.
8) Bonbons at Chocolaterie Stam
One wouldn't necessarily expect to find exquisite European chocolates in Cedar Falls, Iowa, but the small town is home to one of the U.S. locations of Netherlands-based Chocolaterie Stam.  Their filled bonbons are pricey but worth every penny—I loved the chocolate truffle and forest berry cream.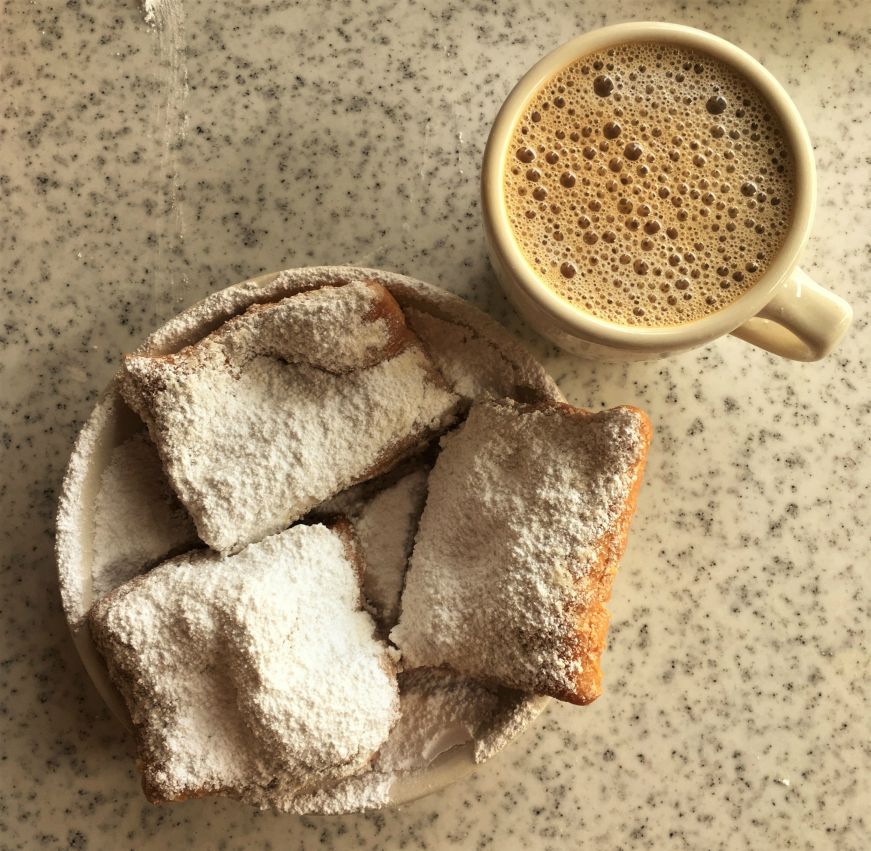 9) Beignets at Cafe du Monde and Cafe Beignet
I've wanted to try beignets for years, ever since my college professor reminisced about his grad school days eating beignets and working on math proofs in New Orleans.  Thankfully, they lived up to my expectations, and I managed to eat four orders of beignets over my five days in New Orleans for the International Food Blogger Conference.  I couldn't pick a favorite between Cafe du Monde and  Cafe Beignet—they were both deep-fried perfection.
10) The Mouth Trap cheese curds
Light, crisp batter coating hot, stretchy gobs of cheese: cheese curds from The Mouth Trap are my all-time favorite food at the Minnesota State Fair as well as the golden standard against which I judge all cheese curds (and I've been blogging about them since 2012).
11) Chocolate truffles at Hotel Donaldson
During my hosted stay in Fargo, I got to stay the Hotel Donaldson, an arts-themed boutique hotel.  My favorite of the many upscale amenities was the turndown service—the staff leaves a plate of delightfully rich housemade chocolate truffles on your bedside table!
12) Beet and pumpernickel salad at Butterhorn
When I'm on the job, I take a very analytical approach to food: I sample each component individually and then in combination, evaluating how each ingredient was prepared and then how they work together.  The beet and pumpernickel salad I ate at Butterhorn in Bismarck defied that approach—while I could pick out the beets, the dill, and the chevre, what the salad really tasted like was stepping outside after a rainstorm, when everything smells fresh and full of possibility.
13) Lamb with dill lefse and mint skyr at Tulibee
One of the perks of being a food writer is that you get some very nice free meals.  One of the most memorable was at Tulibee, where Chad and I basically ate our way through the menu.  Unfortunately, my favorite dish is no longer available—lamb chops served with dill lefse and mint skyr.  It was an amazing combination of flavors and textures, and the highlight of a very delicious evening.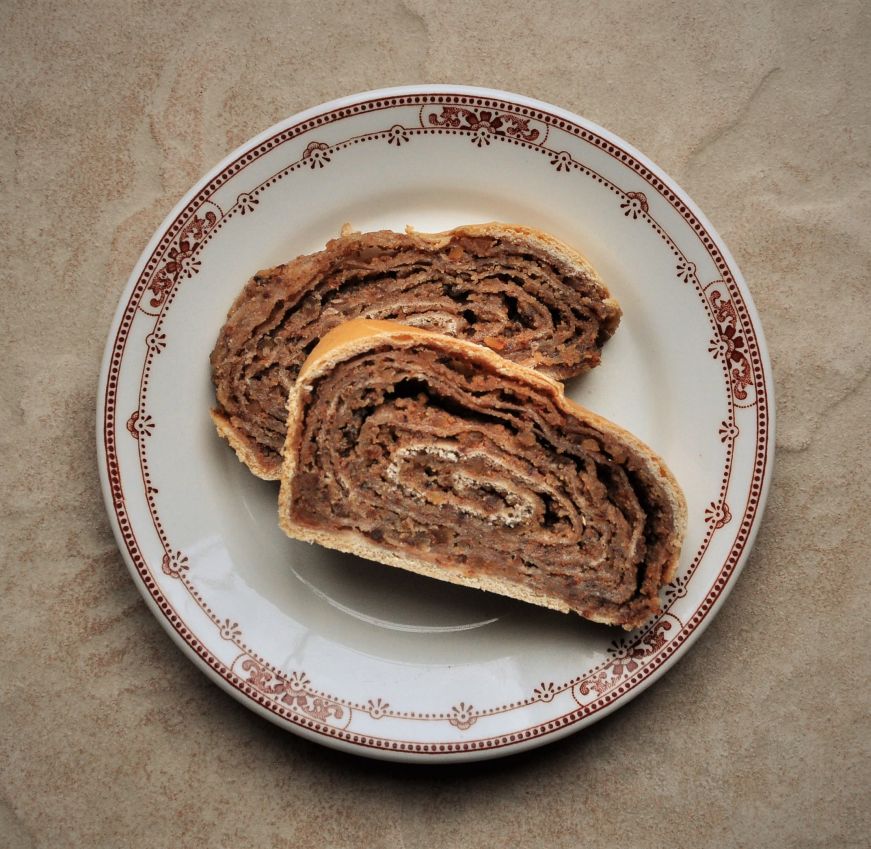 14) Potica from Sunrise Bakery
Potica is a Slovenian sweet bread made by rolling a very thin piece of yeast dough around a walnut filling, jelly roll-style.  I've been eating homemade versions for years, and it's one of my favorite Christmas treats.  During a research trip on the Iron Range, the generous folks at Hibbing's Sunrise Bakery gave me a loaf of potica to try.  It was amazing—incredibly thin dough and a filling with a lovely depth of flavor from honey and brown sugar. 
15) Wagyu zabuton steak at Bardo
Another food writer freebie—Bardo invited me to check out their tasting menu, which included seven courses and wine pairings.  The standout was the Wagyu zabuton steak, with a silky texture that has made it impossible for me to ever again enjoy a steak that is more than medium-rare.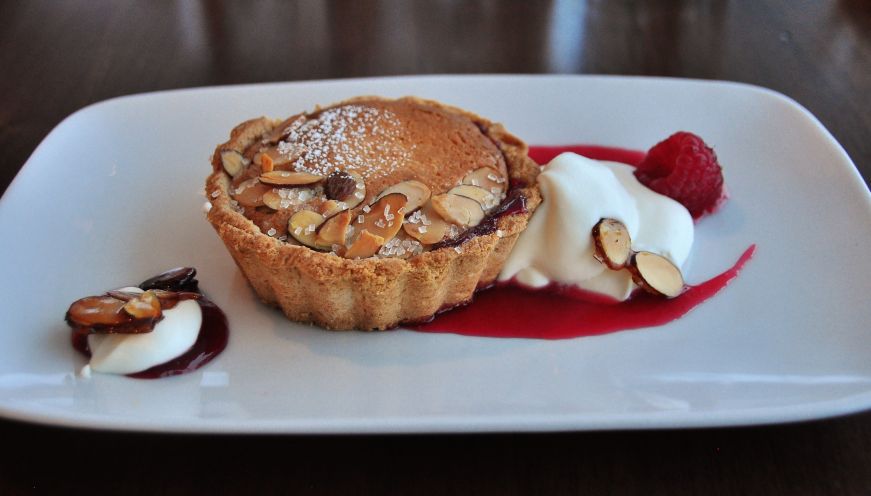 16) Bakewell tart from the British pub pop up at the Walker Art Center
One of the my most unique assignments this year was spending an afternoon sampling the special British menus the Walker Art Center put together for the British Arrows Awards.  The last thing I tasted was a Bakewell tart from the pub pop up menu.  It was like nothing I've tried before: a shortcrust pastry, crumbly almond filling, and tart raspberry preserves.
17) Chocolate croissant at Piece, Love & Chocolate
Visiting Piece, Love & Chocolate in Boulder, Colorado has become a Christmas Eve tradition for me and Mike.  Their chocolate croissants are truly the best I've ever tried: lighter-than-air buttery layers of dough around a warm melted chocolate filling and then drizzled with more chocolate.  They always live up to my expectations, and I've stopped ordering chocolate croissants elsewhere because they can't measure up.