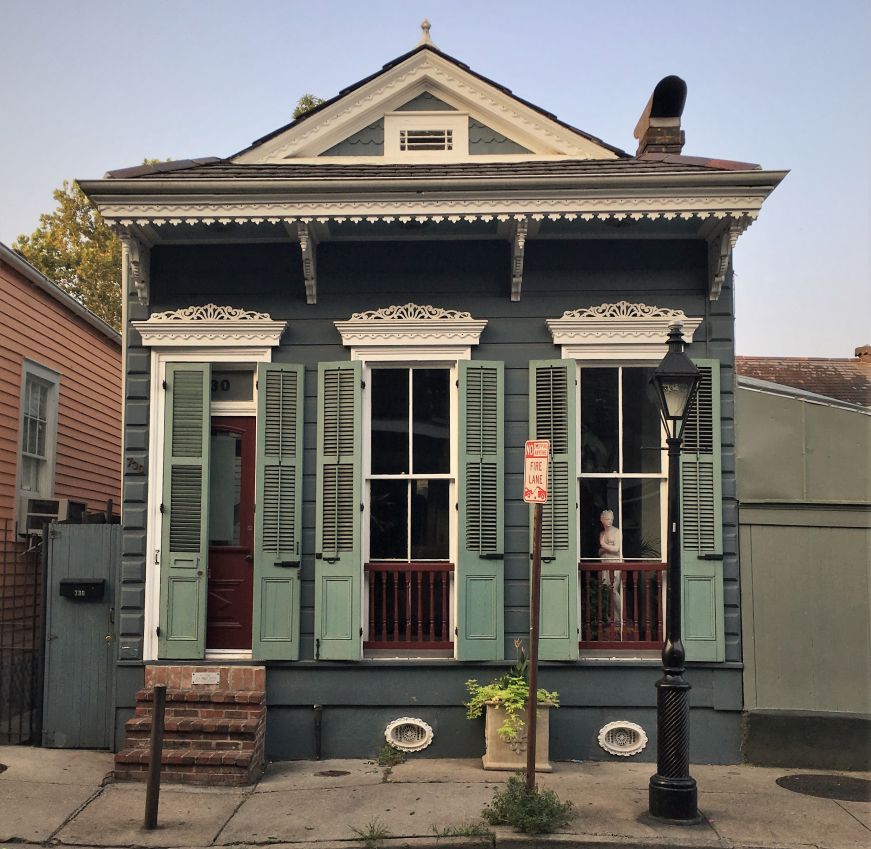 As an introverted person and an introverted traveler, New Orleans has never been a destination at the top of my list.  If it was a person, New Orleans would be the life of the party.  I'm the one who's standing off by the buffet, nervously eating hors d'oeuvres and counting down the minutes until I can leave.  The activities New Orleans is known for—drinking and listening to music—didn't seem appealing to an introvert whose alcohol consumption is best described as "minimal" and who doesn't particularly like jazz.   
Nevertheless, a speaking gig at the 2018 International Food Blogger Conference brought me to the Crescent City.  I decided to make the most of my time as an introvert in New Orleans: I crisscrossed the French Quarter, rode a streetcar to the Garden District, and meandered the Marigny.  I ate beignets and gumbo, sipped cafe au lait, and sampled seafood.  Here are the hits, the misses, and the takeaway from my five days as a solo introvert in New Orleans.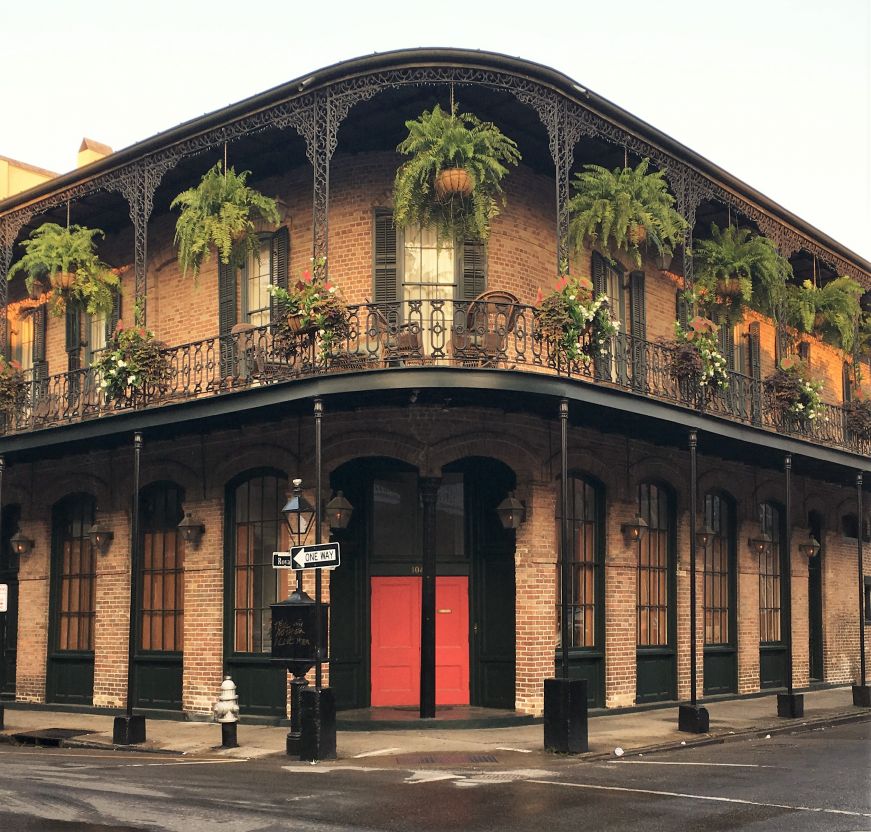 The hits:
1) Exploring the French Quarter
Since my conference was at a hotel in the French Quarter and I was staying nearby, I spent most of my time in New Orleans' most historic and picturesque area.  This is the stereotypical New Orleans: cast iron balconies, narrow one-way streets, a district that feels more like Europe than the United States.  I spent hours just wandering around, taking photos of buildings and browsing boutiques.  I visited the St. Louis Cathedral, which is the oldest continuously operating cathedral in the United States (the current building was completed in 1794).  The New Orleans Jazz National Historic Park is worth checking out, with a small exhibit area, performance space, and park rangers who can give you advice about where to find the best jazz in the city—that has to be one of the National Park Service's most unique postings.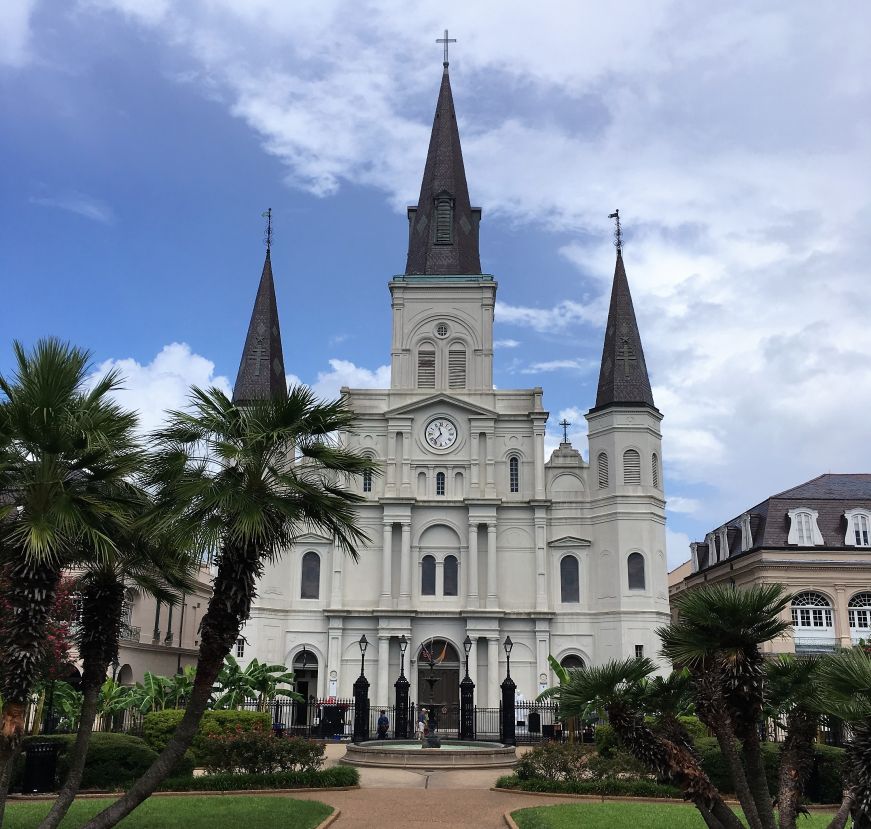 For an in-depth look at the French Quarter's history and architecture, I recommend the French Quarter Walking Tour with Friends of the Cabildo.  It's the only tour endorsed by the Louisiana State Museum, with a primarily educational focus versus other tours that play fast and loose with the actual facts (think lurid tales and ghost stories).  My 3.5 hour tour was led by an incredibly knowledgeable guide and also included admission the 1850 House, a restored apartment that depicts upper-class life in the mid-1800s.
The French Quarter also has many of the city's most famous restaurants and lots of shopping, ranging from tourist trinkets to high-end art galleries.  I spent more time than I care to admit sampling pralines at the numerous candy stores—my favorites were the sweet potato pralines at Southern Candymakers and the creamy pralines from Aunt Sally's Pralines.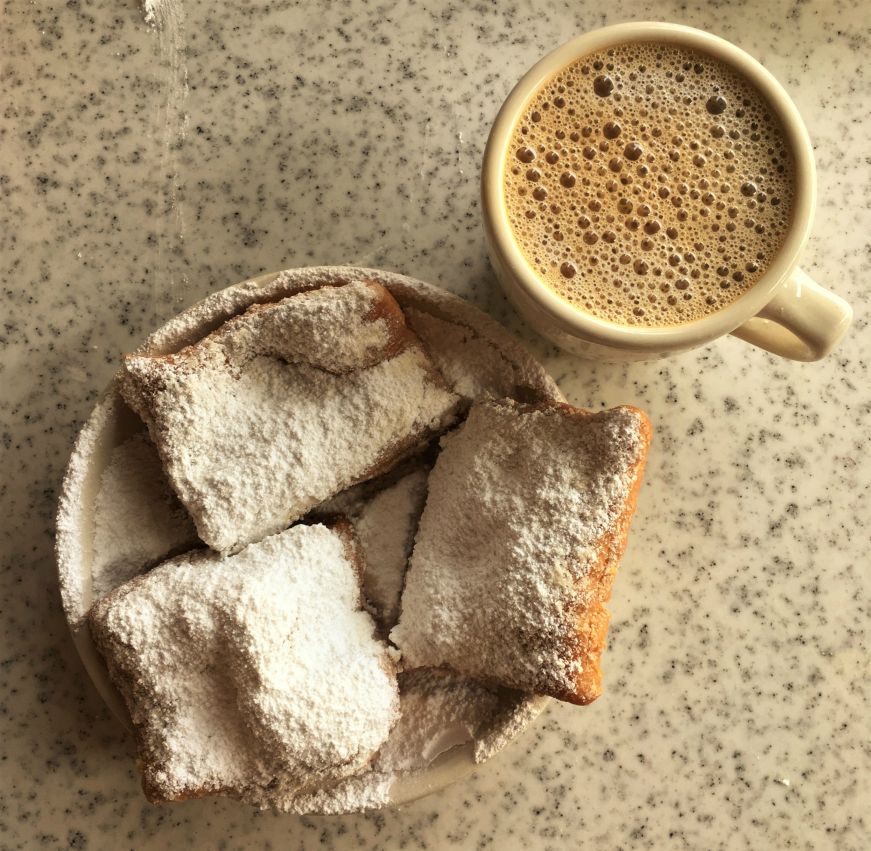 2) Beignets
My first act in New Orleans was to make a beeline to Cafe du Monde for beignets and cafe au lait.  It's one of those tourist experiences that actually lives up to the hype.  Beignets are often described as doughnuts, which doesn't exactly do them justice.  They're chewier (sort of the French bread of doughnuts), because instead of yeast or baking powder, they rely solely on steam to rise.  They're dusted with a mountain of powdered sugar, so wear light-colored clothing and eat carefully.
While Cafe du Monde is New Orleans' most famous beignet purveyor, I also enjoyed the beignets and atmosphere at Cafe Beignet's Royal Street and Decatur Street locations, which offer live music in vintage cafe-style settings (plus air conditioning).  I'd recommend trying both Cafe du Monde and Cafe Beignet.  You can even take a page out of my book: skip dinner and just order a serving of beignets at each, back-to-back, in the name of research.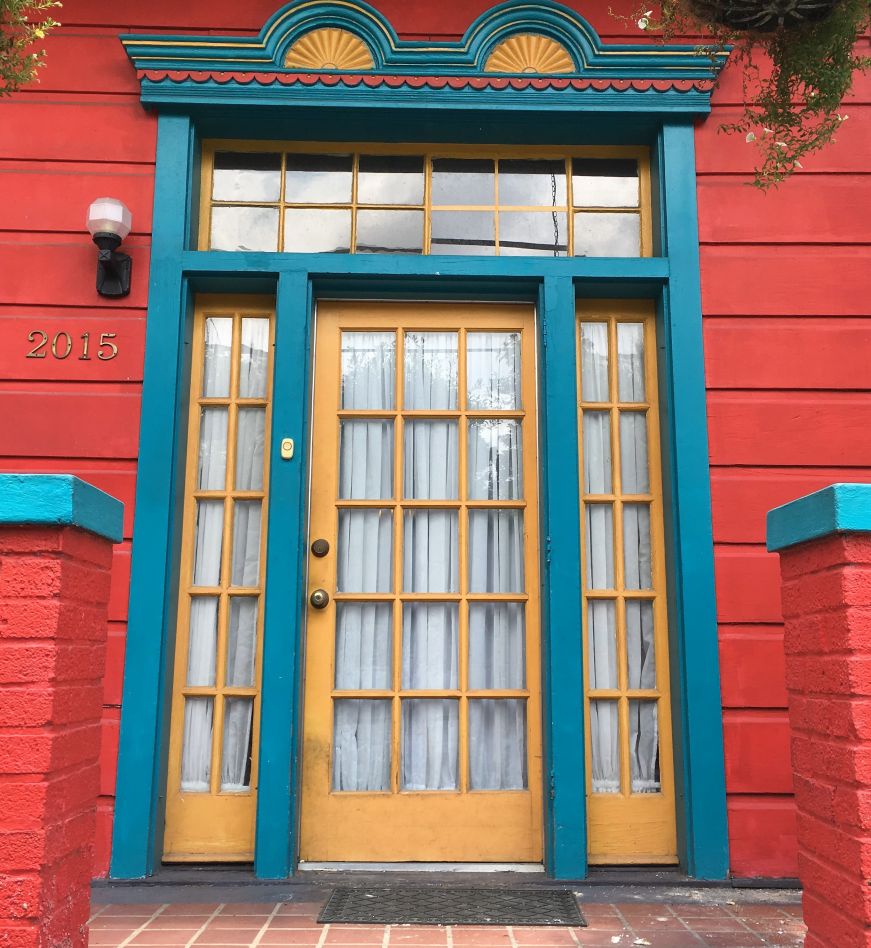 3) The Marigny
Located northeast of the French Quarter, the Marigny is a primarily residential neighborhood known for its brightly painted Creole cottages.  I just wandered around for an hour snapping photos—whenever I thought that the paint schemes couldn't get any bolder, I would stumble across something like the coral, yellow, and teal gem pictured above.
If you want to spend some additional time in the area, here are some restaurant recommendations from Eater New Orleans. 
4) Fresh seafood
As a lifelong Midwesterner I so appreciated all the fresh seafood: oysters, crawfish, crab, and most of all, Gulf shrimp!  I try to avoid Thai shrimp for ethical reasons (and typically that's all that's available at home) so it was a delight to eat a food that I don't get to eat all that often.
Some of my favorite dishes were the seared Gulf shrimp poboy from Killer Po Boys; a crab cake from Little Gem Saloon that I sampled at the conference; and a crawfish-stuffed omelet at Cafe Fleur de Lis.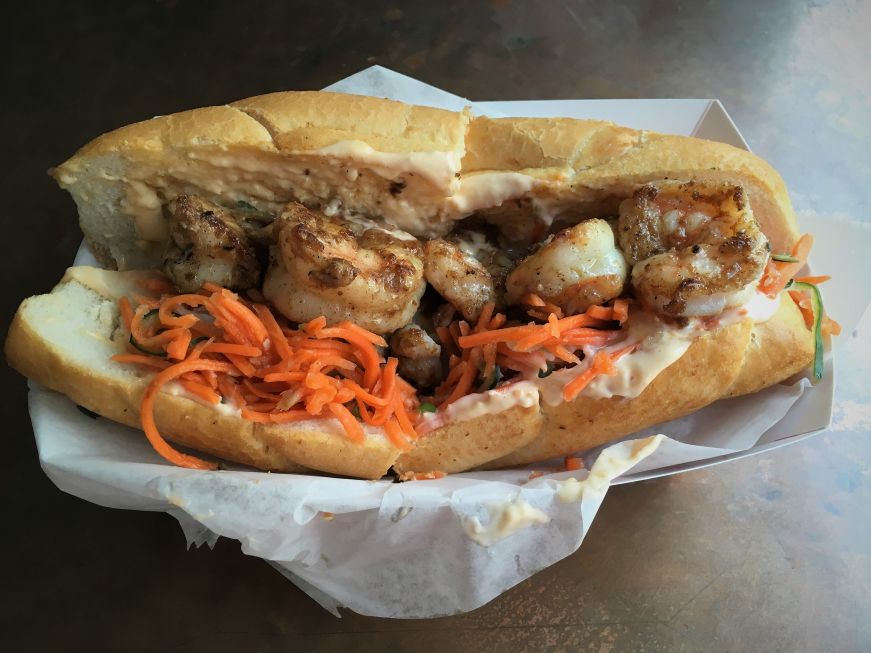 5) Killer PoBoys
As I mentioned above, I loved my seared shrimp poboy so much that Killer PoBoys merits its own spot on the list.  A poboy is an iconic Louisiana food that I knew I wanted to try—it's a meat or seafood sandwich served on a baguette.  Since the quality can vary wildly, I checked out Eater New Orleans for some recommendations.  Killer PoBoys stood out for their budget-friendly, inventive options, and their location on Dauphin Street was only a few blocks from the conference hotel. 
Their poboys have lots of interesting twists—for example, the shrimp poboy includes coriander lime spice, sriracha aioli, and carrots.  They also offer non-traditional options like glazed pork belly, smoked salmon, and chorizo.  While the shrimp was my favorite (the sriracha aioli added just enough spice and the crisp vegetables were a nice foil for the shrimp), I also enjoyed the roasted sweet potato.  It can be hard to find a filling vegetarian sandwich, but with savory chunks of cinnamon-spiced sweet potatoes, tangy braised mustard greens, and a hummus-like black eyed pea spread, this sandwich really delivered.  If I had another day in New Orleans I would've loved to try the smoked salmon or cheddar omelet poboys, and the pecan butter sandwich made with seasonal local jelly also looked tempting.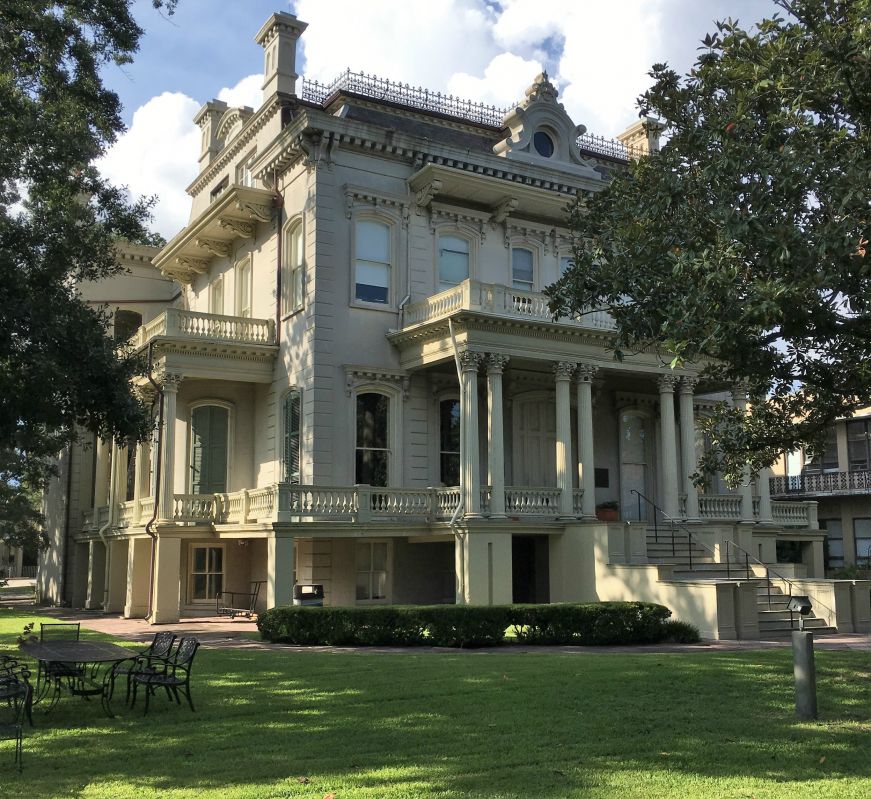 6) The Garden District
While I spent most of my time in the French Quarter, I had a pleasant afternoon in the Garden District.  The neighborhood is best known for its stately historic mansions (some of which are owned by celebrities), but it's also home to Lafayette Cemetery No. 1 and Magazine Street, which has some neat restaurants and boutiques (my favorite was Zele NOLA, which showcases products at all price points from over 100 local artists). 
Meandering around Lafayette Cemetery was one of the highlights of my trip.  Instead of in-ground burials, internment is in above-ground mausoleums.  Some date to the 1830s, while others are still in use.  Reading the inscriptions on the tombs is a fascinating glimpse into the past.  There were far more German and Irish surnames than I expected (many inscriptions were actually entirely in German), and you also get an appreciation for the high childhood mortality rate in the 1800s (one heartbreaking tomb was inscribed "In memory of my children" and listed the names of eight children under the age of 10).  Other tombs give you a tantalizing sliver of a longer story: the man who hoped to meet his 20-year old "consort" in heaven, and the stone paid for by an unnamed "true friend".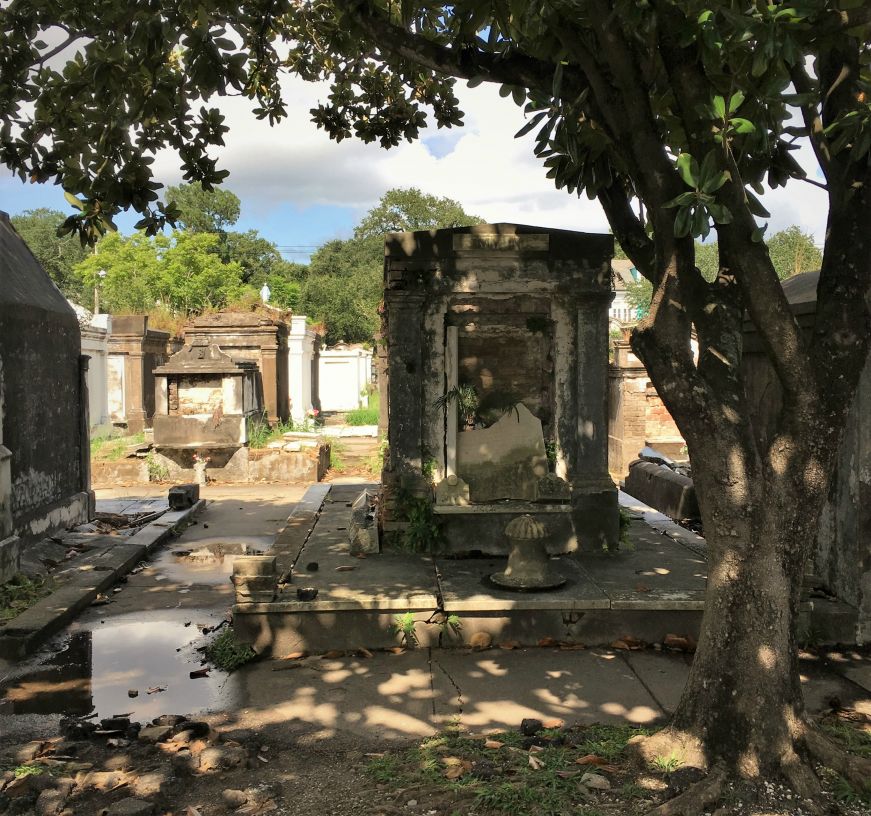 The easiest and most enjoyable way to get to the Garden District is on the historic St. Charles streetcar.  From the French Quarter, board on Canal Street and get off at Washington Avenue to see Lafayette Cemetery (that's also a good stop for shopping on Magazine Street)
7) Frenchmen Street after dark
A local resident I met at the conference told me that Frenchmen Street was "what Bourbon Street used to be."  Bordering the French Quarter, Frenchmen Street is lined with bars and jazz clubs, with all the different sounds spilling into the street and melding together into a distinctly New Orleans soundtrack.  Unlike Bourbon Street, the scene is more about the music than the booze, and there's also a nighttime artist's market (I bought a funky pair of earrings from a local designer).  Even if you don't go into any of the clubs, it's still worth walking down Frenchmen Street at least once to soak up the atmosphere.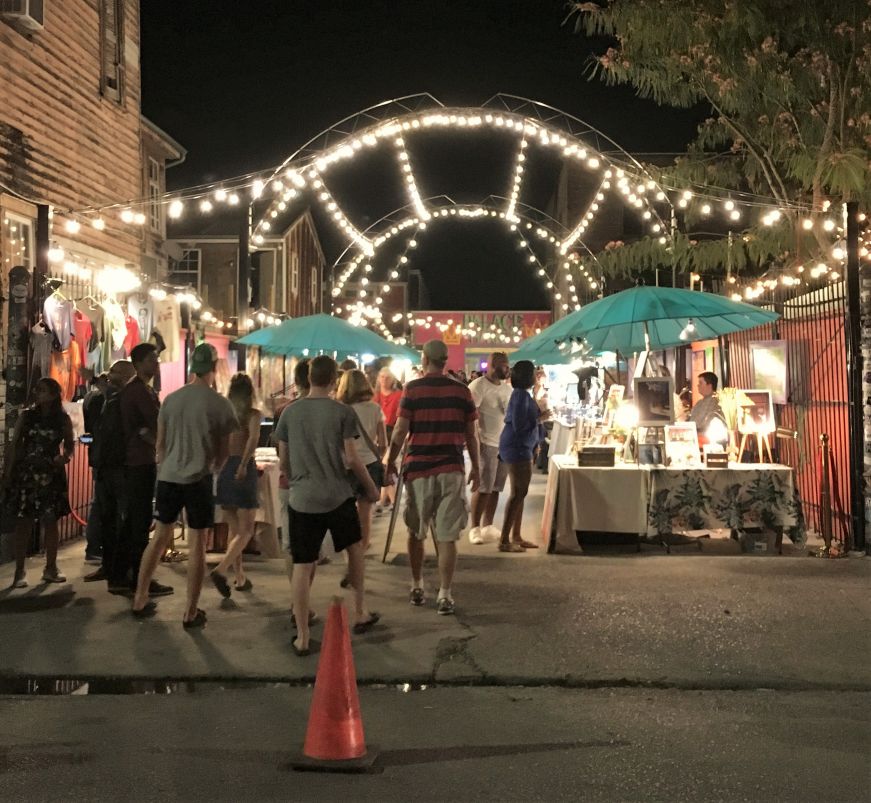 The misses:
1) Bourbon Street at any time of day
Bourbon Street reminded me of Hamburg's red light district: strip clubs, blaring music, and an abundance of booze.  New Orleans doesn't have an open container prohibition, so there are lots of places selling cheap cocktails to go in garish plastic containers, and crowds of people enjoying those cocktails in large quantities.  It's crowded, it's dirty, and there's lots of obnoxious behavior.  Check it out if you're curious.  Once was enough for me—if you need to walk through the French Quarter I much preferred Royal Street, which runs parallel to Bourbon Street one block south.  It has a lively street scene, but it's more upscale, with interesting architecture, boutiques and galleries, and higher-end bars and restaurants (I enjoyed a couple of $6 happy hour cocktails at Curio.  The Razz Royale was particularly good, sort of a riff on a Moscow Mule with bourbon and curacao.)
The conference was actually held at the Royal Sonesta, which is located right in the thick of the Bourbon Street scene—I have never been so glad that I wasn't staying at the conference venue.
2) Negative male attention
In Minnesota, catcalling is thing that definitely happens, but it's more of an occasional occurrence.  In New Orleans, it happened to me several times per day.  Morning, noon, and night; whether I was in business attire or a casual skirt and T-shirt; in residential neighborhoods and touristy areas.  Usually it was comments of the "Hey pretty lady" variety (the obscenities were limited to Bourbon Street).  While that might seem harmless, it made me feel on edge and uncomfortable as a solo female traveler in an unfamiliar setting.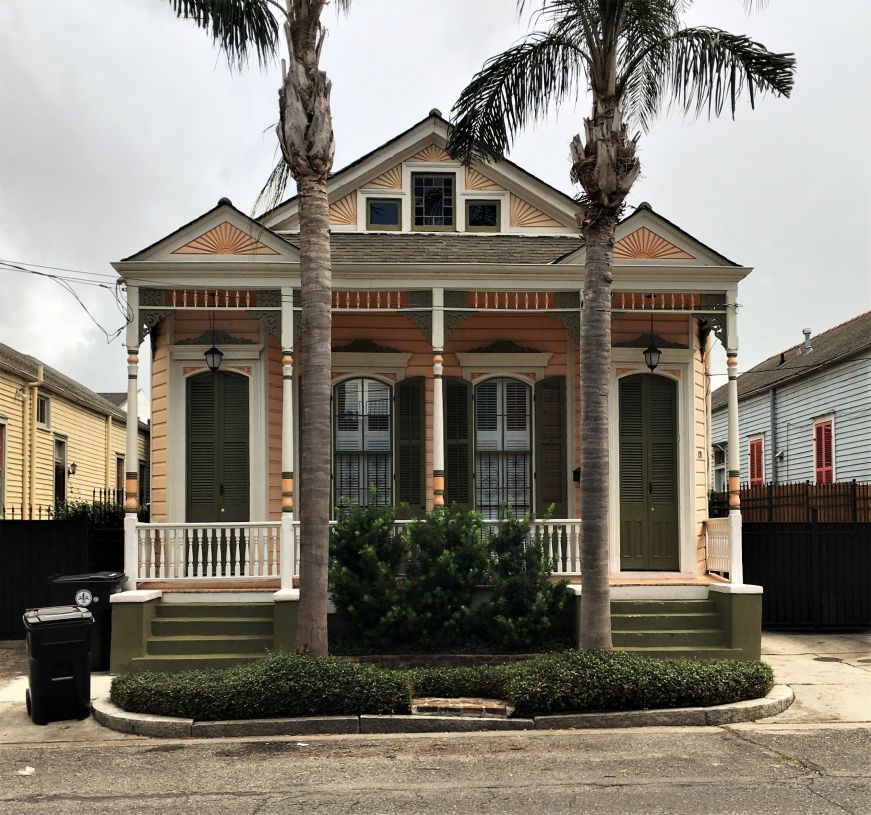 3) The heat and humidity
During my conference, I was chatting with a local about his trip to Minneapolis.  "I really enjoyed it," he said.  "I've never seen a place where so many people are walking around outside in the parks during the day!"
With average temperatures in the high 80s and oppressive humidity, late August was not an ideal time to visit New Orleans.  I was dripping with sweat within five minutes of leaving air conditioning.  At home, my average run is five miles, and I do a seven mile run once a week; in New Orleans, it was a struggle to do three miles at 7:00am.  It didn't cool down in the evening, either; on the nights I stayed out until 10:00pm (which is impressive for me) it was still in the high 80s. 
Since my favorite thing to do in cities is to walk around and explore, the weather was a constant challenge.  Having a reusable water bottle was essential (and this is counter-intuitive, but also bring a lightweight cardigan that you can roll up and keep in your purse, because many restaurants and shops are uncomfortably cold).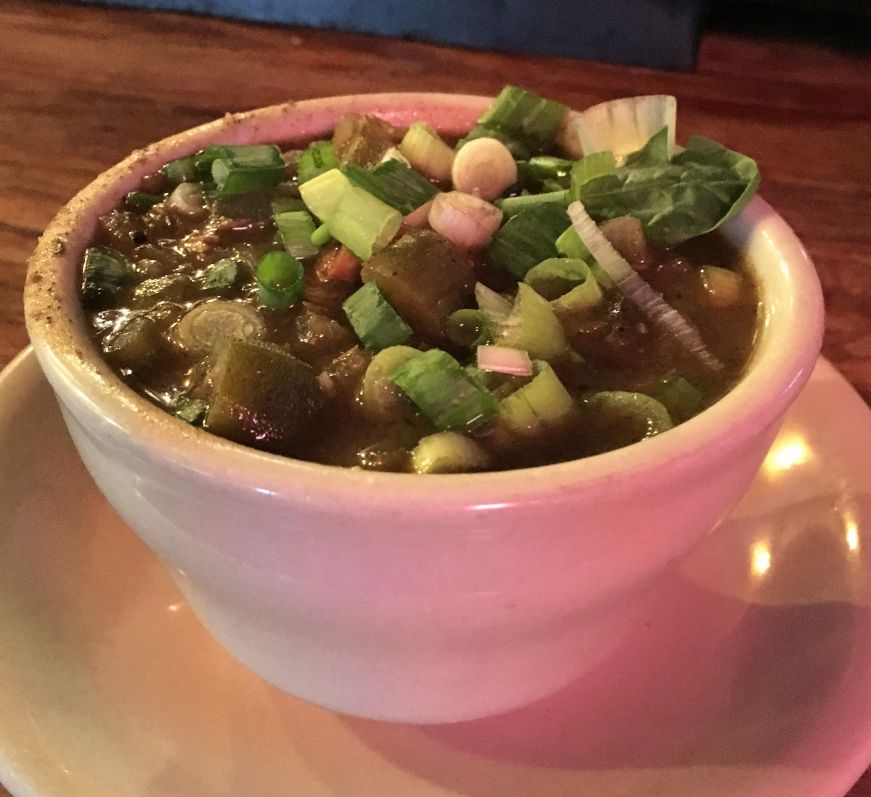 4) Gumbo
It's one of New Orleans' iconic dishes, and Louisiana's official state cuisine.  But gumbo—a stew made with roux-based stock, meat or shellfish, a thickener, and the "holy trinity" of celery, bell peppers, and onions—didn't seem all that appealing to me on paper and it wasn't all that enjoyable in person.  It's not bad, but I just don't get what all the fuss is about.  It might be because I don't like okra, which seemed to be included in many of the gumbos I came across in the French Quarter.  Possibly the seafood gumbo I tried at Coop's Place (I got the recommendation from Adventurous Kate) wasn't the best example of the genre.  Or maybe the heat and humidity killed my appetite for a hearty stew.
The takeaway:
I'm glad I visited New Orleans—it's a uniquely American city, and my five day stay gave me a chance to appreciate the history, music, architecture, and food.  However, I'm not prioritizing a return visit.  New Orleans didn't resonate with me in the way that places like New York, Berlin, and Maui have.  My opinion is definitely colored by the weather (if at all possible don't visit in the summer!) and the fact that as a solo female traveler I was probably subject to more catcalling than if I had been traveling with my husband or as part of a group.
But the wonderful thing about travel—and life, really—is that we each get to make our own list of favorites and define our own experiences.  Visit New Orleans for yourself, eat some beignets and gumbo, walk the French Quarter, and form your own opinions.
As a speaker at the International Food Blogger Conference, my conference registration was provided free of charge.  However, I paid for all transportation, accommodation, and sightseeing expenses.  While food samples were provided at the conference, I paid for all off-site restaurant meals out-of-pocket.
Further reading: Favorite bites at IFBC 2018 in New Orleans
If you enjoyed this post, pin it!