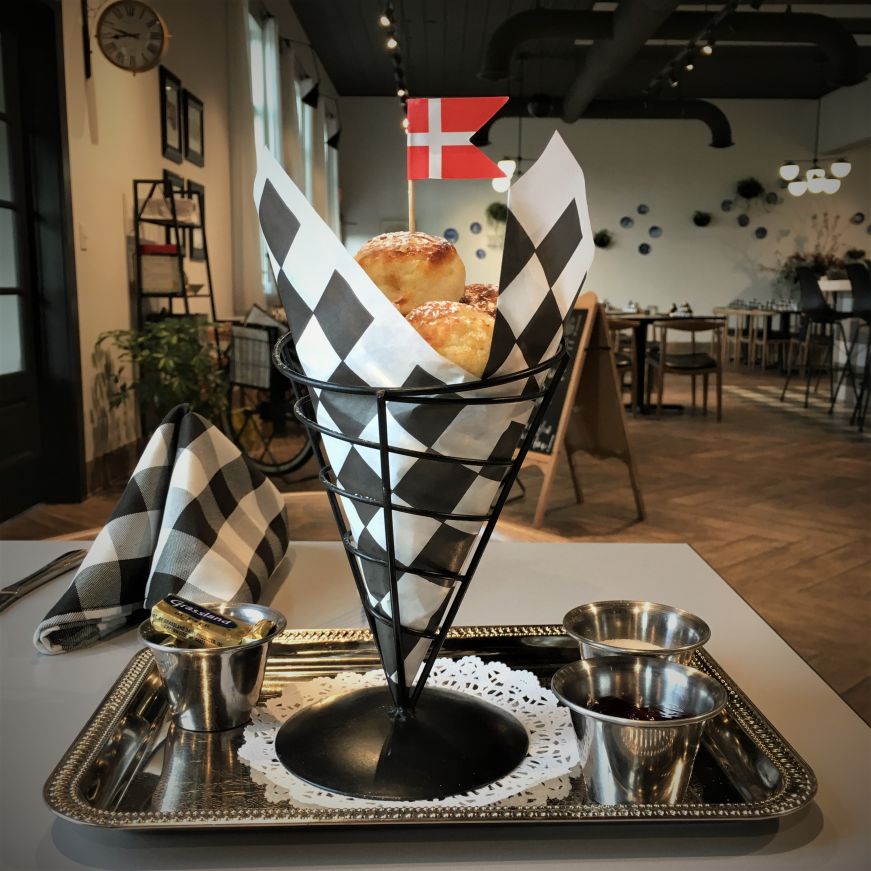 Thank you to the Danish Windmill for hosting my stay in Elk Horn, Iowa.  As always, all content and opinions are my own.
Elk Horn, Iowa is one of the most Danish places in America: 43 percent of the town's 650 residents can claim Danish heritage.  There are Danish flags lining the streets, two annual festivals celebrating Danish food and culture, and attractions like the Museum of Danish America. 
There's also a place to get a taste of Denmark: The Danish Table Hygge Kitchen, a full-service restaurant in the heart of Elk Horn.
What should you expect from a visit to The Danish Table?  Pull up a chair and find out what I discovered on my recent visit.
The dining room has the best view in town.
Elk Horn is famous for its Danish windmill, which was built in Denmark in 1848 and reconstructed in Iowa in 1976.  It's a working windmill—the blades spin on windy days, and the top portion pivots to face the wind.
Since The Danish Table is just across a parking lot from the windmill, it offers a unique chance to see a little bit of Denmark in Iowa as you tuck into a plate of Danish fare.
The decor will transport you to Scandinavia.
If you've ever spent time in Scandinavia (or in an IKEA showroom), you'll recognize The Danish Table's aesthetic: natural wood and white walls, with streamlined furniture and cozy touches like colorful throw pillows.  In a nod to the Danes' love of cycling, the restaurant's host stand is even a repurposed bicycle.
I appreciated the bright, airy interior on a fall evening, and I imagine it would be even more hygge on a chilly winter day.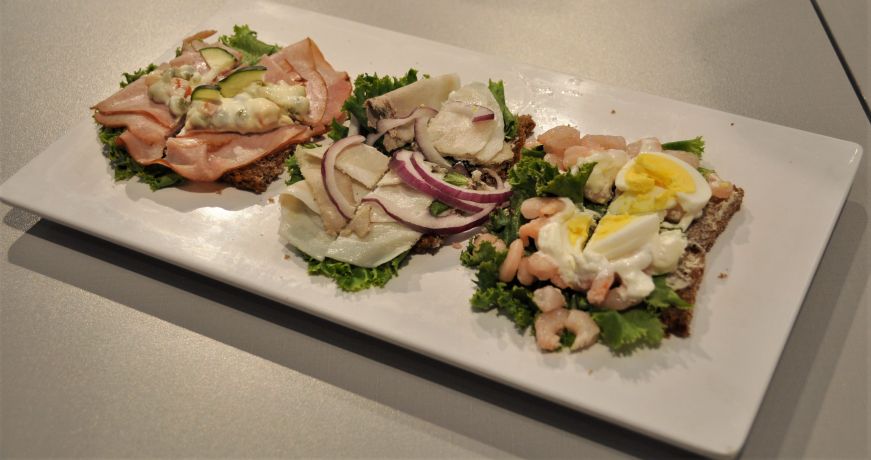 The cuisine is Danish-inspired.
While I wouldn't describe The Danish Table's cuisine as New Nordic, there are plenty of Scandinavian influences—for example, starters include herring, a Danish meat and cheese board, and a flight of Danish-style open-faced sandwiches.  Shrimp and house-cured salmon are featured in many menu items, such as the shrimp bacon fries and salmon Cobb salad.
There's a "Danish kitchen" portion of the menu that includes entrees such as frikadeller (Danish meatballs) and stegt flaesk (fried pork belly).  All of the Danish entrees are served with a side of red cabbage and cucumber salad, both of which are prepared in-house.
But there are American touches, too.
While The Danish Table's decor evokes Denmark, you are, in fact, in rural Iowa.  Accordingly, The Danish Table menu caters to Midwestern tastes as well as Elk Horn's Danish heritage.  For example, one of the starters is an "American fried basket" with onion rings, cheese curds, and a side of ranch. 
The entrees on the "American kitchen" section of the menu—which features burgers, a club sandwich, and Iowa pork tenderloin—are served with French fries or potato salad instead of cabbage and cucumbers.  You can get a Greek salad with chicken.  The housemade dressings include ranch, French, Italian, and 1000 Island.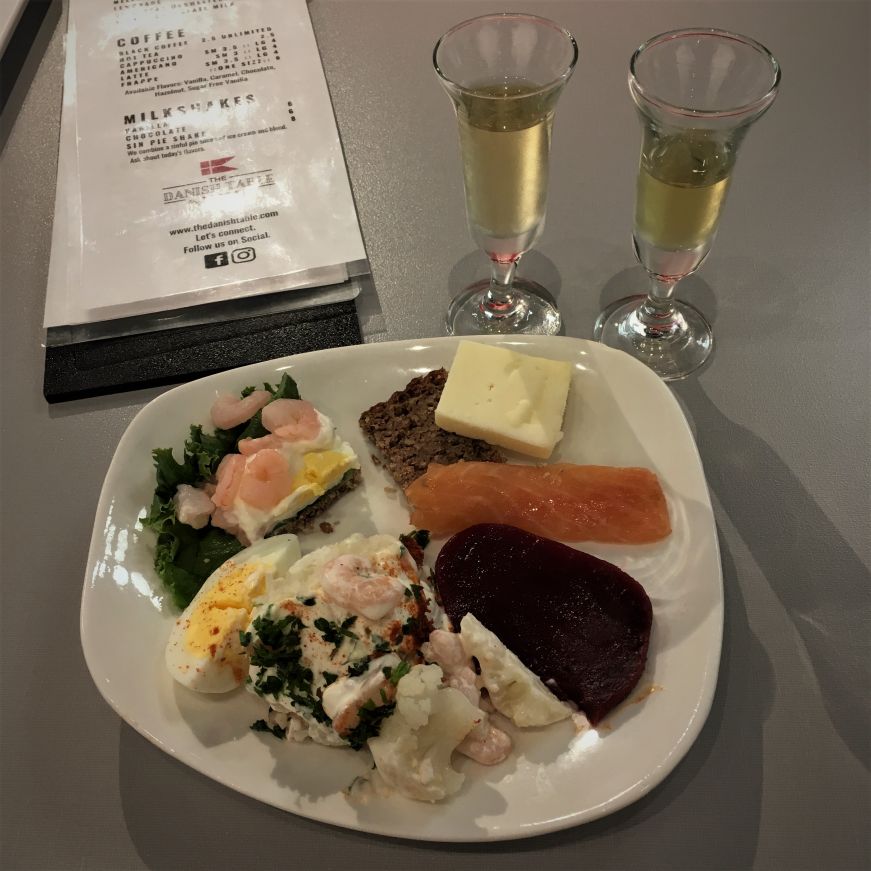 You can pair your meal with Scandinavian spirits.
Aquavit is a distilled spirit primarily produced in Scandinavia, flavored with a variety of herbs.  While The Danish Table isn't making true aquavit (they're a restaurant, not a distillery) they do produce a pretty tasty approximation by infusing purchased vodka with their own blend of botanicals.
A shot or two of aquavit pairs particularly well with the Danish meat and cheese board or the smorgasbord sandwich flight.  They also use aquavit in some of their cocktails, like the Danish Mule and the Bloody Dane.
Save room for dessert.
Like the rest of the menu, the dessert list combines the best of Denmark and America.  The "Sin Pie"—a fluffier version of traditional cheesecake—is all American, offered in flavors like raspberry or peanut butter and chocolate.
On the Danish side of the menu, you can try brunsviger (Danish coffee cake) or aebleskiver (sort of a cross between a pancake and a donut).  In Denmark, aebleskiver are a Christmas food that are traditionally served with a dusting of powdered sugar.  In Elk Horn, they're served with powdered sugar, plus granulated sugar, jam, and butter on the side.
An order of aebleskiver sums up The Danish Table—Danish influences, a dash of American flavor, and 100 percent delicious.
The details:
The Danish Table: Hygge Kitchen
2105 Broadway Street
Elk Horn, Iowa 51531
(712) 764-8383
thedanishtable.com
Further reading: 10 ways to experience Danish culture in Elk Horn, Iowa
Want to plan your own meal at The Danish Table in Elk Horn, Iowa?  Start with The Danish Villages for information about nearby accommodations, dining, and attractions.
Many thanks to the Danish Windmill for providing my accommodations, food, and activities during my stay in Elk Horn and for compensating me for my time.
If you enjoyed this post, pin it!