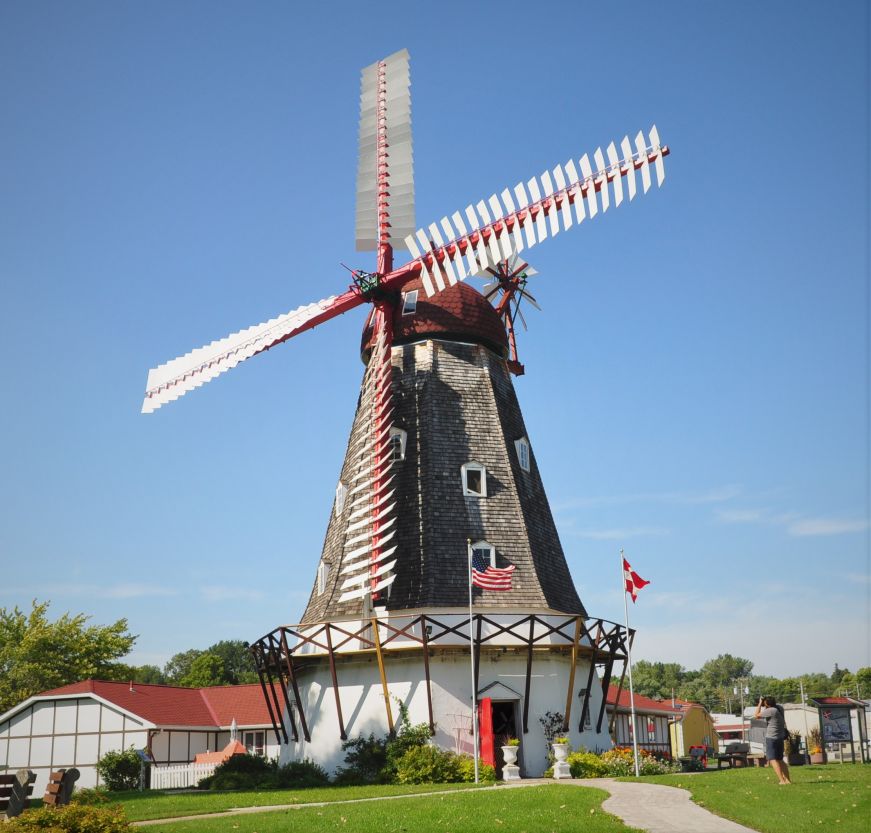 Thank you to the Danish Windmill for hosting my stay in Elk Horn, Iowa.  As always, all content and opinions are my own.
I have a thing for small towns that lean hard into their European heritage, like German-tinged New Ulm, Minnesota, and New Glarus, Wisconsin (a.k.a. America's Little Switzerland).  There's something touching and very American about preserving bits and pieces of the Old Country while settling wholeheartedly in the new one. 
So when I had the opportunity to visit Elk Horn, Iowa, one of the most Danish places in America, I jumped at the chance.  I was expecting a local museum with some antique furniture, a restaurant serving Danish-inspired food, and a gift shop with "Kiss the cook, she's Danish" coffee mugs.
And I found those things in Elk Horn.  But I also found a town of 650 with immense pride in their Danish heritage (43 percent claim Danish roots).  The American flag is flown side-by-side with the Danish one, and people eat aebleskiver for breakfast.  There is a small but constant stream of Danish tourists who come to visit the town they learned about from Denmark on the Prairie, a television documentary that made Elk Horn's mayor a minor celebrity in Denmark (seriously).
Sure, Elk Horn's Danish heritage is one of its selling points as a tourist destination.  But it's also a genuine way of life, and it makes this small town about an hour west of Des Moines worth checking out. 
Here's how to experience Elk Horn's unique celebration of Danish culture for yourself.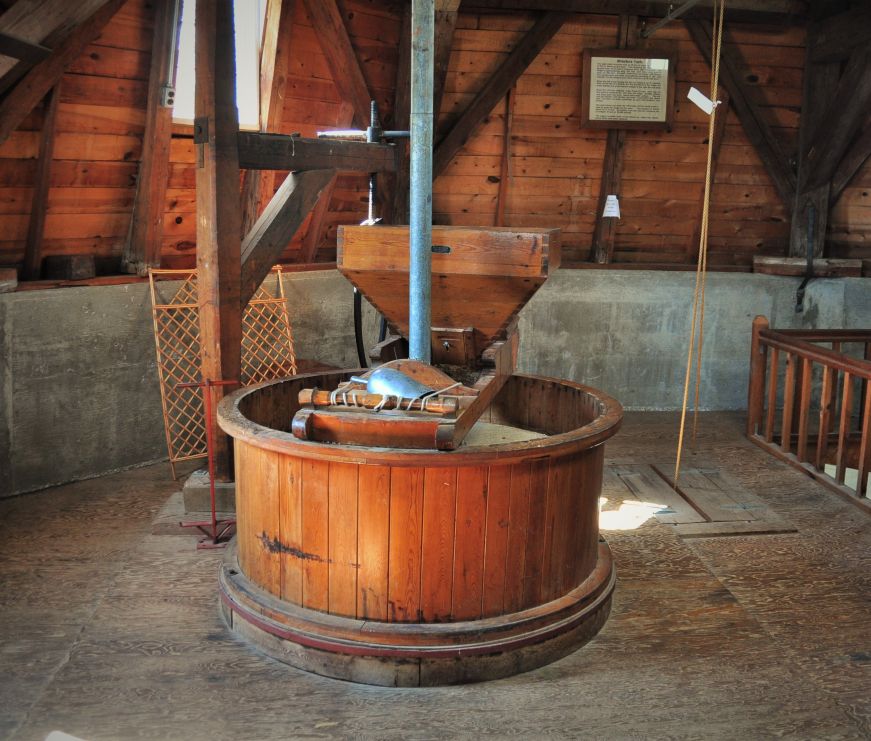 1) Tour the Danish Windmill.
The most distinctive thing about Elk Horn is its 60-foot windmill, built in 1848 in Norre Snede, Denmark and reconstructed in Iowa in 1976.  Shortly after it was moved, a law was passed in Denmark outlawing the export of further mills—making Elk Horn's mill the only authentic, working Danish windmill in America.
You can tour the Danish Windmill for a modest fee, which gives you a peek behind the scenes at how it operates.  It's especially fun on a windy day, since you can look out through the windows and watch the blades spin by, inches from your face.  There are also exhibits about the mill's history and reconstruction, including the 1/10 scale model that a Danish carpenter built to help the citizens of Elk Horn reassemble their mill.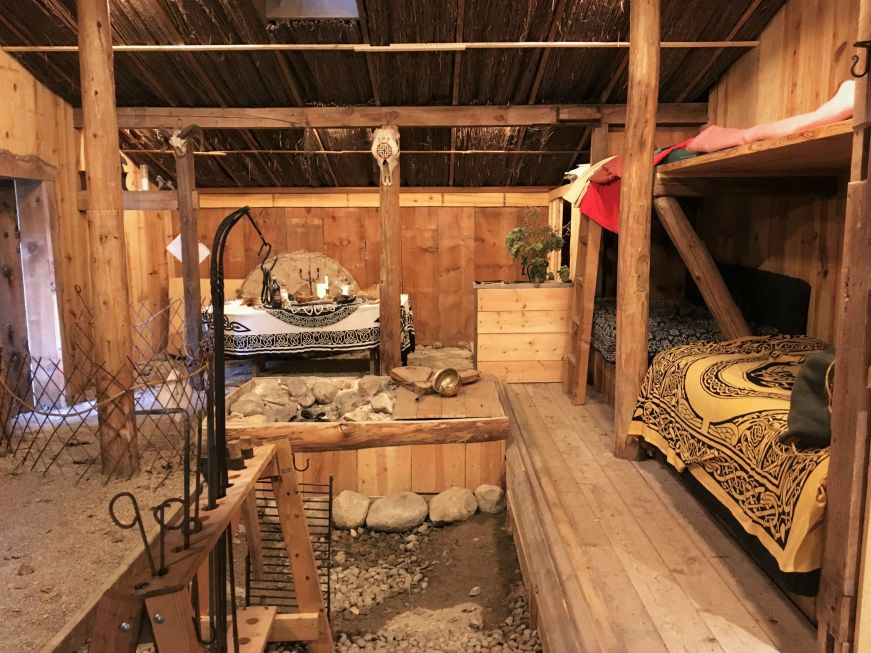 2) See how the Vikings lived.
The grass-roofed building next to the Danish Windmill isn't a hobbit house—it's the VikingHjem, a replica structure that reflects life in Scandinavia and Northern Europe in 900 A.D.  Part of the building is a blacksmith shop and the remainder is a dwelling, complete with furnishings.
Tours of the VikingHjem are available by advance request, and it's also open during festivals.  If the door is unlocked, you can pop your head in to check it out.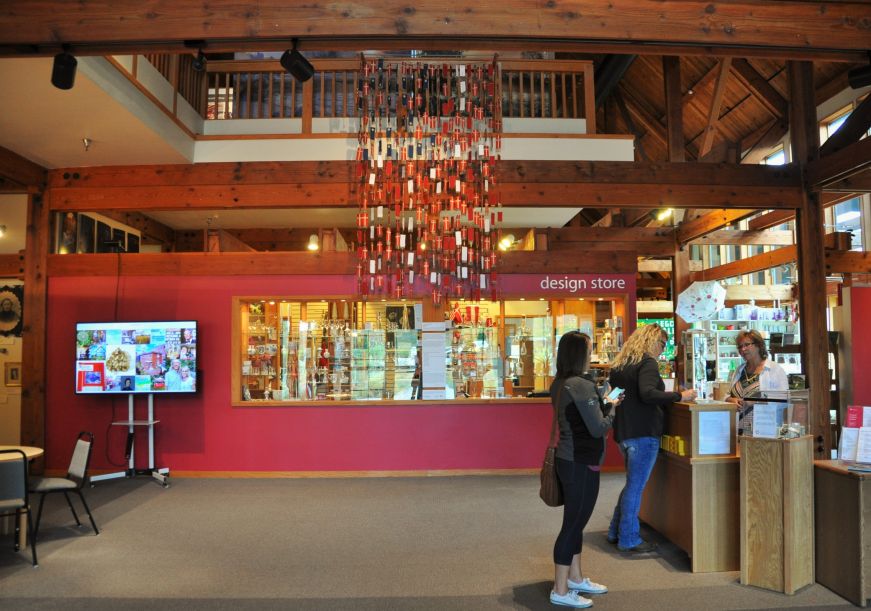 3) Visit the Museum of Danish America.
The Museum of Danish America celebrates Danish immigrants and their American dreams, with permanent exhibits about the Danish immigrant experience, the history of Denmark, and Danish culture.  There's also a Kid Zone with dress up clothes and a fun Lego wall in honor of one of Denmark's most far-reaching inventions.
The Museum of Danish America also hosts traveling and temporary exhibits, such as an exploration of New Nordic cuisine and a exhibit commemorating the Danish flag's 800th anniversary.  I was impressed with the quality of the exhibits, and the museum grounds are also worth exploring—there's a prairie park surrounding the museum as well as a restored homesteader's cabin.
4) Check out Bedstemor's House.
The Museum of Danish America is also the steward of Bedstemor's House, a historic house museum that interprets the Danish-American immigrant experience in the early 20th century.  The house has been restored to look as it did when it was built in 1908 and is fully furnished with period-appropriate pieces.
The highlight for me was the kitchen—it looks like you could step in and start cooking, and there's even an open recipe book on the table.  The house also features exhibits about the building's history and inhabitants over the decades.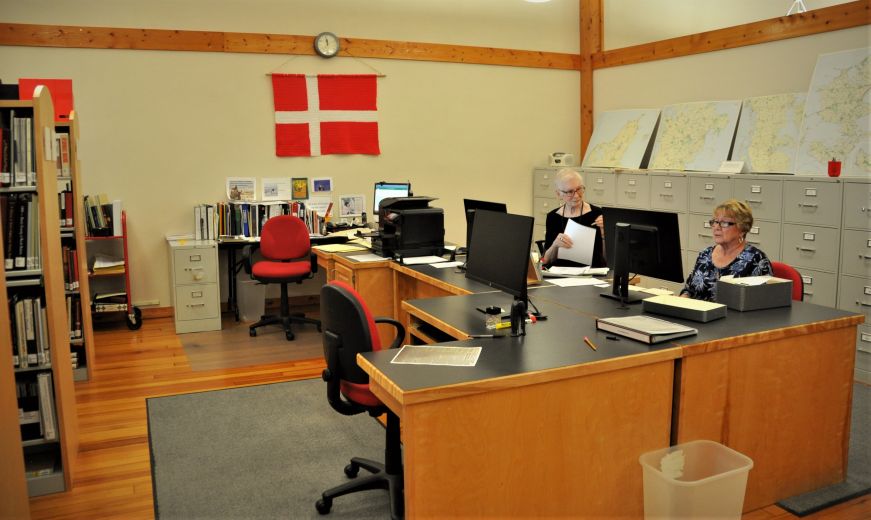 5) Research your Danish roots.
In addition to the museum and Bedstemor's House, the Museum of Danish America operates the Genealogy Center.  It's open to the public for research and is one of the largest collections of materials about Danish immigrants in the United States.
Translation and research services are available for a fee, and advance appointments for research assistance are appreciated.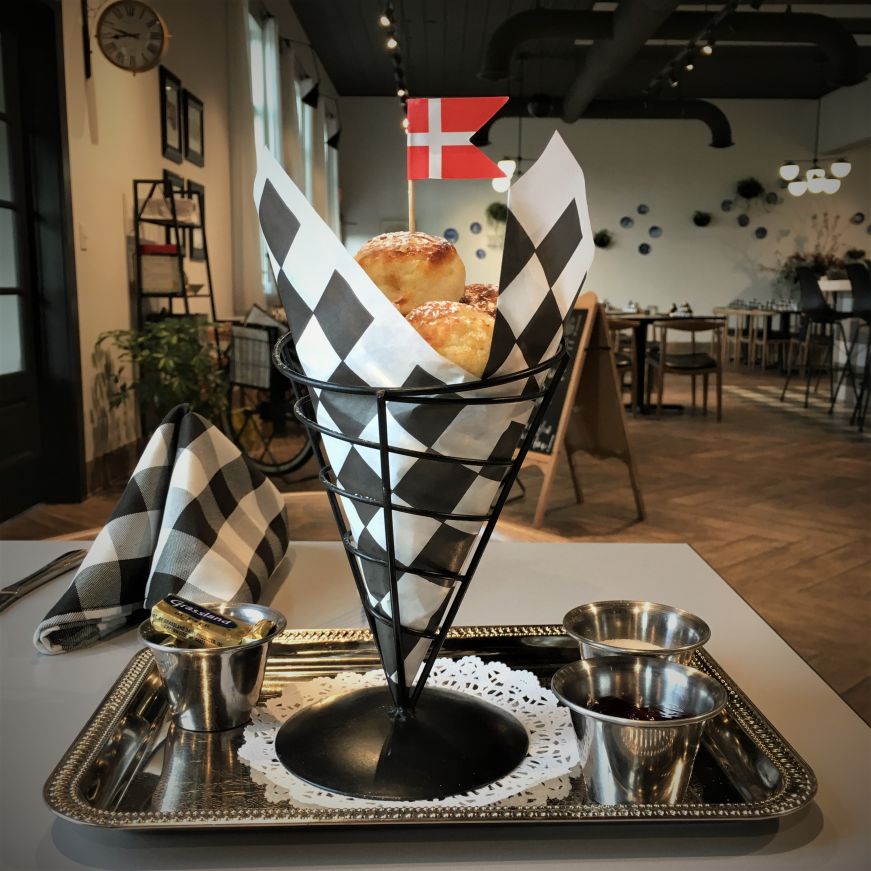 6) Eat Danish food.
Danish food isn't reserved for special occasions in Elk Horn—residents cook aebleskiver at home and eat their sandwiches open-faced in the Danish style.  
As a visitor, your best bet for Danish food is The Danish Table: Hygge Kitchen, which serves Danish specialties like frikadeller (meatballs), stegt flaesk (fried pork belly, the Danish national dish), and aebleskiver (a Danish donut/pancake hybrid).  You can read more about The Danish Table in this post.
While pizza isn't exactly Danish, you can get it topped with housemade frikadeller at The Flour Mill.  They also serve a frikadeller-stuffed ravioli and the rotating dessert menu may include housemade Danish pastries.  In addition, they offer more traditional pizzas and pastas—this is the best place in town for vegetarian and gluten-free options. 
The Kringle Man doesn't have a retail store, but you can stop by the production bakery if it's open to purchase Danish kringle and other pastries like turnovers and cream horns.  If the bakery is closed, the Danish Windmill's gift shop is well-stocked with kringle in various flavors, and I also spotted them for sale at the Museum of Danish America.
Although the Norse Horse Tavern doesn't serve Danish food, they do have a fun Viking-inspired atmosphere, Danish beer, and pastries from The Kringle Man (not Danish, but highly recommended: their chocolate chip cookie skillet).
7) Peruse Danish products.
Whether you're looking for Danish-made decor or a snarky coffee mug to celebrate your Danish heritage, you can find it in Elk Horn.  The Danish Windmill's gift shop has an impressive and well-curated selection of collectibles, cookware, food, clothing, books, and Christmas decor.  Many items are made in Denmark, and products are available at a wide range of price points.  You can also peruse their selection via their online store.
Another Danish shopping destination is the gift shop at the Museum of Danish America, which offers home decor, kitchenware, jewelry, apparel, and kids' items (they also have an online store).  In addition to Danish-made items, they have clever t-shirts in unisex and women's sizes (my pick: "Having a Dane good time").
The selection at the Museum of Danish America focuses on contemporary Scandinavian design, while the Danish Windmill's merchandise has a more traditional feel—I definitely recommend visiting both.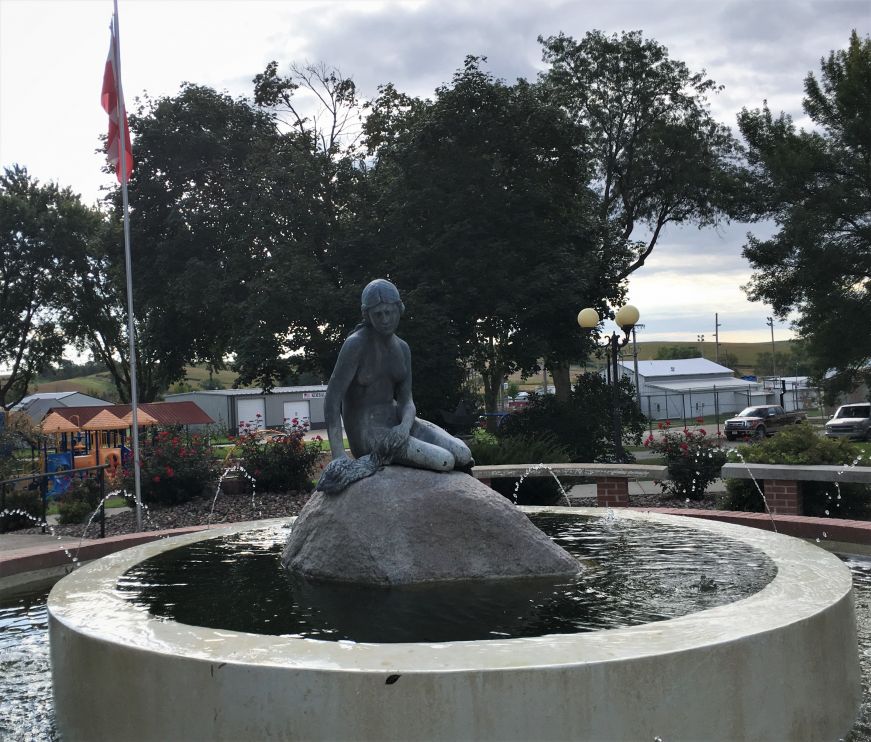 8) Take a photo of the Little Mermaid.
Originally, The Little Mermaid was a fairy tale by Danish author Hans Christian Anderson, and a statue based on the story has been displayed in the Copenhagen harbor since 1913.  However, the statue is famously underwhelming—it's on the small side for such an iconic landmark (about four feet tall), and it's difficult to get a decent photo due to the hordes of tourists.
But you can beat the crowds in Kimballton, Iowa!  The nearby town is even more Danish than Elk Horn, with 46 percent of the 300 residents claiming Danish heritage.  Their Little Mermaid statue is an exact replica of the original and is located in a small park that also features several other Hans Christian Anderson-inspired statues, a playground, and a picnic shelter.
9) Appreciate locally grown ingredients.
Contemporary Danish food culture focuses heavily on locally grown ingredients—that's one of the main tenants of the New Nordic cuisine movement.  Elk Horn's rural setting means that there are some unique opportunities to meet local growers and enjoy their products.
Danish Countryside Vines & Wines makes 20 different wines from grapes grown on their five-acre vineyard.  They also make fruit wines that incorporate ingredients like blueberries, rhubarb, and strawberries.  The tasting room is open daily, and you can sample wines and purchase your favorites by the bottle (my favorite was Berryessa, a sweet blackberry wine).  Tours are available and include a wine tasting.
Brun Ko Farm is a small-scale, sustainable farm that produces vegetables and pasture-raised beef and pork.  You can find them at local farmers markets, and their products are available for pick up at the farm—check out their website for more details.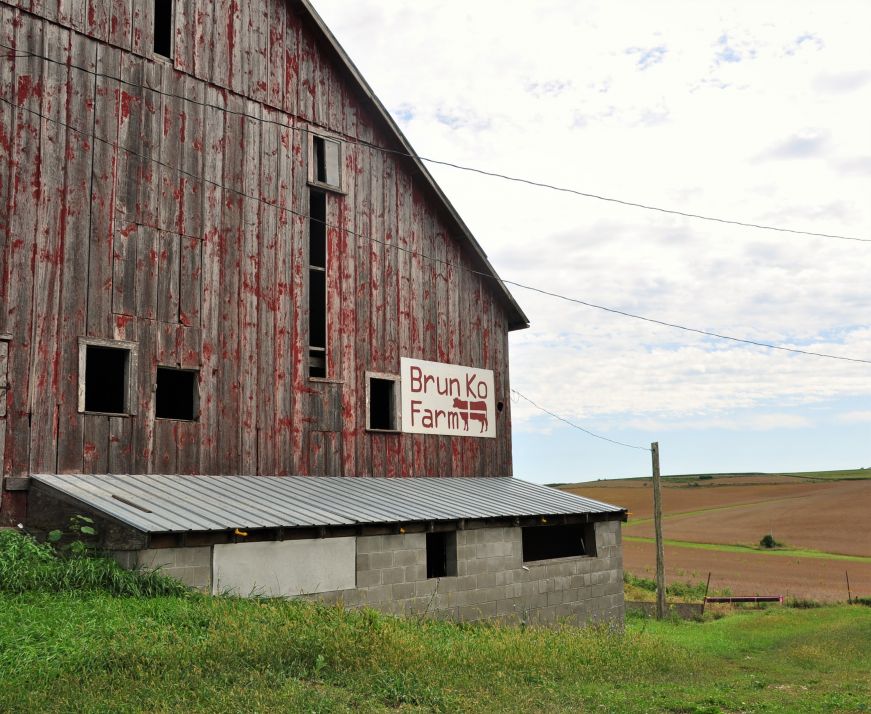 10) Attend a festival.
Although Elk Horn celebrates its Danish heritage all year long, the town's annual festivals offer additional opportunities to experience Danish food, culture, entertainment, vendors, and more.  Tivoli Fest is held Memorial Day weekend, and Julefest is a Christmas celebration with special events and festive decorations.
For more information, check out the Danish Villages website.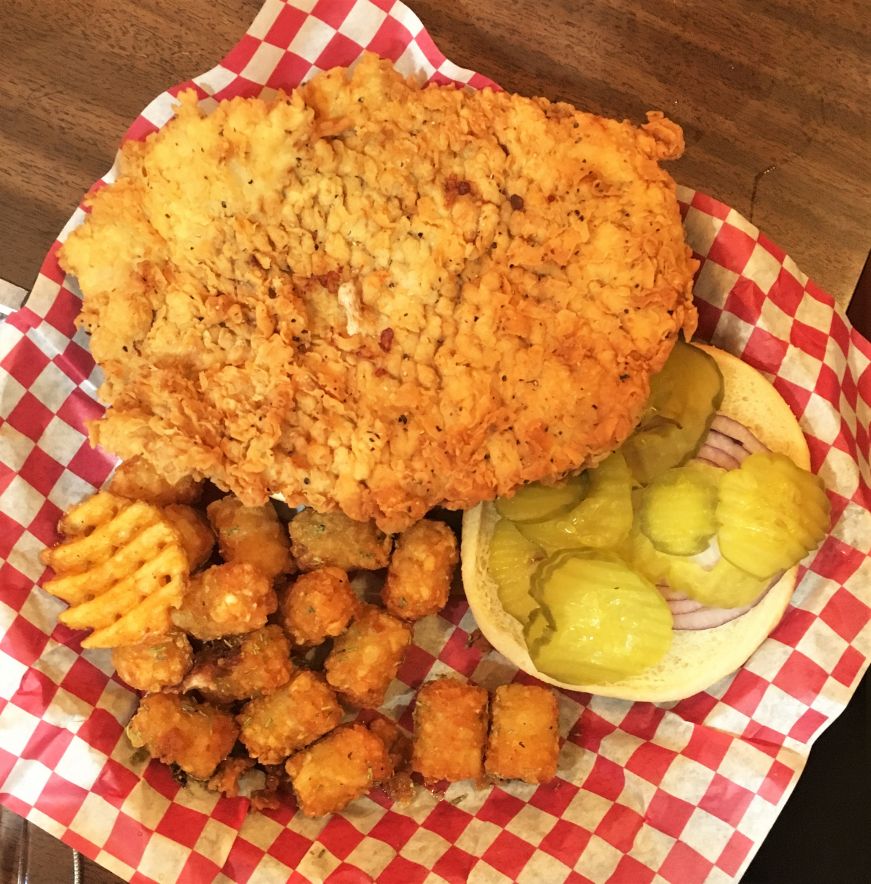 While Elk Horn is best known for its Danish heritage, there are plenty of other great places to eat and shop in town:
Dining:
Larsen's Pub serves classic American bar food, including an award-winning pork tenderloin sandwich featuring a house-cut tenderloin the size of a small child's head.  They mix their coleslaw to order, and the housemade dressing is delicious.
Coffeegirl is a cozy coffee shop offering espresso drinks, tea, breakfast, pastries, and a handful of made-to-order sandwiches served with a side and cookie.  None of the sandwiches are vegetarian, but they were happy to make me a grilled cheese upon request.
Pleasant Thymes Tea Room & Fine Dining offers multi-course teas, brunch, lunch, and occasional themed dinners in an elegant, Victorian-inspired setting.  Everything from the lemon curd to the ice cream is made in-house, and the sweets are delicious and plentiful—there was a tray of homemade chocolates on the breakfast table!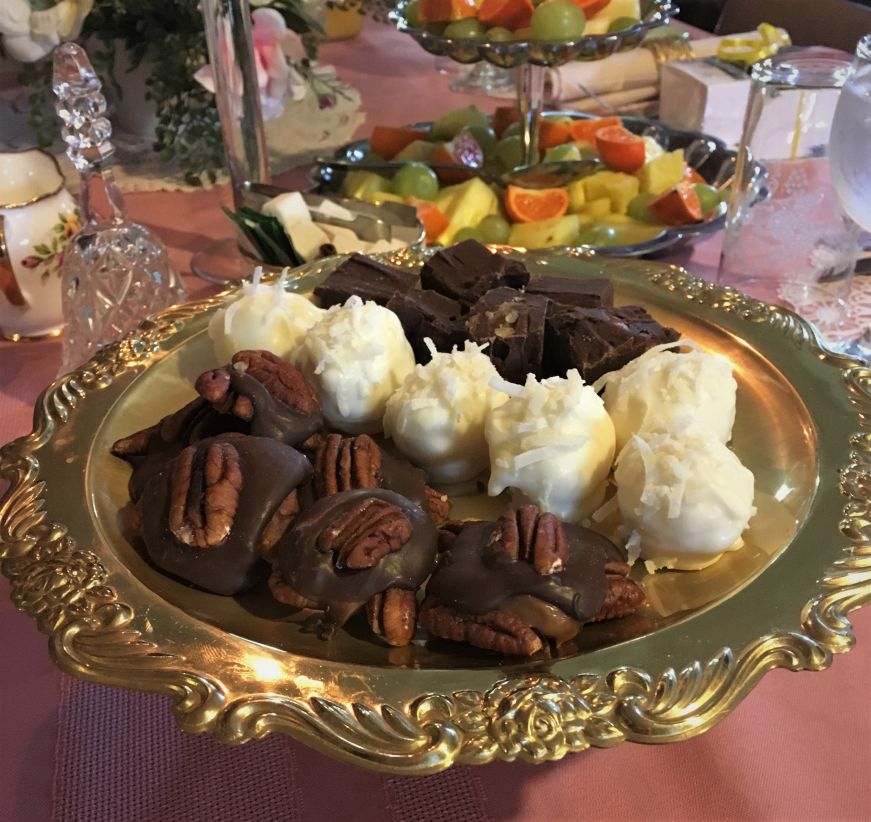 Shopping:
Copenhagen Friday is a boutique with a unique assortment of women's clothing and accessories, kids' toys, specialty foods, gifts, and more—I bought a fun beaded bracelet.  Some items are sourced locally or made with sustainable materials.  Cash preferred. 
Log Cabin Quilting is a must for quilters, with an impressive array of fabric, patterns, and more.  It's worth a stop solely to appreciate the quilts on display—some are traditional, while others have whimsical, modern touches.  They also offer on-site accommodations and work space for quilting retreats.
Egg Krate is a marvelous jumble of all things antique from over 50 vendors.  Kitchenware, toys, decor, books, tools...even if you're not into antiquing, you'll find something to buy (I picked up a couple of vintage cookbooks).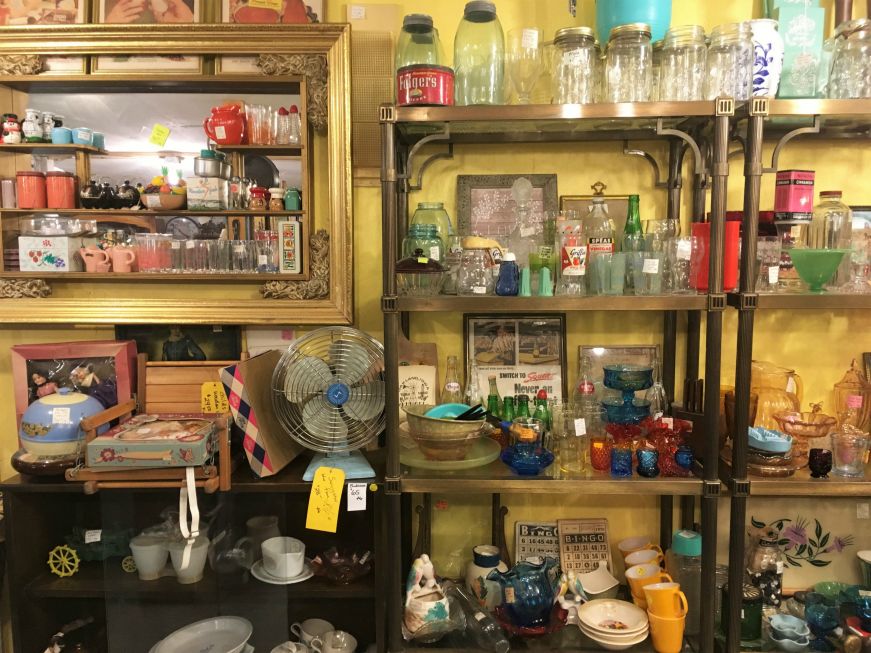 Further reading: A taste of Denmark: Dining at The Danish Table in Elk Horn, Iowa
Want to plan your own trip to Elk Horn, Iowa?  Start with The Danish Villages for information about accommodations, dining, and attractions.
Many thanks to the Danish Windmill for providing my accommodations, food, and activities during my stay in Elk Horn and for compensating me for my time.
If you enjoyed this post, pin it!