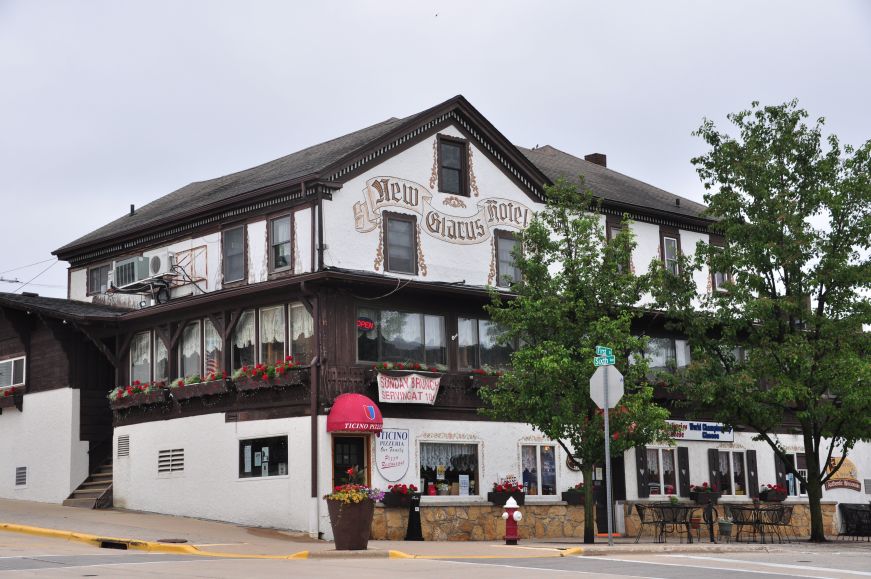 Thank you to Green County Tourism for hosting my stay in New Glarus.  As always, all content and opinions are my own.
When I told people that New Glarus was one of the stops on my Wisconsin road trip itinerary, I got one of two responses:
"Oh, like the beer?"
"Huh, never heard of it.  Why are you going there?"
In answer to both: yes, like the beer.  New Glarus Brewing Company, which has a bit of a cult following and is famous for distributing their beer only in Wisconsin, is based just outside of town.  Why was I going to New Glarus?  Because of its nickname: America's Little Switzerland.  I have a soft spot for European-influenced small towns (like New Ulm, Minnesota), and the Swiss-inspired architecture and food of New Glarus piqued my interest.
The town of about 2,000 was founded in 1845 by Swiss textile workers who had lost their jobs to mechanization and were fleeing a potato famine.  Much of the town's Swiss-style architecture (with a few notable exceptions, like the New Glarus Hotel) actually dates to the 1960s.  In the wake of a local dairy plant closure, New Glarus citizens realized that "Staying Swiss" could be a means of economic survival.  Today, New Glarus is a tourist destination with several annual festivals, boutiques, and restaurants.  Nearly every building has some sort of Swiss decor.  The bank sports a painting of Saint Fridolin, the symbol of Glarus; the town hall looks like a ski chalet; and the Casey's gas station is decorated with Swiss shields. 
I drove to New Glarus from La Crosse via US-14 and US-61 instead of taking I-90—according to my maps app, it only added six extra minutes to my drive, and it was such a richer experience that zipping down the interstate at 70 miles per hour.  I drove through rolling hills covered with dense forests, slowed down to pass an Amish couple in their buggy, and spotted quilts painted on barns.  There were cows and farmhouses and produce stands.  As a travel writer, I tend to get wrapped up in the destination and sometimes forget about the journey; the drive to New Glarus was a lovely reminder.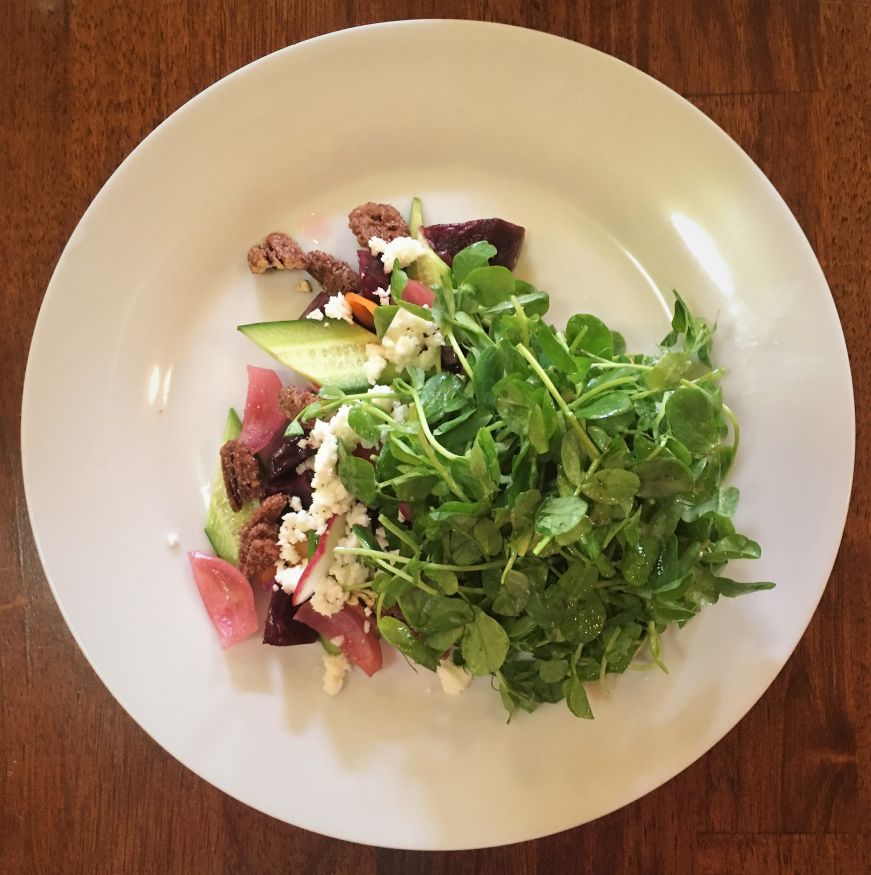 Once I arrived in New Glarus, I had lunch at Cow and Quince, a restaurant and market that features locally grown foods.  It has a funky, casual aesthetic, with brightly painted metal lab stools at the high top tables, yellow walls, and a chalkboard listing the menu's featured farms.  Refrigerators are stocked with eggs, cheese, and meats, and you can also buy products like honey and maple syrup.
The menu changes with the seasons, and there were several daily specials when I visited.  I ordered the beet salad, a tangle of pea shoots served with Driftless Organics beets, radishes, carrots, zucchini, Driftless Creamery fresh sheep's cheese, pickled cipolli onions, candied pecans, and a house vinaigrette.  All of the ingredients worked well together—I tried to get a different combination in each bite, and every single forkful was delicious.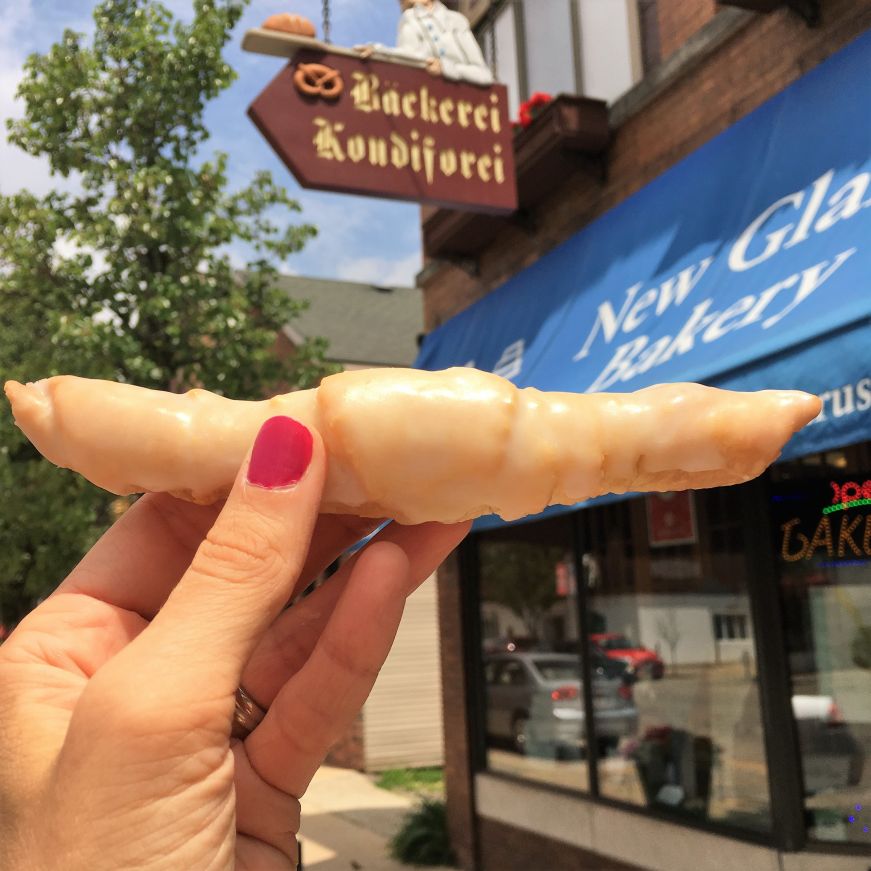 For dessert, I took a very short walk to the New Glarus Bakery (something I didn't quite appreciate until I arrived: New Glarus is quite small, and everything is within a very short walk).  The bakery was founded in 1910 and offers American, Swiss, and German breads, pastries, and cookies.  After much deliberation I settled on the popular nut horn, a Swiss pastry with flaky layers of cream cheese pastry dough rolled around a sweetened walnut filling. 
My next stop was the Swiss Historical Village & Museum, a collection of buildings and exhibits that explores New Glarus' Swiss heritage.  You can take a 90-minute guided tour or do a self-guided tour with a brochure—I went the self-guided route and felt that 45-60 minutes gave me enough time.  I recommend visiting the museum early in your stay, since it will help you better appreciate the town itself.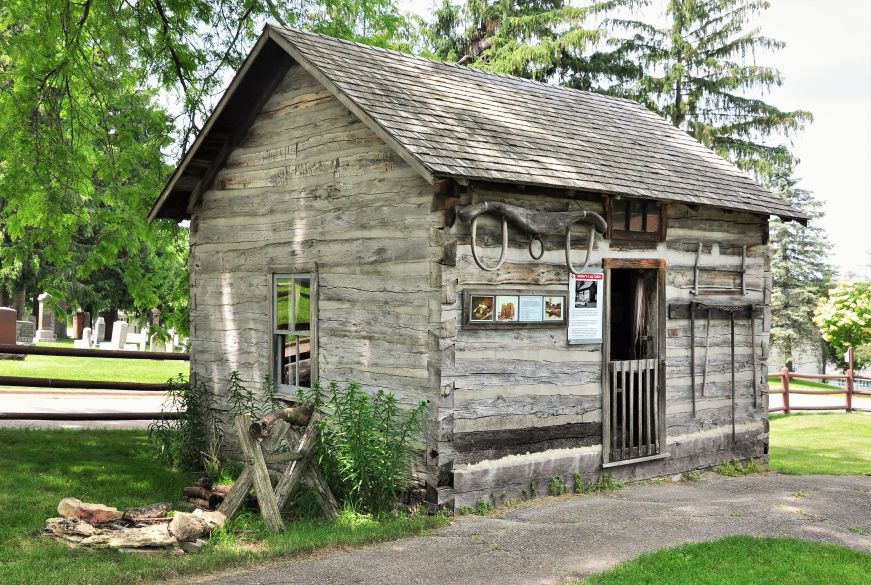 While most of the buildings are replicas, a few are original, like a settler cabin dating to the 1850s.  The furnishings reflect various eras and aspects of life in New Glarus, from cheesemaking to printing the town's weekly newspaper.
Other places to learn about New Glarus' Swiss heritage include the Swiss Center of North America and the Chalet of the Golden Fleece Museum, both of which have limited hours and were closed during my visit.
When I'm traveling alone, I love eating dinner in small town bars—it's not as lonely or intimidating as a meal in a sit-down restaurant, the people watching is fascinating, and the bartender usually takes great care of you.  Small town bars offer a snapshot of local life that tourists usually miss out on as we hustle from attraction to gift shop to destination restaurant.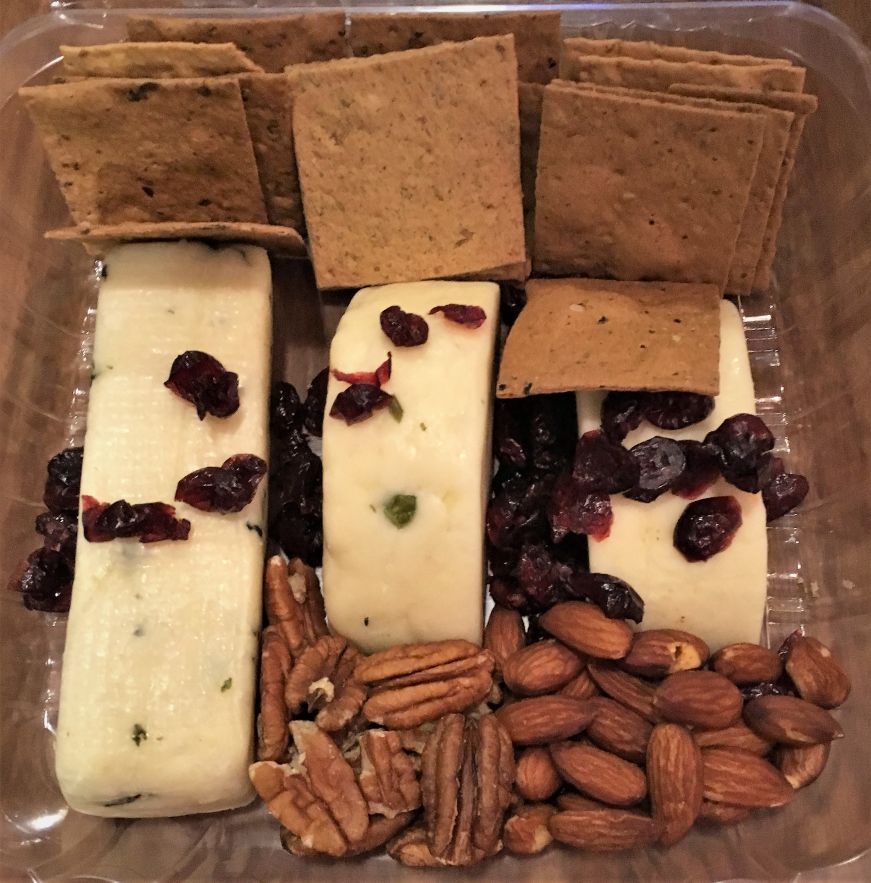 New Glarus, of course, has a quintessential small town bar: Puempel's Olde Tavern, which was established in 1893.  It's kept its historic character—the bar dates to 1912 and the murals were painted for 60 cents per day in room and board in 1913.  Taps are dominated by the New Glarus Brewing Company, and the food menu is simple but good, with bread and buns from the New Glarus Bakery and local cheeses.  I opted for the artisan cheese plate, which included three generous hunks of Edelweiss Creamery cheese, Wisconsin-made Potter's Crackers, almonds, pecans, and dried cranberries.  Seriously, where else but Wisconsin can you get an locally-sourced cheese plate at a small town bar?
I started my second day in New Glarus with some shopping—there are several local shops selling food, souvenirs, gifts, clothing, and more.   A few of my favorites were Edelweiss Cheese Shop, which stocks over 100 artisan Wisconsin cheeses (I couldn't resist buying a bag of fresh Muenster curds); The Bramble Patch, with a huge selection of hand painted Polish pottery plus clothing and locally made maple syrup; Brenda's Blumenladen, a garden center, florist, and gift/home decor shop; and Hutch & Hide, which has a lovely and unique selection of gifts, decor, and kids' clothing and toys.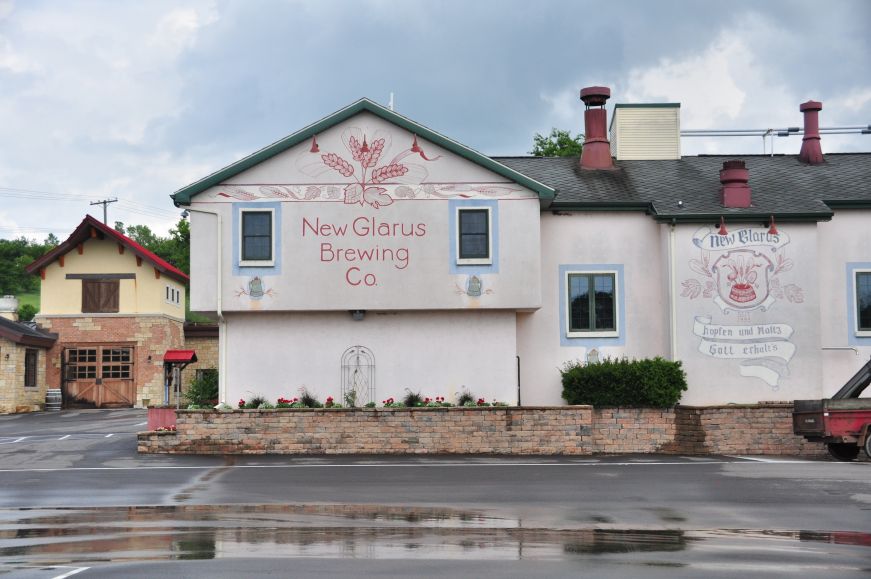 Obviously, a visit to New Glarus would be incomplete without a stop at New Glarus Brewing Company.  Although it's located just over a mile outside of town, I recommend driving since the brewery's driveway is off of a busy highway without a pedestrian crossing.  There's a gift shop and tasting room, as well as a beer depot where you can purchase all of New Glarus Brewing Company's beers.  I visited on a quiet Tuesday afternoon, but the facility is definitely set up for crowds, with large parking lots and an expansive beer garden overlooking the countryside (the beer garden also has faux ruins that you will either find picturesque or hokey).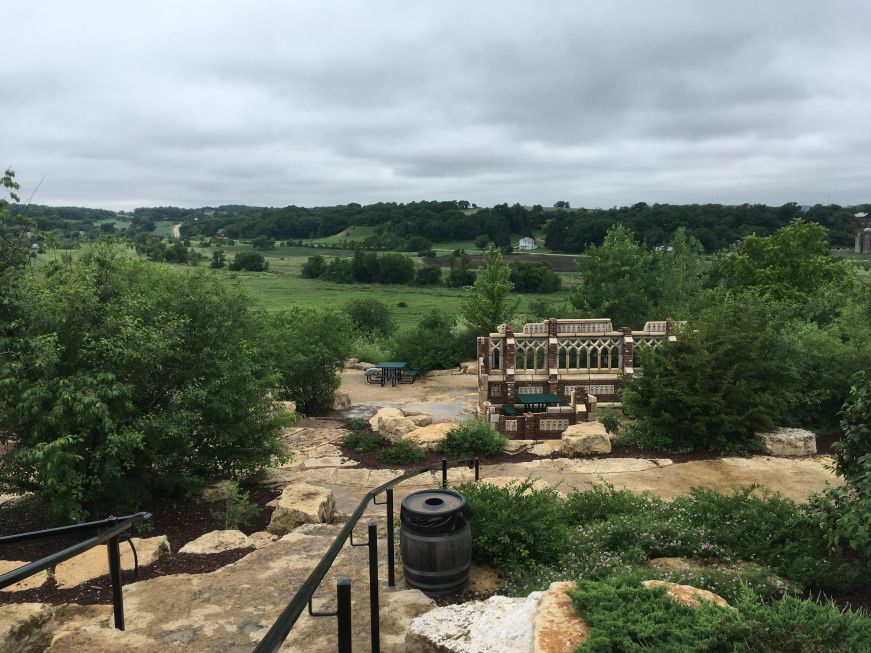 I started with the self-guided tour, which basically is a quick walk through the brewery with signs that explain the brewing process.  It was neat to see the bottling line in action, especially how quickly the labels get slapped on each bottle.  Hard hat tours are available once a week and sell out several months in advance (for an in-depth look at the hard hat tour, read this excellent post from Kelly at Dining Duster).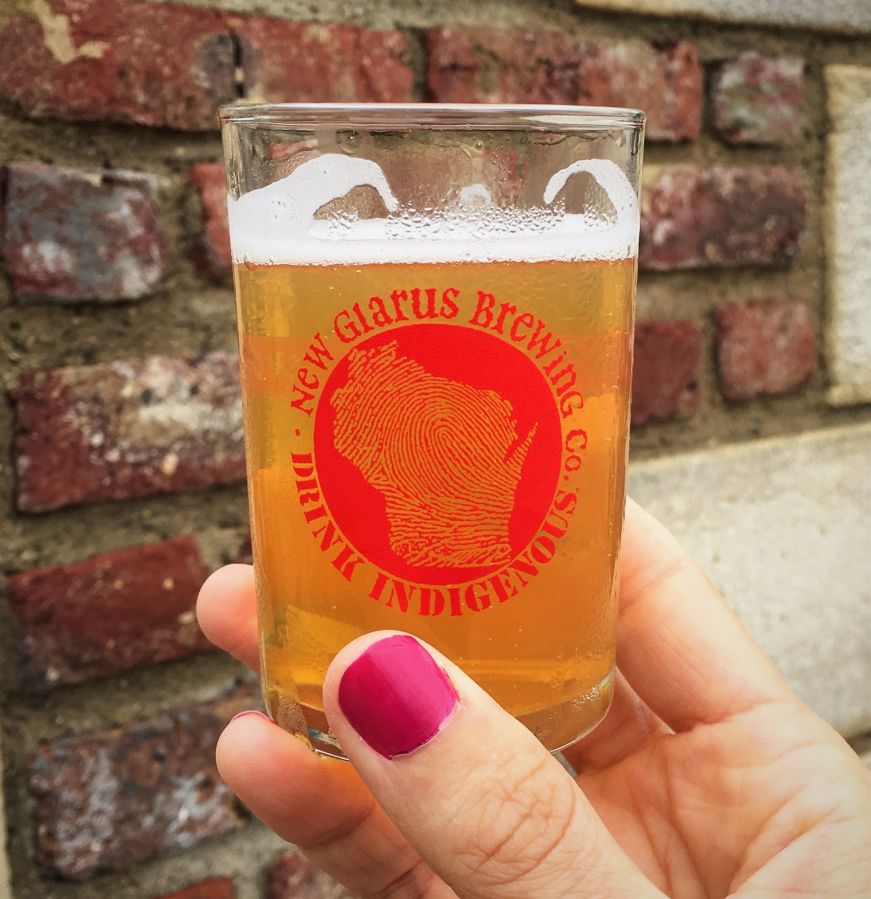 The self-guided tour begins and ends at the gift shop and tasting room, which has a great selection of New Glarus Brewing Company and beer-themed items, from shirts and glassware to Christmas ornaments and dog biscuits made with repurposed beer grains.  After browsing a bit and deciding that cute as they were, I don't really need pretzel-shaped earrings, I decided to do a beer tasting.  For $8, you get generous samples of three beers and a tasting glass.  I started with Spotted Cow, a farmhouse ale and New Glarus Brewing Company's most famous beer (the New Glarus town sign actually says "Home of Spotted Cow").  Next was Two Women, a country lager, and finally Raspberry Tart, a Wisconsin framboise with a pronounced raspberry flavor (it was close race with Spotted Cow, but Raspberry Tart was my favorite).  If you don't want to do a tasting, you can also purchase beer by the pint. 
I headed back into town for a late lunch at the New Glarus Hotel Restaurant, which is located inside one of the oldest buildings in town—it was constructed in 1853, and has been used as a hotel, opera house, movie theater, and eventually a restaurant.  While there are some American options like burgers and steak, much of the menu is Swiss: there's fondue and raclette, rösti and sauerbraten, sausage and jägerschnitzel.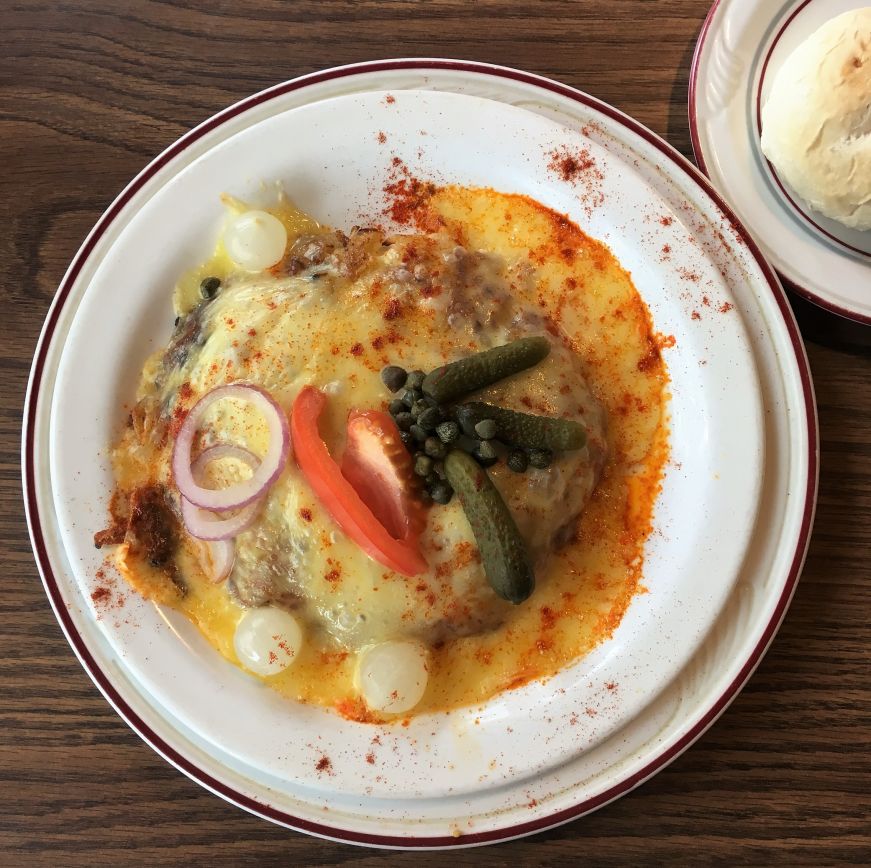 I ordered the raclette rösti, a combination of two Swiss specialties.  Raclette is typically melted Raclette cheese served over boiled potatoes with red onion, pickles, tomato, and capers.  This variation substituted rösti for the boiled potatoes.  Originally eaten as a breakfast dish, rösti is made with shredded potatoes that are cooked in a thick round.  It's somewhat akin to hash browns, but with a silky instead of crispy texture.
While it's a heavy dish—and my meal also included rolls and a trip to the salad bar—I appreciated how the tangy, sharp flavors of the pickles, onions, and capers cut the richness of the melted cheese.  That said, I definitely didn't have any room left for dessert (or really dinner, for that matter.  I ended up snacking on the leftovers of my cheese plate from Puempel's Olde Tavern in my hotel room).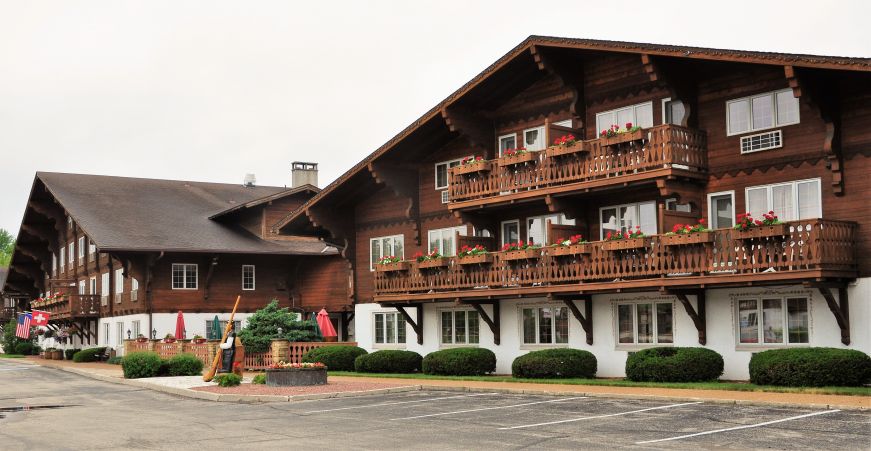 During my time in New Glarus, I stayed at the Chalet Landhaus Inn.  It looks like something out of a fairy tale, with decorative trim, a wood paneled lobby, and balconies with flower boxes.  My whirlpool suite (room 218) was larger than some Airbnb apartments I've rented—there was a sitting room with a couch, armchair, mini fridge, and TV; a large bathroom with a gorgeous tile shower; and a large bedroom with two windows, a widescreen TV, desk, king-sized bed, and a whirlpool sized for two.  Soaking in the whirlpool each night was definitely one of the highlights of stay (be sure bring some bubble bath or bath salts from home).
Hotel amenities include a pool, hot tub, sauna and steam room, and fitness center.  There's a restaurant with Alpine decor that specializes in Swiss and classic American cuisine that serves breakfast and dinner.  The breakfast buffet is included with your room—on weekdays it's a generous Continental spread of pastries, breads, fruit, yogurt, and cereal, and on weekends there are also scrambled eggs, sausage, and pancakes.  I appreciated the Swiss-inspired breakfast options, which included a cheese plate and homemade muesli. 
Sure, New Glarus is touristy, and the focus on Swiss heritage was partially designed to draw in visitors.  Nevertheless, it's a charming place to visit, whether you have an afternoon or a couple days.        
Want to plan your own trip to New Glarus?  Start with Green County Tourism and the New Glarus Chamber for information about accommodations, dining, and attractions.
Many thanks to Green County Tourism for hosting my stay in New Glarus.
New Glarus was the second stop on my Wisconsin road trip.  Read about the other places I visited:
If you enjoyed this post, pin it!