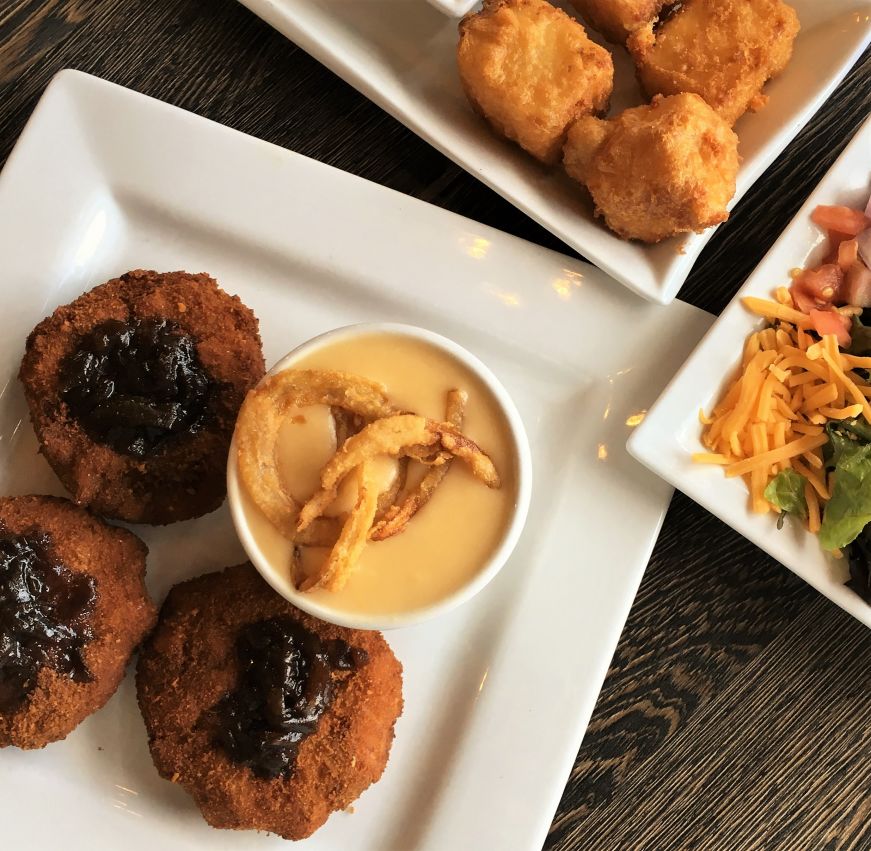 Thank you to Explore La Crosse for hosting my stay.  As always, all content and opinions are my own.
I love river towns—I've always found spending time near water soothing, and being based in the Twin Cities means that there are plenty of picturesque options within a few hours' drive.  Stillwater is my go-to, and I've also had great trips to Red Wing, Mankato, and Winona.  
However, my list of riverside day trips and weekend getaways included a major oversight: La Crosse, Wisconsin.  Located across the state line and just down the Mississippi River from Winona, La Crosse is a city of about 52,000 and is a regional commercial and arts hub as well as home to a University of Wisconsin campus.  I decided to start my Wisconsin road trip with an afternoon and evening exploring La Crosse's historic downtown.  
My time in the La Crosse area started in the nearby town of Onalaska with lunch at David Reay's Modern Tavern + Diner.  The dining room has an open, modern feel, with exposed brick and weathered wood—it's the kind of place that would be great for a Friday date night or a Sunday lunch with the family (there's also a patio with views of the nearby river).  The menu features scratch classic cooking with a twist: think walleye sliders, gourmet macaroni and cheese, and a bacon-wrapped hot dog topped with caramelized onions and cheese curds.  There are plenty of vegetarian and gluten-free options (my server particularly recommended the Asian lettuce wraps), and the drinks program highlights local craft beers.  Many cocktails have a unique twist, like an old fashioned made with lavender bitters.
Since I had just arrived in Wisconsin, I obviously had to order the cheese curds: massive cubes of white cheddar, coated in a light tempura batter and served with a paprika-lime aoili.  The airy texture of the batter gave the curds a lightness that kept me reaching for another (and then another). 
I also tried the vegan garden fresh croquettes with a side salad and a very non-vegan cup of beer cheese bisque.  While a vegan vegetable and potato cake with doesn't exactly scream "comfort food", that's what these were: satisfying in the same way as a plate of meatloaf (personally, I think the caramelized onions give the croquettes an edge).  The beer cheese bisque was thick and delicious, with a very pronounced beer flavor.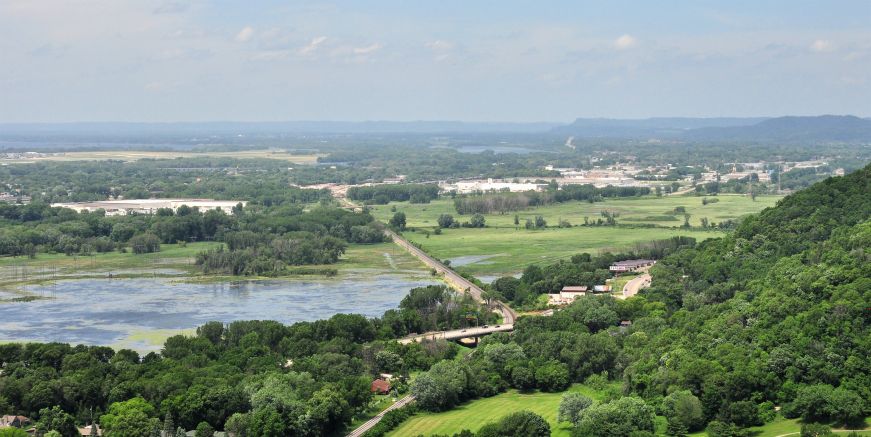 After eating a couple more cheese curds, I continued onward to downtown La Crosse.  On the way I took a brief detour to drive the switchback road to the top of Grandad Bluff, which towers 600 feet above the city.  On a clear day, you can look down the Mississippi River Valley and see three states: Wisconsin, Minnesota, and Iowa.  My favorite part was being at the same level as a trio of soaring hawks.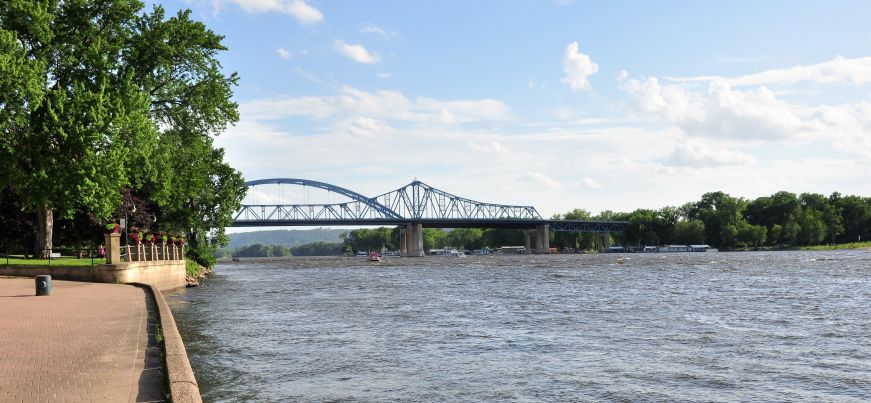 La Crosse's historic downtown features buildings dating the late 1800s, an expansive park along the Mississippi River, and plenty of shopping and dining.  My original plan was to go for a short run in Riverside Park, but the 90 degree temperature and humidity put a halt to that.  Instead, I stuck with walking and photographing.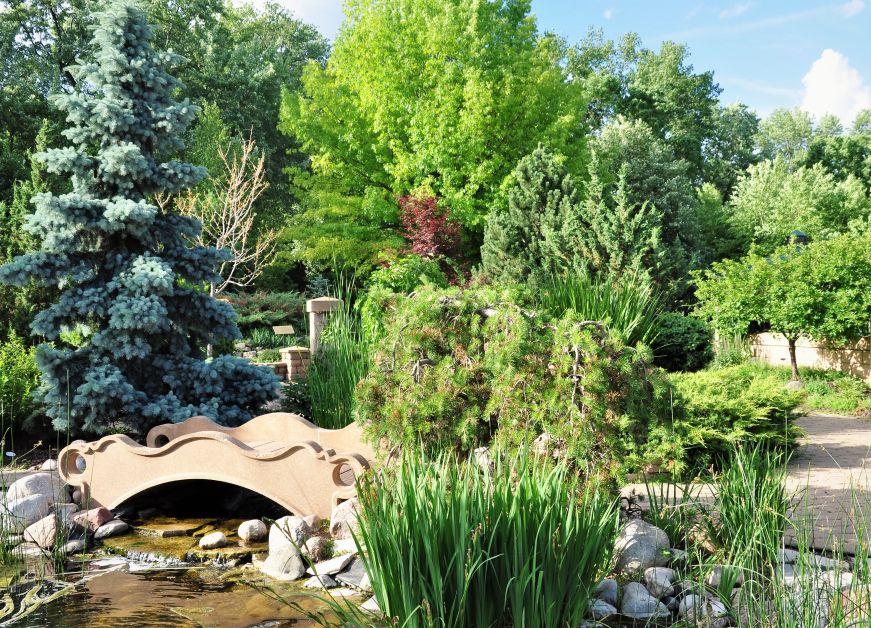 If you head north along the river, you'll end up at the Riverside International Friendship Gardens (behind the La Crosse Area Convention and Visitors Bureau building).  It's a gorgeous space, with themed gardens representing each of La Crosse's sister cities: Luoyand, China; Epinal, France; Friedberg, Germany; Bantry, Ireland; Forde, Norway; and Dubna, Russia.  Each features details that are specific to that city—for example, the Irish Garden has a waterwheel that evokes the famous one in Bantry, and the German garden is landscaped with the alpine plants found near Friedberg.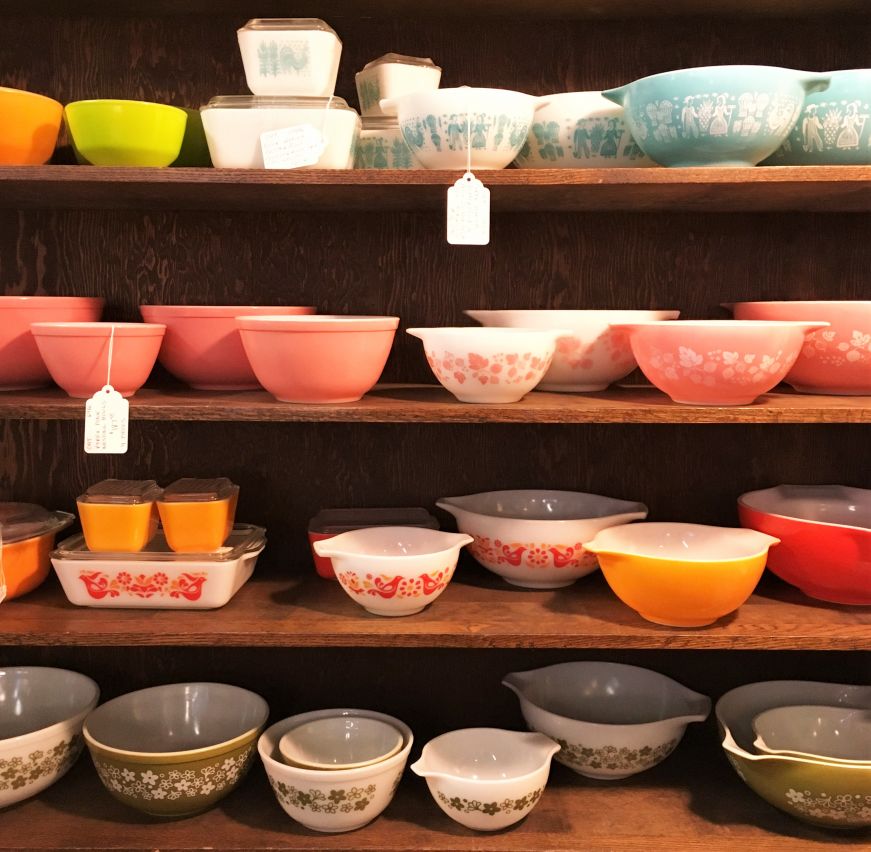 Next on the agenda was some shopping—La Crosse has a vibrant downtown, with independent retailers, galleries, and a Duluth Trading Company location in a historic department store.  Some of my favorite shops included Drift Mercantile Co., which offers locally made gifts and art; the adjacent T.J.'s Cheddarheads Souvenir & Gift Gallery, which celebrates all things Wisconsin and cheese-themed; and Unwound, which has a small but well-curated selection of artisan yarns and an incredibly helpful staff.  I'm definitely not an antiques person, but I still loved browsing the selection at the Antique Center of La Crosse, which bills itself as the largest antique store in the state (with three floors and 20,000 square feet they're probably right).  I fell in love with a set of rose-colored vintage Pyrex mixing bowls but at $187 they were way out of my price range.
In addition to stocking dozens of flavors of loose leaf tea and tea accessories, Dim Sum Tea Shop sells bubble tea and smoothies—the watermelon was very refreshing on a hot day.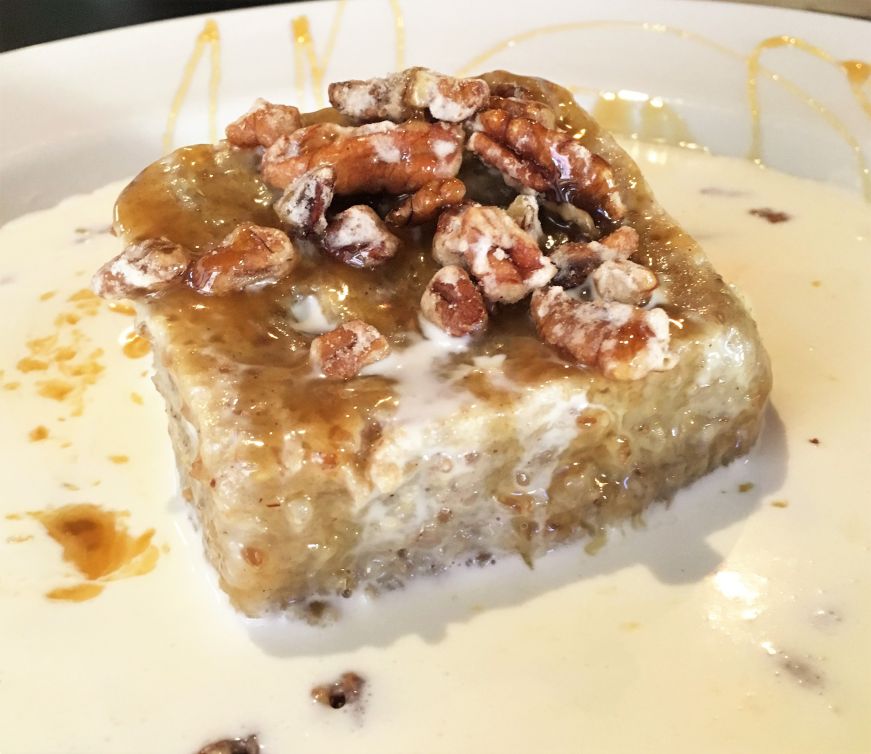 For dinner, I ate at Dublin Square Irish Pub, which has a menu featuring Irish-inspired fare, specialty burgers, sandwiches, and salads.  Of course, there's a selection of over 30 Irish whiskeys, Guinness on tap, and Irish coffee drinks. 
Since I had a big lunch (no regrets—those cheese curds were fabulous!), I opted for the poached pear and Gorgonzola salad with a side of housemade Irish soda bread.  The candied pecans contrasted nicely with the tanginess of the Gorgonzola, and while the cranberry-studded soda bread wasn't exactly traditional, it was delicious, especially when spread with the whipped honey butter.
I hadn't been planning on dessert, but my server's description of the housemade bread pudding convinced me to give it a try.  It was served in a bowl of chilled cream, with caramel and candied pecans—pretty much perfect for a hot day.  The bread pudding itself had an interesting texture, dense and silky, and extra flavor and crunch from the candied pecans tied the dish together.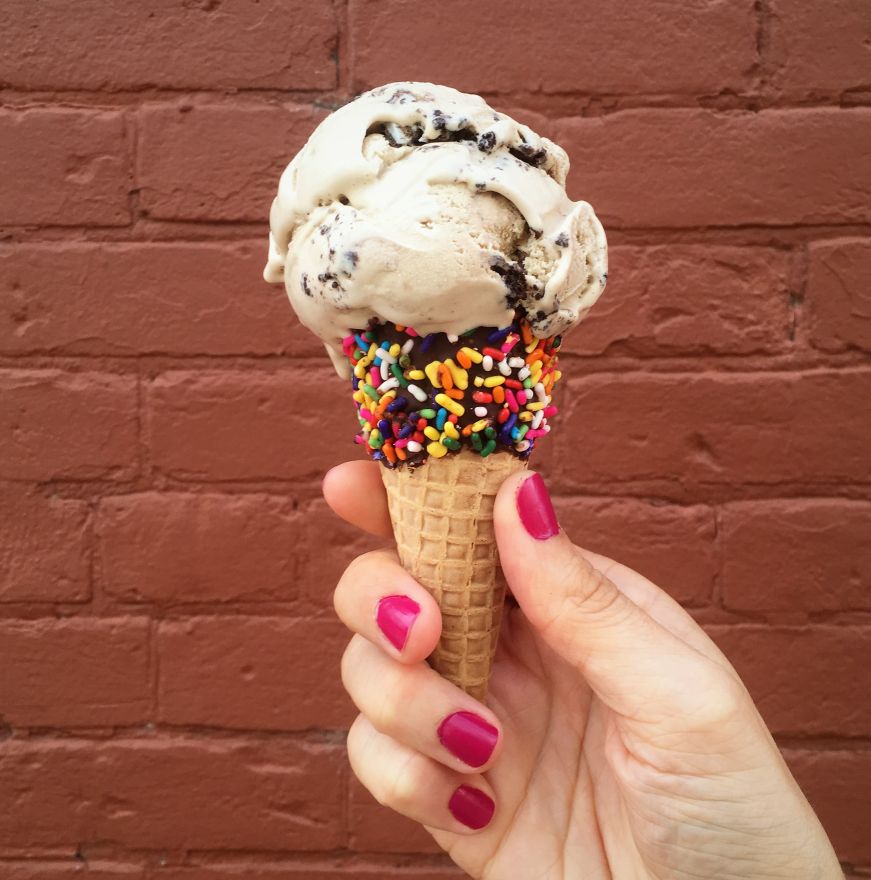 Because I am a firm believer in second dessert, my final stop was The Pearl Ice Cream Parlor.  Stepping in the door is like stepping back in time—although it was founded in 1993, it looks like a classic soda fountain and confectionery, with a long wooden bar, shelves lined with jars of candy, and classic housemade flavors (waffle cones are also made in-house).  In addition to standard cones, there are chocolate-dipped and sprinkle sugar and waffle cones—since this was second dessert, I went with a sprinkle sugar cone with a single scoop of cappuccino Oreo.  It was really an inspired flavor pairing—the only downside was that I had to gobble down my ice cream as it melted before my eyes.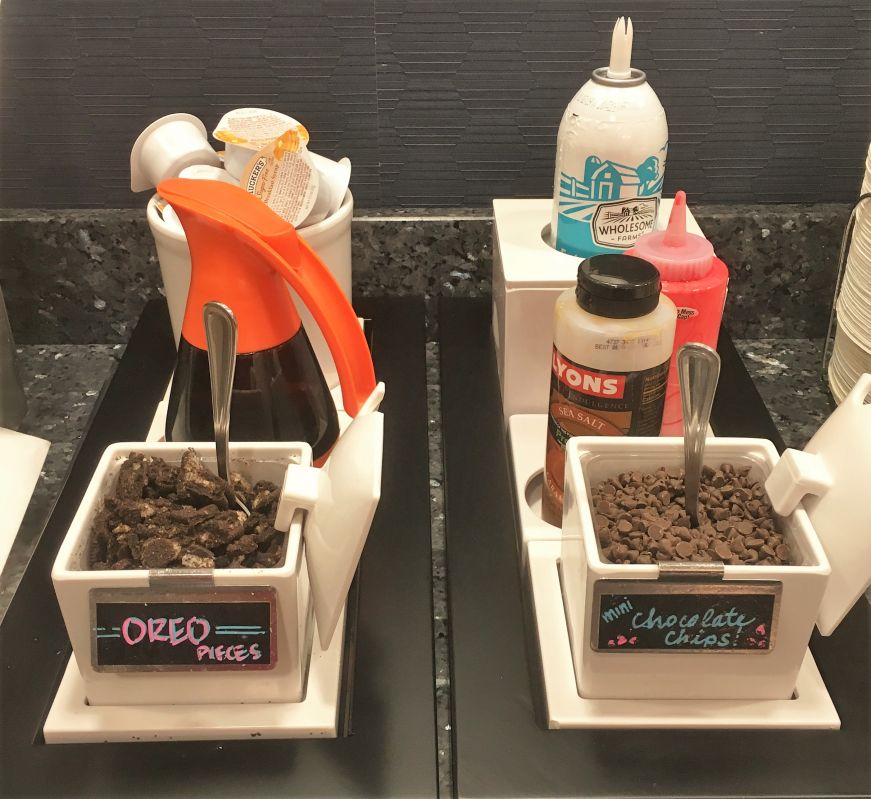 During my time in La Crosse I stayed at the Hampton Inn & Suites La Crosse Downtown, which had a very convenient location—all of the shops and restaurants I mentioned above were within a 10 minute walk.  The hotel has a sleek, modern styling that reminded me of a boutique hotel, and I appreciated the coffee, infused water, and cookies available in the lobby.
The complimentary breakfast featured a wide range of options, from the standard cold cereal, bagels, and pastries to scrambled eggs, potatoes, and an oatmeal bar.  There was a delicious fruit salad with berries, melon, and grapes, and on the other side of the nutritional spectrum, you could top your waffle with caramel sauce, Oreo pieces, and whipped cream (I was responsible and went the fruit salad and oatmeal route). 
I enjoyed my visit to La Crosse, and it's a perfect distance for a day trip or one-night getaway from the Twin Cities.  I'd love to return to check out more of the dining scene (The Root Note is already on my list!)   
Want to plan your own trip to La Crosse?  Start with Explore La Crosse for information about accommodations, dining, and attractions.
Many thanks to Explore La Crosse for hosting my stay in La Crosse.
La Crosse was the first stop on my Wisconsin road trip.  Read about the other places I visited:
If you enjoyed this post, pin it!