Housed in a historic brick building in the heart of Minneapolis' Marcy-Holmes neighborhood, Alma is a lot of things.  There's a fine dining restaurant on one side, and a more casual cafe on the other.  Upstairs, you'll find a boutique hotel.  There's even a retail aspect to the business, offering hand-crafted bath and body products, gourmet ingredients, and home goods.  It seems like an odd mashup, but on a recent staycation at Alma Hotel, I discovered just how harmoniously everything works together.
Alma Hotel has seven rooms, each with unique floor plans and decor.  Most have queen-sized beds, but room 1 has two full-sized beds and room 5 has a king-sized bed and outdoor deck.  We opted for room 3 because we wanted a queen-sized bed and we liked the decor.  Before you book your stay, I recommend checking out the photos of each room on the website to see what strikes your fancy.
If you have mobility limitations, note that you will need climb stairs to access most rooms, with the exception of room 7, which is located on the main floor and is ADA accessible.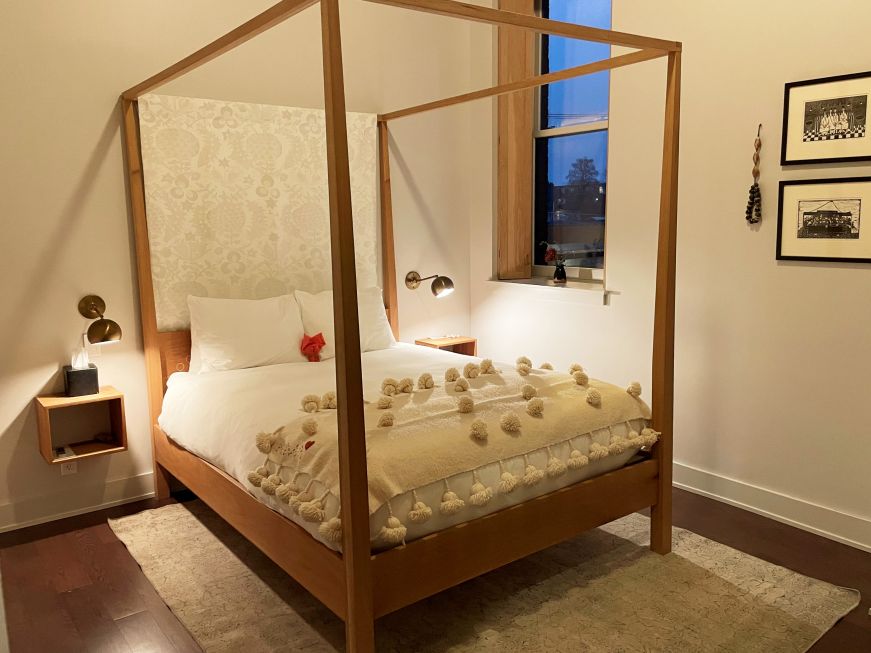 Check in is at the restaurant's host stand—if you're checking in outside of restaurant hours, ask a cafe staffer to assist you (While you're in the cafe, you might as well buy a pastry or two for a late night snack.)
At 207 square feet, our room was smaller than the average U.S. hotel room, but the high ceilings and the light color scheme gave it an expansive feel.  In addition to queen-sized bed, there was a wicker armchair, a writing desk with a chair, and a storage nook with with hangers and a shelf for luggage.
The decor has a modern Scandinavian feel, with hardwood floors, oak furniture, and cozy textiles.  There are plenty of thoughtful touches, including a small complimentary bottle of massage oil, a ceramic vase of fresh flowers, and housemade caramels on the bedside table.
Although it was only a 25-minute drive from home, staying at Alma Hotel felt like an escape—everything is carefully designed to make you feel soothed and pampered, in a way that's approachable instead of overly formal.
Bathrooms feature a walk-in rain shower, aromatherapy toiletries with a signature seasonal scent, robes, and slippers.  There was also a little flyer about massage services that can be booked through the hotel, which would be a fun staycation splurge.
Each stay at Alma Hotel includes complimentary wine (red, white, or non-alcoholic) and antipasti upon arrival—you can either request it at check in, or wait until later in the evening and request it from the restaurant staff.  The antipasti tray features plenty of crackers and small bowls of marinated olives, Alma's signature spiced almonds, cheese, and dark chocolate.  It's a lovely way to unwind and get into the vacation frame of mind.
Alma Restaurant is one of my favorite restaurants in the Twin Cities, so if you have the time and budget for a truly lovely prix fixe meal, I recommend dining there (be sure to make a reservation!)  The casual Alma Cafe is only open until 5:00 p.m., but if you want to dine on the early side it's a convenient option.  Breakfast and espresso drinks are served all day, and the daytime menu also includes sandwiches, a handful of appetizers and entrees, wine, and cocktails.
Otherwise, there are dozens of nearby restaurants for takeout and dining in.  We opted for Arturo's Pizza, which offers efficient takeout and delicious thin-crust pizzas (the Original is an anything-but-ordinary cheese pizza topped with mozzarella, Parmesan, Pecorino, fontina, and fresh herbs).  Some additional convenient spots I'd recommend include Gorkha Palace, Sidebar at Surdyk's, Gardens of Salonica, and Brasa Premium Rotisserie.
As with any urban hotel, expect some street noise and ambient noise from the restaurant and cafe downstairs.  Ear plugs and face masks are provided, but since Mike and I are fairly heavy sleepers we didn't find them necessary.
A stay at Alma includes room service continental breakfast, with fresh orange juice, tea, coffee, and espresso drinks, as well as assorted pastries.  If you prefer a hot breakfast, you can also purchase a la carte items from the cafe to be delivered to your room.
We were delighted to discover that our latte and cappuccino came complete with latte art, and the basket of pastries was fabulous (a lemon-currant scone, banana-caramel danish, and cinnamon roll).  I'm not usually a breakfast in bed sort of person, but luxuriating under the covers with fresh baked goods and a cappuccino was the perfect end to our stay at Alma Hotel.
Alma Hotel
528 University Avenue SE
Minneapolis, MN 55414
612-379-4909
almampls.com
This isn't a sponsored post—we paid for our stay out-of-pocket.
If you enjoyed this post, pin it!