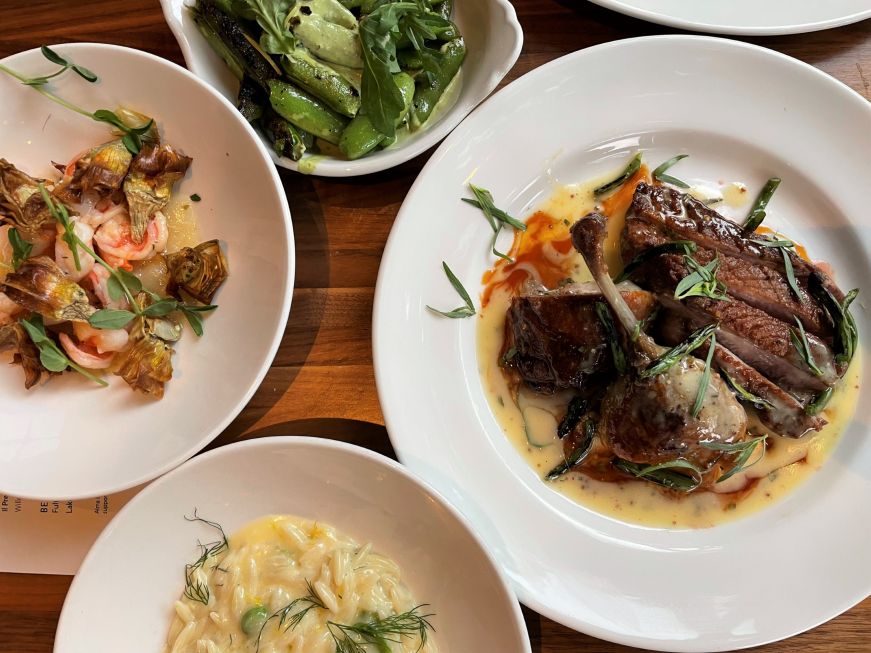 This post was originally published in November 2018 and was most recently updated in October 2021.
As a Twin Cities-based blogger and food writer, there's one question that I hate more than any other: "What's your favorite restaurant?"
Immediately, my mind goes blank and I forget everywhere I've ever eaten.  Typically I stammer out the first place that pops into my head, and my questioner inevitably looks disappointed.  I feel like an idiot, because I do, after all, write about food for a living.  I should be able to come up with a favorite Twin Cities restaurant for every occasion and cuisine.
So I've developed this list of my favorites, arranged into the idiosyncratic categories I find helpful when I'm planning a night out (yes, I realize "cocktails and fries" is a weird classification, but it's kind of my thing).  Hopefully, this post will serve to refresh my memory so that my mind never again goes blank when I'm asked for a restaurant recommendation.  Or at least I can tell people to look at my blog.
Restaurants are listed alphabetically within each category.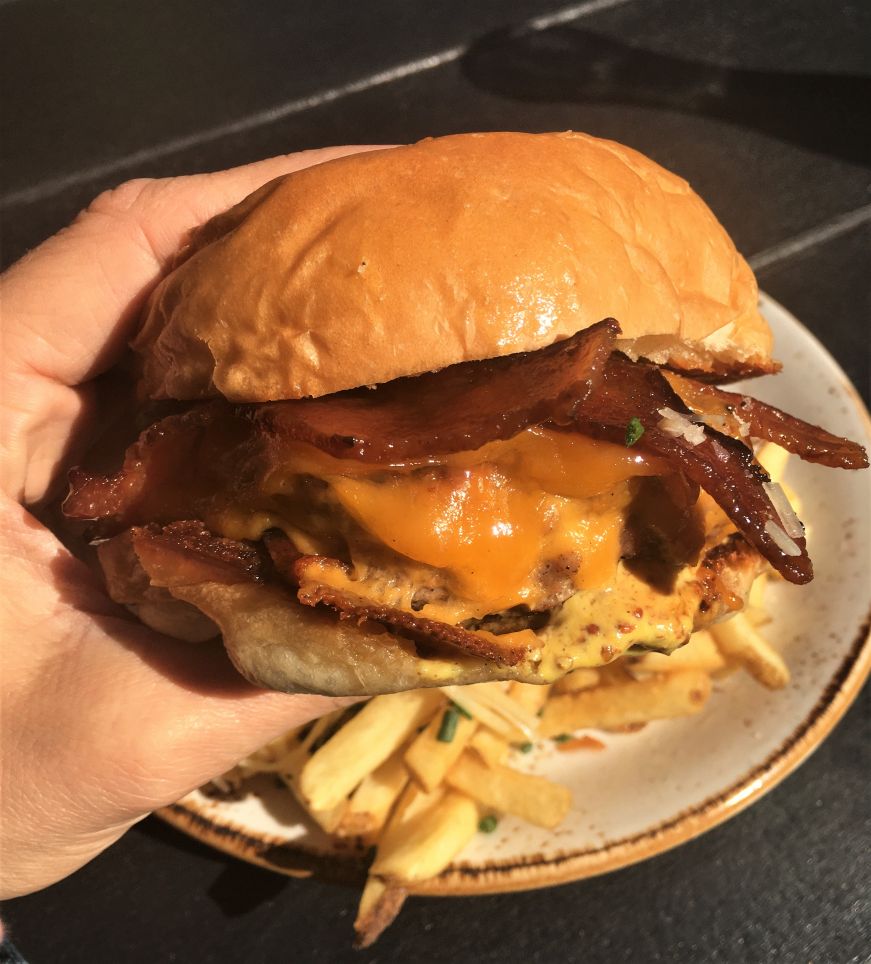 Burgers
Burgers are kind of a "meh" food for me—I don't dislike them but I don't seek them out either.  However, the 60/40 burger at Red Cow is one of my all-time favorite meals.  The patty is made with 60% ground beef and 40% ground bacon, and it melts into your taste buds with each bite.  Upgrade to the truffle fries, and then don't plan on eating anything else for the next several hours.
Multiple locations; redcowmn.com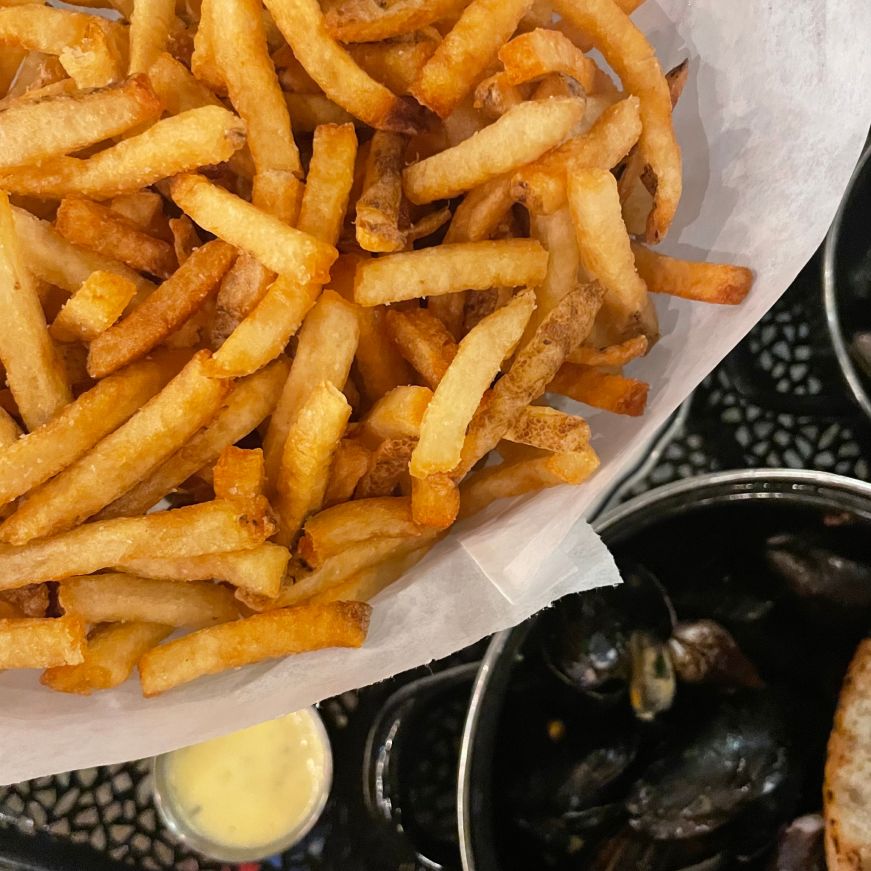 Cocktails + fries
For a elegant Parisian vibe without leaving the Twin Cities, sidle up to the bar at Meritage and order a champagne cocktail and the pommes frites, which are served with a delectable side of Bèarnaise sauce.  If you want to make a meal of it, get the moules frites: an order of fries plus a steaming pot of mussels flavored with smoked pancetta, garlic, tomato, and white wine.
410 Saint Peter Street, St. Paul; 651-222-5670; meritage-stpaul.com
Nightingale serves an approachable menu of well-composed snacks and small plates; I'm partial to the French fries with malt vinegar aioli, but the pickle plate is also nice cocktail pairing.  The cocktail list features lots of interesting liqueurs and spirits, including some from local craft distilleries.  The God Save the Queen is one of my favorites—it pairs J. Carver barrel-aged gin with cocchi american bianco, bee pollen, honey, and absinthe.
2551 Lyndale Avenue S, Minneapolis; 612-354-7060; nightingalempls.com
I love the old-school, swanky vibe of the bar at The Lexington, which has a cocktail menu to match—think Prohibition-era cocktails and a lineup of old fashioneds.  The fries are some of my all-time favorite in the Twin Cities: crisp, garnished with garlic and parley, and served with a truffle aioli. 
1096 Grand Avenue, St. Paul; 651-289-4990; thelexmn.com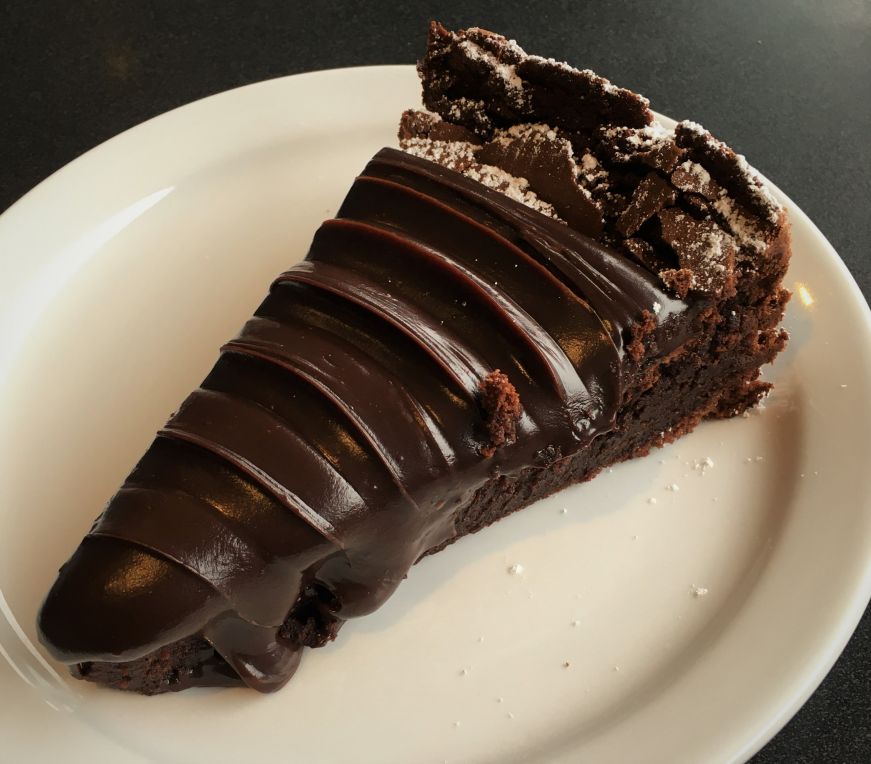 Dessert
Ice cream is my favorite dessert, and I love it so much that I've written an entire post about it—here are my picks for the best ice cream in the Twin Cities.
The Buttered Tin strikes the perfect balance between unpretentious, homey baked goods and gourmet pastries, and everything I've ever sampled has been delicious  The brownies are a chocolate lover's dream come true: ultra-dense, more akin to a flourless chocolate torte.  I've also enjoyed the cake slice of the day (the flavor rotates, but you can call ahead to find out what's on the menu). 
Multiple locations; thebutteredtin.com
If I'm eating a meal anywhere near Cafe Latte, I will be stopping there afterwards for dessert. The cafeteria-style eatery has an impressive selection of cakes, tortes, and cheesecakes—my favorites are the German chocolate cake, Michael's fudge cake, and the flourless fudge cake.  The turtle cake is legendary (and much beloved by my brother-in-law), and it's also one of the few desserts that's so rich I would happily share it.
850 Grand Avenue, St. Paul; 651-224-5687; cafelatte.com
Cossetta Pasticceria offers a taste of Italy in St. Paul, with an elegant marble pastry bar imported from Italy, housemade gelato, and a bakery case filled with pastries, individually-sized cakes, cookies, and chocolates.  The gelato is excellent (I always go with something chocolate-flavored) and I also love that they offer miniature versions of their desserts so that you can try a few different things.  I've especially enjoyed the opera cake and the chocolate-dipped cannoli.
211 7th Street W, St. Paul; 651-222-3476; cossettas.com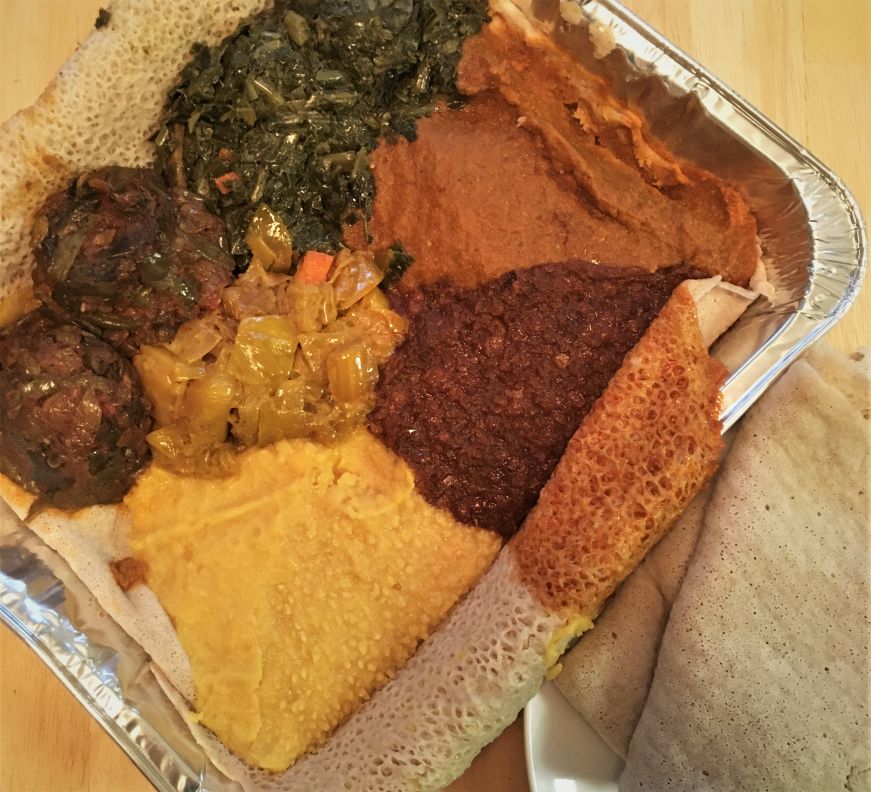 Ethiopian
Bole Ethiopian Cuisine coaxes incredible layers of flavor out of every dish, each with a distinct spice profile.  I'm partial to the shiro, a ground chick stew, but your best bet is to order a sampler (there are meat-based and vegetarian options) and try a little bit of everything.
1341 Pascal Street N, St. Paul; 651-330-2492; boleethiopiancuisine.com
Due to COVID-19, I've only patronized Mesob Ethiopian Restaurant for takeout, but I was very impressed with the variety of delicious dishes in the vegetarian sampler.
3915 Hiawatha Avenue, Minneapolis; 612-839-5868; mesobmn.com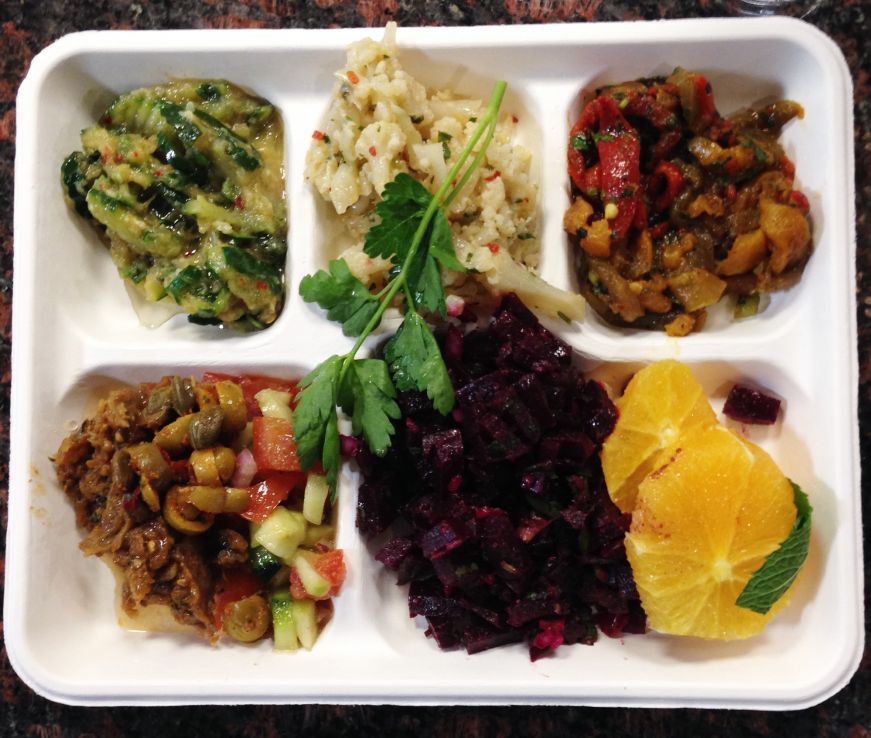 Food Hall
While the lineup of vendors is ever-changing, Midtown Global Market is always home to a world's worth of flavor.  Camel burgers, tacos, Indian street food, sushi, Mediterranean salads, barbecue—the hard part is deciding what to order.  Some of my current favorites are the build-your-own rice bowl at Hot Indian Foods and the salad sampler at Moroccan Flavors.
920 E Lake Street, Minneapolis; midtownglobalmarket.org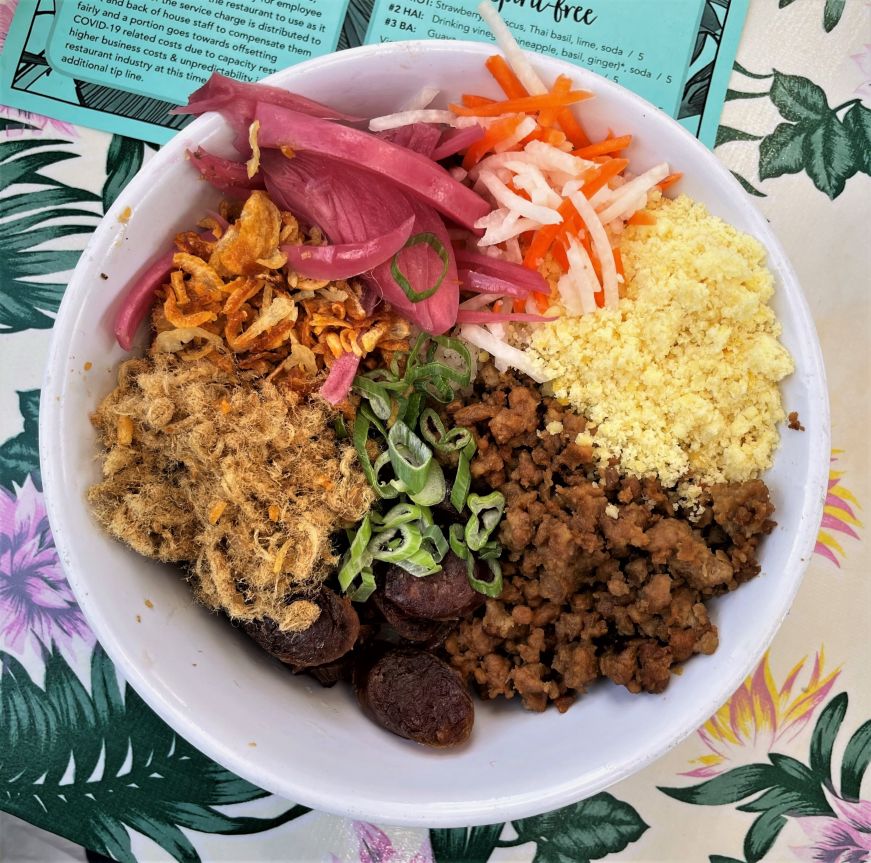 Patios
I find myself returning to Hai Hai again and again for the patio's tropical ambiance, the menu of boldy-flavored Southeast Asian street food, and the intriguing cocktails.  My go-to order is the salt and pepper fried tofu appetizer and the Hanoi sticky rice; I've also enjoyed the Thai grilled tofu, coconut shrimp toast, and Vietnamese coffee pot de creme. 
2121 University Avenue NE, Minneapolis; 612-223-8640; haihaimpls.com
Surrounded by greenery-covered brick walls, the patio at Moscow on the Hill is a serene escape in the middle of the city, with a menu of hearty, satisfying Russian and Eastern European fare.  I usually order the khachapuri (a baked Georgian cheese bread) and the house-picked vegetables, and have also enjoyed the vareniki (Ukranian potato-filled dumplings), borscht, escargot a la russe, and Russian bread basket.
371 Selby Avenue, St. Paul; 651-291-1236; moscowonthehill.com
The tree-covered patio at W.A. Frost and Company is perfect for celebrating a special occasion, especially after dark when it's lit by twinkle lights.  The menu features classic American with some global influences.  The steaks are expertly prepared, and I've also enjoyed the seasonal pasta dishes, french fries, and build-your-own cheese plate.
374 Selby Avenue, St. Paul; 651-224-5715; wafrost.com
Pizza
The Back Bar at Young Joni has a speakeasy-plus-your-parents'-basement atmosphere, with a reel-to-reel deck behind the bar and an encyclopedic cocktail list.  They also serve really good pizza, with a creative menu of globally-inspired pies.  I was especially impressed with the Basque, which is topped with Spanish chorizo, mozzarella, goat cheese, piquillo peppers, onion, castelvetrano olives, and preserved lemon.
165 13th Avenue NE, Minneapolis; 612-345-5719; youngjoni.com
The coal-fired pizzas at Black Sheep have wonderfully chewy crusts and high-quality toppings.  The Number 7 is the most fulfilling pizzas I've ever eaten—it's loaded with meaty, richly-flavored oyster mushrooms, smoked mozzarella, rosemary, and garlic.  While it's the most expensive pizza on the menu, it's worth every penny.
Multiple locations; blacksheeppizza.com
Since I eat a mostly vegetarian diet, I have ordered many, many margherita pizzas over the years.  Red Rabbit serves one of the best: their New World Margherita is a riff on the standard formula, with red sauce, bouncy gobs of burrata, and basil leaves.  The cheese pizza, topped with mozzarella, fontina, and Parmesan, is also excellent.
Multiple locations; redrabbitmn.com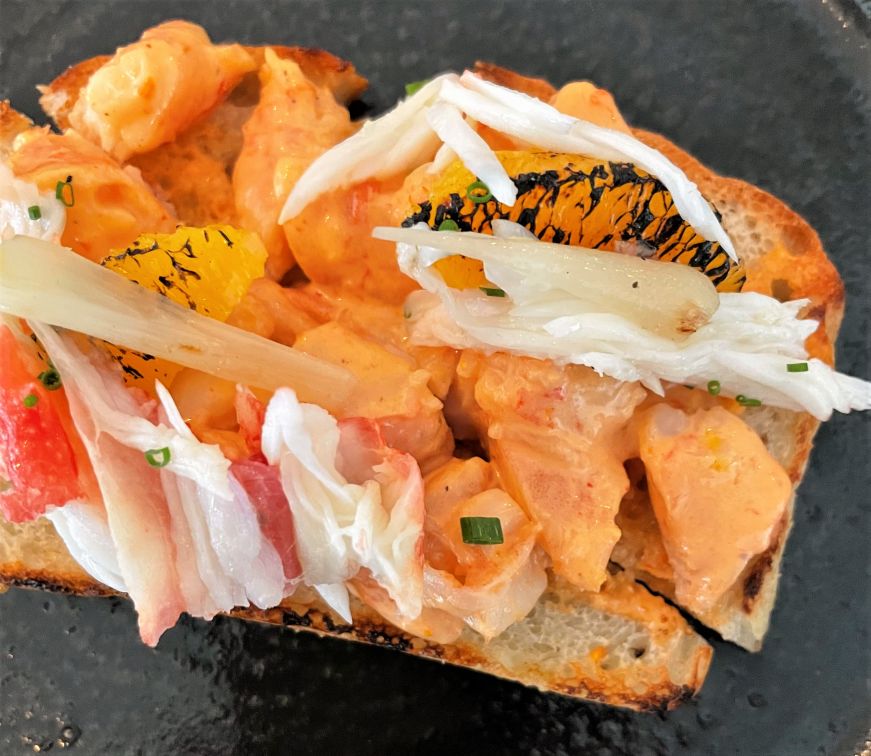 Prix fixe menus
For a special occasion splurge, treat yourself to dinner at Alma.  The seasonal prix fixe menu changes bi-monthly and features several courses, some of which are plated individually and some of which are served family-style.  Familiar ingredients are elevated with an attention to detail you can taste in every bite.
528 University Avenue SE, Minneapolis; 612-379-4909; almampls.com
Tenant is such a gem.  It's an intimate space with an open kitchen, serving an approachable six-course tasting menu.  The menu changes periodically, but always highlights seasonal ingredients and manages to be both comforting and unexpected.
4300 Bryant Avenue S, Minneapolis; 612-827-8111; tenantmpls.com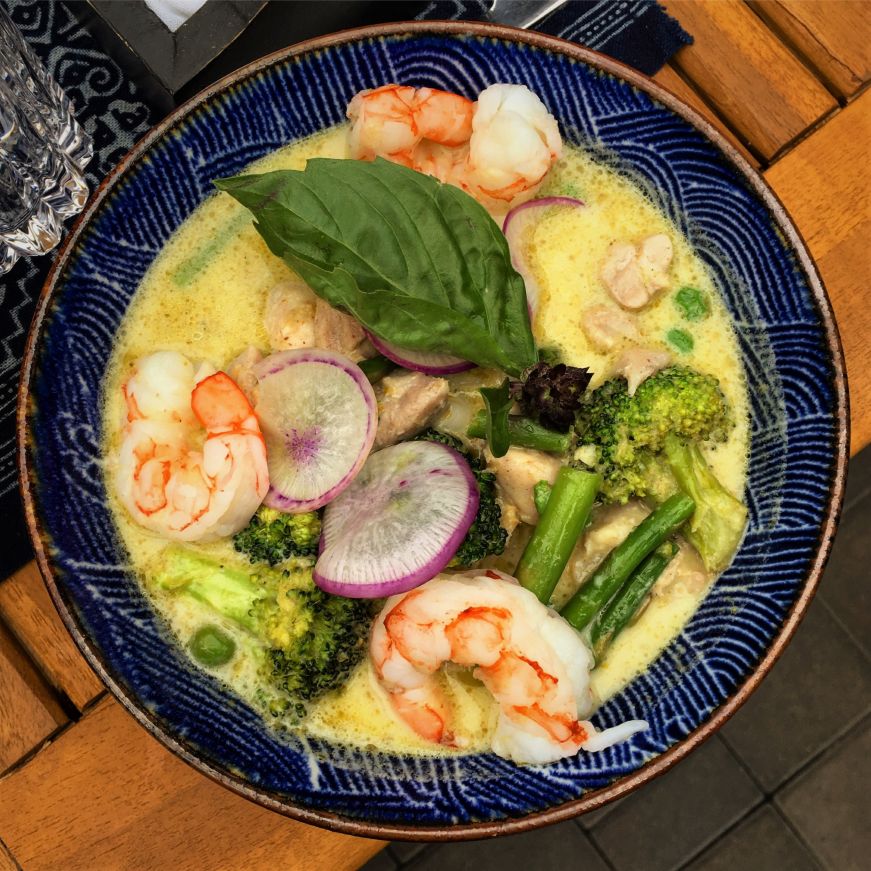 Suburbs
Lat14 Asian Eatery specializes in the cuisines of the countries along the 14th parallel, including Laos, Thailand, Cambodia, and the Philippines.  The presentation is lovely, and dishes range from straightforward to complex to spicy.  I love the jaew bong, a rice dish with red chili paste, pork floss, shallots, and a sunny-side up egg.  I've also enjoyed several of the seasonal dishes, including the summer rolls.
8815 7th Avenue N, Golden Valley; 763-400-7910; lat14.com
Further reading
If you enjoyed this post, pin it!