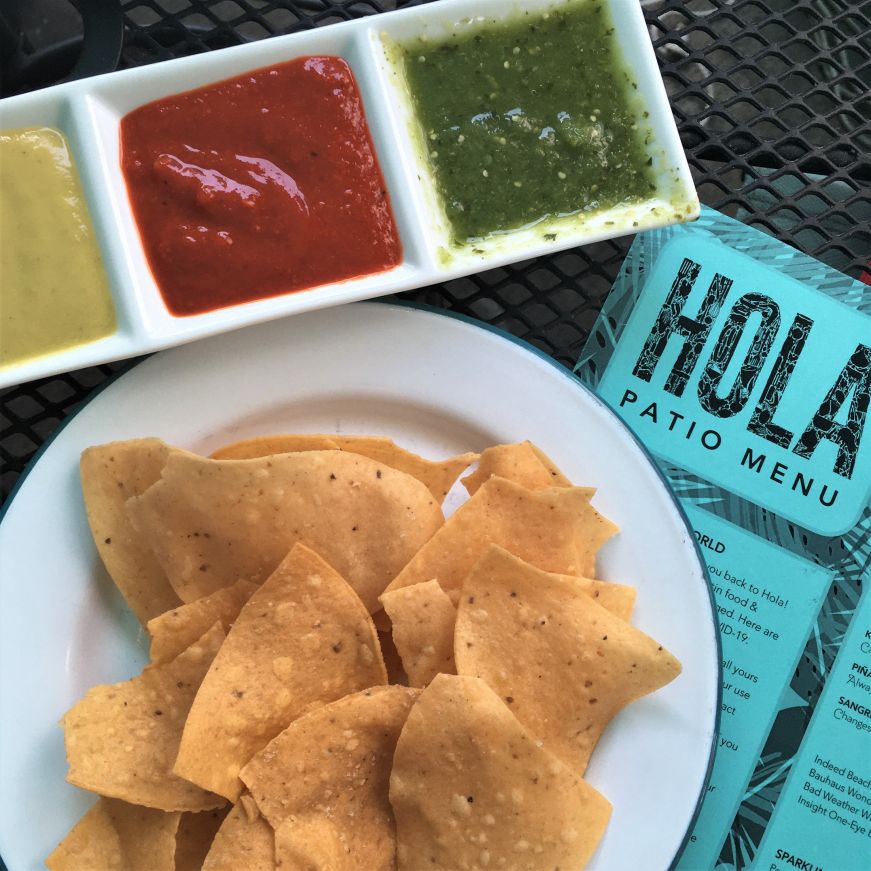 This post was originally published on July 22, 2020 and was most recently updated on September 25, 2020.
For a list of heated patios in the Twin Cities, check out this article I wrote for Eater.
In late June, I started dining outdoors at restaurants again (on my personal time—I'm still mostly unemployed as a food and travel journalist).  This was a decision I made based on my own health risk factors and the health risk factors for those I come into close contact with, as well as my personal values.  Currently, dining outdoors is something I feel comfortable with.  If that's not the case for you, and you're financially able to do so, I encourage you to find other ways support your favorite local restaurants—many places continue to offer takeout, curbside pickup, and delivery.
There is a long list of safety precautions that Minnesota restaurants are required to follow for patio dining, including mandatory masking by staff and strongly recommended masking by customers; occupancy limits; spacing tables six feet apart; and requiring reservations to facilitate contact tracing (many places offer "walk up reservations" where they take your contact information before seating you). 
All of the restaurants that I've highlighted below were following those requirements to the best of my knowledge when I visited, and they also had taken additional steps such as having hand sanitizer available.  At Hola Arepa, we were quizzed about our health before we were seated and there was little sign on our table that we could flip for service in order to minimize contact with staff.  Smack Shack and Red Rabbit had signs set up to direct foot traffic one way to help with social distancing.  At W.A. Frost, ordering and payment is contact-free—you use an app instead of interacting with your server.
That being said, dining at a restaurant elevates COVID infection risk for both patrons and restaurant staff.  Wear a mask whenever you're not seated at your table as well as when you're interacting with staff (i.e. placing your order, when your food is dropped off, etc.)  Don't go out to eat if you or someone in your household is sick.  Follow all of the restaurant's rules and procedures.  You should always be respectful towards restaurant staff and tip generously, but consider this a friendly reminder. 
I'll be updating this post periodically with additional patio recommendations, and restaurants are listed alphabetically.  Keep in mind that restaurants may close without notice and hours and menus are ever-changing—be sure to call ahead.
Some of these meals were comped as a media preview.  I've noted where that's the case.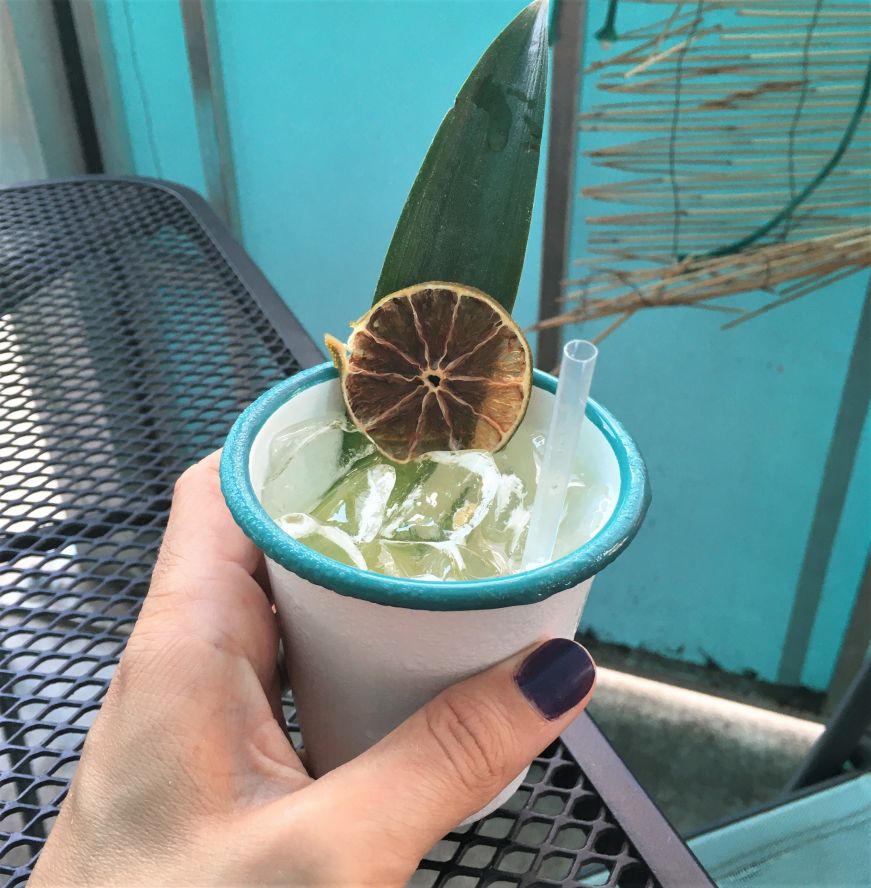 Since travel is currently off the table, Hola Arepa is one of the best local options for soaking up some vacation vibes.  The menu features Venezuelan-style stuffed arepas (cornmeal griddle cake sandwiches), Latin American-influenced small plates, and tropical cocktails.  The chips and salsa are a must—you pick out your own assortment of salsas, with a variety of heat levels.  Since we were there for brunch, I ordered the fried egg breakfast arepa (add the guacamole, it's well worth the $1 surcharge).
Patio reservations are available, and Hola Arepa serves dinner Tuesday through Sunday and weekend brunch.
3501 Nicollet Ave., Minneapolis; 612-345-5583; holaarepa.com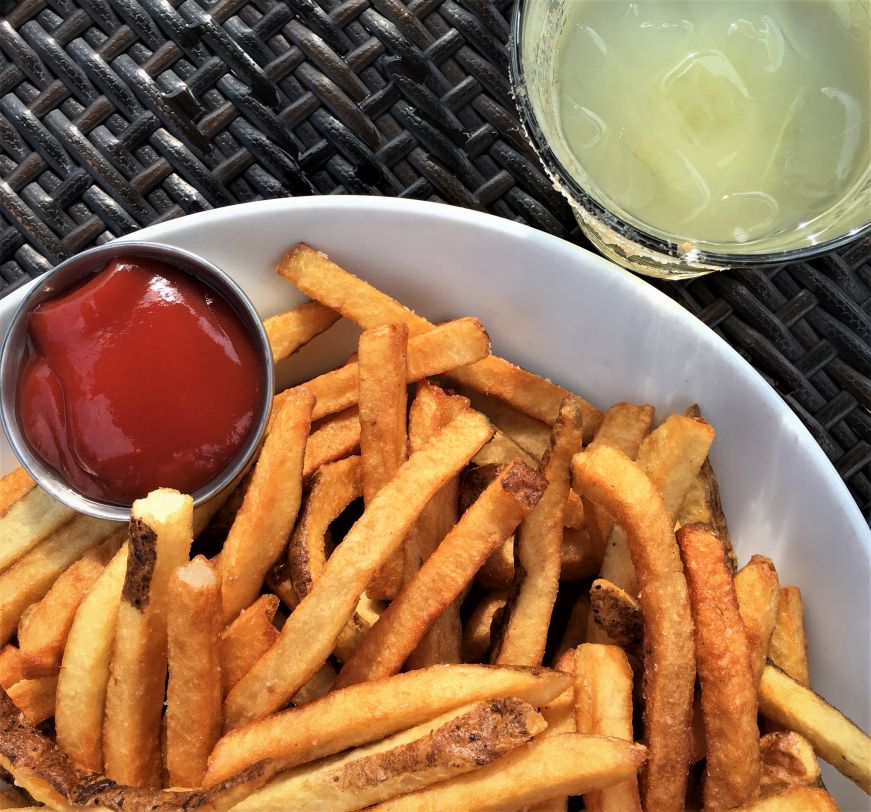 To be honest, what drew me to Icehouse was the cocktails: craft cocktails are my drink of choice, and the drink list at Icehouse is a nice mix of classic and specialty cocktails, as well as sipping shots (basically miniature cocktails).  However, I was pleasantly surprised by how much ambiance the patio offered.  The courtyard is set back from the street, with umbrellas for shade and some faux grass to spruce up the setting.
As far as food, there's a lineup of elevated appetizers, salads, and sandwiches.  Obviously I opted for the fries, which were a perfect complement to my Negroni, and the chicken nachos were also on point.
Icehouse is open daily for dinner and serves brunch on the weekends.  When making a reservation, you can specify whether you want indoor or outdoor seating.
2528 Nicollet Ave. S., Minneapolis; 612-276-6523; icehousempls.com
The picture-perfect lobster and fries are what brought me to La Pistola, and they were worth every penny.  Unlike the other restaurants I've highlighted, La Pistola is a pandemic-specific counter-service pop up, located on the heated patio at Eastside.  The seafood-heavy menu features some Eastside favorites, as well as new La Pistola-specific items.  The lobster and fries drizzled with Alabama white sauce are the headliner, but I also enjoyed the bacon mayo smash burger and the fries are on point.  Other options include a Catalonian-style flatbread, peel and eat shrimp, and a crayfish boil.
Happy hour runs from 4:00 p.m. to 6:00 p.m. and features $8 craft cocktails (the Remember The Maine was indeed deliciously memorable).  La Pistola is open 4:00 p.m. to 9:00 p.m. Wednesday through Saturday, and reservations are available online.  There's also a picnic menu optimized for takeout.
305 Washington Ave. S., Minneapolis; 612‑208‑1638; lapistolampls.com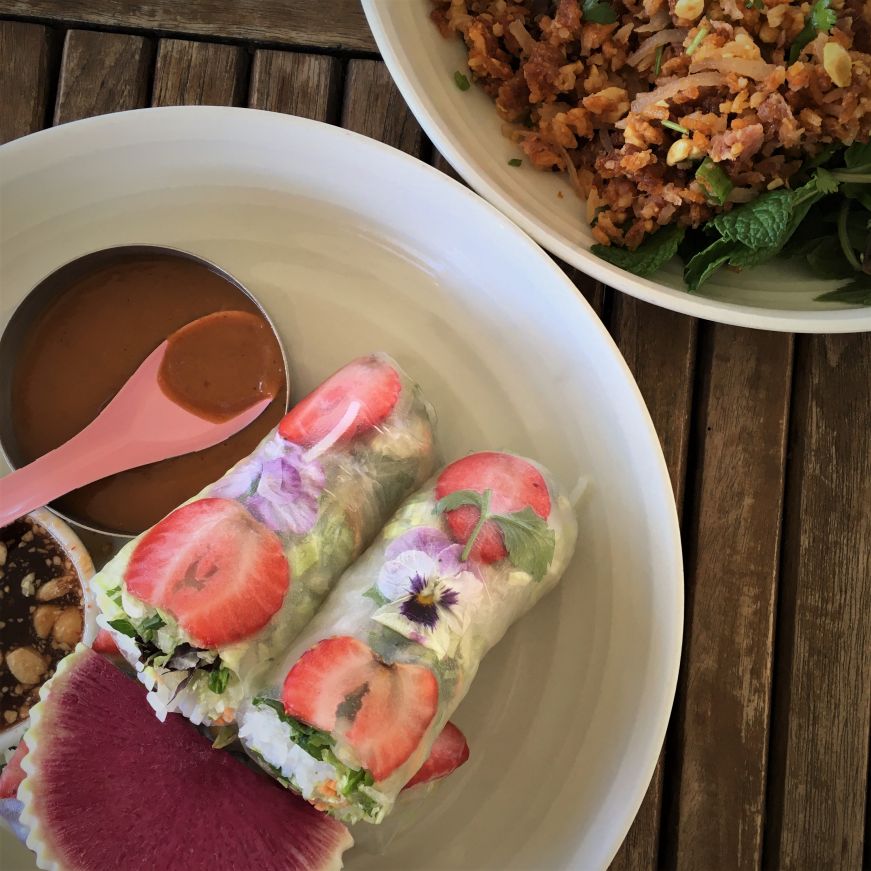 Lat14 Asian Eatery is another great destination for some travel-via-dining.  The menu highlights the cuisines of countries along the 14th parallel, including Laos, Thailand, Cambodia, and the Philippines.  I enjoyed the almost-too-beautiful to eat vegetarian summer rolls garnished with edible flowers and the jaew bong, a rice dish with pork floss and a fried egg.  Keep in mind that jaew bong's heat level is a bit intense—if you'd prefer a milder dish, the bacon fried rice is another one of my favorites, and the ramen is excellent.  There's also a good cocktail list (for something refreshing, try the house Pimm's cup or the Psycho Beach Party).
Although the "patio" is tent-covered space in the parking lot, they've done their best to add some ambiance with potted plants by the host stand and tiny succulents on each table.  Reservations are taken online, and dinner is served Wednesday through Sunday.
8815 7th Ave. N., Golden Valley; 763-400-7910; lat14.com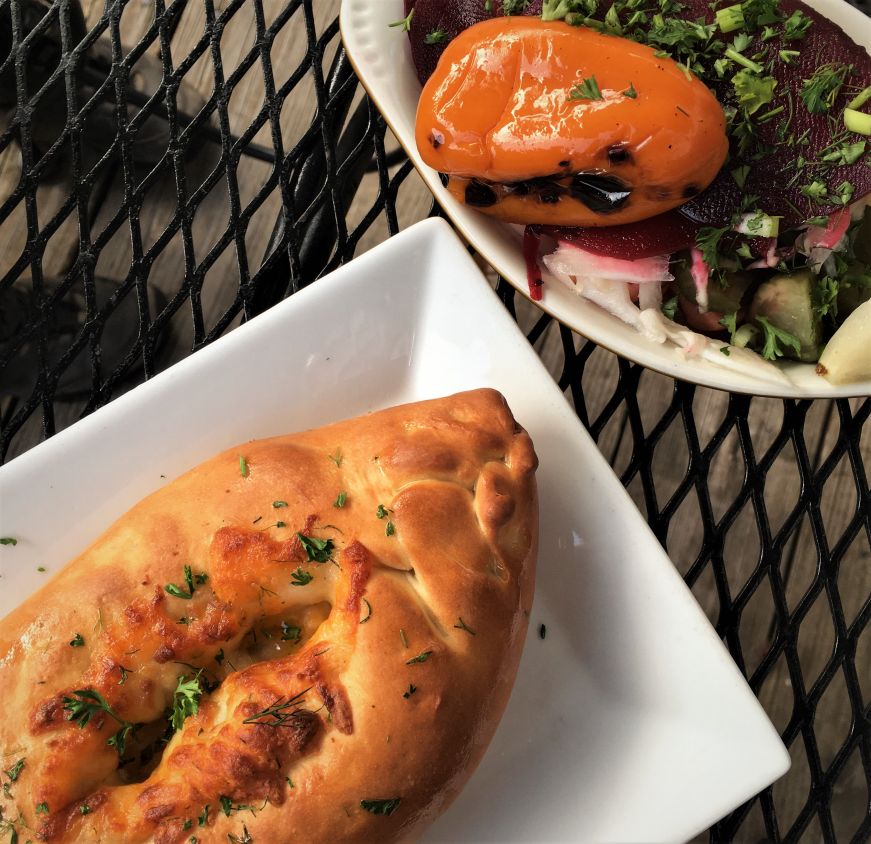 Moscow on the Hill has always been one of my favorite patios in the Twin Cities: a shady, leafy escape with hearty fare and house-infused vodka shots.  Their menu features Russian and Eastern European appetizers, dumplings, and entrees.  Yes, there are substantial plates of meat and potatoes, but they also have house-pickled vegetables, salads, and vegetarian options.  Be sure to try the khachapuri, a Georgian cheese-stuffed bread that puts stuffed crust pizza to shame.
Moscow on the Hill takes reservations by phone and online, although patio seating is not guaranteed.  Lunch and dinner are served daily.
371 Selby Ave., St. Paul; 651-291-1236; moscowonthehill.com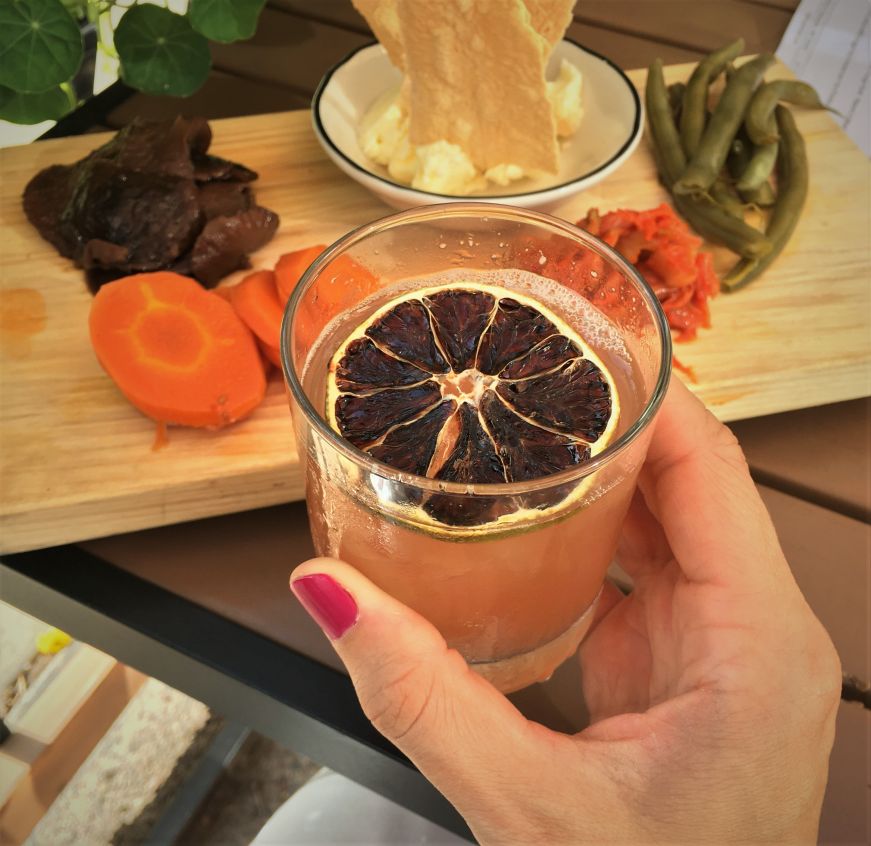 I think Nightingale has been my favorite patio experience this summer.  Although it's right on Lyndale, the main patio area is surrounding by boxes overflowing with greenery and flowers, giving it a romantic, tucked away feel.  The cocktail menu was the highlight for me, with a fascinating selection of drinks that feature unexpected ingredients and creative names.  The food menu has snacks, small plates, and entrees—obviously I ordered the (excellent) fries with malt vinegar aioli, and I also enjoyed the pickle plate, which has some unique items like pickled shiitakes and house cultured butter.
Reservations are available online or by phone for indoor or patio seating.  Dinner is served daily.
2551 Lyndale Ave. S., Minneapolis; 612-354-7060; nightingalempls.com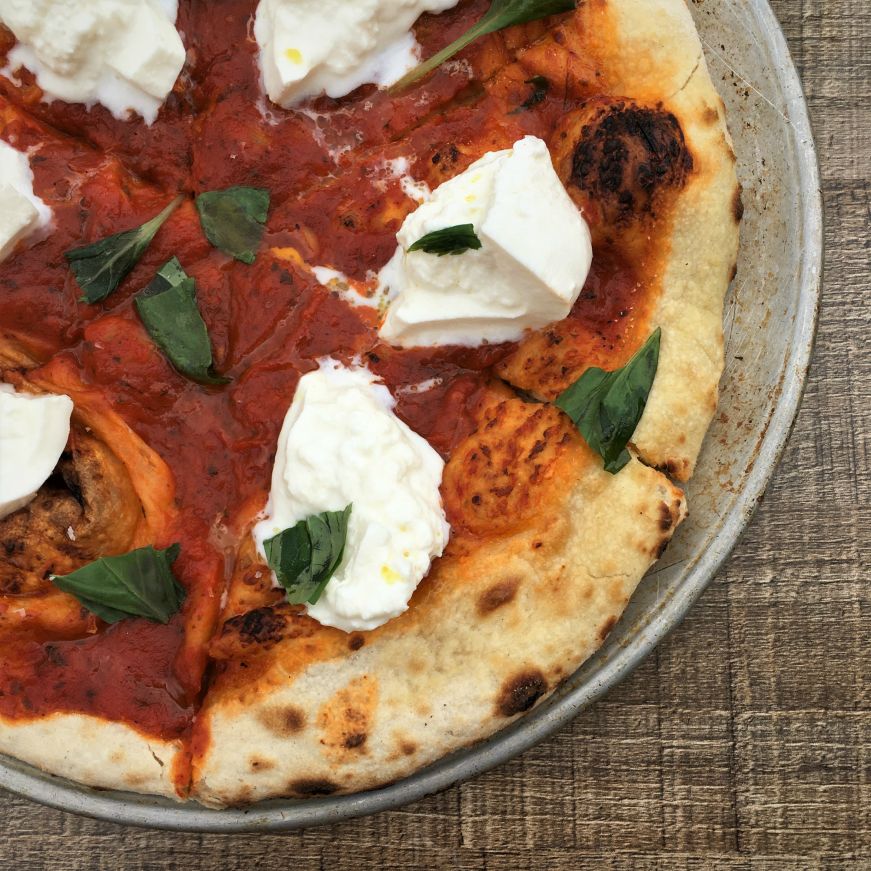 Red Rabbit's St. Paul location has a modest patio space, so they've added seating in their parking lot—that's where we ended up when we made a last-minute Sunday brunch reservation.  But really, if day drinking in a parking lot doesn't sum up the summer of 2020, what does?
While there's a nice selection of appetizers, salads, and pastas, I always order the Neapolitan-style pizza.  There are a handful of vegan and vegetarian options, with gluten-free crust available by request.  The New World Margherita, topped with red sauce, burrata, and fresh basil leaves, is my all-time favorite, but the cheese and PB & J (pineapple, bacon, jalapeno) pizzas are good too.  The craft cocktail list is respectable, including the on-tap aperol spritz.
Red Rabbit takes online reservations, and you can specify whether you want indoor or patio seating.  The breakfast menu is available Wednesday through Sunday, and lunch and dinner are served Tuesday through Sunday.
788 Grand Ave., St. Paul and 201 N. Washington Ave., Minneapolis; 651-444-5995 and 612-767-8855; redrabbitmn.com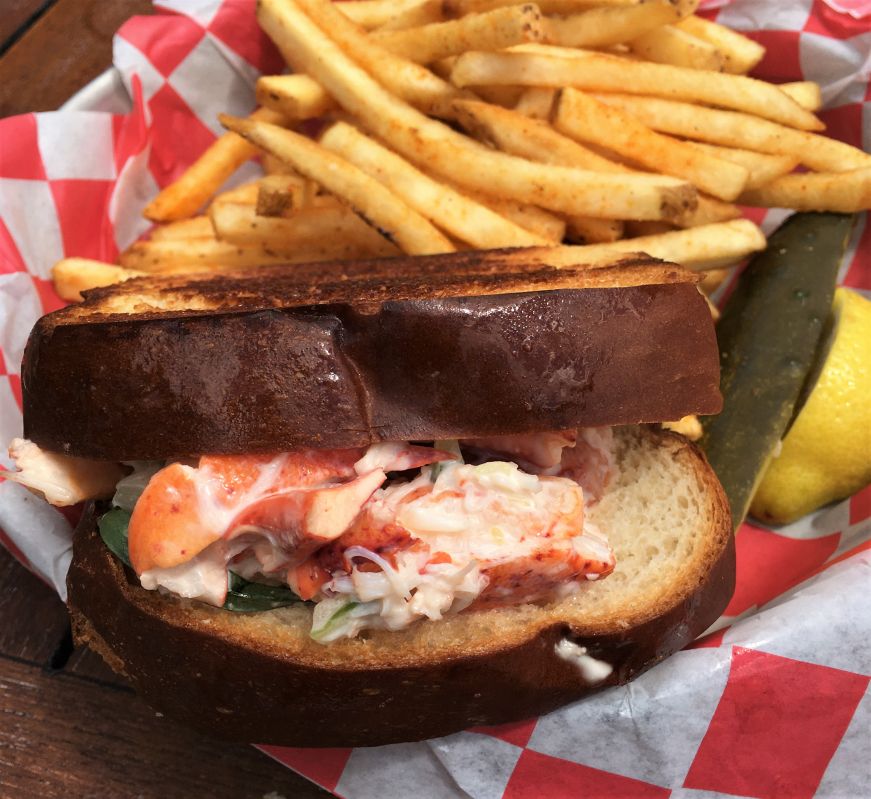 If you're in the mood for seafood, you can't beat the sunny streetside patio at Smack Shack.  They're open daily for lunch and dinner, with a comprehensive menu that includes peel and eat shrimp, crab cakes, a New England-style seafood boil, oysters, and lobster in every imaginable variation, from lobster guacamole and lobster poutine to a lobster cobb salad and lobster mac and cheese.  I'm partial to the original lobster roll, made with chilled lobster salad and served with Cajun-seasoned fries.
Smack Shack takes reservations online, although patio seating is available on a first-come, first-served basis when you arrive. 
603 N. Washington Ave., Minneapolis; 612-259-7288; smack-shack.com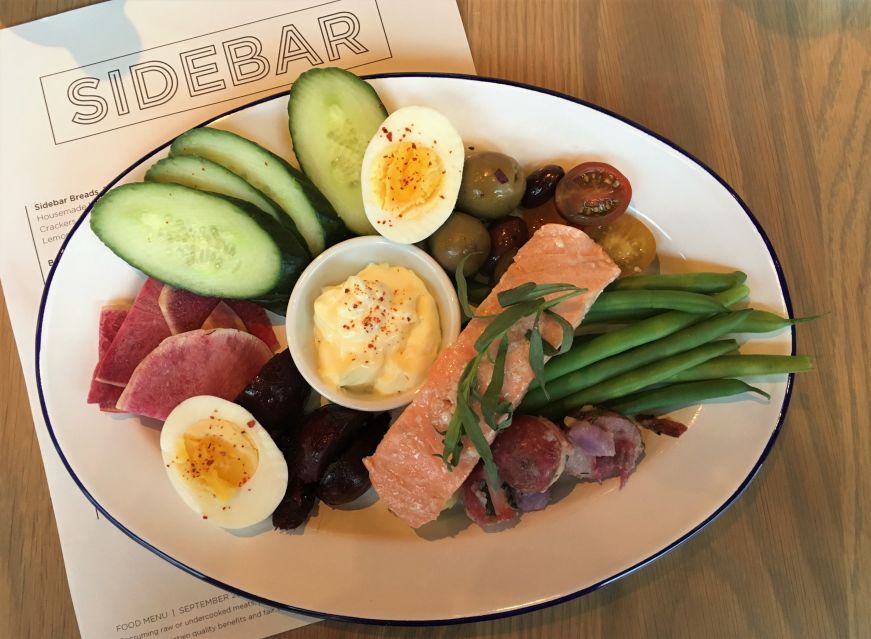 My meal at Sidebar at Surdyk's was comped as a media preview, but I'm already planning to revisit on my own dime.  Sidebar opened in late September, and it's attached to the iconic Surdyk's liquor store and cheese shop in Northeast Minneapolis.  The sidewalk patio along Hennepin Avenue was unexpectedly reassuring—I hadn't realized how much I missed the urban hustle and bustle.
The menu is inspired by French bistro fare, with entrees like steak frites, a croque Madame, and deconstructed salmon nicoise salad.  There are also plenty of appetizers, from beer-battered cheese curds and frites with malt vinegar aioli to a salumi board and steamed clams.  The creative cocktail menu highlights some unexpected spirits and flavors, and of course, there's an impressive wine and beer list.
Sidebar is open daily for dinner and for lunch Friday through Sunday.  Reservations are available on a walk-up basis.
303 E. Hennepin Ave., Suite 2, Minneapolis; 612-379-3232; sidebaratsurdyks.com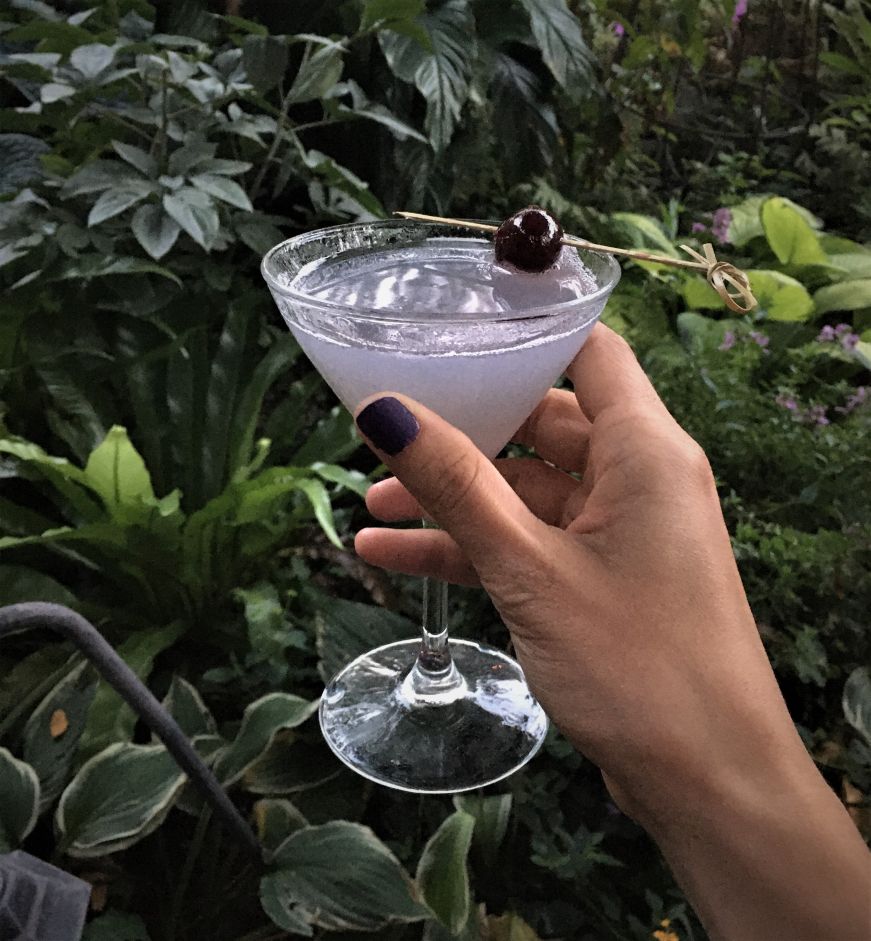 A dinner on the patio at W.A. Frost and Company has been our anniversary tradition for the past several years, and we were grateful that we could celebrate there this summer as well.  It's a perfect setting for romance, surrounded with lots of greenery and with leafy branches and fairy lights overhead.  The menu has been scaled back considerably, with fairly disappointing vegetarian options—since the roasted cauliflower entree wasn't nearly enough food to count as dinner I ended up ordering a side of fries.  The cocktail list, however, is as all-encompassing as ever, with a nice balance of classic and house options.
W.A. Frost is open for dinner daily, and reservations can be made online.
374 Selby Ave., St. Paul; 651-224-5715; wafrost.com
Further reading:
If you enjoyed this post, pin it!