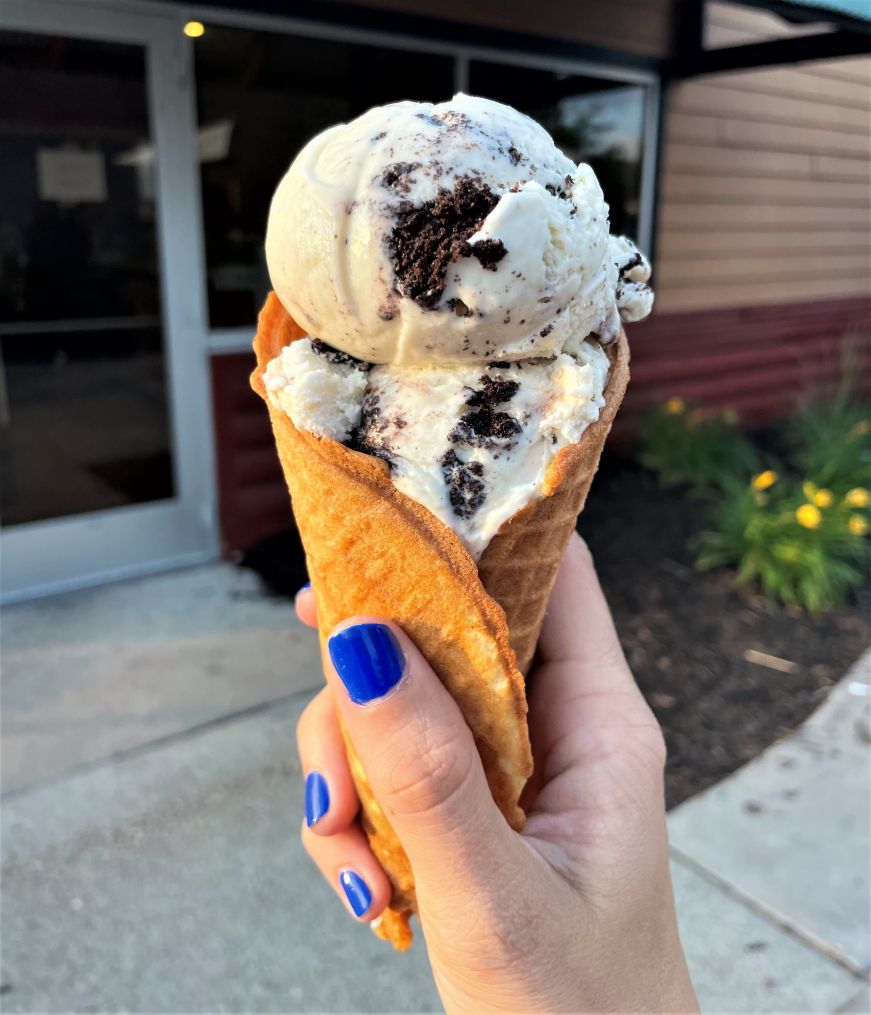 This post was originally published in July 2017 and was most recently updated in May 2023.
When I moved to the Twin Cities, a scoop of raspberry chocolate chip ice cream was what convinced me to stick around.  Since then, I've become an ice cream connoisseur, scouting out the best frozen treats in Minneapolis, St. Paul, and the suburbs.  Here are my picks for the best ice cream in the Twin Cities—plus my all-time favorite.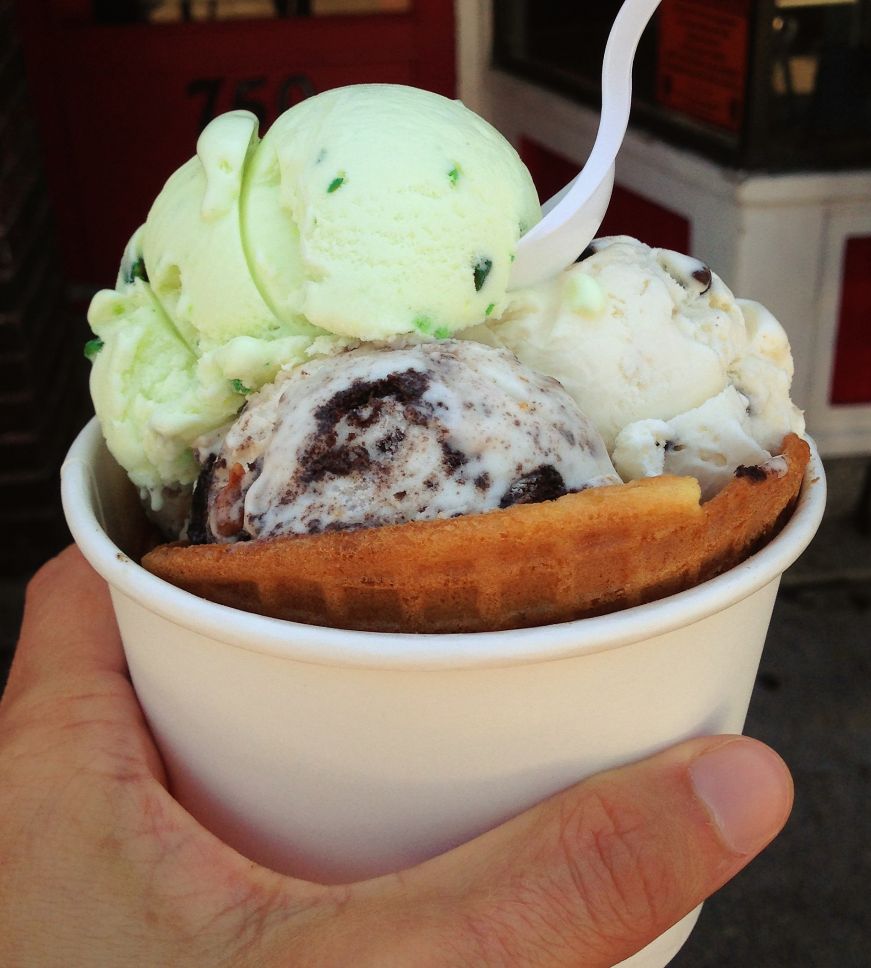 For nostalgia: Grand Ole Creamery
With its cheery striped awning and handwritten flavor signs, the Grand Ole Creamery's original St. Paul location feels like an old-fashioned ice cream parlor.  In fact, President Obama stopped by for a photo op and a scoop on his 2014 visit to the Twin Cities.  The shop's over 200 flavors skew towards classic, crowd-pleasing options like peppermint bon bon, birthday cake, and cookie dough; at the St. Paul location, a rotating selection of about 30 is available on any given day.  The malted waffle cones are made in-house and include a malted milk ball at the bottom to prevent any unfortunate ice cream drips.  Cone lovers can even buy a bag of broken pieces to take home.
Recommended flavors: The best-selling Black Hills Gold is a delicious combination of sweet cream ice cream with praline pecans and Oreos.  The mango is packed with enough fruit flavor to qualify as an honorary smoothie, and the nut-dense pistachio and intensely minty peppermint bon bon set the standard.
750 Grand Ave., St. Paul and 4737 Cedar Ave. S, Minneapolis; 651-293-1655 and 612-722-2261; grandolecreamery.com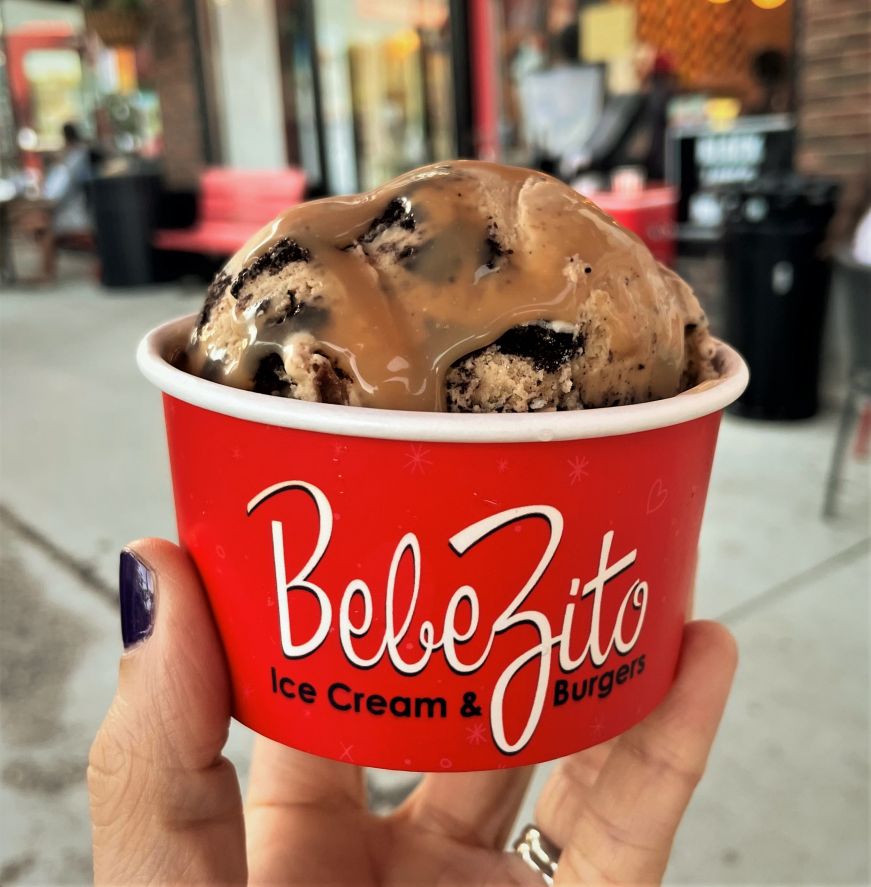 For creative flavors: Bebe Zito Ice Cream
The ever-changing flavors at Bebe Zito combine mass-market and upscale ingredients in a way that appeals both to novelty-seeking ice cream lovers (me) and those that prefer the classics (Mike).  You can order cups and cones, and they have a single split so that you can try two flavors without ordering a double scoop.  The specific selection of flavors rotates daily, but you can check the website for a current list of the the seasonal offerings.
Recommended flavors: Dat Malt Dough pairs a malted base with chocolate ganache cookie dough for an extra-rich scoop; on the other side of the spectrum, Maracuja shines with the brightness of fresh passion fruit.  The Parent Trap is a mashup of doce de leite ice cream, Oreos, peanut butter, and a doce de leite sauce topping that's more than the sum of its delicious components.
Multiple locations; bebezitomn.com
For a picture-perfect cone: Treats
The elaborately decorated cones at Treats are definitely Instagram bait.  They also taste just as good as they look: a variety of crushed breakfast cereals are mixed into vanilla soft serve for an extra-sweet twist on your childhood favorites.  Creations can be ordered as a cup, cone, or milkshake, and some are carefully garnished with add-ons like gummy bears, cereal, and caramel.  Be sure to snap a photo in front of the colorful mural before enjoying your treat.
Recommended flavors: The Crisp n' Cream has a nice balance of chocolate and crunch, with Oreo cookies, Cookie Crisp cereal, and Snickers.  Chocolate lovers should opt for the Cocoa Party, which includes Cocoa Puffs, Cocoa Pebbles, chocolate chips, and freshly-toasted marshmallows.
770 Grand Ave., St. Paul and 10340 Baltimore Street NE #140, Blaine; 651-478-4385 and 763-208-1745; treatsmn.com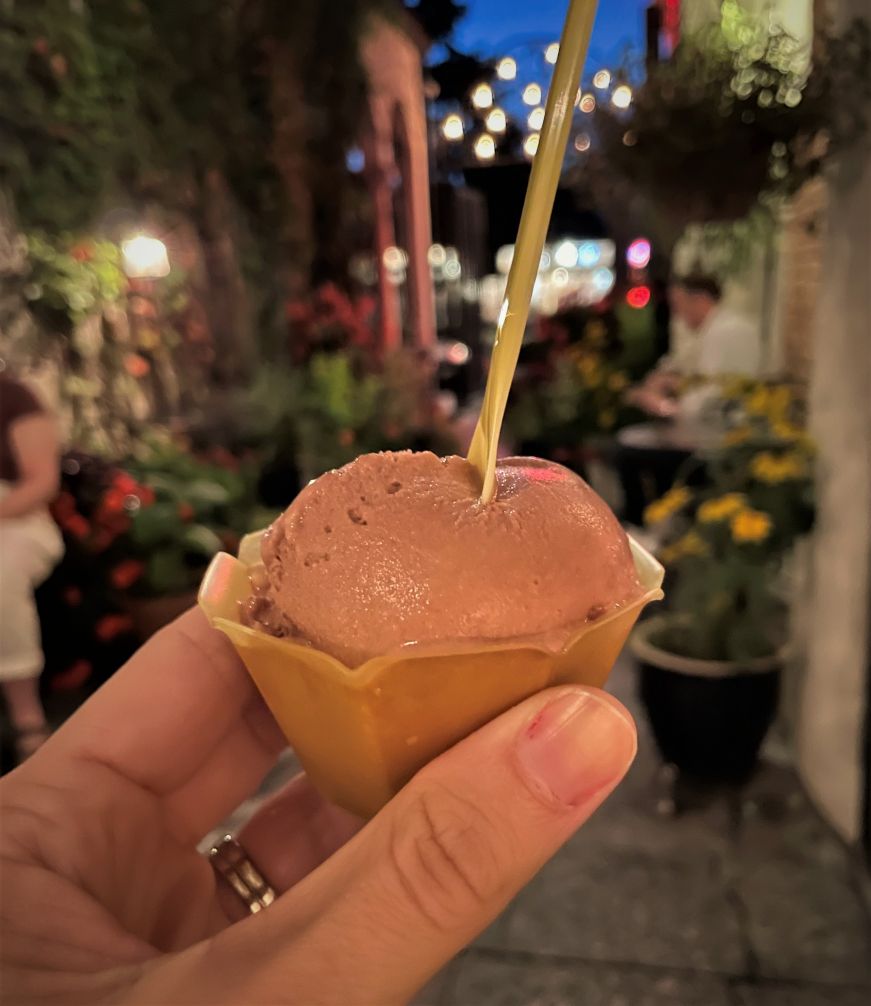 For date night: Sonny's Ice Cream
Sonny's Ice Cream is the most romantic place to eat a cone in the Twin Cities, and the ice cream is as wonderful as the surroundings.  The interior evokes an quaint Italian cafe, and the adjacent alley patio continues the Italian theme with potted plants, fountains, and fairy lights.  Sonny's crafts over 1,000 flavors of ice cream, gelato, and sorbet in small batches, from scratch: they make their own caramel and fruit purees, and use fresh herbs and spices.  About 20 flavors are available each day, in cups, cones, floats, or as an affogato (a shot of espresso poured over ice cream).   Sonny's is open seasonally, typically June through November.
Recommended flavors: The ultimate chocolate gelato, a chocolate gelato swirled with homemade caramel and salt, is my go-to as a chocolate lover.  The mint truffle has a refreshing, herbal flavor—it's white instead of green since Sonny's doesn't use any artificial ingredients.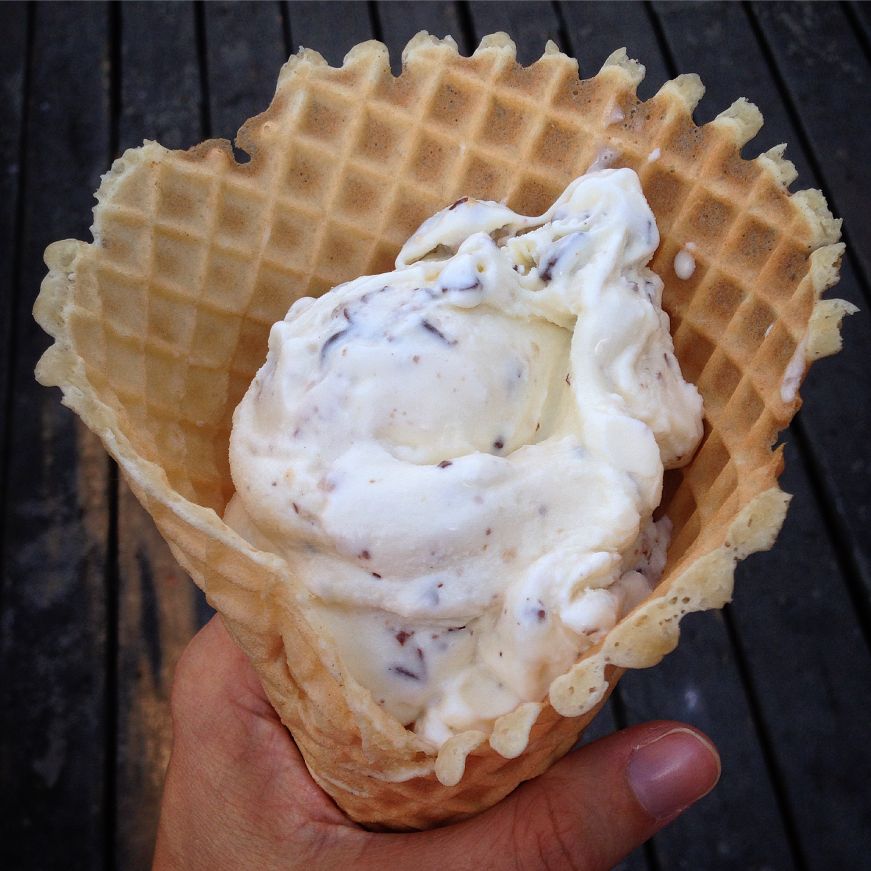 For frozen custard: Adele's Frozen Custard
What's frozen custard?  It includes eggs for a denser consistency and extra-smooth texture.  Adele's Frozen Custard offers one or two rotating flavors of custard each day (there's a handy schedule online); vanilla and chocolate custard are always available.  Custard can be ordered in a dish, cone, or as a concrete, a delightfully dense blend of custard and your choice of toppings.  Adele's is open seasonally, typically March through November.
Recommended flavors: The cookie dough flavor—vanilla custard blended with cookie dough pieces and truffle chocolate—tastes even better than the real deal.  If the flavors of the day don't pique your interest, you can't go wrong with the richly flavored chocolate or vanilla.
800 Excelsior Blvd., Excelsior; 952-470-0035; adelescustard.com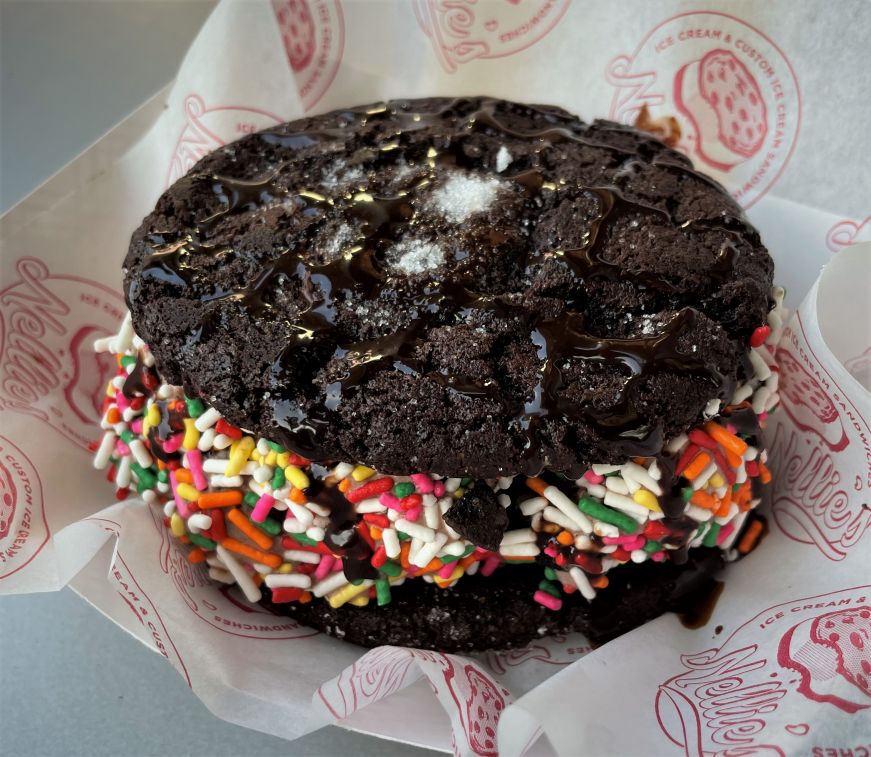 For ice cream sandwiches: Nellie's Ice Cream
The ice cream isn't made on-site, but Nellie's Ice Cream deserves a mention for their build-your-own ice cream sandwiches.  Pick your cookies and ice cream (there are six types of cookies and 20 different ice cream flavors) and then customize your sandwich by rolling the edges in sprinkles, chocolate chips, Oreo pieces, or M&Ms and topping it with chocolate or caramel.  Get your sandwich hot-pressed for a freshly-baked cookie texture, and definitely grab lots of napkins.  Nellie's Ice Cream is open seasonally, typically April through October.
Recommended flavors: If you love chocolate, get the chocolate Oreo ice cream sandwiched between two chocolate chocolate chip cookies.
2034 Marshall Ave., St. Paul; 651-645-7839; nelliesicecream.com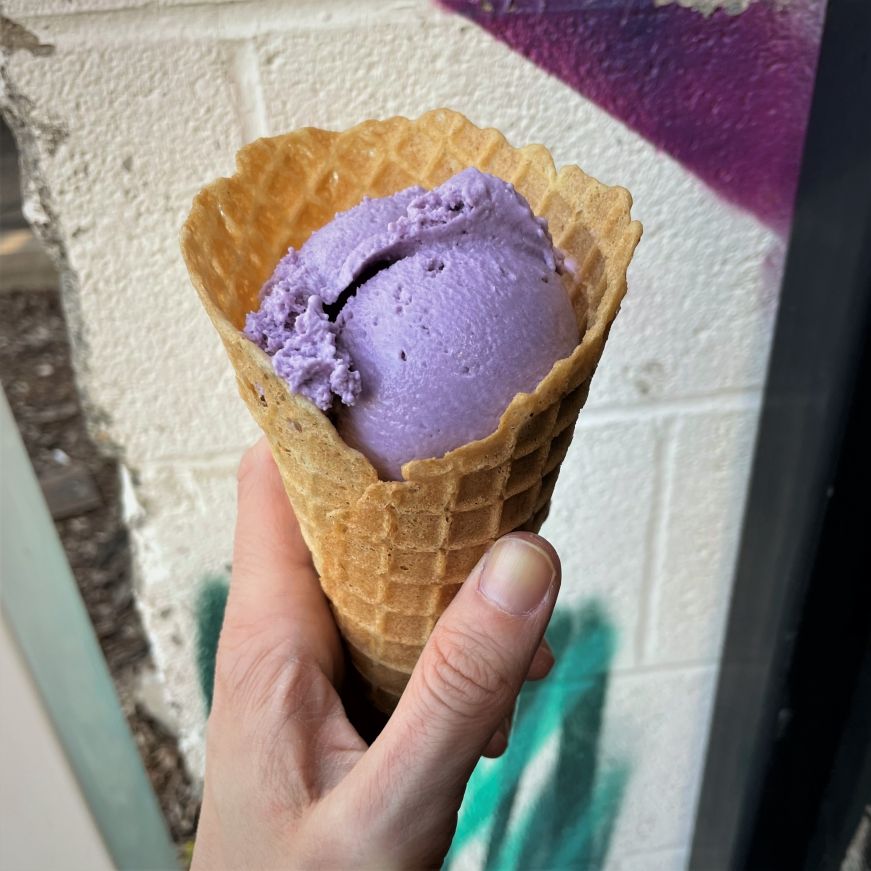 For vegan options: Crepe & Spoon
While many of the spots I've mentioned offer a dairy-free flavor or two, Crepe & Spoon is an all-vegan ice cream parlor with flavors everyone will enjoy.  Most of their ice creams are made with coconut milk, cashew cream, and almond milk, and there are typically a few nut-free sorbets available.  The rotating flavor list includes classic flavors like mint chocolate chip as well as unusual selections like rose cardamom.  While you won't mistake the ice cream for a dairy-based dessert, it has a smooth mouthfeel and a refreshingly light texture, and the plant-based milks add additional flavor notes.
Recommended flavor: Try a scoop of ube, which gets its brilliant hue and subtly sweet, nutty flavor from a purple sweet potato native to the Philippines.
339 22nd Ave. NE, Minneapolis; crepeandspoon.com
Crepe & Spoon will be closing permanently on October 1, 2023, when their lease ends.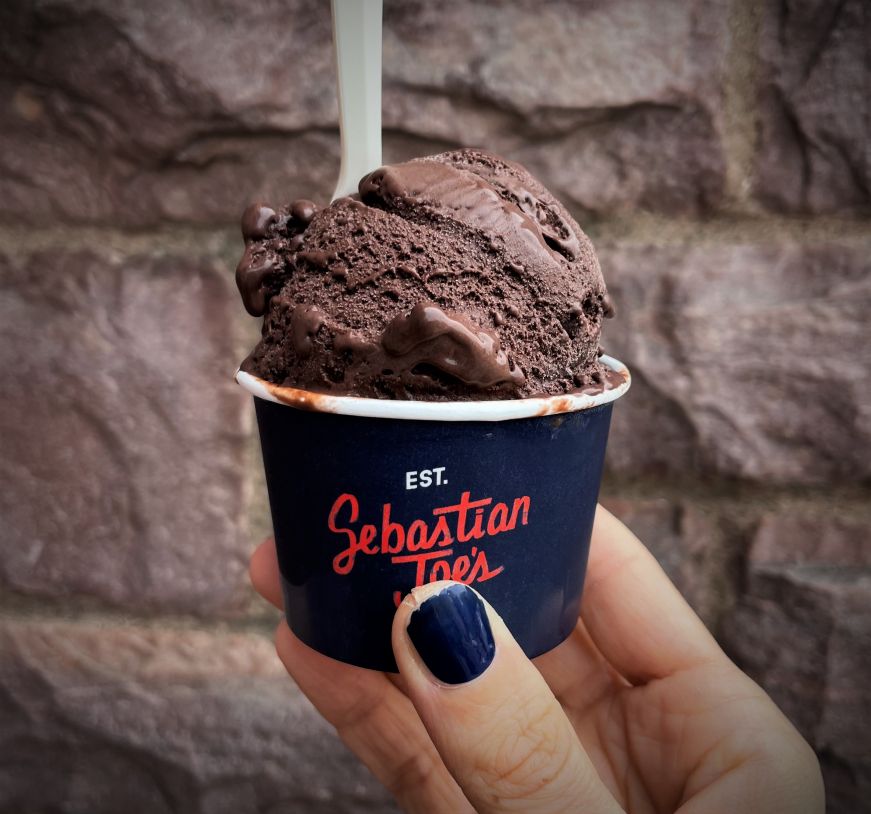 All-time favorite: Sebastian Joe's
The Linden Hills location of Sebastian Joe's has it all: an inventive selection of flavors crafted with all-natural ingredients, a sunny indoor seating area with a fireplace, and a patio with a giant tortoise statue for kids to climb.  Celebrating a special occasion?  The custom ice cream cakes are the perfect present for the ice cream lover in your life.
Recommended flavors: While the flavor lineup changes daily, several best-sellers are always available—raspberry chocolate chip, Oreo, and Nicollet Avenue Pothole (chocolate caramel ice cream with Heath bar chunks, fudge truffles, and a fudge sea salt swirl) are all must-tries.  Some of my other favorites are honey cinnamon crisp, chocolate cinnamon pretzel, pistachio, and marionberry D.C. nut.
1007 W Franklin Ave. S, Minneapolis and 4321 Upton Ave. S, Minneapolis; 612-870-0065 and 612-926-7916; sebastianjoesicecream.com
If you enjoyed this post, pin it!