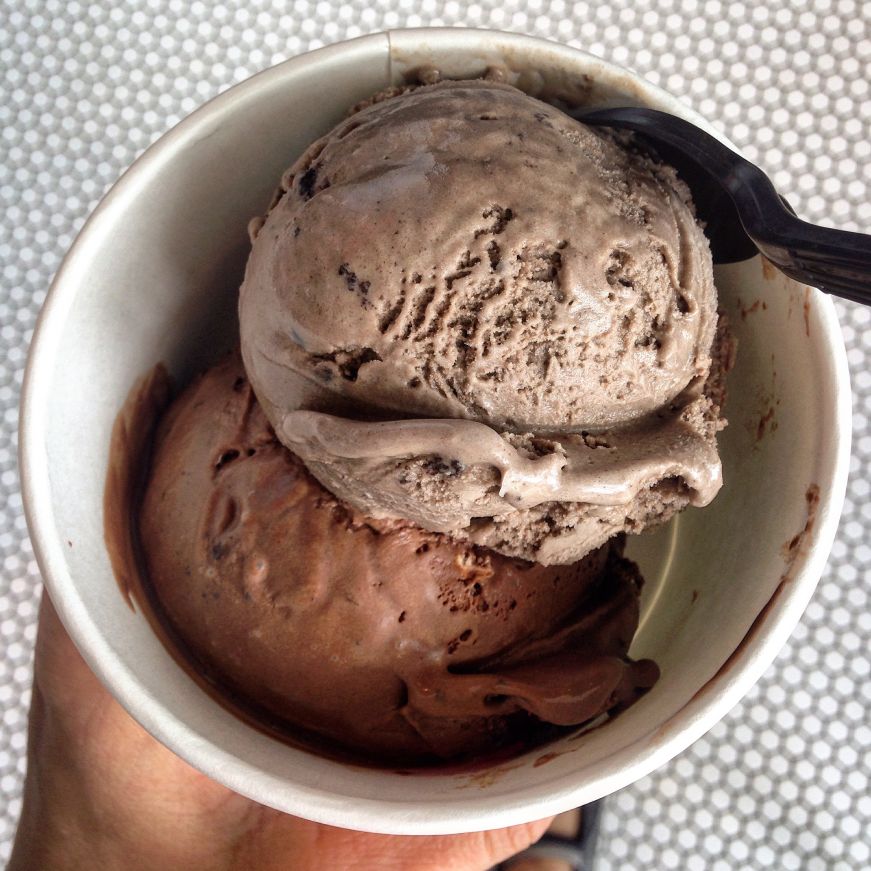 When I moved to the Twin Cities, a scoop of raspberry chocolate chip ice cream was what convinced me to stick around.  Since then, I've become an ice cream connoisseur, scouting out the best frozen treats in Minneapolis, St. Paul, and the suburbs.  If I'm going to treat myself, it has to be the good stuff: premium, housemade ice cream with natural ingredients and interesting flavors.  From the trendy to the nostalgic, from custard to gelato, here are my picks for the best ice cream in the Twin Cities--plus my hands-down overall favorite.
For hipsters: Milkjam Creamery
From its location in Uptown to the Instagram-friendly "I ♥ Ice Cream" neon sign, Milkjam Creamery is the trendiest place in the Twin Cities to grab a scoop.  The innovative flavors have quirky names like Cereal Killers (orange coriander milk with candied pebbles cereal) and Uma Thurman (Greek yogurt with a passion fruit lychee swirl).  There are a handful of vegan options, plus a lineup of house-made sundae toppings and boozy ice cream floats.  Can't make up your mind?  Gather some friends and order "All of Them"--a scoop of every flavor in the cooler garnished with assorted toppings.
Recommended flavors: Chocolate lovers will appreciate Hard Knock Life, a dark chocolate ice cream studded with salted pretzels, brownies, and chocolate fudge.  Ridin' Duuurty offers a tasty combination of Oreo chunks and salted peanut butter.  Celebrating something special?  If you're 21-plus, order a scoop of Poppin' Bottles, a champagne sorbet with sprinkles.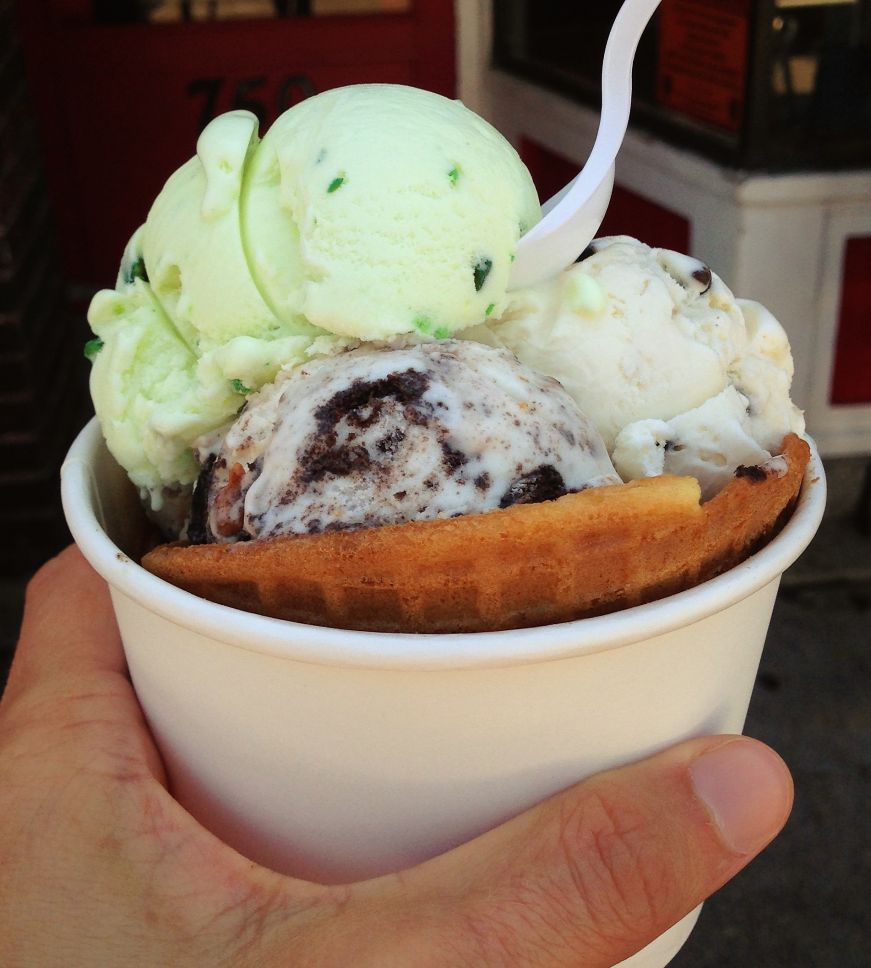 For nostalgia: Grand Ole Creamery
With its cheery striped awning and handwritten flavor signs, the Grand Ole Creamery's original St. Paul location feels like an old-fashioned ice cream parlor.  In fact, President Obama stopped by for a photo op and a scoop on his 2014 visit to the Twin Cities.  The shop's over 200 flavors skew towards classic, crowd-pleasing options like peppermint bon bon, birthday cake, and cookie dough; at the St. Paul location a rotating selection of about 30 is available on any given day.  The malted waffle cones are made in-house and include a malted milk ball at the bottom to prevent any unfortunate ice cream drips.  Cone lovers can even buy a bag of broken pieces to take home.
Recommended flavors: The best-selling Black Hills Gold is a delicious combination of sweet cream ice cream with praline pecans and Oreos.  The mango is packed with enough fruit flavor to qualify as an honorary smoothie, and the nut-dense pistachio and intensely minty peppermint bon bon set the standard.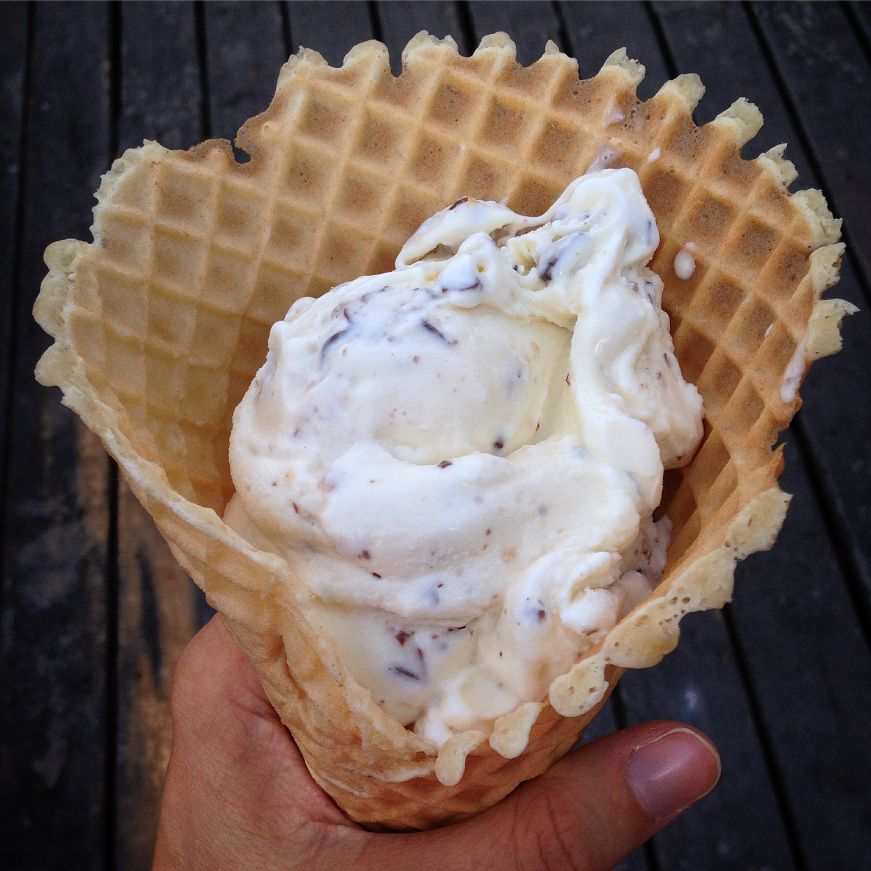 For frozen custard: Adele's Frozen Custard
What's frozen custard?  According to the folks at Adele's Frozen Custard, their namesake treat includes the addition of egg yolk to the standard ice cream base of cream, milk and sugar. Additionally, "when ice cream is made, air is whipped INTO it. When custard is made, air is whipped OUT of it, which gives frozen custard the smooth, velvety rich texture."  Adele's offers two rotating flavors of custard each day (there's a handy schedule online); vanilla and chocolate custard are always available.  Custard can be ordered in a dish, cone, or as a concrete, a delightfully dense blend of custard and your choice of toppings.  Note that Adele's is open seasonally, making it a true summertime treat.
Recommended flavors: Cookie dough--vanilla custard blended with cookie dough pieces and truffle chocolate--tastes even better than the real deal.  If the flavors of the day don't pique your interest, you can never go wrong with the richly flavored chocolate or vanilla.
For gelato: Fat Lorenzo's
Although it's primarily a pizza place, Fat Lorenzo's also offers a rotating selection of housemade gelato.  Their gelato chef has created over 100 incredibly creamy, rich flavors, which range from traditional classics like amaretto and strawberry to more innovative selections like Jamaican rum and chocolate malt.
Recommended flavors: The fruit flavors, made from fresh fruit puree, are always a delicious choice--try the berry-packed Fruits of the Forest.  Chocolate lovers can never go wrong with a classic scoop of Nutella, and the chocolate malt and red velvet flavors taste uncannily like their namesake desserts.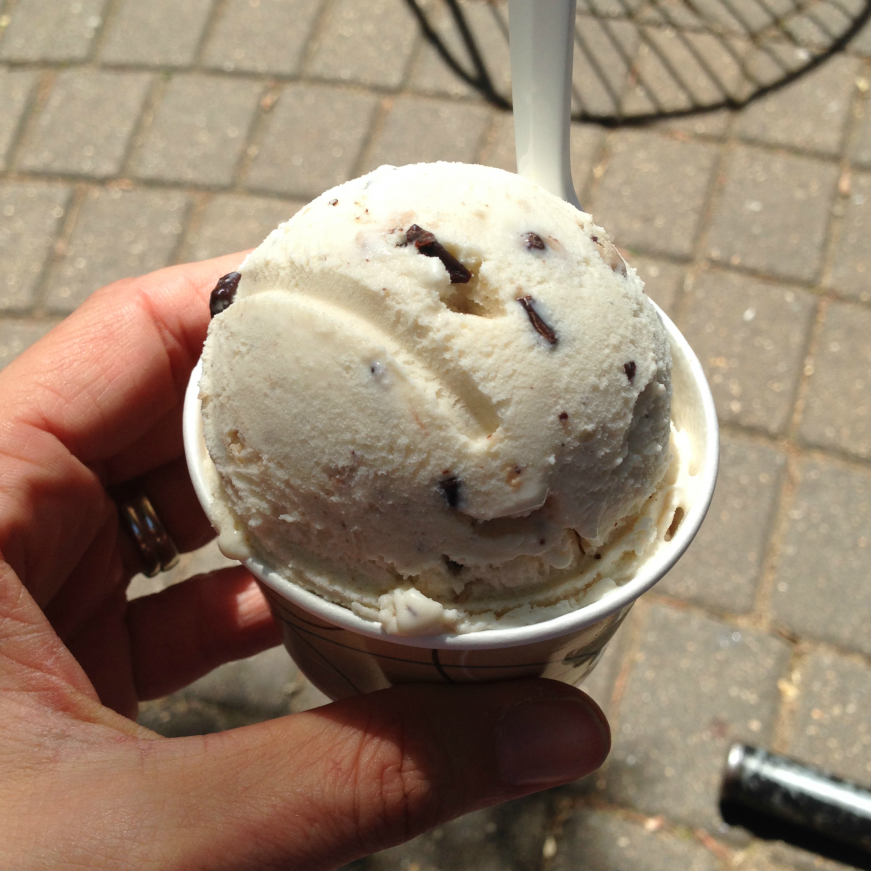 Overall favorite: Sebastian Joe's
The Linden Hills location of Sebastian Joe's has it all: an inventive selection of flavors crafted with all-natural ingredients, a sunny indoor seating area with a fireplace, and a leafy patio with a giant tortoise statue for kids to climb on.  In the summer, a stop at Sebastian Joe's is the perfect way to end a walk around Lake Harriet; in the winter, there are cold-weather discounts based on the temperature.  Celebrating a special occasion?  The custom ice cream cakes are the perfect present for the ice cream lover in your life.
Recommended flavors: While the flavor lineup changes daily, a handful of best-sellers are always available: the raspberry chocolate chip (packed with fresh raspberries), Oreo (with an unprecedented cookie to ice cream ratio) and Nicollet Avenue Pothole (chocolate ice cream with fudge, truffles, chunks of Heath bar, and sea salt) are all must-tries.  The honey cinnamon crisp and chocolate cinnamon pretzel flavors each offer uniquely delicious flavor combinations, while the pistachio and marion berry D.C. nut will be appreciated by nut and berry lovers, respectively.
Want to keep reading?  Here are some other posts about the Twin Cities dining scene:
If you enjoyed this post, pin it!