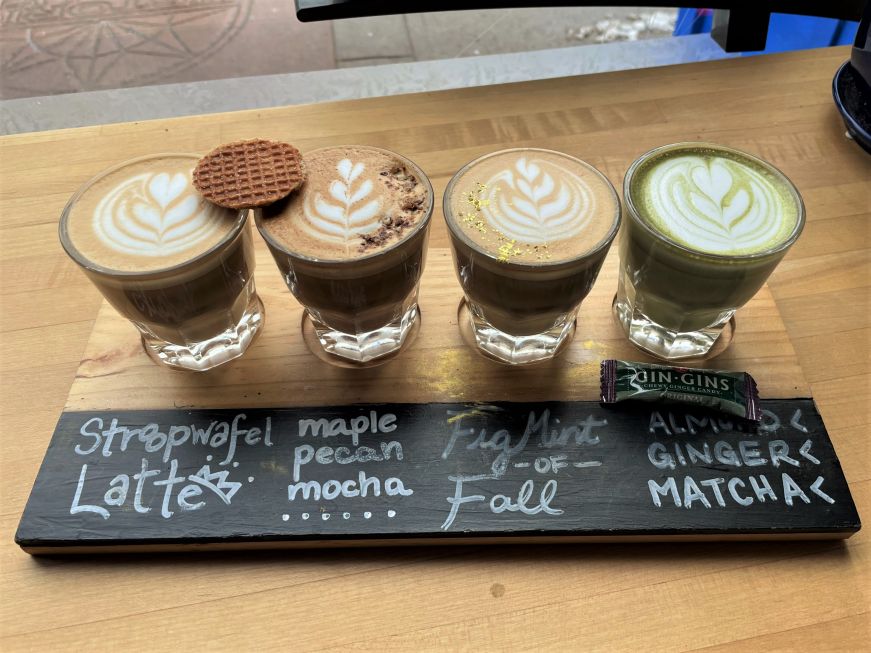 Maybe it's the rise of taprooms and craft beer culture, or maybe it's the enduring appeal of trying a little bit everything: coffee flights are having a moment at Twin Cities coffee shops.  Instead of choosing one full-sized espresso drink, a coffee flight lets you sample three or four miniature-sized beverages. 
Ready to start sipping?  Here's where you can find coffee flights in Minneapolis, St. Paul, and the surrounding suburbs.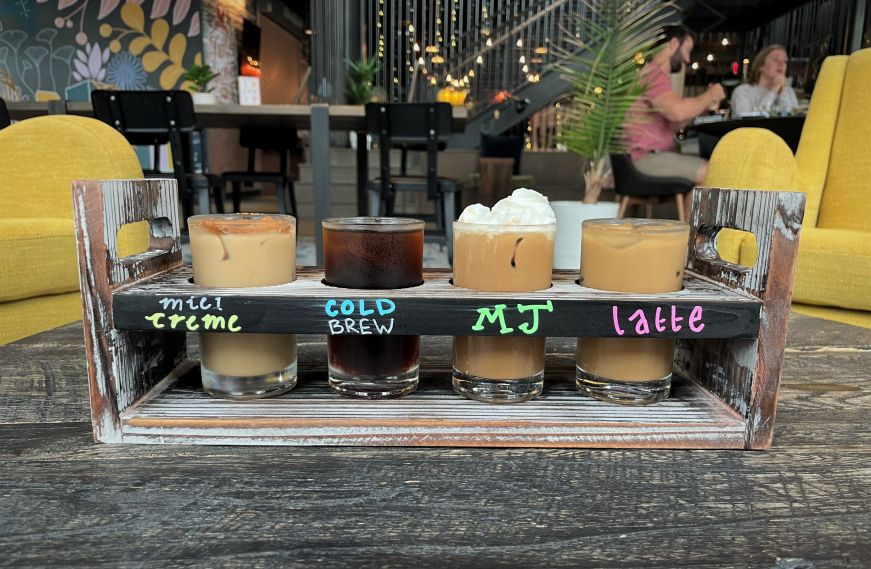 1. The Last Drop Cafe + Wine Bar, Minneapolis
Located inside Graze Provisions + Libations, a food hall in Minneapolis' North Loop neighborhood, The Last Drop Cafe + Wine Bar offers seasonal coffee flights.  Flights typically feature a mix of hot and iced beverages, with more hot drinks in the winter and more iced beverages in the summer.  Drinks tend to be relatively sweet and the flavors are straightforward. 
My favorite thing about the Last Drop is the atmosphere—there's lots of natural light, eclectic bohemian decor, and a variety of seating options including communal tables, armchairs, and rope swings.
520 North 4th Street, Minneapolis; grazenorthloop.com/the-last-drop-cafe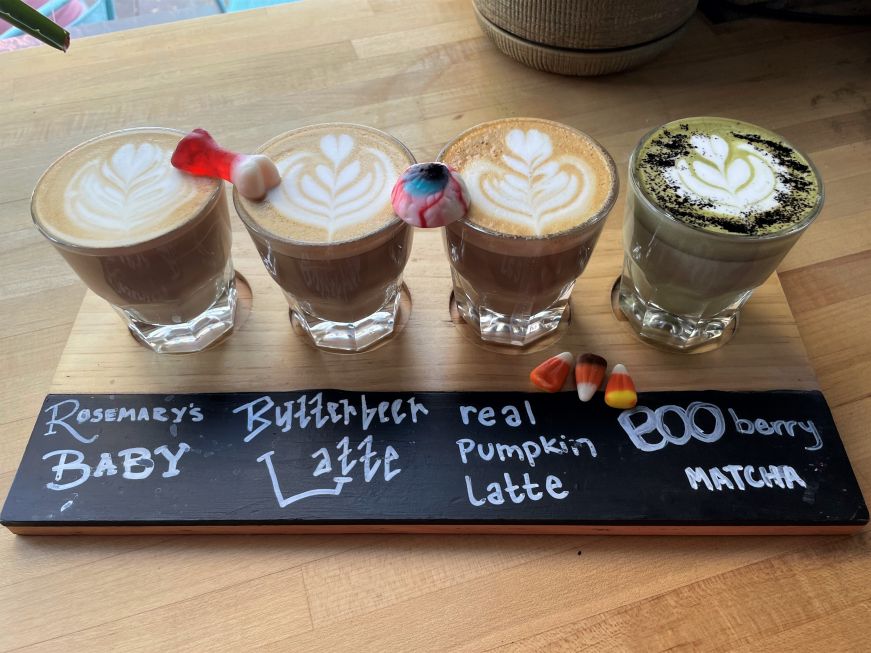 2. Third Space Cafe, Minneapolis
Third Space Cafe in Uptown Minneapolis offers a unique coffee flight each month, often with a holiday theme.  You get to choose if you want your beverages hot or iced (I always go with hot since I love latte art).  Drinks often feature unique flavor combinations, clever names, and seasonal garnishes like cookies or candy.  Flights always include a matcha drink—I'm not a huge matcha fan, but I enjoy the interesting flavor pairings that Third Space comes up with (there was an especially memorable blueberry matcha latte).
Service is always warm and gracious, even when the cafe is busy.  On weekends, it may be a 20-30 minute wait after ordering to get your coffee flight, so consider visiting on the early side or on a weekday.
2930 Lyndale Avenue South, Minneapolis; 612-353-5677; thirdspacempls.com
3. Wild Grind Coffee, Minneapolis
Unlike the other spots on the list, Wild Grind Coffee in south Minneapolis offers build-your-own coffee flights.  Pick your lineup of three beverages from a list of classic, signature, and seasonal espresso drinks, decide if you want your flight hot or iced, and choose your milk (whole, skim, oat, or almond milk).  Hot flights feature latte art, and there are garnishes like fresh herbs and dried flower petals.
Wild Grind's coffee flights are the most nuanced I've tasted in the Twin Cities: the drinks have complex, layered flavors and are made with high quality, sustainably sourced espresso.  The coffee shop shares a space with Wild Mind Ales, so the taproom-style seating area is expansive, although the acoustics can be a bit challenging.
6031 Pillsbury Avenue South, Minneapolis; wildgrindcoffee.com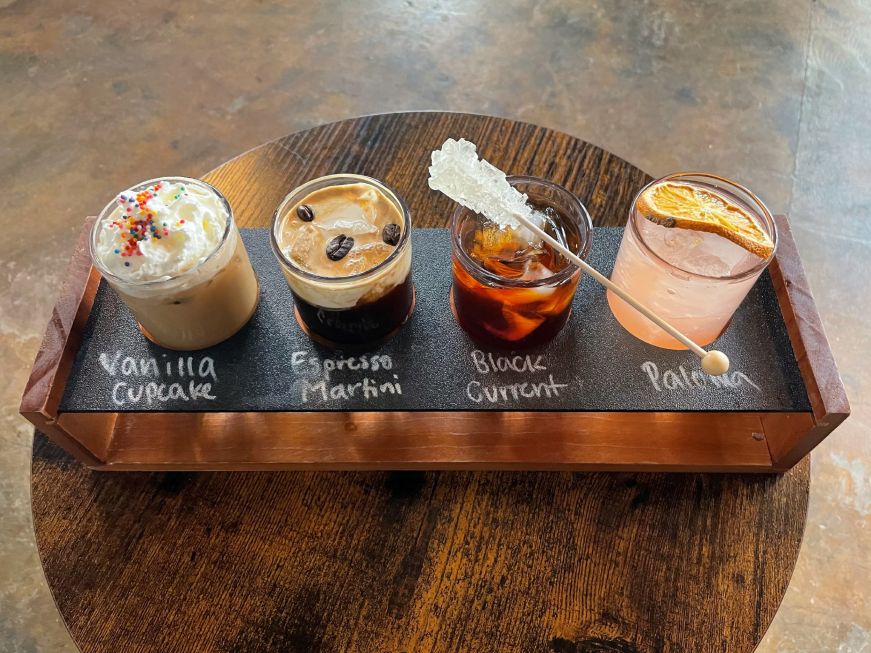 4. Annabelle House, Osseo
Located in downtown Osseo (a northwestern suburb), Annabelle House has the most budget-friendly flight on the list, with a set lineup of coffee drinks that changes monthly.  Some drinks are served warm, others iced, and there's always a caffeine-free beverage included.  They take a something-for-everyone approach, from very sweet lattes to more subtle cold brews; whatever your tastes are, you'll enjoy at least one of the beverages.  A unique touch is that you can get coffee flights to go. 
The cafe is a relatively small space and is quite popular, so on the weekends I would recommend going early or on the later side.
232 Central Avenue, Osseo; 763-205-6769; annabellehouse.com
5. True Stone Coffee Lowertown, St. Paul
This is the only coffee shop on the list that I haven't had a chance to check out in person yet—we live in the northwest suburbs, so True Stone Coffee Lowertown in St. Paul is bit of a drive.  They offer a hot flight with a featured drink, salted caramel latte, dark chocolate mocha, and cortado, as well as a cold flight with a featured drink, Stone Hammer (cold brew, espresso, vanilla, and cream), nitro cold brew, and spiced brown sugar latte.  Hopefully we'll make it there soon to check it out.
289 5th Street East, St. Paul; truestonecoffeelowertown.com
If you enjoyed this post, pin it!