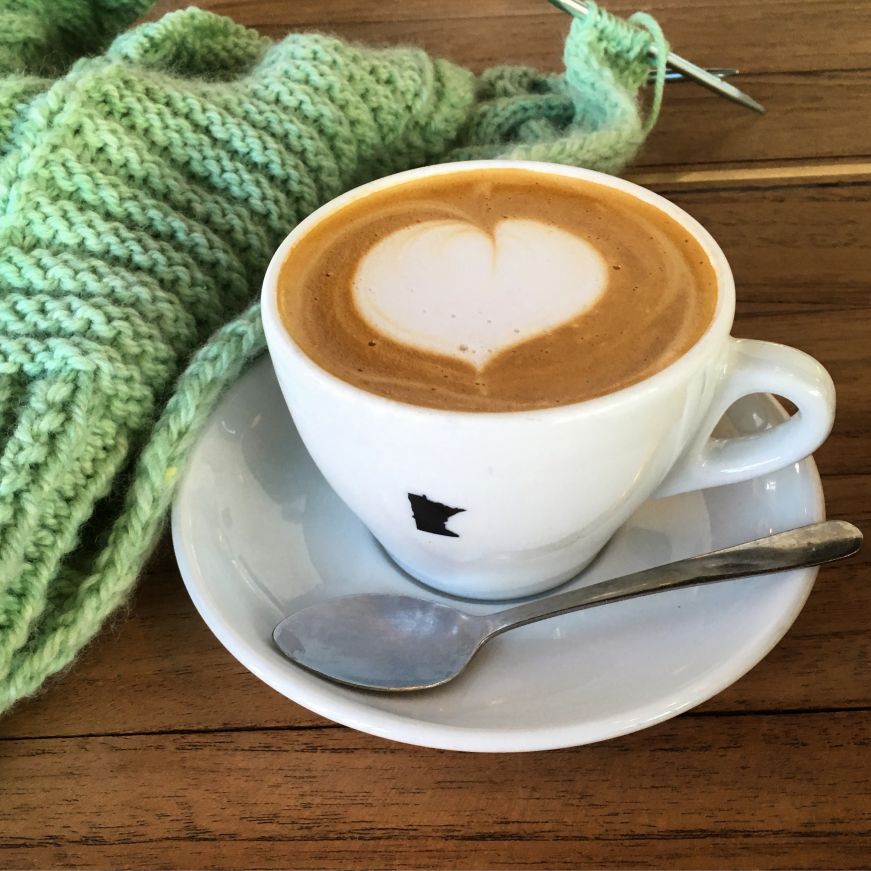 This post was originally published in April 2019 and was most recently updated on October 3, 2022.
Looking for coffee flights? Check out my post about where to find coffee flights in the Twin Cities.
Mike and I spend our weekends running in opposite directions (literally in my case: seven miles on Saturday and three miles on Sunday).  After one too many weekends when the only significant chunk of time we spent together was grocery shopping, we realized that we needed to prioritize time with each other.  So we instituted a standing coffee date on Sunday mornings. 
Our coffee dates are when we slow down, tune out the rest of the world, and reconnect with each other.  I bring my knitting.  We talk about the things that get lost in the shuffle of everyday life.  Sometimes we plan for the future, and sometimes we reminisce.  
Thanks to all of our coffee dates, we've developed a rotation of favorite local coffee shops.  I update this post periodically with new finds—there are so many great coffee shops in the Twin Cities, and this is only a sampling.
Coffee shops are listed alphabetically within each geographical category.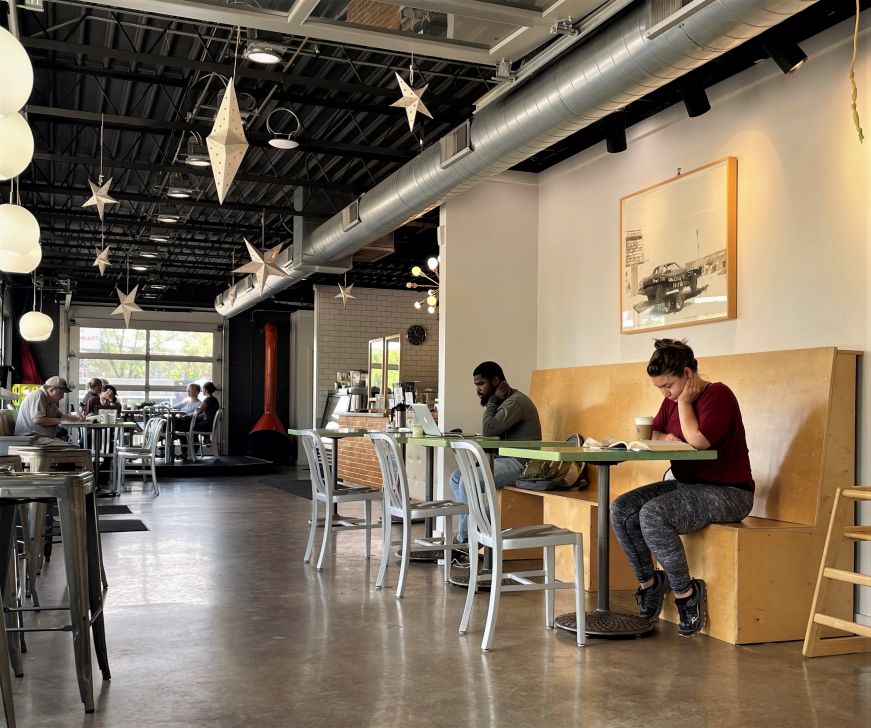 Minneapolis—Northeast
Carma Coffee is a bright space with lots of natural light, retro decor, and a friendly feel—it's owned by the same couple that operates the auto repair shop across the street.  There's a full menu of espresso drinks, as well as pastries, cookies, and sandwiches.  If it's available on the specials menu, try the lavender cold press latte (I like to order it with almond milk).  Their caramel syrup is also incredible—it tastes homemade, with caramelized, buttery undertones.
In addition to plenty of indoor seating, there are a few streetside tables.
520 Lowry Avenue NE, Minneapolis; 612-208-1253; carmacoffeeshop.com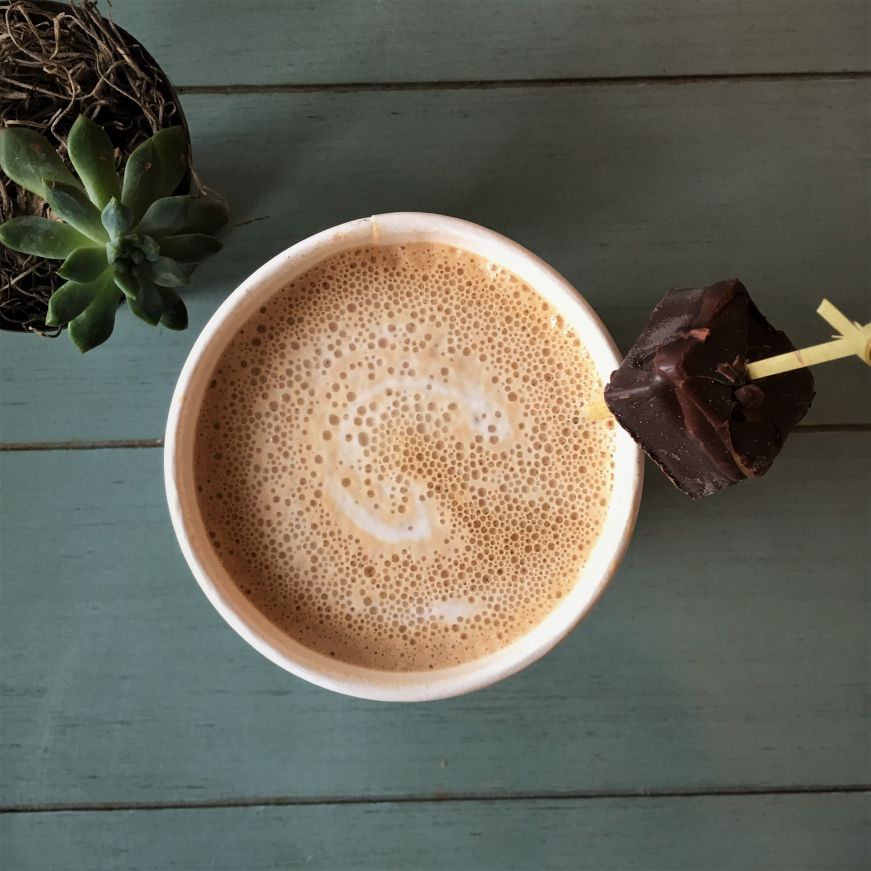 Minneapolis—North Loop
Fairgrounds Craft Coffee & Tea is a Chicago-based chain with an outpost in Minneapolis' North Loop.  The whimsical carnival theming makes for a fun escapist coffee date, and there's also a patio.  Free street parking is available a few blocks away on Fourth Avenue.
Fairgrounds serves coffee from a variety of independent roasters across the country, in addition to featuring several different cold presses on tap.  They have a nice tea selection (I like the peach blossom white tea, served iced) and you can order any of the specialty drinks with matcha instead of espresso.  The mocha has a neat DIY aspect: you get a fancy truffle on a skewer that you melt into your cup of espresso and milk.  I also recommend the sticky chai latte, which is made with buckwheat honey.
120 Third Avenue, Minneapolis; 612-333-9165; fairgrounds.cafe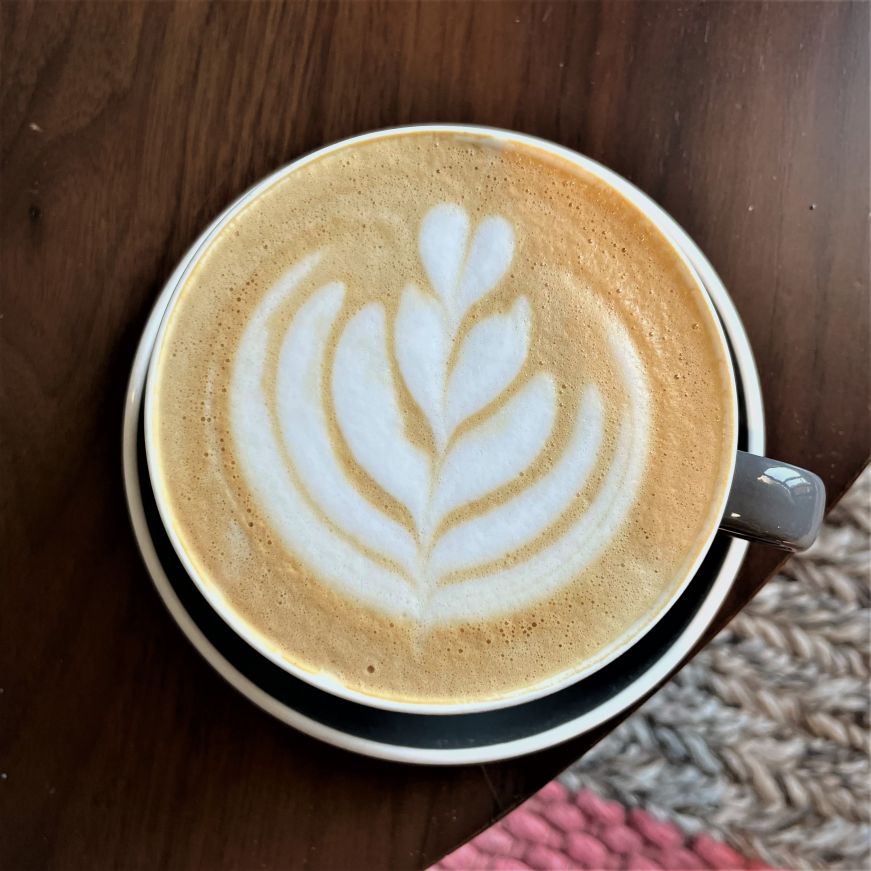 FRGMNT Coffee features coffee from an ever-changing of roasters, plus a selection of Cardigan Donuts.  The menu is short—a couple seasonal drinks, a handful of traditional espresso drinks—but you can count on an intriguing, exquisitely crafted beverage.  On a recent visit, I enjoyed the citrus notes in the mandarin yuzu latte, and Mike appreciated the balanced flavors of the white chocolate pistachio latte. 
Since FRGMNT is located in the lobby of an apartment complex and office building, there's an expansive seating area with a variety of tables, chairs, and a fireplace.  There's also outdoor seating.
729 Washington Avenue N, Minneapolis; frgmntcoffee.com
Tucked into the ground floor of an office and apartment complex, In the Loop Coffee Co. is a little coffee shop with a lot of heart, with baked goods that taste homemade, a community bulletin board, and a warm welcome.  It's the kind of spot where you feel like a regular even if it's your first visit.
Most of the signature drinks veer towards the sweet side of the spectrum—Mike enjoys the toffee crunch, a mocha garnished with toffee bits.  There are also traditional espresso drinks, pour over coffee, a variety of sweet and savory pastries, and sandwiches.  In addition to seating in the shop itself, there are a few tables in the adjacent lobby and streetside.
708 N First Street, Minneapolis; 612-479-9300; intheloopcoffee.com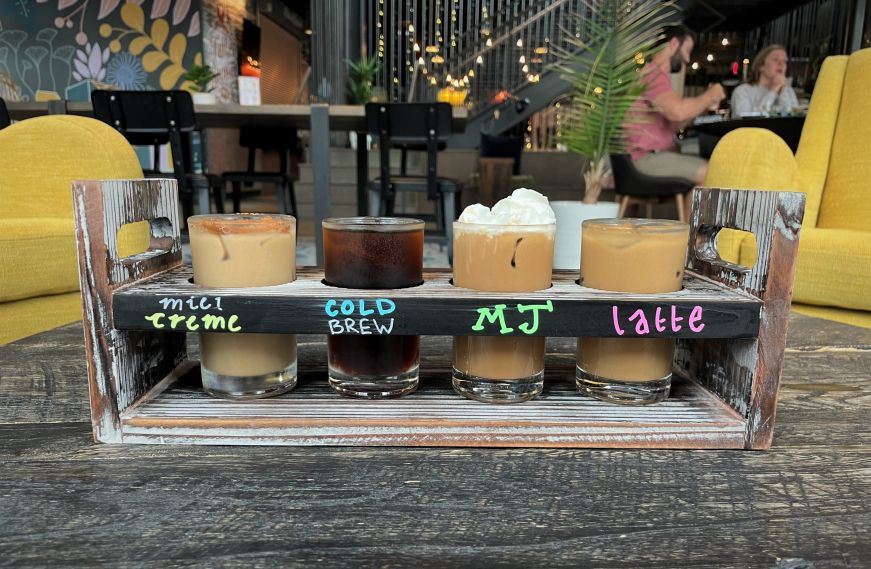 Located inside Graze Provisions & Libations, a North Loop food hall, The Last Drop Cafe & Wine Bar has a sunny, bohemian vibe and a seasonally-inspired beverage menu.  My go-to order is the coffee flight, which includes four four-ounce beverages.  The lineup varies with the season—in the summer I enjoyed a cold brew flight, and I've also tried flights with fall and Christmas-themed drinks.
The food hall has an expansive indoor seating area, and you can also enjoy your drink outside on the patio or rooftop deck.
520 N Fourth Street, Minneapolis; grazenorthloop.com/the-last-drop-cafe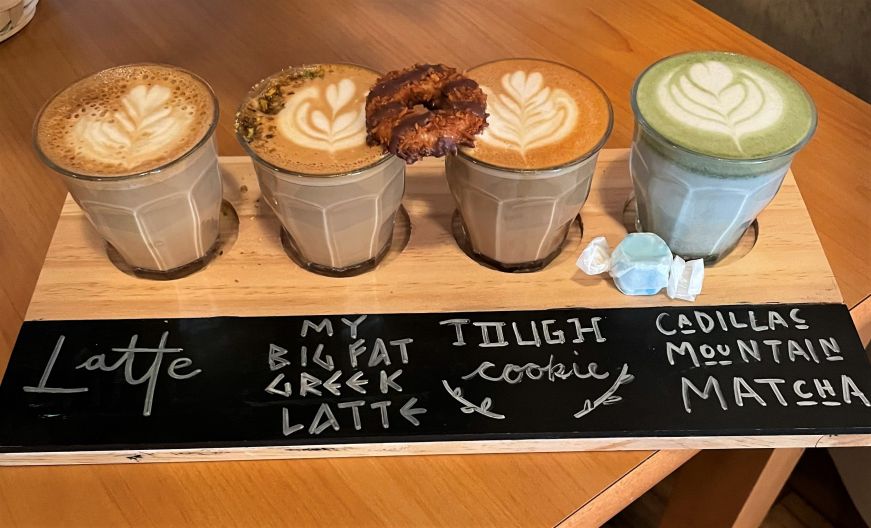 Minneapolis—Uptown
Given the Uptown location, I was expecting more of a hipster vibe, but Third Space Cafe has a welcoming, down-to-earth feel.  The drinks are top-notch—you can get classic espresso drinks, pour over coffee, matcha, and creative seasonal drinks, including flights with four miniature beverages.  The miel cream cold foam cold brew is excellent, and there's also a food menu with paninis, breakfast entrees, and salads.
In addition to indoor seating, there are a few streetside tables.
2930 Lyndale Avenue South, Minneapolis; 612-353-5667; thirdspacempls.com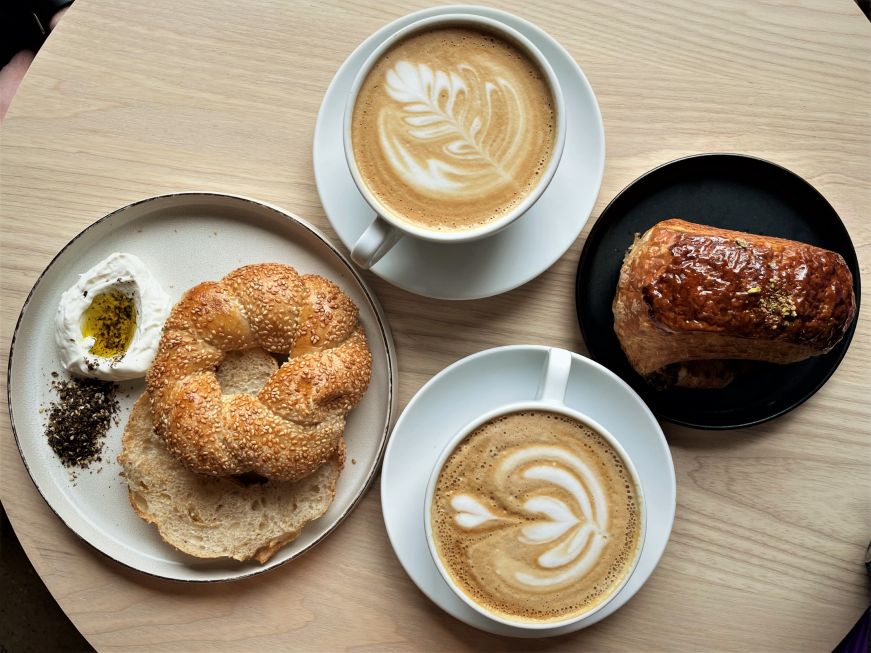 Minneapolis—South
Café Ceres is the place we go when we want to feel like we're on vacation, thanks to the menu of European and Turkish baked goods and North African-inspired espresso drinks.   There's also a lunch menu with sandwiches and salads.
I love the Turkish bagel (a lofty, sesame seed-crusted twisted ring served with labneh and za'atar) and the pistachio croissant.  The ras el hanout latte has a beautifully complex flavor, with sweet and savory notes from date syrup, coriander, cumin, ginger, and black pepper.  If you prefer a more traditional drink, try the spiced vanilla latte, flavored with vanilla, cinnamon, clove, and nutmeg.
I've only visited the Linden Hills location on W 44th Street, which has an industrial chic, low-key vibe and some streetside outdoor tables.  There's also a location in the Armatage neighborhood on Penn Avenue.
3509 W 44th Street, Minneapolis and 5401 Penn Avenue S, Minneapolis; 612-345-4866 and 612-200-9621; cafeceresmpls.com
Fireroast Coffee & Wine Bar has a cozy neighborhood cafe vibe, and they make their own baked goods in-house.  The scones are very fresh, since they're baked throughout the day in small batches, and I love the chocolate-dipped coconut macaroons (especially with a cup of black coffee).  In addition to direct-trade, organic coffee, there's a nice selection of loose leaf teas, and Mike likes their chai lattes.
Fireroast also serves a breakfast and lunch menu, and the sheltered patio is open year round.
3800 37th Avenue S, Minneapolis; 612-724-9895; fireroastcafe.com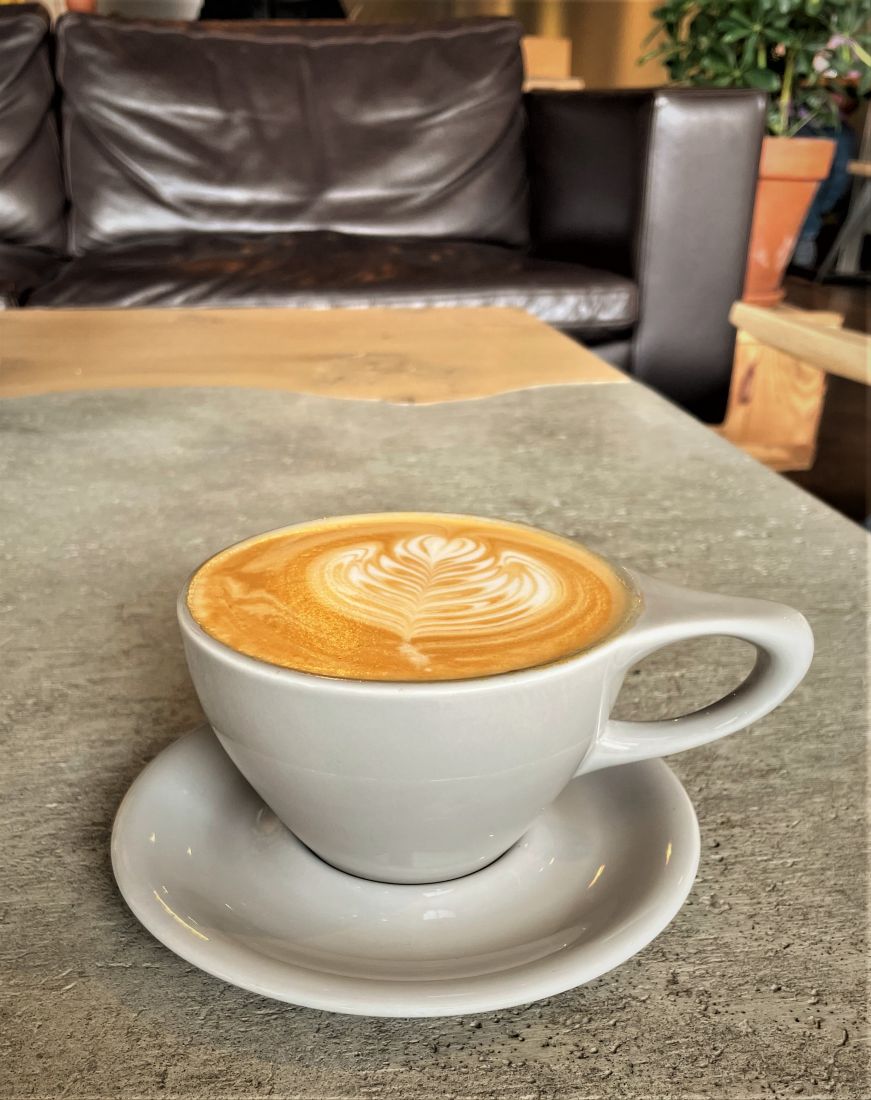 Northern Coffeeworks serves very good house-roasted coffee in a laid-back atmosphere inspired by Minnesota's great outdoors.  There are usually a handful of seasonal beverages available, and the regular menu includes an incredible maple latte (it has an intense maple flavor without being too sweet) and smoked sea salt mocha.  They also serve some of my favorite pastries in the Twin Cities—the bakery case is stocked with gourmet pop tarts and savory hand pies from Fruit & Grain Bakery.
In addition to a large indoor seating area, there are a few picnic tables along the sidewalk.
4208 S 28th Avenue, Minneapolis; northerncoffeeworks.com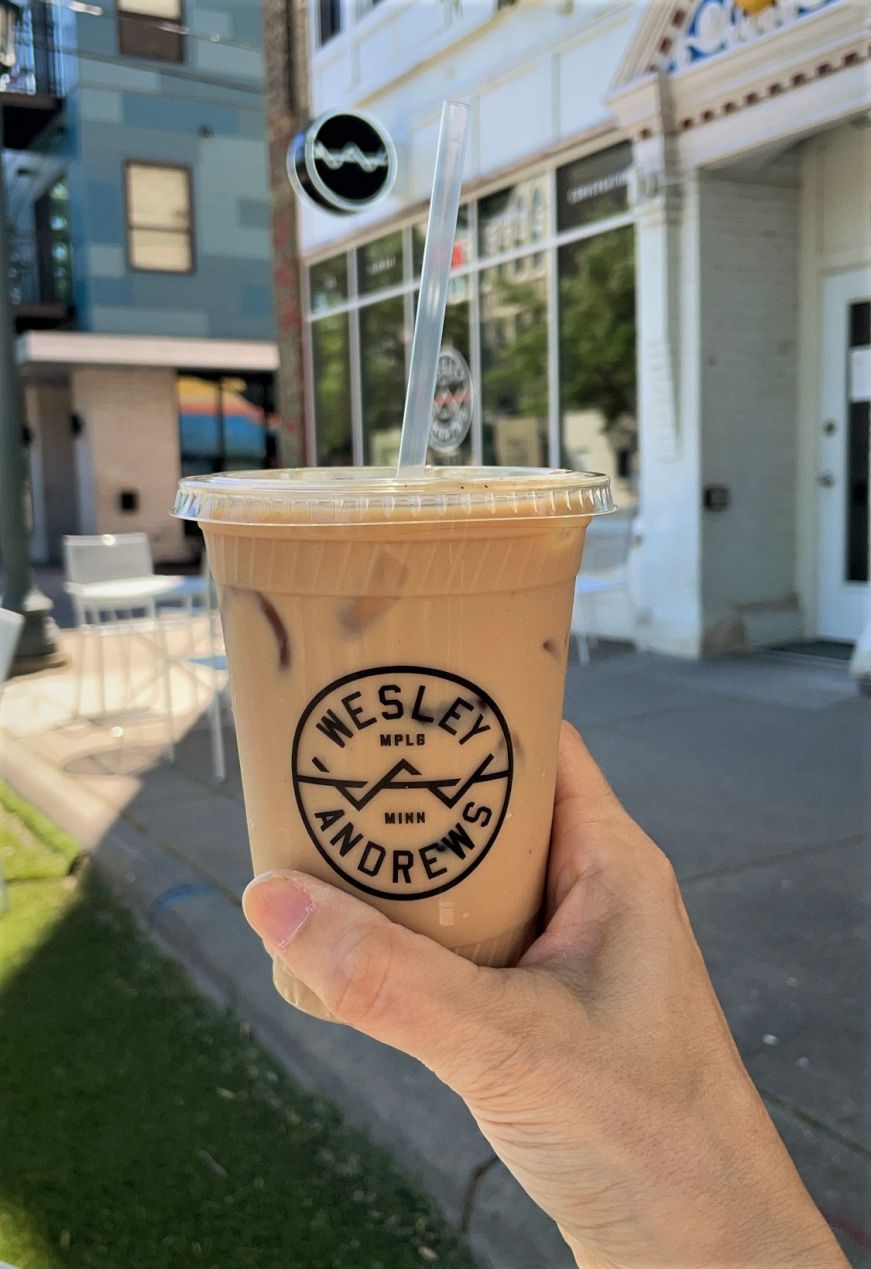 Wesley Andrews Coffee & Tea is a hipster coffee shop straight out of central casting, and I'm here for it—think exposed brick, lush houseplants, and carefully crafted beverages.  The menu is relatively brief, but I love the creative seasonal drinks, like a Szechuan miel made with fresh pressed ginger honey syrup, Szechuan peppercorn, and orange bitters.
In addition to indoor seating, there's an astroturf patio in the warmer months.
111 E 26th Street, Minneapolis; 612-460-7739; wesleyandrews.cc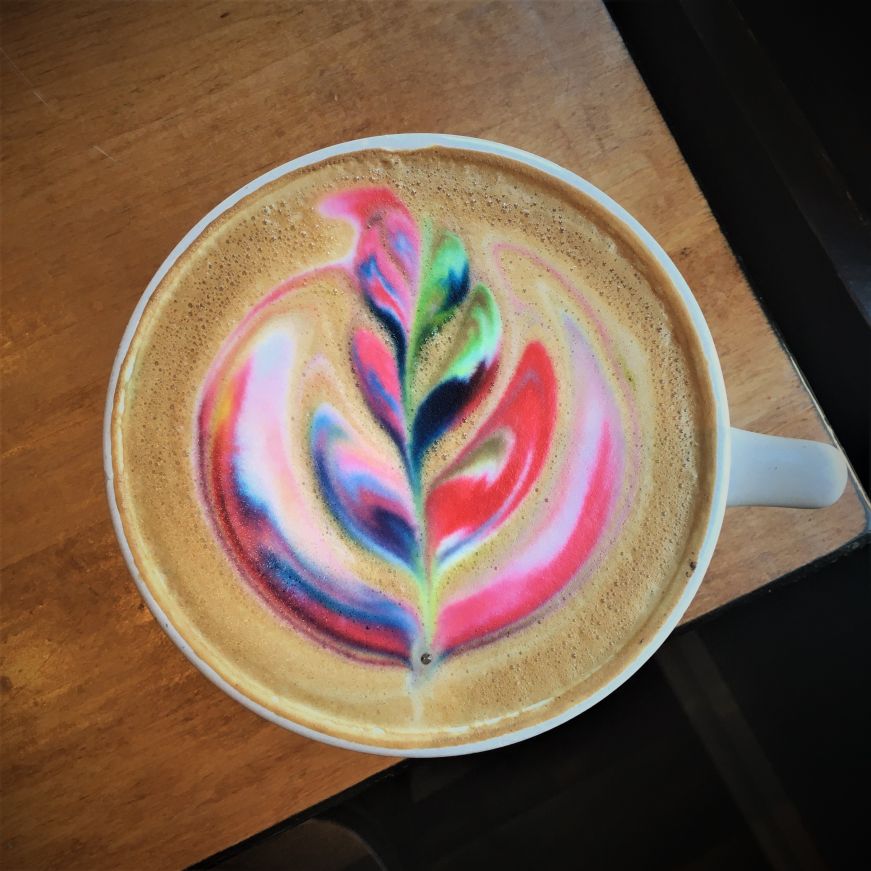 St. Paul
Café Astoria is Instagram-famous for picture-perfect drinks that taste just as lovely as they look.  My go-to is the rainbow latte, which is flavored with peppermint and chocolate—it's not as sweet as you might expect (which I appreciate),and it makes for a stunning photo.  There's also a 24K latte with edible gold and a campfire latte garnished with a toasted marshmallow.  In the fall, opt for the pumpkin pie latte, which is loaded with whipped cream and flavored with real spiced pumpkin puree.
The only downside is that Café Astoria is quite popular, so it can be tricky to get a table on weekends.  They have both indoor and outdoor seating and a food menu that includes crepes, smoothie bowls, oatmeal bowls, and sandwiches.
180 Grand Avenue, St. Paul; 651-340-9471; cafeastoria-stpaul.com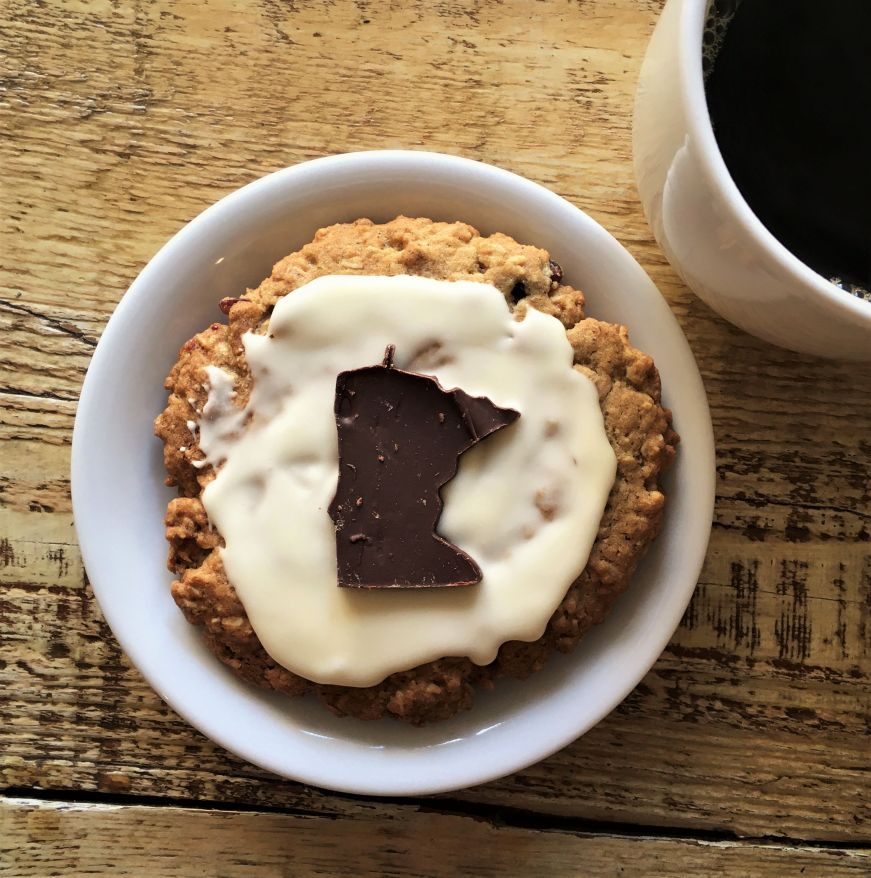 If I lived in St. Paul, Groundswell would be my default coffee shop.  It has a welcoming, comfortable feel, with a menu of espresso drinks and a nice tea selection.  There's lots of seating and natural light, and plentiful free street parking nearby.
My favorite thing on the menu is the Minnesota cookie: an oatmeal and dried cranberry cookie with almond-orange icing and a Minnesota-shaped chocolate garnish.  There's also a breakfast and lunch menu and a little gift shop section with handcrafted jewelry, cards, and pottery from local artisans.
1340 Thomas Avenue, St. Paul; 651-645-6466; groundswellmn.com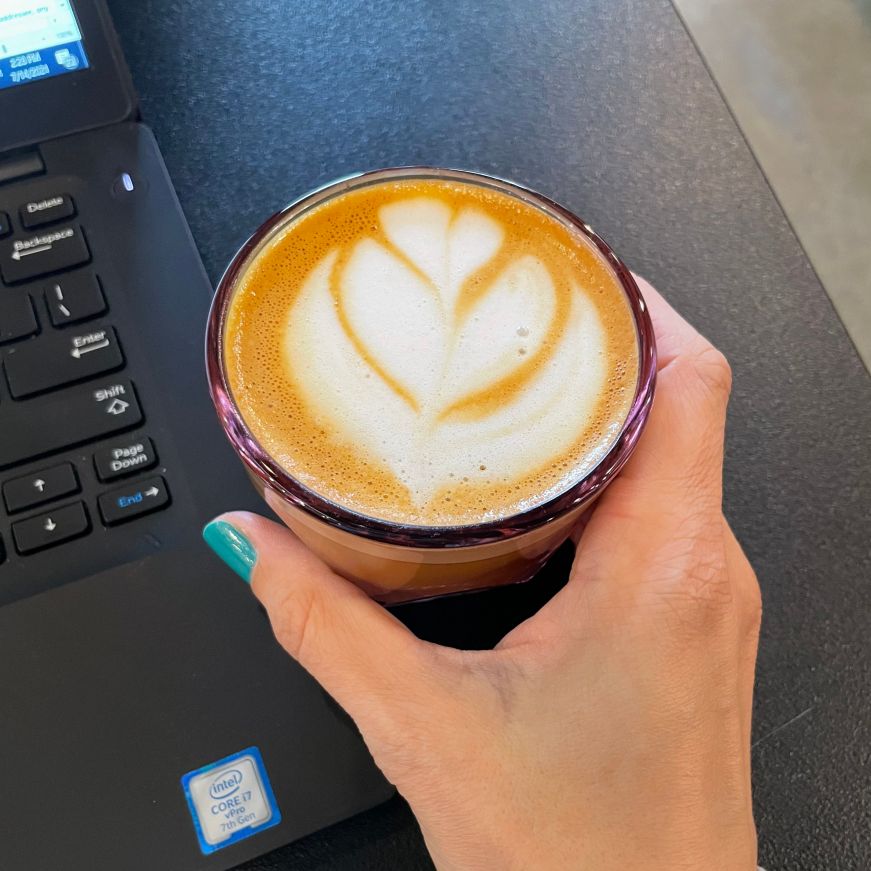 Multiple locations
Dogwood Coffee is a Twin Cities standby—they've been roasting coffee since 2010.  They have two Minneapolis locations, in Northeast and on East Lake Street, plus a spot in St. Paul.  I love the colorful, modern aesthetic of their cafes (especially the Northeast one), and they make an excellent cappuccino.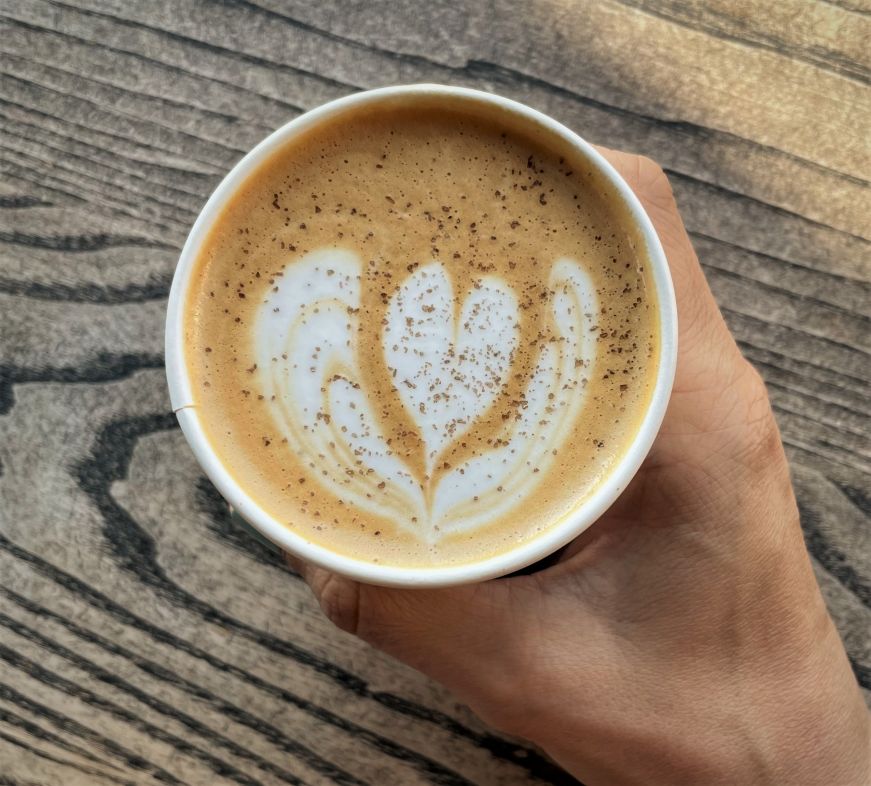 Five Watt Coffee has a clever, quirky sensibility that resonates with me—every fall the menu features the Pumpkin Spice Lawsuit, and their website claims that they offer a rent-by-the-hour unicorn stable.  Many of the intriguing craft-cocktail inspired espresso drinks feature bitters and savory spices: Mike's favorite is the Busy Beaver, which is flavored with maple syrup and blackstrap bitters, dusted with cinnamon and black pepper, and finished with a drizzle of molasses.  I usually try one of the seasonal specials, and have consistently been impressed.
Five Watt three Minneapolis locations (we tend to go to the East Hennepin one, which has lots of outdoor seating) as well as a stall in St. Paul's Keg and Case Market.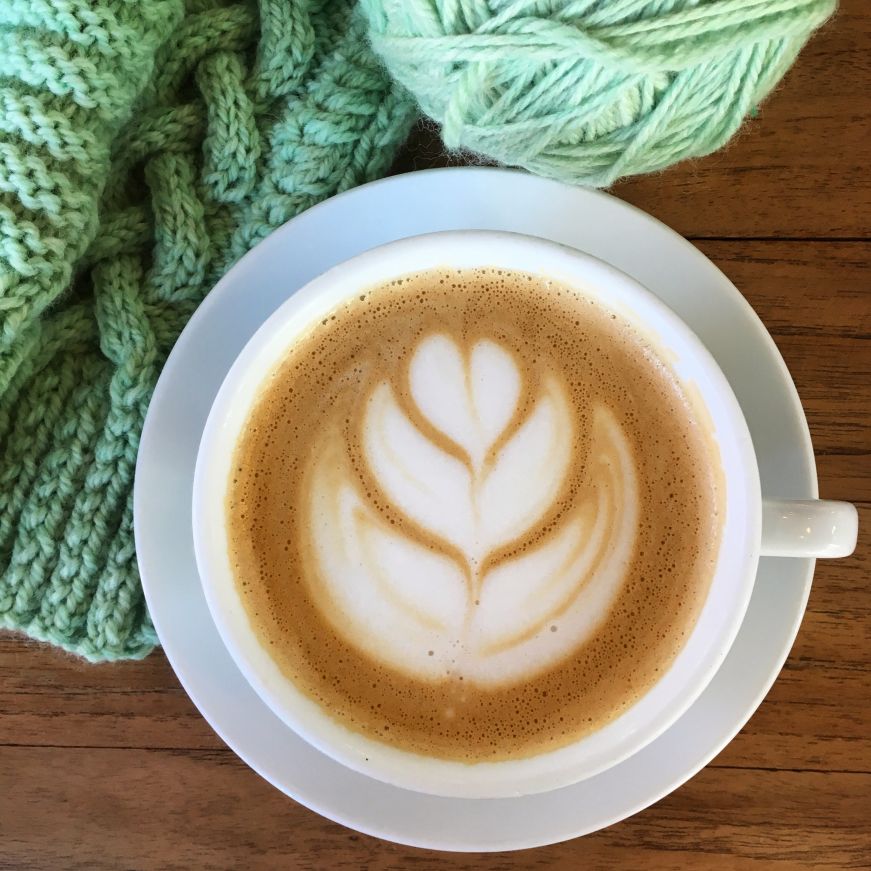 Spyhouse is one of the Twin Cities' original third-wave coffee shops, as well as a coffee roaster.   I admit that the industrial chic hipster aesthetic is a huge draw for me, plus they also make an excellent cappuccino and feature pastries from Mojo Monkey Donuts.  My other favorite drinks are the Spygirl (a lavender honey latte) and their fall drink, Sage Against the Machine (a pecan sage latte).  Added bonus: there isn't an additional charge for alternative milks like almond, oat, and soy. 
Spyhouse has several locations in Minneapolis and one in St. Paul.  On Sunday mornings, we prefer the North Loop location because it isn't as busy and there's free street parking nearby on 10th Avenue.  For weeknight coffee dates, the Northeast location has an intimate vibe and an adjacent free parking lot.
Suburbs
Since we live in the northwest suburbs, the Daily Dose is our go-to independent coffee shop.  There are two locations, one in a strip mall in Brooklyn Park and the other in a shopping center in Maple Grove.  The menu is identical, and the ambiance is similar, with a few armchairs, plenty of tables, and works by local artists on the walls.  The Maple Grove location has patio seating.
Baked goods are made in-house—I love the biscotti, especially the cinnamon white chocolate and salted caramel mocha.  The Daily Dose offers a wide range of espresso and tea beverages, including cold press ice cream floats, miels, and loose leaf teas.  There's also a food menu with sandwiches, salads, and naan pizzas, plus a few flavors of Sebastian Joe's ice cream.
9578 Noble Parkway, Brooklyn Park and 15517 Grove Circle N, Maple Grove; 763-762-8104 and 763-657-0919; dailydosemn.com
Further reading: Where to find coffee flights in the Twin Cities
If you enjoyed this post, pin it!