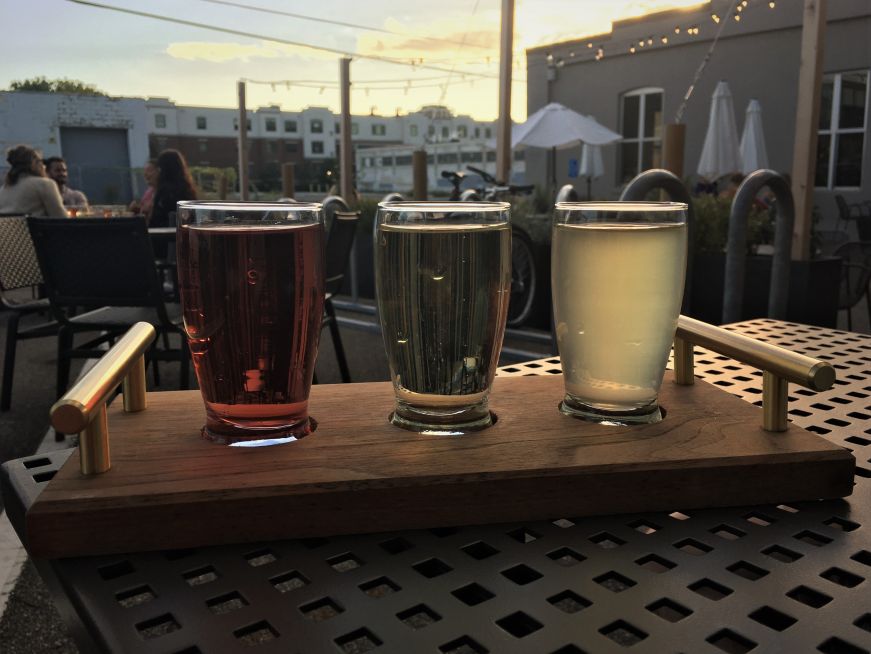 If you've been reading this blog for any length of time or if you follow me on Instagram, you know that cocktails are my drink of choice.  I've also enjoyed some truly lovely wine and food pairings over the years, and while beer isn't my go-to beverage, I can appreciate it.
But cider?  Other than a stop at Fargo's Wild Terra Cider and Brewing, I haven't had the opportunity to try it.  Craft cider is a relative newcomer to the Minnesota beverage scene, but that's starting to change.  There are now a handful of cideries in the Twin Cities—including Minneapolis Cider Co., which opened in 2019.  Mike and I stopped by their taproom a few weeks ago to check out their ciders and broaden our beverage horizons.
Minneapolis Cider offers several different types of cider, with dry, semi-dry, and semi-sweet options.  You can order a half or full-sized glass, or get a flight of three ciders of your choice.  We wanted to sample a few different ciders, so we split a flight of raspberry, mango habanero, and Orchard Blend ciders.  The Orchard Blend was the most traditional—a semi-dry classic American-style cider with a pronounced apple flavor.  Mike's favorite was the raspberry, which actually had too much of a berry flavor for me (I thought it tasted too sweet, although it's labeled as a semi-dry).  My favorite was the mango habanero, which had a bright tropical flavor with just a hint of warmth.  Next time, I'd like to try the fiery mango habanero, which kicks the heat up a few notches.
Other ciders on the menu include brut and a limited release pineapple.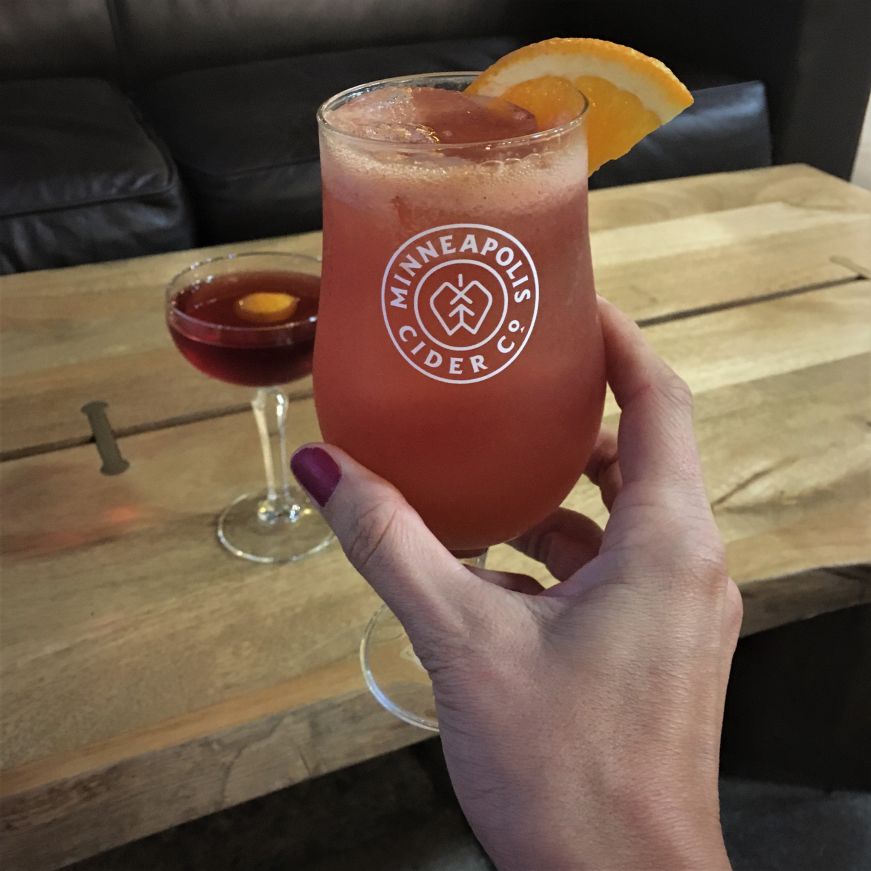 Minneapolis Cider is licensed as a commercial winery, which means they can make fruit-based beverages up to 20% ABV.  (For reference, most of the craft spirits in my liquor cabinet are 40% ABV.)  This allows them to produce distilled spirits that combine fruit and botanicals, and they serve cocktails made with those spirits in their taproom.  Yes, the cocktails are lower proof than what you'd get at a bar or distillery, but they still pack a punch.
Mike tried the Oak Savannah cocktail, which had a rich smokiness and evoked an old fashioned.  I tried the Spirit of the Toucan, which was completely its own thing, with complex layers of fruity, sour, and bitter notes.  It  certainly would hold its own against a traditional, higher proof cocktail, and I would certainly order it again.
In addition to ciders and cocktails, the menu includes alcoholic seltzer, non-alcoholic cocktails, kombucha, and fresh apple juice.
Minneapolis Cider Co. has a sizeable patio area, which they've expanded into their parking lot due to COVID social distancing requirements.  Yes, the view is basically industrial buildings and parked cars, but the space is spruced up with some planters and strands of lights.
Indoors, the taproom has a sleek, modern feel—more akin to a distillery cocktail room than a traditional beer taproom.  Since the space is so large, there was plenty of room to spread out on the Wednesday night we visited—we felt comfortable sitting indoors when it got chilly on the patio.  Instead of busing your own glasses, you leave them on the table when you're done so that the staff knows which tables to sanitize between customers.
The taproom is also home to an indoor pickleball court.  You can reserve a court online, and rental paddles are available. 
The takeaway: As a cocktail lover, I really appreciated that I could order a cocktail at a taproom.  I had a great experience and I'm planning to try more ciders, both at Minneapolis Cider and other local cideries.
Minneapolis Cider Co.
701 SE 9th St.
Minneapolis, MN 55414
612-886-1357
minneapoliscider.co
This post isn't sponsored—we paid for our drinks out-of-pocket.
If you enjoyed this post, pin it!