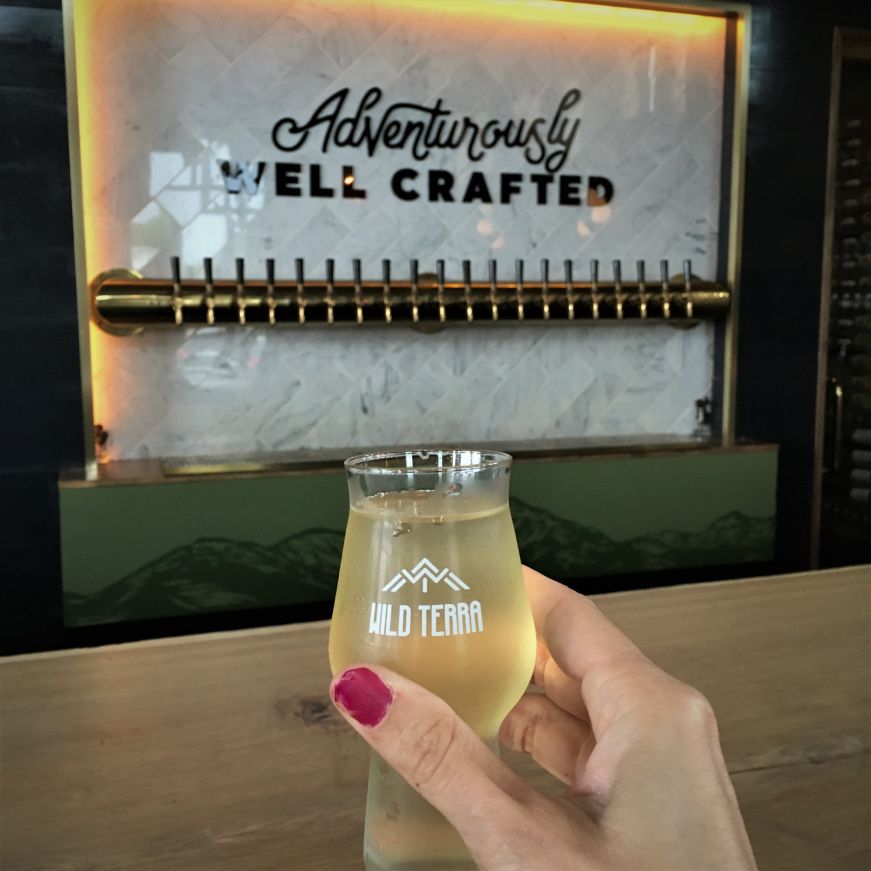 Thank you to the Fargo-Moorhead Convention and Visitors Bureau for hosting my stay in Fargo, North Dakota.  As always, all content and opinions are my own.
Fargo-Moorhead's craft beer scene garners plenty of well-deserved attention: the area is home to several breweries, and there's even a Crafts and Drafts pass that will earn you a free t-shirt if you collect stamps at 6 of the 12 participating locations.
However, what if you're not in the mood for a pint of beer but you still want to drink local?  You're in luck!  Besides breweries, Fargo is home to Wild Terra Cider and Brewing, which serves their own ciders as well as selections from other producers; Proof Artisan Distillers, which crafts whiskey, vodka, gin, aquavit, and liqueurs; and Prairie Rose Meadery, which produces wine from local honey. 
On my recent visit to Fargo, North Dakota I checked out Wild Terra and Proof Artisan Distillers, and here's what I discovered about Fargo's local drinks scene beyond beer.
Stepping into Wild Terra Cider & Brewing feels like walking into an interior design magazine: the refurbished historic building is the definition of farmhouse chic, with exposed wood, floral wallpaper, and an aspirational slogan in a sweeping font behind the bar.  There's bar seating and communal tables on the ground floor, plus a loft with sofas.  As a solo female traveler, I appreciated the vibe—in the afternoon, it had a coffee shop feel—and there were even two other women drinking solo at the bar (that hardly ever happens!)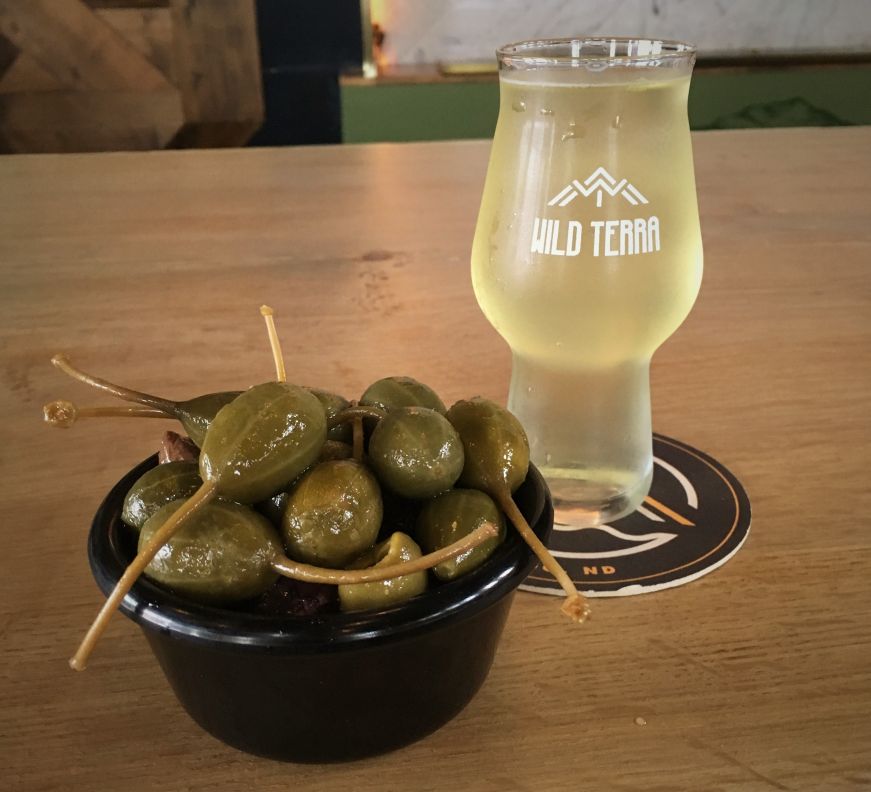 Wild Terra produces several of their own ciders, and they also serve about a dozen ciders from other producers.  I like that you can order half pints of cider, which was a perfect size for an afternoon drink.  The menu categorizes the ciders as dry, semi-sweet, and sweet—I picked Wild Terra's Trail Magic cider, which is listed as semi-sweet and is made with North Dakota apples.  I appreciated the crisp, understated flavor.
In addition to cider, Wild Terra serves mead (including local varietals from Prairie Rose), wine, local beer, and a few non-alcoholic beverages like root beer and kombucha.
Wild Terra offers a menu of starters like chips with salsa and goat cheese with bread, plus salads, sandwiches, and tacos, with many items that can be made gluten-free or vegan by request.  I opted for a bowl of assorted olives and capers, which paired nicely with my cider. 
A brunch menu is available on Sundays.
Wild Terra Cider & Brewing; 6 12th Street N., Fargo; 701-405-3184; wildterraciderandbrewing.com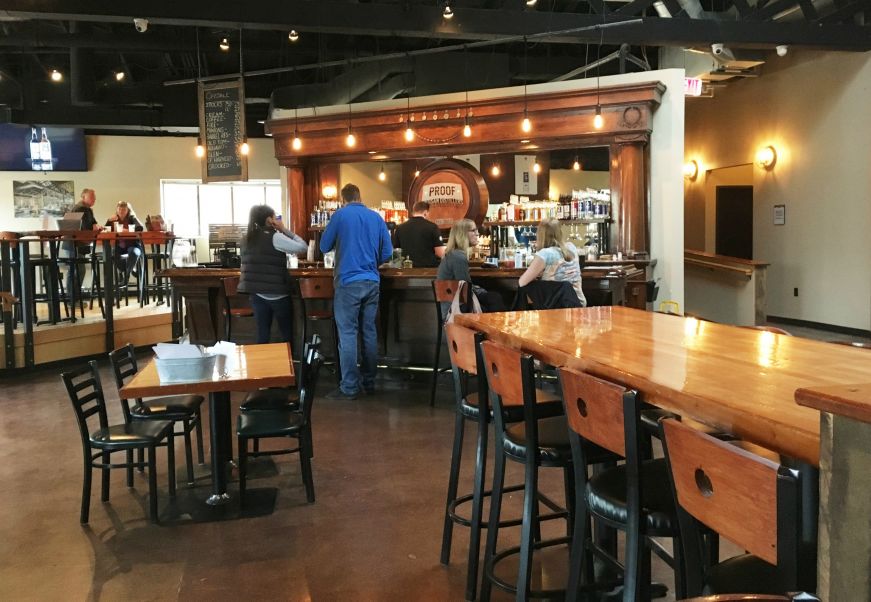 In terms of atmosphere, Proof Artisan Distillers is the polar opposite of Wild Terra—it's an industrial space akin to a taproom, with a window that shows off the distillery equipment and a simple cement floors and white walls.  It's the sort of low-key place where you would feel at home even if you're not sure what a craft spirit is and you don't know gin from aquavit.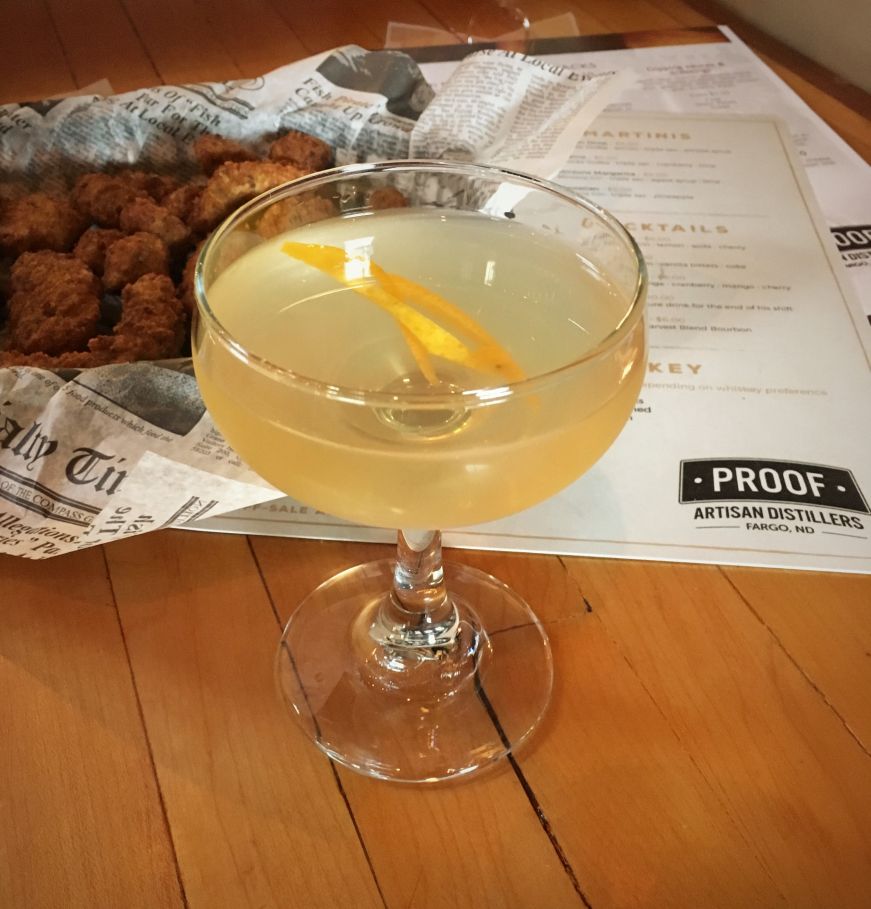 The extensive drinks menu ranges from simple options like vodka sodas and screwdrivers to mules, martinis, and classic and signature cocktails.  Everything is fairly straightforward: the handful of ingredients in each drink are familiar, and you could probably recreate them at home.  I went with the Friendship cocktail, with is make with Minions Van Skäp Aquavit, honey, bitters, and an orange peel garnish that my bartender carefully braided for me.  It was an uncomplicated drink but a good one, with flavors that supported rather than overwhelmed the botanical notes of the aquavit.
Spirits are also sold by the bottle, although offsale hours differ from tasting room hours.
Like the drinks menu, the food menu at Proof Artisan Distillers skews towards the basics: think wings, pretzels with queso, and sliders.  I tried the avocado fries, which I expected to be French fries topped with a scoop of guacamole—they were actually bits of breaded and deep-fried avocado, served with ranch dressing and sriracha mayo.  The creamy/crisp texture worked for me, and I learned that ranch and aquavit pair much better than I ever would have guessed.
Proof Artisan Distillers; 414 Fourth Avenue N., Fargo; 701-353-5853; proofdistillers.com
If you decide to check out Fargo's local drink scene, please drink responsibly.  Ride sharing apps, taxis, and public transportation are available in Fargo. 
Another option is to stay at the Radisson Blu Fargo, which is located in downtown Fargo and is in within easy walking distance of Wild Terra and Proof Artisan Distillers.  My room was comfortable and well-appointed, with sleek decor and a floor-to-ceiling window with a 13th-story view of downtown.
Thank you to the Fargo-Moorhead Convention and Visitors Bureau for providing my hotel room in Fargo.  I paid for all other expenses out of pocket. 
Looking for more information about the Fargo-Moorhead drinks scene?  Here's a complete list of the area's breweries, wineries, and distilleries.
Further reading:
If you enjoyed this post, pin it!